Luxembourg is one of Europe's smallest countries. Despite its prime location between Belgium, Germany, and France, it sometimes gets overlooked in favor of its bigger neighbors. But people who make that mistake—ourselves included—miss out on the beauty, culture, and fun things to do in Luxembourg City and beyond.
Luxembourg City is a fascinating city of contrasts. It is ancient and contemporary, local and global. The physical city even exists on two different levels—the upper part of the city on the ancient Bock rocky promontory and the lower part in the Alzette River gorge. Its layout gives it perhaps the most dramatic landscape of any European capital.
In addition to its lush surroundings, the city offers unique history and culture influenced by its neighboring countries and their citizens who still flood in for work every weekday, doubling its population.
Luxembourg City is compact and highly walkable, making it easy to cover a lot of area quickly. It's the perfect destination for a weekend trip from almost anywhere in Europe. Here's a look at some of the fun things to do in Luxembourg City that we've enjoyed during several visits.
Visit the Grund
The lower part of the city—the Grund—has a distinctly different atmosphere from the modern city above. Along the banks of the Alzette River, the Grund is at the base of the former fortress surrounding the city. This charming area feels more like a quiet European village than part of the busy capital.
The relaxed pace of the Grund doesn't mean there's nothing to do there. On the contrary—it's one of the main areas for nightlife in the city. You can café hop, shop, or check out some of the finest restaurants. Neumunster Abbey, one of the oldest buildings in the Grund, also hosts many concerts, exhibits, lectures, and other cultural events throughout the year.
The Grund is easy to reach by walking downhill from the city center or you can take the elevator.
See Casemates du Bock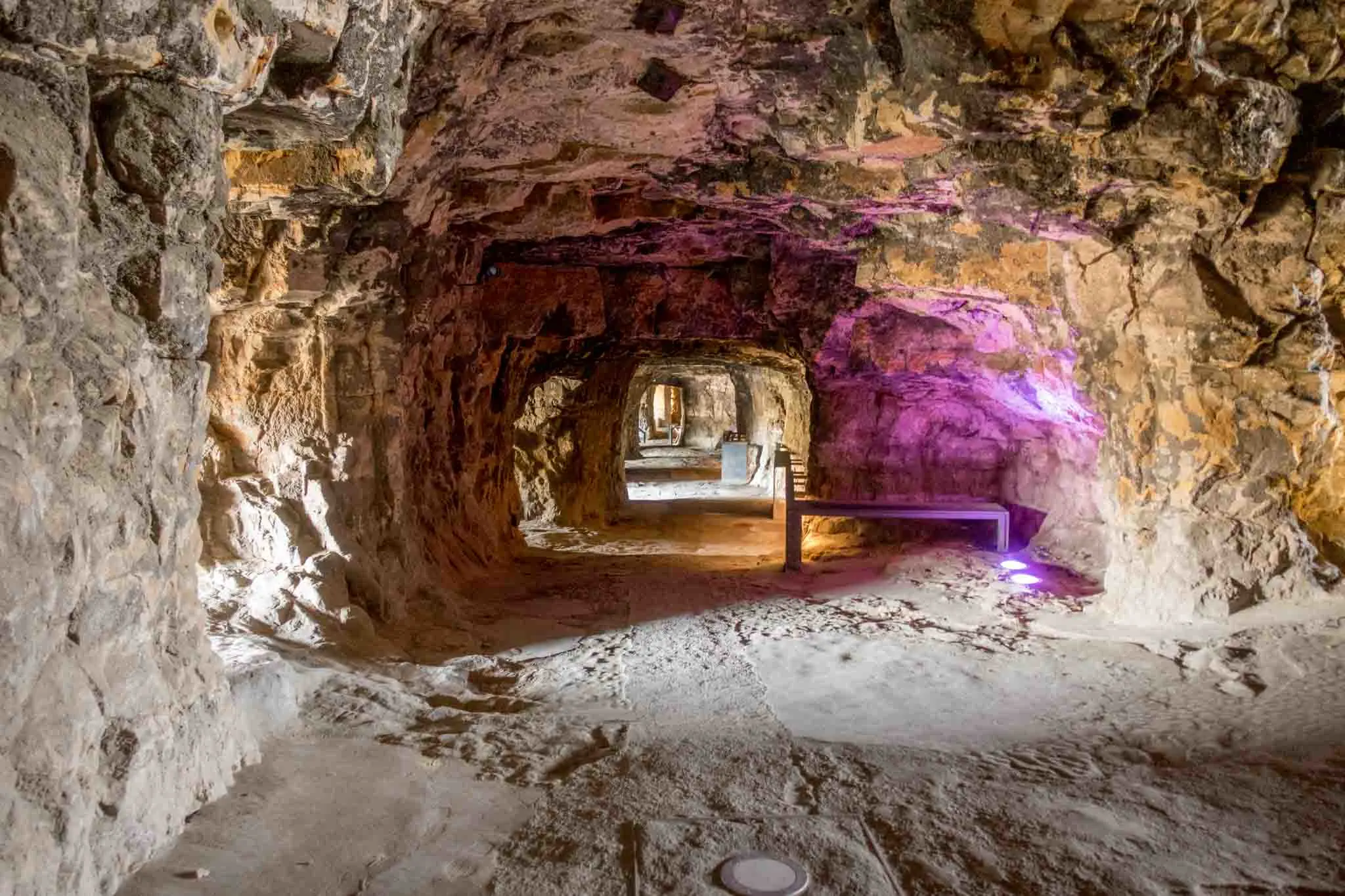 Casemates du Bock is one of the most historical Luxembourg City attractions and an important part of its designation as a UNESCO World Heritage Site.
Built into the rock beneath the city's ancient castle, this series of passages and fortifications contributed to Luxembourg's defense over centuries of invasions. They included not only artillery slots and soldiers' barracks but also served as workshops, bakeries, and even a bomb shelter during World War II.
Although the castle is now in ruins, visitors can tour a section of the cool 10-mile-long honeycomb of tunnels. The views from the Casemates over the valley are also pretty spectacular.
Interested in seeing the country? Check out more places to visit in Luxembourg.
Visit the National Museum of Archaeology, History and Art
The National Museum of Archaeology, History and Art (NMAHA) combines aspects of history and art from Neolithic to modern times, covering every era of Luxembourg's past in its massive collection. Its underground galleries house archaeological artifacts in rooms that are (fittingly) carved out of rock.
Elsewhere in the museum, you'll find medieval objects, fine art, and an extensive collection of coins and currency from ancient times through the Euro. We particularly love the Roman mosaic from Vichten showing the Nine Muses that dates from 240 AD.
The museum's permanent collection is free to visit, but there is a minimal cost for temporary exhibits.
Go wine tasting along the Moselle River
Luxembourg is bordered by France and Germany, two of the best wine-producing countries in the world. But did you know Luxembourg has vineyards, too?
Just over a half-hour by car or bus from downtown is the Moselle River valley where 16 million bottles of wine are produced every year. There's lots of sparkling wine and other familiar varietals like Riesling and Chardonnay.
Many of the wineries in the Moselle River valley welcome visitors and offer tastings and tours where you can learn about the wine industry and its history in Luxembourg and try some varietals you may not have had before. Two of my favorite experiences were visiting the 100-year-old caves where the wine is aged at Caves St Martin and enjoying a glass on the terrace overlooking the river at Bernard Massard.
Take a walking tour of Old Town
This is a small country with a complex history and unique culture. Who better to explain it than a local? Stop by the tourism office to join one of the dozens of Luxembourg sightseeing tours offered.
Whether you want to know about the UNESCO sites, a specialized architecture tour, or even a look at the city by Segway, there are lots of options. We chose a tour of the Old Town with a great overview of the history and the major sites and learned plenty of interesting things we wouldn't have discovered on our own.
Have a taste of France at Ladurée
There is lots of international influence in Luxembourg, which takes many different forms. One of the tastiest is the renowned French bakery Ladurée, which has a location in the city center.
Famous for its macarons, Ladurée also has a wide variety of pastries plus coffee, hot chocolate, and more. It's a lovely place to stop for an afternoon nibble, or you can take away some of their treats.
Visit the Golden Lady
Soaring above Constitution Square, the Golden Lady (also known as Gëlle Fra or the Monument of Remembrance) is a symbol of the freedom and resistance of the Luxembourgish people and one of the country's most famous landmarks.
She was initially erected in 1923 in honor of those who fought in World War I, but after being dismantled by the Nazis and later restored, her purpose was broadened. She is now a moving memorial to Luxembourgers who fought in both World Wars and Korea. Just behind her, don't miss the sweeping views of the valley and Pont Adolphe.
Attend a festival or outdoor event
The city is a great place for festivals and outdoor events. Throughout the year, you can find fun things going on nearly every weekend covering a variety of interests.
In the spring, there are fairs and festivals related to Easter and other religious holidays. The summer brings free concerts, street art festivals, outdoor movies, and wine events. Winter has light festivals, car shows, and more. No matter when you visit Luxembourg City, there are plenty of special things to see and do.
Tour the Grand Duchal Palace
The Grand Duchal Palace, which dates back to 1573, has a prominent place in the middle of the city. The magnificent palace with its balconies and small turrets is still used today as the city residence of the royal family and the Grand Duke.
From mid-July through early September, the palace is open for guided tours. If you need a break after your visit, pop into the Chocolate House right next door for some of the best hot chocolate in the city.
Take a break at a cafe
Luxembourg City has a thriving cafe culture and happy hour atmosphere. During the day (and often well into the evening), you can enjoy coffee, snacks, and hanging out or working remotely at many cafes throughout the city.
Around 5:00pm, the environment changes when professionals fill the lively sidewalk cafes for drink specials and evening events like trivia and live music. Some enjoyable spots, like my favorite Kaale Kaffi, combine coffee and cocktails with a fun atmosphere filled with art and vintage furniture.
Visit Notre-Dame Cathedral
Notre-Dame Cathedral is the country's only cathedral. A mixture of Late Gothic and Renaissance architecture, the cathedral is renowned for its stained glass and sculpted alabaster choir.
At over 400 years old, Notre-Dame Cathedral is one of the most historic places to see in Luxembourg City and its crypt is the resting place of some members of the royal family, with remains going as far back as the 1300s.
See the view from Chemin de la Corniche
Thanks to its layout above and below the rocky outcropping of the Bock, the city has some amazing views. If you like photography or just looking out over pretty scenery, the Chemin de la Corniche is a must visit. From what's been called the most beautiful balcony in Europe, you get a great view of the Grund from above as well as ancient city fortifications and bridges.
Relax in Place Guillaume II
Place Guillaume II is a social center in the city. This lovely square named for Grand Duke William II (the French version of his name) features a statue of the Duke himself on horseback at the center. It's ringed by restaurants with sidewalk cafes and hosts a twice-weekly market with flowers and fresh produce. In the summer, there are concerts, and it often hosts fairs and other special events. It's a great place to spend some time people watching in the center of town.
Visit Museum Dräi Eechelen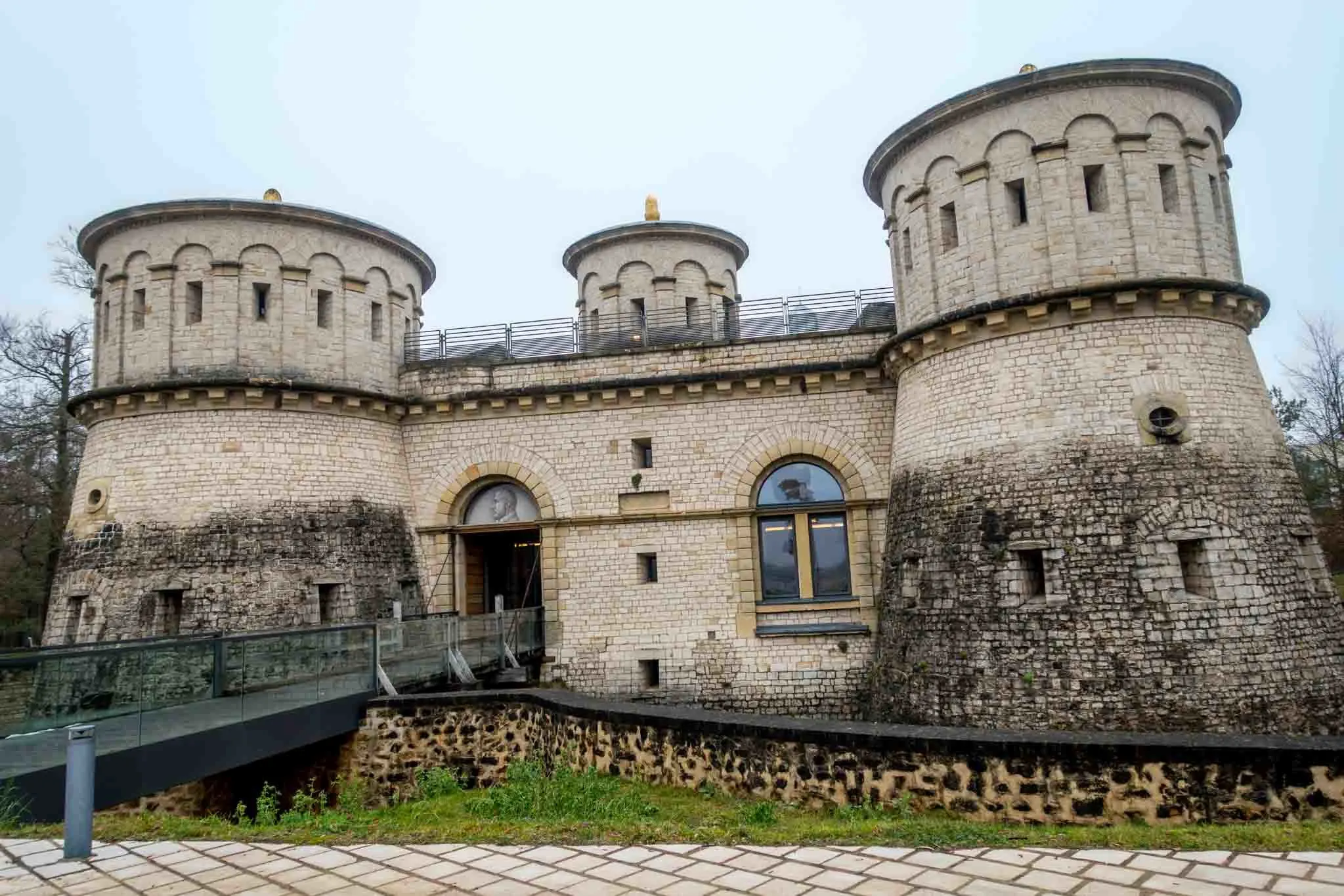 Outside of Old Town in the Kirchberg District, the Museum Dräi Eechelen is housed inside the renovated Fort Thüngen that dates from the 1730s. The museum's permanent exhibition features more than 600 objects and documents within the old fort's tunnels. They tell the story of the fortress of Luxembourg (the former fortifications of the city) from 1443 to 1903, offering an interesting look at this city on a rock. The first floor features rotating contemporary exhibits.
Try Luxembourgish food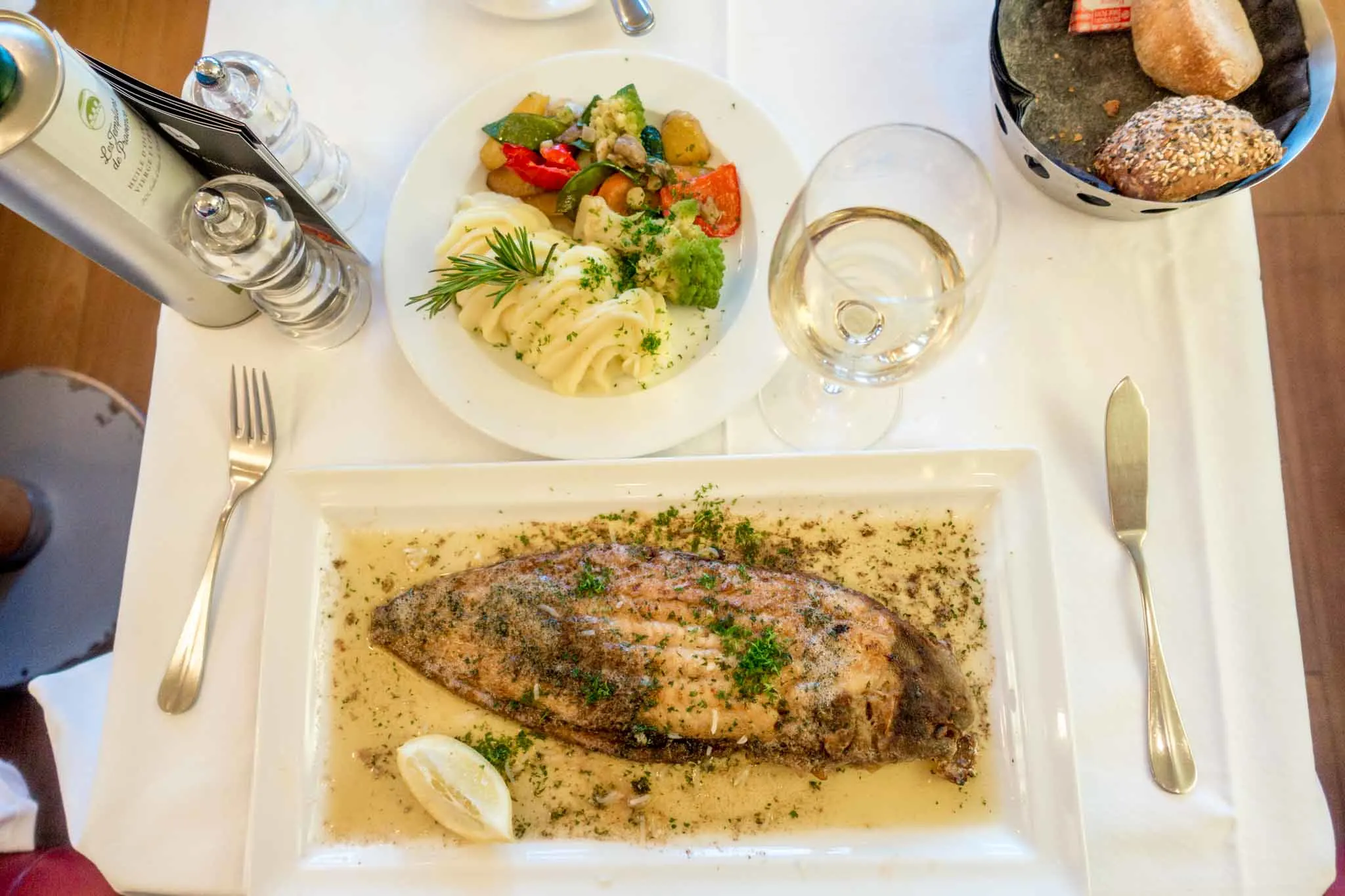 Perhaps the most unique thing about Luxembourg is just how international it is. There are many places (countries like Albania and Ecuador come to mind) where finding something other than traditional cuisine takes some work. But that's not the case here.
Of course, you should try Luxembourg food because you're in Luxembourg, after all. The cuisine has experienced a renaissance, so there are many places to indulge in excellent local dishes such as Friture de la Moselle (small fried fish from the Moselle River), Judd mat Gaardebounen (smoked pork neck with broad beans), or many other options. But if you're looking to mix it up, a quick walk will take you to Nepalese cafes, Mexican restaurants, French patisseries, and more.
Explore by bike
Luxembourg City—and, indeed, the whole country—is an ideal place for exploring by bicycle. The Grand Duchy has a network of over 370 miles of cycle paths. In the City, there are over 100 vel'oh kiosks where you can rent a bike to explore as long as you want. It's an ideal way to see the sites and get some exercise at the same time.
Visit the Christmas markets
In December, the center of Luxembourg City feels like one giant Christmas market. In just five minutes from Place de la Constitution to Place d'Armes, you can visit three different festive areas.
The Christmas markets are a fun place to hang out. There are lots of things to eat like flammkuchen, tartiflette, sausages, and more, and plenty of drinks to help keep you warm. There's also lots of shopping, rides, and great people watching. If you get really cold, you can park yourself right in front of the open fires.
The Luxembourg Christmas markets are some of our favorites we've visited in our travels across Europe. Because of Luxembourg's location, the markets have French and Belgian influence, and they reminded us a lot of markets we've visited in Germany. Don't miss them.
Where to Stay
Hotel Simoncini: In the heart of Luxembourg City, Hotel Simoncini is the perfect home base for exploring the old town. It is comfortable, has a great breakfast, and is steps from the main attractions.
Park Inn: Steps from the central train station, the Park Inn by Radisson offers modern accommodations at a budget-friendly price. Visitors appreciate the comfortable beds and friendly service.
Hotel Le Royal: The 5-star Hotel Le Royal is one of the top hotels. With multiple restaurants, a spa, and a salon, this is the place if you're looking for convenience and luxury.

Laura Longwell is an award-winning travel blogger and photographer. Since founding Travel Addicts in 2008, she has written hundreds of articles that help over 3 million people a year get the most out of their travel. In that time, she has visited nearly 60 countries on 5 continents, often returning to favorite destinations over and over again. She has a deep love of history, uncovering unexpected attractions, and trying all the good food a place has to offer.
In addition to Travel Addicts, Laura runs a site about her hometown of Philadelphia—Guide to Philly—which chronicles unique things to do and places to see around southeastern Pennsylvania. Her travel tips and advice appear across the web.