Some posts on this site contain affiliate links, meaning if you book or buy something through one of these links, we may earn a small commission (at no extra cost to you).
Gettysburg, Pennsylvania, comes alive with a joyful energy at Christmas. Wreaths hang on streetlights and entryways around town while giant nutcrackers, snowmen, and nativity scenes create backdrops for family photos. White lights glow on businesses and historic homes, some of which have been here since the Civil War. Festivity seems to be everywhere—in decorations and in the great events in Gettysburg that happen during the season. From shopping for treasures to attending annual concerts and performances, a Gettysburg Christmas is truly something special.
What to do at Christmas in Gettysburg
Whether you're coming for a day trip or a long weekend, there is lots to keep you busy in Gettysburg in December. Here's a look at some of the great options for things to do in town during the holiday season.
Sing along at the annual Tuba Carol Fest
The annual Tuba Carol Fest is a hallmark of Christmas in Gettysburg. For 25 years, tuba players from around the Gettysburg area and beyond have gathered on the second weekend of December to play together on the steps of the Gettysburg Hotel.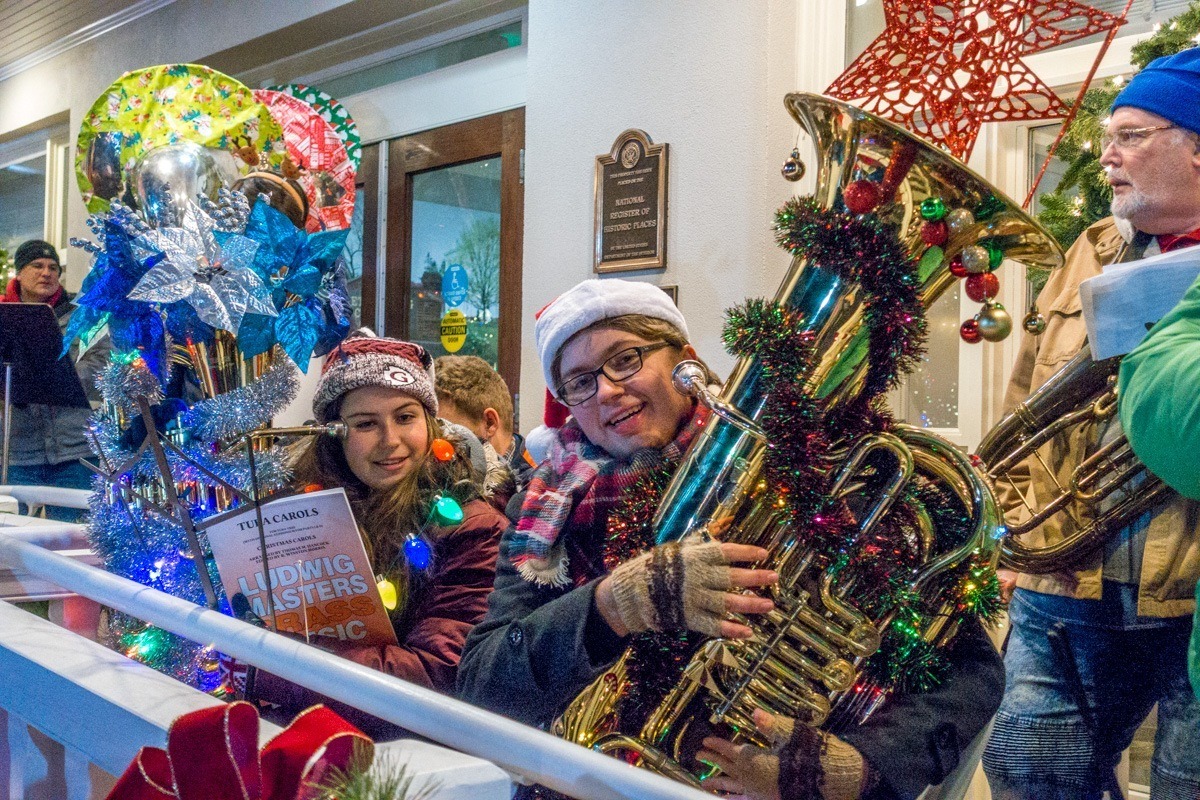 The tuba concert is equal parts holiday spirit (thanks to the hot chocolate and carols) and kitsch (thanks to the costumed performers and decorated instruments). And every bit of it is fun. We loved singing along with the crowd to the carols and taking in the festivity of the entertaining event.
The Tuba Carol Fest is one of our favorite holiday traditions anywhere. It's free, festive, and people of all ages can join in.
Shop till you drop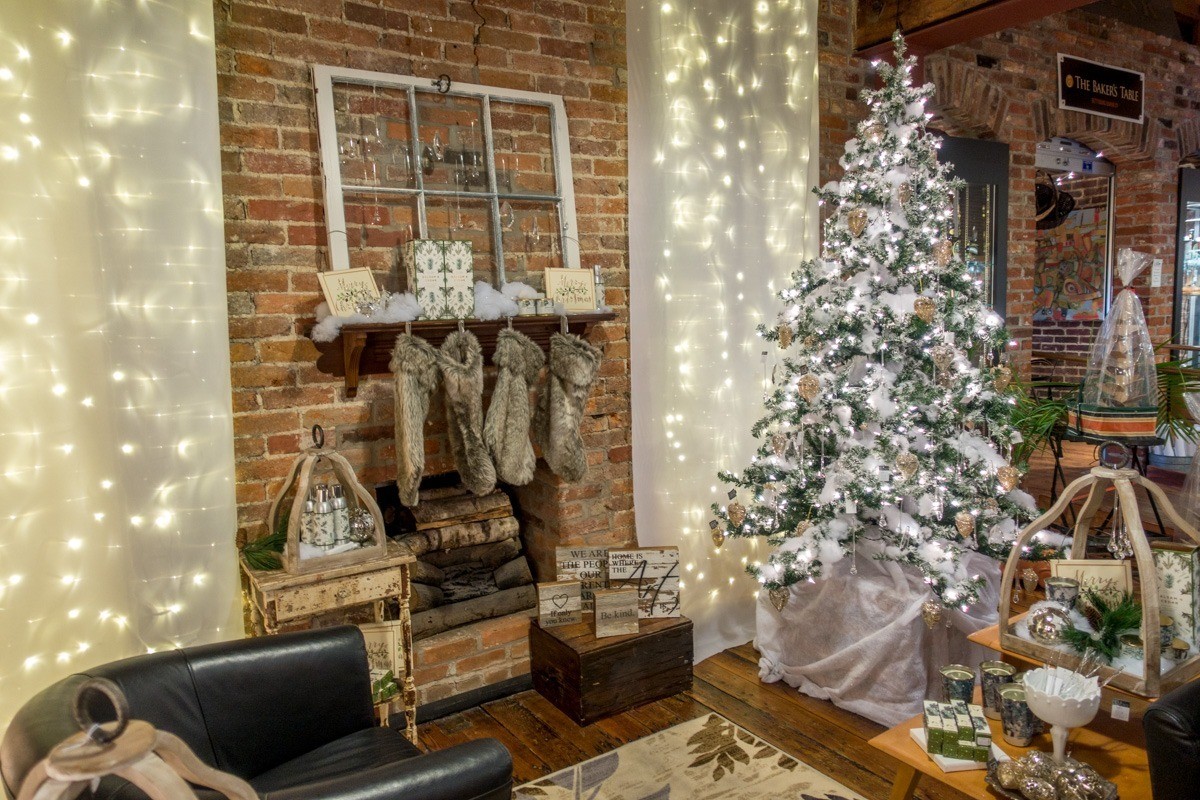 Gettysburg is for shopping any time of the year but especially at Christmas. Around Lincoln Square, Steinwehr Avenue, and the streets that radiate in all directions, the buildings are beautifully decorated for the season. Inside are unique decorations like the gourds turned into Santas at Gallery 30 and the antiques that Gettysburg is known for.
One of our favorite spots is Lark, a shop with a little bit of everything from jewelry to decorations to scarves and funky socks. The shop is particularly welcoming at the holidays.
Visiting Gettysburg at a different time of year? See other fun things to do in this cute town.
Take a horse-drawn carriage tour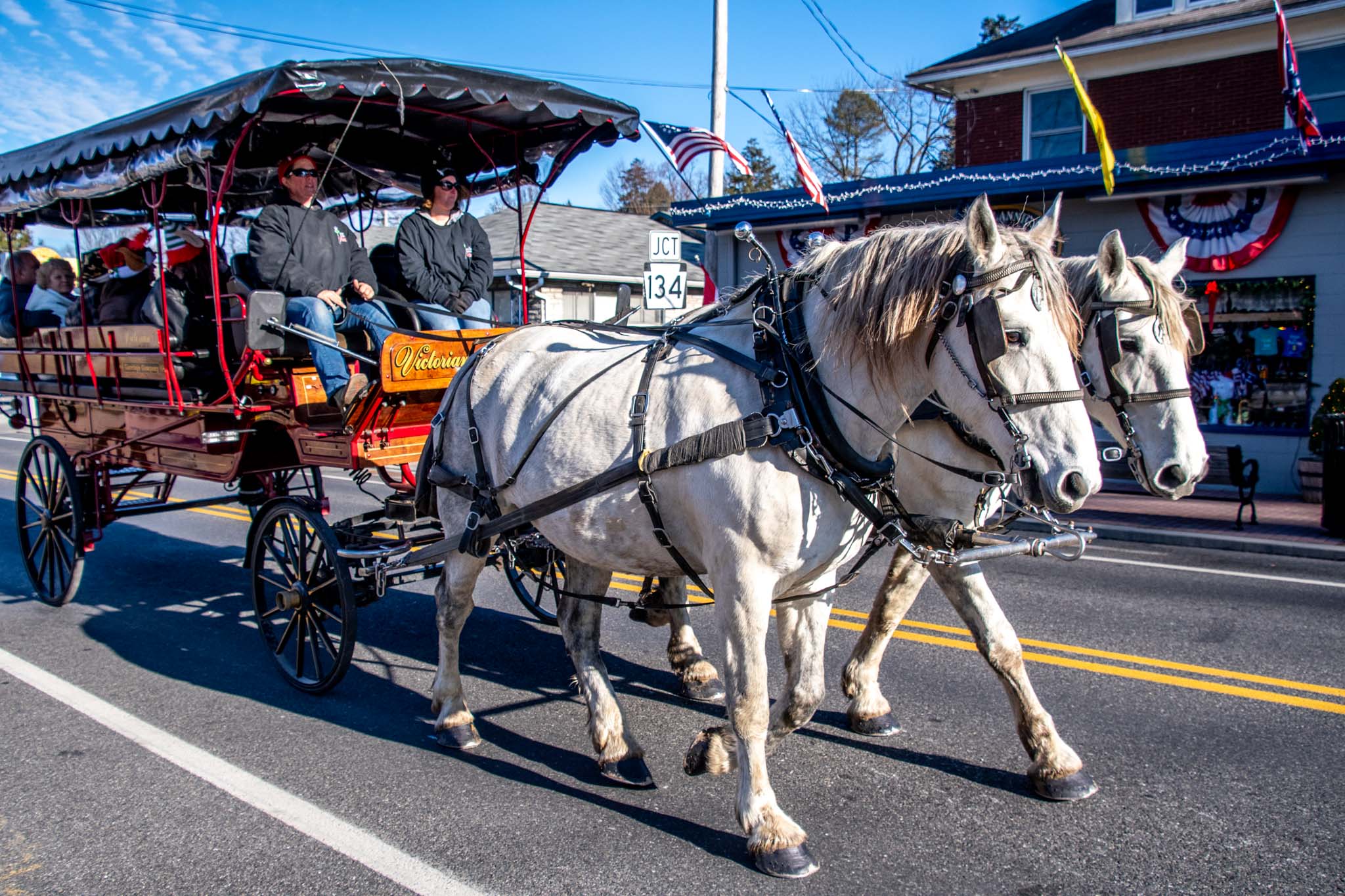 Few things feel more Christmassy than a horse-drawn carriage ride. The beauty of the horses, the clomp of their shoes against the street, and the chill of the winter air combine to make the ideal holiday experience.
In Gettysburg, Victorian Carriage Company offers a variety of tours around the battlefields and the town with different themes and angles. You can learn about the history of Gettysburg and its sites or simply relax on a scenic carriage ride accompanied by a musician playing seasonal music.
Visit the Shriver House Museum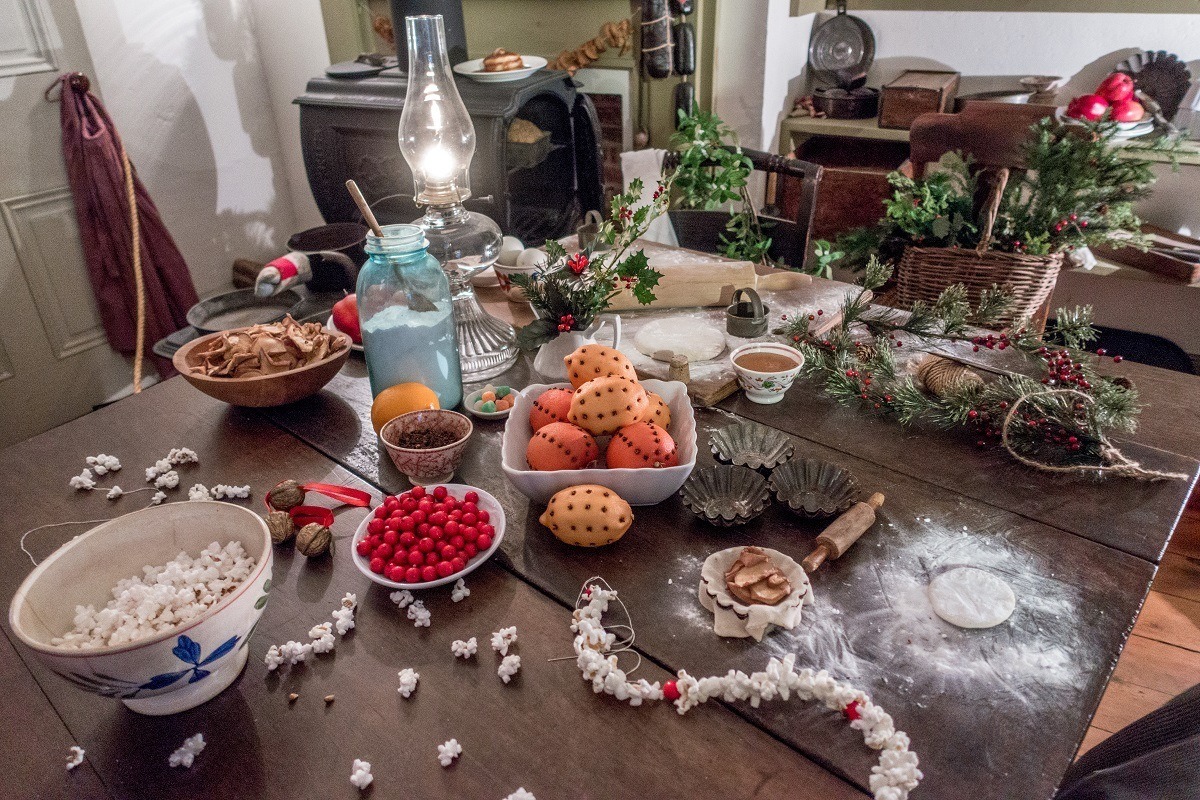 The Shriver House Museum is dedicated to telling a part of the Gettysburg story that is sometimes overlooked—the lives of the town's residents during the famous battle. At Christmas, the 4-story home that dates from 1860 is embellished in holiday finery from their patriotic Christmas tree to gorgeously scented pomanders and mistletoe.
During the candlelight Christmas tour, a guide in period dress tells the story of George and Hettie Shriver and their two young daughters—a typical family whose lives were changed by the battle that came to their doorstep. Learning about their Christmas traditions, experiences, and family life during the tumultuous time puts a unique spin on the Civil War story.
Sit with Santa in Lincoln Square
Perhaps one of the sweetest parts of a Gettysburg Christmas is a visit to Santa's Shanty in Lincoln Square. Every year from just after Thanksgiving until right before Christmas, Santa sets up shop in the heart of downtown ready to hear the wishes of every good little boy and girl (and some that are not so little, too). Even nicer: a visit with Saint Nick is free.
Have fun at the Christmas Festival
There are lots of fun things to do in Gettysburg and plenty of special events throughout the holiday season, but the biggest is the annual Gettysburg Christmas Festival. The first weekend of December, all of downtown becomes one big celebration.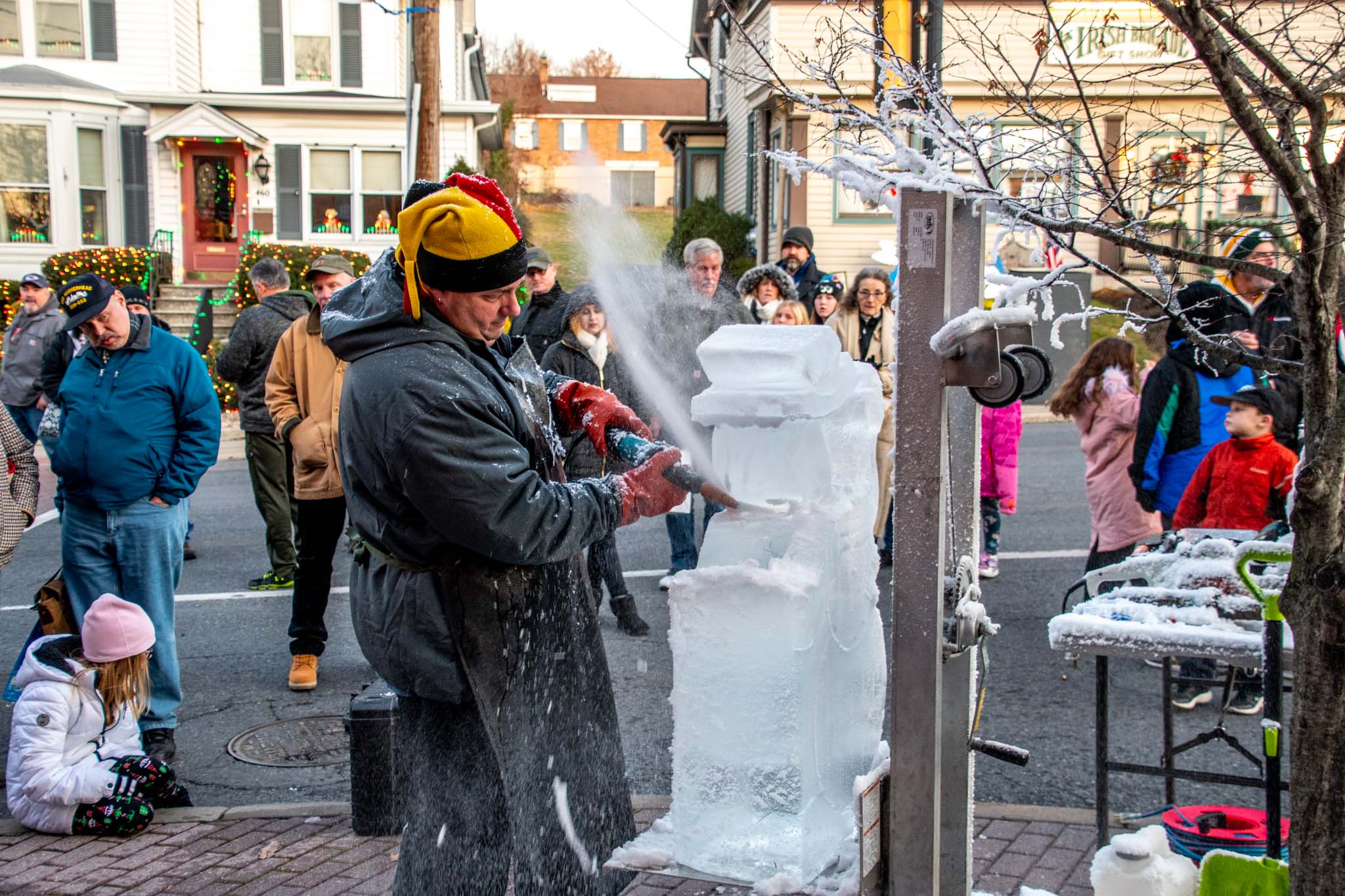 Up and down Baltimore Street and Steinwehr Avenue, there are holiday and winter-related things to see and do and lots of opportunities for family fun. There are several live music stages and roaming musicians and street performers. You'll find pop-up bars with mulled wine, cider, and other warm adult beverages. There are also food trucks, carriage rides, face painting, and more.
Two of our favorite parts of the festival are the ice sculptures and the gingerbread house contest. At several points during the weekend, you can find experts telling stories and putting on a show as they carve 300-pound blocks of ice into reindeer and snowmen. It's amazing to watch.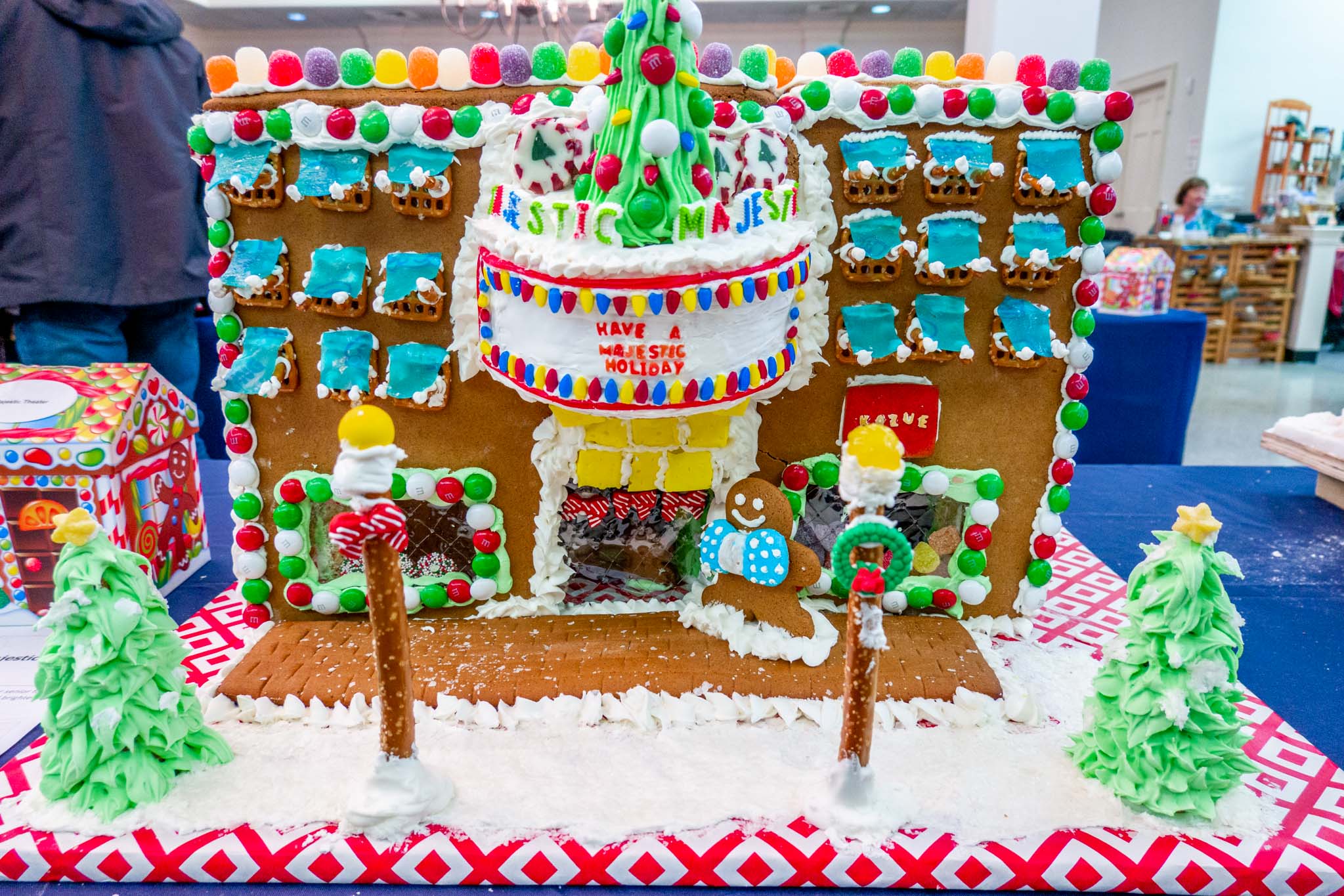 Similarly creative, the gingerbread house contest held by the Adams County Arts Council features elaborate constructions, often paying homage to notable buildings around Gettysburg. These aren't your typical gingerbread creations–you'll find covered bridges, mansions, and cabins that have smoke coming from the chimney. Plus, you can vote for your favorite.
Explore the Eisenhower Estate in Gettysburg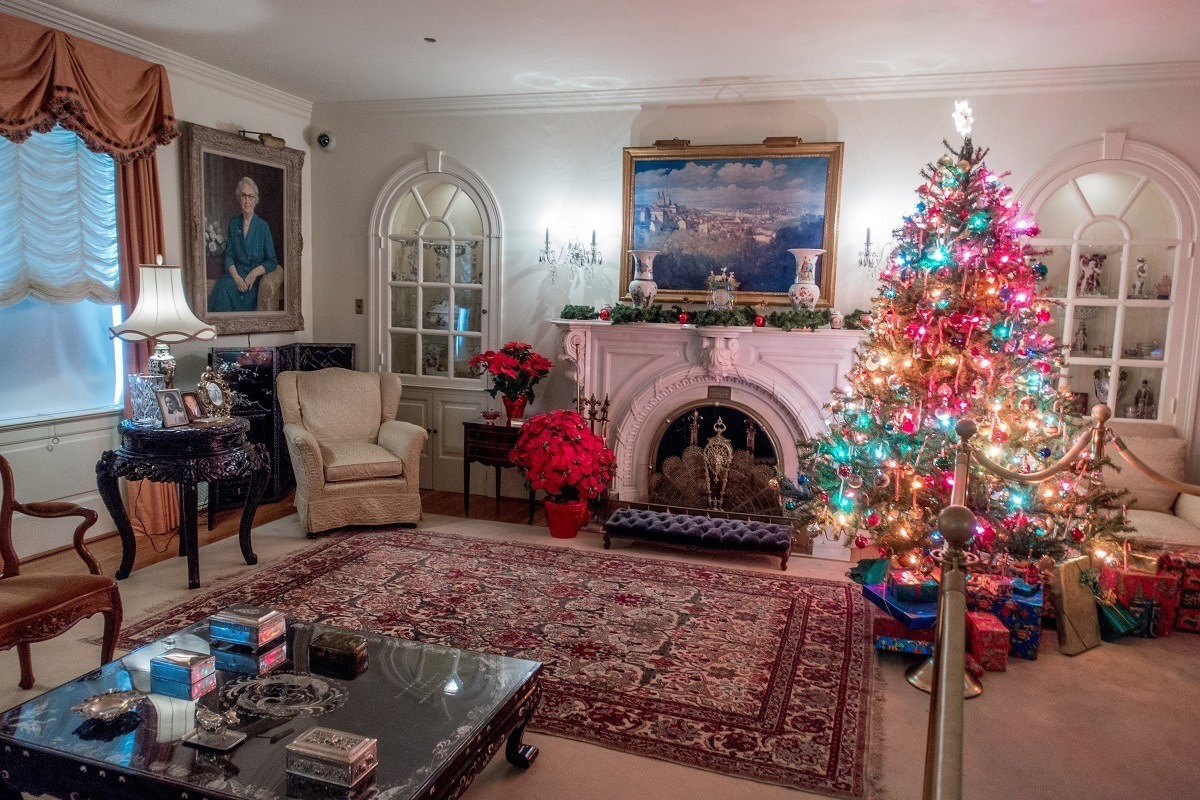 The big white house at the end of the Norway Spruce-lined drive is the only home ever owned by President Dwight Eisenhower and his wife Mamie. Customized to their needs, the house was a place for family, friends, and festivity.
Now, as the Eisenhower National Historic Site, the house looks much as it did when the President's family lived there. You'll see family memorabilia and White House mementos and tour bedrooms, offices, and other private spaces once frequented by the former First Family and their friends.
At Christmas, a tree decorated with bright ornaments shimmers in the corner, poinsettias fill every empty space, and the dining table sits ready to welcome the next guests. A visit here is laidback (tours are self-guided) and informative, thanks to the National Parks Service representatives on-hand, providing a glimpse into the remarkably normal life of the 34th President of the United States.
See A Christmas Carol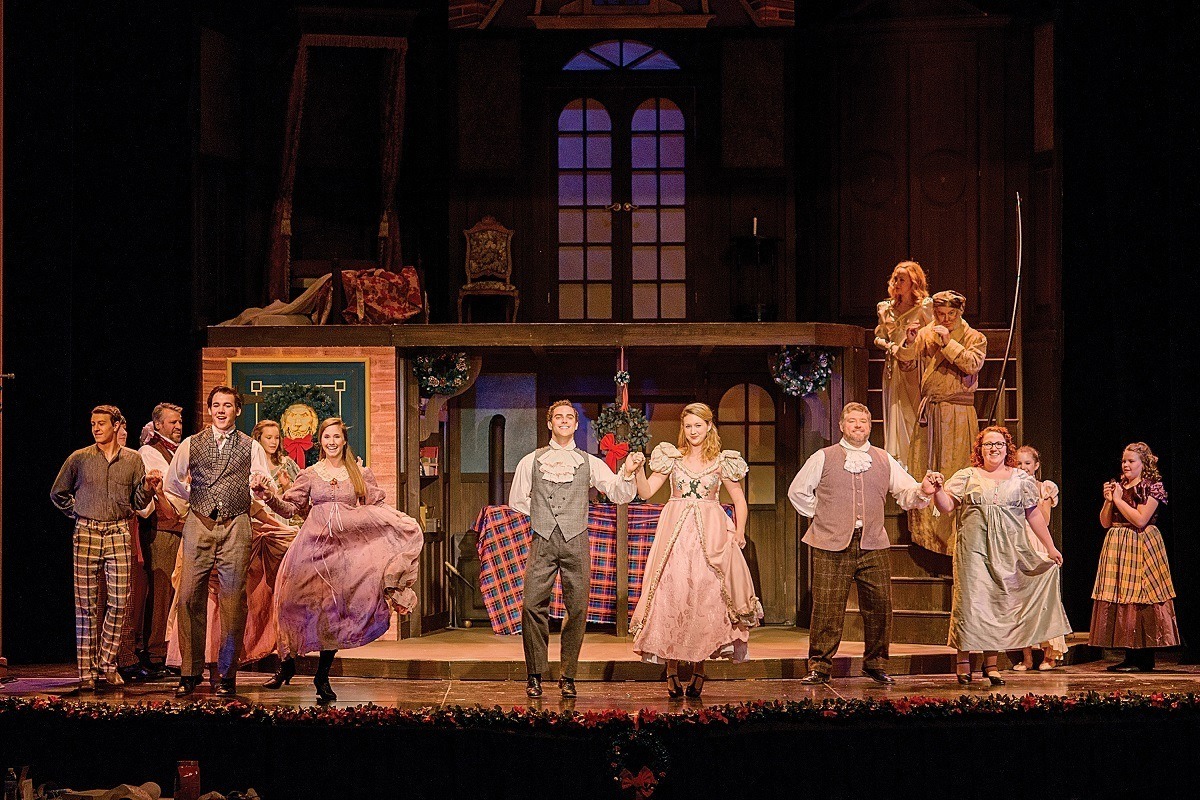 One of the best annual Christmas events in Gettysburg is the production of A Christmas Carol at the Majestic Theater. The play—complete with moving scenery, elaborate costumes, and fantastic musical talent—far exceeded any misguided expectations we had of community theater. We loved every minute of the Charles Dickens holiday classic and were impressed by the excellent performances during the matinee for a packed house.
Visit the Christmas Haus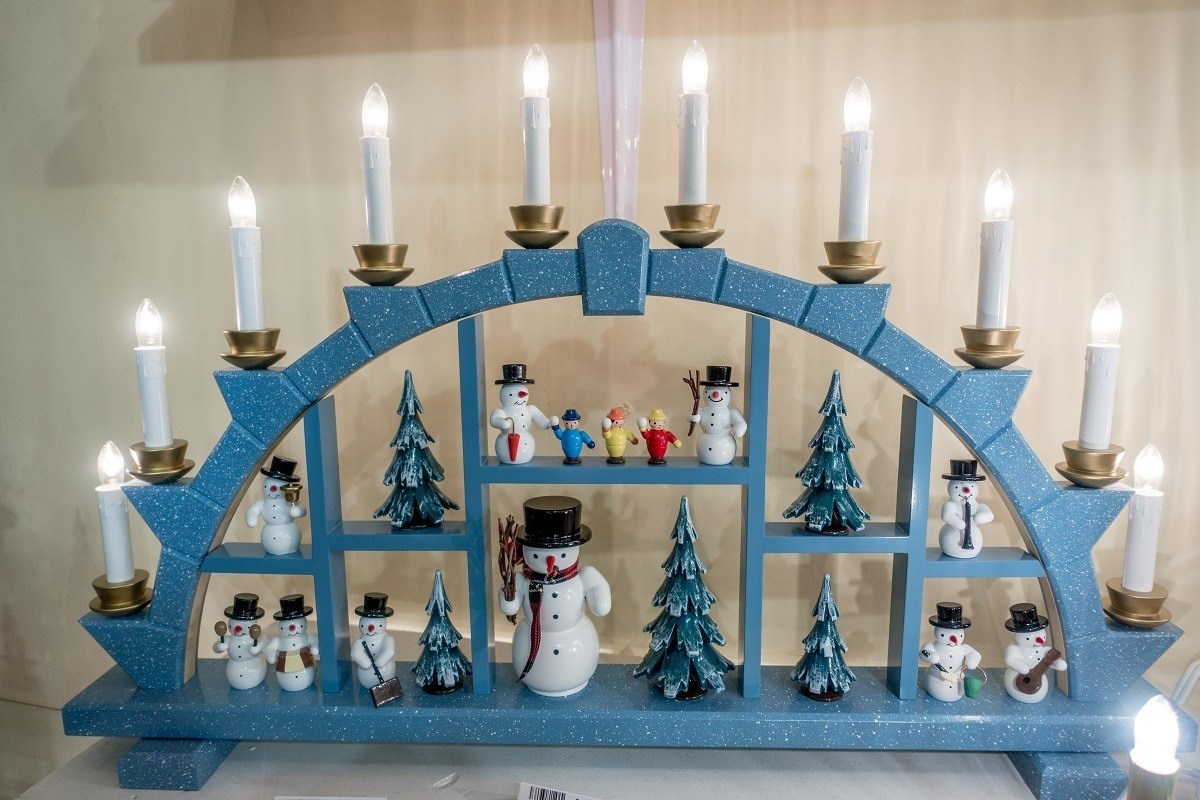 We've loved all things German since we visited the Christmas markets of Munich and Nuremberg several years ago. The Christmas Haus brings a touch of that festivity to Gettysburg.
Featuring handmade specialty decorations from artisans in Germany, this cute shop is not for run-of-the-mill lights and wreaths. The nutcrackers, smokers, ornaments, and other decorations at the Christmas Haus are full of hundreds of years of history, making them family heirlooms to be treasured. You can even try a cup of traditional mulled wine like you would find in the markets in Europe.
Strap on your skates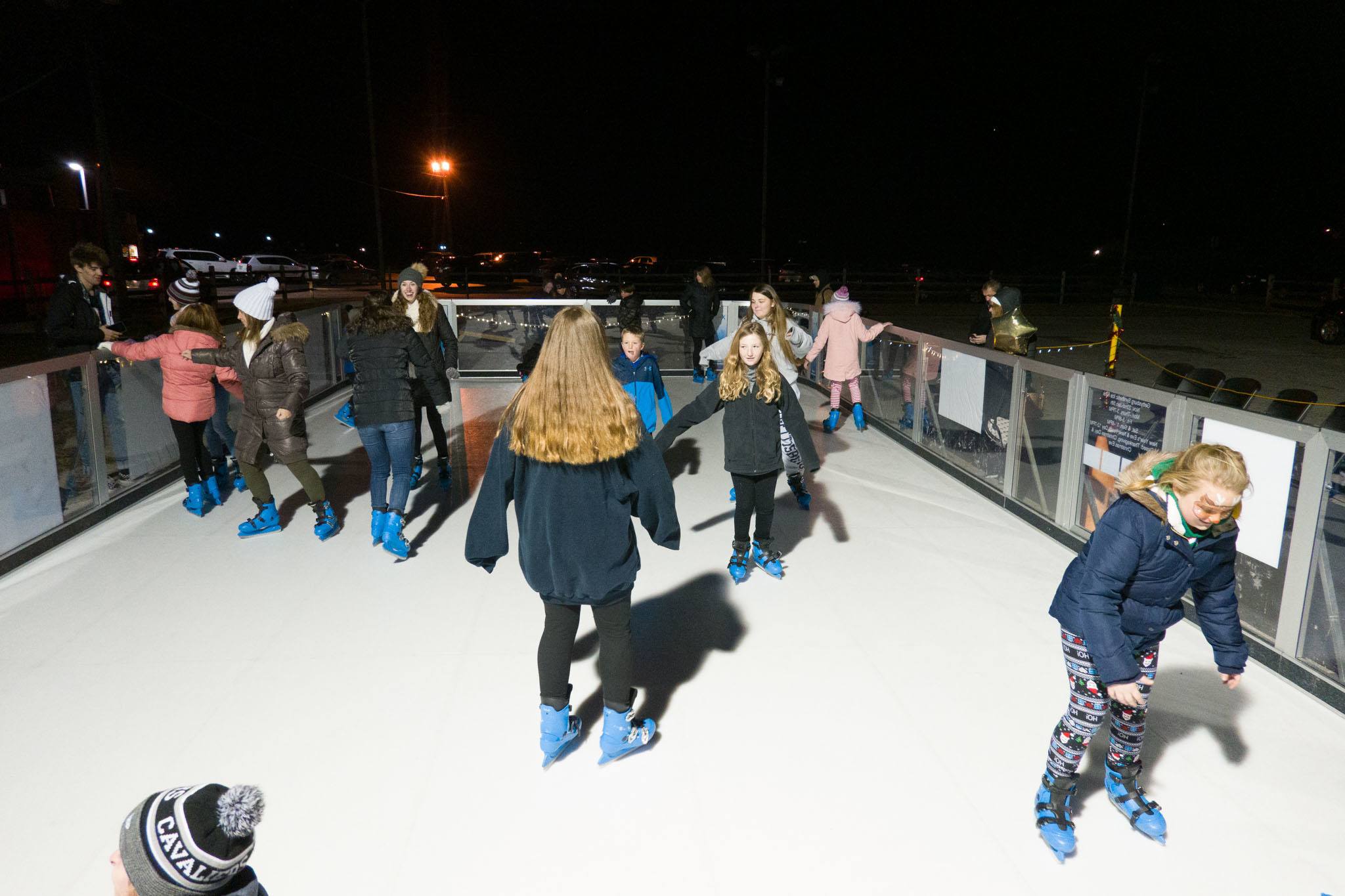 In the winter months, Gettysburg is home to an outdoor ice rink. For just $5 an hour, you can strap on your skates and glide across the temporary rink on Steinwehr Avenue about a half-mile south of downtown. As a bonus, the skates are free.
The interesting thing about this ice rink is that it's environmentally friendly–in fact, it's not ice at all. The synthetic surface doesn't require energy to keep cold like ice does, and the surface is softer, so it's an ideal place for beginning skaters of any age to take a spin this winter.
Dine by candlelight at Dobbin House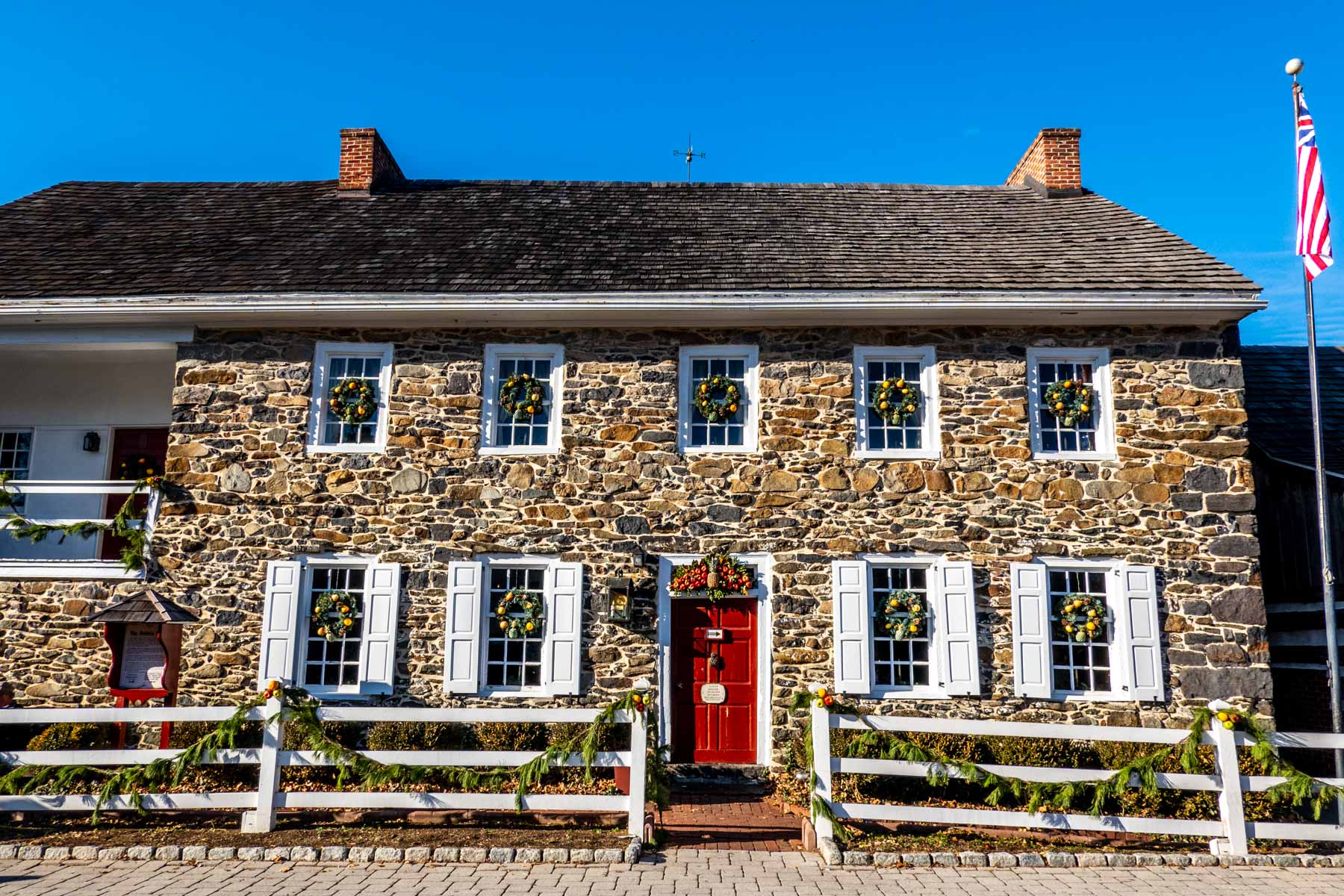 The oldest building in Gettysburg, Dobbin House dates from 1776. Inside, it feels just as welcoming, cozy, and rustic as you would expect from a Colonial-era stone home. It's the perfect place to enjoy a meal in winter.
The Dobbin House is two restaurants in one. Its Dobbin House Tavern is one of the most popular places to eat in Gettysburg for good reason. Its colonial-inspired menu features unique takes on familiar, delicious dishes and cocktails from the time of the Founding Fathers. Around the holidays, you'll find it warmed by open fires as you dine by candlelight. Next door in the Springhouse Tavern, you get the same cozy feeling in a casual, lively pub. You can't go wrong with either option.
Where to Stay for a Gettysburg Christmas Visit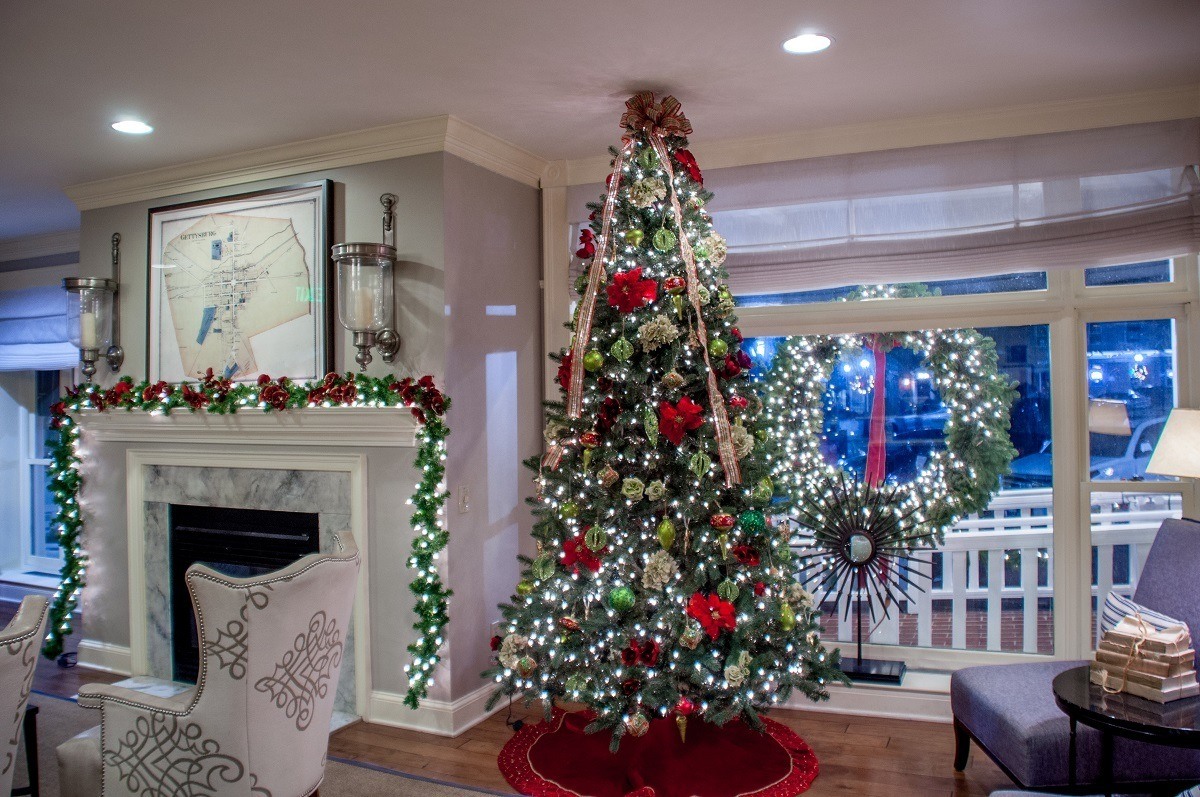 Gettysburg Hotel — Right in Lincoln Square, the hotel is within walking distance of numerous great shops and restaurants. Plus, the Tuba Carol Fest happens on the front steps. The regular rooms are very comfortable, and the suites come with fireplaces and jacuzzi tubs. (Read reviews and book a room)
Brickhouse Inn — The top-rated B&B in Gettysburg, the Brickhouse Inn is located in a Victorian mansion. Service is personalized and the food is out of this world. (Read reviews and book a room)
Wyndham Gettysburg — Located near the intersection of Route 30 and Route 15, the Wyndham Gettysburg is less than 10 minutes from downtown. With comfortable, modern rooms, two restaurants, and a heated indoor pool, it's an excellent option. (Read reviews and book a room)
Photo of A Christmas Carol courtesy of Destination Gettysburg. We were the guests of Destination Gettysburg. All opinions of the festive and fun are our own.