Charlotte Amalie in the U.S. Virgin Islands is an extremely popular cruise ship port-of-call and there is no shortage of visitors here. One of the most popular St. Thomas activities is a visit to one of the many beaches on the island – and no beach is more beautiful or popular than the Magens Bay Beach
It is an adventure in paradise!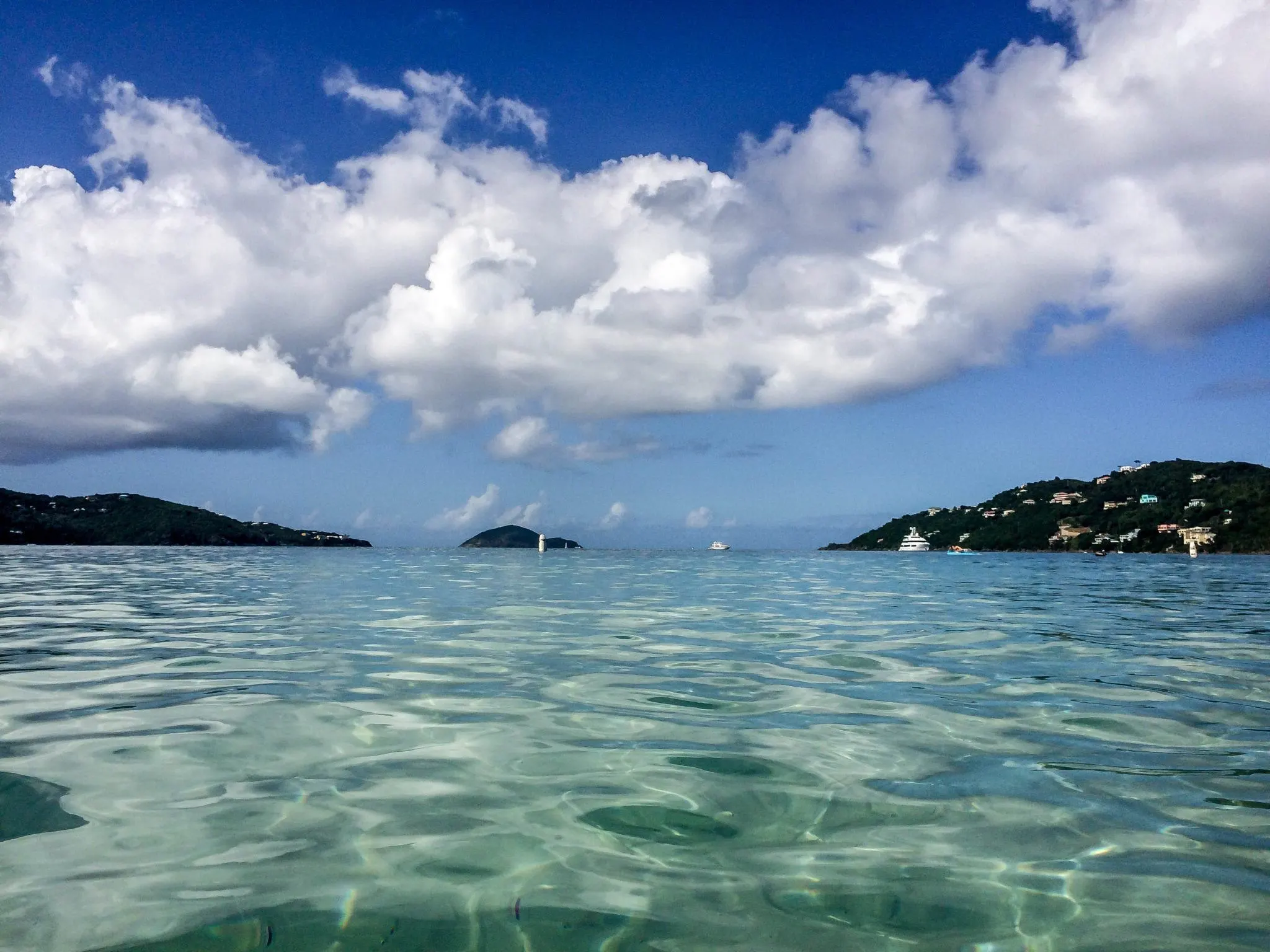 We visited St. Thomas on a cruise several years ago and weren't impressed. While we'd initially considered going to Magens Bay Beach or one of the other St. Thomas beaches, we opted to take the ferry over to Trunk Bay in St. John instead. Later, we realized we hadn't given St. Thomas a fair chance.
So, during our recent cruise on Celebrity, we opted to rent a car and drive ourselves around St. Thomas. As it turned out, driving was the perfect decision.
Having driven on the other side of the road before, seeing all the things to do in St. Thomas on our own made sense. The rental car company (Budget) is located right at the cruise ship pier. We were able to create our own island tour by hitting the highlights: Skyline Drive, Drake's Seat, Mountain Top, and on to the beach.
The drive along the entire Skyline Drive road (Route 40) offers stunning views of the island. From the scenic overlook , there are amazing views looking south to Charlotte Amalie and Crown Bay.
On the day we made the drive, there were four cruise ships in port. It's hard to see how the island can support that many visitors, but we didn't experience a lot of overcrowding on our trip. Continuing on Skyline Drive, the viewpoint at Drake's Seat offers amazing views of Magens Bay, the other Virgin Islands, and the Atlantic Ocean to the north.
Before continuing on to the beach, we stopped at Mountain Top. This is the #1 tourist attraction in the Virgin Islands. Millions of visitors make the trek up here for the stunning views of the Virgin Islands – and the gift shop that sells everything. And we mean literally everything.
Mountain Top also claims to be home of the Banana Daiquiri, which we sampled and enjoyed. For our taste, Mountain Top was a bit too kitschy and we were interested in a more relaxing experience.
The real goal of our excursion was to soak up some sun on Magens Bay beach. No other place in the Caribbean is more frequently misspelled or mispronounced. It's not Megans Bay, and there's no apostrophe. It is named for a long-forgotten territorial governor named Jacob Jorgenson Magens.
This nearly one-mile long white sandy beach is one of the nicest in the world. Protected by the Peterborg Peninsula, the water is calm, the sand is fine, the palm trees provide ample shade, and it's practically perfect.
The only downside is that nearly all the cruise ship visitors seem to make their way here, too. However, we learned some tips to get away from the crowds and enjoy this tropical paradise.
After pulling up to the admission gate, private cars need to turn left and find parking in Magens Bay Park (and there is ample parking). However, the further down the beach you go (away from the entrance to the left), the fewer people there are.
It seems most of the cruise ship visitors who come by taxi congregate near the concession stand. We went 500 yards down the beach and had a picnic table in the shade to ourselves with relatively few people.
We spent over three hours lounging in the sun, swimming in the ocean and watching the pelican dive-bomb small schools of fish in the shallow water. We drank tropical island drinks and got a little too much sun. It was perfect in every way!
The cruise ships charge $50-$80 per person for the shore excursion to see the island and visit the beach. For our group, that would have been $200-$320. Independent shore excursions can be had for about $45-60 per person.
We did it for $76 with the rental car, $15 in gas and $22 to get into the beach. But even more important than saving money, we were on our own time schedule and had the independence to do what we wanted. We were able to have an adventure in paradise.
Here is some more Magens Bay Beach Visitor Information:
Admission
$5.00 per person over age 12 (under 12 is free), plus $2.00 parking per car.
Location
Follow Route 35 from Charlotte Amalie due north until it dead ends at the check point. Private cars will be directed to the left. There is ample parking. At the check point, taxis will drop off visitors in the traffic circle.
Getting to Magens Bay from the Cruise Port
Our first question was, how far is Magens Bay from the cruise port? The answer is 5.8km (3.7 miles). However, that short distance is compounded by mountains, winding roads, and poor road signage.
You've really got three ways to get from the St Thomas cruise port to Magens Bay: expensive private excursion, hiring a taxi, or renting a car and driving yourself. The taxi fare from the cruise port to Magens Bay is between $10-$15 per person. Taxis are not private taxis–they are more like big, open-top buses.
If you'd rather book your own tour, consider this half-day option.
The official cruise shore excursions are:
Royal Caribbean: Magens Bay Beach Getaway
Norwegian Cruise Line: Magen's Bay Beach (yes, they misspell the name)
Princess: Magens Bay Beach, Scenic Drive & Shopping
Carnival: Magens Bay Beach Getaway
For us, the best way to get there is to rent a car. This also allows you the opportunity to see other things on the island like the Mountain Top and Drake's Seat.
Restaurant and Bar
There are concession services at the beach. The snack bar serves pizza (either whole or by the slice), food from the grill (hamburgers, hotdogs, etc.), sandwiches and salads (pre-packaged), plus snacks like chips and sodas. The food was actually better than we expected. There is a $10 minimum for credit card transactions.
There is also a full-service bar serving all kinds of beers and tropical cocktails. There are also about a half-dozen young women that operate a kind of independent waitress service from the Magens Bay Beach Bar. Technically not affiliated with either business, they will run drinks for you out to the beach (for cash tips).
There is a handful of seats at both the snack bar and the full-service drink bar. Those seats are snatched up instantly during peak times. You are better off taking the food/drinks back to your beach chairs or looking for a picnic table among the trees.
Equipment Rentals
Equipment is available to rent. Lounge chairs are available for $10.00 per day and beach chairs are $8.00/day (either option has a $5.00 refundable rental deposit). Mask, fins and snorkel can be rented for $25.00 (plus a $35.00 refundable deposit). There is a $15 minimum on all credit card transactions.
Bringing your own snorkel gear will save you money. (Note: We strongly recommend buying your own snorkel gear. There's something about putting your mouth on a snorkel that thousands of other people have used that we don't love. We wrote an in-depth guide to snorkel gear here.)
The one downside is that the equipment rental shed is on the busiest part of the beach and you may need to wait for gear or carry your chair a long, long way to get away from the crowds.
The beach attendants are also willing to carry the chairs a short distance for you (for a cash tip). However, they are unlikely to carry them way down the beach to a quiet section.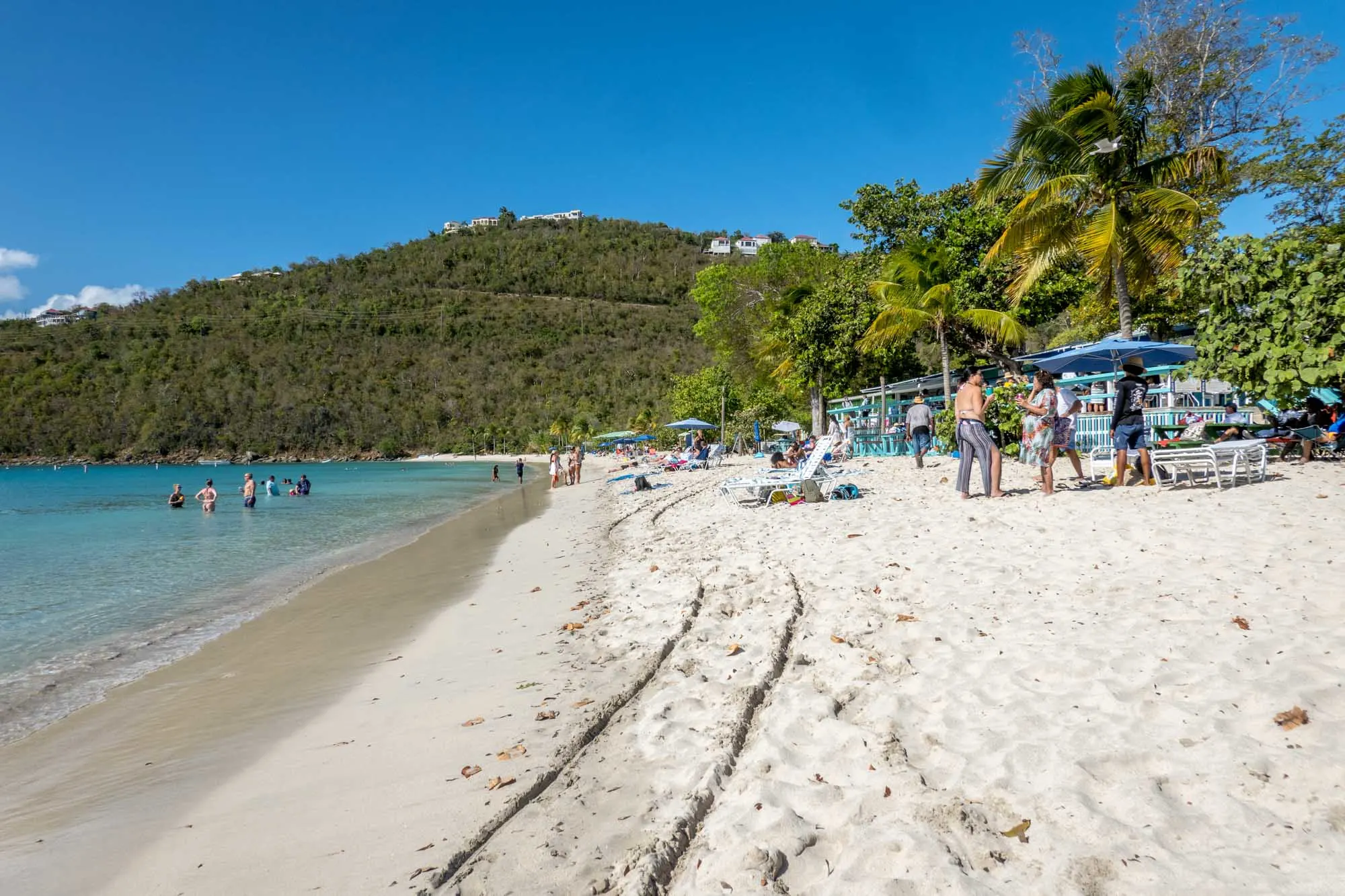 Bathrooms and Showers
There are public showers and restrooms at several points along the beach. The bathrooms aren't super clean (particularly later in the day), however, they are usable.
Lance Longwell is a travel writer and photographer who has published Travel Addicts since 2008, making it one of the oldest travel blogs. He is a life-long traveler, having visited all 50 of the United States by the time he graduated high school. Lance has continued his adventures by visiting 70 countries on 5 continents – all in search of the world's perfect sausage. He's a passionate foodie and enjoys hot springs and cultural oddities. When he's not traveling (or writing about travel), you'll find him photographing his hometown of Philadelphia.