The Palace of Culture and Science in Warsaw was a gift to the Polish people from Joseph Stalin…stamping his mark on Polish capital. Not surprisingly, locals haven't been particularly fond of the building over the years and refer to it as Stalin's Prick.
The tallest building in Warsaw, the "Palace" (called Pałac Kultury i Nauki in Polish, or just PKiN) leaves much to be desire aesthetically. It's a big tall building of rigid sensibilities and almost art deco accents. Designed in the communist Socialist Classicism style by architect Lev Rudnev, it's beauty does not measure to its height. It's definitely NOT pretty and not my cup of tea.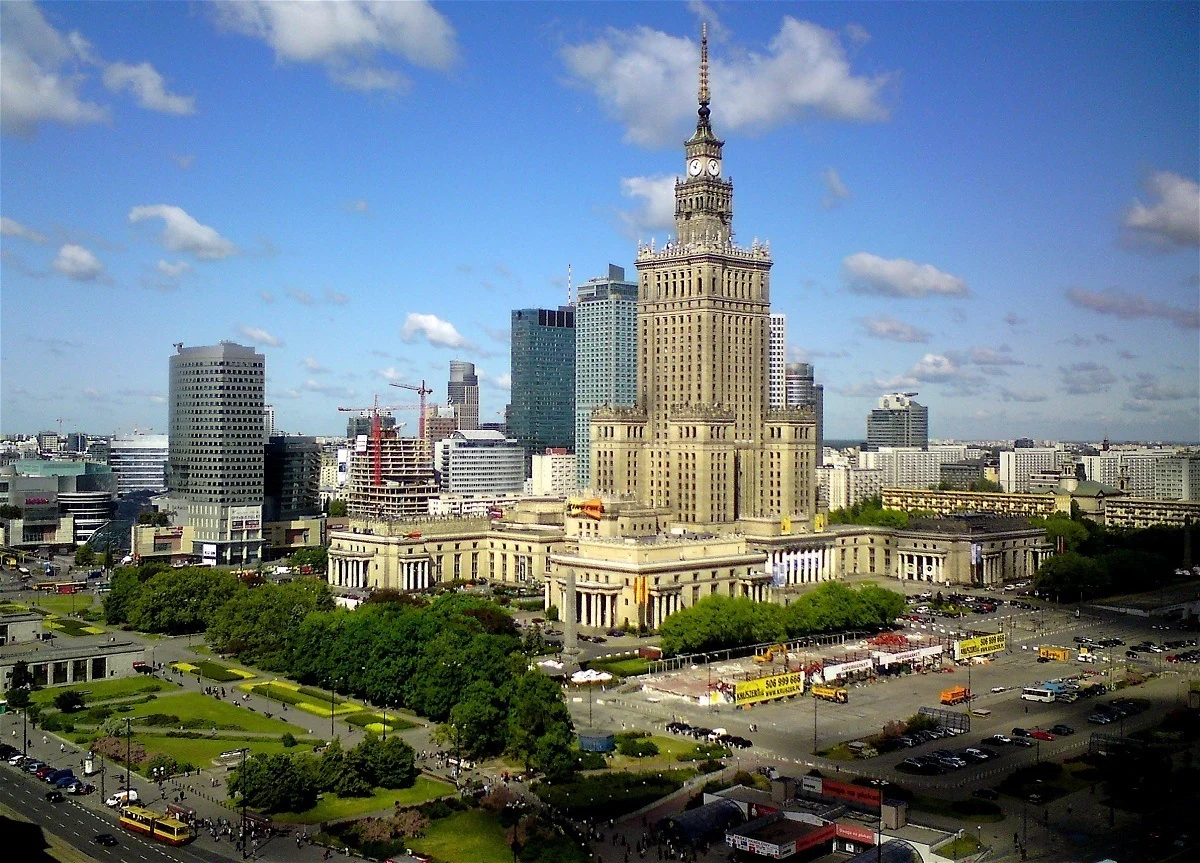 Built in 1955 by thousands of Soviet and Polish construction workers, the building has always been controversial. Over the years, many floors have been empty or under utilized.
These days, there is actually some culture to be found in the building. The building is now mixed use and welcomes international trade fairs (which was the reason for my visit) along with office space. The building has a movie complex and several different theaters for special events (including rock concerts).
During one of my breaks at the international trade fair, I rode the elevator up to the 30th floor viewing terrace to take in the views of the city. The elevator is a little to tricky to locate (it's on the second floor) and the signage was all in Polish.
The views from the observation deck and viewing terrace were good, were not breathtaking. In some ways, it was one of those "checking the box" experiences. I feel like any trip to Warsaw wouldn't be complete without it, but I certainly wouldn't repeat the experience.
Palace of Culture and Science Visitor Information
Building Location
The building is located at Plac Defilad 1 in the heart of Warsaw.
The "XXX Floor" Viewing Terrace
The 30th floor viewing terrace is located 375 feet above the city of Warsaw below. The terrace offers the best views in Warsaw.
Hours of Operation
The 30th Floor Viewing Terrace is open June-August from 10:00am-23:30 on Friday and Saturday; and from 10:00am-20:00 the rest of the week. Winter hours are slightly shorter in the evenings. Please note: The viewing terrace is frequently closed for special events and private receptions. We recommend having your hotel call to confirm if they are open.
Admission
20 PLN for the viewing terrace. However, it is free to walk into the building a gawk at the abrasive communist era architecture.
Website