Some posts on this site contain affiliate links, meaning if you book or buy something through one of these links, we may earn a small commission (at no extra cost to you).
San Diego is one of our favorite cities on the planet. Italians talk about la dolce vita – and nowhere is that spirit more present than San Diego. This fun, relaxed city has an abundance of activities and the San Diego weather is amazing! We're a little biased – Laura's sister lives here and we go out frequently to visit, but we never tire of taking in the San Diego highlights! Here are our top things to do in San Diego.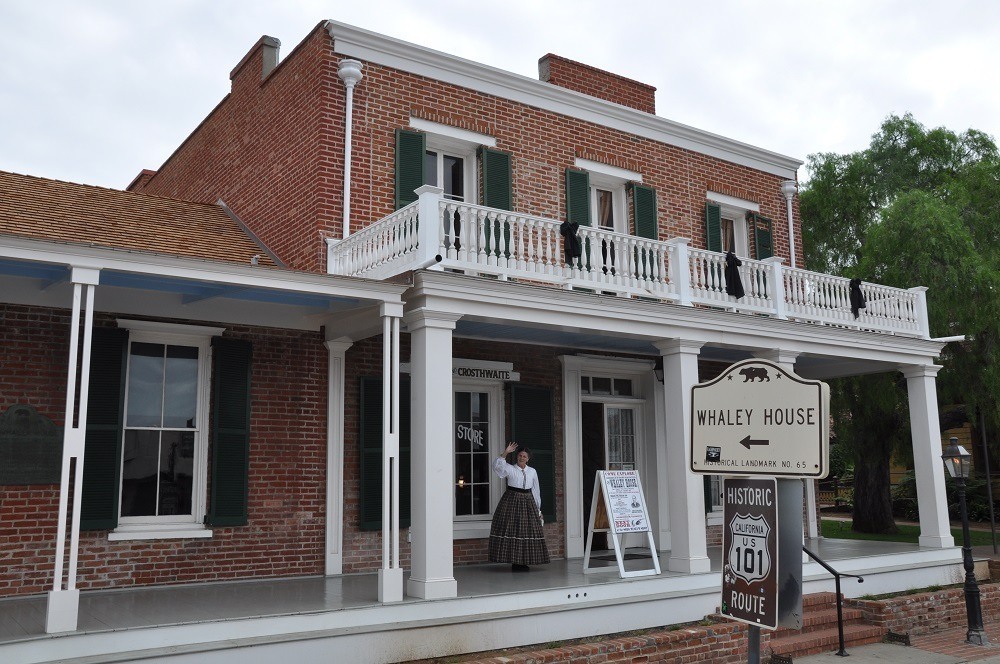 Things to Do in San Diego
Old Town Trolley Tour
A great way to get an overview of the city and take in the San Diego highlights is the hop-on/hop-off Old Town Trolley Tour. This narrated two-hour driving tour includes all the San Diego points of interest: Old Town San Diego State Historic Park, San Diego Harbor, Seaport Village, Horton Plaza, Gaslamp Quarter, Coronado Island, Balboa Park and Little Italy.
Overall, I was very impressed with the San Diego Trolley Tour. When we travel, we tend to be pretty independent and eschew these kind of tours. However, I can say that after many trips to San Diego over the years, I definitely learned a few things about the city and definitely enjoyed myself. This is one of the best things to do in San Diego and a great way to start your trip!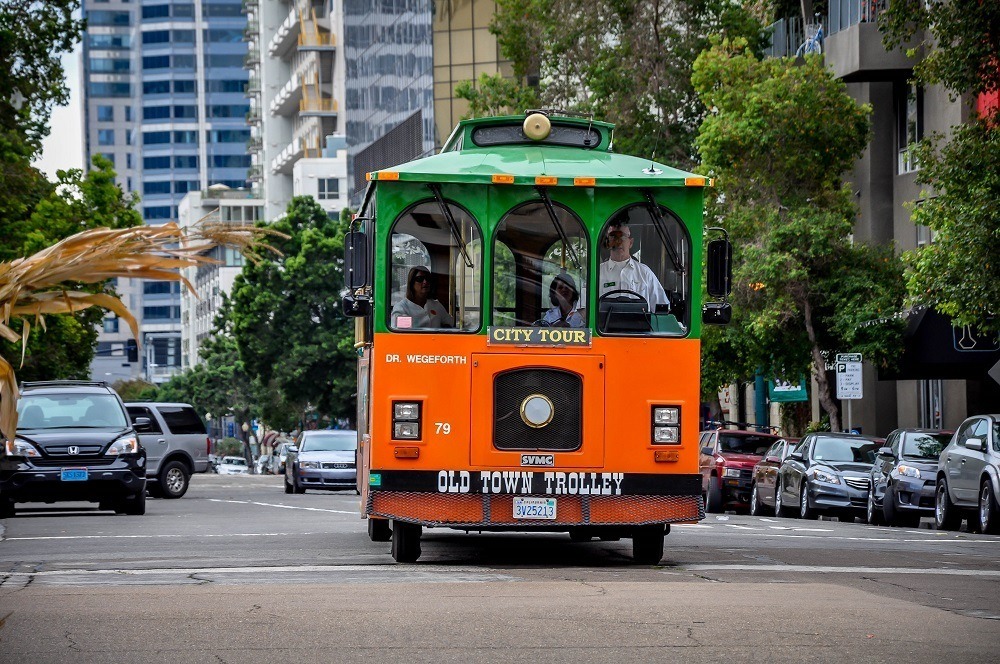 The San Diego Zoo
At the top of many people's San Diego highlights list is the San Diego Zoo. This world-renowned institution is truly something to see. In full disclosure, we really dislike zoos, but this one was pretty good. I don't like the animals in concrete cages and there wasn't much of that (except the rhinos and giraffes, which were so sad). The gorilla experience was great! We got to watch them play and eat their own feces! (Always a good time!)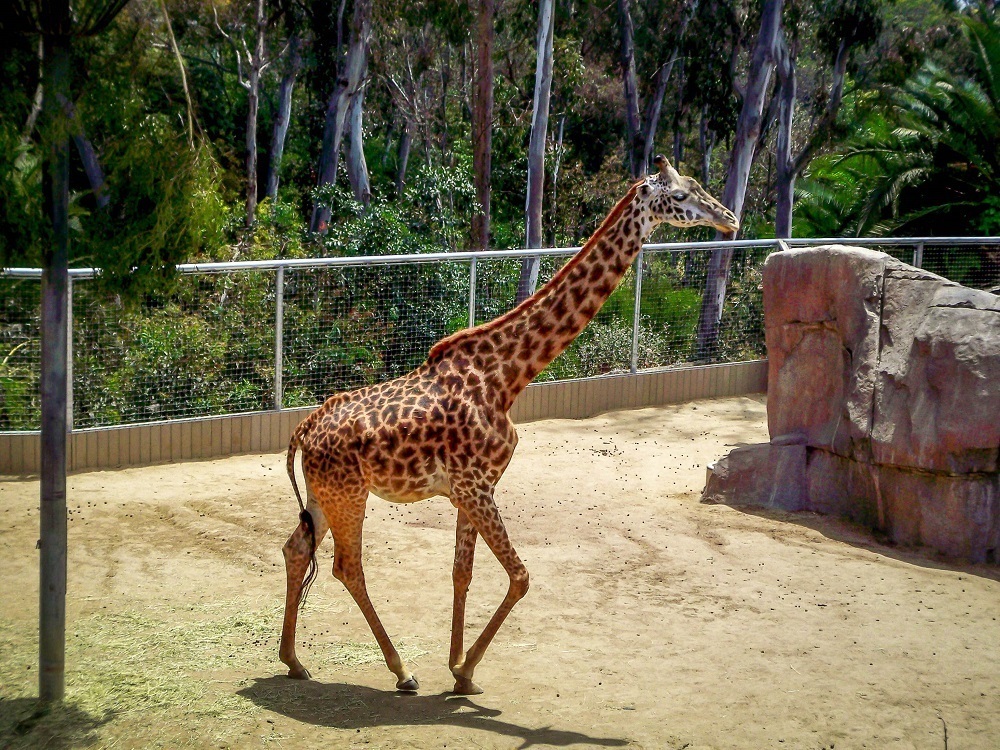 San Diego's Craft Beer Scene
San Diego is the self-styled craft beer capital of the United States (other cities have more breweries and produce more beer – but don't tell that to the folks in San Diego). However, San Diego County produce some exceptionally fine brews, mostly hop-heavy India Pale Ales (IPAs).
Stone Brewing is the regional heavyweight and (arguably) the most popular of the San Diego breweries, but the smaller breweries like Arcana Brewing Company and Half Door Brewing Co. are turning out some seriously good beer. [If craft beer is your thing, check out our article on San Diego breweries.]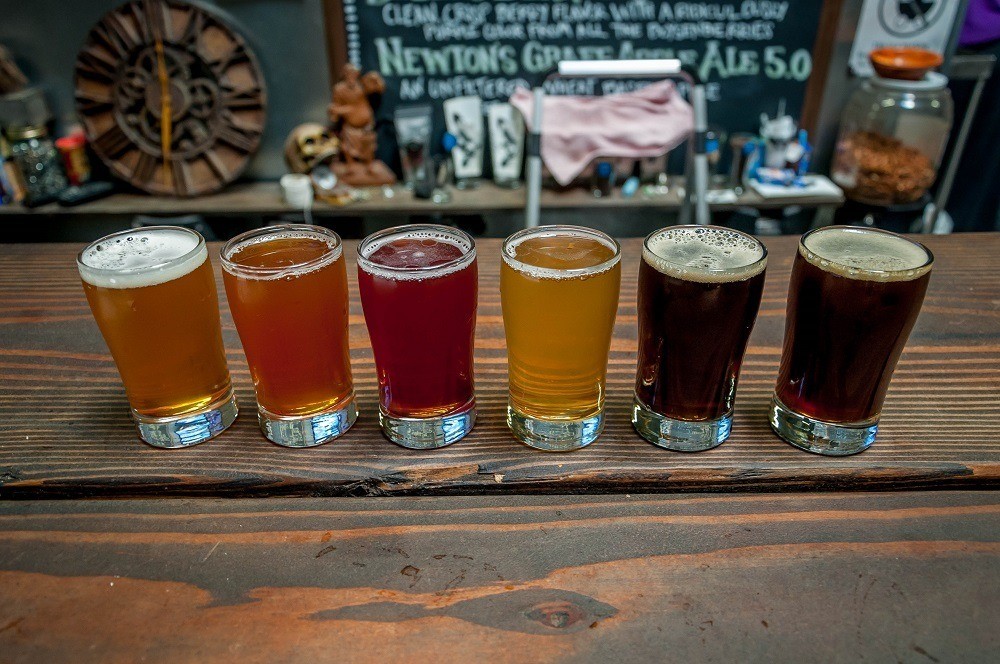 The Museum of Contemporary Art San Diego
If you're looking for culture, you should check out the Museum of Contemporary Art San Diego. During one of our visits, the museum was showing the exhibit Phenomenal: California, Light, Space, Surface. I love contemporary art and the MCASD is a great museum – two buildings across the street from each other housing about 12 large rooms.
This temporary exhibit prominently featured the work of local artist Robert Irwin, but I found Doug Wheeler's large scale work "DW 68 VEN MCASD11" to be enthralling. The museum describes the piece as "a total surround of disembodied luminescence," but I found the experience to be a bit like lying on the bottom of a swimming pool and staring up at the light at the surface. The Museum of Contemporary Art always has special exhibits, so stop in and check out some really cool art!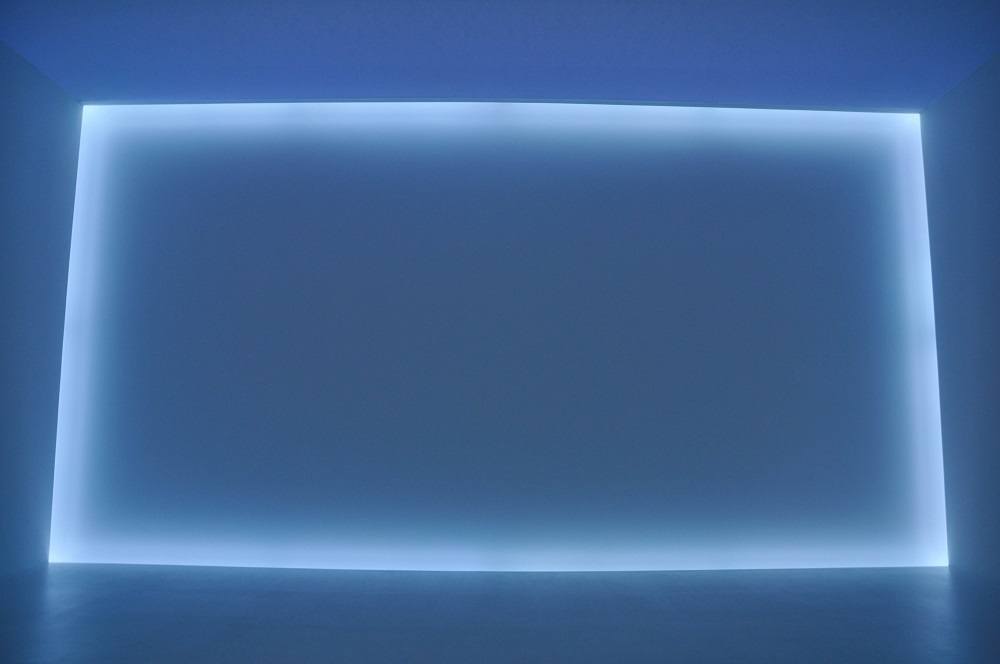 San Diego Harbor Cruise on Hornblower Cruises
A great way to spend an afternoon in San Diego is on the water with a cruise of San Diego Bay. The Hornblower Cruises operates pleasure and dinner cruises right from downtown San Diego run next to the Midway Museum. Hornblower Cruises offers three options: South Bay (featuring the Coronado Bridge, Naval base and is great for military buffs), North Bay (featuring the cultural sites of San Diego, sea lions and Point Loma), and a two-hour both North and South Bay cruise.
The North Bay cruise seems to be more popular, although we did the South Bay and were very pleased with it. This cruise is certainly one of the great San Diego highlights and is a wonderful way to spend an afternoon.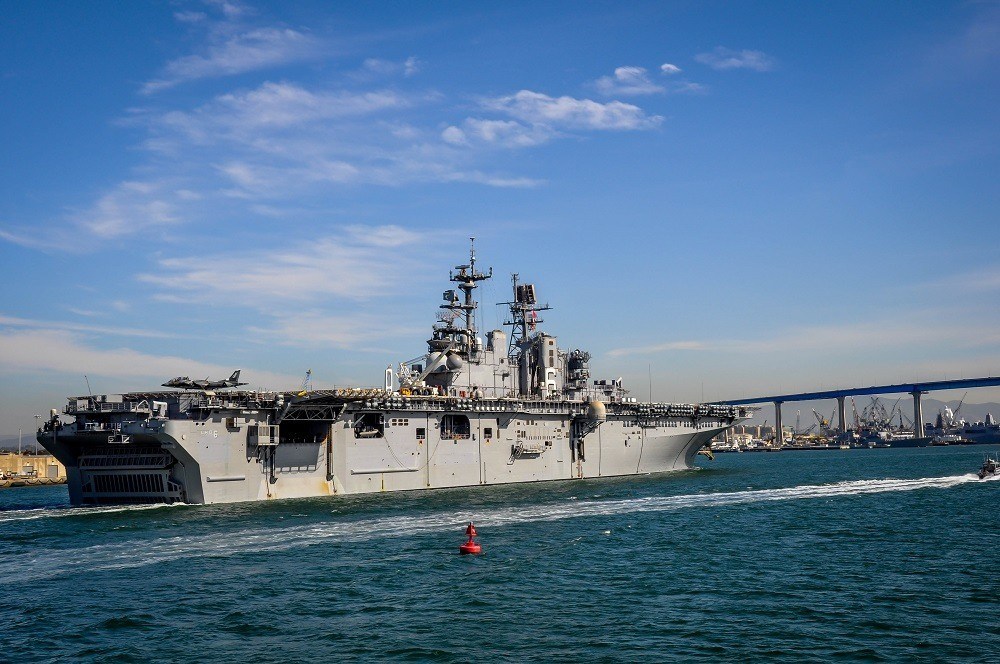 San Diego Marina
Above all else, San Diego is a maritime city. And the beating heart of this city is the San Diego Marina. Here is where locals run along the water and come to see or be seen. It's also no surprise that the world's elite like to make a port of call here in the luxury yachts.
On one of our trips, we were able to see Roman Abramovich's Motor Yacht Luna (M/Y Luna) in all it's glroy. Staring at the pretty blue hull, I found myself day-dreaming that this would be our luxury private yacht charter. I can dream, right? At 115 meters in length and a reported $300 million price tag, the M/Y Luna sets the bar for luxury yacht travel. She has multiple decks, helicopter landing pad, and a massive rear deck with a covered swimming pool. With this yacht, we could travel in style! If the Luna is a bit too ostentatious for you, there's lots of other yachts in the marina to dream over.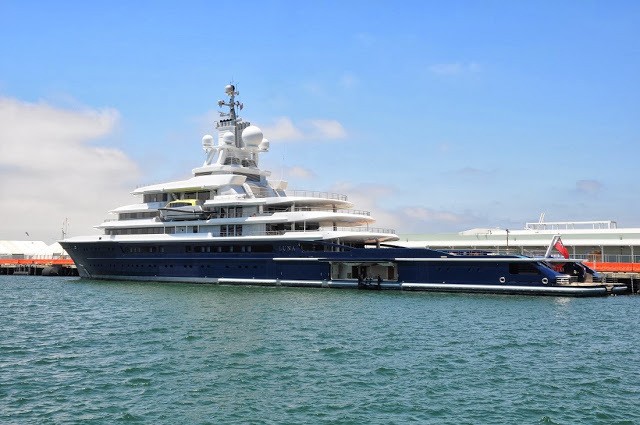 San Diego Padres Games
In the summers, you can find most of San Diego at the ballpark for a San Diego Padres Game. In fact, going to a Padres game is one of the top things to do in San Diego at night. The stadium is in the heart of downtown, making pre- and post-game partying extremely convenient. We were there for a Cubs game, which the Padres won, but the Cubs fans outnumbered Padres fans at least 3 to 1 in the stands. There wasn't the hostility you see in other ballparks and everyone was having fun.
But, as we've traveled the country visiting MLB stadiums, we notice every one of them has something unique. At Petco Field for the Padres, they have a whole section of All You Can Eat Seats. The whole concept was a little gross, but I guess the folks in San Diego are into it. As a bonus, they do fireworks after the game. You can never have enough fireworks!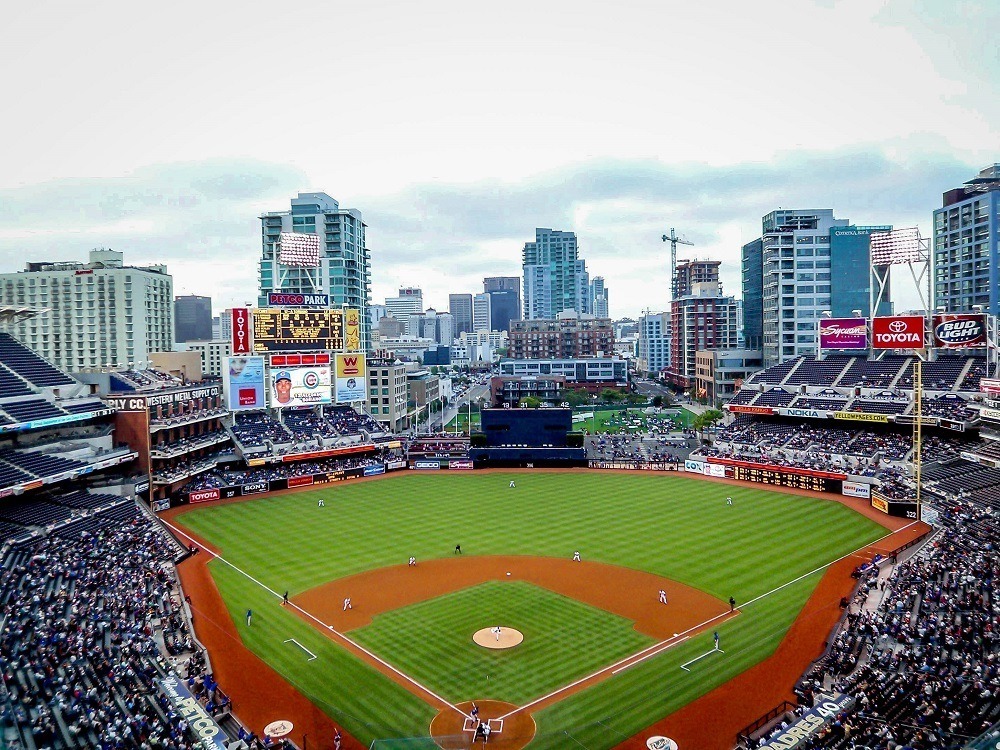 Day Trips from San Diego
La Jolla and La Jolla Cove
The charming village of La Jolla is located in San Diego county about a half hour north of downtown San Diego. You could spend a whole day wandering the main Street, shopping, eating at the incredible restaurants and people watching at La Jolla Cove. When it comes to Southern California, many people naturally think of the beach.
However, La Jolla is not one of best beaches in San Diego. It's too rocky. But it is the perfect place for watersports! You can enjoy swimming, snorkeling, scuba diving, and stand-up paddle boarding here. There's many great San Diego beaches, but you come to La Jolla for the village and the recreation.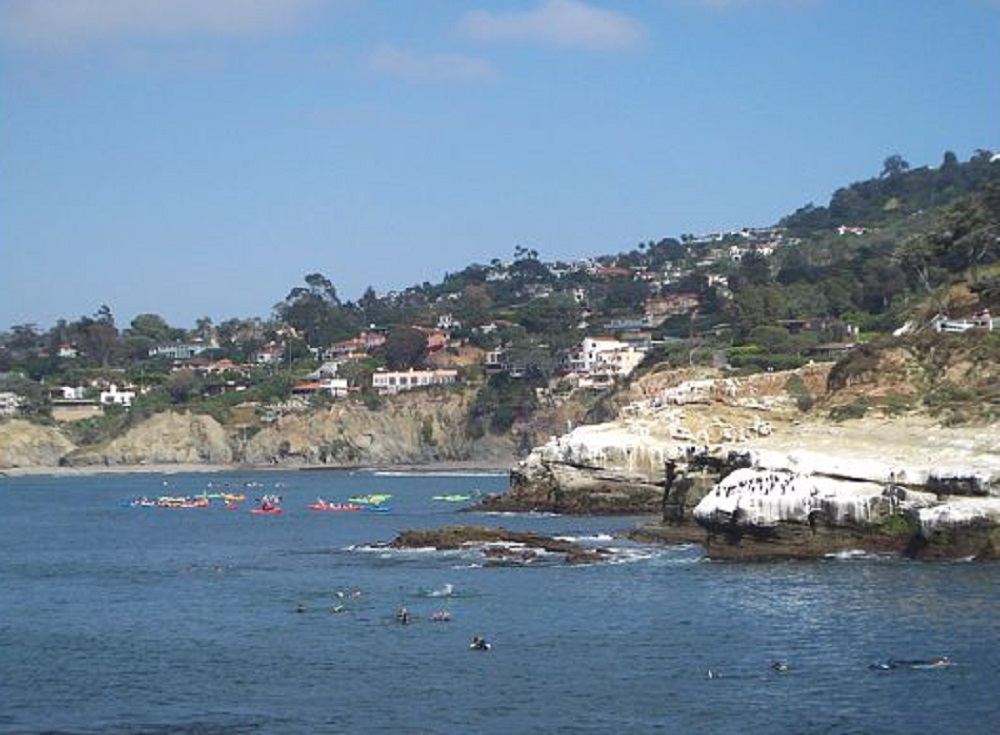 Escondido and the San Diego Zoo Safari Park
You can also do a number of great side trips from San Diego. A very popular trip is to visit Escondido, where you can visit the San Diego Safari Park. This is run by the San Diego Zoo, but it's much more natural and humane (you could really call it the San Diego Wild Animal Park, because the animals do feel wild and free). Many of the animals roam freely in large enclosures instead of concrete "habitats" at the main zoo. On your way back into San Diego, you can stop at some of the many wineries in the region.
Julian
In the autumn, one of the best day trips from San Diego is Apple Days in Julian, California. In the mountains east of San Diego, apples are a staple crop and the town of Julian is at the center of this industry. In the fall, the town hosts Apple Days and day-trippers come from San Diego to partake in the amazing apple pie produced here. It really is worth the trip!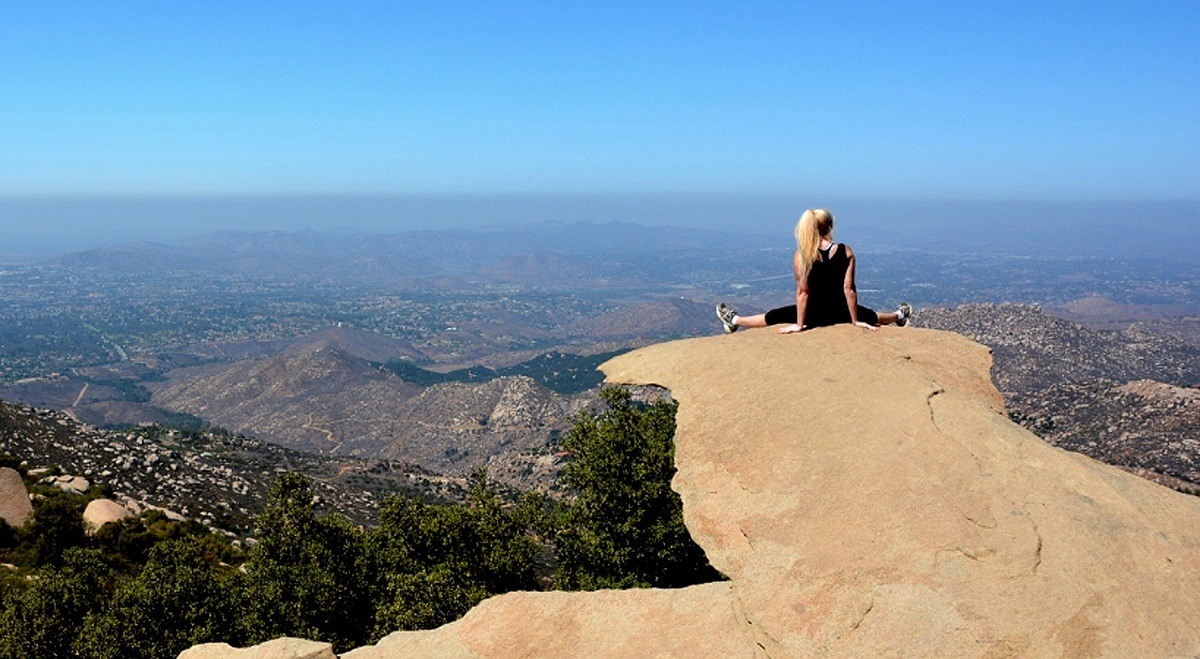 Mt. Woodson and Potato Chip Rock
If the outdoors are more your scene, consider hiking up Mt Woodson to see Potato Chip Rock. Mt Woodson is north and east of San Diego and towers above Lake Poway. While the summit of Mt Woodsoon is covered in cell phone and radio towers, about 100 yards before the summit is a unique rock formation: Potato Chip Rock.
This thin, almost hallow sounding wafer of rock juts out from the side of the mountain. People walk (or crawl) out on it for amazing photos. And nearly every Instagram model needs to go out on the rock to do yoga. The hike up to the rock is very steep and takes about three hours. If you're considering going, this Potato Chip Rock hiking guide has more information.
Tijuana
Tijuana, Mexico is 20 miles from downtown San Diego, but it is miles apart. Lance first visited Tijuana in the 1980s. It was a gritty, dusty border town with dirt streets and a hard edge to it. In 2017, we returned to Tijuana. It's like any other town in Mexico with shopping malls and a emerging affluence. Visiting Tijuana is still a great way to do some shopping on the cheap (top spots include Plaza Rio Tijuana, which is the classic market in town, as well as Mercado Hidalgo for food stuffs and Plaza Agua Caliente for knock-off designer brands).
A Tijuana day trip is a great way to spend the day. You can book an organized Tijuana tour, or do it on your own. To go independently, simply take the San Diego Trolley (a.k.a., the bright red tram) from the Gaslamp District to San Ysidro (46 minute ride), and walk across the border. From downtown San Diego to Tijuana will take you less than an hour.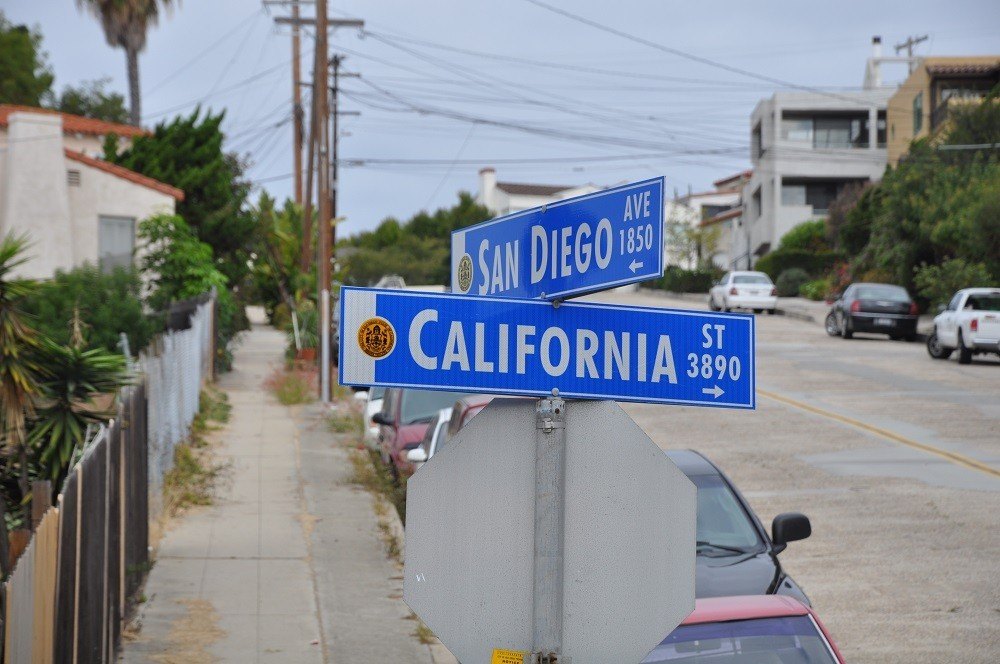 San Diego Weekend Getaways
If you have some extra time and are looking to get out of town for few days, there are great places to visit nearby.
Guadalupe Valley
Two hours south of San Diego in Mexico is a deep, fertile valley that is absolutely perfect for making wine. Grapes have been planted here in Mexico since the colonial Mission period, but these days, fancy vineyards and tasting rooms are popping up to challenge the California wineries to the north. As we discovered, the wines are fantastic and the climate is very reminiscent of the Mediterranean. Heading south of the border is a great weekend getaway from San Diego! Read our guide on the Valle de Guadalupe Wine Region.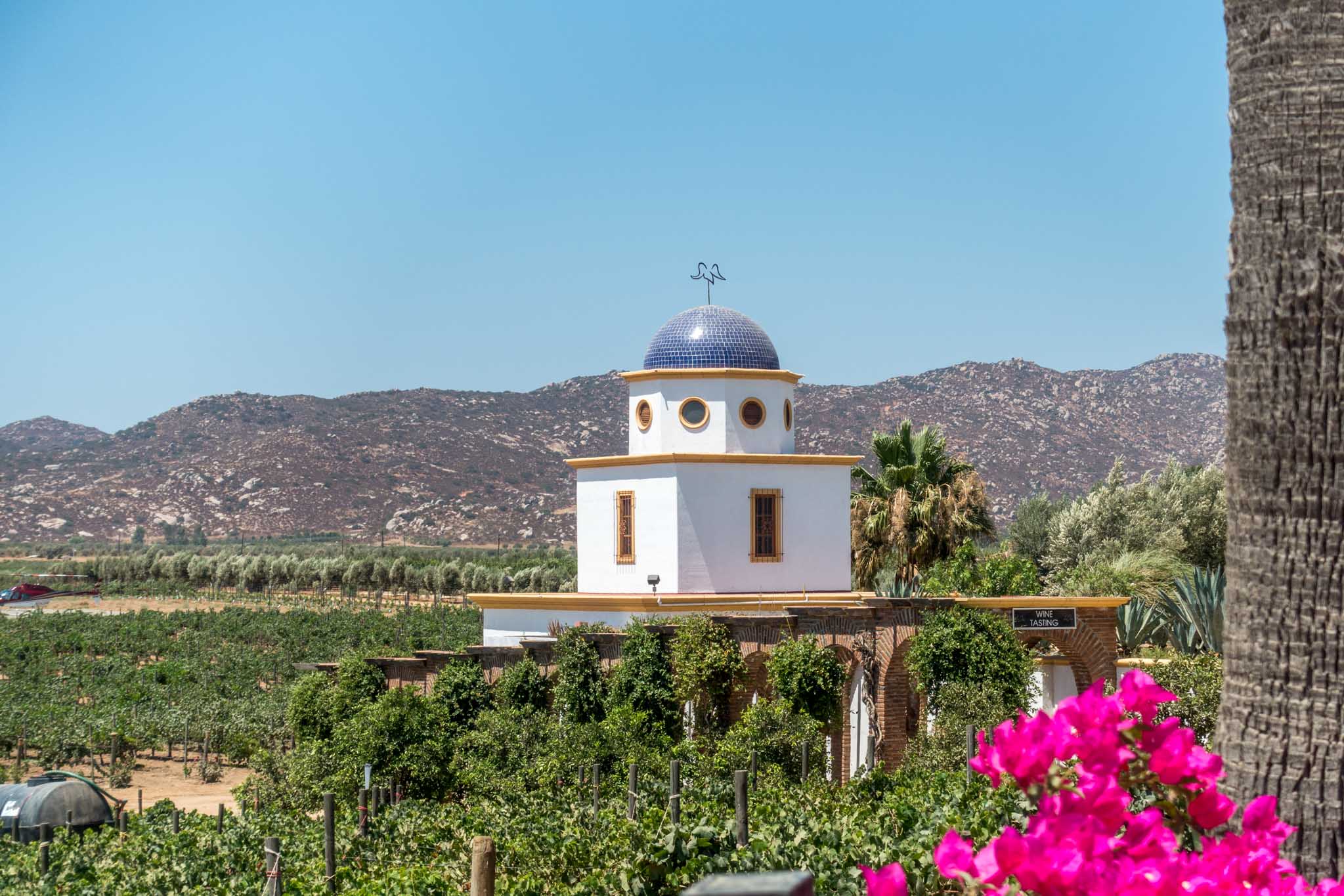 Where to Stay in San Diego
When it comes to where to stay in San Diego, you really have three choices. First, there are the hotels near the Gaslamp District and Seaport Village. Second, there are hotels near San Diego Hotel Circle, in the Mission Valley. And third, there is everywhere else. Here are a few of our favorite hotels in San Diego.
Manchester Grand Hyatt San Diego
When it comes to San Diego hotels, our absolute favorite hotel is the Manchester Grand Hyatt San Diego. The twin towers of the Manchester Grand Hyatt San Diego are one of the most recognizable landmarks in the city since they tower over the San Diego Marina and Seaport Village. The hotel is extremely convenient to the San Diego Convention Center (for everyone in town for Comic Con or another convention). We've stayed here probably a dozen times over the years and absolutely love the location! (Read reviews on TripAdvisor | Book a room here)
Embassy Suites San Diego Bay Downtown
If you love the location of the Manchester Grand Hyatt San Diego, but are looking for something a bit more economical, the Embassy Suites San Diego Bay Downtown is across the street. It's still extremely close to Seaport Village and is one a block further from the Gaslamp District. (Read reviews on TripAdvisor | Book a room here)
Hard Rock Hotel San Diego
If you want to be right in the center of it all, the Hard Rock Hotel San Diego is the place for you. Just one block of the San Diego Trolley line and in the absolute heart of the Gaslamp District, this hotel pulses with energy at all hours of the day. The modern décor and chic minimalism add to the uber-trendy vibe. (Read reviews on TripAdvisor | Book a room here)
The Sheraton San Diego Hotel & Marina
When it comes to San Diego hotels, the Sheraton San Diego Hotel & Marina falls into the "everywhere else" category. This hotel is located across the road from the San Diego International Airport and is right on the water (hence the marina). It's downtown, but not right in the heart of San Diego downtown. Rooms are clean and comfortable, at rates that can be significantly cheaper than rooms right downtown. The one exception to that is that the hotel sometimes hosts conventions and events, which can drive up room rates. If you're flexible on location, and willing to take an taxi/car service, this could be a great spot. (Read reviews on TripAdvisor | Book a room here)
The Courtyard by Marriott San Diego Mission Valley/Hotel Circle
Less than five miles from Downtown San Diego is Hotel Circle. This loop straddles I-8/Mission Valley Expressway and has about a dozen budget hotels and motels. If you are looking for budget San Diego hotels, this is your spot. Some of these places are rather worn and a little gritty, however, the Courtyard by Marriott San Diego Mission Valley is one at the top the range. Clean, safe and well-maintained, it makes a good base to explore the region. (Read reviews on TripAdvisor | Book a room here)
The Hotel del Coronado
This is arguably one of the most famous hotels in the world. It is certainly one of the most photographed. Located on Coronado Island in San Diego Harbor, "the del" (as it is known locally) occupies a prime Pacific beachfront location and has spectacular sunset views. It is definitely a hotel to linger and savor the ambiance, although the rooms are quite unremarkable (the hotel facilities are better than the rooms themselves). However, it's the kind of place to splurge and enjoy the atmosphere. (Read reviews on TripAdvisor | Book a room here)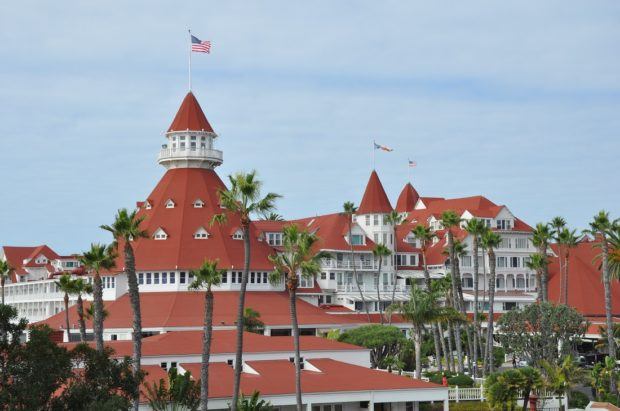 Where to Eat in San Diego
When it comes to where to eat in San Diego, you're in luck – this town has literally hundreds of incredible restaurants.
Here are some of the best restaurants in San Diego:
This craft brewery also serves exceptional food. Notable items here are the HDBC burger, which is one of the best burgers we've ever had. They also serve an incredible Fish and Chips, which is made with their own Colemans Stout. As a bonus, Half Door Brewing Co. is located just a few blocks from Petco Park, where the San Diego Padres play.
There are several Puesto locations in San Diego County, but the new location at The Headquarters at Seaport Village is conveniently located. Puesto is a Mexican street taco concept that serves fresh, homemade tortillas topped with delicious proteins (the al pastor is the best we've ever had).
This restaurant at the Manchester Grand Hyatt hotel serves delicious salads and the best fish and chips we've ever had. With outdoor seating overlooking the San Diego Marina, this is a great spot and it doesn't feel like a hotel restaurant. From our experience, this is the only place to eat in Seaport Village.
When it comes to best burger in San Diego, there's tons of competition (including the near ubiquitous locations of Burger Lounge, the local burger joint). However, our vote for best quick serve burger is actually Cold Beers & Cheeseburgers, located just two blocks from the convention center.
If you've got a sweet tooth, the best dessert in San Diego is a place called Extraordinary Desserts. There are several locations, but the original up on 5th Avenue in Bankers Hill is the best. Prepare to have your mind blown!