Swimming with Cyrstal River manatees is one of the best experiences you can do when you are visiting Florida. This is a unique adventure and something that you will remember forever.
We'd heard about the ability to snorkel with manatees a few years. From that first moment, we knew this was something we had to do. However, it took us several years to finally get down to Florida's Gulf Coast and discover this incredible docile creatures for ourselves.
Swimming with manatees is a great activity to do if you are visiting central Florida during the winter months and want to do something outside of the theme parks. You can swim near the animals and observe them while snorkeling in a wet suit. This is an ethical activity that can teach people of all ages about manatees and conservation in Florida's springs. And it is a great adventure!
What are Manatees
These majestic creatures have the cute nickname "sea cows" and people are anxious to meet these gentle sea marshmallows. Manatees are herbivores and can live in both salt and fresh water, usually along the coast area. They tend to float at the surface, so they are unfortunately in many boating accidents.
It is strongly believed that they are related to elephants and they have fingernails! And even though a manatee is a large, bobbing mammal, it can swim at speeds up to 23 miles per hour. This doesn't happen too often, since manatees don't have any predators trying to attack them. They need to live in warm water, which is what attracts them to places like Crystal River.
Manatees are very calm mammals that won't try to attack people, so you can respectively observe them from a short distance while swimming, paddleboarding, or on a boat tour.
Crystal River and King's Bay
The Crystal River can be found in the central west part of Florida, along what is called the Nature Coast. If you are visiting Tampa or Orlando, it is only an hour or two away, making it the perfect day trip while you're on vacation (or a short weekend getaway). And swimming with manatees is one of the top activities in Crystal River.
Manatee season in the river and King's Bay Manatee Refuge is from November to March, but it matters on the temperature as they come here to warm up during the winter. The best time most years is in January when the air temperature is chilly and the water is warm.
The first swims of the day start around 7:00 AM, so if you want to make the most of your day, be sure to get there early. It can also get busy, so you won't want to miss out on the experience if there are crowds.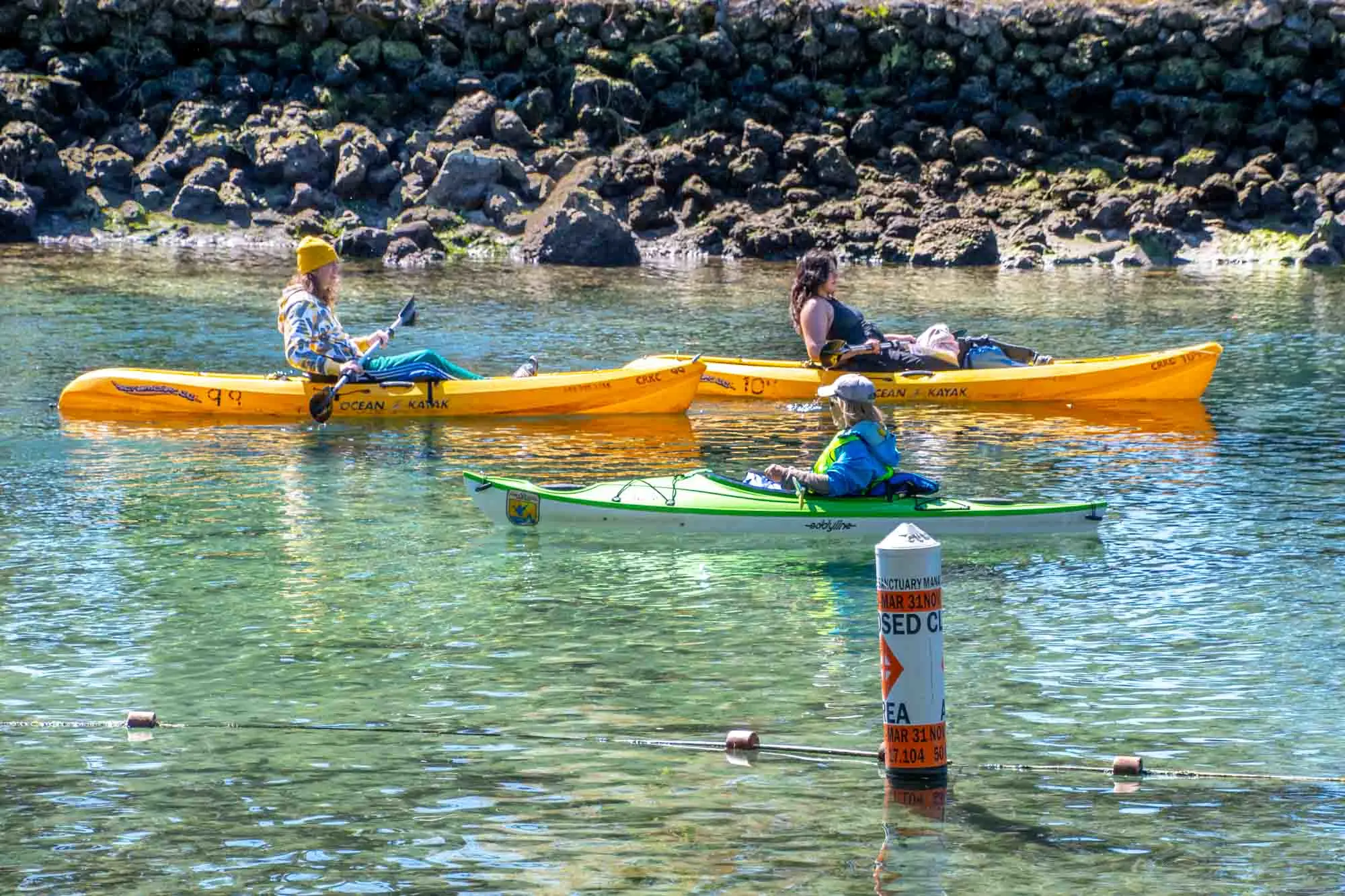 The river is really calm, which makes it easy for you to swim or go on a board or kayak without missing out on the animals below the surface of the water.
Swimming with Manatees—what's it like?
When you get ready to swim with Crystal River manatees, you will feel excited and want to jump right in. Swimming with the manatees in Florida is a special moment for a lot of people and it was an incredible experience for us.
Your manatee swimming tour starts by putting on a wetsuit—remember, it's winter air for you on the outside—before watching a safety video and briefing to make sure you know the rules of the river. If you have your own wetsuit, definitely bring it. You'll be more comfortable than with a rental suit. If you don't, your tour provider will be able to provide one.
The tours are kept small to make sure you and the animals aren't getting stressed by the activity. Remember, you will be a passive observer, meaning you can't pet the manatees (or any other wildlife) but can see them from a distance.
Be still and let the gentle giants float towards you. Remember, while manatees are known for being calm and no one enjoys being prodded. But if you treat them with respect, they will come to you!
Dos and Don'ts
There are some rules you have to follow when in the water with the Crystal River manatees. The things that are prohibited are for your safety and that of the manatees. You don't want to chase or disturb them, or back them into a corner and make them nervous. Never touch them or try to hand feed them a snack. You may also notice that some of them are tagged for research, which you shouldn't interfere with.
In order to have a good time, you'll want to prepare, such as bringing a towel, swimsuit, and water shoes. In order to remember every second of the day, be sure to bring a waterproof camera, and a waterproof dry bag to carry everything in. And find biodegradable sunscreen so as not to pollute the water and ensure other people can see these incredible animals for generations to come!
Selecting a Manatee Tour
You can go on the river or bay to see the manatees on your own – if you have your own kayak or boat. But you will have a better time if you go on a tour. A tour guide will know all the best spots to find manatees, especially during the off-season.
A good Crystal River manatee tour will want to promote conservation efforts and promote you being a passive observer. You also want to find a tour company that is just as eager and excited for you to snorkel with manatees as you are. There are also tours that will let you paddleboard or kayak as well.
There are several reputable companies in the town of Crystal River. Here are some good options:
Is it Ethical?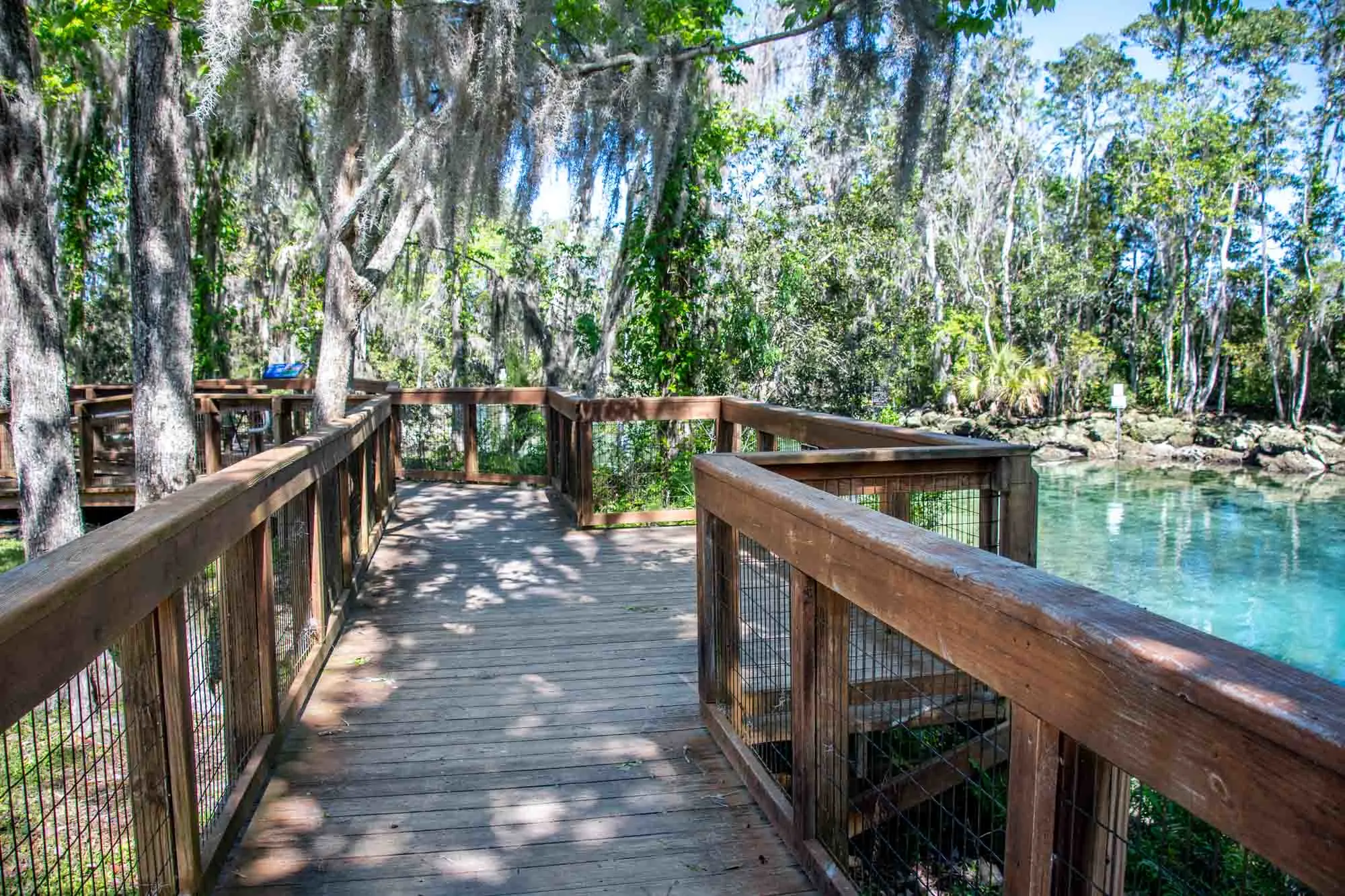 If you want to swim with manatees, don't fret it can be done ethically. A snorkeling or swimming experience with manatees can be ethical and educational, and also unforgettable. As long as you watch where you are and what you are doing as you approach the manatees, you won't be getting in the way of the animals and their space.
Just like with any activity you can do with animals in their natural habit, listen to your guides and their safety instructions before getting into the water and you will have an enjoyable, and respectful, time.
Tips for Your Trip
Based on our manatee adventure, here are a few tips to keep in mind:
Take an early morning outing before the silty bottom gets stirred up and while the manatees are still resting.
Plan on staying in town the night before at a hotel since the boats leave early in the morning.
Bring a pair of water shoes to protect yourself from the rocks and logs on the bottom.
Consider wearing a pair of socks to keep your feet a little warmer.
Spend as much time as possible in the water since it is warmer than the air (and why the manatees are here in the first place!) on cold days.
Consider bringing a windbreaker or heavy towel to keep warm. Also consider bringing closed-toe shoes to keep your toes warm. Once you get wet, the boat ride back can be very cold!
There are more manatees in the heart of the winter (January/February) than there are in the shoulder seasons (November-December or March-April).
Try to arrange a late check out with your hotel so you can go back and take a hot shower to warm up and clean off.
Visiting Information
The town of Crystal River, Florida is less than 2 hours from both Orlando and Tampa. It makes a great weekend getaway. Manatee tours of the river and King's Bay Manatee Refuge leave directly from the town.
If visiting to go snorkeling with manatees, arrive the night before and stay in town. There are several good options:
The Plantation on Crystal River. A fancy resort complex right along the river.
Hampton Inn. Right off the main highway and offers clean, comfortable and very reasonable accommodations.
Best Western Resort. The main selling point for this resort is being walking distance to town and having a lovely little pool that overlooks the bay.