Florida has always attracted snowbirds and sunseekers, but the state has a hidden gem on the Gulf of Mexico: Crystal River. This small town is a nature lovers paradise and has quickly become one of our favorite towns in Florida. And there are lots of great things to do in Crystal River.
This quiet stretch of coastline has been dubbed The Nature Coast. This whole area is a tapestry of state parks, national wildlife refuges, and protected recreation areas. From bird watching to manatee spotting, wildlife is an important part of tourism.
But, the town is less than 2 hours from Tampa and Orlando, making it a great weekend getaway from the more populous areas in Central and South Florida. And it is a fantastic weekend. And the charming town of Crystal River, Florida makes a great base to explore the Nature Coast.
The town has a charming main street, excellent seafood restaurants and tons of nature to explore.
Here are 9 great activities in Crystal River to enjoy:
Swim with the Manatees
Every winter, the waterways around Crystal River, Florida clog with one of the most popular marine mammals in the world: the famous manatee! These slow moving but majestic creatures are sometimes called "sea cows" and spend their summers in the Gulf of Mexico. But when the weather turns cold, the manatees came into shore.
Florida is filled with freshwater springs and many of them are located here along the Nature Coast. The freshwater springs stay a constant 72 degrees all year. In the winter, that's warmer than the Gulf of Mexico. So the manatees come into the Crystal Springs to warm up.
The most popular activity for visitors is to go swimming with manatees. There are literally dozens of boat and tour operators that will take you out into the river, Kings Bay and the canals to see the manatees and observe them in their natural habitat from a respectful distance.
We really didn't know what to expect from the manatee encounter, but it was better than we ever imagined possible!
To meet the manatees, consider booking this manatee swimming tour.
Go Kayaking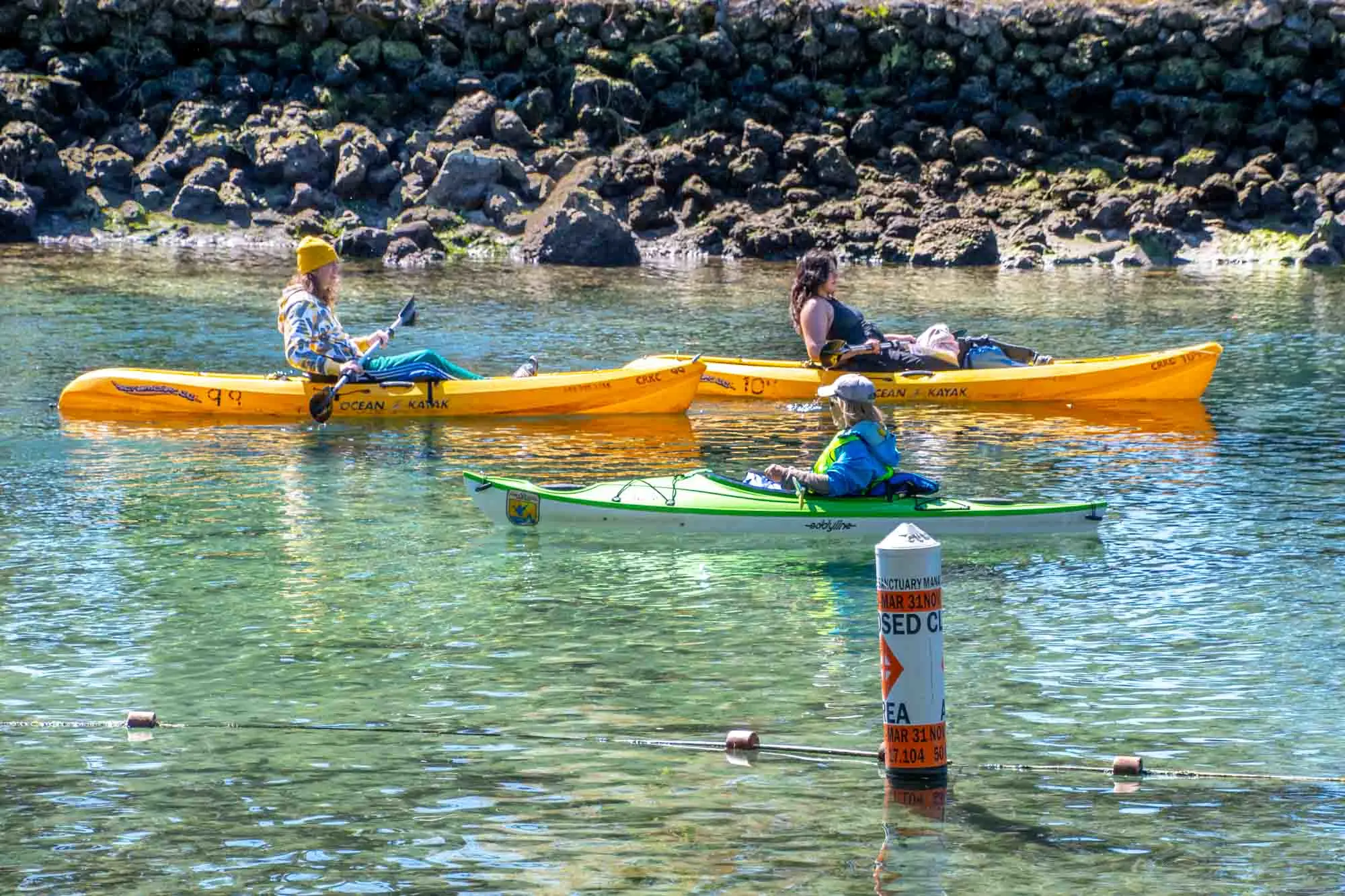 The town of Crystal River is surrounded by numerous waterways and canals. And it seems like every car in town has a sea kayak on the roof. While that's a bit of an overstatement, it is a wildly popular activity.
If you don't want to get wet, kayaking to see the manatees in Kings Bay and the surrounding canals is another good option. Outfitters will rent you kayaks and there are even some clear ones that allow you see the bottom and presumably get better views of the manatees. Just remember, you shouldn't kayak over them! They need to be clear access to the surface to come up to take a breath.
Beyond manatees, kayaking the Crystal River or the Chassahowitzka River are also popular. You can get off the beaten track and head back into mangrove-covered coves. It can feel like going back in time.
If you want to try some paddle power, consider booking this Crystal River kayak trip or this Chassahowitzka River kayak trip.
Explore Three Sisters Springs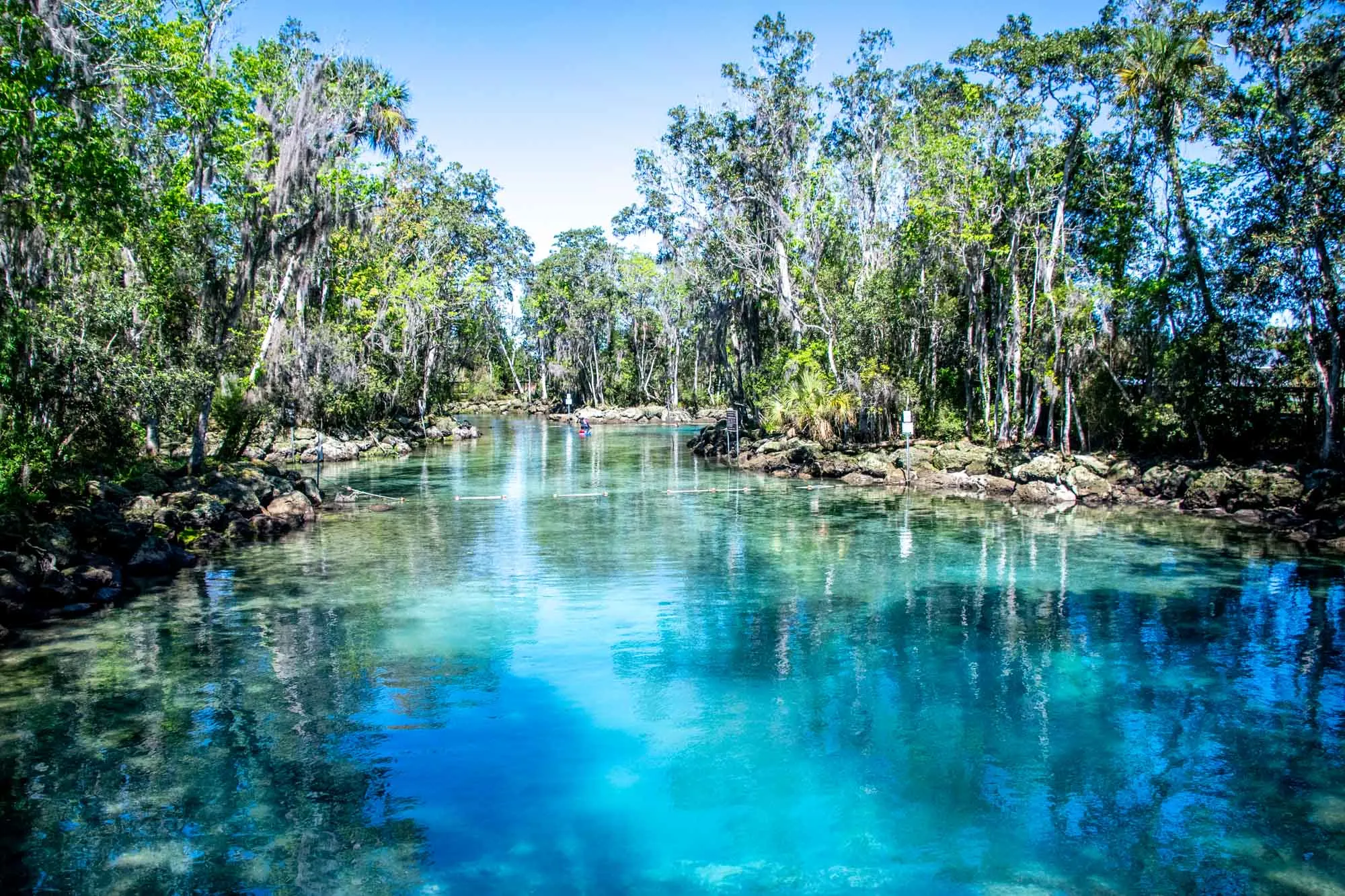 While in town, exploring Three Sisters Springs is a must. This 57-acre park has a lake and lots of beautiful plants and a nice walking trail. But most people come here to explore the boardwalk.
Along the shore of Kings Bay, a man-made boardwalk provides an elevated position to look down on the 3 freshwater springs that emerge from deep in the earth. These springs have a constant 72-degree temperature – making them perfect for manatees. In the heart of the winter, dozens of manatees can be found in the springs area. You can look down and observe them from the boardwalk above.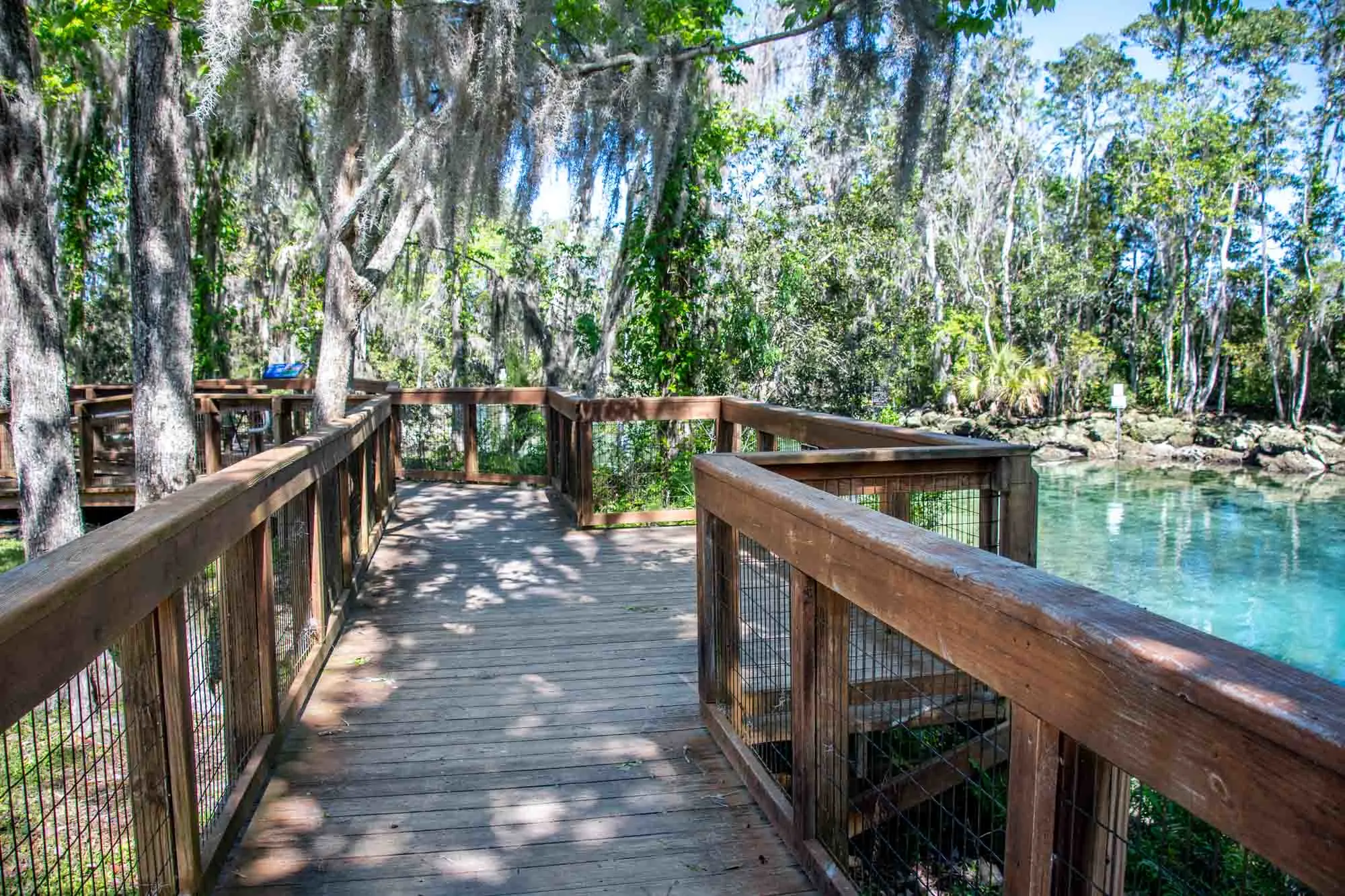 Visiting tip: There is no general parking at Three Sisters (only handicap parking). It's best to park in town and walk the 0.6-mile trail down to the park. Parking in the shopping mall across the road is not advisable and towing is very likely.
Cruise on Kings Bay
The town of Crystal River is adjacent to Kings Bay. It's possible to either rent a boat or go on a cruise of the bay and the surrounding waterways. This is especially popular in the summer during scalloping season when you can harvest scallops and eat them right out of the ocean.
If you're here outside of scalloping season, a cruise at sunset can be both magical and romantic.
Book your own Kings Bay cruise here.
Learn Indigenous History
Just north of town along the northern bank of the Crystal River sits an overlooked attraction: the Crystal River Archaeological State Park. For nearly over 1,600 years, this area was an important ceremonial and trading community for Native Americans.
Within this state park, visitors can learn about the ceremonial traditions of the local tribes, see their burial and temple mounds, and also check out the view of the Crystal River coastal marsh from one of the highest points around. It's also a great spot for bird watching.
While the mounds here are not as high as the ones in the Midwest, they are impressive and worth a visit. That this important Crystal River attraction is overlooked by most visitors is a tragedy.
Go Bird Watching
Crystal River is on the Great Florida Birding Trail and bird lovers from around the world flock to the town to see new and interesting species. From bald eagles to hooded warblers, there's no shortage of birds to spot.
Best spots to see them are in Three Sisters, in the archaeological park, or along the waterways in a kayak or canoe.
Shop on the Avenue
The two blocks of North Citrus Avenue are lined with a few dozen shops, art galleries, and an antique store. While visiting Crystal River, stopping into an art gallery or souvenir store is practically required.
Check out Franklin Anderson Gallery, which sells paintings and photography. But beyond selling works, the gallery also hosts classes where residents and visitors can try their hands at the creative process. Or, across the street, the Art Coastal Gallery features works showcasing the wildlife and nature that surrounds the town.
For souvenirs, stop by Captain's Cargo and grab your manatee t-shirt and gear.
Eat Seafood
In a state that is surrounded by oceans on three sides, there's good seafood everywhere. But there's something particularly special about the seafood shacks and fish market joints in Crystal River. People from Tampa, St. Petersburg and Orlando are known to drive up (or ride their motorcycles) for a day outing and enjoy a long seafood lunch.
There are a number of excellent places in town with names like The Crab Plant and Dan's Clam Stand, but we had our fresh catch at The Seafood Seller. Taking inspiration from the Gulf of Mexico and the cuisine of New Orleans, they serve up some incredible cuisine at reasonable prices. If you are in town, make sure you have both lunch and dinner at one of these fine establishments
See the Murals
Crystal River isn't exactly a street art capital, however, there are a number of murals throughout town. Seek out the murals, take a selfie and post to your favorite social media channel.
Most murals in town feature the town celebrity: the manatee. However, wildlife and nature feature prominently in the art throughout the town.
Where to Stay
One of the most popular options in town is the stately The Plantation on Crystal River. Designed to resemble an old antebellum plantation, this sprawling resort complex offers refined Southern living along the coast. You can't beat the location right on the water, and manatee tours leave directly from the property.
However, recognizing that a plantation is a tough sell in this day and age, there are other options for the travel lover.
The Hampton Inn Crystal River is located right off the main highway and offers clean, comfortable and very reasonable accommodations. We stayed here and appreciated their flexibility in allowing for late check out. This gave us a chance to come back and take hot showers after our cold manatee snorkel.
Another top option is the Best Western Crystal River Resort. The main selling point for this resort is being walking distance to town and having a lovely little pool that overlooks the bay.