Centered around an historic town square, Georgetown, Texas, offers great restaurants, cute shops, art, and theater. Despite being just a half-hour north of Austin, this town has developed an identity all its own. Its history, outdoor activities, and general charm attract visitors from all over who are eager to discover the fun things to do in Georgetown.
We visit Georgetown often and always enjoy finding new, interesting attractions to explore here. Here's a look at some of our favorites.
Relax at Blue Hole Park
An ideal place to cool off in the heat, Blue Hole Park is just a few blocks from downtown. The lagoon is bordered by limestone bluffs that make it feel like it's a remote Hill Country retreat.
Along the south fork of the San Gabriel River, the area is a great spot for swimming and wading on several levels separated (sometimes) by a small waterfall. The nearby tables make it convenient to have a picnic lunch or dinner. There are restrooms and free parking, too.
Shop at Lark and Owl Booksellers
Lark and Owl Booksellers is more than the cutest bookstore in town—it's a community and the type of place that just invites you to hang out. It's also home to Alouette Bistro, which serves sandwiches, pastries, small plates, and a literary-themed cocktail menu.
The women-owned store carries genres from thrillers to children's books and aims to make everything an experience. There are regular book clubs, author readings, writers' workshops, and creative events for kids like "Storytelling Through Tarot."
The bookstore is an affirming and welcoming space, which is clear from the greeting you get the minute you walk through the door, whether it's your first visit or your 50th. Grab one of their recommended books and a treat from the bistro and settle in for a while.
Try a biscuit at Monument Cafe
A true gem in Georgetown, Monument Café has some of the best biscuits around. And that's saying something in the heart of Texas.
The café is modeled after the roadside cafes of the 1920s but has a distinctly different spin—everything here is made fresh, and most vegetables are sourced from local farmers or grown in their own garden. They're open daily for breakfast and lunch, so stop in for cinnamon rolls, chicken fried steak, one of their famous pies, or our favorite—biscuits and gravy.
See a show at the Palace Theater
A restored Art Deco theater, the Georgetown Palace Theater is a year-round hub of the arts in the city. They operate as a non-profit with the goal of bringing affordable, high-quality entertainment from multiple genres.
Nearly every weekend of the year, you'll find something on at The Palace whether it's a concert or a comedy show (both on the main stage and the nearby black box theater). They have a full season of plays and musicals like Jekyll & Hyde, Cabaret, A Tuna Christmas, and more.
Walk around Georgetown Town Square
Called the "most beautiful town square in Texas," Georgetown Town Square is a must visit on any trip. This charming area is filled with boutiques, wineries, and galleries, and it makes a great stop whether you want to browse or just admire the buildings.
The structures here are an impressive collection of Victorian architecture with most buildings dating from the 1880s-1920s. The center is the striking Williamson County Courthouse, and it is surrounded by unique storefronts, most of which include distinctive pressed metal details. They have been listed on the National Register of Historic Places since 1976.
Take the time to appreciate the buildings or pop into a few. Check out the offerings at 600 Degrees Pizzeria and Kork Wine Bar, or shop for toys for the little ones at All Things Kids. Music lovers will enjoy the selection at Ken'z Guitars, and La Bella Casa is the place for women's clothes and home goods.
Shop and play at Sweet Eats Fruit Farm
Sweet Eats Fruit Farm offers so much more than what the name indicates. With pick-your-own, pony rides, face painting, an obstacle course, apple cannons, and much more, this entertainment-filled farm on Highway 29 is absolutely packed with things to do.
The farm market has lots of fresh food available and plenty of items to take home with you as well as a variety of farm-themed gifts. Visit the market and pick-your-own for free (items picked are paid by weight) or buy a general admission ticket that gives you access to dozens of activities. The seasonal festivals bring even more attractions, so check the calendar before you go.
Grab a cold one at Mesquite Creek Outfitters
A haven for visitors and locals, Mesquite Creek Outfitters pairs two favorite activities—shopping and drinking—in one unique location. From dresses and boots to baseball hats and buttondowns, there is a large selection of merchandise, but many people come just for the sense of community at the bar. Over 30 wines and beers are available along with a menu of light bites.
Reveal your inner explorer at Inner Space Cavern
Head underground at Inner Space Cavern to experience one of most extensive cave systems in Texas. At around 25 million years old, the cave has lots of interesting rocks formations. On a tour here, you'll weave around stalactites, walk through narrow passages, and explore cathedral-type rooms all in this space that was only uncovered in 1966.
There are several tour options, and reservations are not required to visit. Be sure to wear sturdy shoes and be prepared for the underground environment—it's 72 degrees year-round, but 98% humidity makes it feel like 80 degrees. There is also a gemstone and fossil panning activity plus the Saber Tooth Zip Ride, which takes riders 130 feet in the air.
Scout out the local street art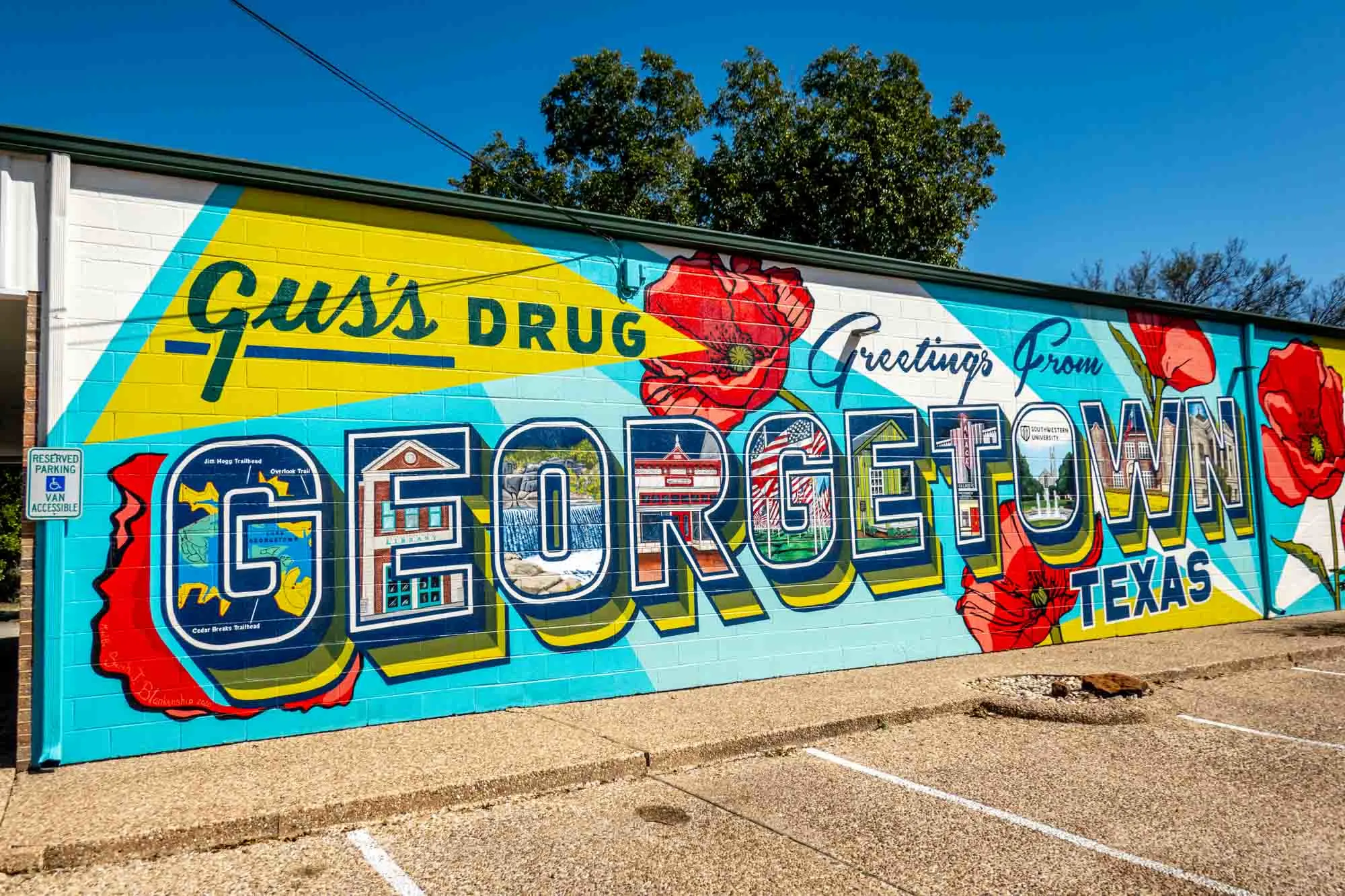 Street art is big here. From the "Greetings From Georgetown, Texas" postcard on the side of Gus's Drug to the "North of Cool" mural on popular restaurant and bar The Golden Rule, there are lots of iconic pieces around town. Poppies, Pride motifs, and plenty of creativity is displayed on exterior walls, between buildings, and hiding in allies. Keep an eye out for the works as you explore all the fun things to see in Georgetown.
Go wine tasting at Grape Creek
One of the best wineries in nearby Fredericksburg, Grape Creek Vineyards has a tasting room outpost right on the square. Their 15+ wines—both single grape varietals and blends—feature Texas fruit grown in the Hill Country and High Plains. You can settle in for a tasting or enjoy a glass or bottle. The Viognier and Bellissimo (a Super Tuscan blend) are among our favorites.
Sample the options at Mikey V's Hot Sauce Shop
If you like spice, don't miss Mikey V's. This unique shop specializes in hot sauces, salsas, and other tasty concoctions, many of which were developed by Mikey himself and are handmade in small batches. With flavors like peach habanero and roasted garlic reaper, there is a long list of award-winning products to try. They even run a hot sauce of the month club, so you can continue to sample new things.
The surprise in this family-run shop is the taco stand in the back. Inspired by the food he enjoyed growing up in Mexico, Mikey serves traditional options like slow-cooked beef birria, al pastor, and carne guisada as well as lots of breakfast tacos and other offerings. We loved the carne asada fries.
See the works at Georgetown Art Center
Photography, collage, painting, sculpture, drawing—all the visual arts have a home at Georgetown Art Center. The gallery features the works of dozens of artists every year whose exhibits are free to visit and welcomes them for artist talks. It's always interesting to stop by to see the newest works being displayed.
Housed in a building from 1892, the Art Center also offers a range of workshops and masterclasses in the attached studio. Beginner's drawing, multi-day mosaic workshops, and advanced watercolors are just a few of the many options to explore if you have an extended visit to Georgetown.
Have breakfast at Sweet Lemon Kitchen
In a charming green house in the heart of downtown, you'll find one of the best restaurants in town. Sweet Lemon Kitchen focuses on organic food with local ingredients and cooks up some of the best pastries you'll ever have.
Indoor seating has cozy features like fireplaces and other Victorian details, and there is room to spread out at the picnic tables outside. Breakfast here is a highlight with croissant sandwiches, quiche, and outstanding cinnamon rolls and kolaches. Lunch is a huge selection of sandwiches and soups, and dinner leans heavily on pastas with a few grilled entrees. There is frequently live music at dinner.
Visit Rentsch Brewery
Georgetown's only craft brewery, Rentsch Brewery has a family-friendly atmosphere and a large beer garden where you can hang out under the trees. They always have at least 12 beers available in a range of styles like Texas lager, Hefeweizen, and IPA. There is a food truck on-site most days or you can bring your own.
Learn about history at Williamson Museum
Williamson Museum offers engaging exhibits about the history of Williamson County and the people who have shaped it over the past 175 years. From pioneers and artists to teachers and outlaws, photos and artifacts tell the stories of local residents and change-makers.
Some of the most exciting offerings come with the museum's regular tours and special events. They offer ghost tours, mystery nights, specialized workshops (including cocktail classes!), and presentations on a variety of topics. Their regular tours of the Williamson County Courthouse are popular.
See the craftsmanship at Nathaniel's Custom Hats
For nearly 30 years, Master Hatter Nate Funmaker has handmade custom hats using traditional techniques. His equipment and his methods go back over 100 years, helping to create one-of-a-kind creations based on customers' personalities, needs, and head shape.
A member of the Ho-Chunk tribe, Nate is the only Native American Master Hatter. His works have been worn by Jack Nicholson, Will Smith, and lots of business people, fishermen, and stylish folks around the country. His shop Nathaniel's Custom Hats has very limited Saturday hours, so plan ahead if a visit here is on your list of what to do in Georgetown.
Indulge at Frozen Flamingo
There's nothing better on a hot Texas night than a dessert from Frozen Flamingo. A long list of frozen custard flavors and mix-ins combine for some stellar options. You can choose one of their suggested combinations or make your own for a delicious concrete. In addition to frozen custard, they're known for their shaved ice and frozen cocktails, including flavored daiquiris and margaritas.