One of the greatest experiences in Iceland isn't a waterfall or a glacier or a hot spring or a volcano or anything like that. It is eating a simple lunch made from tomatoes inside a greenhouse on the Golden Circle. And the lunch at Fridheimar tomato farm is not to be missed.
Every time we visit Iceland, we make a point of adding an extra day to the trip, just so we can come out here and enjoy the delicious lunch at the Fridheimar restaurant.
The Tomato Farm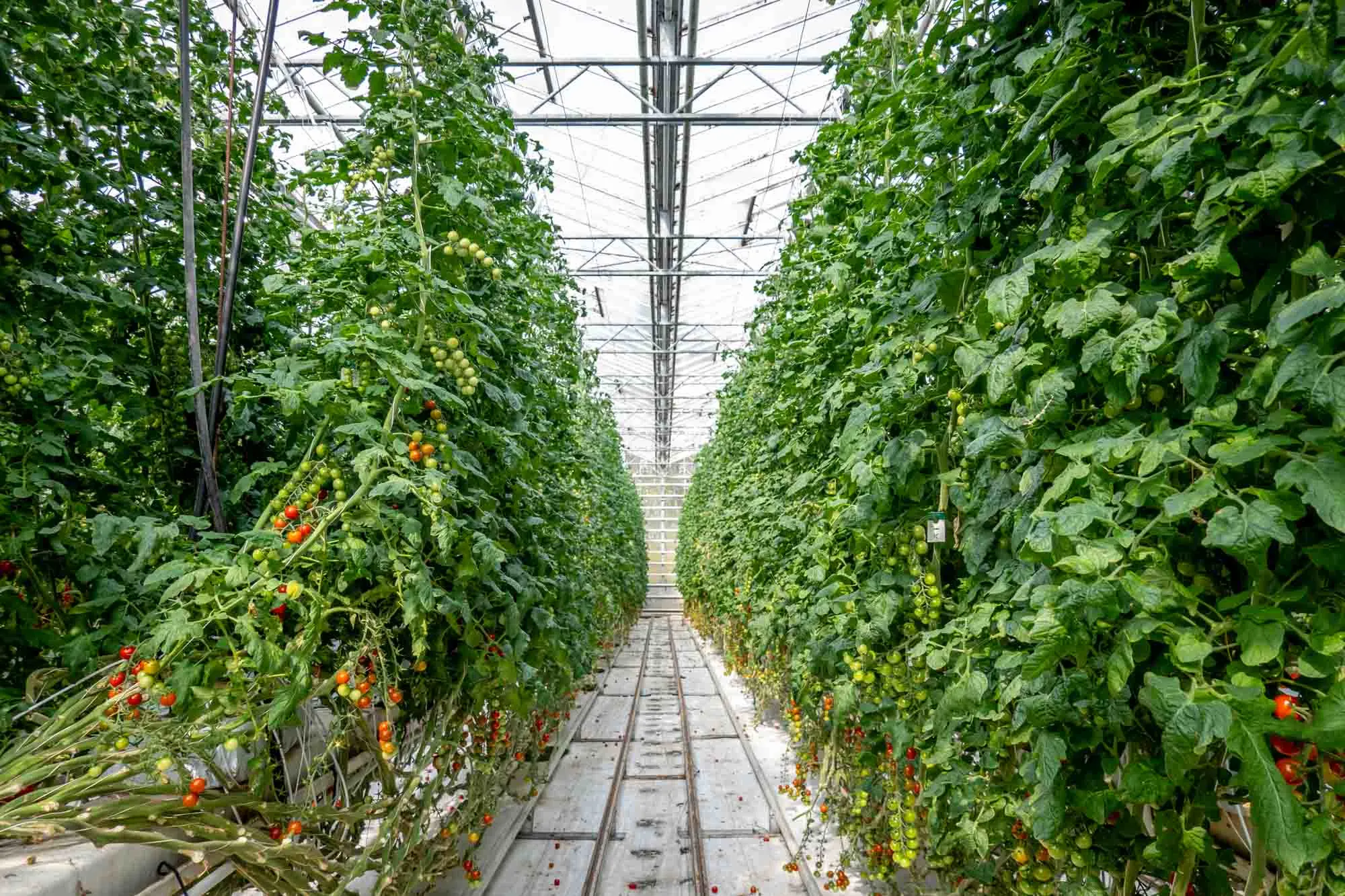 Just an hour and half east of Reykjavik and located on the famous Golden Circle, Friðheimar Farm is a greenhouse haven for the most delicious tomatoes you'll ever taste. Visiting is an experience not to be missed.
As you step into this thriving oasis, you'll be greeted by row after row of vibrant tomato plants, basking in the warmth of Iceland's abundant geothermal energy. The greenhouse is heated with geothermal water from a nearby borehole and the lights are powered by electricity from geothermal energy.
The Fridheimar tomato farm is owned by the passionate horticulturist Helena Hermundardóttir and the knowledgeable agronomist Knútur Rafn Ármann. They've been perfecting their business since 1995. It's operated as a family business and the owners are still involved, as are their children. On our 3rd visit to Fridheimar, we watched Helena carefully tending the plants – still involved in the daily operations of this massive empire.
And it is a massive empire. The farm pumps out over 370 tons of tomatoes a year (over a ton each day). It is said that 40% of the country's entire crop of tomatoes come from this farm. The Fridheimar greenhouse complex consists of 9 specialized greenhouse buildings and over 27,000 tomato plants (and also some cucumbers and basil plants for good measure).
Despite the scale of the operation, they focus on the basics of farming with an eye to quality. And quality is paramount in their operation. The tomatoes are watered with the same pristine glacier-fed water that Icelanders drink. As tomatoes are about 90-92% water, so it's no wonder that the better the water quality, the more exquisite the taste.
You also won't find any pesticides at Friðheimar farm. Iceland's natural bug-free environment allows them to use a unique biological pest control system with "good flies" imported from the Netherlands, which keep the "bad flies" in check. It's simple yet incredibly effective, and it reflects their commitment to preserving the purity of their tomatoes.
Those tomatoes are pollinated by 1,200 industrious bumble bees, flown in from the Netherlands. These busy workers pollinate up to 2,000 flowers a day, ensuring a bountiful harvest of the juiciest tomatoes. You'll see them flying all around and some might even land on you. But they won't sting! (Having a bee sting allergy I was worried, but they left me alone).
The Tomato Greenhouse Restaurant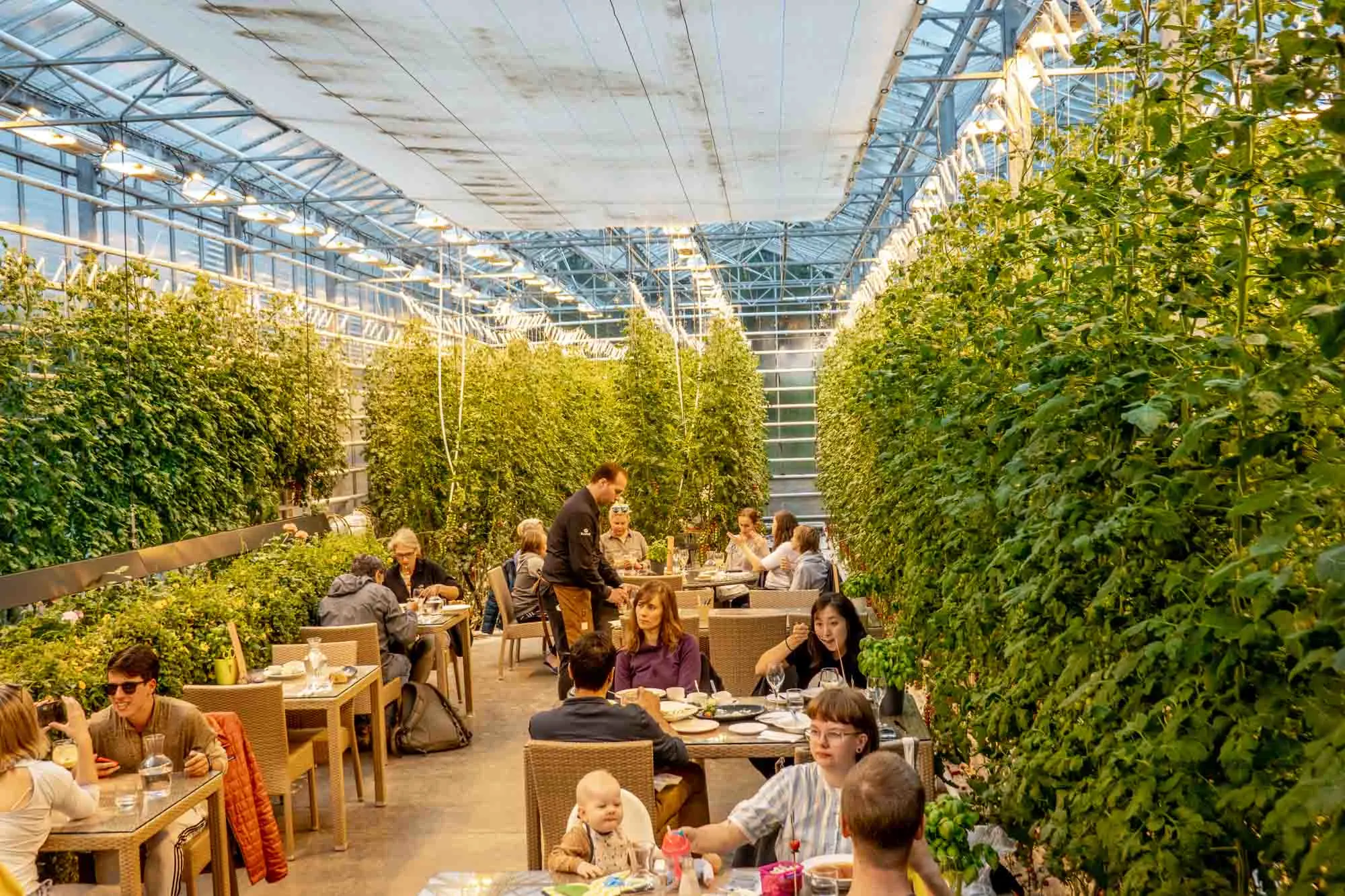 Friðheimar is a true farm-to-table operation. Patrons sit at tables under the greenhouse lights, eat next to the tomato plants brushing them with their elbows, and watching as the pollinator bees carefully land on the basil plants on the tables. The food could not be fresher and it stands out as one of the top restaurants in Iceland.
Once seated at your table, your server will tell you about the tomato greenhouses, the restaurant, and the family who created this remarkable place. They will take your order for beverages and allow you to peruse the menu.
After your meal, you take avail yourself of the free tea or coffee (also available for takeaway) before checking out the gift shop (what they call the tomato store).
Tip: After eating here many times, we've learned that the bus tour operators have discovered this place. From 12:00-2:30pm, it can be quite busy with large groups hurriedly eating before rushing off to the next place on their giant buses. We recommend coming right at the end of the day (3:00 or 3:30pm). You'll have a more relaxed experience, and the food will be just as fresh. If you are without transportation, you can find tours that might include Fridheimar here.
The Menu
So what is the Fridheimar menu really like? First, the drinks. The restaurant has a large selection of tomato and cucumber-based drinks, all made from the ingredients on the farm. Of course, you get the freshest Bloody Mary of all time (either with alcohol or virgin), but you can also have tomato beer. Yes, I said tomato beer. And it is far better than you might expect.
The highlight of any trip here is the never-ending, world-famous Fridheimar Tomato Soup buffet, complete with mountains of fresh bread, cucumber salsa, and butter with Icelandic salt. You might have seen this buffet on popular travel shows and celebrities like Kim Kardashian have even sampled. On a cool Icelandic day, this is everything you want.
But don't overlook the a la carte menu. The tomato and homemade Icelandic burrata cheese salad is one of our favorites. We also love the homemade ravioli pasta with tomato sauce and pesto. And to every meal, you can add a few protein skewers to bulk up the meal.
Desserts are also a treat, and served in delicate terracotta pots, just plants. The tomato ice cream is good, but the cheesecake with tomato jam is a life-changing experience. Get it! We promise you won't regret it.
Horse Shows
In the summers, they also have horse shows with famous Icelandic horses. The staff demonstrate the special 5 gaits that make these horses unique in the world.
Sadly, on each of our trips, we've missed this. We're either here in winter or too late in the day to catch the experience. But there's always next time.
Visiting Information
If you intend to visit the Friðheimar Tomato Farm & Restaurant, it is easy to find. It is located right on the Golden Circle on Road 35 in the village of Reykholt (be careful – there is more than one Reykholt in Iceland!). If using Google Maps or similar navigation apps, it will navigate you right to the parking lot.
Driving time from Reykjavik is about 90 minutes (a distance of 100km). There are some small towns to stay in in the area (including Reykholt and Fludir), but we recommend making Reykjavik your base and doing this as a day trip.
If you don't have a rental car, many of the Golden Circle tours include Fridheimar. You can look at the tours offered and find one that will visit.
We recommend visiting either of the nearby hot springs afterwards. The closest is the Secret Lagoon, followed by the Laugarvatn Fontana Thermal Baths. Many of the bus tours will stop at the Secret Lagoon, so we recommend waiting or going to Fontana and driving back to Reykjavik the long way.
They accept reservations from 12:00pm-4:00pm. Yes, you can get a 4:00pm reservation, but they will ask you to finish by 4:45pm.
NOTE: Reservations are ESSENTIAL. Fridheimar often books up weeks in advance. As soon as you know when you'll be there, make the reservation here. (In the past you used to only be able to book by calling or email, but in 2023, they launched online booking!)
If you want to learn more, feel free to check out their website for additional details.
Friðheimar is a testament to the passion, ingenuity, and love of nature that the Icelandic people embody. Their commitment to sustainability, incredible flavors, and warm hospitality make this experience truly exceptional. So, if you find yourself in Iceland, don't miss this one-of-a-kind dining journey into the world of tomatoes!