In the winter, the area around Erie, Pennsylvania, commonly gets as much as 8 feet of snow. It hardly sounds like a good location for growing grapes and making wine. But, in an odd twist, it turns out it's actually the ideal place. The perfect combination of geography, soil composition, and weather makes the region one of the top places for making sweet wines in the United States. And the winemakers don't stop there. Here's a look at what some of the best Lake Erie wineries have to offer.
Lake Erie Wine Country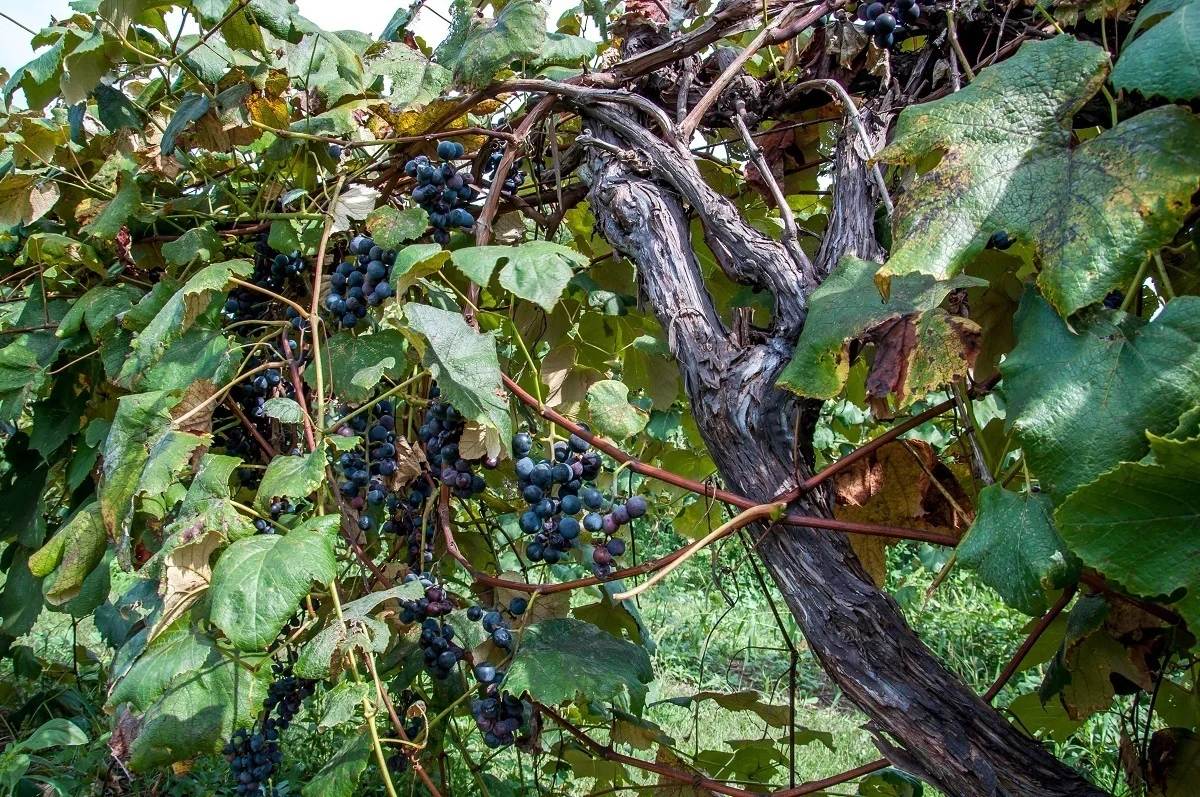 The area around the south shore of Lake Erie is one of the largest grape-growing areas in the U.S., with over 40,000 acres of grapevines. Most are of the variety you might want to eat or juice (think Welch's). But in the last 50 years, more European varieties have been added, expanding the options for local winemakers.
An area that once focused almost entirely on Niagara, Catawba, and other sweet grapes (and thus, sweet wines), now often includes Chardonnay, Vignoles, Merlot, and a red grape we've gotten to try on our travels in Austria and Prague called Blaufrankisch, among many others.
Best Lake Erie Wineries
These different grapes have found a home in the over 20 wineries that now occupy a 40-mile stretch on the south shore of Lake Erie. Some focus their efforts on fruit wines, sweet wines, and specialties like ice wine, while others expand these offering to include sophisticated drier whites and reds. Regardless of your taste preference, you're likely to find something to love among the offerings of the Erie wineries. Take a weekend to explore and find your favorite like we did.
Courtyard Winery
With its terracotta and stone façade, Courtyard Winery is hard to miss right along Route 20. And you wouldn't want to. From grape to bottle, the winery is hands-on during every step of making their small batch wines. They served up some of the best options we tried on our tour through the area.
This 10-year-old winery is home to two distinct brands of wine that are served at two separate bars in the tasting room. The LaCourette line is more traditional dry and semi-dry varietals primarily of European origin, such as Riesling and Cabernet Sauvignon. The Barjo Bons ("Crazy Friends") line features sweet and semi-sweet blends such as "First Kiss," a blend of Cayuga and Catawba, or "Sassy Blue," a blueberry wine. Visitors choose either a dry or a sweet tasting. While we focused on the dry options, the sweet wines are clearly also very popular.
Top picks: Chardonnay, Captain's Red (blend of Cabernet Franc and Corot Noir)
Location: 10021 West Main Road (Route 20) in North East, PA
Presque Isle Wine Cellars
One of the most well-known wineries in Lake Erie wine country, Presque Isle Wine Cellars sits by a small stream complete with a waterfall. The buildings comprise what is essentially a one-stop shop for those who love wine. You can find Presque Isle's wines, gifts, and all manner of wine-making and beer-brewing supplies here in addition to the restaurant in the Isle House.
With over 50 years of experience in making wine, Presque Isle Wine Cellars produces 40+ wines – virtually all of which are made from grapes grown near Lake Erie. The offerings span a wide range of styles from dry wines made with European varietals to sweet wines made with native grapes, as well as port-style and dessert wines. Our favorites fell in the sweet and semi-sweet categories.
Top picks: Vignoles, Falling Waters (carbonated blend of Bacchus and Valvin Muscat grapes)
Location: 9440 West Main Road (Route 20) in North East, PA
South Shore Wine Company
South Shore Wine Company is the most historic of the wineries in Erie. Dating from the 1860s, the French-style underground wine cavern was part of Erie's first commercial winery during and after the Civil War.
Following Prohibition, the wine cellar remained unused until the Mazza family reopened it in 2007 under its original name. The family carefully restored the original stone masonry, trying to remain as faithful as possible to the original construction. With the exceptions of a remodeled entrance and a tasting bar, the winery looks much as it did 150 years ago – an ideal environment in which to enjoy some expertly-crafted wine.
South Shore Wine Company is one of three wineries run by the Mazza family, but most of the wines sold here are unique to this tasting room. They offer over 20 options from dry reds to semi-sweet whites and fruit and specialty wines. Their dry varietals and blends stand out as some of the best in an area that has a strong focus on sweeter varieties. There is also a café upstairs that serves paninis, salads, and other light fare during the warmer months.
Top picks: Gruner Veltliner, Unwooded Chardonnay
Location: 1120 Freeport Rd. (Route 89) in North East, PA
Arrowhead Wine Cellars
Since 1998, Arrowhead Wine Cellars' owners Nick and Kathy Mobilia have been making wine from the grapes and fruit grown on their 250-acre farm. They grow European varietals such as Pinot Grigio and Riesling alongside North American grapes like Niagara, Catawba, and Concord. This allows them to make and bottle a wide variety of products from traditional dry wines to semi-sweet and sweet wines. They also produce a line of fruit wines (no grapes included) that includes customer favorites like blueberry wine and apple wine.
Arrowhead Wine Cellars – a name that pays homage to the Native Americans who originally settled the land – also produces a unique line of fruit juices. Their line of three grape juices and cherry and apple options are handled much in the same way that their wines are, but the juices are never fermented, making them a great choice for people looking for a non-alcoholic beverage. In addition to the wines and juices, Arrowhead sells a selection of wine accessories, seasonal items, food, and clothes.
Top picks: Vignoles, Riesling
Location: 12073 East Main Road (Route 20) in North East, PA
Johnson Estate Winery
The rows of grapes that stretch out from the Johnson Estate Winery seem to go on forever. This 200-acre farm just east of the Pennsylvania/New York border is home to 11 varieties of grapes and the century-old apple storage building that now houses the winery and tasting room. As New York's oldest estate winery, Johnson Estate has been around long enough to perfect the craft of making fine wine.
At Johnson Estate Winery, each step of the wine-making process is carefully managed. From grape growing to bottle storage, each detail is handled to ensure that the 50+ wines made here are the best. As a result, it's hard to find an option that doesn't please the palate among the range of traditional reds and whites and specialty wines available here.
Top picks: Traminette, Cabernet Sauvignon
Location: 8419 West Main Road (Route 20) in Westfield, NY
Mazza Chautauqua Cellars / Five & 20 Spirits & Brewing
Across the street from Johnson Estate Winery is the unique combination of Mazza Chautauqua Cellars and Five & 20 Spirits & Brewing – New York's first winery, distillery, and brewery under one roof. The facility features a tasting room where you can try all three kinds of beverages and a brewing and distilling area where visitors can get a glimpse into how the products are made.
Mazza Chautauqua Cellars and Five & 20 Spirits & Brewing are owned by the Mazza family who also run South Shore Wine Company and Mazza Vineyards nearby in Pennsylvania. As a result, some of the wines available here are also available at the other properties. However, many of the over 20 wines sold here are exclusive to this property, such as the Gewurztraminer, the Vignoles, and the Chautauqua line of wines, among others.
The distillery and brewery are what really make this location unique. Five & 20 Spirits & Brewing makes a variety of small-batch craft beers (currently ales and stouts) and spirits such as fruit brandies, limoncello, and whiskeys. They use local products in both their grain-based spirits and beer, and their goal is to become a completely "grain-to-glass" facility.
Top picks: Limoncello, Rye Whiskey
Location: 8398 West Main Road (Route 20) in Westfield, NY

Want to know more about wineries in Pennsylvania? Check out the wineries of Central PA.
We were the guests of Arrowhead Wine Cellars and South Shore Wine Company thanks to Visit Erie. All opinions of the bounty of offerings are our own.