As with everything else when we started planning our trip to Albania, the idea of Albanian food was a big question mark in our minds. For no good reason, our expectations weren't high, but we assumed we would make the best of whatever we were faced with. And, if that didn't work, I had protein bars in my bag.
We were blown away.
Albanian cuisine is Mediterranean cuisine. That means it has elements that most people will recognize from familiar Italian, Greek, and even Turkish foods. Traditional Albanian food is fresh, flavorful, varied, and sinfully cheap. With seafood, feta cheese, tons of vegetables, and the herbs of the Mediterranean, there is everything to love about the culinary options in Albania.
Here's a look at some of the great foods (and one drink) you can't miss on a trip to Albania.
Burek
A savory pie with layers of flaky phyllo goodness is perfect pretty much any time of day. Burek (also byrek or borek) is a triangular pie filled with salty cheese, spinach, cabbage, meat, or a combination of those ingredients.
Burek and similar dishes are found in lots of countries that were formerly part of the Ottoman Empire. Think of it like Greek spanakopita with a larger variety of fillings.
Because I'm picky about meat, burek became my go-to dish in Albania because I knew that even the vegetarian version would be good and filling. It was on the menu of most every restaurant, but it's also a popular street food item especially from vendors called "Byrektore" that sell it by the slice.
Fergese
A filling side dish, fergese was one of our favorite Albanian dishes. The vegetarian version (Fergesë e Tiranës me piperka) is made with peppers, tomato, egg, and curd cheese (similar to cottage cheese). Everything is mixed together, warmed, and served with bread. Pretty damn delicious.
Fergese me melçi is a similar dish that becomes a bit more like a casserole because it includes liver.
Tavë kosi
The national dish of Albania, tavë kosi is a baked dish of lamb, rice, yogurt, and eggs. Cooked in a casserole dish, it emerges with a texture similar to a creamy quiche. The name translates to "soured milk casserole," but try not to think of it that way because it's delicious and will surely appear on your table more than once on a trip to Albania.
Aegean salad
Albanian food–like many cuisines–is heavily influenced by its past. Select parts of Albania were once home to Greek tribes, and parts of modern Greece are only about 20 miles from the Albanian coast, so it makes sense that there would be a fair amount of culinary overlap. Many things that North Americans might think of as Greek food are often actually Ottoman or immigrant-influenced and have a very close cousin in Albania.
The Aegean salad we frequently had was the same as any "Greek" salad you might find around the world—cucumbers, tomatoes, olives, and a feta-like cheese, topped with vinegar and olive oil. With local, fresh summer vegetables, it was outstanding.
Tarator
Tarator, a dish similar to Greek tzatziki, is a starter at many meals. Made of yogurt, garlic, parsley, cucumber, and olive oil, the refreshing dish is served cold, often with bread. We made it a point to have tarator as often as possible.
Seafood
Albania's entire west coast—all 200 miles of it—borders the Adriatic sea. That means that there's tons of opportunity to get amazing seafood.
During our stops along the Albanian Riviera, we tried mussels, shrimp, and fish, and the best grilled octopus I've ever had. And it was all fresh, expertly prepared, and absurdly cheap. Served with a bit of Albanian wine, it couldn't have been more perfect.
Yogurt and honey
Yogurt is a staple of Albanian cuisine. Whether sweet or savory, in casseroles or in dips, it makes an appearance at many meals.
The best yogurt we had on our trip was sheep's yogurt topped with local honey and walnuts (kos mjalte dhe arra). I'd never tried sheep's yogurt and I'm not a big fan of walnuts, but the combination of the ingredients was one of the most delicious things ever. One of our friends spent the rest of the trip trying to recreate it for breakfast every morning.
Grilled meat
Albanians love their grilled meat. If you're a meat eater, the good news is that most anything is available expertly grilled, whether in a restaurant or as street food. Tirana even has a whole street of grill restaurants.
One of our favorite discoveries was pljeskavica, a grilled, spiced meat patty made of pork and beef (and sometimes cheese), which is similar to a hamburger.
Sallatë shope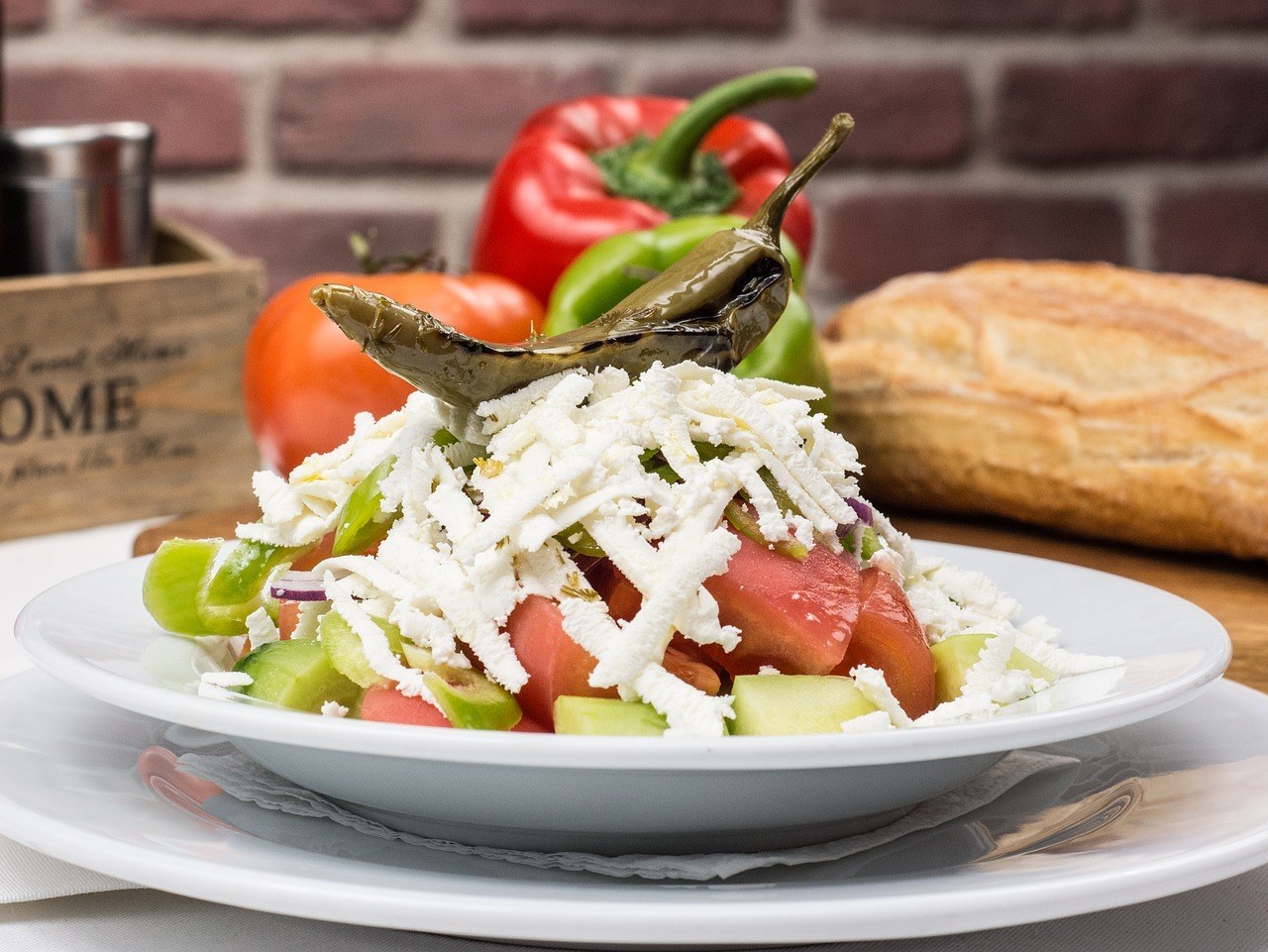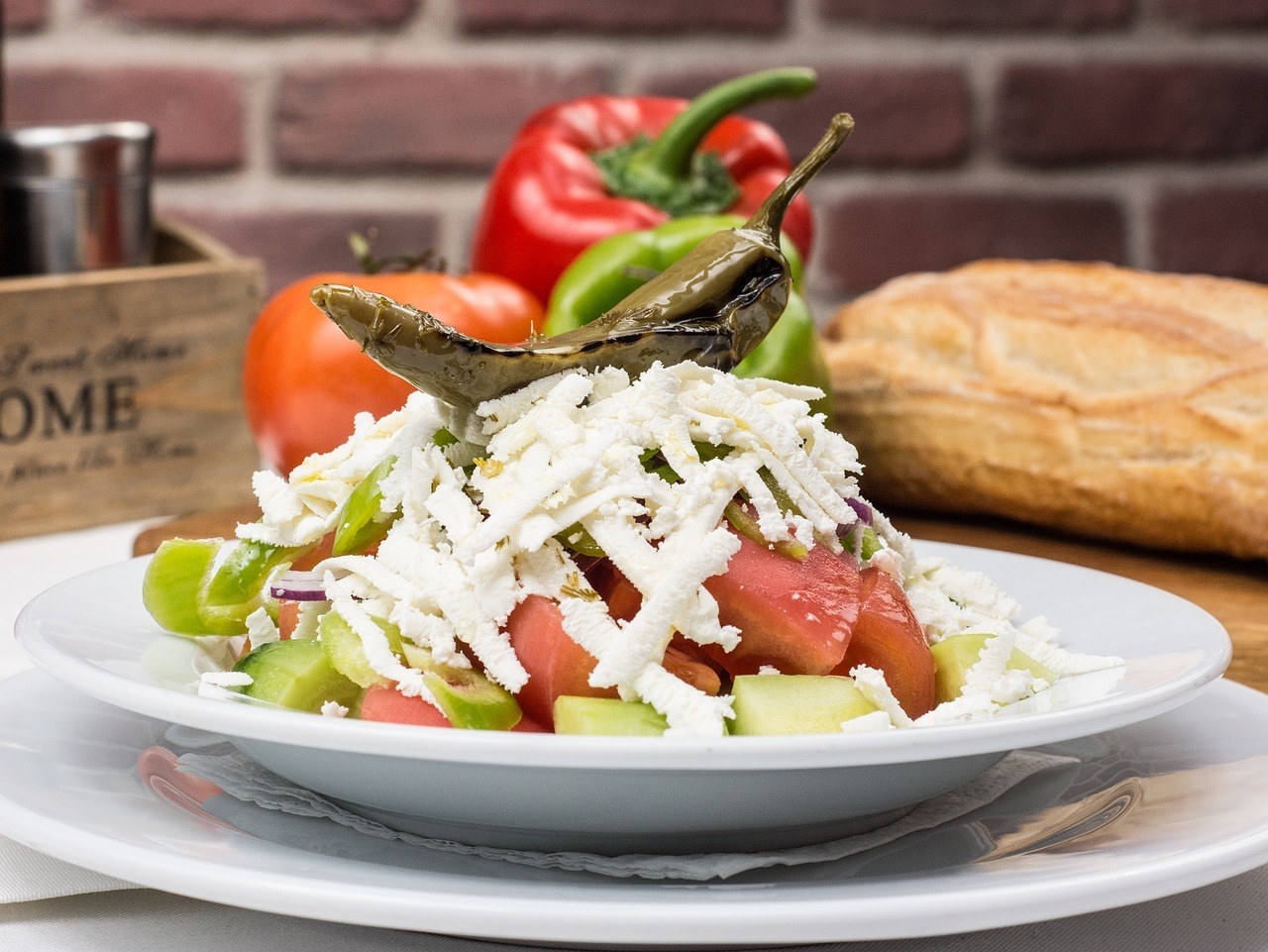 A traditional food in the Balkans, sallatë shope has different names in Bulgaria, Croatia, and other nearby countries. A simple salad, it is made of tomatoes, cucumbers, onions, peppers, and parsley. The vegetables are salted and tossed with sunflower oil and vinegar. It's all topped with a sinful amount of shredded sirene, a white brine cheese.
Qofta
Meatballs called qofta are also a popular Albanian food. As in other cultures, they are essentially meat mixed with a variety of spices. In Albania, they sometimes include additions like rice or bulgur.
Most often, we saw beef or lamb versions of qofta and even once came across vegetarian qofta made with potatoes, onions, peppers, and egg in place of the meat. One of Lance's favorites was qofta korca, a veal meatball dish topped with a tomato and onion sauce.
Qifqi
A specialty of the city of Gjirokastra, qifqi are rice balls flavored with herbs and bound together with eggs. They were a tasty vegetarian addition to our lunch in the UNESCO World Heritage city.
Rakia
Hold onto your hats, folks. Rakia is some strong stuff. The national drink of Albania, this fruit brandy is often home brewed or brewed in-house at restaurants, and it is high octane. You won't make it far without being offered a taste.
Because rakia (also called raki) varies from place to place, some offerings are better than others, but it's worth a try. The most common flavors we found were grape, plum, and apricot, but since it's 40% ABV, you really don't taste much. It reminds me a lot of the white whiskey or moonshine often found in the US.
We visited Albania as guests of JayWay Travel. All opinions of the cheesy and grilled are our own.
Laura Longwell is an award-winning travel blogger and photographer. Since founding Travel Addicts in 2008, she has written hundreds of articles that help over 3 million people a year get the most out of their travel. In that time, she has visited nearly 60 countries on 5 continents, often returning to favorite destinations over and over again. She has a deep love of history, uncovering unexpected attractions, and trying all the good food a place has to offer.
In addition to Travel Addicts, Laura runs a site about her hometown of Philadelphia—Guide to Philly—which chronicles unique things to do and places to see around southeastern Pennsylvania. Her travel tips and advice appear across the web.