New Orleans is all about good times and the good things in life. The sweet sounds of a jazz trombone, the first crunchy bite of a shrimp po'boy, the sight of a wrought-iron balcony decked out with Mardi Gras beads. All this and more is what makes New Orleans, Louisiana, like nowhere else. On our most recent trip, we had 3 days in New Orleans to experience all the food and sights that make it such a fun place to be.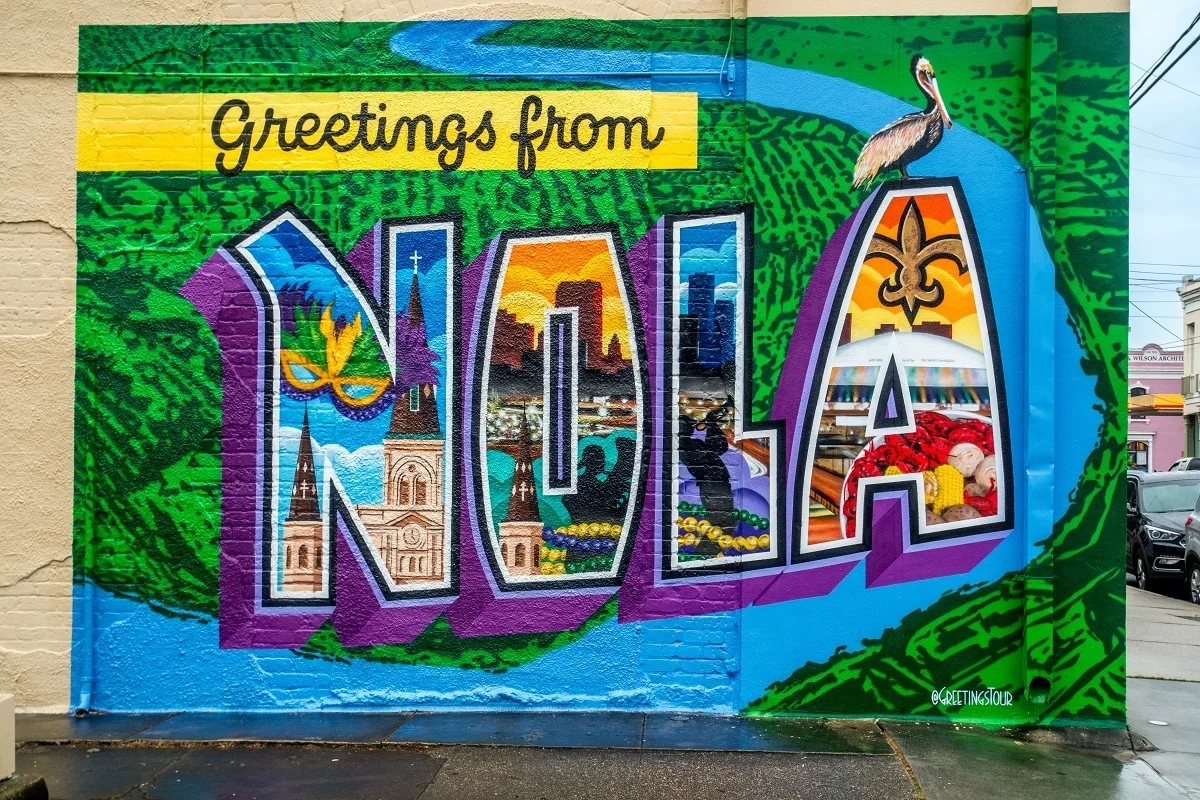 Between us, we've visited the city over 10 times, so we have a good handle on what's worth seeing, especially if you're a first-timer. We've put together this 3-day New Orleans itinerary for seeing the city's highlights and more.
Laissez les bons temps rouler.
The truth is that a long weekend is just enough to whet your appetite—to make you fall in love with the romance of Jackson Square and the spectacle of bananas foster cooked tableside. It's enough to see the above-ground cemeteries, try a classic cocktail (or several), and get a glimpse of the plantations. It's enough to make you want to come back for more.
Day 1: Bourbon Street and Downtown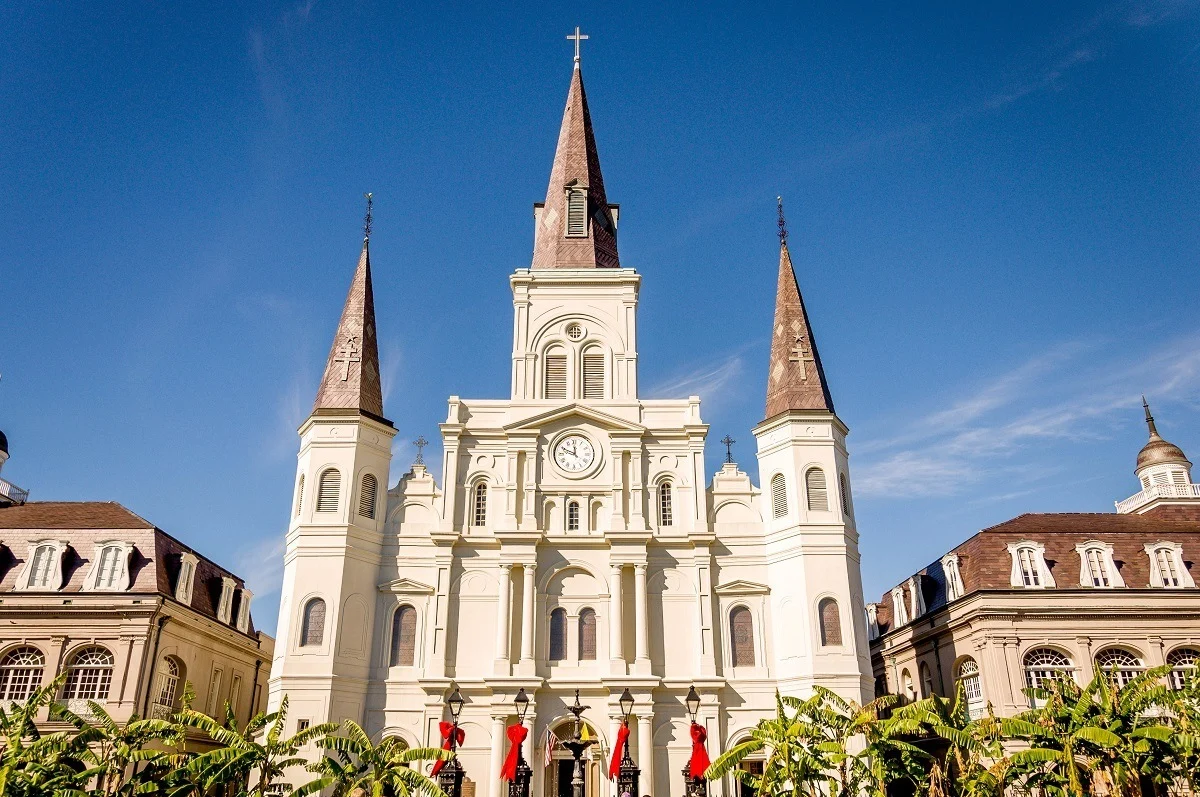 The first day is all about the French Quarter. The liveliest part of the city, the French Quarter is where you'll find Bourbon Street, Jackson Square, and restaurants and bars that have been city institutions for over 100 years. Coming here is a must on any New Orleans trip.
Have brunch at the Court of Two Sisters
On Royal Street in the heart of the French Quarter, start off day 1 at the jazz brunch at Court of Two Sisters. The brunch buffet starts at 9:00am and goes until 3:00pm, so it's a great option whether you get started early or late.
Grab an outdoor table under the ivy canopy and enjoy one of their famous shrimp creole omelettes, jambalaya, bread pudding, or dozens of other dishes. Whatever you choose will be accompanied by the sounds of a live jazz band. Brunch here is the perfect way to start off your day in the Big Easy.
Walk around Jackson Square
Jackson Square and its iconic St. Louis Cathedral are the next stops. Named after Andrew Jackson—the victorious general in the Battle of New Orleans and later US president—the square has served many different purposes in its 250-year history and is a national historic landmark.
Walking around Jackson Square, you'll see street performers giving impromptu shows and artists selling their work displayed along the fences. Adjacent to St. Louis Cathedral, you'll also find the 18th-century former town hall, which is now the Louisiana State Museum (known as the Cabildo).
While you're in the area, don't miss Pirate's Alley, the source of many city legends involving presidents, pirates, and more. It was once home to the Nobel laureate author William Faulkner who wrote his first novel while living there. In the rooms he once rented, you'll find Faulkner House Books, a charming bookstore that specializes in the works of Faulkner and similar authors.
One of the top places to visit in New Orleans, Jackson Square is fun and full of energy. For a great photo of the square, the cathedral, and all the action, cross Decatur Street and climb up the steps at Washington Artillery Park.
Stroll down Bourbon Street
In essence, Bourbon Street is about three things—eating, drinking, and music. It is almost always full of people, and there's always something to see. Some people love it; others merely tolerate it. Whatever your feeling, wandering on Bourbon Street—even for just a couple of blocks—is one of the must-have experiences in the city.
There are plenty of places selling gigantic beers and foot-long glasses full of frozen drinks. And, since it's New Orleans, you can take them with you while you walk. But there are also classic bars like Pat O'Brien's where you can hang out in the leafy courtyard, or Lafitte's Blacksmith Shop, which was built in the early 1700s.
My favorite place for a drink on Bourbon Street is the Old Absinthe House, which dates from 1807. Its patrons have included Oscar Wilde, Andrew Jackson, Franklin Roosevelt, and many other well-known figures. The Old Absinthe House is most well-known for its absinthe cocktails (the name kind of gives that away), but I'm a fan of the planter's punch.
If you're hungry, stop into Desire Oyster Bar. This is where Lance tried his first ever oyster on a previous trip, and now he's a huge fan. If you want something more substantial, consider making a reservation at Galatoire's, a fine-dining Creole restaurant that's made great food for over a century.
Take a cemetery tour
Next, it's time to delve into the more macabre side of the city with a cemetery tour.
Cemeteries in New Orleans are unique because they're largely built above-ground. Individuals, families, and even social organizations have tombs that look a little bit like tiny houses. Five cemeteries here are on the National Register of Historic Places, and the tour we recommend visits one of them—St. Louis No. 1.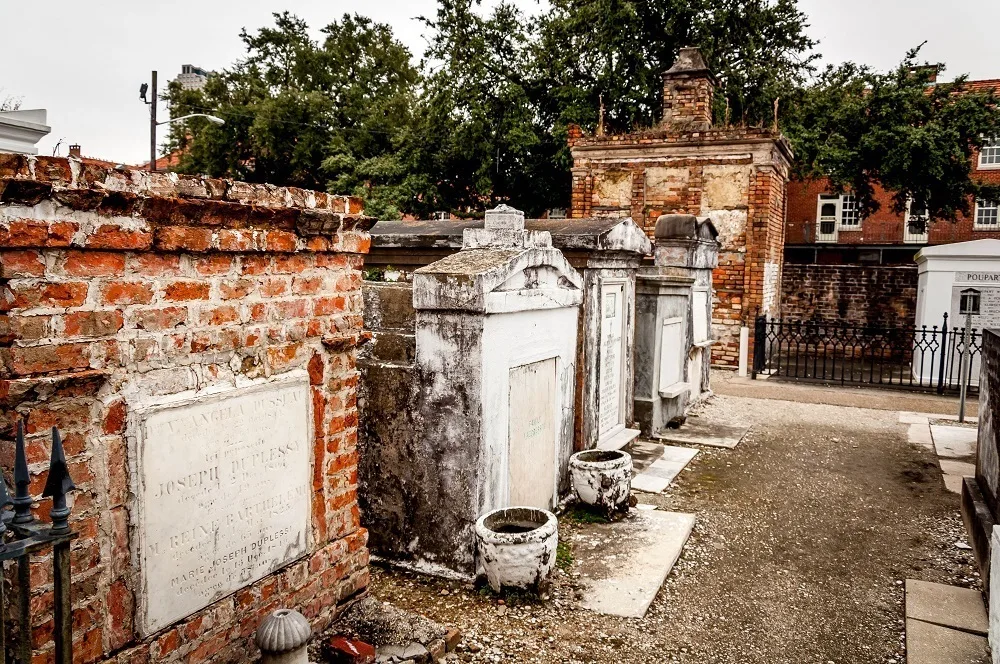 On a New Orleans cemetery tour, you'll learn about how and why people are buried above ground and how they get families or groups in a common tomb. There are also lots of customs and unusual traditions involved, which the tour guides bring to life.
You'll hear entertaining stories about the people buried in the cemetery, especially when one of those people is the "Voodoo Queen of New Orleans," Marie Laveau, as in the case of St. Louis No. 1. And there are plenty of tales about other notable figures entombed there—politicians, criminals, and regular citizens who became famous (or infamous) for one reason or another. You may even hear a couple of ghost stories.
This cemetery tour of St. Louis No. 1 is one of the top-rated tours in New Orleans.
Lunch time at the French Market
After all the walking around, you're probably ready to refuel. Head to the French Market to sample some specialties.
People have sold and traded at the location where the current French Market stands since 1791, making it the oldest of its kind in the US. The inviting open-air market stretches for five blocks and features food, souvenirs, and crafts of a kind you'll only find here.
One of the top places to see in New Orleans, vendors at the French Market feature po'boys, beignets, pralines, and more. If you've always wanted to try alligator, oysters, or crawfish pie, this is your place.
Head to Preservation Hall
If you didn't get your fill of jazz this morning—and, let's be honest, there's no such thing as too much music here—the next stop is Preservation Hall.
Every night, Preservation Hall hosts four live jazz shows by some of the best musicians in the city. The shows are all ages and last about 40 minutes each, so you can squeeze one in before or after dinner.
General admission tickets are available (seated or standing), or you can pay extra to ensure you get front row seats.
Dinner at Arnaud's
Arnaud's is one of the city's classics. It's my favorite restaurant here and is part of every New Orleans trip for me. With white tablecloths, a mosaic tiled floor, and crystal chandeliers, the interior feels like you've been transported to its early days in the 1920s.
Arnaud's serves classic Creole cuisine. You can pick from specialties like shrimp Arnaud's, oysters Bienville, or their famous souffle potatoes. A night in the jazz bistro with a French 75 cocktail in hand is my happy place.
After-dinner drinks at the Hotel Monteleone
It's been a long first day, so no one will blame you if you're ready to turn in. But, if you want to sample a little nightlife, stroll over to the carousel bar at the Hotel Monteleone.
Not only does the carousel bar look like a carousel, it slowly turns while you enjoy your beverage of choice. Commonly listed as one of the best bars in the city, the menu at the Carousel Bar is tweaked seasonally, but you'll always find the whiskey-based Vieux Carre, which was invented here in 1938. Visiting the Carousel Bar is one of my favorite things to do in the French Quarter.
End the night at the Palace Market
Near the French Quarter in the Faubourg Marigny neighborhood, you'll find Frenchmen Street. A less rowdy, shorter, sometimes-more-music-filled version of Bourbon Street, Frenchmen Street is a fun place to catch a show or just watch a band on the street.
Another fun place on Frenchmen is the Palace Market. The white lights mark this cute space where you'll find lots of work by local artists. The Palace Market Frenchmen offers up a wide variety of art, t-shirts, magnets, jewelry, and other specialty items. Some of my favorites were steampunky lamps that looked like they could have been made by Thomas Edison himself and some gorgeous handmade embossed leather journals. It's a great place for a truly special souvenir.
Day 2: Garden District
After a lot of activity in and around the French Quarter on the first day, day two of your New Orleans vacation is a little slower. With oak-shaded streets, historic mansions, and charming boutiques, the Garden District is a great place to wander and take things easy.
Breakfast at District Donuts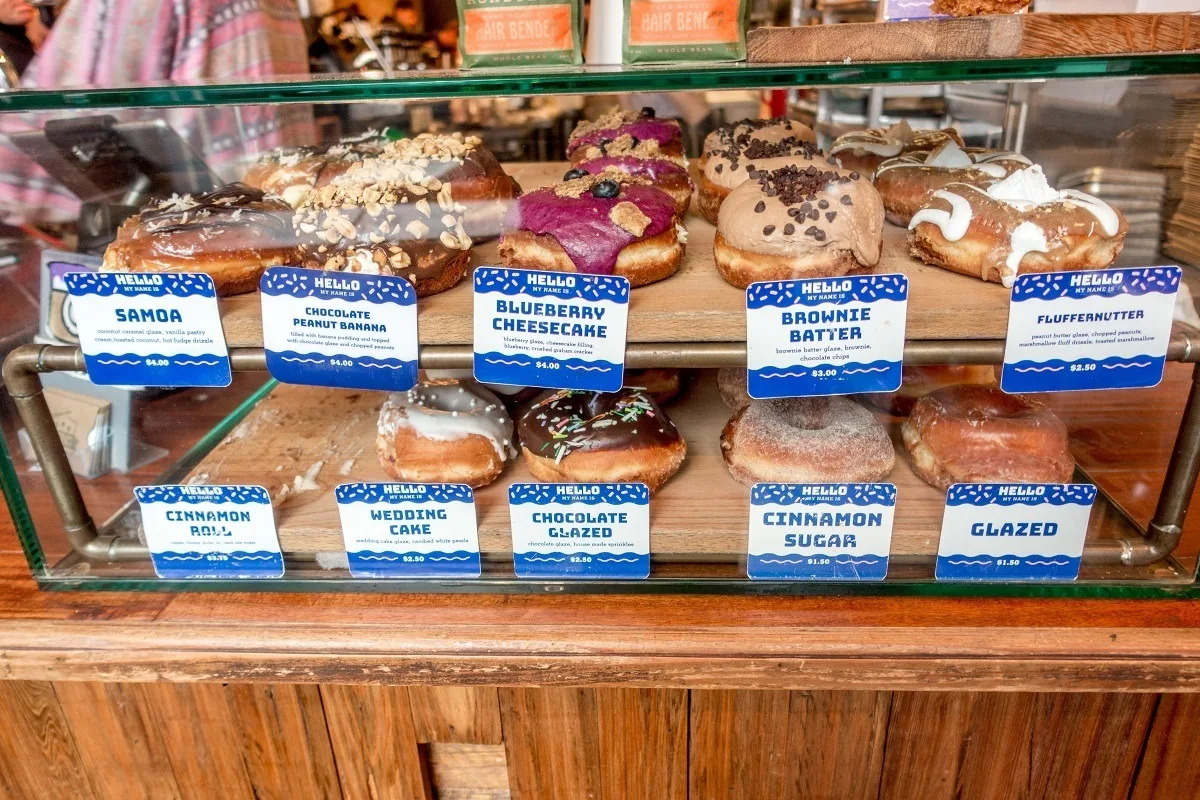 District Donuts Sliders Brew makes some of the best donuts around and is a great place to start your day in the Garden District. Their ever-changing donut line-up features candy- and Girl Scout-cookie-inspired creations along with unique varieties like wedding cake and horchata. My chocolate peanut banana donut was to-die-for and just as rich as it sounds. In a good way.
Beyond donuts, you'll find a selection of biscuit sandwiches, breakfast tacos, and kolaches. In keeping with their name, the burgers, sliders, and coffee concoctions are also on-point.
Shop on Magazine Street
Magazine Street is a 6-mile-long shopper's paradise. With hundreds of boutiques, antique shops, and art galleries, there are lots of opportunities to find what you're in the market for or to discover a treat you didn't know you needed. It's one of the best places in New Orleans for shopping.
Stop by Fleurty Girl to find New Orleans-inspired home goods and t-shirts or pop into Funky Monkey for wild vintage clothes and accessories. In Miette, you'll find one-of-a-kind gifts and jewelry. And that's just to name a few.
See the mansions of the Garden District
The stately homes of the Garden District are some of the best things to see in New Orleans and help make this the prettiest neighborhood in the city. Dating from the mid-1800s, these mansions feature grand columns and massive wrought-iron balconies dripping with Southern charm.
As you walk around the Garden District, you'll see the homes (or sometimes former homes) of celebrities like John Goodman and Sandra Bullock. You'll see properties and scenery that inspired Anne Rice's Gothic fiction works like Interview with a Vampire, and several sites that have featured prominently in movies.
Don't overlook the properties that may have less name recognition, though. We loved Colonel Short's Villa (1448 Fourth St.) for its stunning wrought iron and unique corn stalk fence and the Women's Opera Guild House (2504 Prytania St.), which is open to the public for tours on Mondays in the spring, fall, and winter.
Have lunch at Commander's Palace
If you're hungry, now would be a perfect time to try out another of the most renowned restaurants around—Commander's Palace. The photogenic landmark is a bastion of Creole cooking and one of the most popular places to go for a special occasion. (Sometimes that special occasion is just a delicious lunch.)
Commander's Palace is very popular, but it's possible to get in without a reservation for lunch on a weekday, if you're dressed nicely enough. Enjoy some of the things they're famous for like turtle soup, gulf fish, and bread pudding souffle…along with a couple of $.25 martinis.
For something more causal, there are tons of options back on Magazine Street. We like Mahony's Po-Boys or Dat Dog, where you can get sausages, chicken, and even a vegan option with all kinds of delicious toppings.
Visit Lafayette Cemetery No. 1
If you were too tired for the cemetery tour yesterday, now is a great time to see one of the historic cemeteries, Lafayette Cemetery No. 1. In this one square block, there are over 1100 family tombs.
Lafayette #1 opened in 1833 and still has burials occurring, so there's lots of history here. Consider following this self-guided tour to learn more about the cemetery and see the highlights. (Note: As of January 2023, the cemetery is temporarily closed for repairs, so visitors can only observe it from outside the gates.)
Take the St. Charles Streetcar
At Lafayette Cemetery, you're only a block from St. Charles Avenue, so you're in the ideal spot to catch the famous St. Charles streetcar.
Heading west will take you out to Audubon Park and near Loyola and Tulane Universities. East will take you back to the French Quarter. The ride is only $1.25 each way, so you can do both cheaply for a great sightseeing tour of the city.
Dinner at Mr. B's Bistro
For 40 years, Mr. B's Bistro has served Creole and contemporary New Orleans fare in the French Quarter. The lively vibe and great service make it an ideal place for a night out.
Mr. B's is best known for its BBQ shrimp, and I'm partial to the shrimp and grits (because you have to have grits in New Orleans). Their chicken and andouille Gumbo Ya Ya is also a winner.
Dessert at Café Du Monde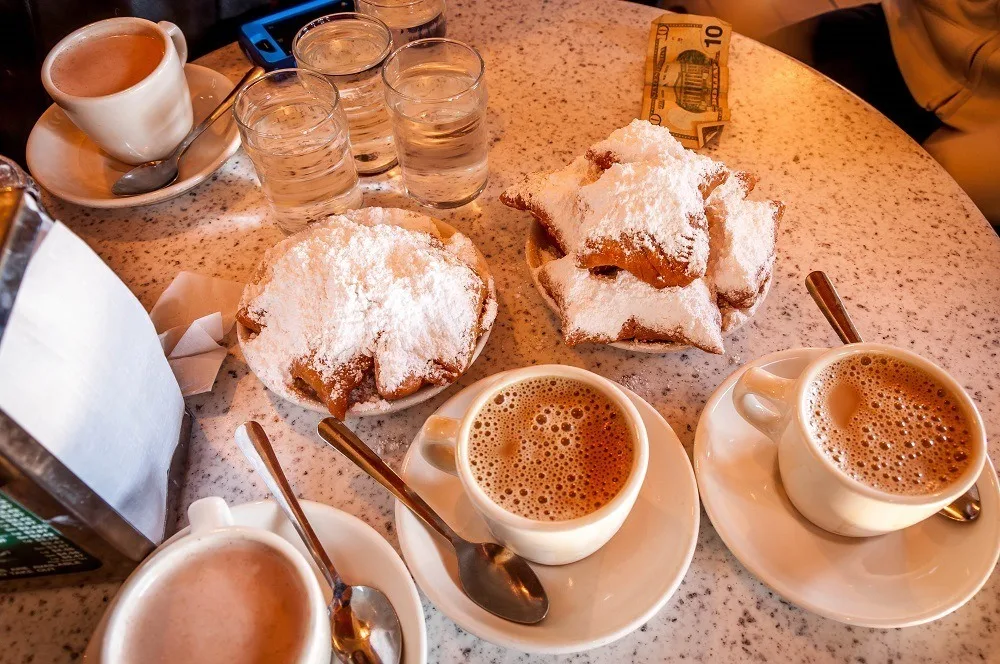 Many people go to Café Du Monde for breakfast, which is exactly why we're suggesting going later at night. This producer of the gold standard for beignets is open until 11pm, and wait times are less outside of breakfast hours.
Go to Café Du Monde for dessert and enjoy the fried, sugary goodness. Pair your beignets with café au lait or hot chocolate for maximum enjoyment.
Day 3: The River Parishes
For the last of your 3 days in New Orleans, it's time to get out of town. Not far from the lights and live music of downtown, you'll find swamps, plantations, and some of the best Cajun food around—a taste of Louisiana history and culture.
It's easy to take a tour here, but renting a car will maximize your time and give you more flexibility. Get started early to make the most of your day.
Breakfast at Wayne Jacob's Smokehouse
For 70 years, Wayne Jacob's Smokehouse has served up their house-smoked meat at their restaurant in Laplace. They're open daily 9am-2pm, so you can visit before or after your swamp tour depending on how early you get started.
The family-run restaurant is known for its andouille which comes in several ways, including as a burger or on top of a bowl of grits. We tried the andouille sliced into chips and then fried, served with a side of mustard. It sounds unusual, but it's fabulous. Don't miss the two kinds of gumbo or the stuffed crab Benedict with Louisiana Blue Crab.
Try a drive-thru daiquiri shop
Just because you're outside the city doesn't mean you leave the gluttony behind. Much like in New Orleans, liquor laws in the river parishes are on the more permissive side. Thus, you get the wonder of drive-thru daiquiri shops.
Depending on the location, you can choose from typical cocktail flavors like bellini and margarita or more unexpected concoctions like High Octane or Mardi Gras Mash. If you want to be sure of what flavor you're getting, just ask or go inside for samples. While you can't actually drink them in the car, it's still a fun experience, and the drinks are good.
Take a swamp tour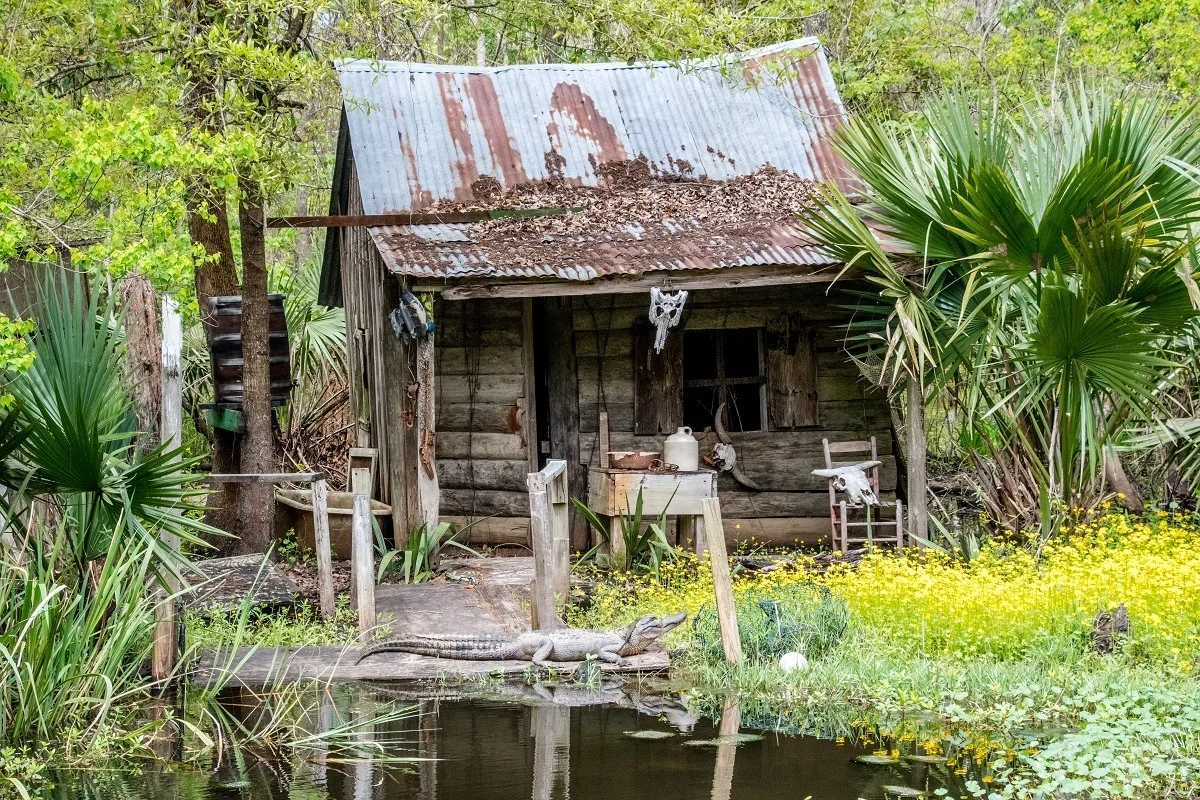 Its bayous and swamp land make the area just outside New Orleans an ideal place for a swamp tour. An experience like this is something you can only do in a few select places, so it's definitely something not to miss when you visit Louisiana.
We've been on swamp tours before, and, while we had a great time, we didn't see many alligators. We set our expectations accordingly for our adventure with Cajun Pride Swamp Tours.
That was foolish.
Within just a few minutes of stepping on the boat, the wildlife appeared. First, we saw a few turtles sunning themselves on branches sticking up out of the water. Then, raccoons and snowy egrets. Soon, it seemed like there was an alligator every few yards—eyes peeking above the water, sprawled on the banks, or huddled in a pile of other alligators trying to get warm under the struggling spring sun.
As we chugged along, our captain peppered us with facts about the gators and other animals of the swamp and stories about the largest and fastest and craziest animal encounters he'd had in his years showing people his beloved southeast Louisiana. It was one of our favorite experiences on our New Orleans itinerary.
Take a Whitney Plantation Tour
After sampling the area's good food and breathing in the fresh air, it's time to focus on the history and the reason most people venture to the area outside New Orleans—the plantations along the River Road.
It could be easy to focus only on the romanticized vision of these antebellum plantations—to marvel at the mansions and their soaring white columns, to gawk at the fine furnishings. But the superficial things are only a tiny part of the time period before the Civil War when these estates came into being.
At Whitney Plantation, nothing is superficial.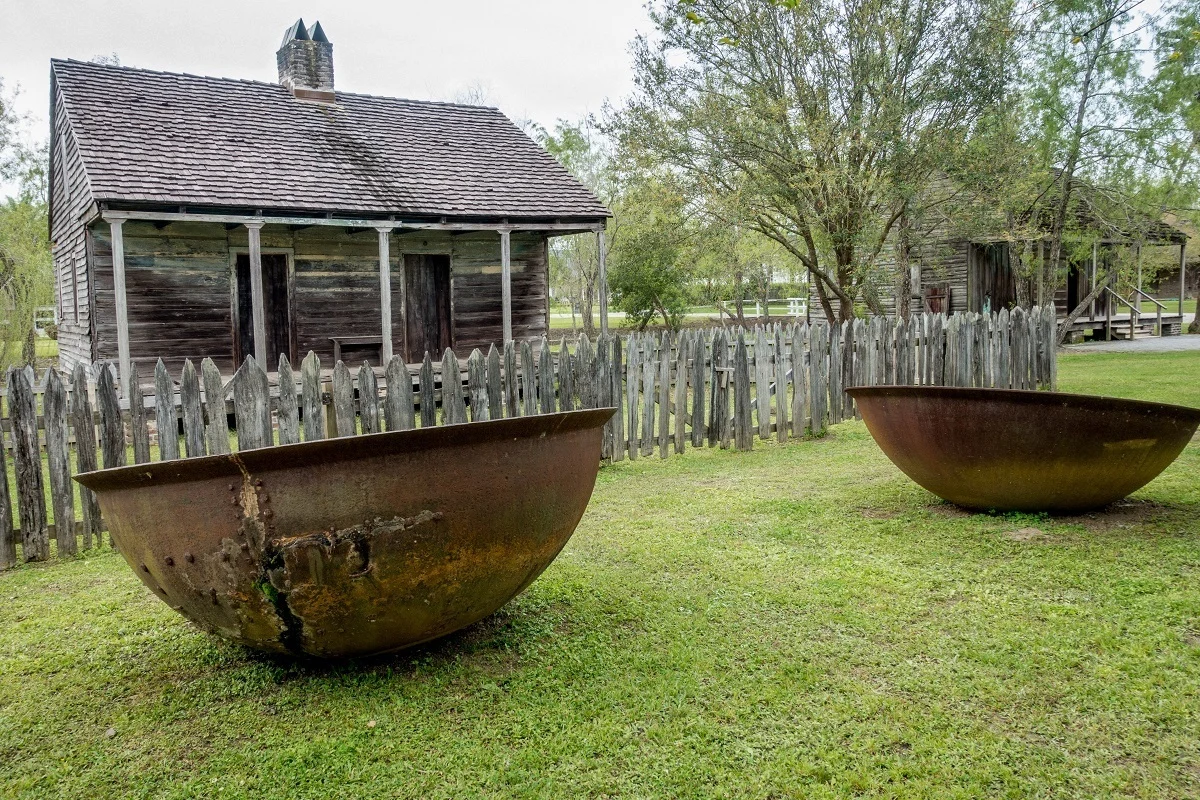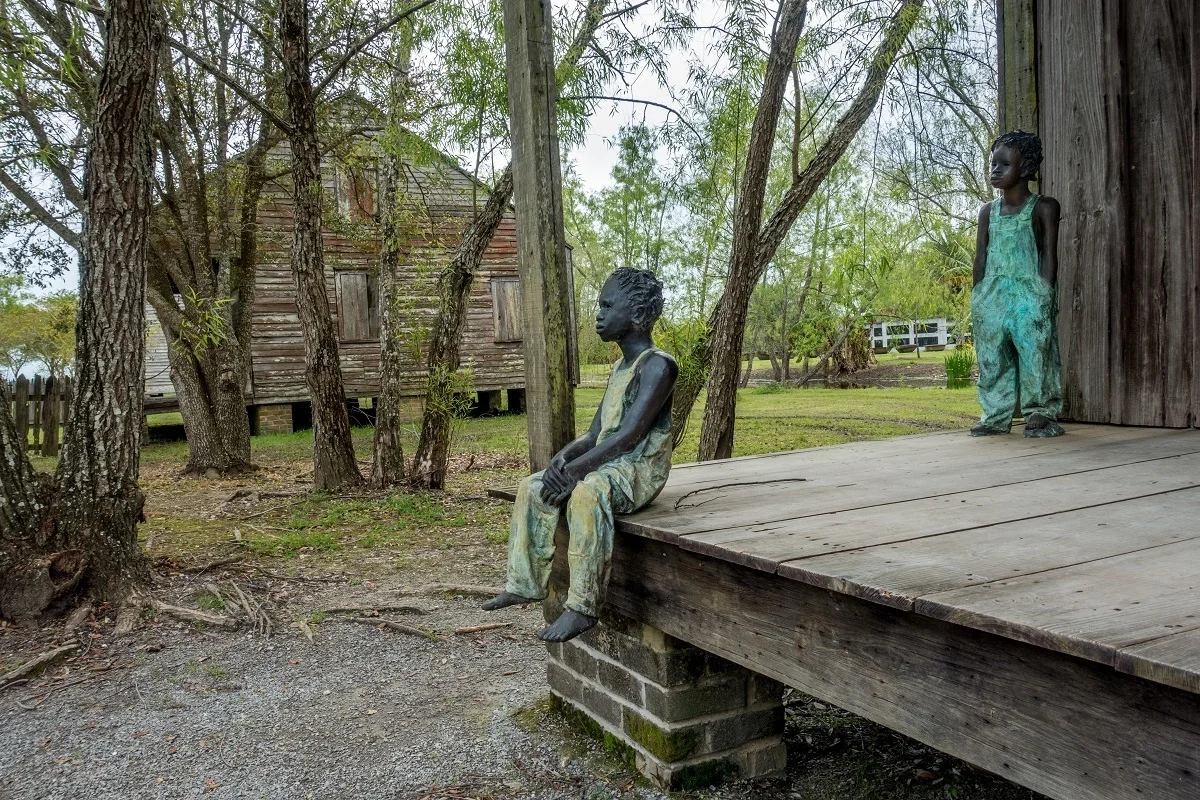 While other plantations include information about slavery and the lives and treatment of the enslaved people, Whitney Plantation is the first to address antebellum life entirely from the perspective of the enslaved. On this tour, there is no sugar-coating what life was like on the sugar plantations that powered the economy of the South.
During the tour, you'll meet the children who were once enslaved here, represented by haunting statues across the grounds. You'll see the Children of Whitney, learn their names, and experience the story of slavery through their eyes and words. You'll walk in the cabins where they slept and learn about the conditions under which they and the adults worked.
The stories at Whitney Plantation are disturbing, sobering, and critical for people to hear. Spending time here is enlightening and a must when you visit New Orleans.
Visit Oak Alley Plantation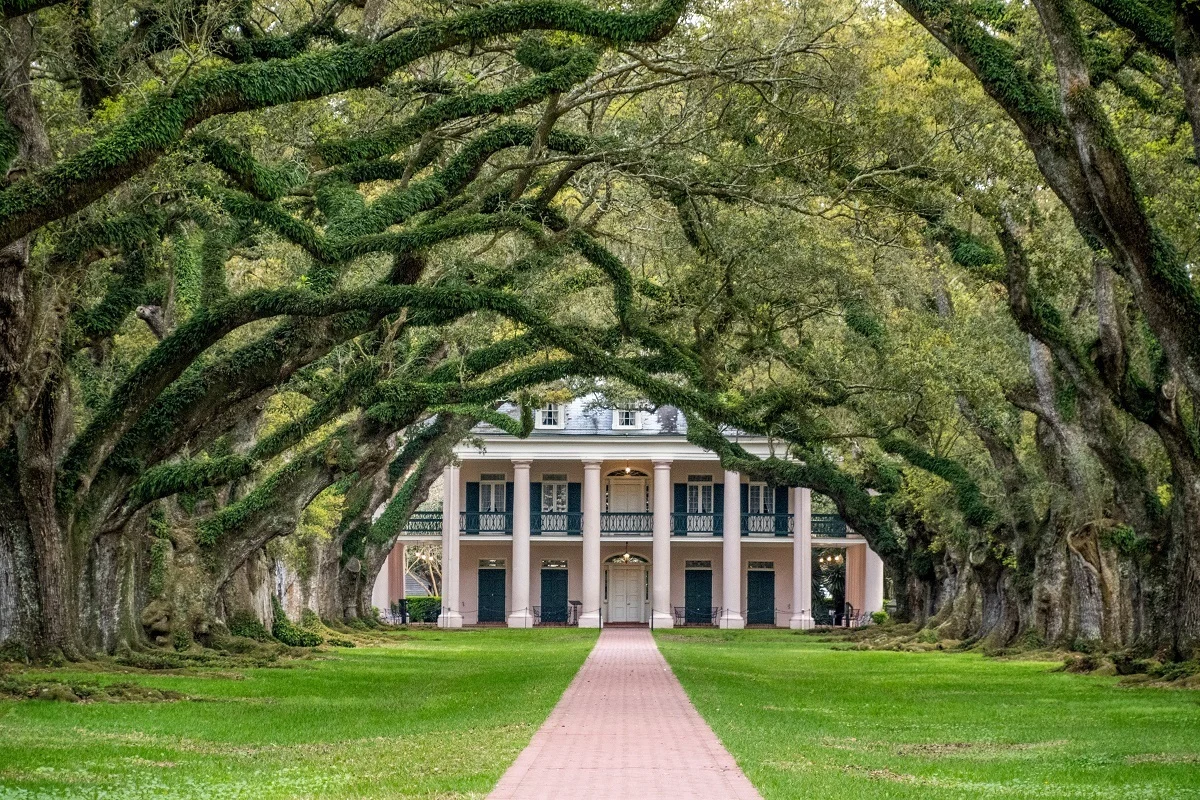 If you have more time or would like to see a plantation where the Big House plays more of a role, head west on Highway 18 to Oak Alley Plantation.
Oak Alley is likely the kind of place that comes to mind when you hear the word "plantation." The image of its white colonnaded porch framed by centuries-old oak trees is iconic.
Built in 1839, Oak Alley was owned by the wealthy and powerful Roman family. A tour through the mansion is a look at Louisiana luxury and the finer things in life that having money generated from a sugar plantation allowed. You'll see fine china, elegant carpets, intricately carved wood furniture, and all the entertaining spaces you might imagine a family of their stature would have.
But the narrative at Oak Alley is not only about the Romans. While not as starkly presented as at Whitney Plantation, the Oak Alley tour incorporates the story of the enslaved people who lived and worked there. Throughout the house, guides gave examples of the parallel activities of Celina Roman, the owner, and Pognon, one of the enslaved workers in the house.
Outside, amidst the giant oaks, you'll see six replica slave cabins that give visitors an idea of how the enslaved workers lived. You'll see their outdoor kitchen—just three large kettles—and the thin mattresses hovering over rope where they slept after 18 hours of field work.
Little is known about the personal stories of the 220 people who were enslaved on the plantation beyond their names, but Oak Alley is now trying to ensure that those names are not forgotten.
To visit the swamp and see plantations, check out this day trip from New Orleans. If you'd rather focus on Oak Alley, see this tour option.
Have dinner at Houmas House
Before you head back to the city, stop for dinner at Houmas House and Gardens.
There are two restaurants and a bar available most nights of the week. The Carriage House restaurant is the more casual of the options. Among period furnishings, you can select from a menu featuring American, Cajun, and seafood specialties. We loved the BBQ shrimp and the short rib. Latil's Landing Restaurant is the property's fine dining restaurant serving a 5-course tasting menu, if you're in the mood for a splurge.
The bonus to stopping at Houmas House for dinner is that it gives you the chance to walk around the gardens. You'll see thousands of colorful flowers, unique sculptures, and even a koi pond in front of the Japanese tea house.
After dinner, you'll have about an hour's drive back to New Orleans. There's just enough time for a nightcap somewhere before you have to pack your bags for the trip home.
What to Eat
Let's be honest—a big part of the experience in New Orleans is what to eat and drink, so we thought we'd start out with a quick primer on some of the specialties.
Beignets–Eating beignets (pronounced "ben-YAYS") when you visit New Orleans is like eating pizza in Chicago. Classic, delicious, must-do. They're full of fried, doughy goodness, doused in powdered sugar. The traditional way to eat this $3 plate of heaven is alongside a café au lait. Café du Monde in the French Market is the place to go for beignets.
Pralines–With grandparents who lived in Louisiana, pralines (pronounced "PRAW-leens") were a staple of my childhood. These sugary, nutty confections will pretty much rot your teeth on contact, but their hint of maple/vanilla/caramel goodness makes them hard to pass up.
Muffaletta–A hearty combination of ham, salami, Swiss, and provolone, the muffaletta is a lunchtime staple. It's most distinctive features—the olive spread and bread–are clear reminders of the Sicilian influences on the food in New Orleans. Try one at Central Grocery.
Jambalaya–Creole jambalaya was an attempt by the Spanish to make paella in the New World, and its origins are straight from the French Quarter. It is traditionally made in three parts: the vegetable trinity of onion, celery, and bell peppers; meat such as chicken or andouille sausage; and rice. It is slow cooked so that the deep flavors infuse the rice. At its best, jambalaya is spicy, smoky, and full of flavor.
Gumbo–With similar flavors as jambalaya, gumbo has a delicious broth that's thickened with a dark roux or okra and features celery, onions, bell peppers, and meat or shellfish. Unlike jambalaya, it lacks rice. Gumbo is simmered low and slow for at least three hours to meld all the flavors. Many restaurants feature it, and Mr. B's is a great place to try some.
Po'boy–Po'boys are distinguished from regular sub sandwiches by their freshly fried seafood and amazing French bread. Crusty on the outside and soft on the inside, you know you've got the right kind of bread if you spend half the meal wiping crumbs off your shirt. In addition to the fried seafood like oysters, shrimp, crawfish, or catfish, the po'boy also comes "dressed" with lettuce, tomatoes, pickles, and mayo.
A small-group food tour like this option will let you try some local favorites.
Hurricane–One of the most ubiquitous drinks on the streets of the French Quarter is the hurricane. It was created in the 1940s by local bar owner Pat O'Brien whose establishment still welcomes thousands of visitors a day. The hurricane is sweet, made with rum, fruit juices, and grenadine. And because of its sweetness, its punch can sneak up on you. Go slow, or you might find yourself face down in the middle of Bourbon Street feeling like you got caught in a hurricane.
Sazerac–The city's official cocktail, the original Sazerac was first made in New Orleans in the 1850s. A mix of cognac or rye whiskey, absinthe, bitters, and sugar, trying one is a must do in New Orleans. Have one at Lafitte's Blacksmith Shop or the Carousel Bar & Lounge.
Ramos Gin Fizz–The Ramos Gin Fizz is another classic. With a touch of absinthe and rye whiskey, sugar, and Peychaud's bitters, try this one at the Sazerac Bar in the Roosevelt Hotel.
More fun places to visit
Even a packed 3-day itinerary doesn't allow for all the fun things to see and do in New Orleans. If you're looking for alternative activities, consider these options.
World War II Museum
The National World War II Museum is the top tourist attraction in the city. Despite that, we considered not visiting because we've been to so many World War II museums and sites—from the beaches of Normandy to Auschwitz to the Nuremberg courtroom to the Museum of the Pacific War in Texas, we've made the rounds.
We were so glad we went.
The National World War II Museum really brings all aspects of the war to life. From the lead up to the war and Pearl Harbor to D-Day, internment camps, and the atomic bomb, every stage of that terrible period is covered in detail in a way that keeps visitors engaged.
There were also exhibits about the war effort on the home front, medical care during the war, and something that's rarely discussed with World War II—the impact of combat stress and fatigue long after the fighting ends. Displays are interspersed with movies, panels, personal accounts, and artifacts to tell the story. On the day we visited, there were also two veterans at the museum sharing their experiences.
Mardi Gras World
Even if you're not visiting during Mardi Gras, a must see in New Orleans that will give you a tiny taste of the festivities is Mardi Gras World. In the massive warehouse near the convention center, there is a lot to see.
More than 80 percent of the floats that grace the famous parades are built here, and you can see them up close. The tour includes information about the history and customs of Mardi Gras and a chance to see some of the best floats from the past and others under construction.
Pythian Market
Just outside the French Quarter in the Central Business District is the fun food hall, Pythian Market. There are more than a dozen food stands featuring Vietnamese food, Lebanese specialties, pizza, tacos, and more. On Saturdays, you'll find live jazz, and there are special events like yoga, trivia, and movie nights.
City Park and Sculpture Garden
City Park, one of the oldest parks in the US, is a highlight of a New Orleans sightseeing tour. The 1300-acre space has moss-draped oaks, beautiful trails, and even a lagoon where you can take a ride in a Venetian gondola. It's only 4 miles from the French Quarter, but it feels like a different planet.
In addition to the New Orleans Botanical Garden and the New Orleans Museum of Art located in the park, we loved visiting the Besthoff Sculpture Garden behind the museum. Eleven acres in City Park is filled by more than 90 sculptures set among existing hulking magnolia trees and live oaks. Among the artistic works, you'll find pieces like one of the famous LOVE statues by Robert Indiana and a Blue Dog sculpture by local favorite George Rodrigue.
Admission to the Besthoff Sculpture Garden is free every day.
Spuddy's Cajun Food
Right in the middle of plantation country in Vacherie, Louisiana, Spuddy's Cajun Foods has served up excellent Cajun dishes for over 25 years. The menu is locally sourced, and much of the meat is smoked right out back.
During the week, you can visit Spuddy's for one of the most flavorful lunches you'll ever have. And, by arrangement, you can even help make some. As part of their Cajun Cooking Experience, you can make your own andouille, roux, gumbo, or any other specialty you've always wanted to learn to cook. Not only is it delicious, but it's a great way to get hands-on with a unique aspect of Louisiana culture.
Historic Riverlands
In Reserve, Louisiana, Historic Riverlands offers two tours that give unique insight into the African American experience. The first is a tour of Our Lady of Grace, the first Catholic church in the area for African Americans, which was built in 1937. Until that time, Catholic churches were segregated, and Our Lady of Grace became a place where residents could worship freely and participate in all aspects of church life.
The second tour is a fun and engaging look at musical history. "Soul River: A Musical Journey through African American History" shows how African Americans have shaped and influenced music. From slavery-era spirituals to ragtime, jazz, soul, and even Zydeco (it is Louisiana, after all), the tour shows how black musicians spread their influence across the country as they left the South to escape the oppression of the Jim Crow South.
Our day outside the city hosted by Louisiana River Parishes. All opinions of the fun and delicious are our own
Laura Longwell is an award-winning travel blogger and photographer. Since founding Travel Addicts in 2008, she has written hundreds of articles that help over 3 million people a year get the most out of their travel. In that time, she has visited nearly 60 countries on 5 continents, often returning to favorite destinations over and over again. She has a deep love of history, uncovering unexpected attractions, and trying all the good food a place has to offer.
In addition to Travel Addicts, Laura runs a site about her hometown of Philadelphia—Guide to Philly—which chronicles unique things to do and places to see around southeastern Pennsylvania. Her travel tips and advice appear across the web.