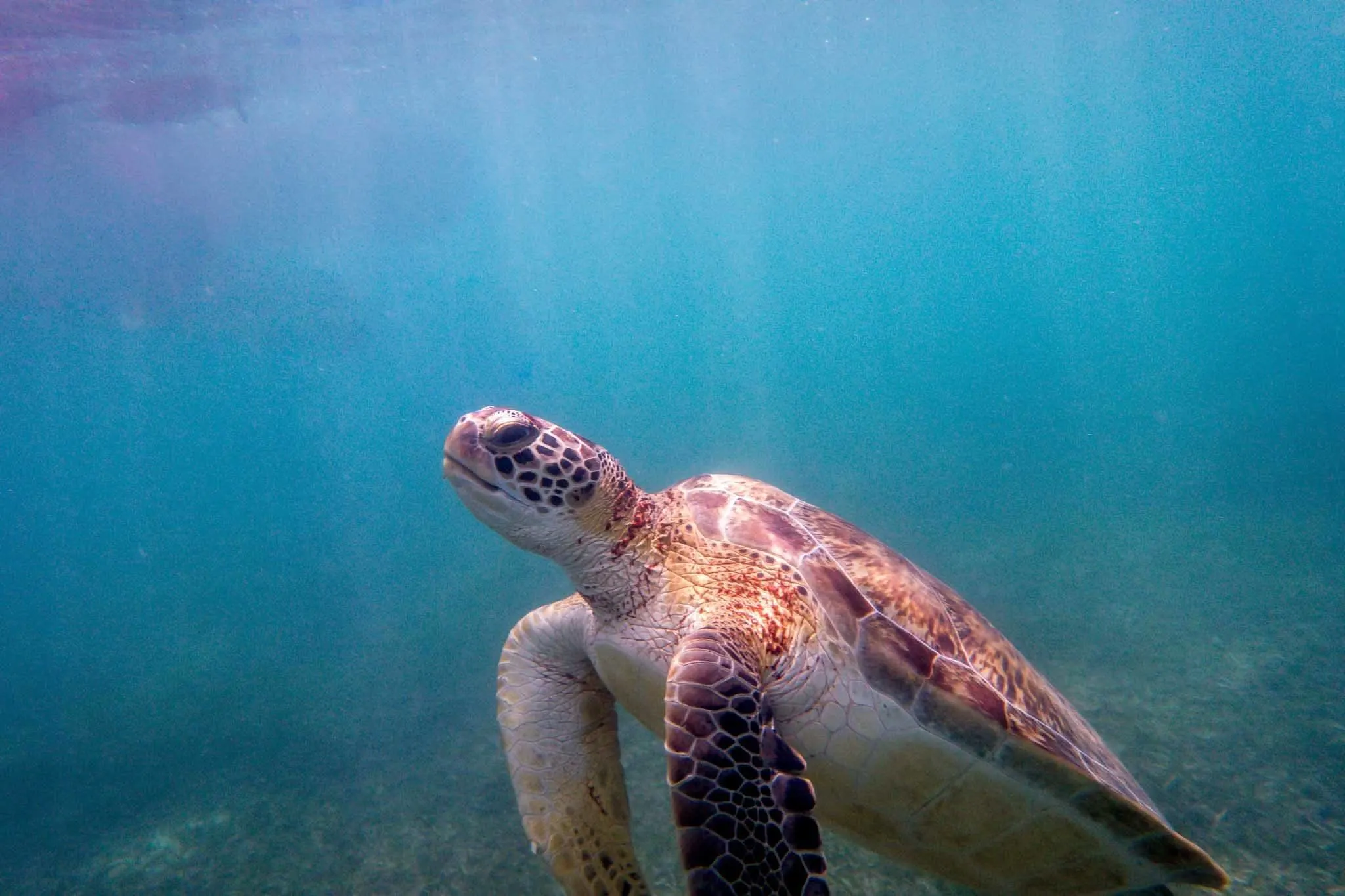 In the blue-green haze, a black silhouette emerges in the distance. Swimming closer, the clear form of a green sea turtle begins to take shape. The goal of our self-guided Akumal snorkeling adventure was to encounter these graceful creatures in the wild. The Akumal turtles did not disappoint and it was the highlight of our trip to Mexico.
We're no strangers to encountering see turtles in the wild. We got to see them in the Bahamas in 2006 and again in the Galápagos Islands. But we learned that you should never pass up a chance to see sea turtles. And who would want to? Each experience is mesmerizing.
While planning our trip to Mexico, we'd heard about swimming with turtles in Akumal and that it could be done in the wild for FREE! But we also saw a lot of pricey tours being offered. And there was a lot of conflicting information about what was actually happening in Akumal Bay.
Always up for an adventure, we set out to do the snorkel trip our own and will share our secrets with you. While it is possible to do your own Akumal snorkeling tour cheaply and easily, the situation is actually much, much more complicated.
Note: This article is updated and current as of January 2023. The situation changes frequently, so check back for updates.
Akumal snorkeling overview
We set out from Playa del Carmen a little later than we had expected, arriving around 10:45am. In retrospect, we should have gotten there earlier. The layout was pretty obvious, except for figuring out where to access the beach (see instructions below).
Snorkeling with turtles in Akumal is easy. The small bay is protected by a reef. Big waves can't penetrate the bay, so it is perfect for snorkeling.
The Akumal sea turtles are plentiful and they're used to the presence of humans. You can get close to the turtles (while still respecting their space!). As they get used to you, you can appreciate their strong front fins that propel them through the water. As they come up for air, you can look them in the eye and see the strength and grace they project. It's really pretty amazing.
After a couple of hours of snorkeling, we parked ourselves in the Lol-Ha restaurant to enjoy the shade, the view of the ocean, and some amazing lunch delights: chilaquiles and a cochinita pibil torta. There's something refreshing about food and drink after spending a few hours in the salt water.
Our visit to Akumal was a wonderful day in the sun and sea from our base in Playa del Carmen. Of our entire trip in Mexico, snorkeling in Akumal with the sea turtles was the highlight of the trip.
Planning your Akumal snorkeling adventure
The most important thing to know about snorkeling
The small bay at Akumal has a sandy bottom comprised very fine sand. It gets stirred up as the day goes on, cutting visibility significantly. When the tour groups start arriving in the mid-morning (often with inexperienced snorkelers), the bottom can get stirred up very, very quickly.
Therefore, we recommend arriving as early in the morning as you can, ideally no later than 9:30am. If you are going with a tour operator and they can't get you there by 10:30 or 11:00 am, look for someone else.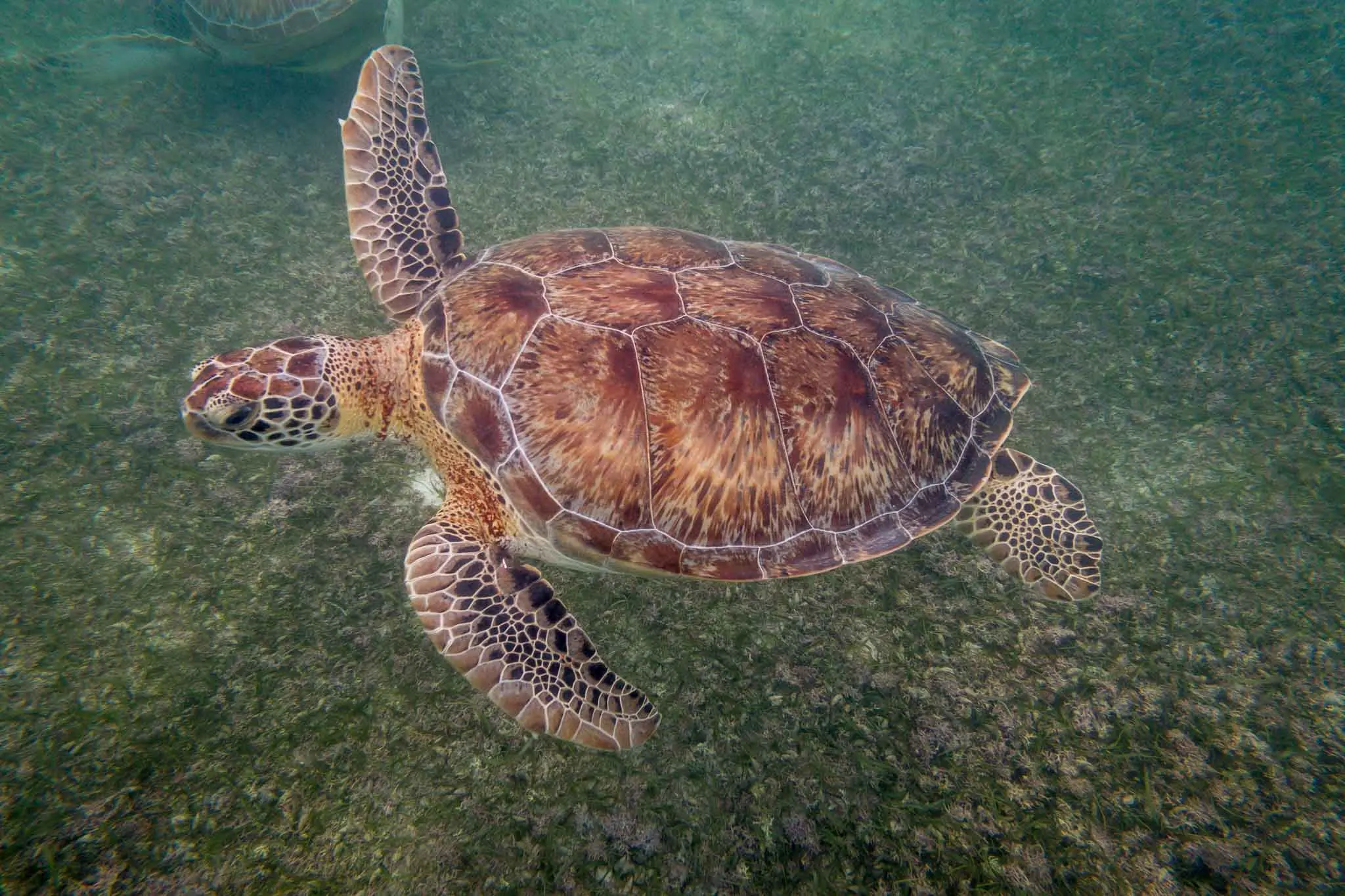 How to get to Akumal
Akumal is located 23 miles (38 km) south of the hotel zones in Playa del Carmen and 65 miles (104 km) south of Cancun.
It is about half-way between Playa del Carmen and Tulum (however, we do NOT recommend doing both in the same day).
There are several ways to get to Akumal, but there are really only three good ways–rental car, a colectivo (the shared local mini-vans), or a private tour.
The easiest and best way is by car. If you're spending any time in the Yucatan, consider getting a rental car. If you are going to lots of different places (Tulum, the cenotes, Xcaret, etc.), you'll ultimately save money with a rental car versus booking tours, and you'll save time over the colectivos. Rental cars in Mexico are very inexpensive and high quality (we had a brand new Volkswagen Jetta).
If going by rental car, head south and follow the signs for Akumal. The road to the town and beach is on your left (you'll go past it about 200 yards, take the "returno" back and then make a right down the road to the beach. It's only about a half-mile to parking. You won't go very far before people will start aggressively waving you down offering tours, parking, and "information."
Check prices for the best deals on rental cars in the area.
There are two parking lots on the right (yes, you can park there). However, we suggest passing those by, going an extra 50 feet and turning into the first parking lot on your left (marked by a small guard shack and a heavy metal gate, which will be open). The prices are the same for all the parking lots (now 100 pesos; less than $6 for the full day), but the parking on the left has the bonus of having spots in the shade if you head towards the back.
Pro tip: If you decide to hire one of the on-site "guides," they may offer you free parking (more on the "guide" situation below). The Akumal Dive Center provides free parking to those who pay for their rentals and guide services.
The second way to get to Akumal is the colectivo. Basically, you're on the local bus. The colectivos depart Playa del Carmen from Calle 2 Norte at Avenue 15. Look for the white vans heading in the direction of Tulum. The cost is supposed to be 35-45 pesos per person (less than $3), but some drivers may quote a slightly higher price. Tell the driver where you are going ("Akumal, por favor").
The driver will leave you on the side of the road at the base of footbridge. Head up the footbridge and cross over to the other side of the road. Walk down the road approximately a half-mile. You'll know you're in the right place because you'll soon be accosted with offers for guided tours and life jackets. Just keep walking.
The third and final way is by going with a private tour. All over Cancun and Playa del Carmen, you'll be approached by people offering you tours to Akumal. You will pay a premium for the convenience, but you'll skip much of being hassled by the guides in Akumal. Under Mexican law, the number of tours is supposed to be limited, but we haven't seen any evidence that is actually the case.
If you want to go the private tour route, you'll save some cash by pre-booking your half-day snorkeling trip.
Arriving in Akumal
Orient yourself so you're looking at the large white gate welcoming you to the village. If you need any sundries and beverages, the Oxxo store on the right side is where you should stop.
Along this street, you will be approached constantly being offered guided turtle tours of Akumal. If you have not hired a guide elsewhere or not come on a guided tour, this is where you can hire a "licensed guide". Assuming you hire a "guide," they give you speech about snorkeling with the turtles, outfit you with life jackets, and lead you the beach. [Note: Is a guide necessary? The answer is complicated, but answered below.]
Head through the white gate. You are looking for the Akumal Dive Shop. The road will almost immediately fork. To the right is the Lol-Ha restaurant. Follow the main road as it goes slightly to the left. You'll see a car park on the left. The parking here is pay-by-the-hour. We do not recommend parking here. Just past the parking lot on your right side, you'll find the Akumal Dive Shop.
Walk up the steps of the dive shop on the left side (see photo below) and head out to the beach. There are now gates on the left side of the dive shop and a 120 pesos/$6 admission charge to access the beach through the dive shop.
There are some other points of entry for the beach. This includes the CEA Center building, which charges 120 pesos/$6 USD (note: $12 minimum for credit card charges) for the use of restrooms, lockers (bring your own padlock), and other facilities. Under Mexican law (the Federal Maritime Terrestrial Zone), the beach is free to use, however, the businesses have organized to privatize (or close) nearly all public access points to the beach.
We recommend leaving your gear/towels in the rental car. As a last resort, you can leave them on the rocks on the left outside the dive shop. Do not bring any valuables with you! If you did not bring your own snorkel gear and you did not hire a guide who outfitted you, you can rent it at the dive shop, which will also ensure easy access to the beach. In the past, numerous vendors would rent gear directly on the beach, but they have been banned under the most recent set of rules for Akumal Bay.
We recommend bringing your own snorkel gear. There's something about putting your mouth on a snorkel that thousands of others have used that we don't love. This is our favorite snorkel and mask set.
If you get hungry, head to the Lol-Ha restaurant, where you can sit in comfy plastic chairs and drink the beverage of your choice while enjoying some pretty decent food. If you need a toilet, Lol-Ha has a pay toilet (10 pesos).
Rules and Scams in Akumal
In March 2016, Akumal Bay was declared a marine protected area. Over the next few years, various guidelines were put in place ostensibly to help "protect" the turtles, but they have caused a lot of confusion. The Akumal scammers took this as an opportunity to push their agenda, threaten people, and make money. The rules are clearer (mostly), but there can still be problems.
Unless an individual produces a valid photo ID from PROFEPA (Procuraduría Federal de Protección al Ambiente, the Mexican Federal Attorney for Environmental Protection) they have NO legal standing. Period. They can wear any color vest they want or act as threatening as they possibly can, but they have no official or legal authority.
Of course, if you are approached by actual police officers in uniform, comply with their directions. This is important to note, because there has been a rash of people impersonating government officials, demanding on-the-spot-payment of supposed fines, demanding payments for just walking on the beach, and so-called "illegal acts." The self-appointed Akumal Bay Vigilance Committee was nothing short of a vigilante committee that spent several years terrorizing tourists trying to swim in the ocean. Thankfully those days are over.
New guidelines were put in place to clarify years of confusing rules and numerous problems. It is important to know the following:
No matter what you are told at the beach by those trying to make money, snorkeling on your own is still allowed for free—you do not have to be part of a guided tour. HOWEVER, independent snorkelers are limited to the first 150 feet of the shore. Beyond that, it is required to go with a "licensed guide." And as we recently discovered, EVERYONE claims to be a "licensed guide."
The "licensed guides" are there to show you the turtles, but also to protect the turtles from you doing something stupid. HOWEVER, the guides are frequently willing to look the other way if it gets them a big tip. So this is essentially useless.
The going rate for these "licensed guides" is $50 for a family of four/group, although some "licensed guides" are now claiming that the government has set a rate of 400 pesos per person (about $22 per person).
Under Mexcian law, use of Akumal public beach is free. HOWEVER, getting actual access to the beach may incur fees.
You do not have to wear a life jacket in the swimming zone (the first 150 feet from shore). You are required to wear a life jacket while in the Akumal snorkeling circuit. And, wearing a life jacket will make it easier to snorkel with the turtles.
Skip the fins. Fins aren't necessary, you have the potential to injure the turtles, and they kick up the silt that ruins visibility.
People report having better luck (i.e., a smoother visit) if they arrive before 9:00am.
Where to swim with turtles in Akumal
If you are snorkeling independently, you'll be required to stay within the first 150 feet of shore. To find the turtles, look for where the ocean appears darker to find the sea grass on the bottom of the ocean floor. This is where the sea turtles feed and where you should head for the best chance of finding them.
The easiest way to find turtles is to look for the small groups of other snorkelers. Where you find a group, you'll find turtles. If you're going into the Akumal snorkel zone with a "licensed guide," they will be leading you.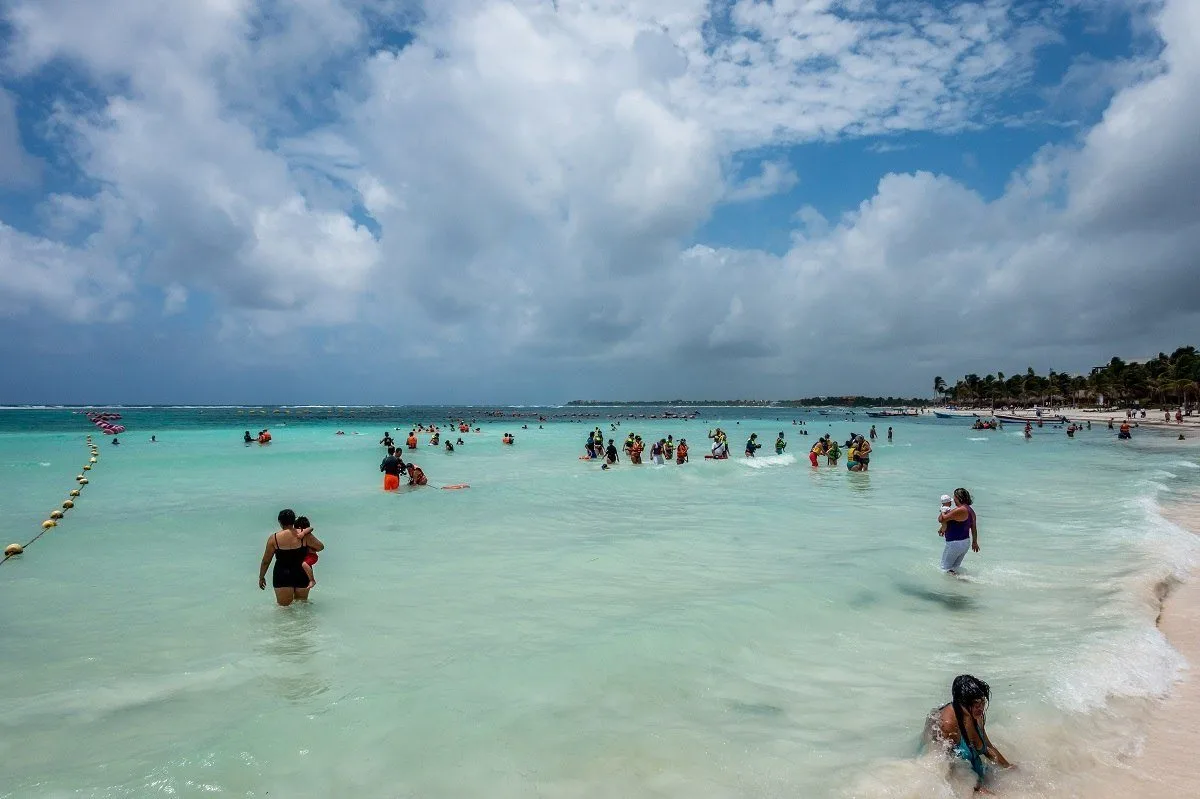 At the dive shop and at several other places on the beach, you'll see a sign with rules and a map of the beach. It is worth your time to study the map for a few minutes before you head out.
Respect the sea turtles
We're certified scuba divers, and the very first thing you learn in diving is that you are a guest in the ocean. Do not take this for granted. Many of the Akumal turtles are endangered, and the area they swim in is their feeding area. This should be sacred for all those who love wildlife.
What does this mean? First of all, keep your distance. It is best to stay at least 10 feet away, and do not hover immediately above a turtle while it is feeding. If you pay attention to the turtle's actions, you'll have no doubt about its behavior when it's feeling threatened or harassed. Respond accordingly.
Secondly, be very mindful of your feet. Fins aren't necessary, but make sure you know what's nearby so you're not kicking sea grass, turtles, or other snorkelers. Also, do not stand in the sea grass, as that destroys the very reason these gorgeous animals visit Akumal.
If you plan to snorkel for a long time and feel that you may need a break, use the buoyancy of your life jacket to help you stay afloat. Thirdly, just use common sense. All of this will ensure the health of the turtles and that people can continue to snorkel Akumal Bay for years to come.
Leaving
You'll be accosted with offers for other tours (Xcaret, Tulum, etc.). You may even be offered special souvenir photos. We recommend avoiding these often-overpriced offers.
To leave by rental car, reclaim your vehicle and head back out to the highway. Turn right for Playa del Carmen or Cancun. Cross over the highway make a left for Tulum.
To leave by colectivo, walk back up the road (it's a gentle uphill) and flag any colectivo heading your direction. The return price is the same as what you paid to get to Akumal.
Ecology and sustainable tourism
If you visit Akumal, it won't be long before the "guides" who hassle you for business will quickly begin lecturing you on conservation and ecology. This is the new mantra. It's a carefully prepared speech about protecting the turtles and why a "licensed guide" (…a "guide" just like him…) is absolutely necessary.
Unfortunately, this is greenwashing. Ethical travelers and those searching for sustainable tourism will quickly see through this. The truly unfortunate reality is that a national treasure was sacrificed in the name of profit.
The 2016 designation as a marine protected area was the legal pretense to begin privatizing much of Akumal Bay. Access to the beach, protected by Mexican law, has been significantly impaired, often illegally. Corporate businesses have taken over establishments in the bay. And tourists are left stuck between the competing factions of "licensed guides." A word comes to mind: cartel.
By all means, go and enjoy it – either independently or with a guide. But don't be fooled for a minute that any of the changes in were made for the benefit of the turtles. And that's what really saddens us about what is happening here.
Why not to visit Tulum on the same day
The problem with visiting Akumal and Tulum on the same day is one of timing. Visibility in the bay is compromised as the sandy bottom is stirred up during the morning and makes it very difficult to see the turtles at all later in the day.
Theoretically, you could visit Tulum after Akumal, but there's just one problem: heat. Tulum is very exposed. There is almost no shade at the archaeological site and it is extremely hot. Both sites should be visited first thing in the morning to have the best experience.
If you absolutely must visit Akumal and Tulum on the same day, we recommend visiting the turtles Akumal first (so you can see them) and then suffering through the heat at Tulum (bring lots of water!).
If you would prefer to take a tour to Tulum, check out this full-day tour that includes Tulum, Cobá, and a cenote visit or this half-day express tour of Tulum.
Where to stay
One of the most common questions we get are for hotel recommendations. The biggest town in the region is Cancun and there are a ton of places to stay in the Cancun hotel zone. However, staying closer to Akumal may make for a more enjoyable, convenient experience if snorkeling with the sea turtles is at the top of your Mexico to do list. Here are some options to consider.
Akumal Bay Beach & Wellness Resort — This is the top-rated hotel in Akumal thanks to its location, quality of service, and excellent food (Check prices and book a room)
Secrets Riviera Maya — With a gorgeous beachfront and top-notch service, Secrets Riviera Maya is a great option (Check prices and book a room)
Hotel Akumal Caribe — With oceanfront rooms and spa services, Hotel Caribe is the perfect place to escape and relax (Check prices and book a room)
Occidental at Xcaret Destination — The Occidental at Xcaret Destination has been our hotel of choice. It's in easy reach of Akumal and within minutes of Playa del Carmen at the Xcaret and Xlpor parks. See our in-depth hotel review (Check prices and book a room)