The small town of Kanab, Utah is known as the gateway to Southern Utah's tourism spots. From majestic national parks to remote hidden gems, visiting should be every travelers bucket list because there are so many great things to do in Kanab.
Kanab makes a great base to explore the entire region. The town makes a great base to explore everything from Zion National Park to Lake Powell and everything in between. Whatever you do in the desert southwest, consider making Kanab your base.
Kanab reminds many travelers of Moab. Both are small towns built on tourism with beautiful red rock cliffs, welcoming hospitality, and lots to see and do. For those visiting Utah's Mighty 5, Kanab makes a good southern base before heading on to Moab in the north (or vice versa if heading in the other direction).
Here is our visitors guide to the best things to do in Kanab, including where to stay and where to eat.
Best Things to Do
If you are like us and don't get selected to hike The Wave, there are several other things to do in Kanab, Utah. These include:
Zion National Park
One of the most beautiful canyons in America, Zion has mountains, mesas, slot canyons, and natural arches. These canyons have been inhabited for over 8,000 years, including early settlements by nomadic Anasazis. Some of the best things to do in the park including hiking Angels Landing for the sunning views and one of the best slot canyons in the area, Echo Canyon.
Since becoming a park in 1919, this is one of the most popular park in the National Park Service system. Don't miss out on Zion National Park when you are in the area.
Bryce Canyon National Park
The Bryce Canyon National Park is one of the five national parks in Utah, located halfway between Zion and Capital Reef, Bryce Canyon covers 56 square miles. The deep amphitheater-shaped canyon that was formed by river erosion.
The resulting "canyon" is a hikers paradise. With deep ravines and spectacular hoodoo spires, this landscape is unlike anywhere else in Utah and the United States.
The Wave
Arguably one of the most popular photos of the last 20 years on the Internet has been of The Wave. This other-worldly rock formation on the Arizona/Utah border is world famous. Used to promote the 2002 Olympics in Utah and also the Windows 7 release from Microsoft, people recognize the famous image everywhere.
However, actually getting to see The Wave in person is a challenge. The federal government limits visits to just 64 people a day. The lottery for permits is competitive. If you are serious about wanting to see it, read our Guide to The Wave: Permits and Hiking.
If you are lucky enough to score a permit, you have a difficult hike ahead of you. But the rewards are worth it.
The White Pocket Formations
Commonly seen as the "lesser Wave," White Pocket is extremely impressive in its own right. White Pocket has numerous Wave-like formations throughout the site. And while the Wave is a compact site, White Pocket is a sprawling rock formation that you can spend days exploring.
Visiting White Pocket doesn't involve as much hiking as the Wave, but it is a much more challenging 4×4 drive to get there. However, the 4×4 road trip is all part of the adventure.
If you are interested in visiting White Pocket, read our article on White Pocket and the Vermillion Cliffs National Monument.
If you are not comfortable driving yourself or don't want that level of adventure, tours are available. There are full-day private guided tours or 3/4-day small group tours.
The Peek-a-Boo Slot Canyon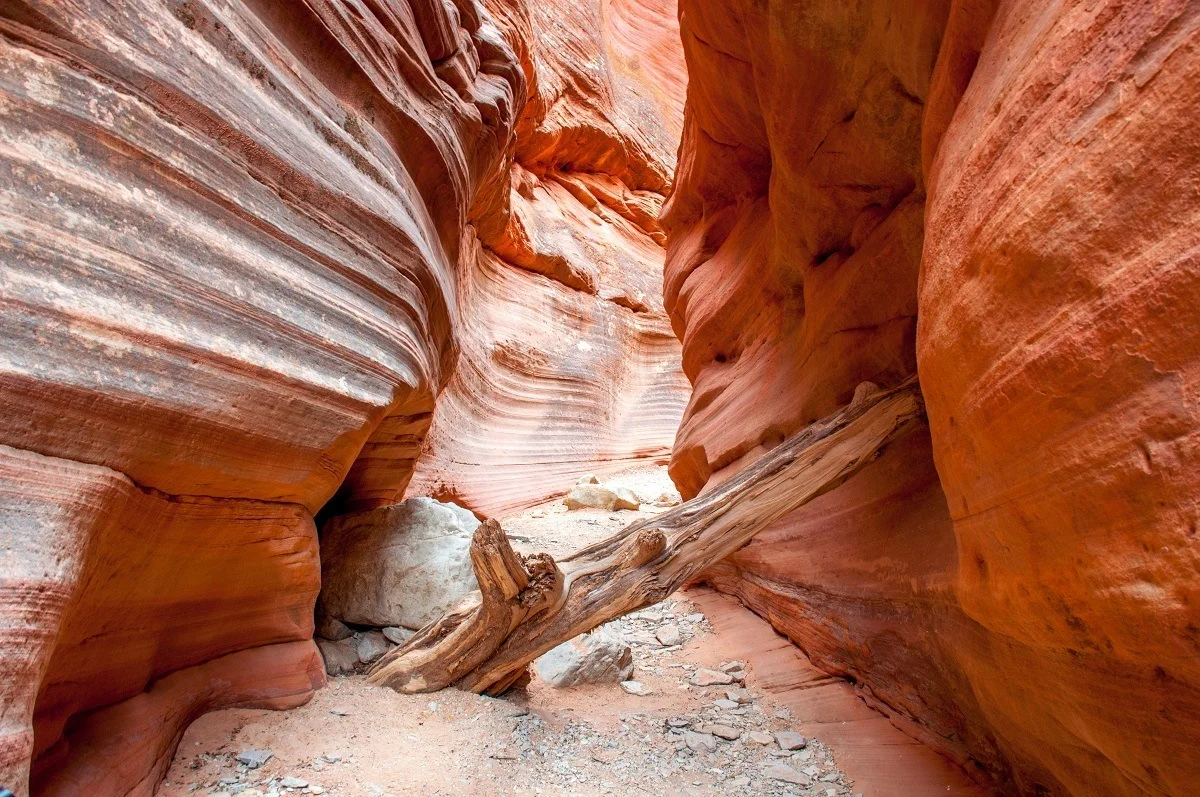 Slot canyons are some of the most visually impressive features in the desert southwest. While many of the most famous slot canyons are on Najavo tribal lands (who charge expensive prices for mandatory guided tours), there are other places to visit for free. One such place is the Red Canyon (known locally as Peek-a-Boo Canyon).
You'll need a high-clearance 4-wheel drive vehicle to get here and you will have to drive through some deep sand. But you will be rewarded by visiting the Peek-a-Boo slot canyon and will probably have the site entirely to yourselves.
If you don't have a high-clearance 4×4, there are guided tour options available. This 2-3 hour tour is very popular and will get you out to the canyon with a knowledgeable driver. If you are looking for something a little more exclusive and adventurous, you can do a private tour by off-road machine.
Coral Pink Sand Dunes State Park
The Coral Pink Sand Dunes is a state park just north of Kanab that features nearly 300 acres of pink and red sand. The dunes allow both pedestrians as well as motor vehicles to explore. These dunes are a great place to go off-roading on deep sand and perfect for ATVs or a dune buggy.
Coral Pink Sand Dunes is a perfect place for photography, including astrophotography due to the dark skies in the park.
North Rim of the Grand Canyon National Park
The Grand Canyon North Rim is possible to visit as a day trip from Kanab (it is an hour and half drive each way). The North Rim gets significantly fewer visitors than the South Rim. Please note that the North Rim gets lots of snow and is closed during the winter.
Grand Staircase-Escalante National Monument
This is one the largest tracts if protected lands in the United States and was the last area in the continental United States to be mapped. There are tons of places to hike in the region. If you are unsuccessful in the Wave permit lottery, you can fill days here.
Horseshoe Bend and Page, Arizona
A 75-minute drive from Kanab, Page, Arizona is the gateway to Lake Powell and the Navajo Nation Tribal Lands. However, most visitors come to town for Horseshoe Bend – an iconic bend in the Colorado River. The parking lot and trailhead are about 3 miles outside of town and you should expect the site to be completely mobbed with people. But you can't beat the views.
For travelers coming from the East or up from Arizona, Page can be an alternative to staying in Kanab. The town of Page is larger than Kanab, there are more services here, but Page lacks some the natural beauty and small-town charm that you find in Kanab.
Lake Powell
Lake Powell is the massive artificial reservoir in the Colorado River formed by Glen Canyon Dam. Now administered by the National Park Service as the Glen Canyon National Recreation Area (which includes Lake Powell) is one of the most popular summer boating destinations in the country.
The lake has been suffering from declining water levels since the late 1990s due to a massive, decades-long drought from climate change, but it can still be a lot of fun to rent a houseboat and cruise around the bends in the lake and its tributaries.
Where to Stay
Quality Inn Kanab. This is the closest hotel to the the BLM lands to the east of town, including the Vermilion Cliffs, The Wave, White Pocket, and Grand Staircase-Escalante National Monument. It comes with breakfast, free wifi and a pool/spa. It's close to the highway, so rooms on the backside may be quieter. (Book a room here)
Hampton Inn Kanab. This is our hotel of choice when we've been in town. This is walkable to several restaurants in Kanab and is just 1 block from Kanab Center (where the Wave lottery is held). Hampton Inn has free breakfasts, a pool/hot tub, and knowledgeable staff to help you find other things to do. (Book a room here)
Comfort Suites Kanab. This hotel is in the heart of downtown Kanab and very close to restaurants. (Book a room here)
Where to Eat
Peekaboo Canyon Wood Fired Kitchen. This vegetarian establishment makes a mean pizza. Food is plentiful and reasonable. We have had some great pizzas here.
Rocking V Café. Right on main street, Rocking V offers a broad menu of American cuisine including salads, wraps, tacos, burgers, and steaks. The place can be packed at any hour of the day, but locals swear by it.
Sego Restaurant. This is fine dining in Kanab. You'll find craft cocktails and creative menus. If you're looking for something a bit nicer, this is your place.
Jeep Rentals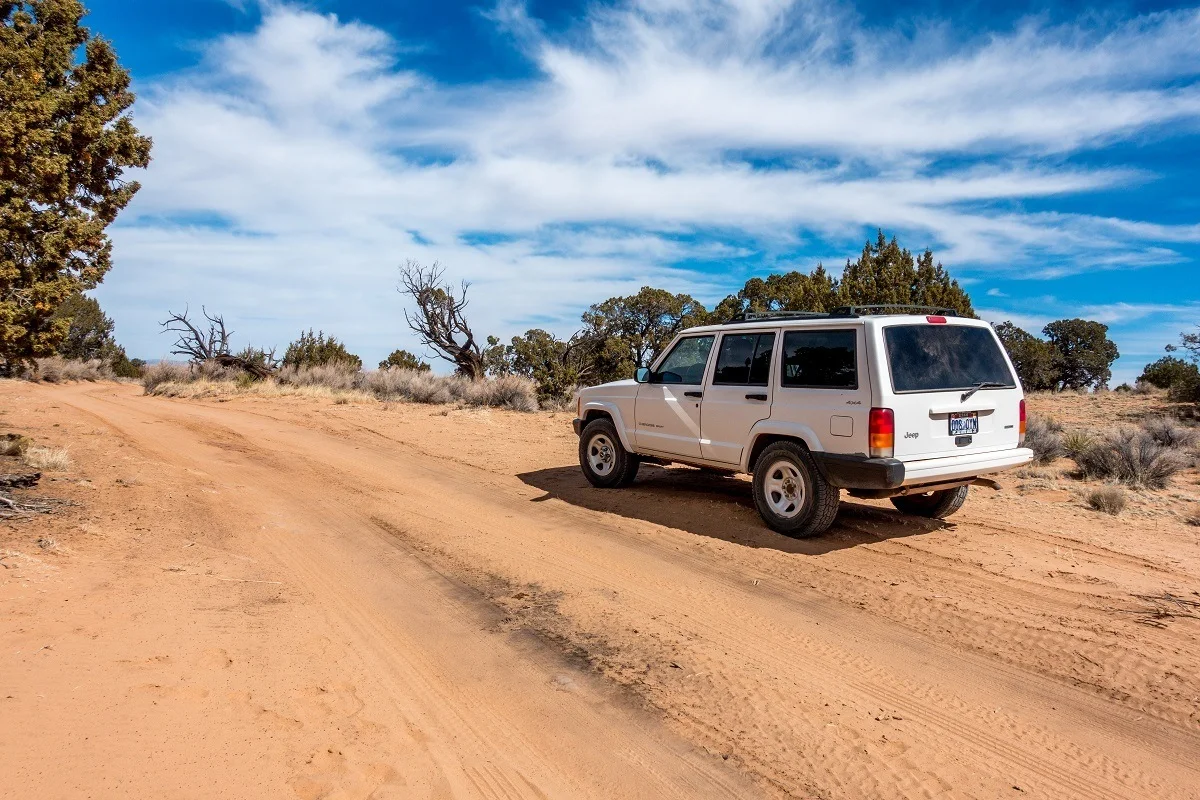 You're probably coming to Kanab in a rental car of your own (assuming you've flown into Las Vegas or Salt Lake City), or have come with your own vehicle on a road trip. If you need to rent a car here, there's one game in town: Xpress Rent-A-Car of Kanab).
Xpress is located just out of town near the airport. They have a limited number of Jeep 4×4 vehicles for rental (best to reserve in advance). We found the rentals be expensive, but well worth it (and significantly cheaper than the guided tour options in town).
Alternately, you may have good luck renting your 4×4 from one of the bigger agencies in Las Vegas. We recommend checking RentalCars.com because several rental agencies (such as Fox Rent A Car) have Jeep Wrangler rentals in Las Vegas. And rentals out of town are significantly less expensive than options in Kanab.