Like many people, much of our exposure to the desert southwest has come through photos. And no place has been so visually captivating as visiting the Vermilion Cliffs National Monument, which includes the areas known as Coyote Buttes, The Wave and White Pocket.
Given our love of photography, this area has always been on our bucket list. However, as we discovered, getting here wasn't as easy as we expected.
Anyone who visits this area will find it impossible not to fall in love with it. We certainly did! And we can't wait to come back and see it again.
In this guide, we share our tips for visiting White Pocket and the Vermilion Cliffs National Monument, along with lots of incredible photos of the site.
Where is it?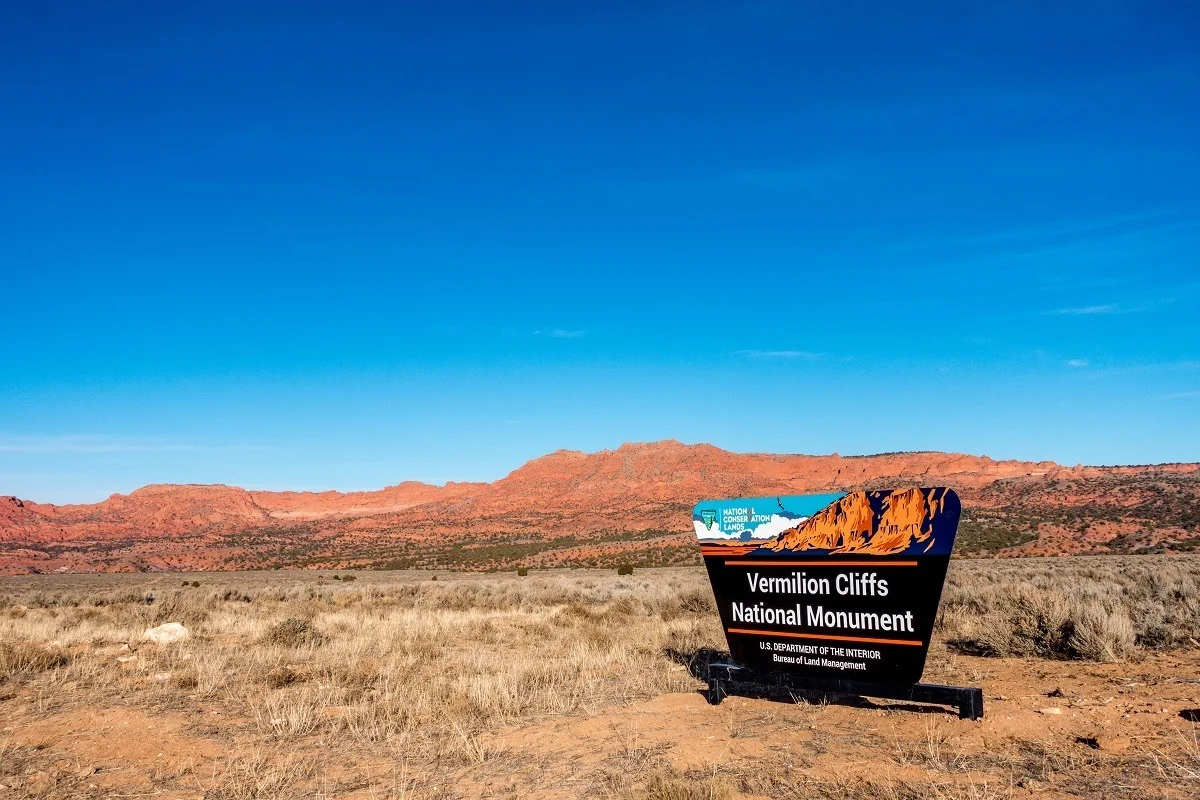 The Vermilion Cliffs National Monument is located in extreme Northern Arizona right on the Utah state line. Within the national monument, there are a number of different areas and districts. This map provides an excellent overview to the entire national monument area. Vermilion Cliffs is is managed by the Grand Staircase-Escalante National Monument out of the Kanab, Utah office.
Some of the sub-areas and districts in Vermilion Cliffs National Monument are The Paria Canyon-Vermilion Cliffs Wilderness, which is a broad, semi-circular area that rings the Paria Plateau and follows the Paria Canyon around the national monument. Both the famous Wave and White Pocket formations are located in the Vermilion Cliffs.
Within the overall Vermilion Cliffs National Monument area, there are two special designation sections called the Coyote Buttes North Special Management Area and Coyote Buttes South. The famous Wave formation is located in the North Coyote Buttes area and requires a special hiking permit to visit which is administered on a lottery basis. If you are interested in visiting, read more about The Wave lottery.
The South Coyote Buttes also requires a special permit to visit, however, that permit is much easier to obtain (and much less in demand).
Finally, the White Pocket formation is also located in Vermilion Cliffs, but does not require a special permit to visit. And while lots of attention is paid to The Wave, White Pocket is almost completely overlooked. But it shouldn't be. If you are visiting Kanab, Utah, this should be on your bucket list. All of these sites are actually located in Arizona, but Kanab, Utah is the largest town of size in the area and makes the perfect base.
These formations really aren't a "lesser Wave." This is a truly remarkable destination and worth the visit. We like to think of it as a hidden gem that is often overlooked for some other sites in the region.
Pro tip: Vermilion Cliffs and White Pocket makes an excellent addition to visiting Utah's national parks!
White Pocket
The pocket refers to an area of land that is different than the surrounding desert terrain. In this case, the White Pocket is an area of rock formations that are generally capped with white or tan colors. The underlying layers in the rock formation can be yellow, red or orange. One of the best things about this site is the amount of variation in the colors!
The most common formation here are an interlocking series of little white domes and outcrops that are sometimes called "Brain Rocks." These formations cap most other structures in the site. Under these white "Brain Rocks," the underlying rock formations actually have beautiful red and orange colors.
While these "Brain Rocks" are the the first things you see as you hike up to the site from the road, if you keep looking around, you will discover so much more!
Pushing further into the area, as you reach the top of the ridge, a whole series of little valleys and gulches reach into the site, many of them with exposed, eroded sandstone revealing intricate rock patterns.
The entire area is a photographers paradise. In fact, we spent several hours wandering over the rocks and taking pictures. Most visitors will want to allow a minimum of 2 hours to explore the site. All of the photos in this article were taken by us during our trip to White Pocket.
The Wave vs White Pocket
Which is better: The Wave or White Pocket? To a large extent, it's a matter of personal preference. They are different, but each is very unique and both are a tremendous experience.
The Wave is famous. Some may even say infamous. And it is absolutely breathtakingly beautiful. Every would-be Instagram model dreams of coming here and taking pictures of themselves. Despite the difficult hike, the Wave is closer to Kanab and is more accessible. You can drive a regular car to the parking lot. But the overall Wave site is quite small and the The Wave formation is much smaller than most people realize. The one impressive photo you see everywhere is most of the site.
White Pocket is more challenging. You have to really want to go there. It's much further from Kanab and you must have a high-clearance 4-wheel drive vehicle to reach the formations. The drive is through deep sand, which is a challenge if you are not used to it. But once you get to the site, there is a vast area of unbelievable rock formations to explore – including several that are just as impressive as the Wave.
There's nothing that compares to the Wave, but we're big fans of White Pocket and recommend it highly!
How to Get There
The first thing you need is the right vehicle. It is absolutely mandatory to have a high-clearance 4×4 vehicle. A standard 4-wheel drive SUV or crossover isn't going to do it. You need something like a Jeep Wrangler or Jeep Cherokee. A 4Runner might be able to make it in ideal conditions.
We rented a Jeep Cherokee from an outfit in Kanab, and there also several places in Page. The Vermilion Cliffs National Monument visitor center in Kanab can give you the latest information on the road conditions before your drive. Note: Much of the drive becomes pretty treacherous in wet conditions (sometimes impassable). This isn't to scare you away – it can really be that bad. Listen to the warnings.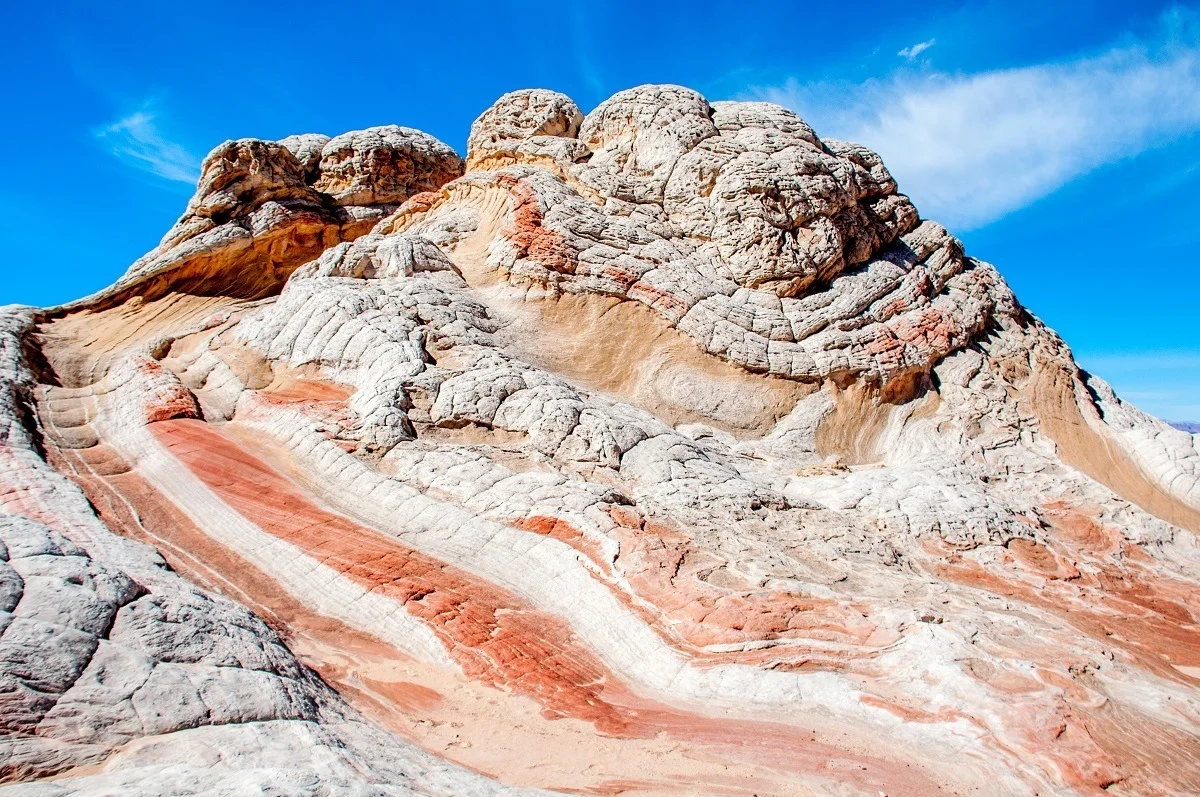 The GPS Coordinates for the White Pocket trailhead and parking area are: 36.955011, -111.893296
If you have satellite navigation, you may want to program this in. However, be aware that there are absolutely no cell towers anywhere in the Vermilion Cliffs. Your phone will be completely worthless – either as a navigation tool or in case of emergency.
Here are the turn-by-turn White Pocket directions to follow: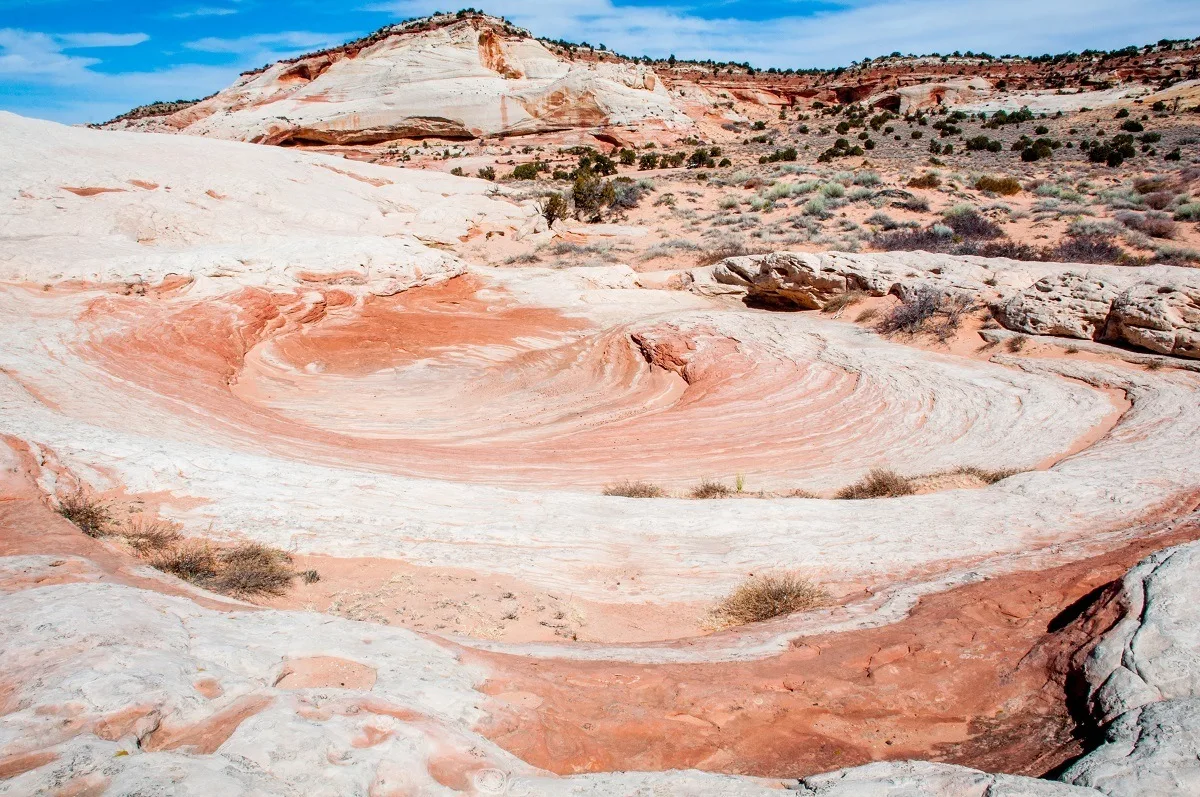 From Kanab, Utah, take U.S. Highway 89 to the east for 38 miles. Take the House Rock Valley Road turnoff on your right. (From Page, Arizona, take U.S. Highway 38 west for 35.5 miles and make the turn on your left.) Pull over and reset your odometer.
Drive south on House Valley Rock Road for 20.1 miles. At mile 8.15 you will pass the The Wave Parking Lot on your right. You'll also pass the State Line Campground as you cross over into Arizona. At mile 20.1 on House Valley Rock Road, you'll see the Old Corral. Take the road on your left, which is known as BLM Road 1017/Pine Tree Road. You'll follow this east for 6.2 miles.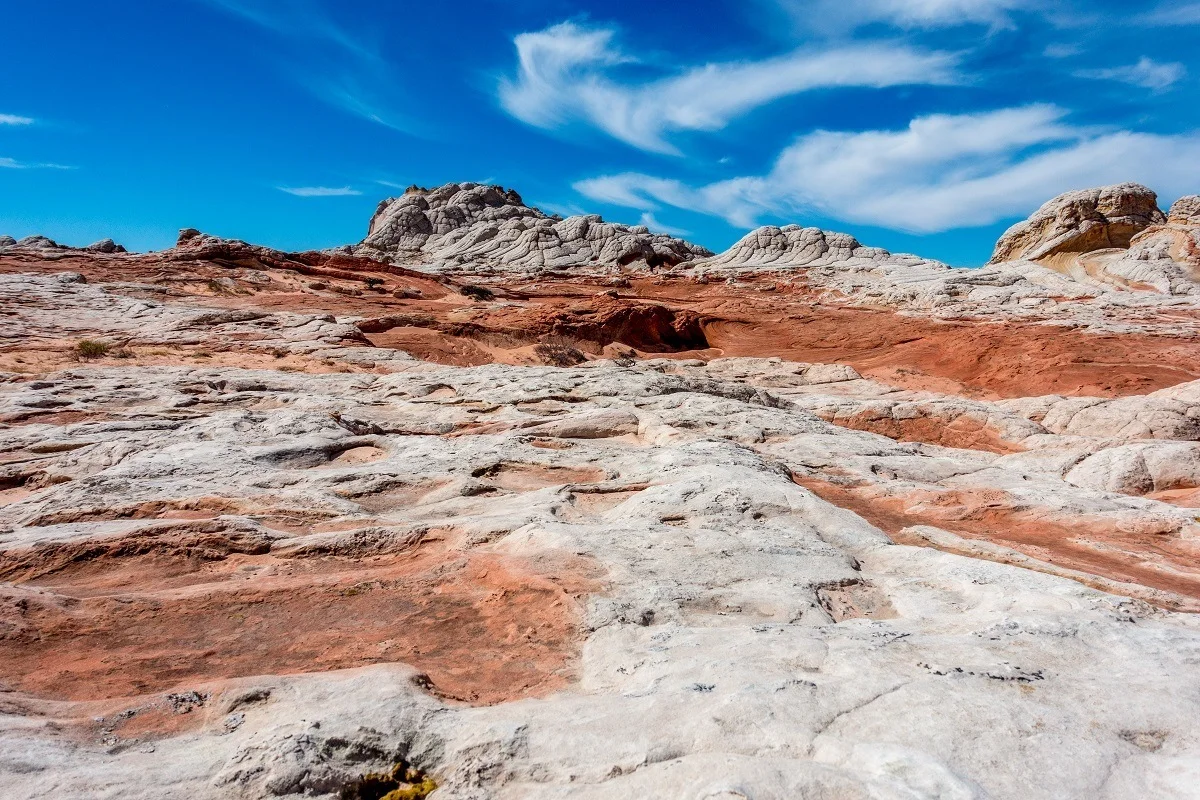 At 6.2 miles, you'll come to a farm house and the main road will bear to your left onto BLM Road 1087. You'll kind of drive through the farm and the road will begin to head north. You may want to stop at the farm to check your vehicle and tire pressure. Beginning at the farm and the rest of the drive to White Pocket, you should be prepared for areas of deep sand. You may also want to scout ahead on foot for obstacles/hazards (particularly at cattle guards and gates).
Also, you may encounter a series of gates across the roadway as you cut across the Plateau Ranch. You are allowed to open the gates to pass through, but you should leave all gates as you found them.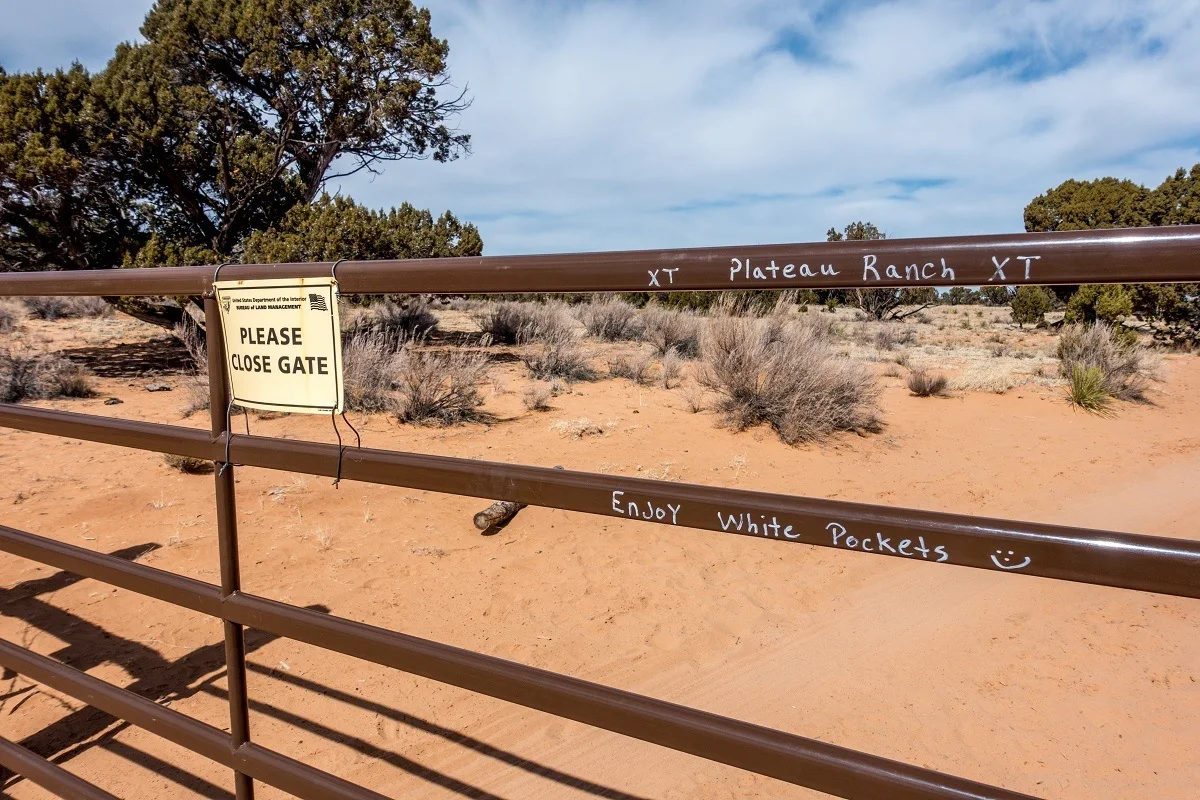 Follow BLM 1087 for approximately 3.9 miles to a fork in the road. You will follow the left fork, which is BLM 1086. Follow this road for 5.6 miles until you arrive at the White Pocket parking area and trailhead. You should be prepared to encounter deep sand on his road.
Hiking from the Trailhead
The trail to White Pocket leaves from the middle of the parking lot. The White Pocket hike is relatively easy and flat, although you will encounter deep sand along the way. From the parking lot, you'll hike about 400 yards through sand until you reach the first formations of "Brain Rocks."
Once on the rocks, there is no trail. You just walk around the site exploring some of the best rock formations you can possibly imagine.
You should have a compass and keep a general sense of your bearings to get back to the parking lot. Use the large bluff to the northeast and the lower desert to the west to keep your bearings.
Finally, it goes without saying, you should practice Leave No Trace principles at the site. That means don't vandalize the rock formations, pack out all of your trash, and pack our or bury all human and animal waste. There are NO toilets at White Pocket (and there are no toilets past the Stateline Campground – that is your last chance).
How to Drive in Deep Sand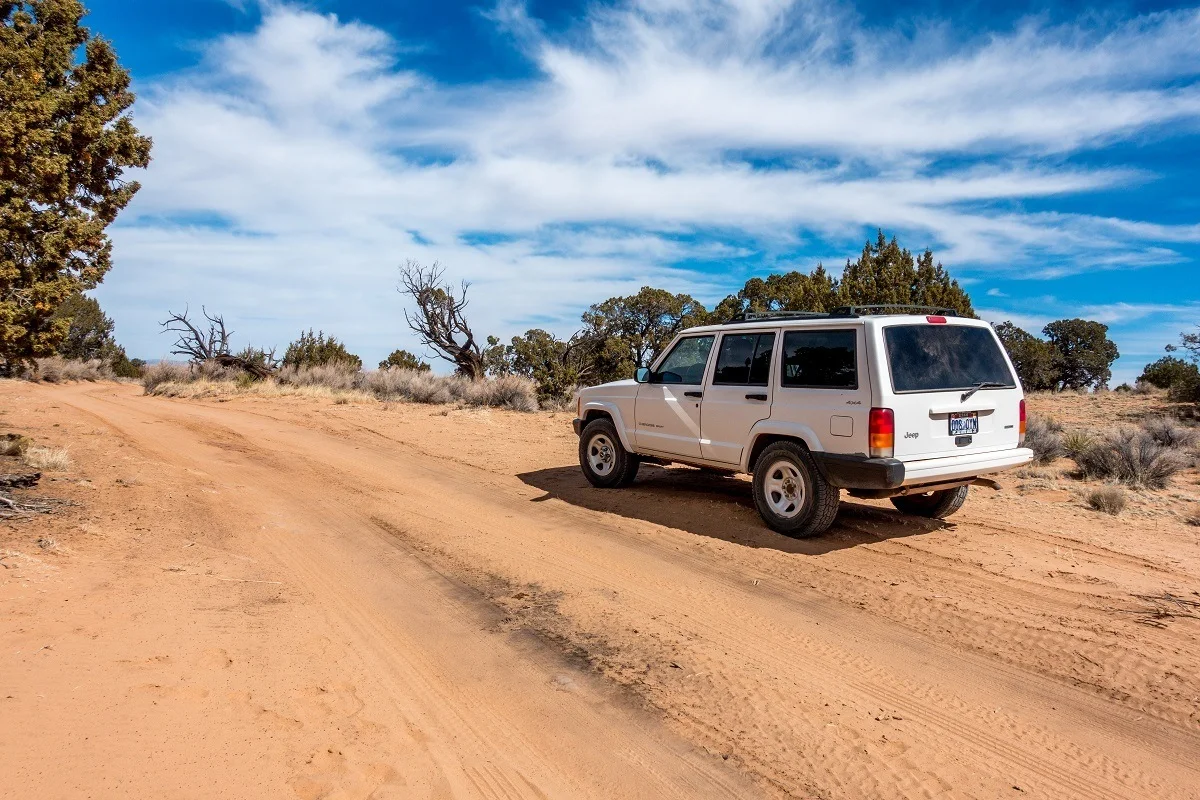 If you've not done significant 4×4 driving, consider one of the White Pocket tour packages from Kanab and let them ferry you out to the site. However, if you're looking for an adventure, renting a four-wheel vehicle and driving yourself may be just the ticket. You can rent a 4×4 in Kanab.
Here are few tips to driving in sand:
Before you hit sand, stop and let some air out of your tires. This gives you more surface area to "float" on top of the sand.
Keep your speed up! Driving in sand is about keeping momentum. This doesn't mean going flat out, but it does mean keeping your speed (and forward momentum) up a bit.
If you're driving a manual transmission, stay in a lower gear and keep your RPMs up a bit.
As you are driving, you will feel yourself slide around a bit. You might almost feel like you are out of control. This is normal. The key is to keep forward momentum and gently compensate.
If your momentum wanes and you start to feel your tires spin, stop driving immediately. Continuing to throttle the gas peddle will only dig you in deeper.
If you get stuck, use gear to get you out (see below list of gear). Use your shovel to dig out sand and find firmer ground. Use the floor mats from the vehicle to give yourself a traction surface. Sticks and other debris (needles, shrubs, etc.) can also help you get traction.
After you are done driving on sand, re-inflate your tires with a portable air compressor.
Things to Take with You
This is a remote area and the landscape is unforgiving. You should be prepared for a hostile environment and able to survive for a period of time if you get lost or encounter unforeseen situations.
We strongly encourage everyone traveling to White Pocket in the Paria Canyon-Vermilion Cliffs area to have the following:
Camera. Be sure to bring your camera! These rock formations are incredibly beautiful and you'll want to capture the moment.
A high quality map of the area and a compass. You should absolutely get this map of the Paria Canyon area and you should know how to use it!
Water. In the desert, you should be drinking about a gallon of water per person. The Vermilion Cliffs is in an open area with almost no shade. Expect it to be brutally hot in the summer. Take lots of water.
Food. We're not just talking about your lunch. You should have an extra stash of food with you to survive for at least a day if you should get lost.
Shovel. You need a portable shovel for your four-wheel drive vehicle to dig out if you get stuck in the sand.
Portable electric compressor with car adapter. You will need to let air out of your tires to drive on the sand. Having a portable compressor like this one will allow you to inflate your tires again when you get back to a hard road.
Full tank of gas. White Pocket is close enough to Kanab that you won't need extra gas cans. However, before leaving town in the morning, you should make sure you have a full tank of gas.
Blankets or sleeping bags. It can get cold in the desert, even in the summer. Make sure you have blanks or sleeping bags in your vehicle in case you get stuck in the sand.
Sunscreen. The sun in northern Arizona can be brutally unforgiving. Make sure you bring lots of sunscreen and reapply frequently.