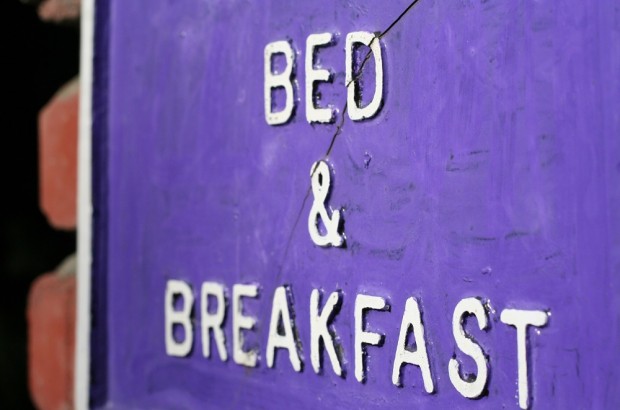 You've spent a wonderful day sightseeing in the Irish countryside and you've pulled up to your lodging for the night. Your host warmly welcomes you with a hot cup of tea and a biscuit. You relax in an over-sized chair in the sitting room and warm yourself by a crackling fire. This scene isn't fantasy, its reality nearly every day in Ireland's fantastic bed and breakfasts.
There are plenty of bed and breakfasts in Ireland and Northern Ireland, but standards vary wildly. On our most recent trip to Ireland, we were faced with a decision early in the planning process – where to stay? Ireland has a long tradition of B&Bs and they are very popular with travelers. Historically, it was common for Irish families to rent out the extra room in their house for a night and staying with a family puts you in closer proximity to the Irish people. But, how do you choose a great bed and breakfast inn?
There are four criteria to consider in selecting a bed and breakfast in Ireland:
Location: B&B's in Ireland can be located anywhere – from the heart of a city to a farm in the country. We recommend experiencing a mix of village and farm B&B's during your trip. We generally look for places that are within 1.0 km of a town – we like to go to the pub after dinner and don't want to drive after we've been indulging. Also, we always look for a B&B with parking. While Ireland is much better than the European continent in terms of on-street parking, it's just easier to not have to look.
Cost: Each host sets their own prices, so there is a great deal of variation. Our experience is to plan on about $50-55 per person, per night (or $100-$110 per night for a couple). You'll get a really nice room with a private en suite bathroom and off-street parking for that price, plus breakfast. Sure, some places are cheaper and some are more expensive, but that is a good benchmark. It's also common that many of the B&B's in a general area charge roughly the same price.
There are numerous booking services and several different voucher schemes available. We generally prefer to research individual properties directly and then either pay cash upon checkout or book via an online booking service (as opposed to vouchers). It is extremely unusual to find a B&B accepting credit cards directly so booking services may be a better way to go if you want to pay with plastic. We recommend looking at Booking.com
for both hotels as well as B&B's and country inns.
Ambiance: In the past, B&Bs were generally the same – a spare room or two in the house, usually upstairs. The majority of B&Bs are still of that variety. However, in recent years, there has been a trend towards purpose-built B&Bs. These resemble small hotels and offer a more comfortable experience, larger rooms, thicker walls between the bedrooms and other amenities. But that can come at a cost – you don't have the same proximity to your hosts. The hosts of the B&B are really the ones who make the experience – otherwise, you're just staying in a room. On our trips, we select a mix of newer, purpose-built B&Bs and quainter, family-run B&Bs.
The Breakfast: No bed and breakfast in Ireland would be complete without the morning meal and most hosts in Ireland will say something like "I pride myself in my Irish breakfast" or "We've won awards for our breakfasts." And to be fair, in our trips to Ireland, most of the breakfasts have been pretty exceptional. For breakfast, you should expect eggs cooked to order, two types of breakfast meat (usually sausage or ham), some kind of fruit, and toast or scones. Some hosts do the traditional black and white puddings, but they know North Americans can be unaccustomed to this, so they usually ask before preparing. You'll also get tea or coffee (French press or drip; espresso-based coffees are unusual at B&Bs). Breakfasts tend to be social occasions and we're always surprised how long breakfasts take (usually allow for about an hour to eat breakfast and socialize with your host and other guests).
On our tours of Ireland and Northern Ireland, we've encountered some fantastic B&B properties, but three have really stood out:
Caw Cottage in Derry. Set in a home in a suburban neighborhood off Limavady Road, Caw is 1km walk into downtown Derry over the Peace Bridge. The hosts, Dee and Jim, are both extremely extroverted and offer lots of conversation with a beautiful irreverence. We bedded down in Room #3, which is quite cozy with two beds – but they were the most comfortable beds we slept on in Ireland (the Irish tend to like their mattresses firm). Caw Cottage has a "kick back room," which is the perfect place to watch a documentary on Bloody Sunday (either before or after taking in Derry's famous Troubles Murals). Breakfast was a healthy portion of eggs, sausage, bacon, tomato and mushrooms, along with cereal and bread. We stayed for two nights and loved every minute of it!
Alcantra B&B in Kilkenny. Alcantra offers the best bed and breakfast in Ireland that we experienced. In fact, it is so delightful, we've stayed there on two different trips! You'll find them at the end of a cul-de-sac off the Kells Road, 1km from downtown Kilkenny. In the evening, this will make a delightful walk to dinner and then home from the pub. The hosts, Liam and Brigid, are a charming couple who have the service gene in their DNA. Everything about Alcantra is perfect (I mean perfect): it is immaculately clean, the hosts are gracious and pay special attention to the little details. Our first time staying at Alcantra was during the winter and we returned from dinner to find warm water bottles in the bed to heat it. Breakfast is served on fine china and from organic ingredients including eggs, Irish bacon and sausage, organic grain cereal, fresh squeezed orange juice, fresh fruit and the best scones we've ever had. This makes the perfect base to explore the Celtic ruins in the region – from the Rock of Cashel to Glendalough.
Shola Coach House B&B in Portrush. Shola Coach House feels like a country house – wildflowers in the garden, views of the sea over the hills, and birds chirping in the trees. Located in the country a few kilometers outside of Portrush, Northern Ireland on the Giant's Causeway Coast (too far to walk into town for dinner, but a quick drive), this is the perfect base to explore the Antrim Coastline. The bedrooms are located on the second floor of this converted coach house/barn and up a spiral staircase. Every detail of the B&B is designed for total relaxation – a massive wood table to play games, over-sized couches to relax and read a book. Their breakfast includes the traditional Ulster fry, along with a delightful homemade yogurt and fresh fruit. In retrospect, we wish we'd stayed more than one night.
We were the guests of Alcantra B&B in Kilkenny, but all opinions are our own. Note: Some links may be affiliate links, which means Travel Addicts may earn a few pennies if you buy something, which helps offset our costs of web hosting – all at no additional cost to you.