Nashville, Tennessee, is all about fun. Live music, street art, rooftop bars, and some of the best food anywhere combine to make a Nashville weekend getaway one of the best trips you can take. There is never a shortage of things to do any hour of the day, and a quick trip here will leave you dreaming about how soon you can come back.
We've been to the city numerous times and have made it a mission to do see and do as many things as possible in Nashville. We've put together this itinerary for a weekend trip to Nashville to help first-time visitors see the city's highlights.
Friday night
Nashville is known for its good food and music, so it makes since to dive right in as soon as you arrive.
Stop at Seigenthaler Pedestrian Bridge
The John Seigenthaler Pedestrian Bridge is the ideal spot to get the lay of the land. The pedestrian bridge crosses the Cumberland River and offers beautiful views of downtown. It's great at sunset or late at night with the city lit up against the dark sky, but truly any time of day is a good time to visit.
Dinner at Husk
A visit to Husk restaurant is a highlight of any trip to Nashville. Husk has been one of the most popular restaurants in the city—and, in fact, the country—since it opened in 2013. Set in an 1880s-era mansion just a few blocks off Broadway, the vibe is welcoming and the service is excellent (our server couldn't wait to provide lots of local recommendations).
With a focus on strictly Southern ingredients presented in a contemporary way, the menu is constantly changing. We loved the shrimp and grits, the cornbread, the perfectly cooked filet mignon, and every other bite we had. The cocktails are excellent, too. If you're a whiskey lover, this is your spot.
Go honky tonk hopping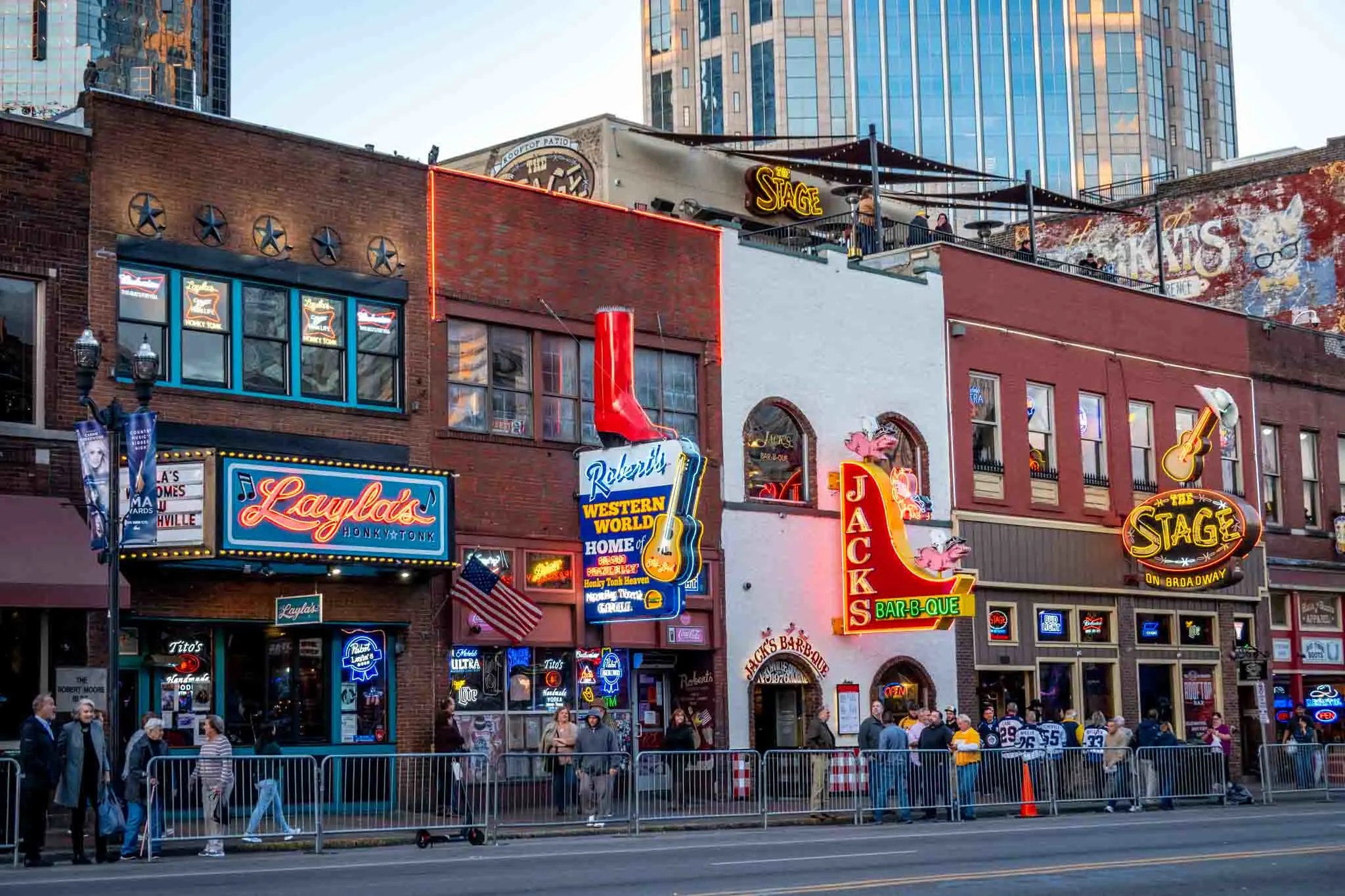 Next up: music. Heading to a honky tonk on Broadway is the perfect way to rouse yourself from your Husk food coma. Luckily, there are many to choose from, so you can find a place that suits your interests.
At Nashville honky tonks, there is always music, cold drinks, and a party that goes on from morning til night. You can choose from classics like Robert's Western World (our favorite) and Tootsie's Orchid Lounge or newer bars helmed by some of the biggest names in country music like Dierks Bentley's Whiskey Row.
Two step, order some local brews, and don't forget to tip the band!
Saturday
The first full day of your weekend in Nashville focuses on downtown. Most things are in easy walking distance or reachable via a quick rideshare ride.
Brunch at The Southern Steak & Oyster
A place with "steak & oyster" in the name may not make you immediately think that it's a fabulous brunch option, but it is. The Southern Steak & Oyster offers shucked-to-order oysters, specialties from their food-fire grill, and culinary elements from the American South, the Caribbean, and beyond. Plus, they have killer cocktails.
At brunch, there's lots to choose from. The crab cake hash was one of our favorites, and the New South Caesar salad was also a winner. They also do the basics like pancakes and fried eggs to perfection. Wash it all down with a blood orange mimosa or Bloody Mary for a delicious start to the day.
Visit the Country Music Hall of Fame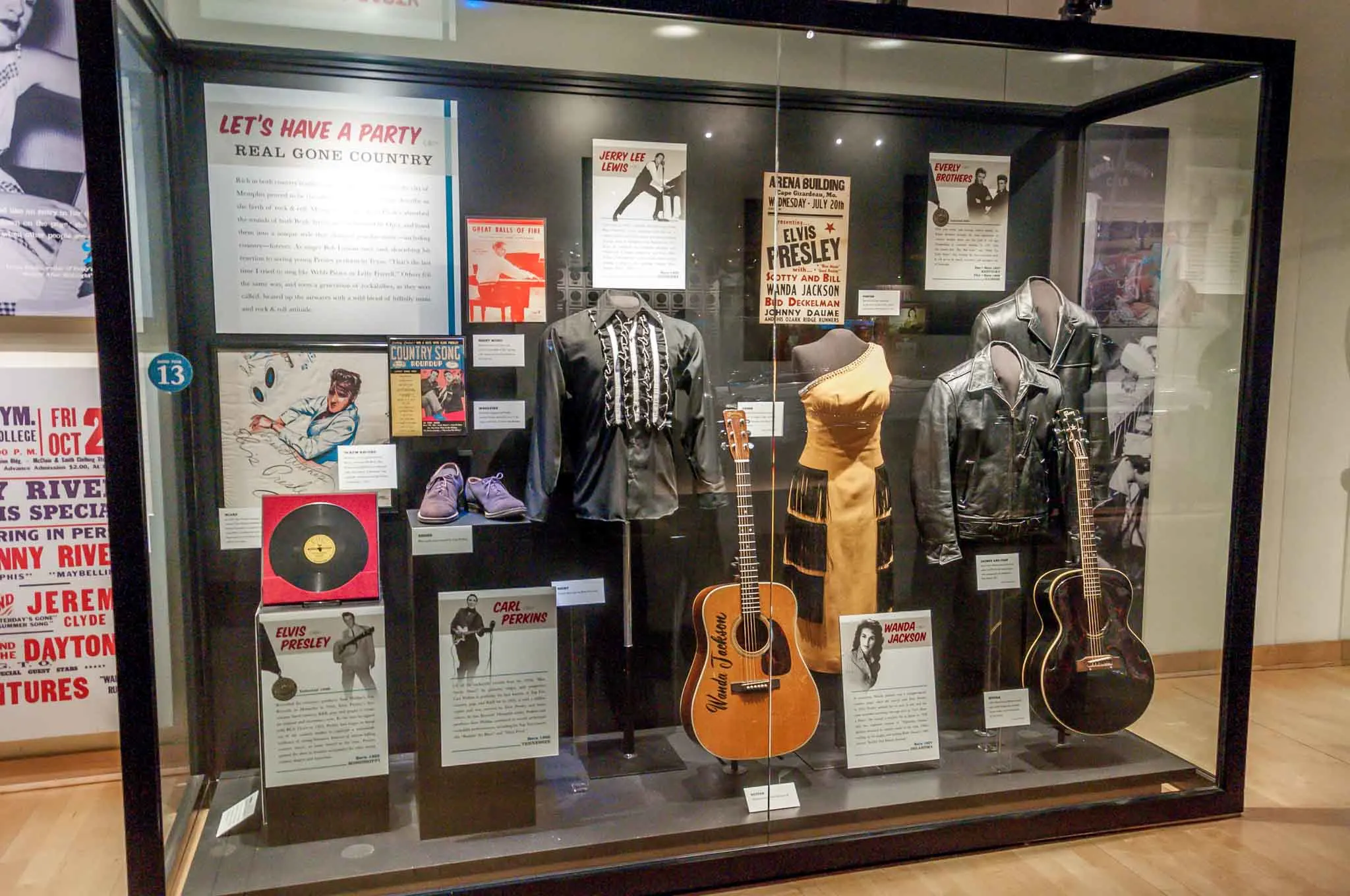 From The Southern, you're only a couple of blocks from two of the most famous places to see in Nashville—the Country Music Hall of Fame and the Ryman Auditorium. Depending on what else you'd like to do today, a visit to one is probably enough unless you're a diehard country music fan.
The Country Music Hall of Fame is one of the largest museums in the world. With over 2.5 million artifacts, it is full of some of the most significant items in country music, including recordings, photos, costumes, instruments, and more.
The history and artists of country music are the focus of the exhibits, but the museum branches out, too. Displays—including things like Elvis' "Solid Gold" Cadillac—show the influence of country on other musical genres and talk about the success of cross-over artists like Taylor Swift. Anyone who likes music will leave here with a new appreciation for county.
In the museum's lobby, don't miss Hatch Show Print. The distinctive artworks designed and printed here are some of the most recognizable in the music industry. We loved browsing all the examples from designs through the years and seeing the presses and fonts on display.
Tour Ryman Auditorium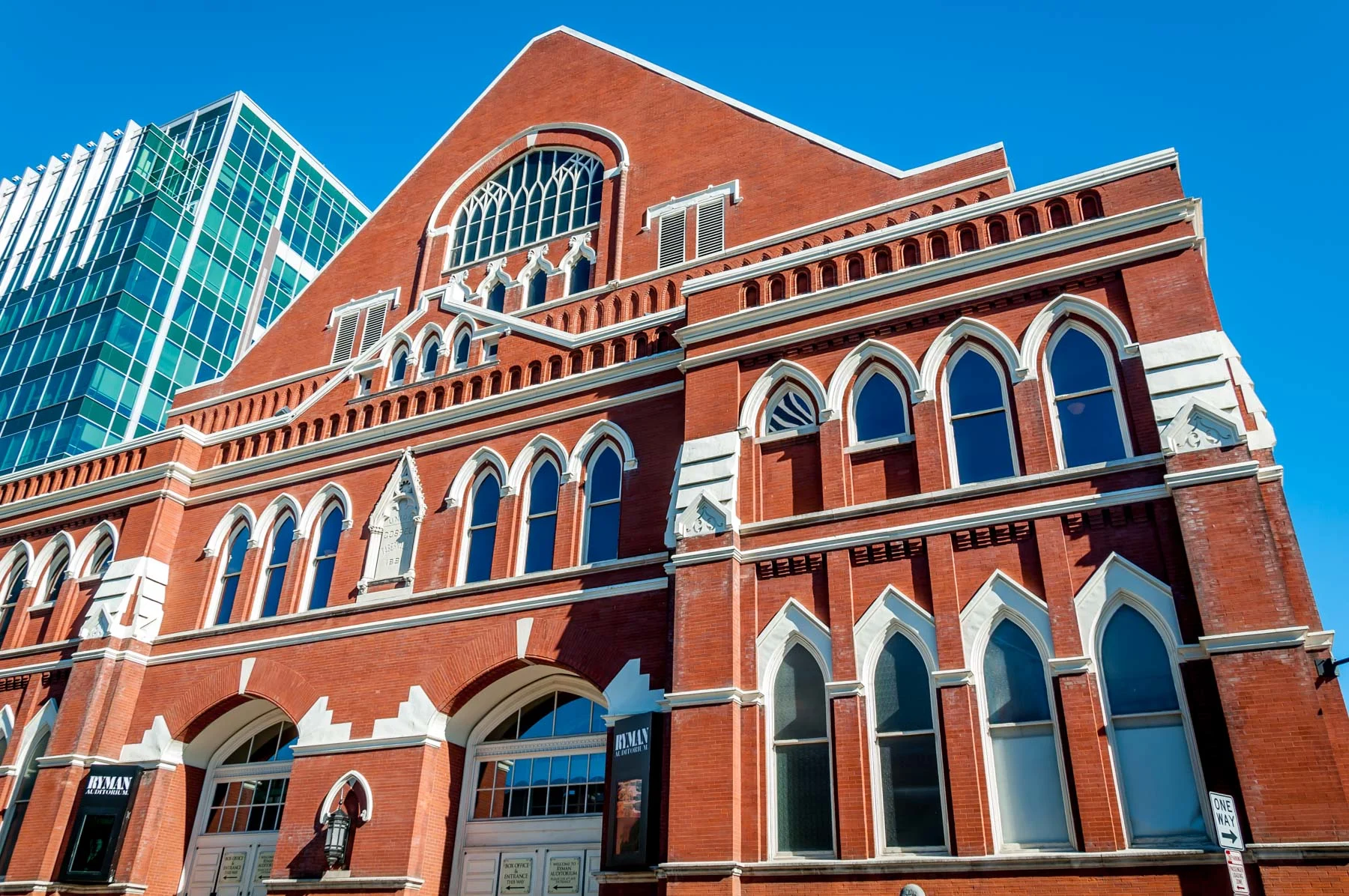 If your love for country music runs deep, head over to the Ryman Auditorium.
Opened in 1892, the Ryman Auditorium helped make Nashville the capital of country music, hosting the greatest singers and musicians in the business. Visitors can tour the hallowed auditorium and learn about its history and the legends that have taken the stage here from Emmylou Harris to Paul Simon.
The self-guided tour is at your own pace, and scheduled guided tours and backstage tours are also available. If a tour isn't quite your speed, see one of the shows that happen almost nightly.
See the Parthenon at Centennial Park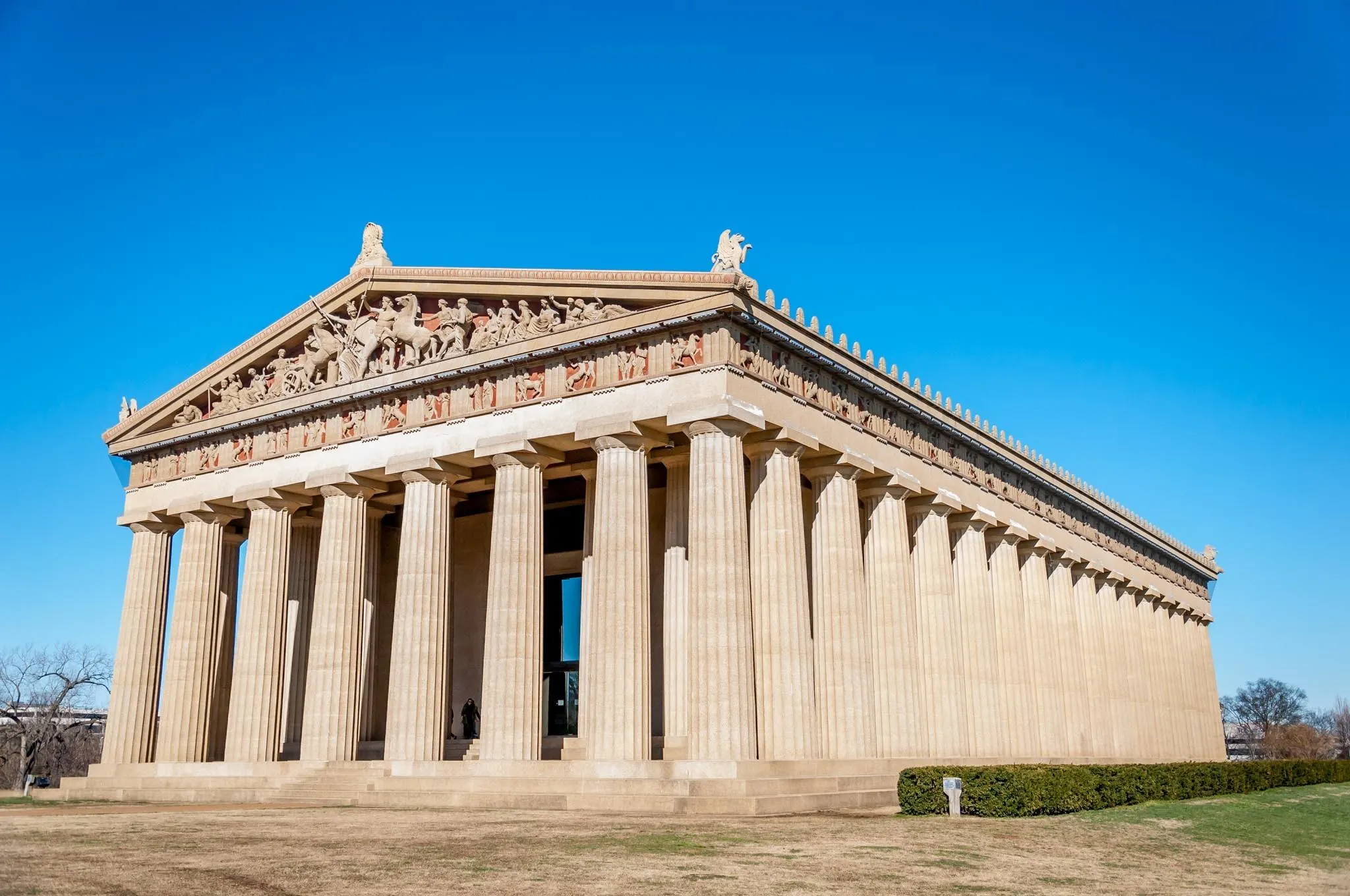 Take a break from some of the crowds around Broadway with a visit to Centennial Park. There are walking trails, a lake, and a beautiful sunken garden to enjoy.
One of the main attractions in the park is the full-size replica of the Parthenon. The building—originally constructed in 1897—is an art museum that houses 42-foot-tall statue of the goddess Athena covered in gold leaf. It's possibly the most unusual thing to see in town and one of the most iconic attractions in Tennessee.
Hang out at a rooftop bar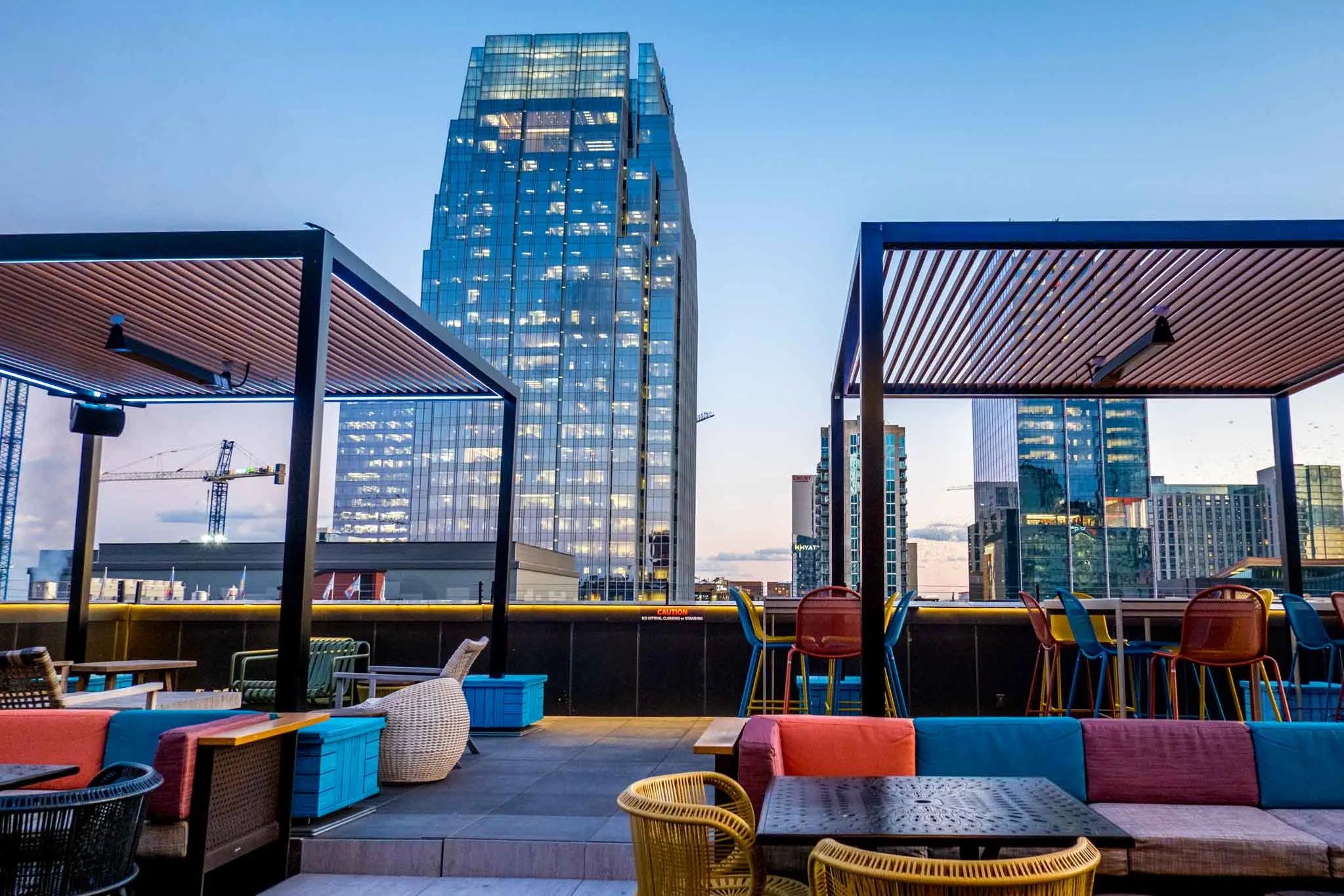 One of the cool things about the establishments on Broadway is that many of them have rooftop bars. That makes them an ideal place for a happy hour.
If you haven't had your fill of time here yet, consider visiting one of these spots for an early evening drink and a little people watching in the streets below. We loved the Lookout at Ole Red for its relaxed vibe and atmosphere in the late afternoon.
Dinner at Pinewood Social
Pinewood Social is one of the unique restaurants to try in your 2 days in Nashville. With great burgers, sandwiches, pastas, and a lineup of entrees that change seasonally, the food here is high-quality, and the inventive cocktails are even better.
Beyond the restaurant, Pinewood Social is a fun place to hang out. There's an outdoor space with a pool and bocce ball plus several bowling lanes available for rent inside.
See a show at The Listening Room
For a different spin on the music scene, head to The Listening Room. It's just a half-mile from Pinewood Social, so it's easy to visit for an after-dinner show, or you can have dinner here instead.
Some of the best songwriters take the stage here trying out new material and singing the hits that they've written. There are numerous options for shows throughout the week.
Sunday
Rounding out the list of what to do in Nashville for a weekend is more great food and drinks plus art, history, and more.
Brunch at Biscuit Love
Start the last morning of your Nashville trip with a visit to Biscuit Love. There are two locations—one in the Gulch near downtown and the other in Hillsboro Village. Either one will put you close to some lovely works of street art.
Biscuit Love, as you might imagine, is most popular for its buttery, pillowy biscuits. And it is very popular. Like, line out the door kind of popular. So, there will probably be a wait. But that way you'll be properly hungry once you're inside, which is good, because there's a chance you'll want to sample everything on the menu.
The biscuits are available with gravy, with sausage, alongside grits, and in other preparations, so you're likely to find something that appeals to you. The signature, which we opted for, is the "East Nasty"—a biscuit topped with fried chicken, cheddar, and gravy. Whatever you choose, you won't be hungry again for quite a while.
See the street art
Nashville is packed with street art. In parking lots, hidden in office complexes, and down quiet alleyways, there are murals all over. Finding them around the city feels like a treasure hunt.
If you choose Biscuit Love in the Gulch, you'll be right by one of the most popular murals in town, the "Wings mural" by Kelsey Montague. There's often a line, so, if you don't feel like waiting, walk down 11th Avenue South to find other artworks.
If you opt for the Biscuit Love location in Hillsboro Village, you're about 2 blocks from a string of murals along 21st Avenue South.
Visit Belle Meade Plantation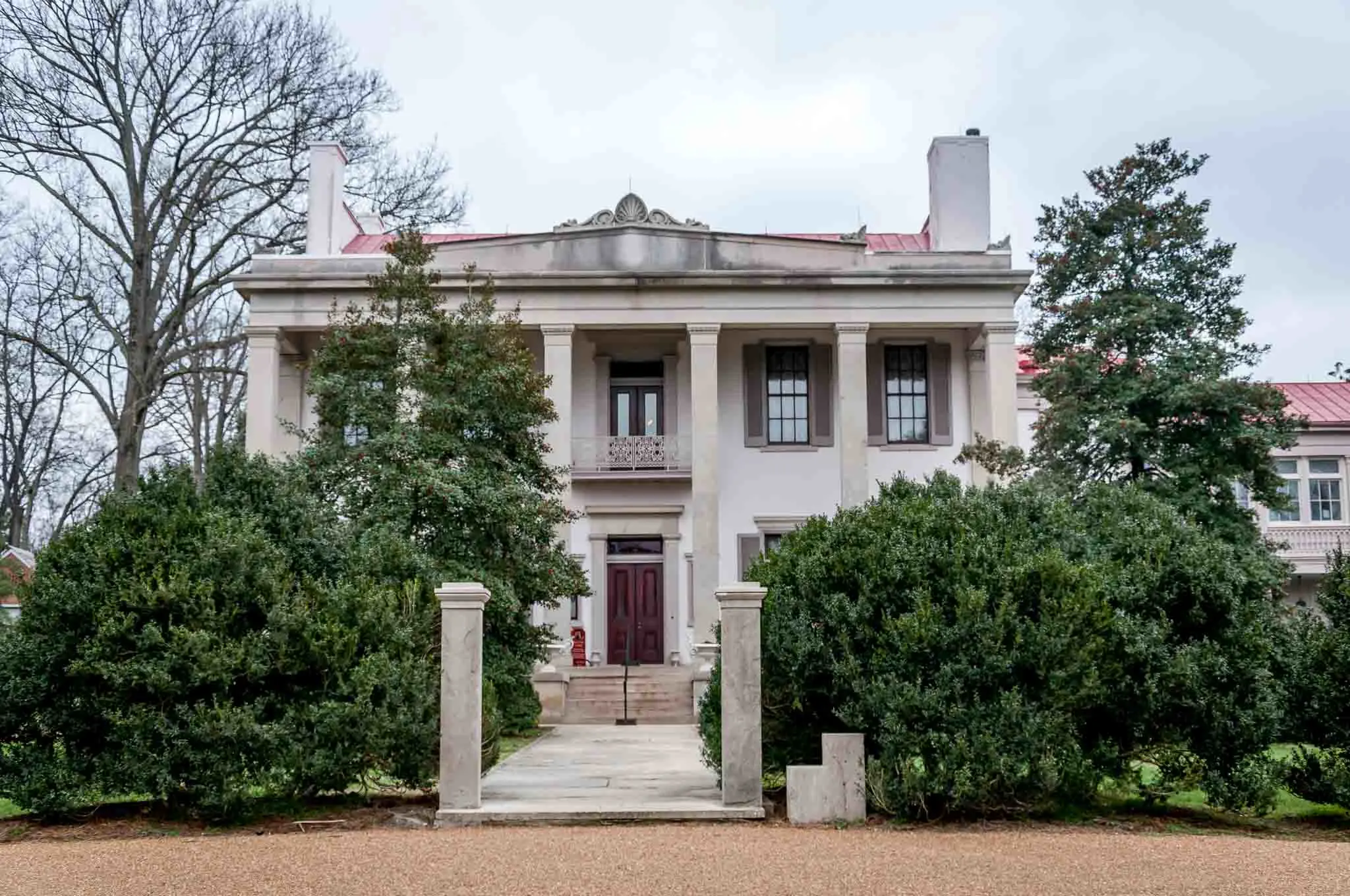 For something a little bit different, consider adding a visit to one of the local plantations to your Nashville itinerary. Belle Meade Plantation is less than 20 minutes from downtown and shows an important aspect of the city's history and culture.
Once home to the wealthiest family in Nashville, the Belle Meade spanned over 5400 acres in the late 19th century. The tour tells the story of the Harding family who were among Nashville's elite alongside stories of the enslaved people who lived and worked there.
Explore Cheekwood Estate & Gardens
Another pretty place to visit on your Nashville getaway is Cheekwood Estate & Gardens just 2 miles from Belle Meade. With 12 cultivated gardens and a walking trail, it's a beautiful spot to spend a little time outside. The estate's art galleries exhibit works from its extensive permanent collection of art, sculpture, and artifacts from around the world.
If your visit falls in December, the estate hosts a massive light display that's one of the most popular Christmas activities in town.
Go whiskey tasting at a local distillery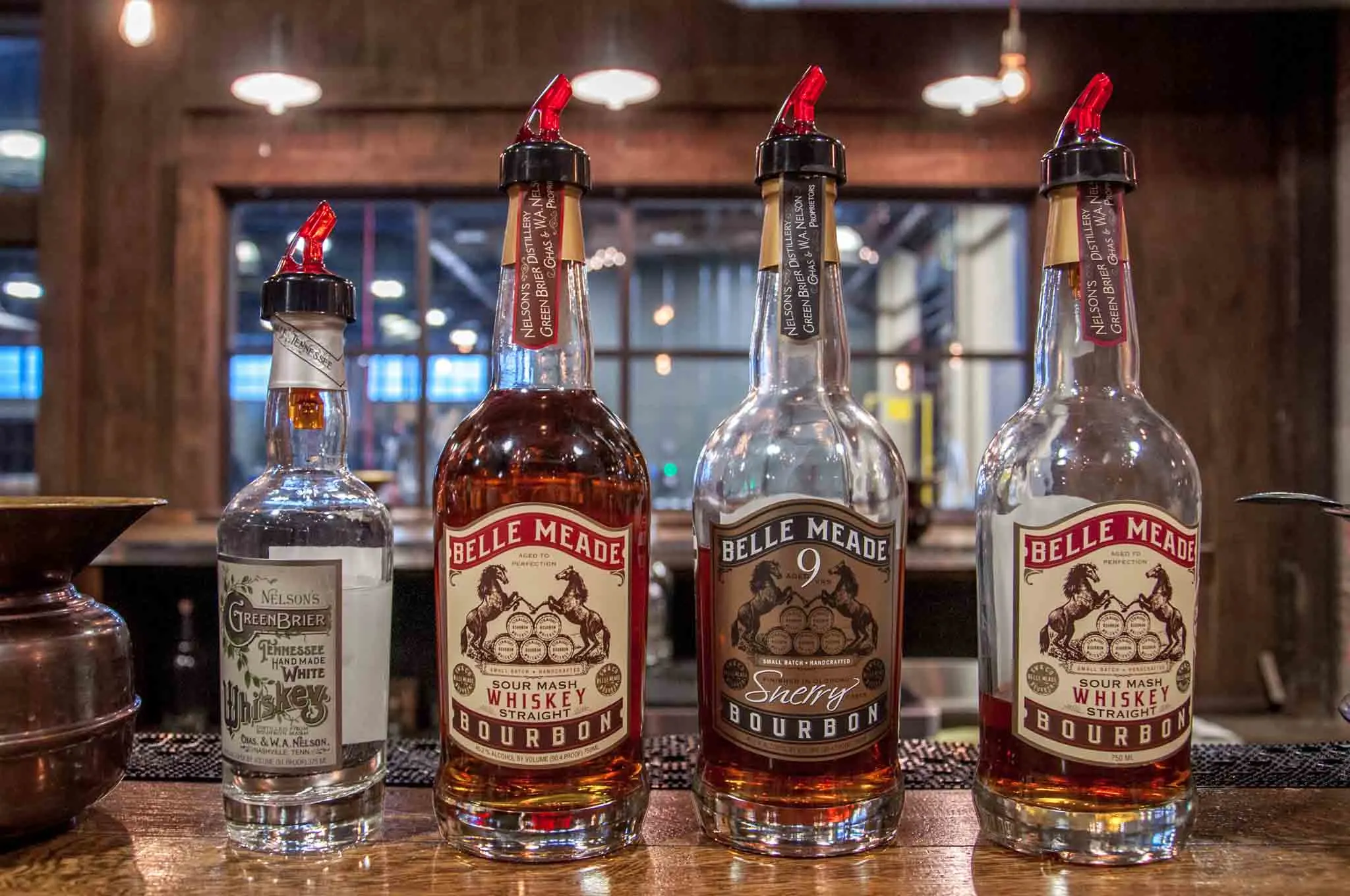 If there's one thing Tennessee is famous for, it's whiskey. From international giants like Jack Daniels to smaller producers making craft spirits, there are lots of unique distilleries to visit in the Nashville area. Many offer tours, but it's easy and fun to stop in for a tasting or a cocktail.
For traditional whiskeys and bourbons, check out Nelson's Green Brier Distillery whose family recipes stretch back to before Prohibition. A visit to Corsair Distillery brings the chance to try over 20 different spirits and sample them in unique cocktails. Check out some of their popular offerings like Pumpkin Spice Moonshine and absinthe. We also love Nashville Craft Distillery where sorghum spirits and spiced honey liqueur are among some of our favorites.
Dinner at Hattie B's Hot Chicken
You can't end your Nashville weekend without trying one of its most well-known foods—hot chicken. It's crispy fried chicken slathered in a cayenne pepper sauce served with a slice of white bread and pickle chips. Depending on your tolerance, the sauce can range from mild to something that might make you cry, so proceed with caution. On Sundays you can get hot chicken with waffles at Hattie B's, so make sure to add it to your list.
Where to Stay
The Hermitage Hotel–The Hermitage Hotel is elegant without being fussy, and the service is top-notch. Don't miss the Oak Bar and the bathroom that is often listed as the best bathroom in America. Keep your eyes open for possible celebrity sightings, too (Book a room).
Omni Nashville–Close to Broadway and connected to the Country Music Hall of Fame, you can't beat the location of the Omni for exploring downtown. The pool (and its awesome views) are a godsend on a hot day (Book a room).
Gaylord Opryland Hotel–The Gaylord Opryland Hotel feels like its own city. You can visit the spa, shop, or indulge in more than a dozen restaurants and cafes. There is even a water park. As a bonus, the Grand Ole Opry is just next door (Book a room).
Also, check out our full guide to the best hotels in downtown Nashville.
Laura Longwell is an award-winning travel blogger and photographer. Since founding Travel Addicts in 2008, she has written hundreds of articles that help over 3 million people a year get the most out of their travel. In that time, she has visited nearly 60 countries on 5 continents, often returning to favorite destinations over and over again. She has a deep love of history, uncovering unexpected attractions, and trying all the good food a place has to offer.
In addition to Travel Addicts, Laura runs a site about her hometown of Philadelphia—Guide to Philly—which chronicles unique things to do and places to see around southeastern Pennsylvania. Her travel tips and advice appear across the web.