Iceland, the land of fire and ice, has captivated travelers with its breathtaking landscapes, majestic waterfalls, and steaming geysers. But there's one aspect of this Nordic paradise that often goes overlooked: its vibrant culinary scene. Nestled amidst the dramatic landscapes and rugged coastlines, Iceland boasts a growing number of exceptional restaurants that are redefining the country's gastronomic identity. These are the best restaurants in Iceland.
When we first came to Iceland in 2009, it was right after the banking crisis and before the tourism boom. Put bluntly, the food was pretty bad. However, over the last decade and a half, the country has seen a wave of tourism, the culinary scene has evolved rapidly, and we've had a front row seat to watch those changes.
Here, we present our favorite Icelandic restaurants from each of our five trips. We invite you on a mouthwatering journey through the best restaurants, where innovative chefs combine the country's natural bounty with creative techniques to create unforgettable dining experiences.
From traditional Icelandic dishes infused with contemporary twists to international flavors that showcase the country's cosmopolitan side, Iceland offers visitors a culinary adventure. From Reykjavik, the vibrant capital, to the far-flung corners of the island, we'll explore the diversity and excellence of the culinary offerings that await you.
One thing to note, there is some controversy around food in Iceland. Some of the most "touristic restaurants" have taken to serving "Icelandic menus" that include endangered species, fin whales, puffins, and the legendary fermented shark. And while the vast majority of Icelanders (over 98% in one recent survey) do not eat such things, you may find it on the menu of restaurants that cater exclusively to tourists.
Consider eating at a whale-friendly restaurant (one that will not serve it) or don't order it if it is on the menu. As the true Icelanders say, "Meet them, don't eat them." (Interesting fact: the whale meat from Iceland is sent to Japan, where it is turned into dog food.)
A final word: unlike some other Iceland restaurant guides you might find, we've actually been to each and every one of these restaurants, eaten there, and taken all of the pictures below. In some cases, we've dined here many times.
Restaurants in Reykjavik:
If you are spending time in the capital region, check out our guide to the Best Restaurants in Reykjavik.
Matarkjallarinn (Food Cellar), Reykjavik
The Food Cellar is located in the basement of a 160+ year old building in the heart of the capital city, and is just two blocks from the port. After a full day of sightseeing in Reykjavik, head here for some delicious modern Icelandic cuisine. We love the Food Cellar so much that it has historically been our final meal in the country before heading home and eat here every trip.
The set menus all offer good value and are very large portions. We're partial to the surf & turf (steak along with either langoustines or scallops, depending on the season). The a la carte options are also good, including the Arctic Char, which just might be the best in Iceland. For starters, check out the Tiger Shrimp "Nobashi," which if a playful dish and fun to share. They also have an exceptional wine list and knowledgeable staff.
Reservations are generally necessary, particularly in high season, although we've had success walking in before. Located at Aðalstræti 2.
Grillmarkadurinn (Grill Market), Reykjavik
Tucked into a courtyard off Laugavegur Street, the Grill Market feels like an oasis of refinement amidst the bars and casual eateries. The Grill Market is the perfect date night in Reykjavik, or just a great spot out for an incredible meal.
Not to be missed, the duck spring rolls are superb. And while everything is excellent (including the salted cod), focus your energy on the grilled meats, particularly the beef tenderloin and the Icelandic lamb. While service can be a bit drawn out, sit back and savor your meal.
Reservations are necessary. Located at Lækjargata 2a and nestled into the courtyard behind the Caruso restaurant.
Fiskfélagið (The Fish Company), Reykjavik
Fiskfélagið, or The Fish Company, is located on the lower level of a historic building downtown. This atmospheric restaurant has lava rock walls, a timbered ceiling, candles and tons of charm. It's a great date night restaurant, or anytime you crave good seafood.
The specialty at Fiskfélagið is the multi-course tasting menus. Whether you want an express 3-course experience or a lengthy 9-course adventure, they have covered. They also serve ample a la carte menu items. All menu items are an audacious, worldly interpretation of a local ingredient. And yes, the lobster soup is legendary.
Reservations are critical throughout the year. They stack the reservations, so service can sometimes feel a bit rushed. Located at Vesturgata 2a in Reykjavik.
Sumac, Reykjavik
Located along Reykjavik's main drag (Laugavegur Street), Sumac brings international cuisine to Iceland. The focus here is on Mediterranean and Middle Eastern dishes from Beirut, Lebanon. And it is absolutely exceptional. Each time we've come (on four different visits to Iceland), we just say wow.
What's not to be missed. Be sure to try the fried halloumi and all of the mezze dips (hummus, labneh, and the roasted red pepper dip). The chicken shawarma defies description it is that good. And when in Iceland, the lamb ribs are a solid bet. To be honest, we've probably tried almost everything on the menu by this point, and it is all amazing.
Reservations are necessary, particularly on weekends. Located at Laugavegur 28. Be sure to check out some of the nearby cool murals before or after dinner.
Bæjarins Beztu Pylsur, Reykjavik
The red-and-white kiosk near Reykjavik's harbor isn't known for haute cuisine. In fact, they serve only one thing: the hot dog. Given Icelanders enthusiasm for the lowly hot dog, Bæjarins Beztu Pylsur is something of an institution.
Open for lunch until late in the night, this is your go-to spot for a quick lunch, an afternoon snack, or a post-bar munchy stop. Walk right up (if you are lucky to find it without a long line) and order one with "everything" (remoulade, onions, mustard, and ketchup). Located at Tryggvagata 1. Sadly, parking in the area is quite limited. They have a few other locations in Reykjavik and Keflavik, but you want to go to the original.
Restaurants outside Reykjavik:
Friðheimar, Reykholt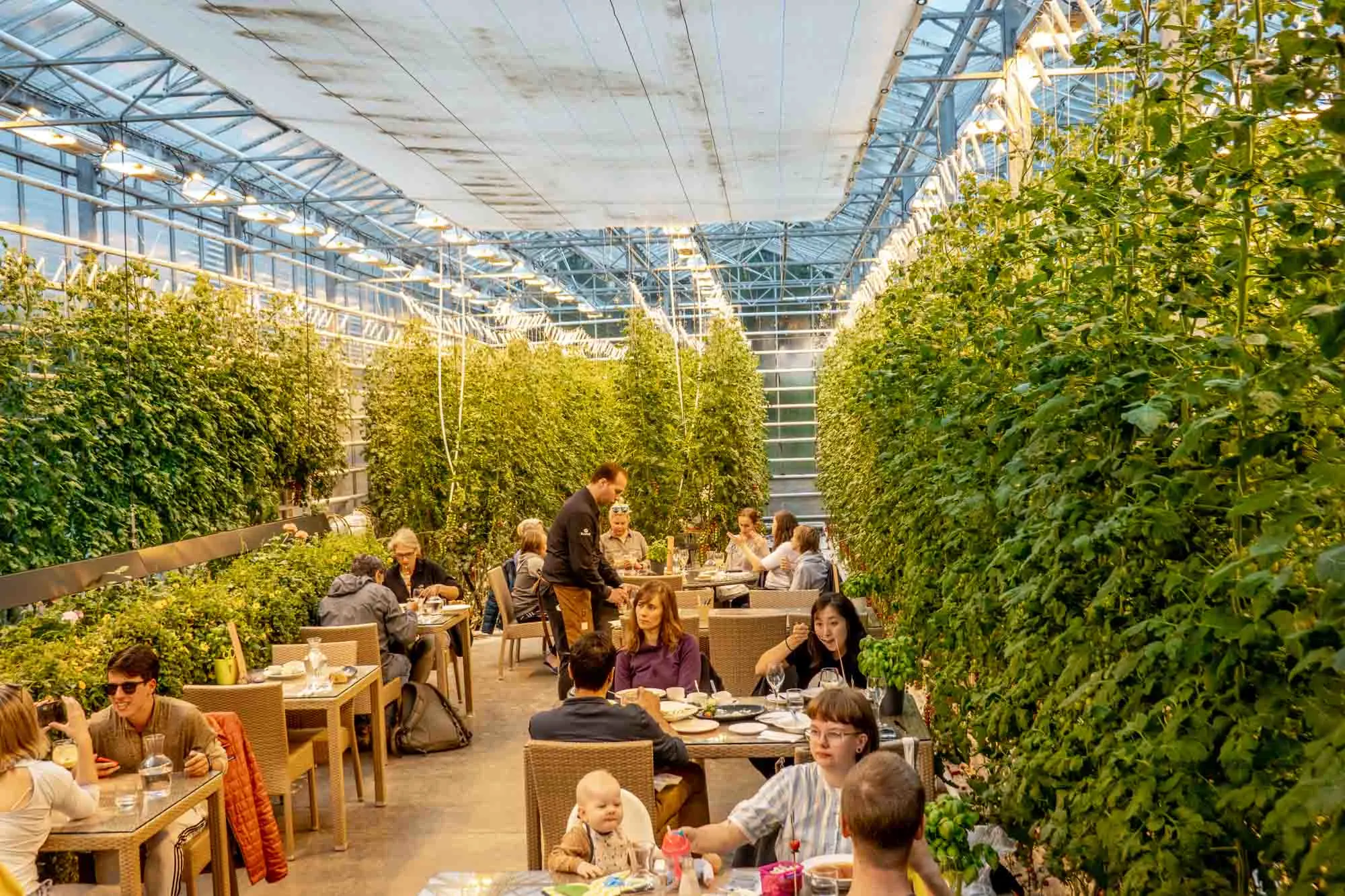 Located on the famed Golden Circle, the restaurant at the Friðheimar tomato farm is like no other place on earth. First, it is located entirely within a working greenhouse. Second, it is completely focused around the tomatoes that the Friðheimar farm grows.
This lunch-only restaurant may be one of our favorites in all of Iceland. They serve up an incredible all-you-can-eat tomato soup and unlimited bread. In addition, they have several menu items (yes, all tomatoes), including a pasta and a burrata & tomato salad. You can even get tomato beer. As crazy as it sounds, you can thank us later. We promise you it is that good.
Reservations should be made as soon as possible on their website (on our last trip, we made reservations over a month in advance and nearly all time slots were booked). They can accommodate some walk-ins at their stand-up bar, but you don't get the full experience. It also makes a great stop before visiting one of the local hot springs to relax. Located on Friðheimar Farm on Route 35 in the town of Reykholt on the Golden Circle (not to be confused with the other town of Reykholt in West Iceland).
Rub 23, Akureyri
Rub 23 is arguably the nicest restaurant in Northern Iceland. It's so good, we've been back on each of our successive trips around the Ring Road and have watched the restaurant grow and evolve over time.
At its core, Rub 23 is a steakhouse. In the early days, guests could pick from a large number of dry rubs for their steaks (hence the name "rub"). Those days are gone and the restaurant has developed into something quite exciting.
Yes, it's still a steakhouse and its core, but they have also added a range of fish dishes. But their most popular offering is a broad range of sushi. Looking around the restaurant, you'll see sushi on every table. By blending Asian flavors with small plate offerings inspired by America (i.e., fish tacos), Rub 23 has evolved far beyond its humble beginnings in the red building across the street from the big church in downtown Akureyri.
Reservations are essential during the peak summer travel season and also during the month of December. You can book a table on their website. Located at Kaupvangsstræti 6 in Akureyri.
Pakkhús, Höfn
What can you say about Pakkhús? It's located in an old warehouse from the 1920s and situated right at the harbor. It has all the markings of a tourist trap. And it couldn't be any further from that. On our 3rd visit to Pakkhús, the entire restaurant was filed with local families all celebrating high school graduations.
What brings locals and tourists to this spot? The local langoustine. If you're not familiar with the langoustine, it's sometimes called Norwegian lobster. This crustacean (Nephrops norvegicus) is caught locally and elegantly prepared here. Dip in butter sauce and be prepared to enter heaven. This restaurant is one of our absolute favorites anywhere in the world and is a mandatory stop while driving the Ring Road.
If lobster isn't your jam, they have other fish and even lamb on the menu. On the adventurous front, you can even try Icelandic horse meat.
They don't take reservations. So arrive early and be prepared to wait. You can grab a drink at the bar and drink on the lower level or outside. Located at Krosseyjarvegur 3 in Höfn.
Nielsen, Egilsstaðir
The Nielsen Restaurant is a welcome addition to the East Iceland dining scene. Frankly, it's the best restaurant in the eastern part of the country. Located in the oldest house in Egilsstaðir (built in 1944), Nielsen is firmly rooted in the past but pushing the boundaries of the future.
The owners, Sólveig and Kári, are veterans of the fine dining scene. Kári was head chef at Dill in Reykjavik, Iceland's only Michelin star restaurant. After moving east, they've taken Icelandic cuisine up a few notches.
In the winters, they only serve lunch. But in peak season, head there for dinner. They served modern Icelandic cuisine, including features of fish, lamb and even the occasional reindeer. The menu is seasonal and as local as possible. This is the kind of menu that you'll drive hours for. Reservations are essential. Located at Tjarnarbraut 1 in Egilsstaðir.
Naustið, Husavik
There's no shortage of good restaurants in Husavik, but Naustið stands near the top. This small family run restaurant occupies an important historical home in the center of town (the first bathtub in the town was located here). The building was home to many colorful characters over the years. That continues to this day. The employees working are a continuation of the long line of colorful characters who have inhabited the home.
They serve only the freshest seafood along with their homemade bread. If you tire of yet another fish-and-chips in Iceland, branch out and try their incredible (and famous) fish soup. Or their seasonally fresh salad topped with either shrimp or langoustine (depending on the catch/season). And you can't go wrong with the catch of the day.
Reservations are critical in high season, but you can always try for a walk-in table or last-minute cancellation. The restaurant is only set up in 2-tops and 4-tops and are unable to accommodate larger groups. Makes an excellent spot after whale watching in Skjálfandi Bay and before/after visiting the GeoSea hot springs. Located at Ásgarðsvegur 1 in Húsavík.
Sjávarpakkhúsið, Stykkishólmur
Located in a photogenic building immediately across the parking lot from the Stykkishólmur port, Sjávarpakkhúsið delivers refined sophistication with an unassuming ambiance. In what could easily be a white tablecloth restaurant with a Michelin star anywhere else, delivers the best seafood in town with creative preparations and unpretentious service.
The menu changes seasonally and frequently with a focus on a local, sustainable seafood (a single vegetarian option can also be found). Many dishes utilize Asian ingredients (ponzu and wasabi) with subtlety. The Stykkishólmur menu has a small-but-respectable number of small plate appetizers and an equal number of entrees. Some dishes may be unable if the catch doesn't come in that day.
Reservations are absolutely essential. When we tried for a booking several weeks in advance during peak season, we couldn't get in. On a different trip in the off-season, the restaurant was turning people away with out a reservation: Located at Hafnargata 2 in Stykkishólmur.
Narfeyrarstofa, Stykkishólmur
Imagine going to someone's home in Iceland for dinner. That's exactly what eating at Narfeyrarstofa feels like. The restaurant occupies the two floors of an old home that was built sometime between 1901-1906, and ultimately became an eatery in 1999.
The menu is broader than you might otherwise expect. Standouts include fish and chips made with Doritos chips, which is way better than you might expect. They also serve lamb and steak, as well as having several vegetarian/vegan options. And the moules frites (mussels with fries) is exceptional.
Reservations are smart, particularly during peak season. If you can't get in at Sjávarpakkhúsið, a walk-in here is sometimes possible. Located at Aðalgata 3 in Stykkishólmur.
Vogafjós Restaurant and Cowshed Café, Lake Myvatn
A mainstay in the Lake Myvatn area, the Vogafjos Restaurant and Cowshed Café has been around for seemingly forever. We discovered it on our first trip years ago and have visited on each successive trip. The restaurant is located INSIDE the cow shed and you can look through glass as the cows are milked.
The menu has a handful of items, nearly all with a connection to the farm. The Arctic Char comes from Lake Myvatn. All of the cheeses are made on premise. The lamb comes from that green field outside the window. And the gourmet hamburgers are among the best in Iceland.
Reservations are smart and can usually be obtained the day before or even same day. Located at Vogar, 660 Myvatn. This is a rural area, so address can be kind of vague.
Teni, Blönduós
It comes as a shock to many visitors to Iceland that there is a small-but-vibrant African community in the country. In a land where everyone seems like descendants of Vikings, people with darkly pigmented skin kind of stand out. But to Iceland's benefit, many of these immigrants have opened awesome restaurants. And one such establishment is called Teni in Blönduós.
As a town, Blönduós isn't much to look at. It's a kind of way-point between Akuyeri and Reykjavik and the largest community on the drive. Truth to be told, the Teni restaurant is the only real reason to stop here (other than getting gas).
The restaurant is one block off Route 1 and next to the town's grocery store. It serves ubiquitous menu offerings (yes, they have pizza and hamburgers and French fries and similar but unremarkable items), but the real reason to visit is the authentic Ethiopian dishes from the homeland of the restaurant's owner. When you are looking to spice up your trip, this is the spot.
Reservations are helpful, but not required. Located at Húnabraut 4 in Blönduós.
Siglufjordur Fish & Chips, Siglufjordur
In the basement of a small building a block off the main street, the Siglufjordur Fish & Chips restaurant (called Fiskbud Fjallabyggdar in Icelandic) started as a local fish monger. In fact, the bulk of their business until quite recently was selling fish fillets and marinated fish to locals. Selling cooked food wasn't the focus.
But sell they do. And the line of tourists out the door is a testament to the quality of their offering. They have a fish & chip of the day (usually cod, but sometimes other offerings) and a fish pizza. Before you ask, yes, fish pizza. Try it.
Order a fish & chips and eat at one of their handful of tables, or walk to the park across the street. Either way, you'll be enjoying the best fish and chips in the world. That's high praise, but it is worth it.
They are open for lunch and all afternoon, but close before dinner. Arrive early as they sometimes sell out of some items. Located at Aðalgata 27 in Siglufjörður.
The Soup Company, Vík í Mýrdal
At times, it seems like Iceland has a national obsession with soup. Given the cool climate during the entirety of the year, it makes sense. Soup is on the menu at every restaurant. But what happens when a restaurant specializes in soup?
That's the Soup Company in Vík í Mýrdal, one of the prettiest towns in the country. They usually have 4 soups every days, plus a few salads and a couple of pastas. The best soup is the Hot Lava Soup served in a black bread bowl. It's spicy and delicious.
It's a very casual place. Walk in, order at the bar, find your table and wait for the hot soup to arrive. If you have time, the Soup Company shares the building with the Lava Show, a seriously great, but very overpriced experience. Skip the lava show and enjoy the lava soup. Located at Víkurbraut 5 in Vík í Mýrdal.
Tjoruhusid, Ísafjörður
Tjoruhusid restaurant in Ísafjörður is all about tradition. The building that houses the restaurant dates from 1781 and used to be an old rope-taring warehouse. The servers still call it "the warehouse" to this day. Stepping into the restaurant with its long, communal-style tables and benches feels like stepping back in time.
There is no menu at Tjoruhusid (and no website). Everything is the catch of the day. Cod and Wolffish are almost always available, but some more unusual fish offerings can also be had. Let your server guide you and you'll be in great shape.
Reservations are essential, particularly during high season, for both lunch and dinner. The restaurant is only open March through October-ish. (They sometimes open in December for the holidays). Located at Neðstikaupstaður 1 in Ísafjörður.
Kaffi Lára El Grillo Bar, Seyðisfjörður
In a town of just 676 people, there aren't a ton of restaurant options. We've eaten a couple over the years, but the best of the bunch is the Kaffi Lára El Grillo Bar. The restaurant is named after the town ghost, Lara, who was a bit of character who sold lottery tickets and hosted seances. The building of Kaffi Lara was also her home.
In a country which focuses on seafood, Kaffi Lára El Grillo Bar is a stark contrast. They focus on meat, including ribs, pork, and one of the best hamburgers in Iceland.
Be prepared to wait for a table in peak season, but the place is large and you can also eat outside on one of the numerous picnic tables. Located at Norðurgötu 3 in Seyðisfjörður.
Freya Café, Skogar
There has been a lack of quality eateries on the South Coast for years. But that's slowly changing. And one of the great spots is the Freya Café, located inside the Skogar Folk Museum.
Tucked into a part of the museum is the café. They serve hearty breakfast options and delicious lunches inside an eclectically decorated space. You'll find lots of pink tablecloths, under white doilies, and cabinets covered in flowers. It's like your grandmother's living room, only cooler. Don't miss the waffles or pancakes for breakfast. At lunch, the soup is a smart choice. And you can't go wrong with the fish & chips.
They are open for breakfast and lunch until 5:00pm. Located on Museum Way, inside the Skogar Folk Museum, Skogasafn 1.
Bryggjan Café, Grindavik
On the southern end of the Reykjanes Peninsula, the town of the Grindavik has been a seafaring community for dozens of generations. That close relationship to the ocean (and its convenient harbor), means the town has excellent seafood. And the lovely Bryggjan Café that is located right at the port is the place to go.
During the days, they use the 3rd floor restaurant, which can accommodate several of the large tour buses you see in the parking lot. But in the late afternoons and evenings, Bryggjan serves in the much more intimate first-floor space, complete with all of the nautical ambiance.
They have serve-yourself soup options, which are excellent. There is always a lobster soup, plus at least one other soup every day. Locals also swear by the catch of the day off the a la carte menu. Located at Miðgarður 2 in the town of Grindavík (or just follow the signs when you get near the port).
Stukuhusid, Patreksfjordur
The tiny town of Patreksfjordur makes a great base to explore the West Fjords, but restaurants are few. The cream of the crop is Stukuhusid, a tiny house on a hill overlooking the town and the fjord. And yes, this is one of the best dining establishments in the West Fjords.
The restaurant serves a broad range of casual and comforting foods. There's a handful of simple-yet-delicious items like soups, quiches, sandwiches, and salads. There's a couple of entrees (usually lamb and some kind of seafood). And there's the daily specials, which can include anything from an Asian-glazed fish to a chicken stir fry.
Reservations are smart, but walk-ins are possible, particularly in slower seasons. Located at Aðalstræti 50 in Patreksfjörður.
What are your favorite Iceland restaurants? Are there any other 'must eats' that we've missed? We'll try them on our next trip!