Xenses park defies explanation. And that's kind of the point. Xenses is designed to make visitors question whether everything they perceive is true – from water flowing uphill to rooms that seem to swirl around to trees that dispense lemonade. Xenses turned everything we thought we knew upside-down…literally.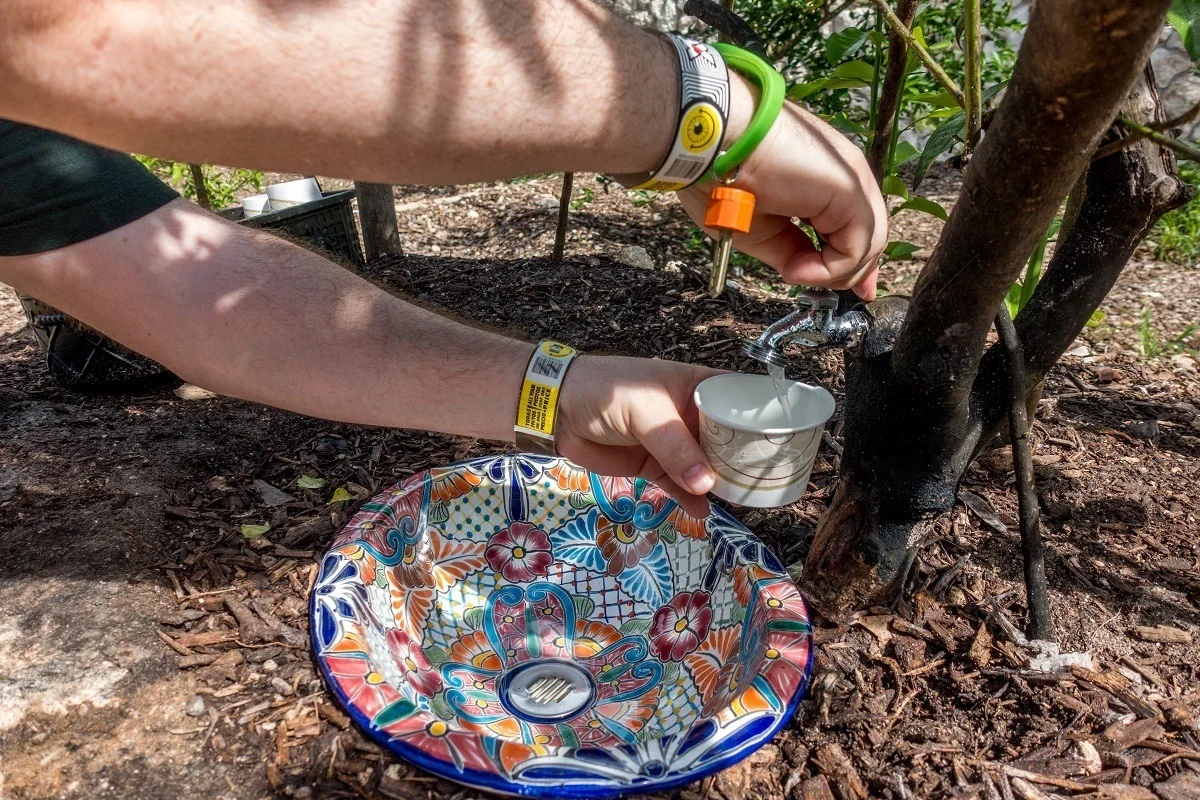 From the moment we arrived at Xenses park in Playa del Carmen, Mexico, we knew it would be a very different kind of place. The building's exterior is significantly slanted and ringed with flowers that soar 20 feet in the air. The typical yellow, "Caution: Wet Floor" cones that sit outside are designed to look like giant banana peels. Everything was just a little off. And that was even before we walked through the door.
Purchase discounted tickets to Xenses here
Once inside, the oddities continued. We passed under the multi-colored, flashing pinwheel into the locker rooms. All we planned to do was change clothes and put our bags in our lockers, but the entertainment had already begun.
There was a variety of unexpected sights from chairs that looked like public toilets in a "throne room" to water fountains that also looked like…toilets. Even though we knew they were fountains, there was still something very bizarre about drinking out of a toilet. Luckily, Xenses had photo stations everywhere that we could activate with our entrance bracelets, so we got pictures of every unusual experience.
A visit to Xenses park is all about experiencing things with all your senses. It required us to fully see, hear, and feel everything around us because very little was as it seemed at first glance. We were dizzy, excited, and a little unsure all at the same time.
The first actual attraction we visited in the park was the Xensatorium. Unlike anything we've experienced before, the Xensatorium was about letting our sense of touch guide us completely. We made our way through rainforests, climbed mountains, and trekked through the desert, all completely in the dark. I could say more, but that would ruin the surprise.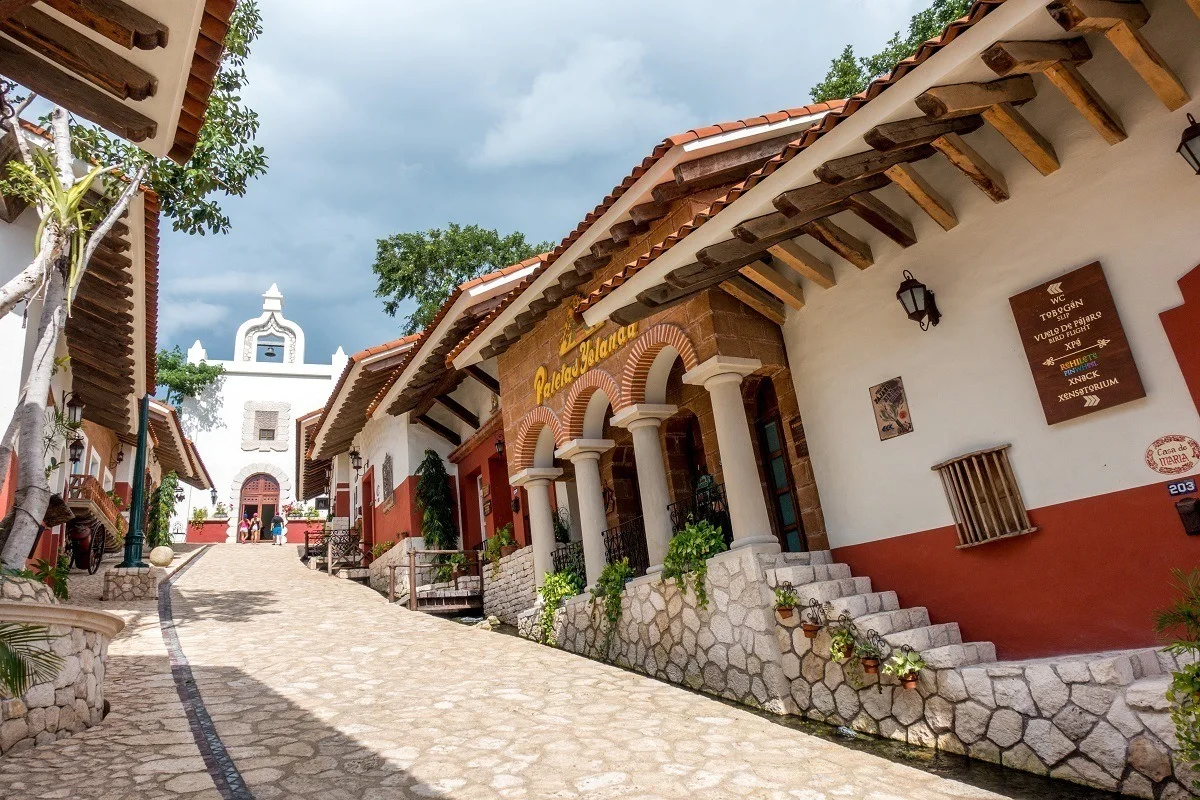 After the Xensatorium, it was time to visit a town like no other. On first look, it seemed like any model town you might see at Six Flags or Disney World, but as with most things at Xenses, the first perception was deceiving.
I'm used to feeling a little off-kilter sometimes thanks to my motion sickness, but this place had both Lance and me completely discombobulated. Floors sloped in odd directions and stairs seemed not to cooperate. Furniture hung in its place by a thread, and nothing really quite worked like it should. It was awesome.
The disorienting town led to a circuit of even more fabulous activities that had us flying through the air and swimming in a river of mud. We cooled off in a waterfall and ran through the rain, too. There were lot of great experiences. But the adventure at Xenses is in discovering the activities for yourself, letting yourself be challenged, and being willing to play regardless of your age.
Xenses Costs and Hours
Cost: Adult admission is $70; admission for children ages 5-11 is $52.50, but the company offers deep discounts for advanced purchase (more than 7 days in advance). (Purchase discounted tickets to Xenses here.)
Timing: A visit to Xenses is a 5-hour tour; admission is arrival 8:30-10:00am with departure 2:00-3:00pm or arrival 1:00-2:00pm with departure 6:00-7:00pm. See the website for additional details.
Want to know more about the other parks by Grupo Xcaret? Check out our articles about our days at Xcaret, Xlpor, Xel-Ha, and Xenotes.
Where to Stay Near Xenses Park
The Occidental at Xcaret Destination is ideally located for visiting Xenses–just five minutes away–and any of the other Grupo Xcaret parks. The resort offers five pools, 11 restaurants (plus 9 bars), and a private beach area, among other amenities. It is located about five minutes from Xplor, and it adjoins Xcaret ecopark, offering a private entrance for guests. Xel-Ha ecopark is just 15 minutes away. Check current prices here.
We were guests of Xenses park. All opinions of the unique and thought-provoking are our own. All photos with the Xenses logo are courtesy of the park.