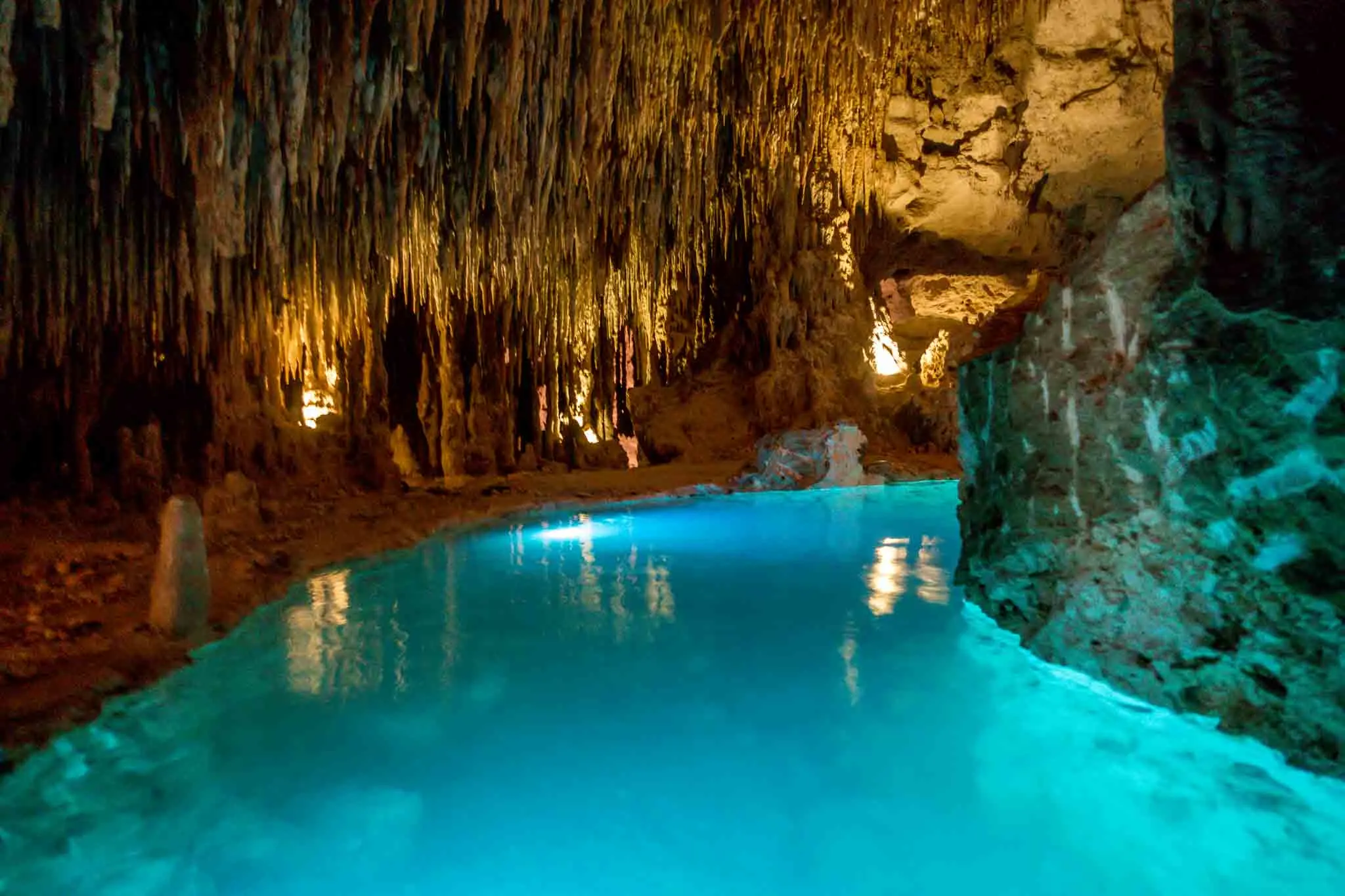 When's the last time you soared above the treetops or swam in an underground river surrounded by million-year-old stalactites? At Xplor adventure park in Playa del Carmen, Mexico, these are just two of the exciting ways to spend the day. We recently had the chance to get our hearts racing above and below ground on a visit to Xplor.
Before the adventure began, we started at the heart of the park. Literally. The center of Xplor park is actually a giant mosaic heart from which paths branch in all directions to the activities. A tad literal, maybe, but it makes it impossible to get lost. The heart is also the location of the locker area, so after storing our dry clothes and towels and liberally applying some sunscreen, we were ready to be on our way.
Xplor Park Activities
A quick look at the activity board showed us that we might have to wait for zip lining (the most popular attraction), so we opted to start with the river rafting. For people like us who don't do so well standing in endless lines for things, this board was a blessing—a simple red, yellow, or green light lets visitors know how full the different areas are at the moment so you can maximize your time.
Purchase discounted tickets here
Stop number one was one of Xplor's amazing underground rivers. We climbed aboard the raft, strapped paddles to our hands, and eagerly got going. The rafting activity involved making our way along a 600-yard water circuit, which provided a pretty good upper-body workout with stunning views. The clarity of the water, the lights, and the rock formations made us feel like we'd stepped into another world.
There are so many interesting things to look at that it's easy to get distracted from the paddling and find yourself bumping your way along the craggy path. Slow and steady is the best way to see everything and stay on track.
After our underground voyage, we were happy to see that some of the traffic at the zip lines had decreased a bit, so we decided to chance it and were pleasantly surprised that there was almost no wait. When it comes to the zip lines, there are two choices at Xplor adventure park. We could choose the higher, longer course (Jaguar) or the shorter, faster course (Deer). We opted to give Jaguar a try.
Our zip line circuit included six zip lines stretching over a mile, plus two hanging bridges. The whole zipline course took over an hour as we glided above the trees. We flew past other attractions in the park and hiked our way up again to even higher starting points–one as high as 130 feet in the air.
The last zip line of the course ended with a literal splash down into the water. It was a great way to cool off after all the activity.
Between the paddling in the river and the stair climbing for the zip lines, we had worked up quite an appetite, so it was time for lunch. Xplor is all-inclusive, so all we needed to do was show up to the buffet and dig in.
The focus of Xplor's restaurant is providing healthy, lighter dishes to keep you going during your day of activity. There is a grill with burgers, chicken, and other items, but many of the selections are fruit- and vegetable-based.
Unlike the other parks in Xplor's family, alcohol is not available at Xplor for everyone's safety because there is a driving activity at the park. However, there is a huge variety of juices, flavored waters, and amazing, addictive smoothies to drink–absolutely try the peanut butter one.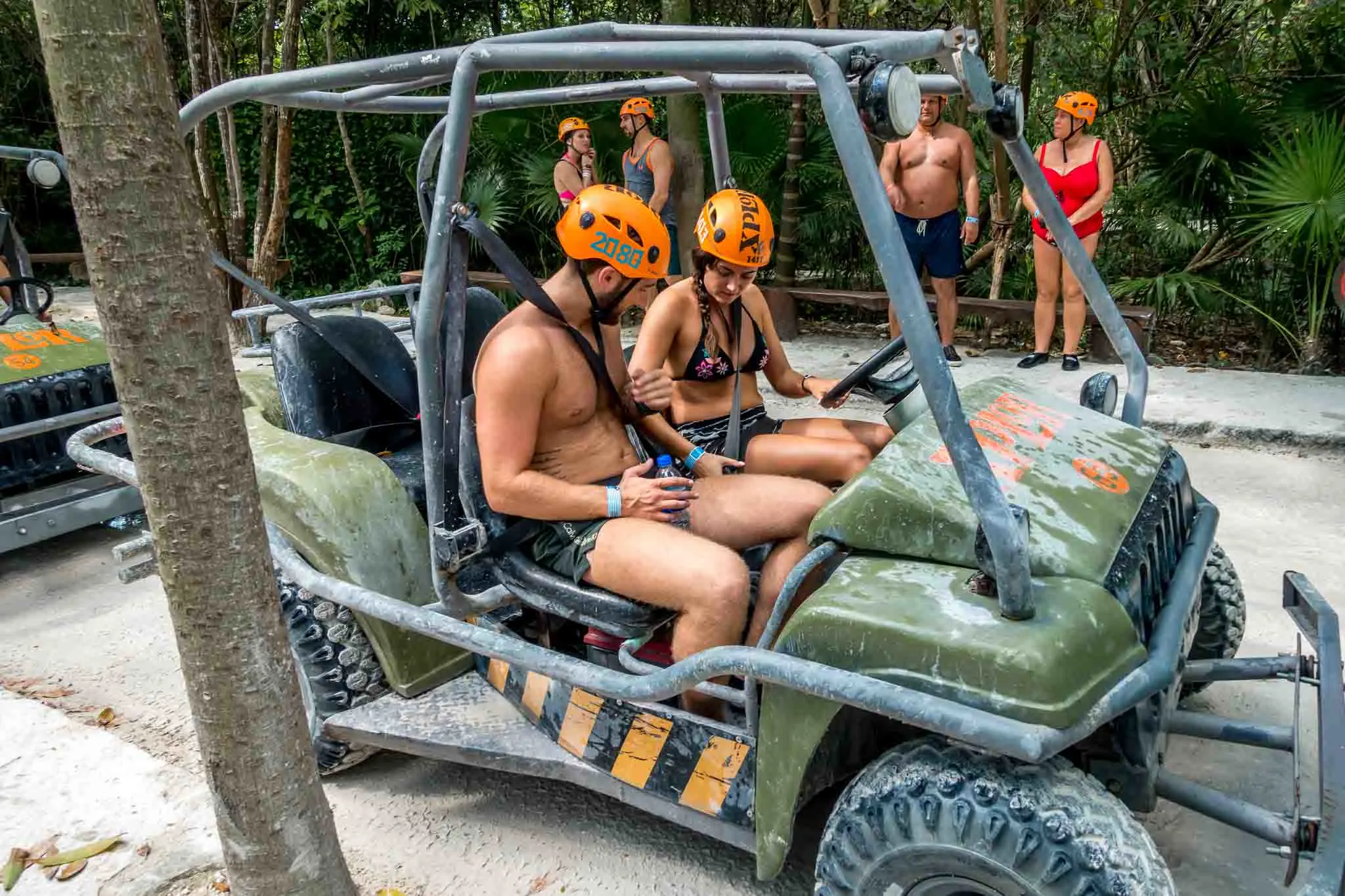 Recharged from lunch, it was time for us to check out the amphibious vehicles. With big tires and elevated engines to avoid the water, the vehicles are a cross between a 4×4 and a suped-up golf cart. And they're not called "amphibious" for nothing.
Over the course of the 6-mile exploration, we went down rocky jungle labyrinths into water-filled caves and across bridges where the river nearly overtook the road. It was a great adventure and definitely unlike anything we've done at a theme park before.
After our ride in the amphibious vehicles, it was time for our visit to end much as it began—with a trip down an underground river. This time, it was a swim.
The 430-yard-long river is full of twists and turns that open into magnificent caverns. As with the first river, there is plenty of light to see by, but we still had the distinct feeling of being in an underground oasis.
As we floated our way along through the calm water, we again passed ancient stalactites and rocky surfaces as we wondered what new sight would be around the next corner. (These rivers have more rocky features than the underground rivers at Xplor's sister park Xcaret and are completely enclosed).
The most amazing part of the river swim came right at the very end. As the river dead ended, we swam through a waterfall into a circular room where light poured in from above ground. Everyone just floated there, mesmerized by the light and the rushing water that drowned out all other sounds.
But ultimately it was time to depart. A bit damp and a lot tired, we left the river and gathered our things, ready for the quick trip back to our hotel, Occidental at Xcaret Destination. And a nap.
Is Visiting the Park Worth It?
We absolutely loved Xplor. In fact, we enjoyed it so much, we've been twice on different trips to Mexico. All the activities are fun and the food and drinks are great. For us, the zip lines and swimming in the underground river were the highlights. Even if you're more a lie-on-the-beach kind of person, you're basically guaranteed to have fun.
The activities generally appeal to all age groups, so the adventure park is also a great place for kids, teenagers, and adults. It's really a perfect family vacation destination, unless you have very young kids.
When people are debating whether to visit one of the Playa del Carmen theme parks, they are often deciding between Xcaret or Xplor. We've been fortunate to visit both parks twice as well as their sister parks Xel-Ha, Xenses, and Xenotes. For (much) more detail, you can read our reviews of the other parks in these articles:
Visiting Xplor Adventure Park
Hours
Xplor adventure park is open Monday through Saturday 9:00am-5:00pm. At 5:30pm it reopens as Xplor Fuego, featuring the same awesome activities dramatically lit at night by torches and fires.
Getting Here
The park is only about 5 miles from Playa del Carmen. If you don't have a car, you can take a taxi or book transportation when you buy your tickets through the website.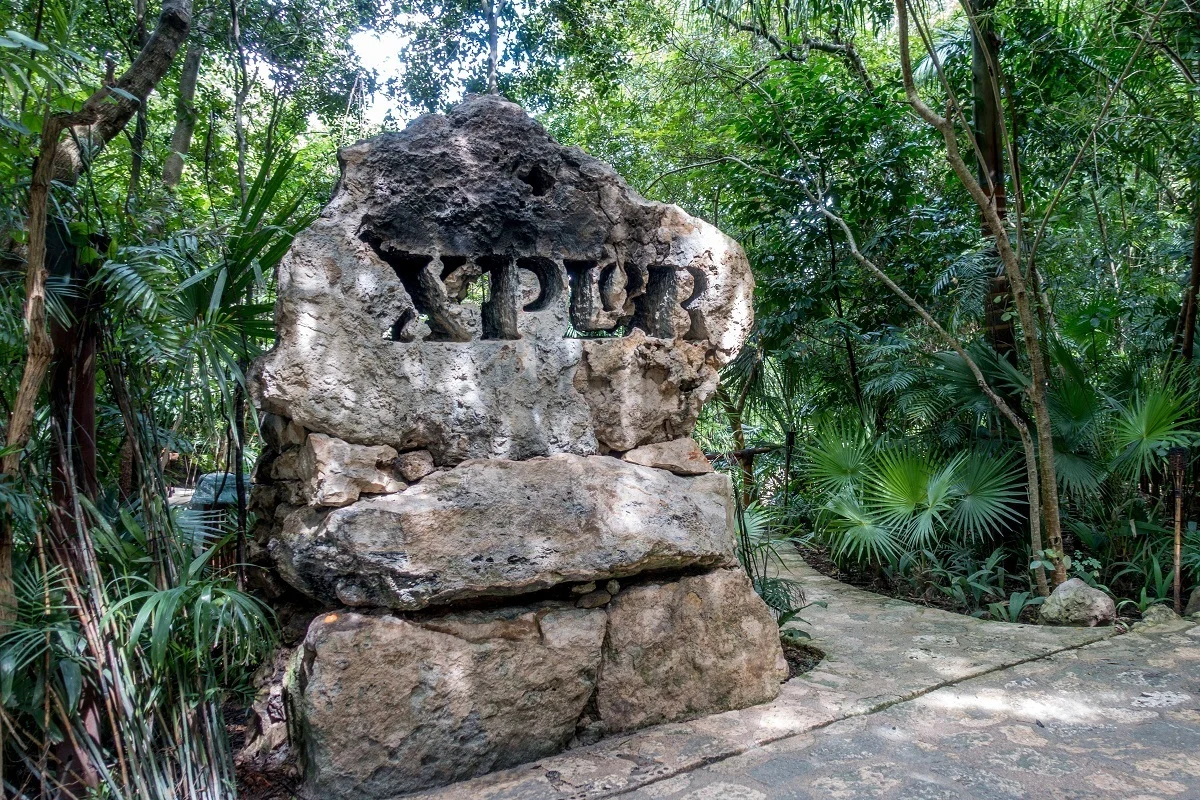 Prices
Regular-priced tickets costs $130 for adults (age 12 and older) and $65 for children (age 5 to 11). You can save by booking your discounted tickets online and by booking tickets at other Grupo Xcaret parks or tours with them.
The price includes:
Buffet lunch and non-alcoholic drinks
Life jacket, helmet, paddles, and all activities
Recommendations
Bring a t-shirt to avoid any discomfort from the zip line harness on bare skin. A dry change of clothes and towel will also be useful.
Water shoes are also highly recommended due to going in and out of the water and the rocky surfaces of some attractions.
To protect the environment, Xplor requests that guests only use natural sunscreen like this
Bring cash or a credit card if you wish to buy photos or souvenirs.
Where to Stay
The Occidental at Xcaret Destination is ideally located for visiting Xplor and any of the other parks. The resort offers five pools, sports facilities, scuba diving excursions, and a private beach area, among other amenities. It is located within about five minutes of both Xplor and Xenses parks and adjoins Xcaret ecopark. Xel-Ha is just 15 minutes away. Check current prices for the Occidental at Xcaret Destination here.
We were the guests of the park. All opinions of the adrenaline-inducing are our own.
Laura Longwell is an award-winning travel blogger and photographer. Since founding Travel Addicts in 2008, she has written hundreds of articles that help over 3 million people a year get the most out of their travel. In that time, she has visited nearly 60 countries on 5 continents, often returning to favorite destinations over and over again. She has a deep love of history, uncovering unexpected attractions, and trying all the good food a place has to offer.
In addition to Travel Addicts, Laura runs a site about her hometown of Philadelphia—Guide to Philly—which chronicles unique things to do and places to see around southeastern Pennsylvania. Her travel tips and advice appear across the web.