When I first suggested that we visit Norway, Lance was a little dubious. Admittedly, it wasn't a place that's been on our radar for years. But, as soon as I showed him photos of the spectacular Norwegian fjords and Bergen's picturesque old town, no more convincing was needed. We were ready to plan our Norway trip, starting with our own DIY Norway in a Nutshell tour.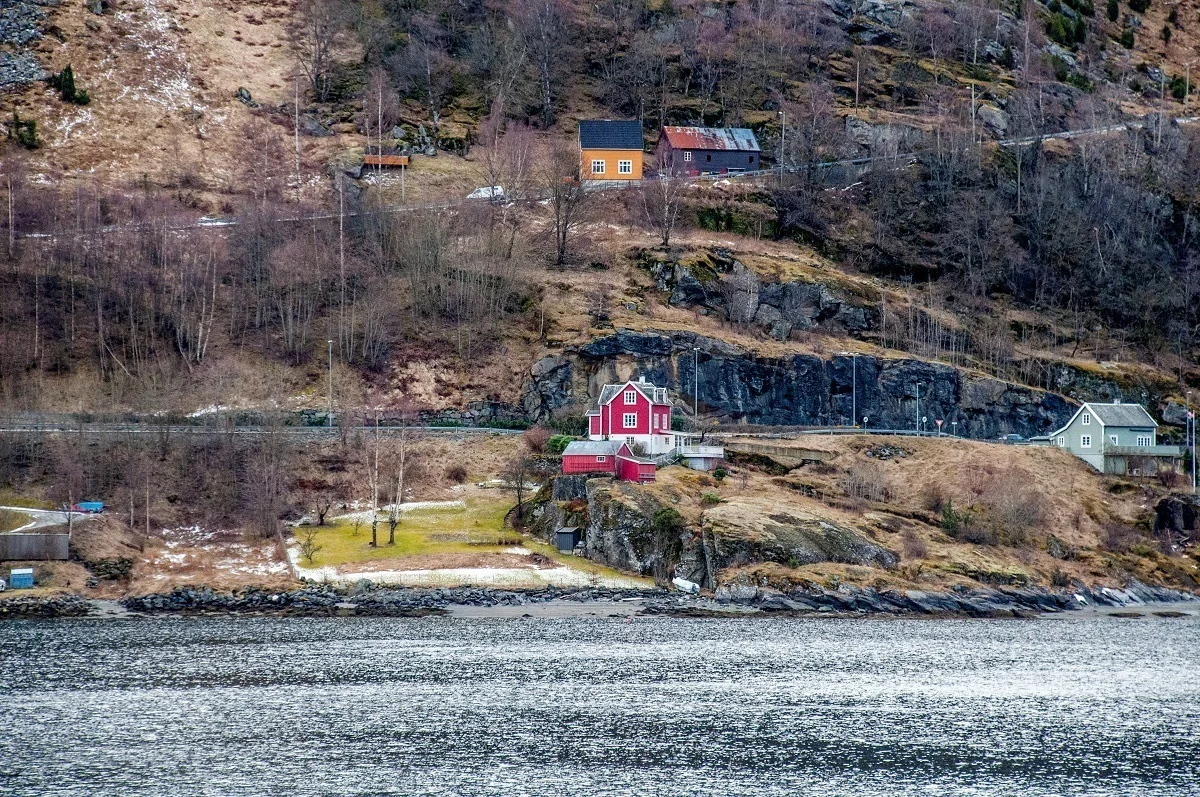 What is the Norway in a Nutshell Route?
Norway is 1100 miles long—a huge country with lots of amazing natural features and things to see, and not all of it is easy to reach. Plus, not everyone has weeks of vacation to explore the fjords, islands, villages, and cities. Thus, there is "Norway in a Nutshell"—a route that stretches from Oslo to Bergen that provides a snapshot of some of the gorgeous things Norway is known for.
Along the journey, there are raging waterfalls, colorful fishing cabins, and millennia-old gorges known as fjords that were carved when the Earth was a much younger place. This trip lets you see them all relatively quickly and easily, which is why it's one of the most popular Norway tourist routes.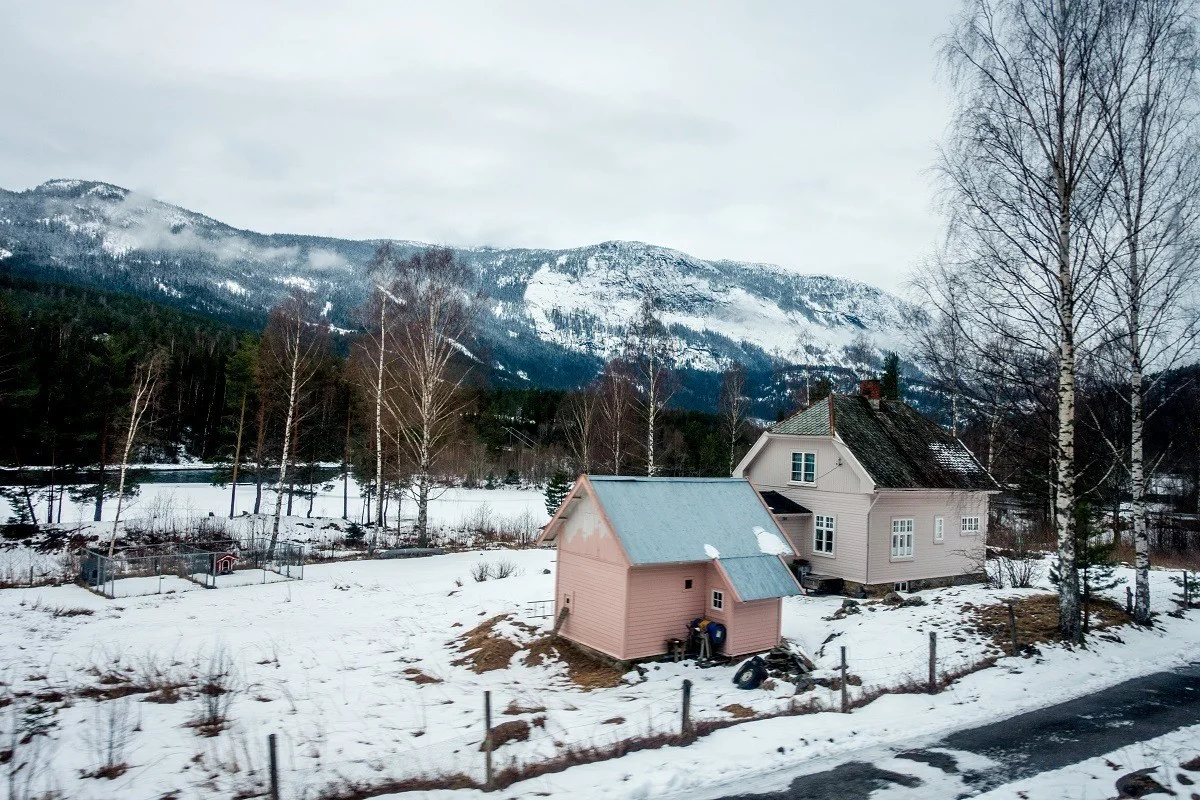 Norway in a Nutshell isn't actually a guided tour, which is a common misconception. It's simply a collection of tickets for public transportation that have the visitor go from point A to point B over several different segments and methods of travel. It's super convenient, but like lots of things in Norway, it can be on the pricier side. For us, there was no reason not to handle the tickets ourselves and save a few dollars to use for our fabulous dog sledding and Northern Lights excursions later in the trip.
The typical route is from Oslo to Bergen. It begins with a train ride from Oslo to Mydral followed by an excursion on the historic Flam railway. In Flam, things get really exciting when you board the ferry for a two-hour ride through the fjords to Gudvangen. From there, a combination of a bus and train take you to Bergen, Norway's second largest city.
When you plan the tour on your own, you can customize (to a degree) what to see and in what order. Some people do the reverse route from Bergen to Oslo while others do just part of the journey. Many people go all-in and do the full round trip.
While the itinerary is pretty flexible, it's also long. We discovered that leaving Oslo shortly after 8am wouldn't get us into Bergen until about 9:30 that night.
We wanted to see everything possible along the trip without being super exhausted due to jet lag. We also didn't want to miss the beautiful scenery because the sun had already set. So, we decided to break up the trip with a stop for the night in the harbor village of Flam. If your Norway trip itinerary doesn't allow that flexibility, you can book everything for the same day.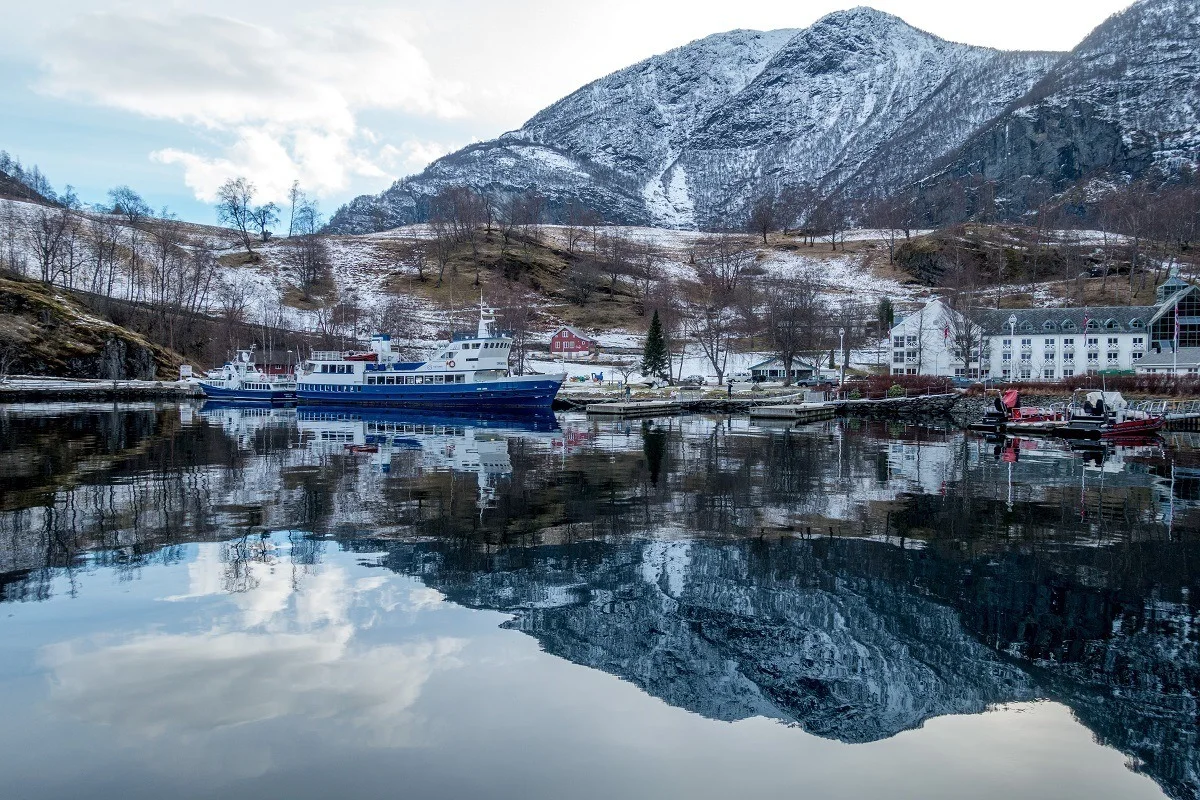 How to Plan the Tour on Your Own
We started our planning by looking at the Norway in a Nutshell website to get an idea of the timing for each leg of the trip as well as beginning and ending times for the segments. Using that information, we visited the websites for the train, ferry, and bus companies to confirm the schedules and book our own tickets.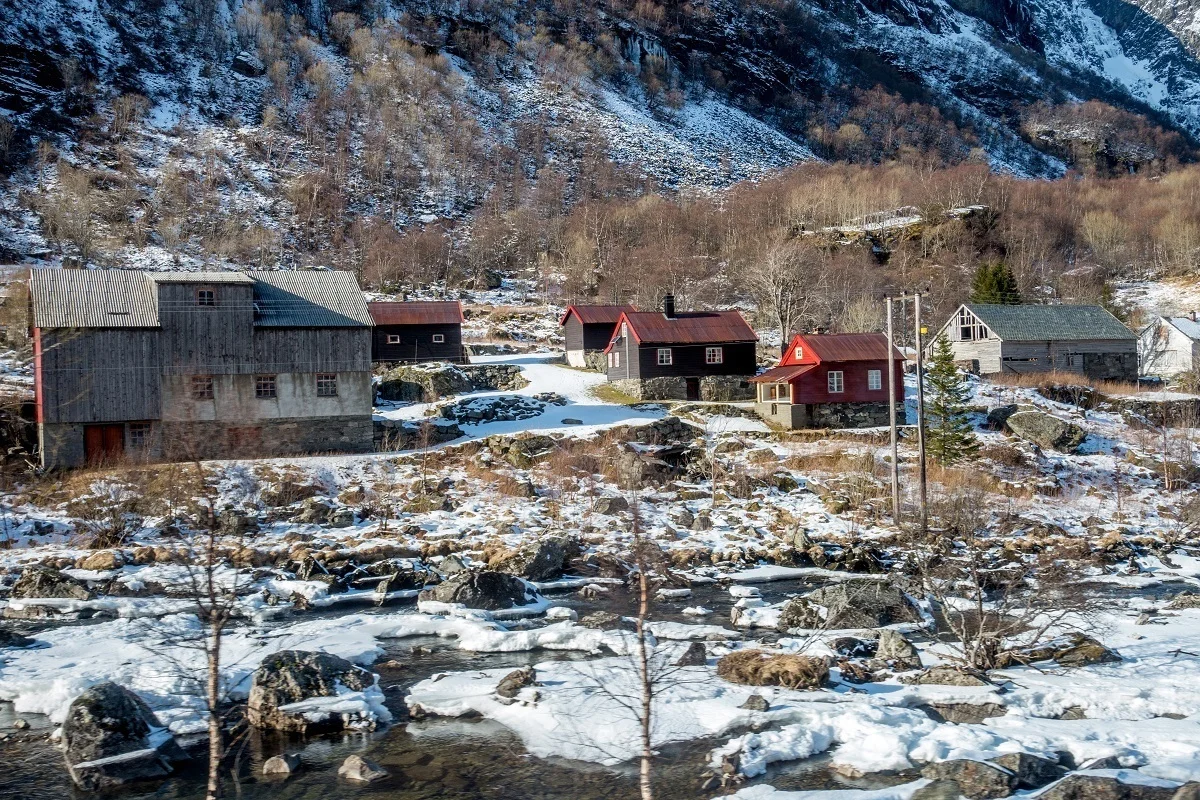 Oslo to Flam trains
The easiest part to book was the train. The trip from Oslo begins at 8:25am and lasts for 6 hours with a 29-minute stop in Mydral to transfer to the Flam Railway. Seats are reserved until the Myrdal stop, and you can select a seat in advance.
From Myrdal to Flam, you will need to take any seat that's available. If you book your train tickets particularly early, you can get cheaper "saver" advanced fare tickets. We got pdf tickets, which we printed at home for ease.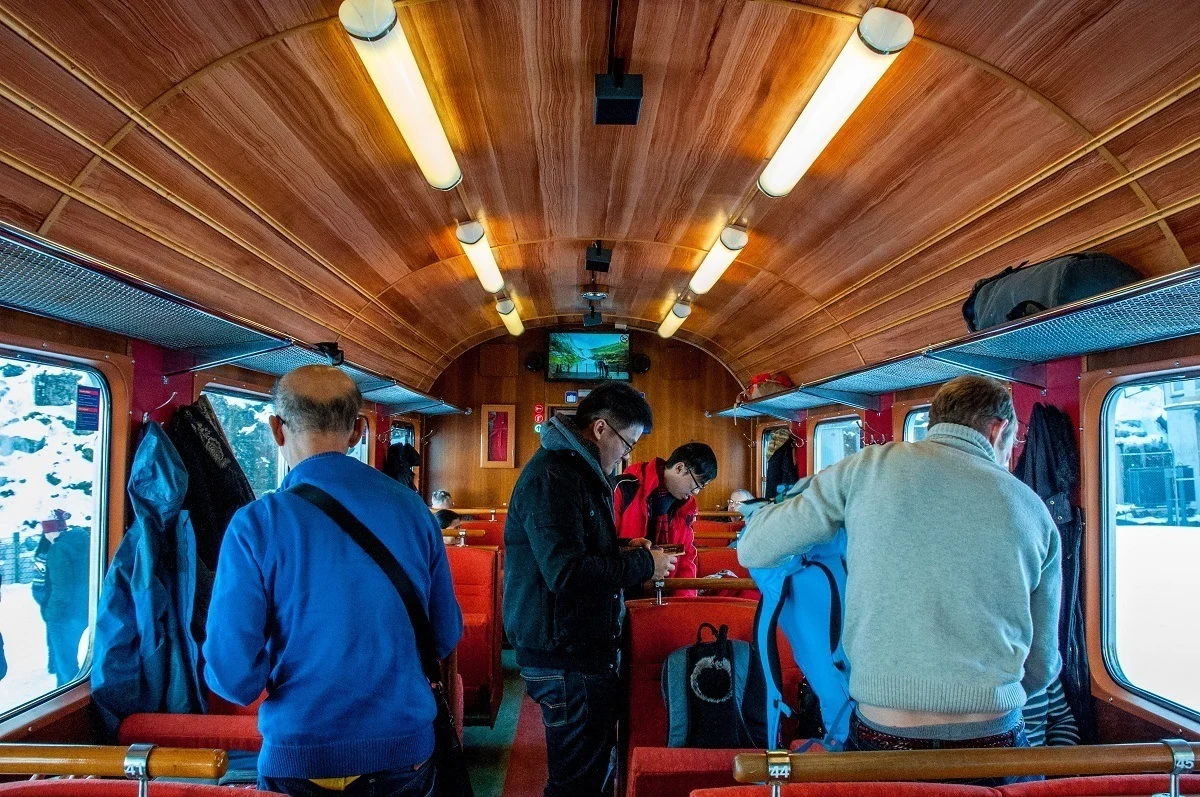 We found the views to be best on the left side of both trains, but I'm not sure it makes too much difference. On the Flam Railway—one of the highlights of our Norway itinerary—there are no reserved seats and people move back and forth to take photos on both sides of this old-fashioned steam train. No matter where you sit, you will have great views of some of the prettiest landscape in the world.
There are ravines dotted with houses all the colors of the rainbow, vast mountains covered in evergreens, sweeping vistas, and people doing all manner of outdoor activities. It's an absolutely gorgeous journey as you make your way through 20 tunnels to the village of Flam.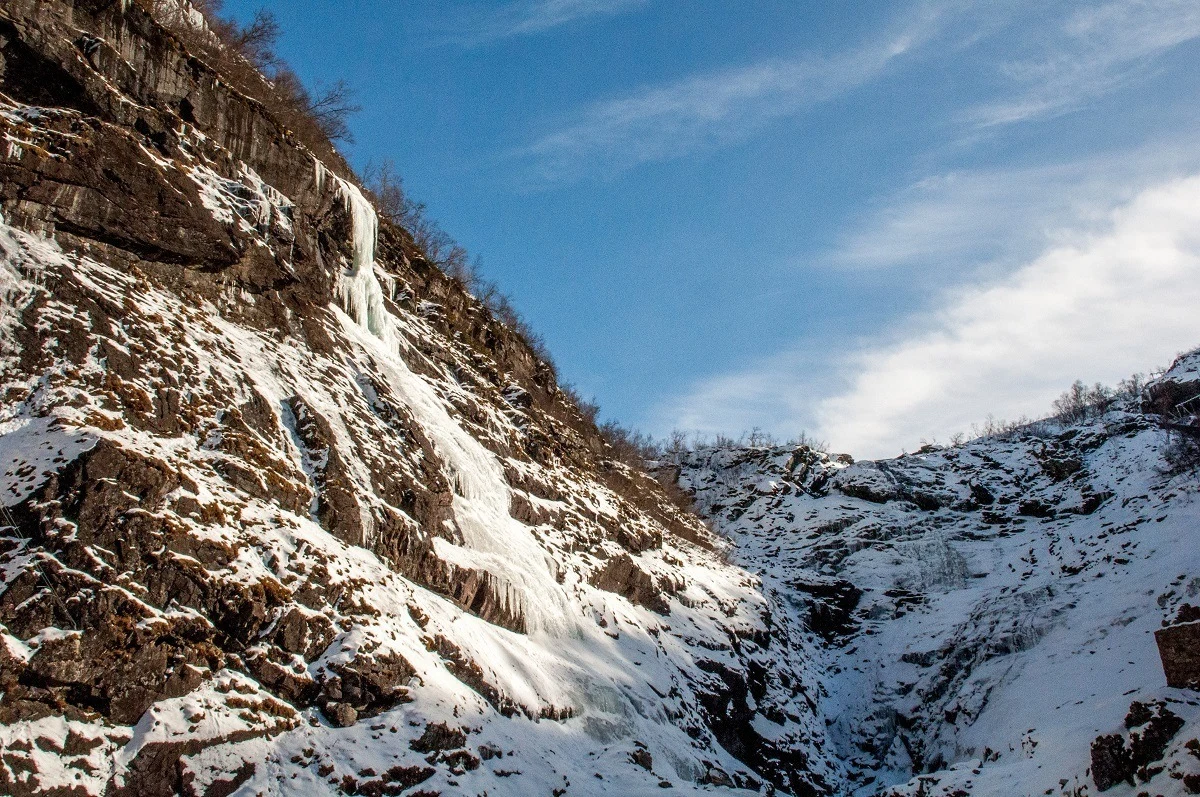 With only 350 residents, the village of Flam regularly fills with many more visitors than people who actually live there. Though there are cycling, hiking, and other outdoor activities when the weather is warmer, it's a fairly quiet place in mid-winter, and that's exactly what we were looking for.
After wandering around a bit in the afternoon and trying to take photographs of scenery our cameras couldn't do justice to, we visited the local craft brewery and restaurant attached to our hotel, Flamsbrygga. Lance tried some of their craft beers and we indulged in food fit for Vikings, which was perfect for the cold winter evening.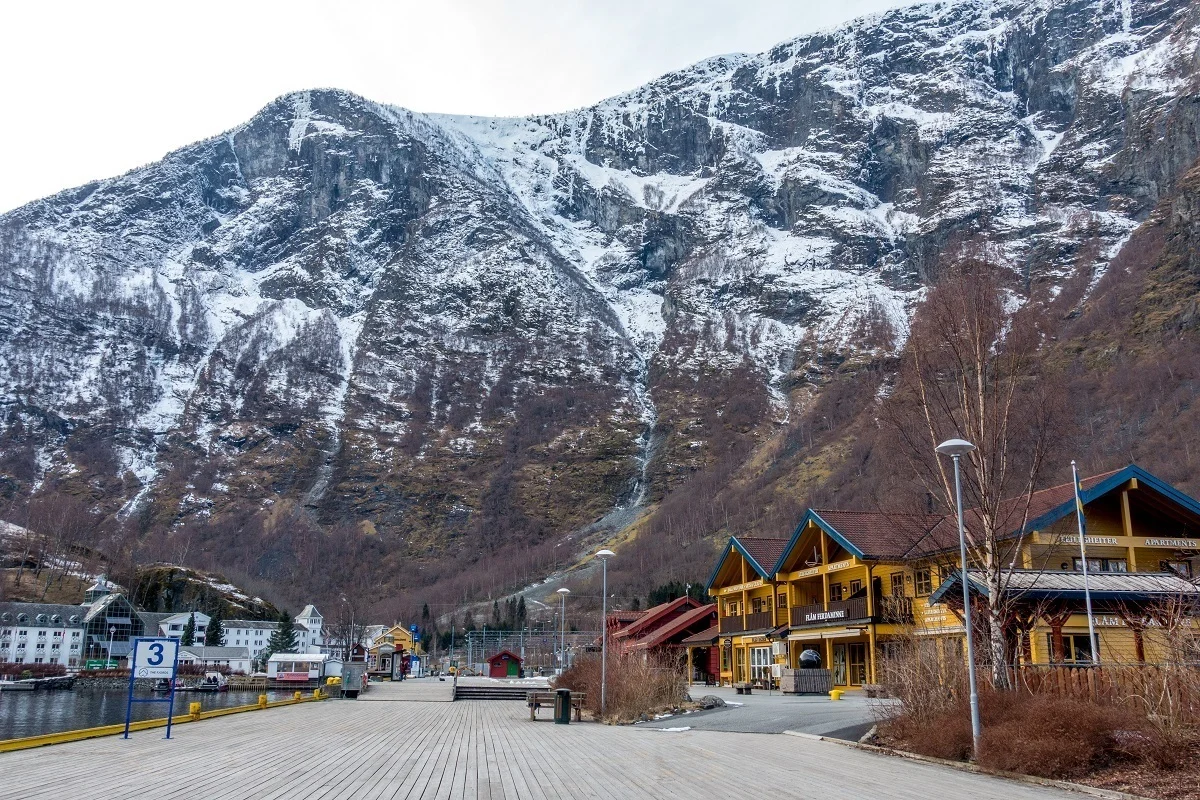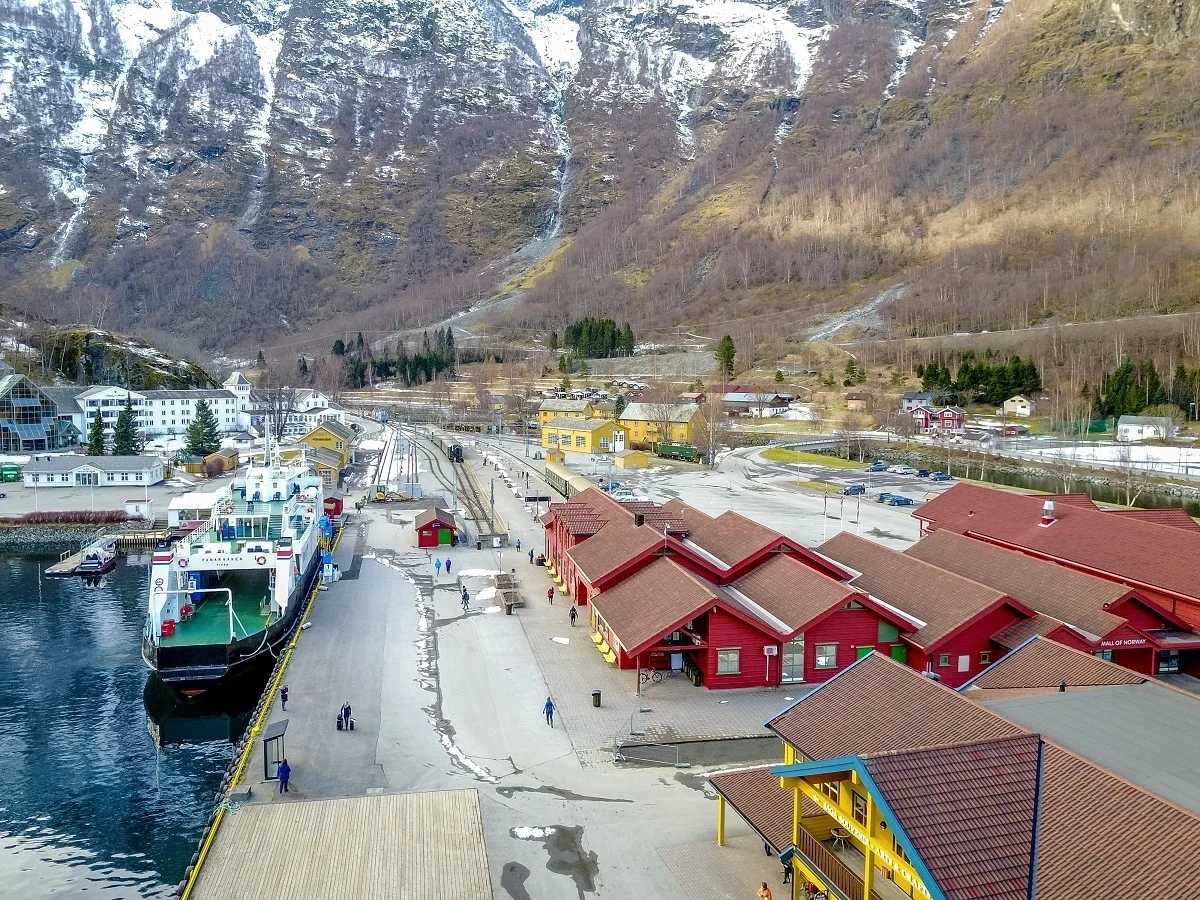 Flam to Gudvangen ferry
The afternoon we arrived in Flam, we made a quick stop at the tourist information center to buy ferry tickets for the Naeroyfjord tour the next morning to complete the next leg of our Norway in a Nutshell DIY trip. In high season, this is definitely something you'll want to do ahead of time on the Norway's Best website.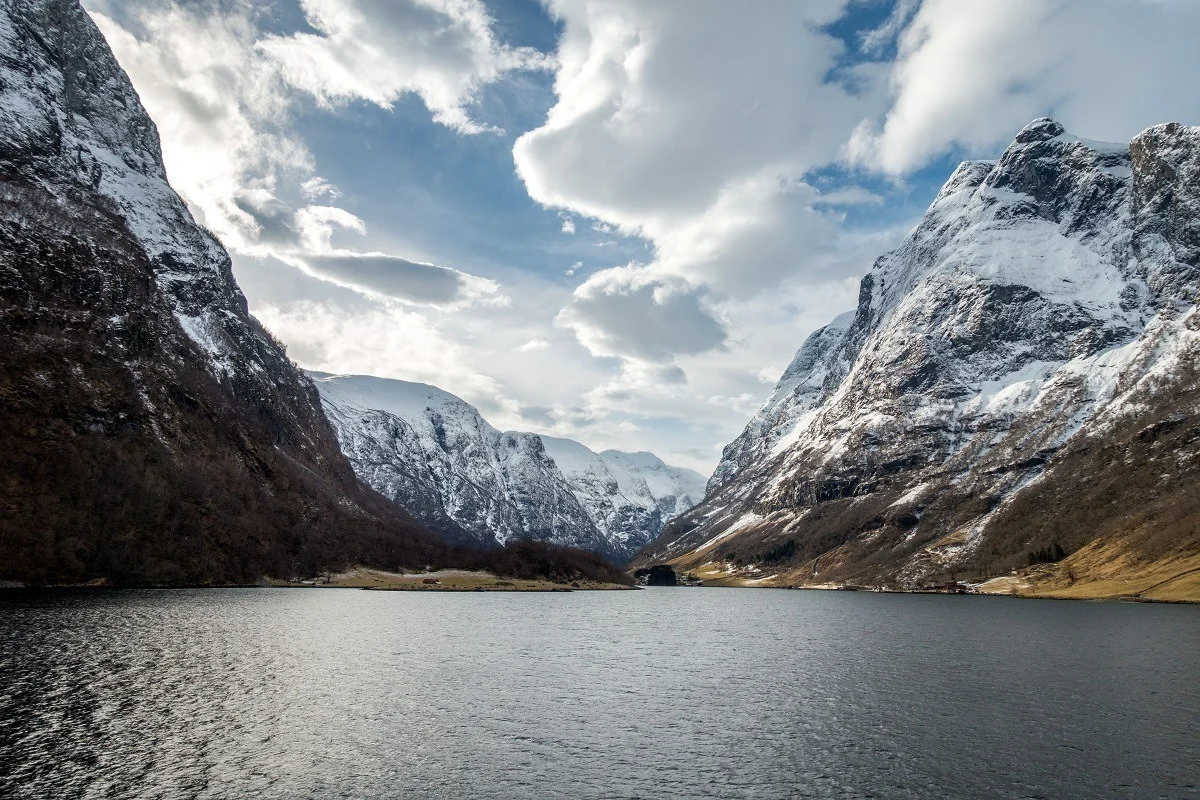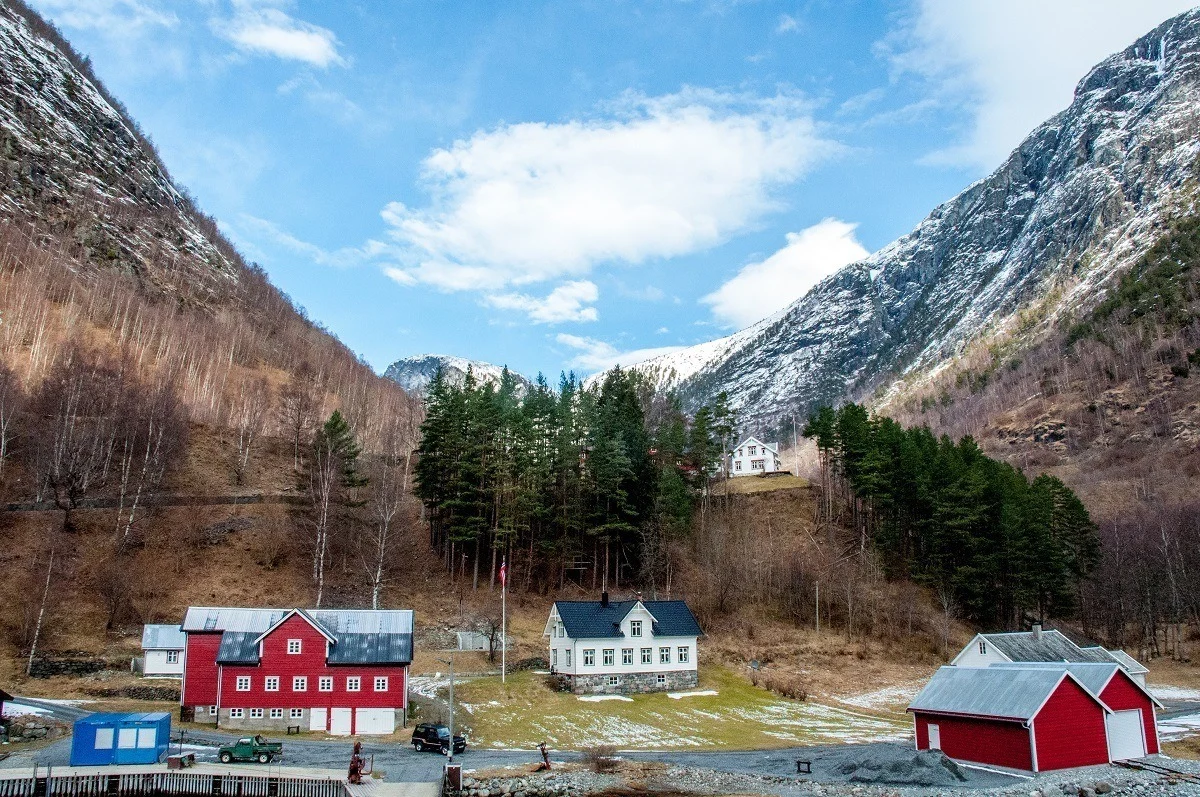 The Naeroyfjord tour, which goes from Flam to Gudvangen, visits one of the longest and deepest fjords in the world. It's been recognized as a UNESCO World Heritage Site along with another Norwegian fjord called Geirangerfjord.
Since we stayed the night in Flam, we got the 9:30am ferry and were able to watch as the sun crawled its way across the sky lighting up the crevices and inlets along our trip. (In the summer, there are more ferry options and the times are different.)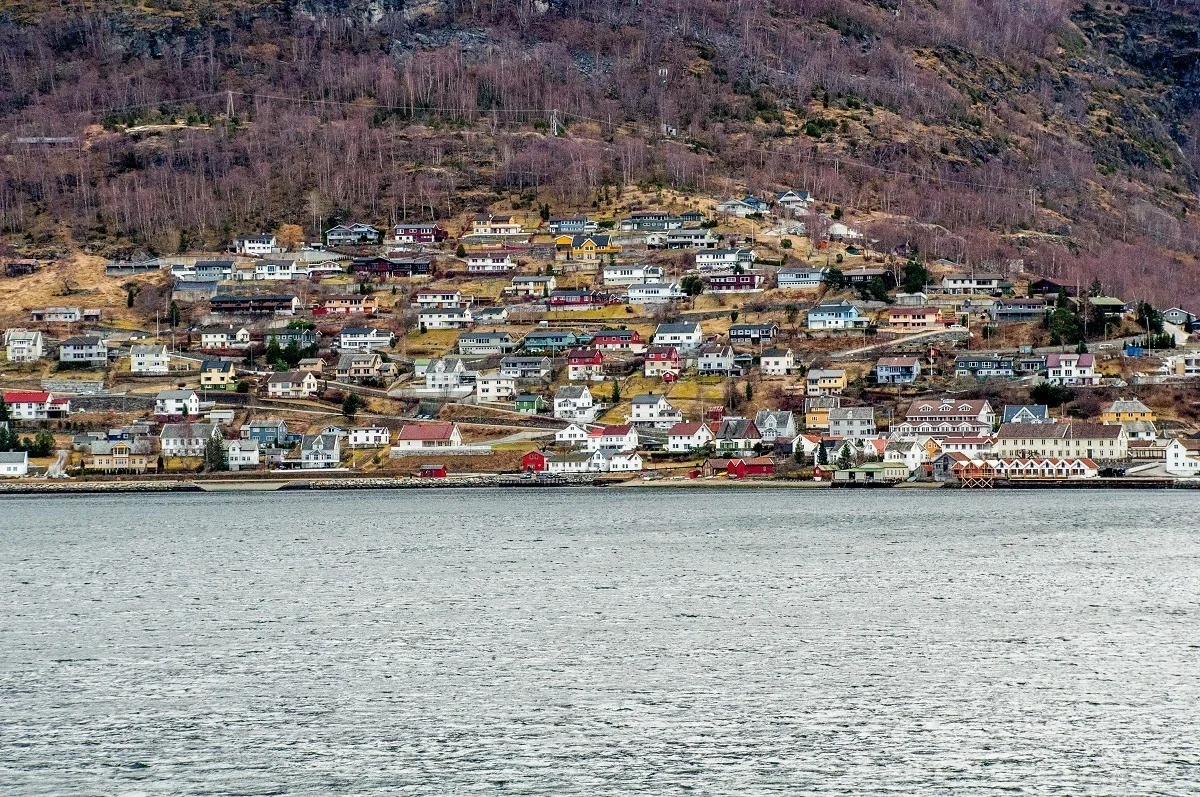 The scenery along the two-hour fjord journey is the most dramatic thing we've ever seen. On either side of the ferry, mountains rose up nearly 5000 feet as we sliced our way across the frigid water.
Laced with snow in some places and waterfalls in others, the cliffs and craggy mountain slopes were epic.
At two points along the way, we stopped to pick up people from brightly-colored villages even smaller than Flam. The ferry expertly turned and bent to make its way to the tiny port stops, and we marveled at every moment.
As beautiful as the Flam Railway trip was the day before, nothing could hold a candle to the fjords.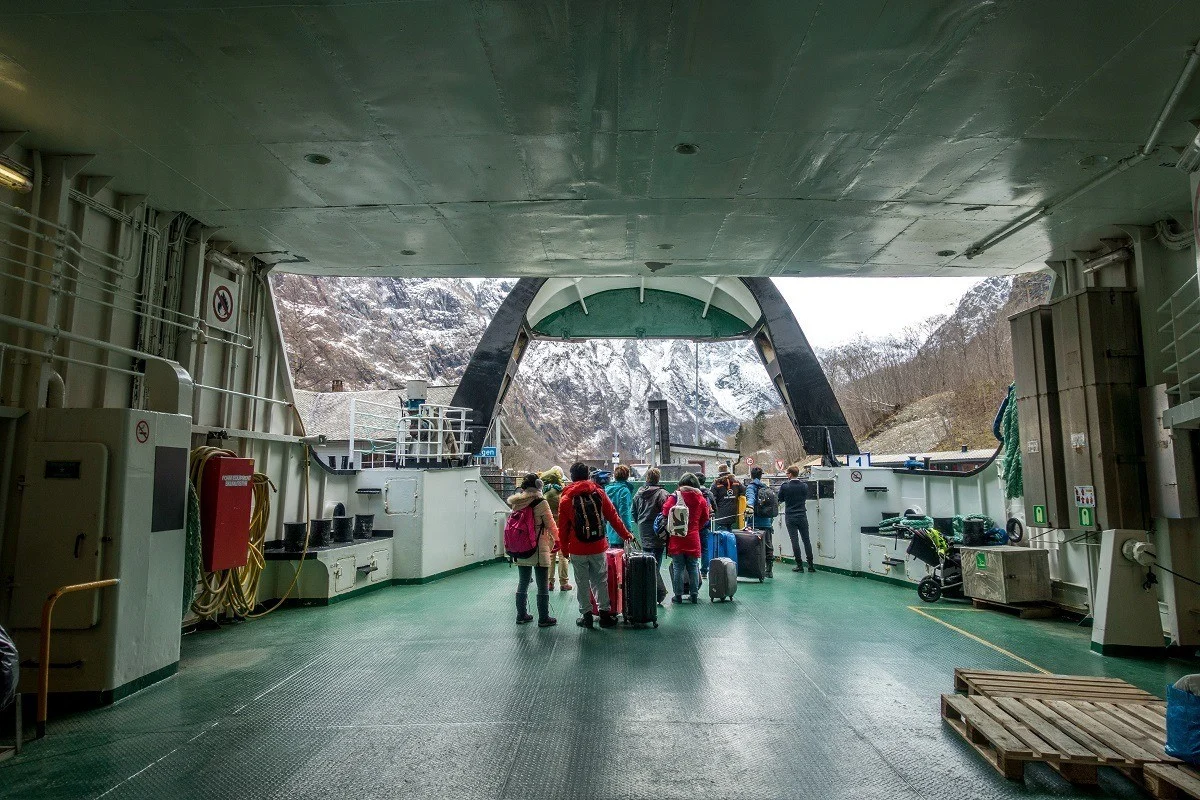 Gudvangen to Voss bus
Our visit to the fjords ended in Gudvangen, and transferring onward couldn't have been simpler. Just a few steps from the port (Gudvangen kai/ferjekai), bus 950 to Voss (Voss stasjon) was already waiting for us.
We had about 20-30 minutes to grab a snack at the combined cafeteria and gift shop at the port and easily bought our bus tickets on board. It's a local bus and the schedule is available on the Skyss website.
We had been a little worried about whether there would be enough seats and how the transfer would work. The reality is that this route—whether or not you purchase the package through the company—is built for tourists. It's unlikely you'll run into a problem getting stuck on any of the legs of the trip.
For those really worried about a seat on the bus, you can buy tickets in advance from the kiosks around the area. Voss is in Zone E and Gudvangen is in Zone E1. Pick your time and pay. However, our understanding is that this doesn't guarantee you a seat. This is still a local bus.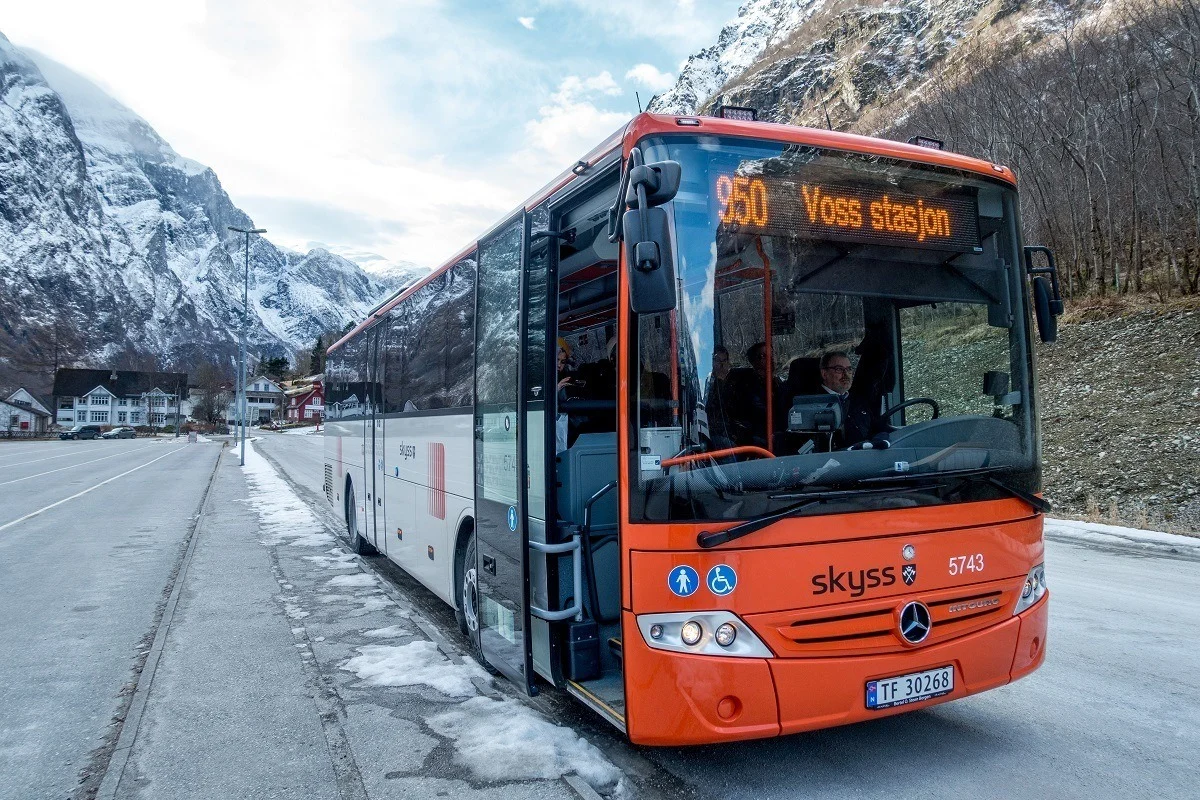 The bus ride from Gudvangen to Voss took 1 hour and 15 minutes. As with the other parts of the trip, the Norway scenery was lovely. There were houses to gawk at, waterfalls to see, and lots of picturesque countryside.
Voss to Bergen train
The bus from Gudvangen deposited us right on the doorstep of the Voss train station for the last part of the trip. It was time to head to Bergen. The train tickets from Voss to Bergen can be booked ahead online.
By the time the train to Bergen arrived in Voss, the sun was starting to sink lower on the horizon. For an hour and a half, we watched the landscape speed by our windows.
As with the earlier part of the trip, there was lots to see as we lost ourselves in the movement of the train and the landscape flashing by outside. Before we knew it, we arrived in Bergen, filled with anticipation for the next part of our Norway adventure.
DIY Norway in a Nutshell at a Glance
We saved a total of $90 (714 NOK) for both of us booking our own tickets with very little effort rather than buying the formal package. If you're short on time, that may not be worth it to you. For us, it helped finance a second night watching the Northern Lights, and that was priceless.