The green lady. The aurora. The northern lights. The polar lights. Whatever you call the natural phenomena, there is no way to do it justice and explain how beautiful they are. You've seen the photos online, but what is it really like in person? Here's our experience in Tromso and chasing the aurora in Norway. Below, we will share all of our northern lights tips.
If we're being honest, we really didn't know what to expect from our Tromso northern lights tour experience. We knew we wanted to see the lights, but beyond the photos on the Internet, we didn't know what it would entail. The reality is better than you could ever possibly imagine, but it can also be more challenging than you might think.
In the days and weeks before our trip to Norway, we were furiously consulting the aurora borealis forecast and it seemed that conditions looked favorable. Unfortunately, the Tromso weather forecast was not ideal for the entire region because clouds and snow being predicted. We were nervous whether it would be possible to see the polar lights at all.
As it turned out, our adventure was a mixed bag. On the first night, we met our driver and guide from Aurora Tour Tromso, and headed out of Tromso in an old Volkswagen bus passing Kvaløya Island and then taking the tunnel to Ringvassøya Island. There was dense cloud cover near Tromso and our guide (Karolina) felt the area out near Hansnes would be the best viewing area.
Between breaks in the clouds, we could see the aurora borealis in the background. At one point, we got a brief clearing and had 15 minutes of good visibility. It was very pretty and we were glad we went. But it didn't wildly impress us. It gave us a night of unfavorable conditions to practice our photography skills. (If you are interested in taking pictures, check out our Tips for Northern Lights Photography.)
The second night was a completely different experience. The guide, Geir Ytterstad of Aurora Photo Guide, met us at the main tourist information office in Tromso. We boarded his brand new mini bus, complete with leather seats. Instead of heading to the islands, we drove inland and south – following Route E8 (which is dubbed the Lapland Northern Lights Route which extends through Norway, Finland, and Sweden).
Our guide kept checking the cameras operated by the Tromso Geophysical Observatory of the University of Tromso on his smartphone. These cameras were absolutely key to identifying where there was no cloud cover and where there was auroral activity.
Along the drive, the aurora borealis emerged in vibrant colors (greens and purples) and we made an emergency stop for photos. Ultimately, we continued to side road near the Skibotn Astrophysical Observatory (about 20km from the border with Finland) which led us to a snow filled field located in a deep valley. In the darkness and deep snow, we were treated to a spectacular display of the green lady.
Experiencing the northern lights is not guaranteed. There's a reason why all the tour companies in Tromso use adjectives like "chasing," "safari," and "adventure." It is an adventure. Despite the sub-zero temperatures, the deep snow, and the cloudy conditions, our northern lights trip was one of the great experiences in our lives and is not to be missed.
Tips to See the Northern Lights in Norway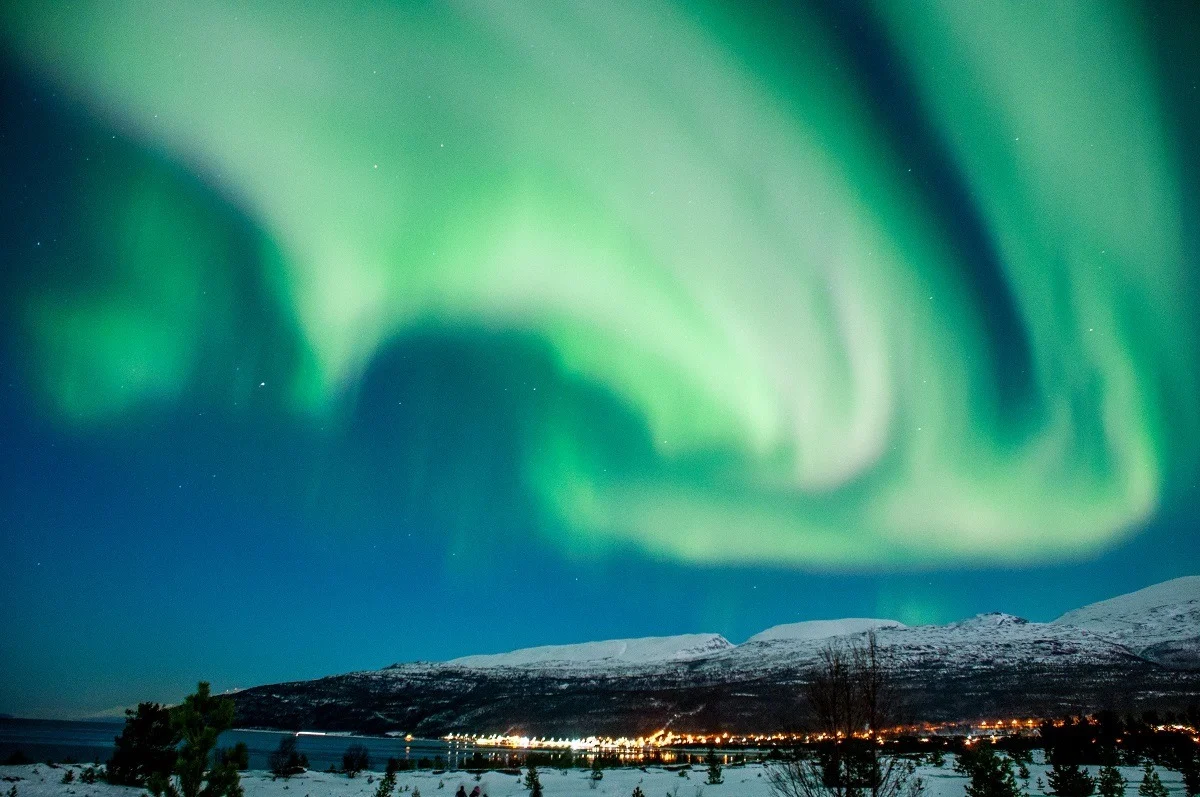 The Aurora is Unpredictable. When it comes to natural phenomena, there are no guarantees and this is also true of seeing the aurora borealis. Being able to see the northern lights is dependent on the presence of the aurora in the atmosphere (usually coinciding with a period of solar flare activity).
Beyond that, you need dark, clear nights with minimal moisture in the atmosphere and the Norway winter weather is notoriously finicky. Because the aurora is unpredictable, you should plan on chasing the northern lights in Norway at least a couple of nights in a row.
Check our our Northern Lights FAQ for more information on these mysterious dancing lights!
An Organized Northern Lights Tour May Be Your Best Bet. While we are big fans of independent travel, taking a tour may be to your advantage. The guides know the area, can get you there safely, and are also invaluable in teaching you how to photograph the northern lights. A really experienced guide or tour company can make all the difference.
If you decide to go it alone, you will be fine. It is absolutely possible to rent a car and do a self-drive tour. There are several rental car options at the Tromso airport, including Europcar (you may also get a better price via AutoEurope). The roads in the region are in excellent condition, are well marked, and there are lots of spots to pull over.
You Need Patience. Weather conditions in the Arctic are unpredictable. You should be prepared to spend 6+ hours out in the elements (cold, wind, snow, darkness) to catch a glimpse. You need to be patient to see them.
Your Camera Sees Them Better Than You Do. We've all seen the incredible northern lights photos. The reality is that your camera sees the aurora borealis better than you will. This is because the camera sees spectrum's of light and energy that your naked eye can't. The camera than "translates" that into something you can see.
If you go to Tromso (or anywhere else) expecting to see massive streaks of green in the sky, you may be disappointed. On the first night, there were times when the aurora appeared as white, wispy cloudiness in the sky, yet the camera showed green swirls. This makes aurora borealis photography more rewarding: you participate in the process of creating the image.
Tips for Selecting Northern Lights Tours
If you decide to book a tour, here are some of the factors to keep in mind when selecting a tour company:
Pick a tour that matches your interests. Don't book a photography tour if you aren't interested in photography. On our northern lights photography tour, there were several people who only had smartphones, one person had a basic point-and-shoot camera, and two people didn't have a camera at all. They were pretty unhappy and probably wished they'd picked a better option.
Make sure your guide and driver are experienced. Do your research. No guide can guarantee a sighting, but it is helpful if they are experienced aurora chasers.
Select a tour that only accepts less than 20 people. Big buses can't get off the main roads and away from the highway traffic. If you really want to see the aurora, a northern lights shuttle bus isn't going be satisfying. If you absolutely must take a coach tour, you can book them here.
Many tour providers will have thermal outer suits for your use. However you should still dress warmly. You'll also be more comfortable in your own clothes. See our suggested Norway in winter packing list.
Tour providers always provide snacks – usually hot chocolate or tea and some kind of cookie or biscuit, but can also include sampling some Norwegian culinary delights like reindeer or the ubiquitous sweet, brown Norwegian cheese (gjetost). The local delights can be an acquired taste. If you have dietary restrictions (vegan, vegetarian, gluten free, etc.) you should let your provider know and also be prepared to bring your own snacks. Also, you'll likely be chasing the green lady for between 6-8 hours, you may want food.
Norway northern lights tours are extremely popular and book up far in advance. It is possible to get last minute or day-of tours, however you should book far in advance for the best guides and options. For day-of bookings, check with the Visit Tromso tourist information office in downtown where they have a big board showing availability for tours that day.
Have you been to Tromso, Norway to see the northern lights? What did you think? Share your experiences in the comments below.