Amsterdam is a dynamic destination year-round, full of unique urban parks, world-class museums, great food, and gorgeous historic sites. At the holidays, this grand city takes it to another level with seasonal performances, lively Christmas markets, and lights everywhere you look. Amsterdam in December is a dream.
We've had the good fortune to visit Amsterdam numerous times and always enjoy uncovering a little more of what the city has to offer. Here's a look at what to do in December.
Visit the Christmas markets
If you like Christmas lights, sweet treats, and shopping for souvenirs and gifts, there's no better place to go in Amsterdam in winter than the city's fun Christmas markets. While they are not quite as grand as markets in Germany or as unique as the cave market in Valkenburg, there is a lot to love about these festive destinations around the city.
Don't miss Ice Village in the heart of the city. Its 50 merchants create a fun environment full of shopping and eating with great views of the Rijksmuseum and close to lots of the top things to see. A little bit less traditional, check out Amsterdam Winter Paradise which is more of a fun-fair event with snow tubing, rides, performances, and more.
For something really unique, head to Westergas for the Funky Xmas market in mid-December. With distinctive vendors, circus entertainers, and a full food court featuring international dishes, there is nothing cookie-cutter here. When you visit, take the time to explore the complex of 19th-century buildings that were once the city gas plant and are now breweries, boutiques, restaurants, and a movie theater.
Appreciate the light show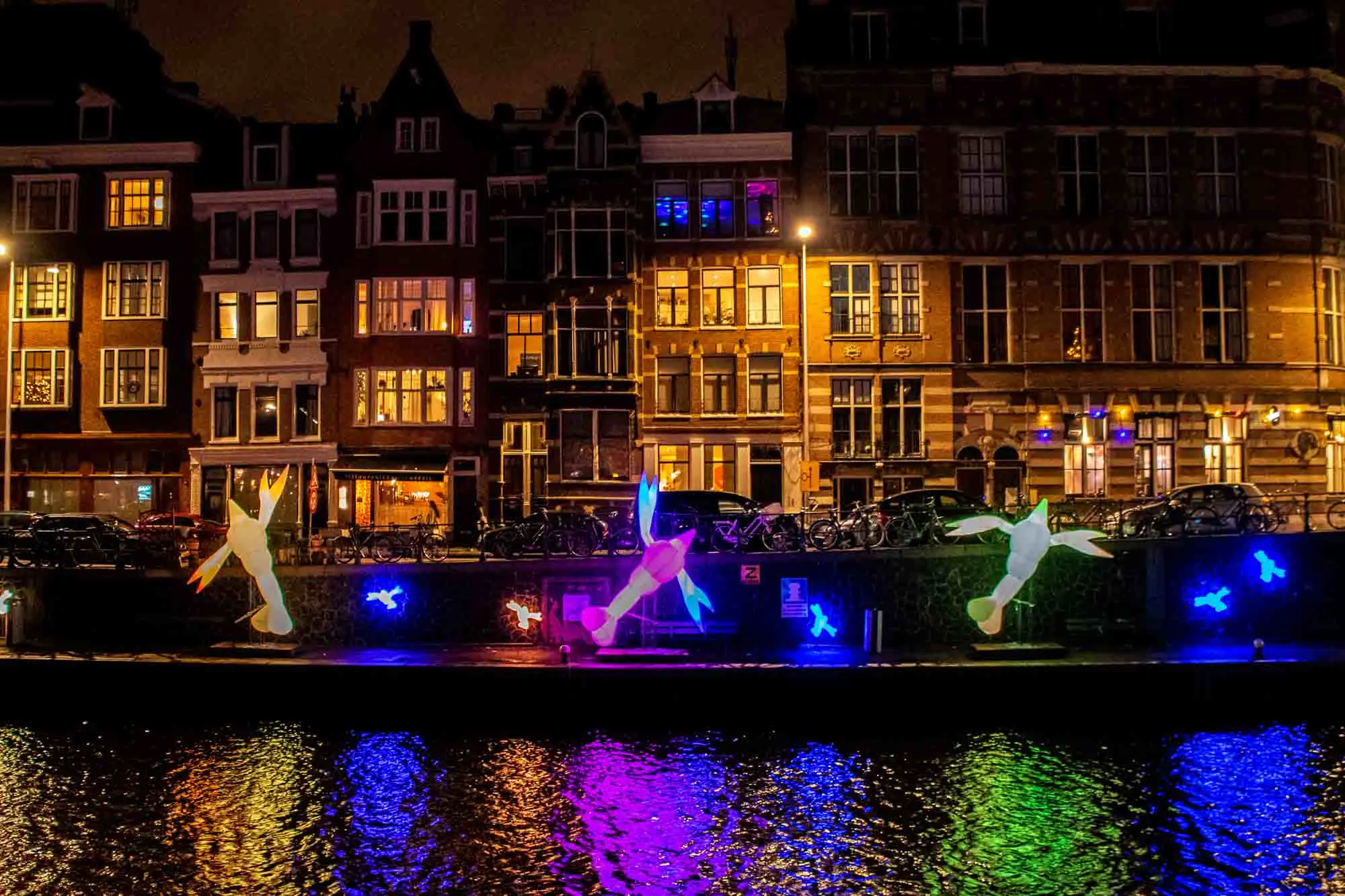 Every winter, the canals come alive with a series of magnificent art installations. The Amsterdam Light Festival—now in its 12th season—brings together artists from all over the world to create the striking displays. Twenty different works focus on a particular theme (this year, it's technology and artificial intelligence)—some are more literal, others wildly abstract.
The two ways to see the displays are on a narrated canal boat cruise or by following a digital map from the festival organizers. We've done both and recommend the walk if you'd like to have more than a minute or two to see the works. However, the cruise is convenient if it's rainy or you're not in a walking mood.
This year, the festival runs nearly two months from November 30, 2023 through January 21, 2024.
Go ice skating
Whether you're a skilled spinner or just learning to stand up without falling, ice skating is one of the top things to do in December in Amsterdam. The most popular rink is Jaap Eden in Park de Meer, which has indoor and outdoor spaces as well as a beginners' corner. Closer to the center, Rembrantplein has a rink where you'll find lots of locals and people learning to skate. In Museumplein, you can enjoy the picturesque rink or just people watch while enjoying a drink or snack at the bistro by the ice.
Take a canal cruise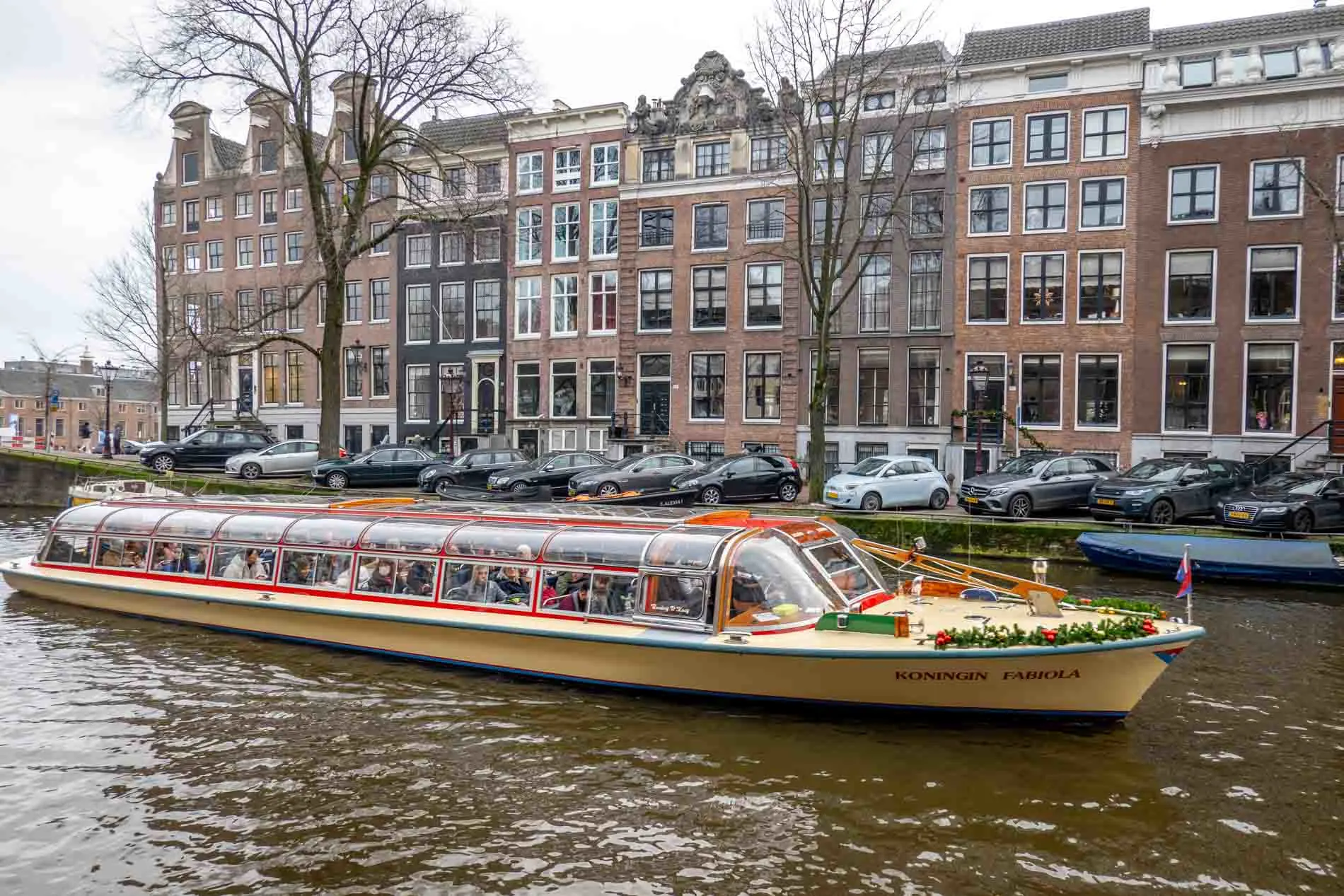 The city's most notable feature is its canals, and there's no better way to explore them than on a cruise. The cruise boats are covered and heated, so you're assured of being cozy for the 75-minute trip. You get to see Amsterdam from a unique vantage point and give your feet a break after a day of sightseeing at the same time. Boats leave from a few select points in the city, so find the nearest one and hop on.
Try olieballen
The Dutch donuts called oliebollen (literally "oily balls") are a favorite holiday indulgence. Crisp on the outside and soft on the inside, they're dusted with powdered sugar and often come peppered with raisins or sultanas.
Traditionally eaten at New Year's, olieballen are widely available throughout Amsterdam in December. The Dutch take them seriously—like pizza in Chicago or cheesesteaks in Philadelphia, there are frequent local rankings of the best ones, and everyone has their favorites. You'll find olieballen at food stands and bakeries, which often have signs letting customers know when the first ones of the day will be available, so you can ensure the treats are fresh and delicious.
See a show at Boom Chicago
From Seth Meyers and Amber Ruffin to Jordan Peele and the creators of Ted Lasso, Boom Chicago is known as the training ground for lots of funny people. Watching an improv and sketch show here is an interactive and entertaining experience where you might just get to see the next Jason Sudeikis.
Make plans to attend one of their shows (pro tip: reserve a couch, if you can), or pop into the bar for a festive themed cocktail in their over-the-top Christmas space.
Visit a museum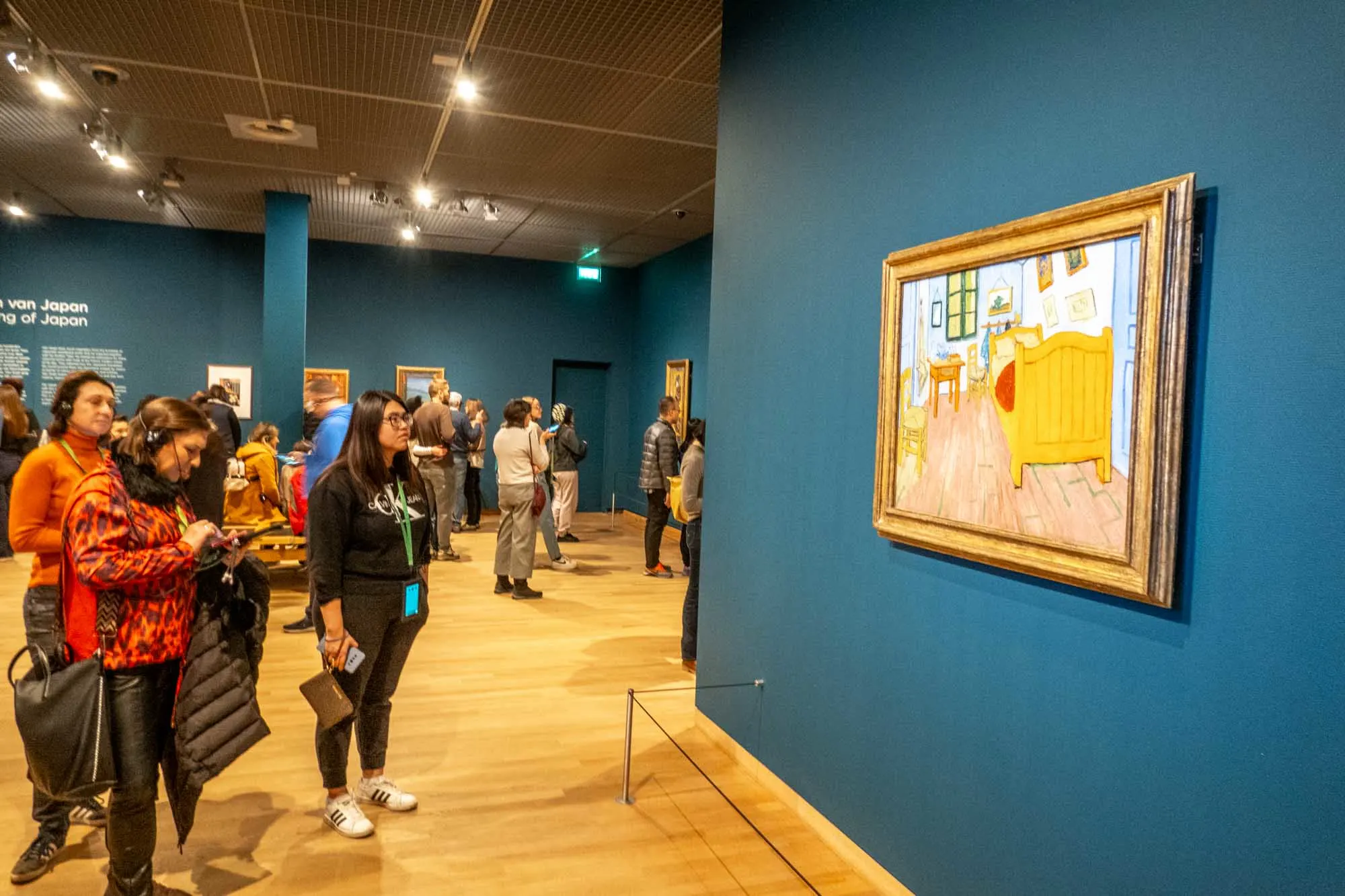 Amsterdam's rainy, chilly winter weather makes it an ideal time to take advantage of the city's world-class museums.
If you're interested in art, visit the Van Gogh Museum to see over 700 of Van Gogh's works plus paintings by artists who influenced him, including Monet and Gauguin. Across the square is the Rijksmuseum, which houses the works of Rembrandt and thousands of other artworks and artifacts from the 15th century to the present. For modern art, head to MOCO Museum for works by Andy Warhol, Keith Haring, and Banksy, among others.
For something a little less formal, check out the museums devoted to adult beverages. The House of Bols is an interactive cocktail museum where you'll learn about the 400+ year history of the Bols company and about genever, the traditional spirit of the Netherlands. The last stop is the bar, which features a wide variety of cocktails. In De Pijp, the former 19th-century Heineken brewery is the home of the Heineken Experience where visitors can learn about the company's history and taste its famous pilsner.
Keep an eye out for Sinterklass
The presence of Sinterklass is a unique Dutch tradition that begins in mid-November when the Santa-like character arrives by boat from Spain. He hangs out in the Netherlands until December 6th, when he departs, having left gifts in children's shoes.
In the meantime, you can see Sinterklass all over Amsterdam and the rest of the country. You may spot him walking in the streets, appearing at special events, visiting children in hospitals, or stopping in restaurants or shops. If you don't run into the man himself, traditional Sinterklaas candy is everywhere in town.
See the Christmas tree in Dam Square
The Christmas tree in Dam Square is synonymous with the city during the holidays. In an annual tradition, a massive tree from the German Ardennes is covered with an unbelievable 40,000 LED lights ahead of its stint on display downtown.
The annual lighting ceremony is a popular event in Amsterdam at Christmas with carol singers and musical performances. Food and drink stands ensure there is plenty of delicious food to keep attendees warm. Take a look at the lights at de Bijenkorf while you're there.
Wander the canals
Don't let the winter weather keep you away from experiencing the best part of Amsterdam—its historic canals. In all, 165 canals encircle the city, providing a distinctive landscape to get lost in.
As you wander, you'll find shops, galleries, grand hotels, stunning canal houses, and cafés. Stop and watch everyone cruising around or just marvel at the houseboats parked against the banks and wonder what it would be like to have a front row view of the water all the time.
Visit a brown café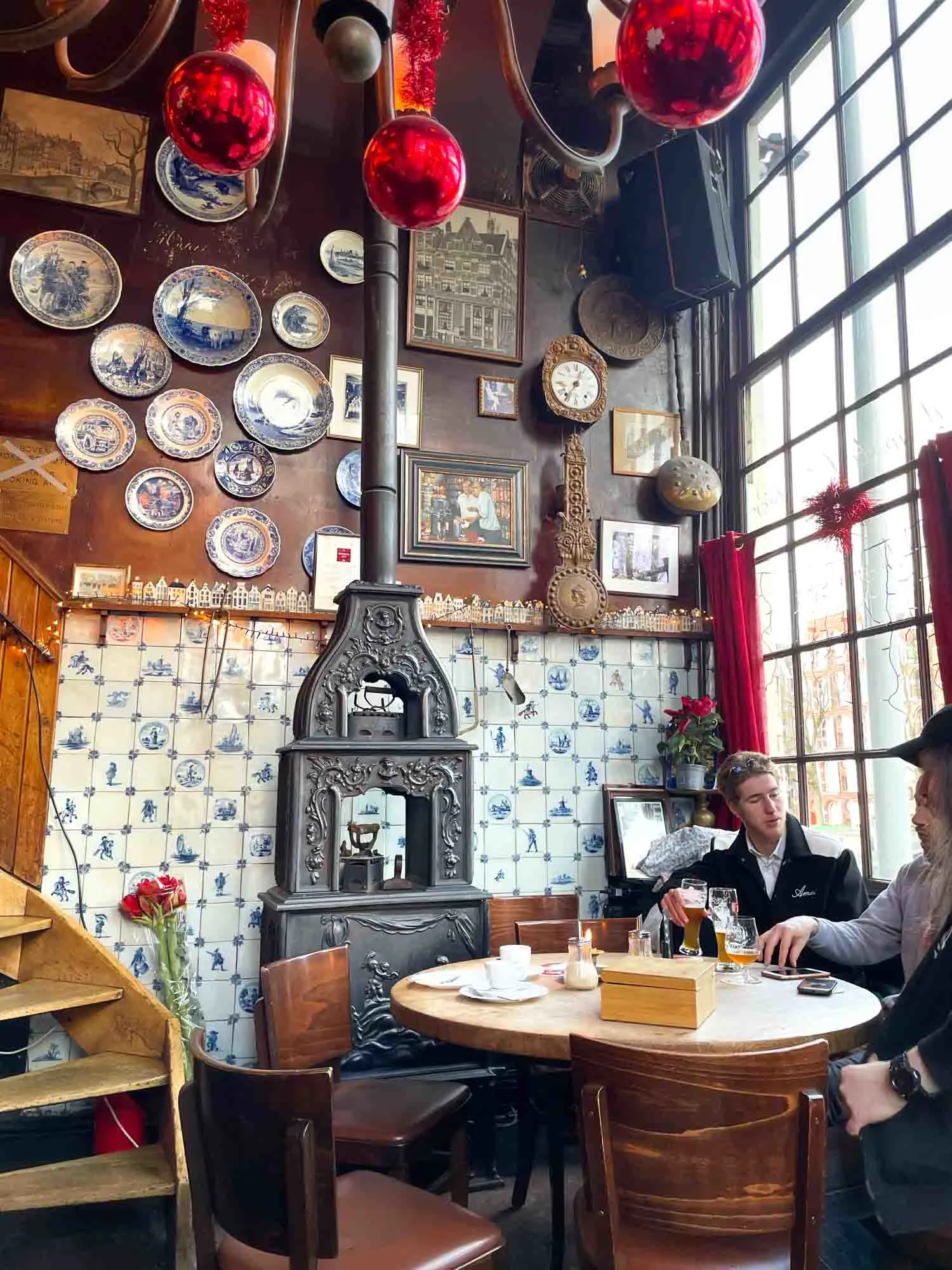 Brown cafes are to Amsterdam what pubs are to London—informal spots serving Dutch dishes like bitterballen or split pea soup and the occasional grilled cheese alongside Dutch beers, a couple of wines, and a genever. The cozy cafes are called "brown" for their dark wood interiors and the smoke stains on the walls from many, many years of cigarette smoke.
The history of many brown cafes stretches back hundreds of years, so looking at their architecture and learning their stories can be fascinating. Café Hoppe, which dates from 1670, is a national landmark, and Café Chris (1624) likely counted Rembrandt among its patrons. Visit Café Papeneiland (1642) for its Dutch apple pie whose family recipe is generations old and became world-famous thanks to a visit from Bill Clinton.
See the lights around the city
There are lights all over the city during the Christmas season. Streets have different decorations that stretch for blocks and some storefronts go all-out with creative festivity. You'll even find light sculptures in certain shopping districts or at canal intersections.
Utrechtsestraat off Rembrandtplein is well known for its many decorations and window displays. The Spiegelgracht and Albert Cuypstraat are also full of lights, and the shops of the 9 Streets have artistic displays in their storefronts. Keep an eye out as you walk around the city–there are so many fun things to see.
Go to a holiday concert
December is a perfect time to see concerts in the city. Every year, the schedule at The Concertgebouw is packed with seasonal music. You can hear Bach's Christmas Oratorio with the Netherlands Chamber Choir or see the Netherlands Philharmonic Orchestra perform festive favorites. The Choir of St John's College Cambridge also performs a long list of classic Christmas songs.
The Theater Carre also has some performances filled with fun. December 10 brings the 7th annual "Sing Along Messiah" allowing group participation in the famous Hallelujah chorus. Also, from December 20 through January 7, the World Christmas Circus returns with award-winning clown acts, musical performers, and acrobats from around the world. It is very popular, so plan ahead if you want tickets.
Take a day trip to Haarlem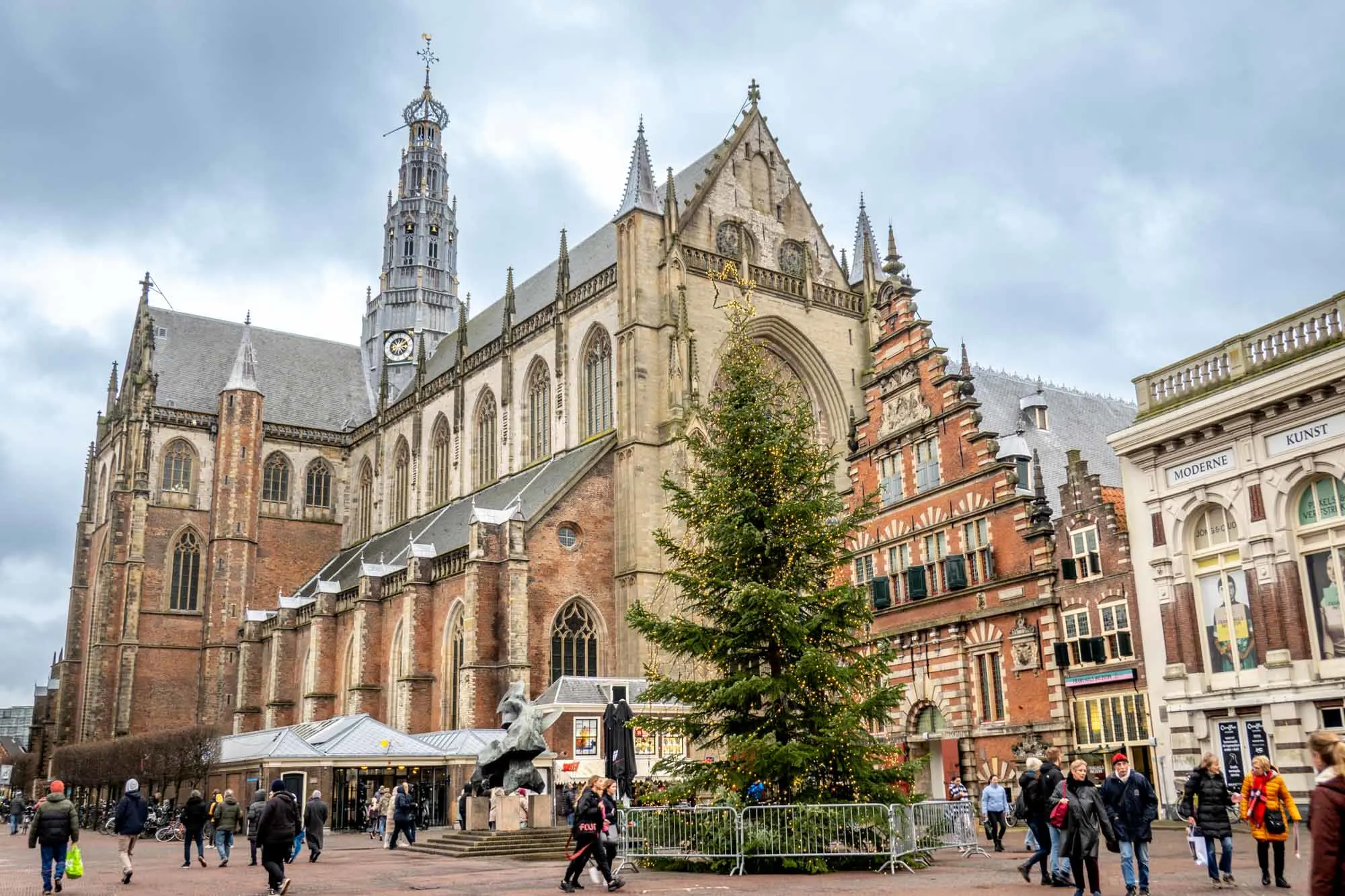 Only 15 minutes away by train, Haarlem is a beautiful place to visit and often lacks the crowds of Amsterdam.
The second weekend of December, Haarlem's Christmas market dominates the historic center with 300 market stalls plus several stages for live entertainment and music. Throughout the season, there are also lots of Christmas concerts, including performances of Bach's Christmas Oratorio by the Haarlem Mixed Choir and the Netherlands Chamber Orchestra performing seasonal music.
Outside of holiday activities, there is lots to do in Haarlem. You can tour the Corrie ten Boom House to see where the family housed people hiding from the Nazis or visit the stunning St. Bavo's Church where 10-year-old Mozart played the organ. Shop the cute boutiques in the "Streets of Gold" or head to De Jopenkerk, a brewery in a former church where you can sample local beers made from medieval recipes as the church's stained glass gleams above your head.