When most people think of Gettysburg, Pennsylvania, their thoughts are limited to the Civil War, battlefields, and The Gettysburg Address. I know ours were. But this town with so much history at its core goes way beyond the conflict that ran through its streets over 150 years ago. Among other highlights in this charming town, Gettysburg restaurants are top-notch.
We've spent lots of time exploring the Gettysburg food scene. Across all our visits–from early morning breakfasts to breweries to food tours–we've sampled some of the best the city has to offer. Here are some of the highlights you can find in town.
Gettysburg Baking Company
Baking artisan breads and pastries for over 20 years, Gettysburg Baking Company makes their products in the same style you see in villages in Europe. They have a broad range of focaccias, loaves, and cookies, along with soups, salads, and sandwiches.
In addition to a flaky croissant and rich herbed boursin cheese, we sampled their flavorful cucumber gazpacho, which could not have been a better antidote to the heat and humidity of one of our visits. I wish I had thought to bring a vat of it home.
Garryowen Irish Pub
The Garryowen Irish Pub brought authentic Irish food to town. Owned by expats from County Armagh, the pub serves over 100 Irish whiskies, which make its traditional Irish music sessions even more fun.
We've had everything from shepherd's pie to fish and chips to the somewhat less traditional Irish nachos at Garryowen, and everything is always a winner. There's a reason why it's one of the most popular places to eat in Gettysburg.
Food 101
One of the best restaurants in Gettysburg, Food 101 focuses on New American cuisine with a menu where everything is made from scratch and most is locally sourced. A wide selection of salads, sandwiches, and pizzas complements entrees and specialty sides like the house cut truffle parmesan fries.
Inn at Herr Ridge
Established in 1815, the Inn at Herr Ridge was both a stop on the Underground Railroad and the first confederate hospital during the Civil War. Today, its purposes are a bit more modern, functioning as a boutique hotel and restaurant. The Inn focuses on farm-to-table fare often paired with wines from its world-class cellar.
Our dinner included a pureed four-onion soup with chive creme, which is one of the best appetizers I've ever had, followed by a fall-off-the-bone braised chicken leg and thigh. When a restaurant's chicken dish is worth writing about, you know you've found a special place.
The Gettysburger Company
The filling burgers at The Gettysburger Company are as good as you'd hope for from a place that has "burger" in the name. Their half-pound hand formed patties come topped with everything from basic cheese to apple slices and bacon.
At this welcoming spot right off Lincoln Square, everyone is treated like a local. The Gettysburger Company offers bar seating and a sizeable dining room, and its kitchen is open later than many places in town. Beyond burgers, they're known for their wings and desserts.
Fourscore Beer Co.
Fourscore Beer Co. features a rotating selection of craft beers brewed on-site and lots of special releases alongside a few ciders from local cideries.
The beers are great and are often people's primary reason for coming to Fourscore, but we've fallen for the food here. Everything in the kitchen is made from scratch daily, many of the ingredients are locally-sourced, and the chefs love to try new things.
Some of our favorites include the pulled pork sandwich, the wagyu dog, and the avocado chicken sandwich on perfectly toasted sourdough. The catfish tacos are addictive, too. It's worth a visit here for a casual meal, even if you're not a beer drinker.
Hickory Bridge Farm Restaurant
Home cooking and family-style dining are the names of the game at Hickory Bridge Farm Restaurant. The unique restaurant features servers in 1700s attire and an ever-changing menu that's great for pleasing lots of different palates.
A short drive from downtown Gettysburg, the dining area at Hickory Bridge Farm is located in a restored historic barn decorated with country-style antiques. Based on family recipes, the menu includes dishes that were favored by the area's German settlers, including roast pork loin, brisket, chicken over biscuits with gravy, and other classics.
Dobbin House Tavern
Consistently one of the best restaurants in Gettysburg, the Dobbin House Tavern is a must-visit when you're in town. Set in the city's oldest building and featuring a colonial-inspired menu, you'll feel like you've taken a step back to the times of the founding fathers.
We loved the baked King's onion soup, an appetizer similar to a French onion soup but with tender chunks of beef. Dobbin House is also known for its seafood, and we were blown away by the crab cakes made almost entirely of lump crabmeat. The oddly-named Rum Bellies cocktail is also outstanding. Reservations are a must here. It's a highlight of fine dining in town.
Mason Dixon Distillery
Mason Dixon is one of our favorite distilleries in Pennsylvania. With vodka, aged rum, and corn whiskey, it offers premium spirits, but its menu goes well beyond well-crafted liquors.
Run by a father-son team, the son focuses on the spirits while the father brings his decades of culinary experience to the food menu. They have great burgers and BBQ as well as features like shrimp and grits and goat cheese brulée. Locals love the weekend brunch.
Blue and Gray Bar & Grill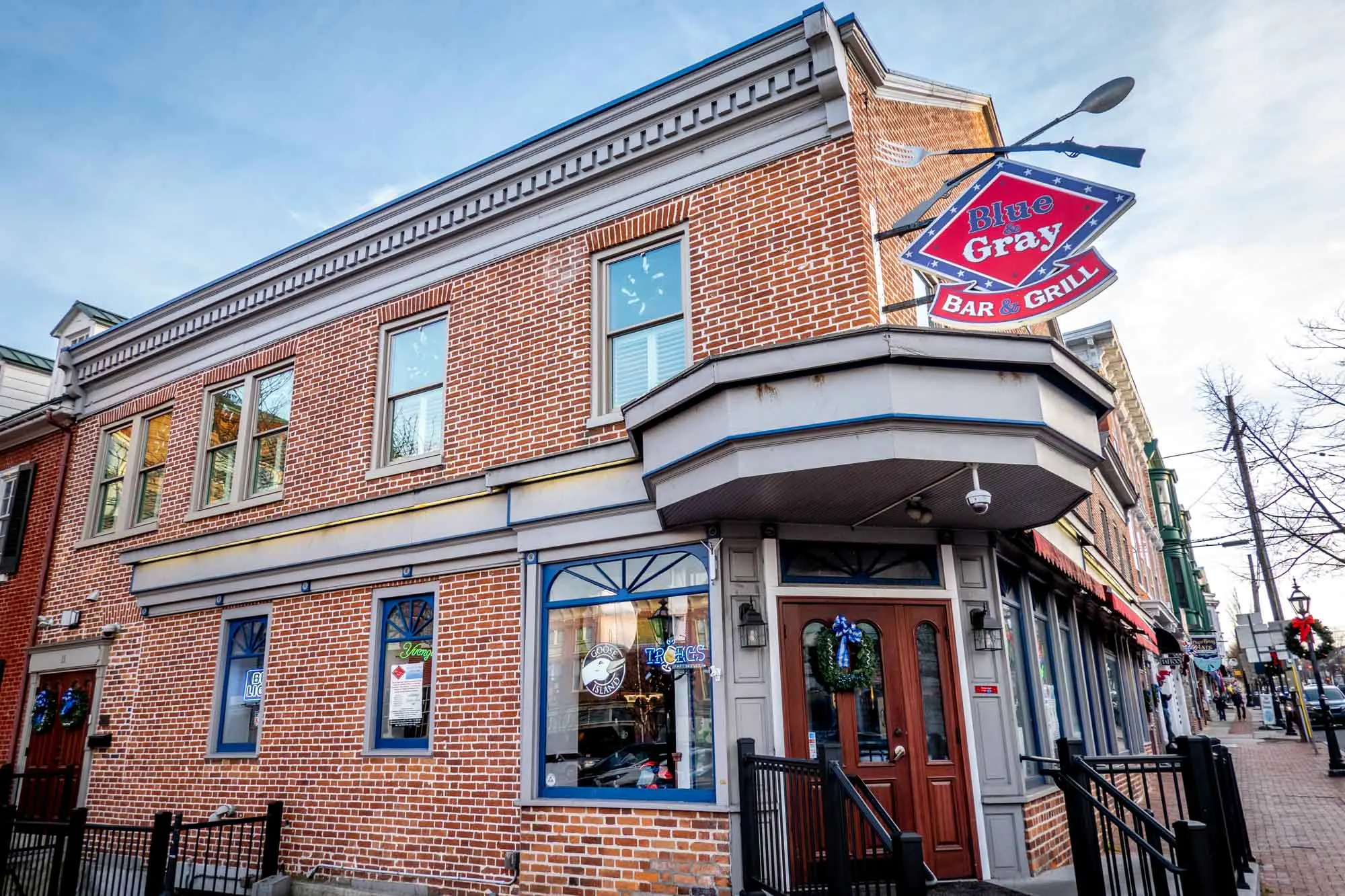 Right in downtown, Blue and Gray Bar & Grill is one of the most popular places to eat in Gettysburg. Almost every time we pass by, there is a crowd enjoying the elevated bar food and friendly atmosphere.
A family-owned sports bar, Blue and Gray is known for its specialty burgers named after generals who fought in the battlefield nearby and for its wing sauces that also have thematic names. On the menu, you'll find everything from pulled pork to a chicken Caesar wrap. And you'll never miss a game here thanks to its 18 flat screen TVs.
One Lincoln
In the heart of downtown Gettysburg, One Lincoln is the "casual comfort" restaurant within the stately Gettysburg Hotel. The restaurant focuses on elevating familiar dishes with a contemporary twist.
The crab stuffed scallop with shrimp hash was shellfish goodness at its absolute best. I also fell for the onion soup that was bruleed and served with provolone, gruyere, and French bread croutons. It was served with a ham sandwich with muenster cheese and grain mustard on a perfectly toasted bread they call "English muffin bread" thanks to the nooks and crannies. One Lincoln will always be one of our Gettysburg favorites.
Mr. G's Ice Cream
Not exactly a restaurant, Mr. G's Ice Cream is still one of the most popular dessert spots in Gettysburg, and we make a beeline here every time we're in town. They offer 16 homemade flavors that change frequently, and they often incorporate ingredients from local farms and orchards. I dare you to try to choose between the strawberry cheesecake, salted caramel, and other delicious flavors. There's a reason the line here often stretches out the door.
Some of our meals were hosted by Destination Gettysburg. All opinions of the gluttonous and mouthwatering are our own.
---
Have you been to Gettysburg? What was your favorite thing to eat there?
Laura Longwell is an award-winning travel blogger and photographer. Since founding Travel Addicts in 2008, she has written hundreds of articles that help over 3 million people a year get the most out of their travel. In that time, she has visited nearly 60 countries on 5 continents, often returning to favorite destinations over and over again. She has a deep love of history, uncovering unexpected attractions, and trying all the good food a place has to offer.
In addition to Travel Addicts, Laura runs a site about her hometown of Philadelphia—Guide to Philly—which chronicles unique things to do and places to see around southeastern Pennsylvania. Her travel tips and advice appear across the web.