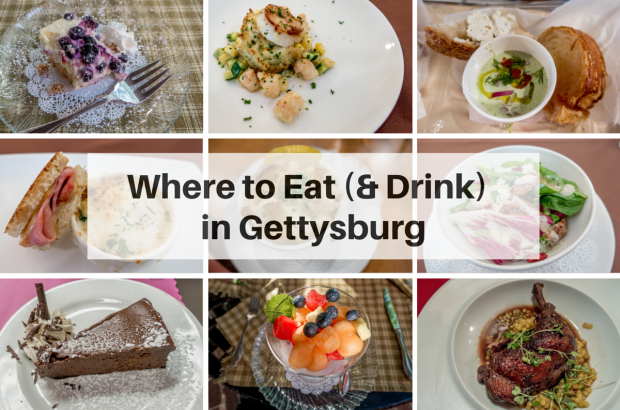 When most people think of Gettysburg, Pennsylvania, their thoughts are limited to the Civil War, battlefields, and The Gettysburg Address. I know mine were. But this town with so much history at its core goes way beyond the conflict that ran through its streets over 150 years ago. Among other highlights in this charming town, the Gettysburg food scene has developed decadently.
I recently had the chance to spend two days eating my way around Gettysburg – more than 20 amazing courses in all. It's rare to have such an experience where everything is delicious. Here are some of the highlights you can find in town.
Gettysburg Baking Company
Baking artisan breads and pastries for nearly 20 years, Gettysburg Baking Company makes their products in the same style you see in villages in Europe. They have a broad range of focaccias, loaves, and cookies, along with soups, salads, and sandwiches.
In addition to a flaky croissant and rich herbed boursin cheese, I sampled their flavorful cucumber gazpacho, which could not have been a better antidote to the heat and humidity of the day. I wish I had thought to bring a vat of it home.
Garryowen Irish Pub
The Garryowen Irish Pub has brought authentic Irish food to Gettysburg. Owned by expats from County Armagh, the pub serves 68 Irish whiskies, which I'm sure make its monthly Irish music sessions even more fun.
Garryowen is one of seven stops I visited with the fabulous Savor Gettysburg food tour, so I tried something I would never order otherwise – the shepherd's pie. The meat was juicy and the mashed potatoes were well-seasoned. And thanks to the individual portions we had, I didn't need a nap afterward.
Hauser Estate Winery
I have to confess that I visited two locations of Hauser Estate Winery – the winery itself located about 15 minutes outside of town and the tasting room on Lincoln Square in Gettysburg. What can I say? I like wine.
The winery offers a tour of its production facilities and has beautiful views of the surrounding countryside, while the tasting room in town is super convenient on a quick trip. My favorite wines were the Cabernet Sauvignon and the Pinot Gris, but the wide variety of hard ciders stole my heart. I walked away with the fruit-forward Helen's blend and the cinnamon-and-spice-flavored Jack's Fireside. Tastings of all the products are available at both locations.
Café Saint Amand
This unassuming French bistro, Café Saint Amand, is just one block off the main square. Though I didn't have a chance to visit for brunch, I've been told the crepes are fabulous. What I did get to try was to die for – the café's flourless chocolate cake. As rich and dense as it should be, the cake was perfect in every aspect except for one – it was too much for me to finish.
Inn at Herr Ridge
Established in 1815, the Inn at Herr Ridge was both a stop on the Underground Railroad and the first confederate hospital during the Civil War. Today, its purposes are a bit more modern, functioning as a boutique hotel and upscale restaurant. The Inn focuses on farm-to-table fare often paired with wines from its world-class cellar.
My dinner included a pureed four-onion soup with chive creme, which is one of the best appetizers I've ever had, followed by a fall-off-the-bone braised chicken leg and thigh. When a restaurant's chicken dish is worth writing about, you know you've found a special place.
One Lincoln
In the heart of downtown Gettysburg, One Lincoln is the "casual comfort" restaurant within the stately Gettysburg Hotel. The restaurant focuses on elevating familiar dishes with a contemporary twist.
As at the Inn at Herr Ridge, I fell for the onion soup — this one was bruleed and served with provolone, gruyere, and French bread croutons. It was served with a ham sandwich with muenster cheese and grain mustard on a perfectly toasted bread they call "English muffin bread" thanks to the nooks and crannies. Also not to be missed is the crab stuffed scallop with shrimp hash. Shellfish goodness at its absolute best.
If you are visiting, check current prices for Gettysburg hotels and B&Bs here.
I was the guest of Destination Gettysburg on this culinary tour. All opinions of the gluttonous and mouthwatering are my own. Note: Some links may be affiliate links, which means Travel Addicts may earn a few pennies if you buy something, all at no additional cost to you.