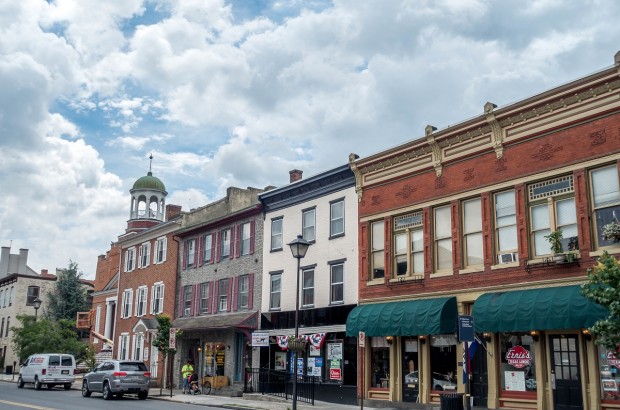 In the middle of southern Pennsylvania stands Gettysburg — a small town with a big past. In easy reach of larger cities such as Philadelphia, Baltimore, and Washington, D.C., Gettysburg is one of our favorite places on the East Coast. The city has been popular for decades not only because of its role in the Civil War but for its attractive downtown teeming with shops. A food and beverage renaissance plus overall revitalization associated with the 150th anniversary of the Battle of Gettysburg has ensured that there are plenty of great things to do in Gettysburg , whether you're visiting for a weekend or longer.
Eat your way around town on a Gettysburg food tour
You may not think of Gettysburg as a foodie town, but you'd be wrong (we were, too). A food tour with Savor Gettysburg highlights a variety of local specialties from homemade ice cream to the best soup we've ever tasted.
There are several food tour options to choose from—the historic downtown tour, seasonal tours, and others—plus a cooking class and other Gettysburg food experiences. The tours last about three hours and involve less than a mile of walking, which is good since someone may need to roll you home.
Enjoy nature, pick your own, and even cook at an orchard
Adams County, where Gettysburg is located, is the heart of apple country. Just a few miles away, you can tour several different orchards and farms where you can even pick your own fruits like apples, peaches, and blueberries.
Consider a stop by Hollabaugh Bros., which hosts fruit festivals throughout the year and offers cooking and canning classes on many weekends. We loved trying our hand at making apple dumplings! It's one of the best things to do near Gettysburg.
Wondering where to stay in Gettysburg?
History on Lincoln Square: Gettysburg Hotel

Charming B&B with excellent breakfast: Brickhouse Inn

Renovated 19th-century schoolhouse: Federal Pointe Inn
You'll find more details about where to stay in Gettysburg at the end of this article.
Learn about the civilian side of the war at the Shriver House
The Shriver House Museum transports you directly to the 1860s and delivers a look into the life of the Shriver family as the Civil War arrived in Gettysburg. This unique perspective makes it one of the most interesting places to visit in Gettysburg, even for people who aren't Civil War buffs.
The rooms at the Shriver House tell the story of George, Hettie, and their two young daughters as they made a life and then faced the realities of death that war brings. A guide dressed in a period costume provides details of civilian life and talks about how the town—and the Shrivers, specifically—coped during and after the Battle of Gettysburg. You'll learn about everything from George's downstairs saloon to the house's time as a sharpshooter post and hospital.
Explore the options downtown
Just wandering is one of the most fun things to do in Gettysburg. Gettysburg's downtown is home to over 100 stores selling most anything you could be looking for.
From antiques to clothes to Civil War artifacts, the variety of things available in Gettysburg is extensive. We love Lark for its thoughtful and unique gifts, the jewelry and handcrafts at Gallery 30, and the games and creativity kits at Nerd Herd. As you walk through the area, you can also see a number of buildings from the Civil War that show damage from the battle that partially took place in these streets. When you've had your fill of shopping and taking in the history, give your feet a break at one of the many restaurants or tasting rooms.
Try the wares at a farmers' market
So many different kinds of vegetables and fruits are grown on the farms that dot the landscape of the Gettysburg area. Within just a few miles, you can find road-side stands and full-fledged markets selling all manner of fresh produce and milk along with great products–like jam, salsa, and pickles–made from the bounty. Do a little shopping and marvel at the brightly-colored veggies, or consider stopping at one of the markets like the Historic Round Barn and Farm Market that holds periodic events and celebrations throughout the year.
If you're in town on a Saturday morning in the spring, summer, or fall, don't miss the Gettysburg Farmers' Market right on Lincoln Square. Vendors come from all over with seasonal produce, baked goods, and lots of other delicious things. It doesn't get more convenient than that.
Get creative at Board and Brush
Board and Brush is the perfect place to bring out your inner artist, even when you're not sure you have one. If you're wondering what to do in Gettysburg when the weather doesn't cooperate or just when you're looking for something new and different, visit this fun sign workshop. You can choose from hundreds of different patterns and colors, and the staff will help you step-by step with painting and selecting different finishes, stains, and flourishes to make the sign completely personal.
Walk in the footsteps of soldiers
Gettysburg is most well-known as the location of the famous Civil War battle that took place over 150 years ago and as the site where President Lincoln delivered the Gettysburg Address just four months later. Today, the battlefields are a National Park full of monuments to the fighting that took place there.
The best way to see the battlefield and understand the significance of the battles is to take a guided tour. There are lots of options, including a bus tour, a self-drive route, a walking tour, and even a Segway tour.
Visit a craft distillery
Mason Dixon Distillery is one of the best distilleries we've visited, not just in Pennsylvania but in our travels around the US. Everything here is done with care. Owned by a father-son team, Mason Dixon's goal is to make sure "Adams County is in every bottle." That means focusing on local ingredients whenever possible from the grain to the pears that graced a recent limited batch of brandy.
Mason Dixon Distillery offers vodka, white whiskey, rum, and an excellent aged rum, which are all highlighted in a lengthy cocktail menu. More spirits will be on the way soon. Beyond the great drinks, what really sets Mason Dixon Distillery apart is its full-service restaurant. Not only do they have great burgers and BBQ, but the menu goes well beyond that to include dishes like shrimp and grits, goat cheese brulee, and other unexpected specialties. You can visit for a tour, a drink, a meal, or all three.
Tour a President's house
The big white house at the end of the Norway Spruce-lined drive is the only home ever owned by President Dwight Eisenhower and his wife Mamie. During his presidency, Eisenhower hosted world leaders such as Winston Churchill and Nikita Khrushchev at the house, which now welcomes visitors and school groups year-round.
The Eisenhower National Historic Site looks much as it did when the President's family lived there, decorated in furnishings from the 1950s and '60s. In addition to the surprisingly modest house (not all Presidents have mansions), the Historic Site includes 700 acres of open space and animal habitats just minutes from downtown Gettysburg.
Toast the weekend at a local winery
Gettysburg boasts a handful of wineries producing red and white wines, primarily from estate grown fruits. Some have tasting rooms in the heart of the city and others have vineyards just outside of town. Some, like Reid's Orchard & Winery and Hauser Estate Winery, offer both locations…and they both make hard cider, too!
When to Visit Gettysburg
There really is no bad time of year to visit Gettysburg–there are plenty of things to do in every season. In fact, the most popular month, July, is likely the time when the weather is hottest. But it's also the time for re-enactments, summer celebrations, enjoying the bounty of the farmers' markets, and eating all the ice cream you can get your hands on (Mr. G's is our favorite).
In the spring, the orchards around Gettysburg are filled with peach, cherry, and apple blossoms. It's the perfect time for golf, checking out one of the music festivals, or just enjoying the warming weather. The fall brings gorgeous leaves as well as food and wine events and the National Apple Harvest Festival. In the winter, Gettysburg comes alive with the holiday spirit in the form of a light parade, the annual Tuba Carol Fest, and decorations all over town.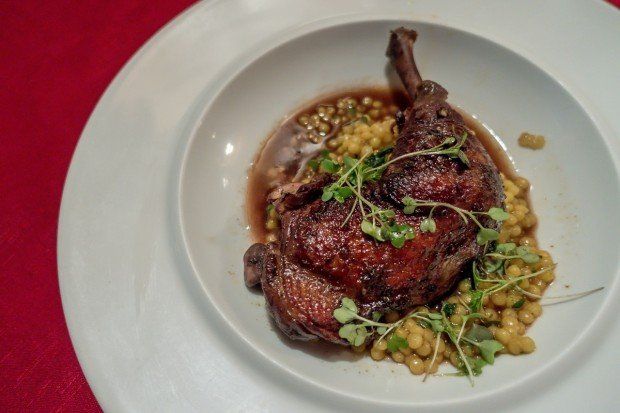 Where to Eat in Gettysburg
There are so many great places to eat in Gettysburg that it's hard to narrow it down.
We love the casual, friendly vibe at Garryowen Irish Pub. The owners (from Ireland) have created the same inviting spirit here that you'd find in Ireland with regular live music, the perfect pint of Guinness, traditional Irish fare, and much more.
The Inn at Herr Ridge has two distinct restaurants for different dining experiences. The fine dining restaurant is upscale American with steaks, seafood, and a sage roasted chicken that's to die for. The casual Sharpshooters Grille serves upgraded bar fare with great burgers, sandwiches, and wraps.
In the Gettysburg Hotel, One Lincoln is conveniently located in the center of Gettysburg. It serves fabulous food and spirits with a focus on "casual comfort." Our favorites include the brûléed onion soup, shrimp and grits, and their delicious crab mac and cheese.
Where to Stay in Gettysburg
Right on Lincoln Square, the Gettysburg Hotel is in the heart of everything. The regular rooms are very comfortable, and the suites come with fireplaces and jacuzzi tubs. (Read reviews and book a room)
An award-winning bed and breakfast, Brickhouse Inn is the top-rated B&B in Gettysburg. Their charming historic buildings make for a perfect weekend getaway. Service is personalized and the food is out of this world. (Read reviews and book a room)
The Federal Pointe Inn is a popular 23-room hotel with modern amenities in a renovated 19th-century schoolhouse. (Read reviews and book a room)



I was the guest of Destination Gettysburg. All opinions of the fun and historical things to do in Gettysburg are my own. Note: Some links may be affiliate links, which means Travel Addicts may earn a few pennies if you buy something–all at no additional cost to you.
---
What is your favorite thing to do in Gettysburg?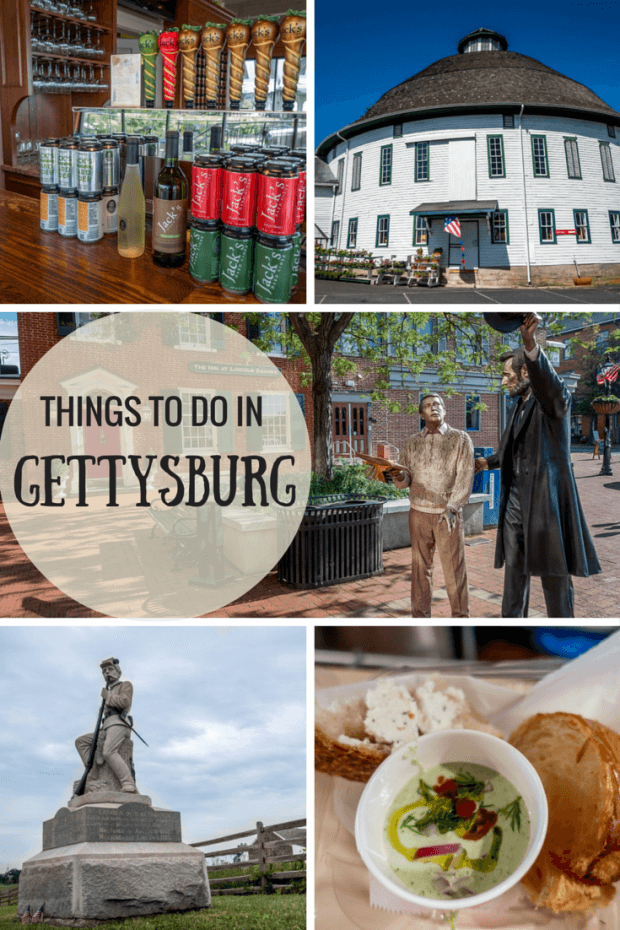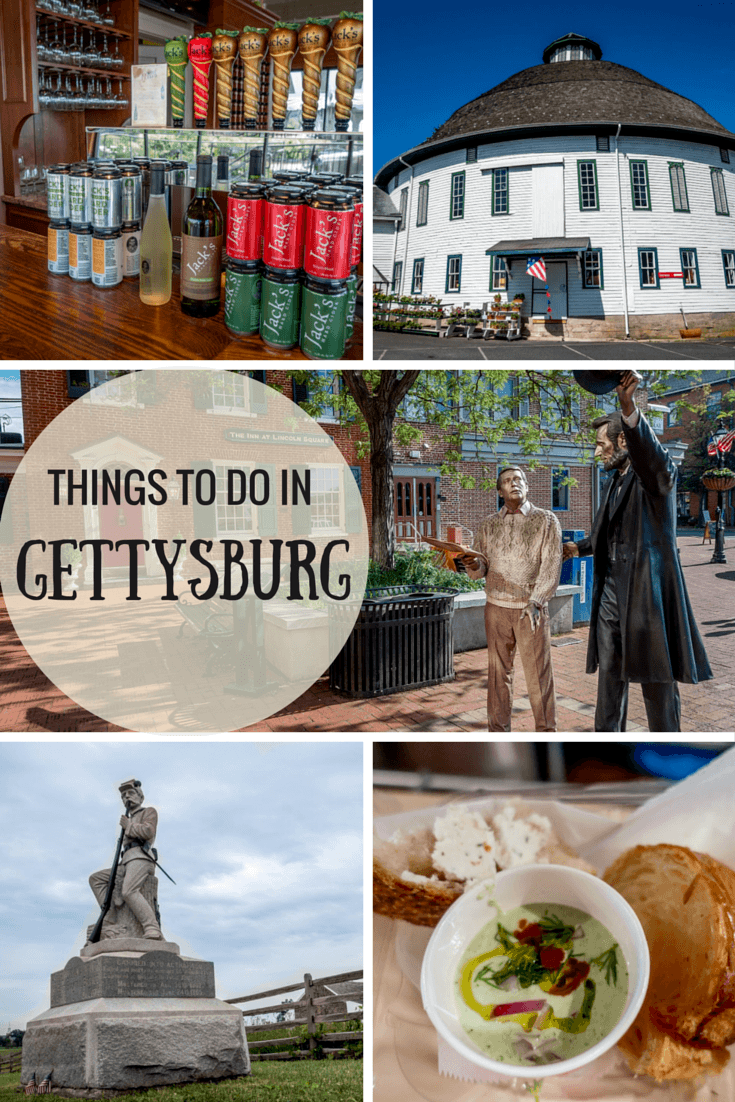 Subscribe to our email newsletter

Get exclusive content
Receive personal updates
Sneak peeks of future trips