In the middle of southern Pennsylvania stands Gettysburg — a small town with a big past. In easy reach of larger cities such as Philadelphia, Baltimore, and Washington, D.C., it's one of our favorite places on the East Coast. The city has been popular for decades not only because of its role in the Civil War but for its attractive downtown teeming with shops, great restaurants, and attractions. No matter how many times we return, we always uncover new, fun things to do in Gettysburg.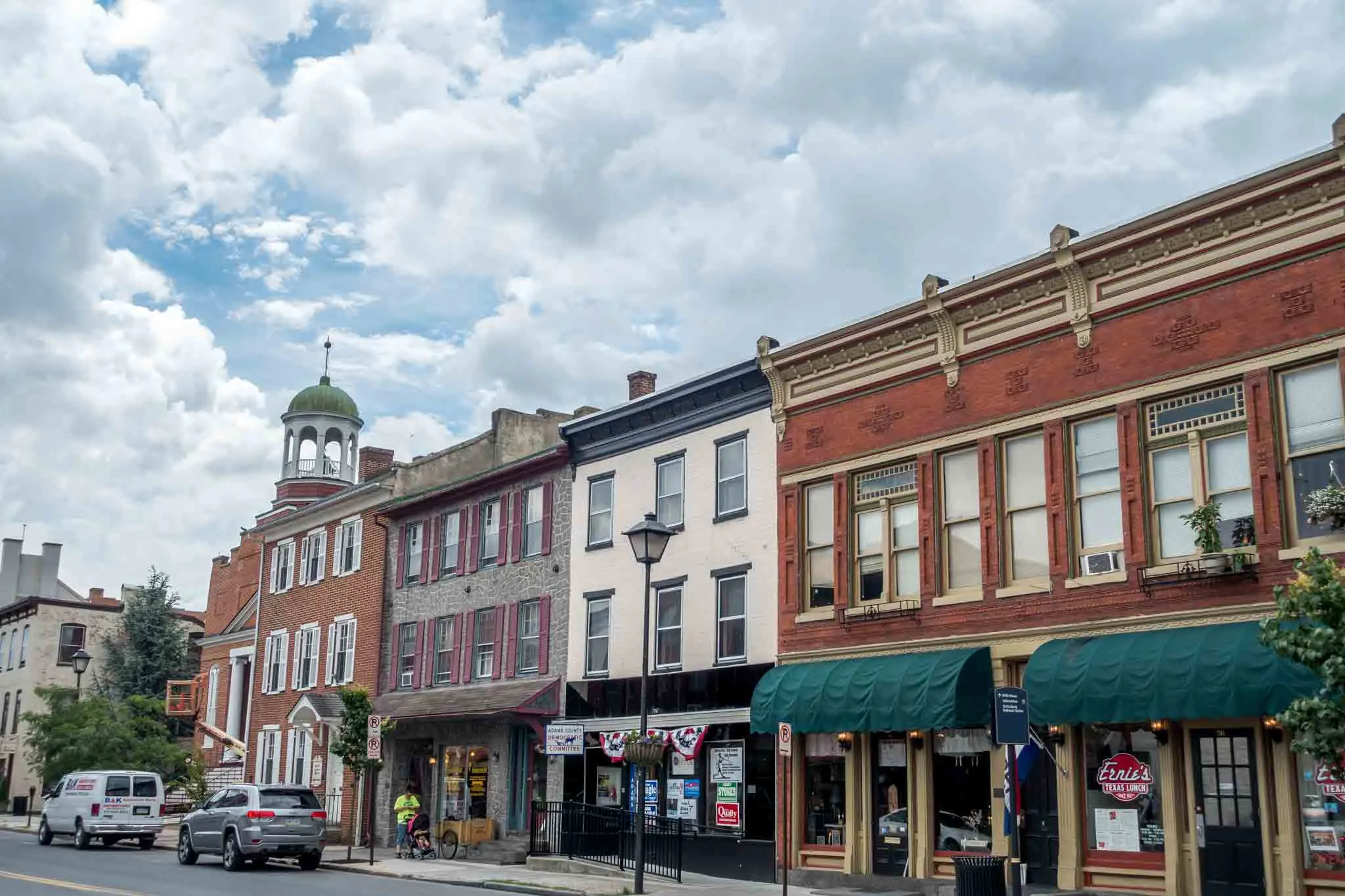 Downtown Gettysburg is compact and highly walkable. From one end of town to the other is only about one mile, so you can see many of the main places of interest on a day trip. But that would mean missing out on the welcoming bed and breakfasts, the fun craft beverage spots, and many of the historical and natural attractions that are within just a short drive.
There's so much to choose from here that we've put together a list of some of our favorite things to see and do in Gettysburg, Pennsylvania, whether you're visiting for a weekend or longer.
Whether you like shopping, history, local distilleries, or just hanging out, we've got you covered.
See Sachs Covered Bridge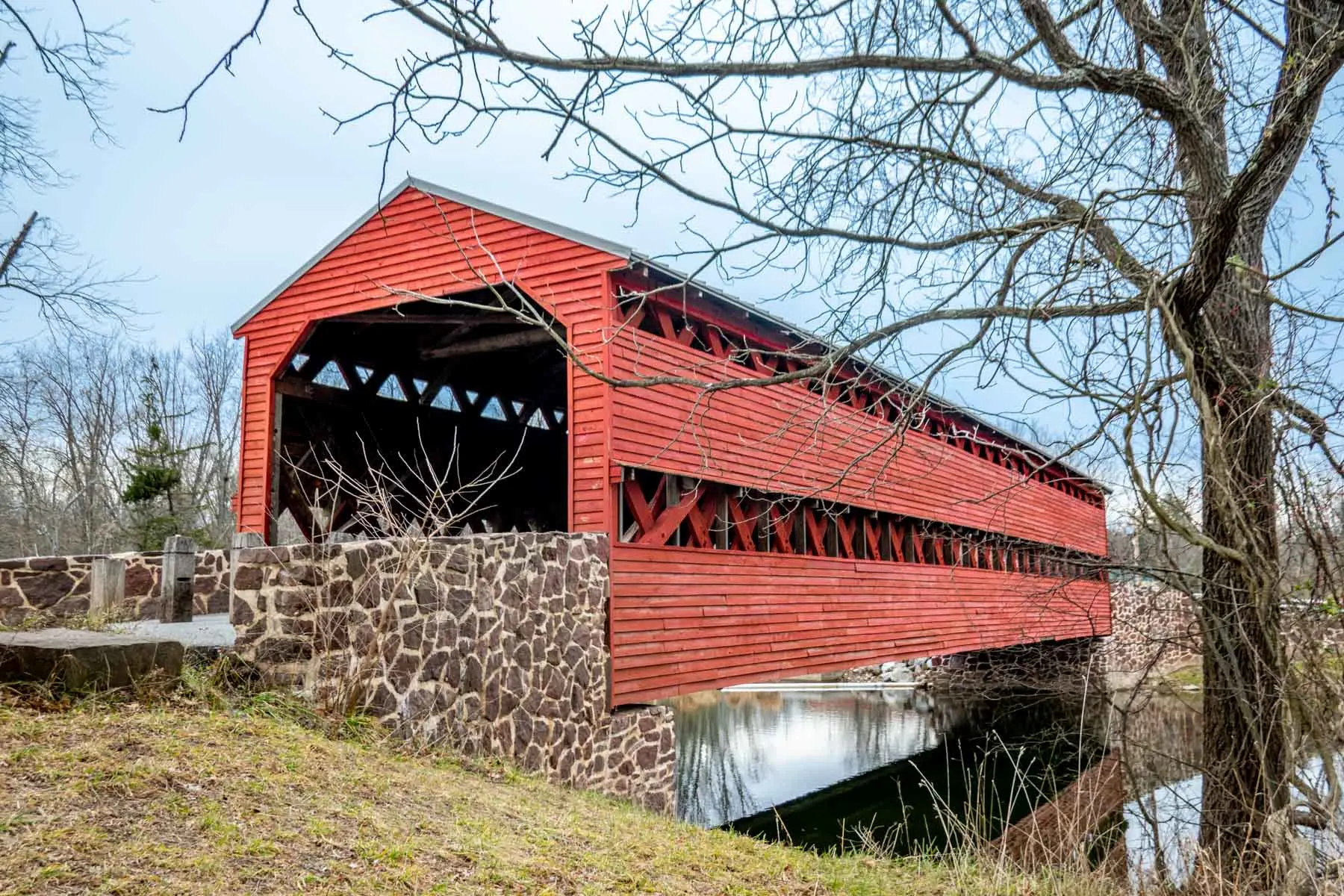 Just a few miles from downtown, the Sachs Covered Bridge isn't only pretty–it's historic, too. Built in 1854, the bridge was used by both the Union and the Confederate armies during and after the Civil War. As a result, local lore says it's the most haunted bridge in America.
Ghost stories aside, the pedestrian-only bridge is a popular spot for photos. You'll also see people out walking, picnicking, and otherwise enjoying the peaceful setting.
Take a food tour
Gettysburg is a foodie town. A tour with Savor Gettysburg is a perfect introduction to the delicious bites here, highlighting a variety of local specialties from homemade ice cream to the best soup we've ever tasted.
There are several food tour options to choose from—the historic downtown tour, seasonal tours, and others—plus a cooking class and other food experiences. The tours last about three hours and involve less than a mile of walking, which is good since someone may need to roll you home.
In addition to the dishes you get to try on the tour, you'll have a chance to discover some of the best restaurants, cafes, and pubs in town. Tour guides can also provide personal recommendations, so a food tour is a great way to start a trip if you'll be in town for a couple of days.
Visit the Shriver House Museum
The Shriver House Museum transports you directly to the 1860s and delivers a look into the life of the Shriver family as the Civil War arrived in town. This unique perspective makes it one of the most interesting places to visit in Gettysburg, even for people who aren't Civil War buffs.
The rooms at the Shriver House tell the story of George, Hettie, and their two young daughters as they made a life and then faced the realities of death that war brings. A guide dressed in a period costume provides details of civilian life and talks about how the town—and the Shrivers, specifically—coped during and after the Battle of Gettysburg. You'll learn about everything from George's downstairs saloon to the house's time as a sharpshooter post and hospital.
The owner of the Shriver House gives regular tours herself. We were fortunate to have her as our guide and learned about the house's restoration and all the artifacts that have been uncovered in the process of bringing the Shrivers' story to life. Photographs trace the process of preserving this uncommon look at the impact of the war.
To learn more about how the lives of average Gettysburg residents were changed by the war, take this top-rated downtown walking tour.
Take a cooking class at Hollabaugh Bros.
Adams County, where Gettysburg is located, is the heart of apple country. Just a few miles away, you can tour several different orchards and farms where you can even pick your own fruits like apples, peaches, and blueberries.
Consider a stop by Hollabaugh Bros., which hosts fruit festivals throughout the year and offers cooking and canning classes on many weekends. We loved trying our hand at making apple dumplings!
Sample the wares at local breweries
With more than 10 craft breweries and cideries in the area, you're spoiled for choice.
There are lots of easy-to-reach choices downtown, including Battlefield Brew Works and Appalachian Brewing Company. We particularly enjoyed Fourscore Beer Co., which brews numerous unique offerings like Creamsicle Blueberry Cobbler and Four S'mores Imperial Stout. They also have a full menu of burgers, sandwiches, and other tasty items.
Just outside the city, check out Center Square Brewing and Thirsty Farmer Brew Works, which has regular trivia nights and special events at their tasting room in Biglerville. One of our favorite cideries in the country–Jack's Hard Cider–is also located nearby.
Stroll through downtown Gettysburg
Just wandering is one of the most fun things to do in Gettysburg. Downtown is home to over 100 stores selling most anything you could be looking for.
From antiques to clothes to Civil War artifacts, the variety of things available is extensive. We love Lark for its thoughtful and unique gifts, the jewelry and handcrafts at Gallery 30, and the games and creativity kits at Nerd Herd.
As you walk through the area, you can also see a number of buildings from the Civil War that show damage from the battle that partially took place in these streets. When you've had your fill of shopping and taking in the history, give your feet a break at one of the many restaurants or tasting rooms.
Stop at the Gettysburg Chocolate Market
Styled like an antique soda bar, the Gettysburg Chocolate Market has a wide variety of offerings just a few steps off Lincoln Square. This new addition to shopping in downtown has lots of treats to take with you from gourmet truffles to fudge and candy.
If you want to linger for a while, check out their wide variety of classic sodas, espresso drinks, teas, ice cream, and delicious chocolate concoctions.
Visit Jennie Wade House
Despite the number of casualties seen on the battlefield, only one civilian died during the fighting–Jennie Wade. She was at home kneading bread when a bullet shot into the kitchen and killed her.
The Jennie Wade House (which actually belonged to her sister) is preserved now almost as it was when Jennie died in 1863. Tour guides tell the story of the Wade family on that day and shed light on what it was like to be a civilian when the war came to town.
Shop at the Round Barn
So many different kinds of vegetables and fruits are grown on the farms that dot the landscape of the area. Within just a few miles, you can find road-side stands and full-fledged markets selling all manner of fresh produce and milk along with great products–like jam, salsa, and pickles–made from the bounty.
Do a little shopping and marvel at the brightly-colored veggies, or consider stopping at one of the markets like the Historic Round Barn and Farm Market that holds periodic events and celebrations throughout the year.
Try Mr. G's Ice Cream
Mr. G's Ice Cream is one of the most popular places in Gettysburg. They feature 16 homemade flavors, often incorporating local featured ingredients like fruit from Hollabaugh Bros. It's nearly impossible to choose between the red velvet, Snickers, salted caramel, and other fabulous flavors. Fans drive a long way for a taste of Mr. G's, so don't miss it when you're in town.
Get creative at Board and Brush
Board and Brush is the perfect place to bring out your inner artist, even when you're not sure you have one.
If you're wondering what to do in Gettysburg when the weather doesn't cooperate or just when you're looking for something new and different, visit this fun sign workshop. You can choose from hundreds of different patterns and colors, and the staff will help you step-by step with painting and selecting different finishes, stains, and flourishes to make the sign completely personal.
I don't have an artistic bone in my body, but with the guidance of the staff, I made a sign I loved. Lance even got into it and made his own creation–proof that people of all interests and creative skill levels can have a great time here.
Explore the Gettysburg Battlefield
Gettysburg is most well-known as the location of the famous Civil War battle that took place over 150 years ago and as the site where President Lincoln delivered the Gettysburg Address just four months later. Today, the battlefields are a national park full of monuments to the fighting that took place there.
The best way to see the battlefield and understand the significance of the battles is to take a guided tour. There are lots of options, including a bus tour, a self-drive route, a walking tour, and even a Segway tour.
A guided coach tour is a great way to see the battlefield. Check details, prices, and reviews here. For a self-guided driving tour with great narration, check out this popular option.
See the Gettysburg Address Memorial
The Gettysburg Address is one of the most famous speeches ever given. Still, it's easy to be confused about the site where President Lincoln delivered his famous oration expressing his hope that a, "government of the people, by the people, for the people, shall not perish from the earth."
Lincoln's Gettysburg Address Memorial (pictured above) is just inside the gates of the Soldiers' National Cemetery. An accompanying plaque notes that the actual location of the address is 300 yards away at the site of the Soldiers' National Monument, a large white statue with a pillar and several seated figures. Unfortunately, that location isn't correct either, as Lincoln was standing the in the civilian cemetery, Evergreen Cemetery, which is separated from the soldiers' cemetery by a fence.
Tour Seminary Ridge Museum and Education Center
The Seminary Ridge Museum and Education Center provides a unique look at the Battle of Gettysburg by focusing in on its first day, July 1, 1863. From the building's cupola, Brigadier General John Buford watched the battle begin and used the vantage point to direct the movement of Union troops. In a matter of hours, the building became a major field hospital, treating soldiers on both sides of the conflict.
A visit to the museum is packed with information, including films, murals, and four floors full of exhibits and original artifacts. Life-size dioramas show ailing soldiers in the exact spots where over 600 patients were treated during and after the battle. The museum truly highlights some of the conflict's lesser-known stories.
This self-guided walking tour provides an even deeper dive into the fighting at Seminary Ridge.
Visit Gettysburg National Military Park Museum
For a great education about the Civil War and the Battle of Gettysburg, head to the Gettysburg National Military Park Museum & Visitor Center. Three main exhibits there discuss the implications of the War and Gettysburg's role in it.
At The Gettysburg Museum of the American Civil War, visitors can see one of the largest collections of Civil War artifacts in existence. The nearby Cyclorama painting will make you feel like you're immersed in Pickett's Charge, the climax of the battle. The third exhibit is a film, "A New Birth of Freedom," narrated by actor Morgan Freeman, which sets the stage for the conflict.
Grab a drink at Mason Dixon Distillery
Mason Dixon Distillery is one of the best distilleries we've visited, not just in Pennsylvania but in our travels around the US. Everything here is done with care.
Owned by a father-son team, Mason Dixon's goal is to make sure "Adams County is in every bottle." That means focusing on local ingredients whenever possible from the grain to the pears that graced a recent limited batch of brandy.
Mason Dixon Distillery offers vodka, white whiskey, gin, rum, and an excellent aged rum, which are all highlighted in a lengthy cocktail menu. Beyond the great drinks, what really sets Mason Dixon Distillery apart is its full-service restaurant. Not only do they have great burgers and BBQ, but the menu goes well beyond that to include dishes like shrimp and grits, goat cheese brulee, and other unexpected specialties. You can visit for a tour, a drink, a meal, or all three.
Visit Eisenhower National Historic Site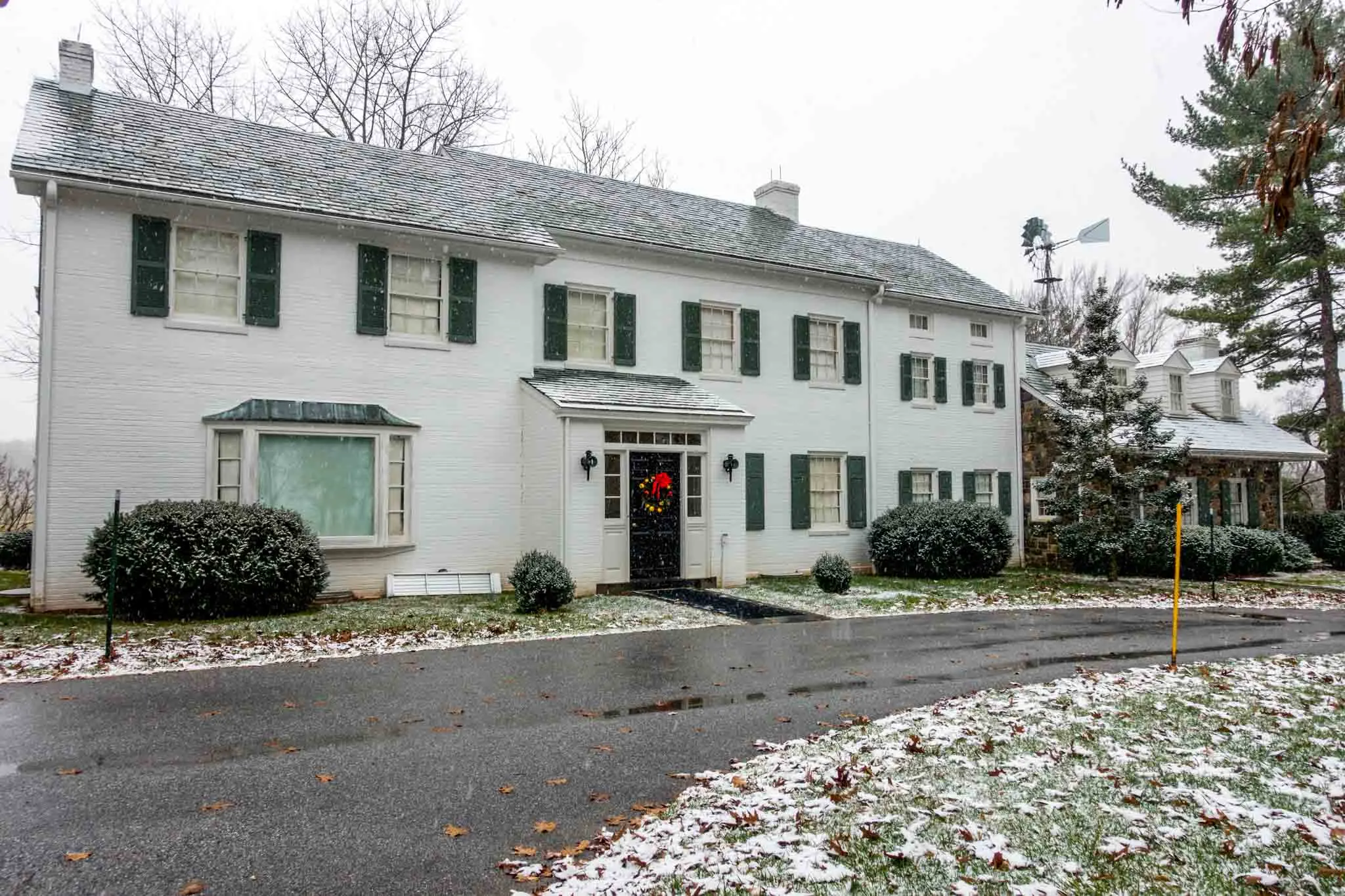 The big white house at the end of the Norway Spruce-lined drive is the only home ever owned by President Dwight Eisenhower and his wife Mamie. During his presidency, Eisenhower hosted world leaders such as Winston Churchill and Nikita Khrushchev at the house, which now welcomes visitors and school groups year-round.
The Eisenhower National Historic Site looks much as it did when the President's family lived there, decorated in furnishings from the 1950s and '60s. In addition to the surprisingly modest house (not all presidents have mansions), the historic site includes 700 acres of open space and animal habitats just minutes from downtown.
Browse the Outlet Shoppes at Gettysburg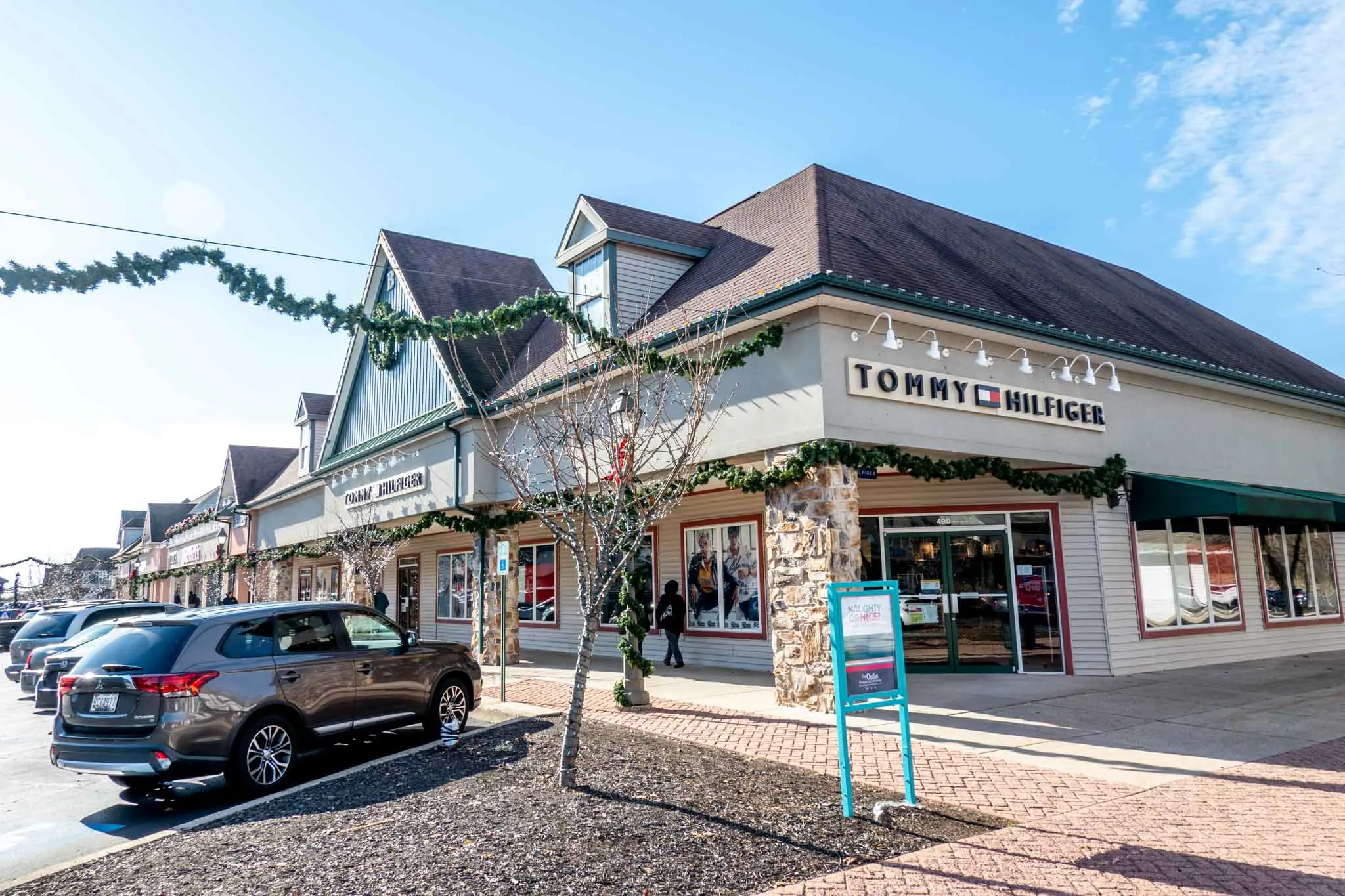 Everybody loves a good deal and there are lots of those available at The Outlet Shoppes at Gettysburg. Just 3 miles from downtown, the shopping center houses more than 50 stores and specialty shops from Tommy Hilfiger to Coach to Old Navy. It's worth a stop whether you're ready to shop til you drop or you're just passing through.
Eat at the Dobbin House
Dating from 1776, the Dobbin House is the oldest building in town. Its 250 years of history–including its role as a stop on the Underground Railroad and as a Civil War field hospital–are covered in the free tours that happen here each weekend.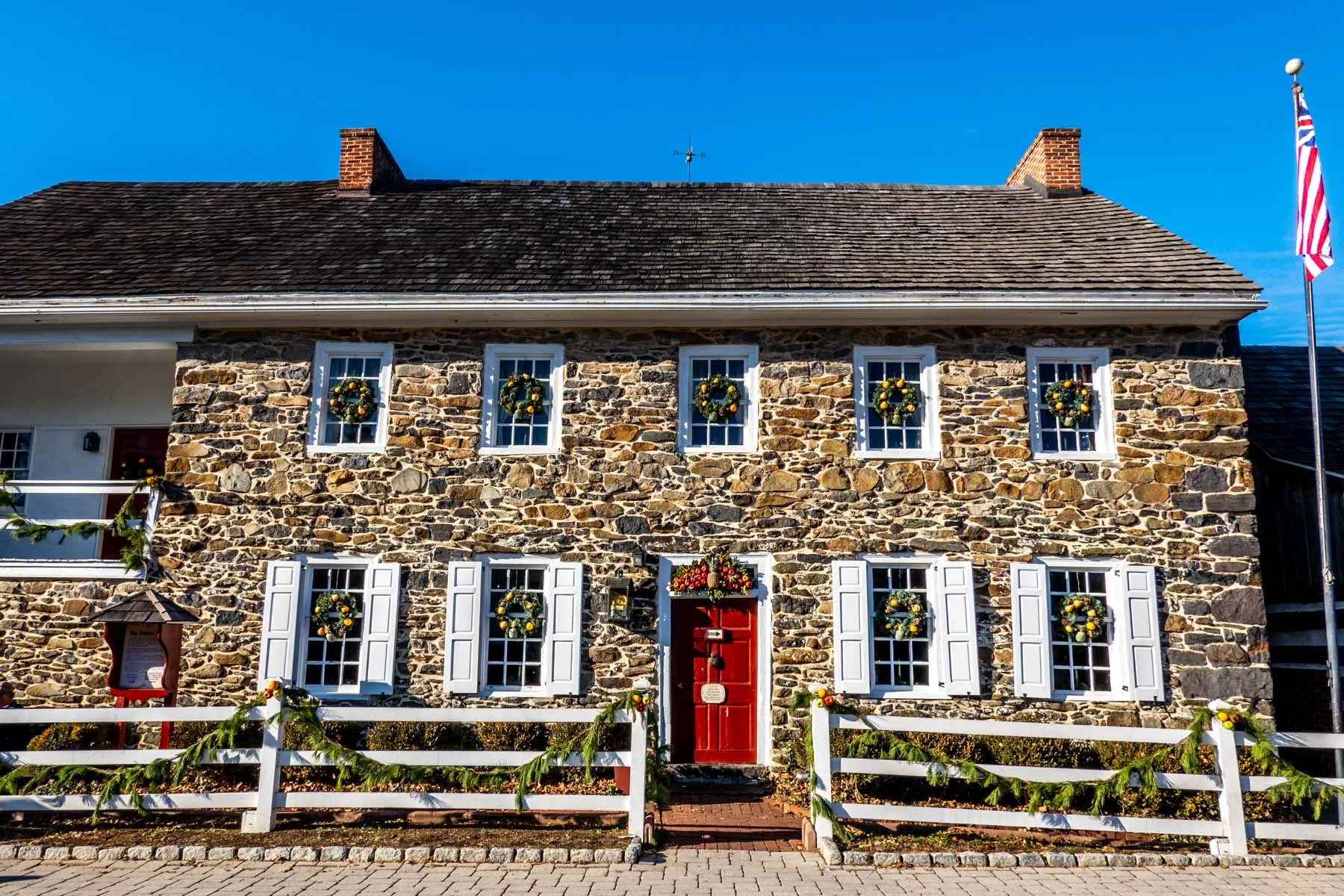 If you can't fit the tour into your schedule, make a point to visit for dinner or a drink. There are two restaurants on property–the Springhouse Tavern and the Dobbin House Tavern. The Springhouse Tavern is a casual pub with a lively bar where you can still see the original springs used to keep food cool long before refrigeration. Next door, the Dobbin House Tavern is a fine dining colonial-inspired restaurant where you feel like you've taken a step back to the times of Benjamin Franklin.
Dinner by candlelight at the Dobbin House Tavern is excellent. We loved the baked King's onion soup, the crab cakes, and the oddly-named Rum Bellies cocktail–it's a must-try, but pace yourself. The restaurant is popular, so make sure to book ahead.
Visit a local museum
There are lots of good museums related to the Civil War and beyond. The Gettysburg Diorama shows the whole 6000-acre battlefield in miniature with hand-painted figures and a light and sound show detailing the course of the fighting over three days. At the Gettysburg Museum of History, you'll find artifacts from the Civil War as well as both World Wars, pop culture, and more. For something completely different, check out the Gettysburg Fire Museum where you can see the city's first "non-hand power" steam fire engine that dates from 1886.
Go wine tasting at a winery
Gettysburg boasts a handful of wineries producing red and white wines, primarily from estate grown fruits. Some have tasting rooms in the heart of the city and others have vineyards just outside of town. They're all connected on the Adams County Pour Tour, a local beverage trail where you collect stamps and win prizes for visiting wineries, breweries, and more (though we didn't really need an incentive for that).
Downtown, stop by Reid's Winery or the Buddy Boy Winery tasting room for a large selection of white, red, and sweet wines (plus cider at Reid's). Just a few miles away, you'll find gorgeous views at Halbrendt Vineyard & Winery or Adams County Winery where you can take a tour of their production facilities or just enjoy a glass on their porch.
Check out the Christmas festival
Christmas in Gettysburg is magical. If your travel plans allow, make a beeline here at the holidays. Throughout the season, there are concerts, plays, special events, and lots of Christmas lights to get you in the holiday mood. But the best weekend to visit is during the Christmas festival.
The first weekend of December, downtown is filled with shoppers and revelers attending the Christmas festival. There are food trucks, street performers, and live music all over town. You'll find stores and attractions hosting unique events, the annual Christmas parade, magnificent gingerbread creations, and more.
Where to Stay
Gettysburg Hotel: History and comfort in the heart of everything
Brickhouse Inn: Top-rated B&B with a killer breakfast
Federal Pointe Inn: Boutique hotel in a renovated 19th-century schoolhouse

Where to Eat
There are so many great places to eat that it's hard to narrow it down.

Garryowen Irish Pub: Casual, friendly spot serving authentic Irish dishes
One Lincoln: Comfort food with great drinks
Inn at Herr Ridge: Two offerings: an upscale American restaurant and the Livery Grill, which serves upgraded bar fare

We were the guests of Destination Gettysburg. All opinions of the fun and historical are our own.