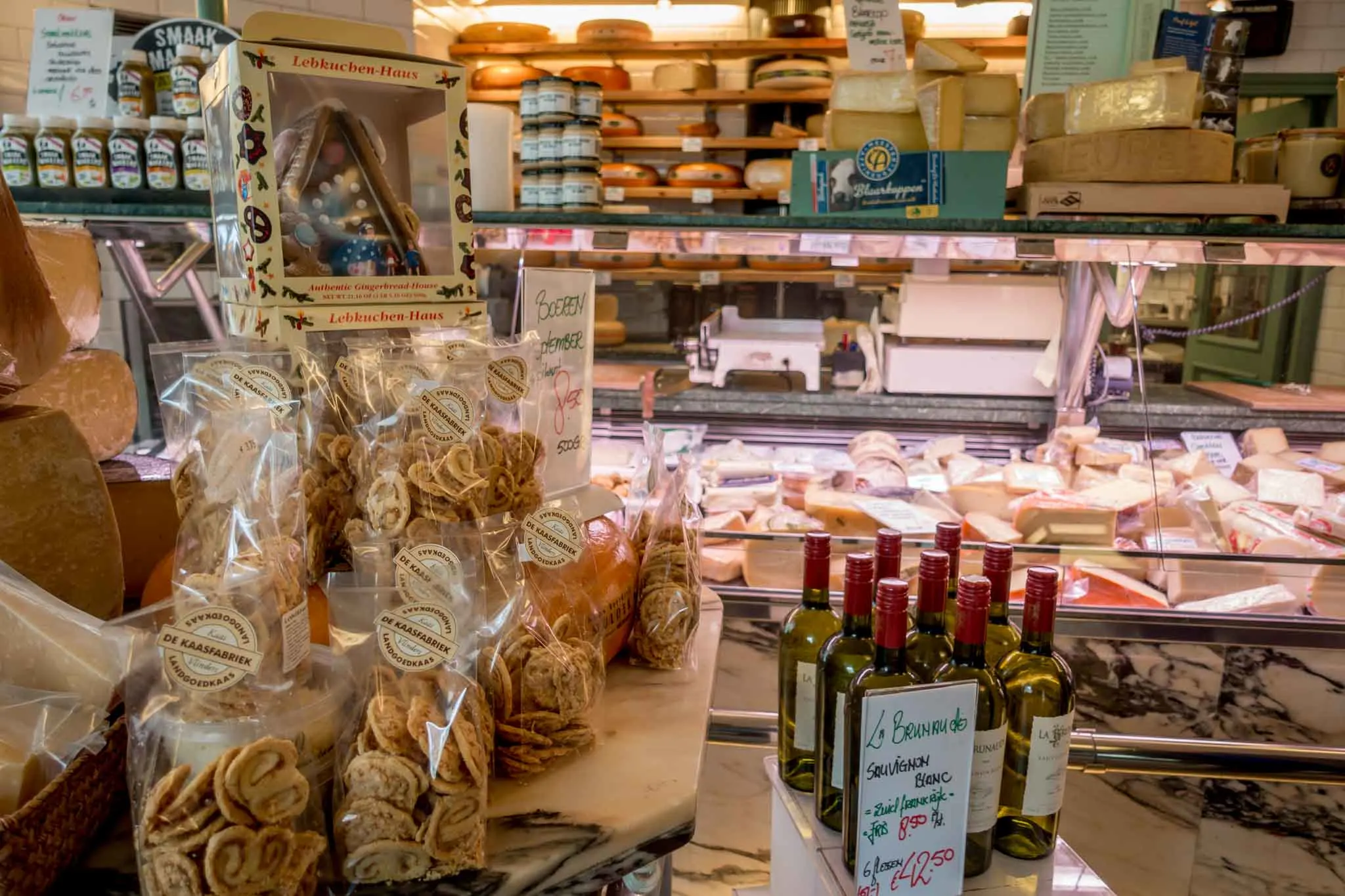 One of the best ways to get to know a country is through its food. You learn about the history, culture, and preferences of a people based on the things they eat every day. And, if you're lucky, the process tends to be pretty delicious. I had no idea what to expect of Netherlands cuisine the first time I visited. All I knew of Dutch food was cheese and beer, which doesn't even scratch the surface of the treats available in the Netherlands. Since then, I have visited several times and keep uncovering new foods to enjoy.
Here's a look at 17 food experiences (and one drink!) worth having on a visit to Amsterdam or anywhere else in the Netherlands.
Stroopwafel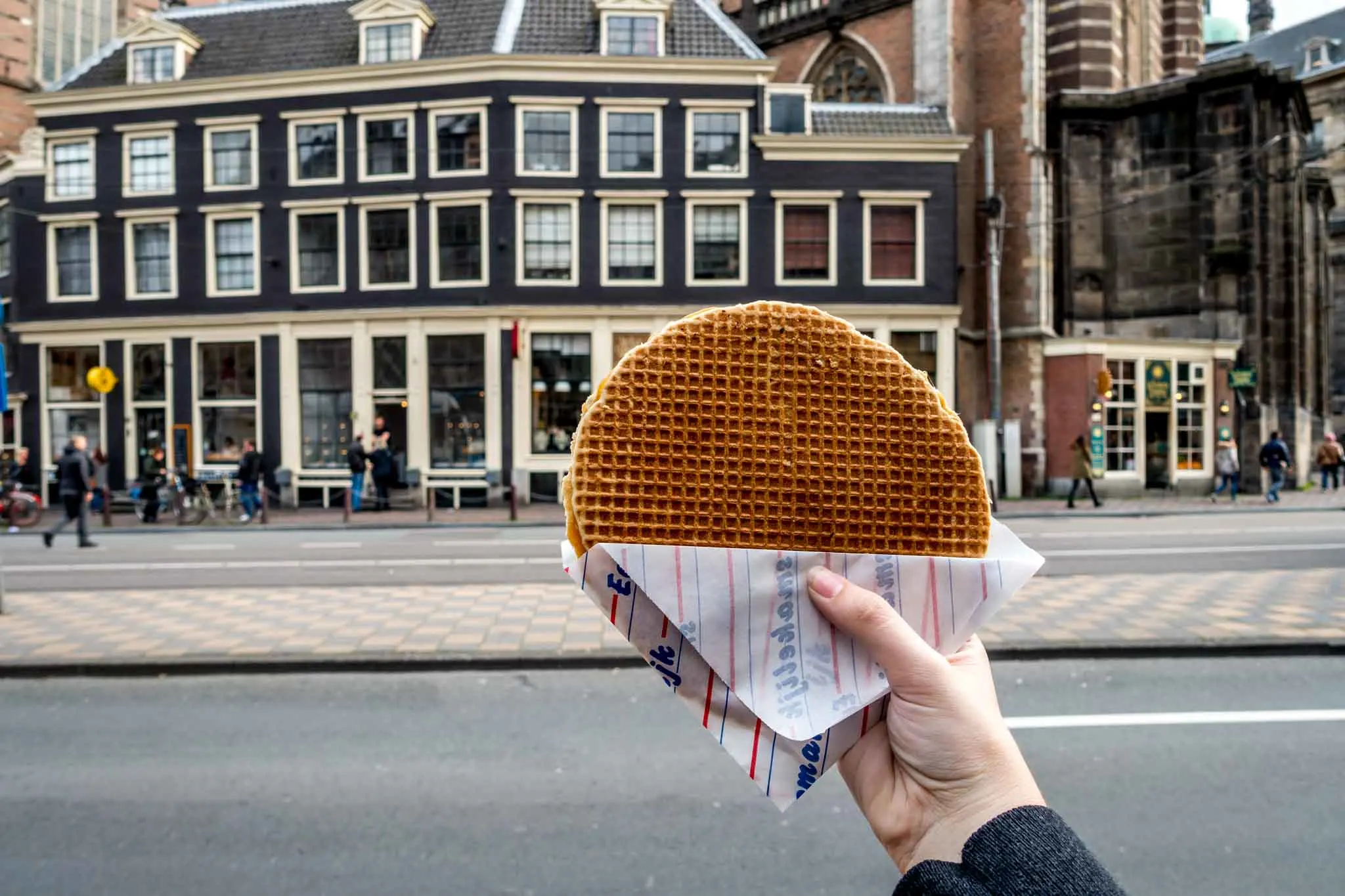 Stroopwafels are fun to eat and to say (thanks to Wikipedia, you can hear the pronunciation). This popular Dutch food is made from two thin layers of baked dough—like very skinny waffles—stuck together with caramel syrup.
Originally made in Gouda 200 years ago, stroopwafels are available fresh at bakeries and food trucks across the Netherlands, as well as sold packaged in grocery stores. They come in mini sizes or versions the size of your face, like the one I tried.
Gouda cheese
Also originally related to the city of Gouda is…well, Gouda. This yellow cheese, a staple of Dutch cuisine, is made from cow's milk and can be aged anywhere from about 4 weeks to over a year. The younger versions tend to be very mild, and older versions may take on sweet, nutty flavors. Smoked Gouda is also very popular.
Interestingly, Gouda cheese got its name not because it is produced in the city, but because it has historically been traded there. Visitors can still see the weekly cheese market in Gouda during the spring and summer and witness the unique trading rituals.
Stamppot
Stamppot is a very filling dish. A combination of mashed potatoes and other vegetables like spinach, kale, carrots, or turnip greens, its comfort food at its best. Stamppot is perfect for the winter months, especially when served with smoked sausage (rookworst).
Herring
In the Netherlands, people have eaten raw herring (haring) for hundreds of years. This fatty fish is lightly brined and salted and then served with chopped onions and pickles.
I was not itching to try herring (at all) and almost certainly wouldn't have if it hadn't been included on the food tour I took. And you know what? I'm glad I did. I was shocked at its light, fresh taste when I had expected strong and super fishy. A pleasant surprise.
If you're interested in trying out the awesome, 4-hour food tour I went on see details, schedules, and pricing here. If you'd prefer a private tour, this one is highly rated. To see what Amsterdam has to offer without the meat and dairy, check out this vegan tour.
Kibbeling
Often served at fish stands alongside herring, kibbeling is juicy pieces of fried fish. The name comes from kabeljauwwang (cod cheek), the cut of fish originally used in the popular Dutch street food. Now, you may find it made with cod, pollock, hake, or another white fish. Kibbeling is often topped with tartar sauce, and, if you order it with frites, you'll have your own Dutch fish and chips.
In big cities like Amsterdam and Rotterdam, you'll have your pick of fish carts. As popular as herring and kibbeling are in town, they're even more popular at the beach. If you're in Amsterdam, consider heading to nearby Zandvoort beach (or go to Scheveningen in The Hague, as I did) to join the locals.
Oliebollen
Dutch donuts called oliebollen (literally "oily balls") are always a favorite. Fried dough doused liberally in powered sugar, they're traditionally eaten as a Christmas or New Year's treat. They often contain currants, raisins, or candied fruit.
Indonesian food
Some of the best Dutch food actually isn't Dutch at all—it's Indonesian. The food of the former Dutch colony is tremendously popular for good reason. There are so many flavors, textures, and different, delicious combinations to try.
A common way to try a lot of Indonesian foods is the rijsttafel, which literally means "rice table." This elaborate meal consists of 15+ side dishes served in small portions, accompanied by rice. Typical options for the dishes include egg rolls, sambals, satay, and vegetables.
I was lucky to get a spot at the bar of the renowned and super popular Sama Sebo where I tried the modified rijsttafel for one. I'm pretty sure it was just as fabulous as trying the whole spread, and I didn't have to be rolled home.
Dutch apple pie
Apple pie is the quintessential Dutch dessert. It's been part of the menu here for 500 years, making it one of the oldest Dutch foods.
Dutch apple pies are similar to American apple pies, but they're not as sweet, and the apples are densely stacked. I didn't miss the extra sugar at all, and the cinnamon, raisins, and fresh whipped cream pushed it over the edge to make it one of the best desserts I've ever had. Trying Dutch apple pie is an absolute must.
If sampling snacks in Rotterdam is on your list, try out this 3-hour food tour.
Drop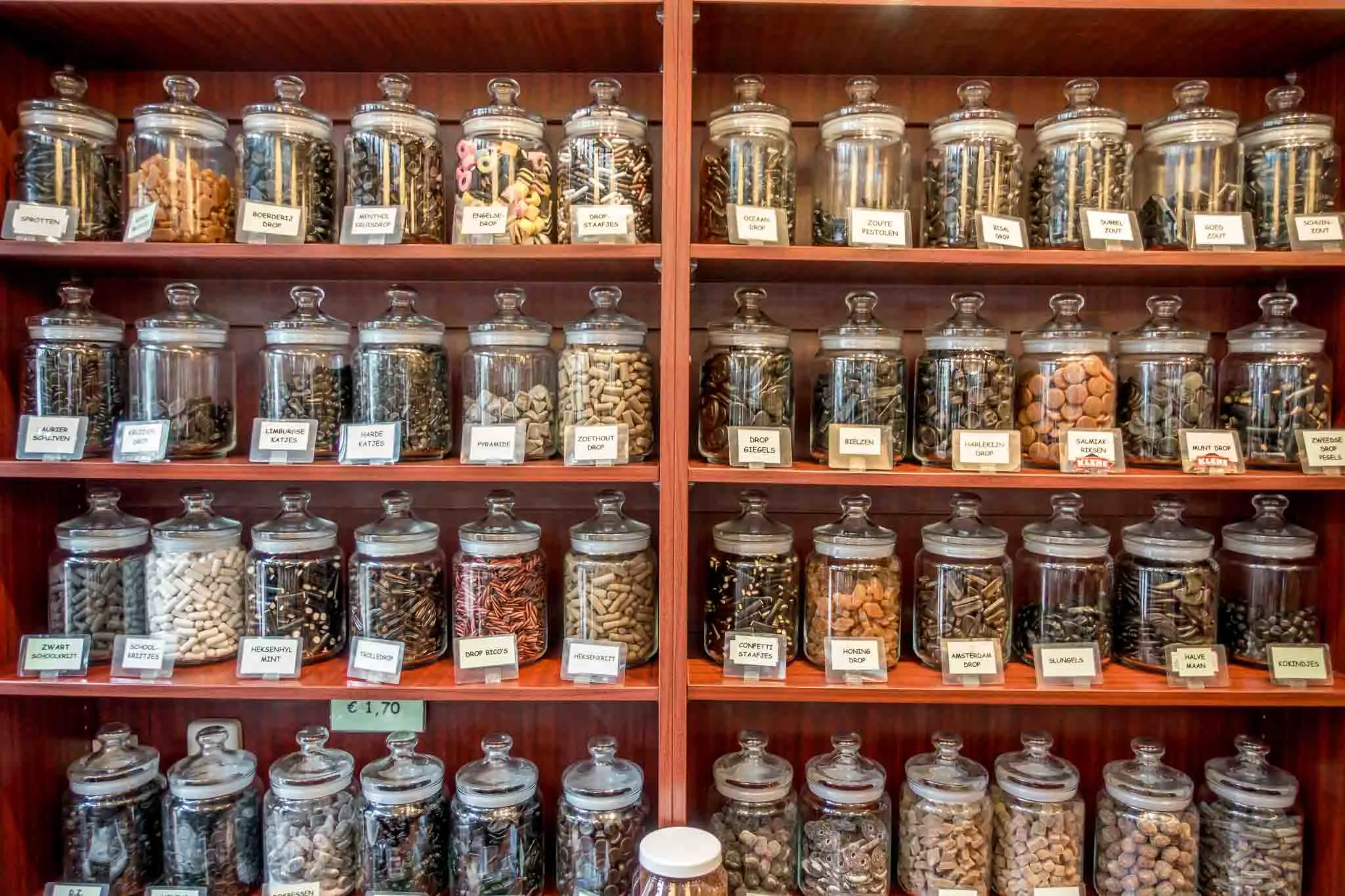 Apple pie is one of my favorite Dutch sweets. Drop, on the other hand, isn't. But it is certainly a favorite of the Dutch people who eat an average of over four pounds (2 kg) per person each year.
Drop is licorice that comes in a variety of flavors. You will find traditional, anise-flavored black licorice, salty drop, honey-flavored, and mint. It's available all over the country and is commonly sold in pharmacies because it's believed that drop has medicinal properties.
High Wine
High Wine is not a specific food, but it is certainly an awesome food experience. Every day from 3:30 to 5:30pm, The Dylan Hotel in Amsterdam hosts this refined four-course pairing.
The expertly-crafted bites (each course is appetizer-size) are paired with four complementing wines from around the world. The result is astounding. From pheasant paired with Montepulciano d'Abruzzo to chocolate goodness alongside an Austrian Spatlese dessert wine, everything strikes the perfect note.
Poffertjes
Puffy pancakes known as poffertjes are one of my favorite Dutch breakfast discoveries. These simple, fluffy treats are made with yeast and buckwheat flour. Most often, they're topped with the perfect combination of butter, powdered sugar, and syrup.
Poffertjes are also popular at festivals, fairs, and events where you'll likely find a greater range of toppings for the tasty snacks. At several festivals, the Christmas markets, and the Gouda cheese market, I saw them served with a cinnamon and sugar mix, chocolate syrup, or whipped cream. My favorites were topped with fresh strawberries.
Pannekoeken
You might gather that the Dutch love their pancakes. And I'm with them on that! Unlike the small poffertjes, pannekoeken are dinner-plate-sized specialties. Traditionally, they are eaten with a type of syrup called treacle, but you can find them served with any number of things at any time of the day. The gem in the photo above is from dinner at Amsterdam's The Pancake Bakery—a delicious option made with bacon, cheese, and mushrooms.
Speculaas
A spiced shortcrust cookie, speculaas is one of our favorite foods to have in the Netherlands. Even though it's most traditional around Christmas time, it can be found year-round.
The crispy brown cookie usually has flavors of cinnamon, nutmeg, cloves, and other seasonal spices, which have been part of the recipe for centuries thanks to the Dutch East India Company spice trade. You will often find them in the shape of windmills, but molds for Christmas are elaborate and can get very large–it's not uncommon to see a giant St. Nicholas a few feet tall.
Bitterballen
Bitterballen are a traditional beer snack. The breaded balls filled with gravy are fried to a perfect golden brown and are available at most pubs you come across. The bite-sized snacks are served with mustard and are great on their own or with one of the craft beers from the Netherlands.
Patat frites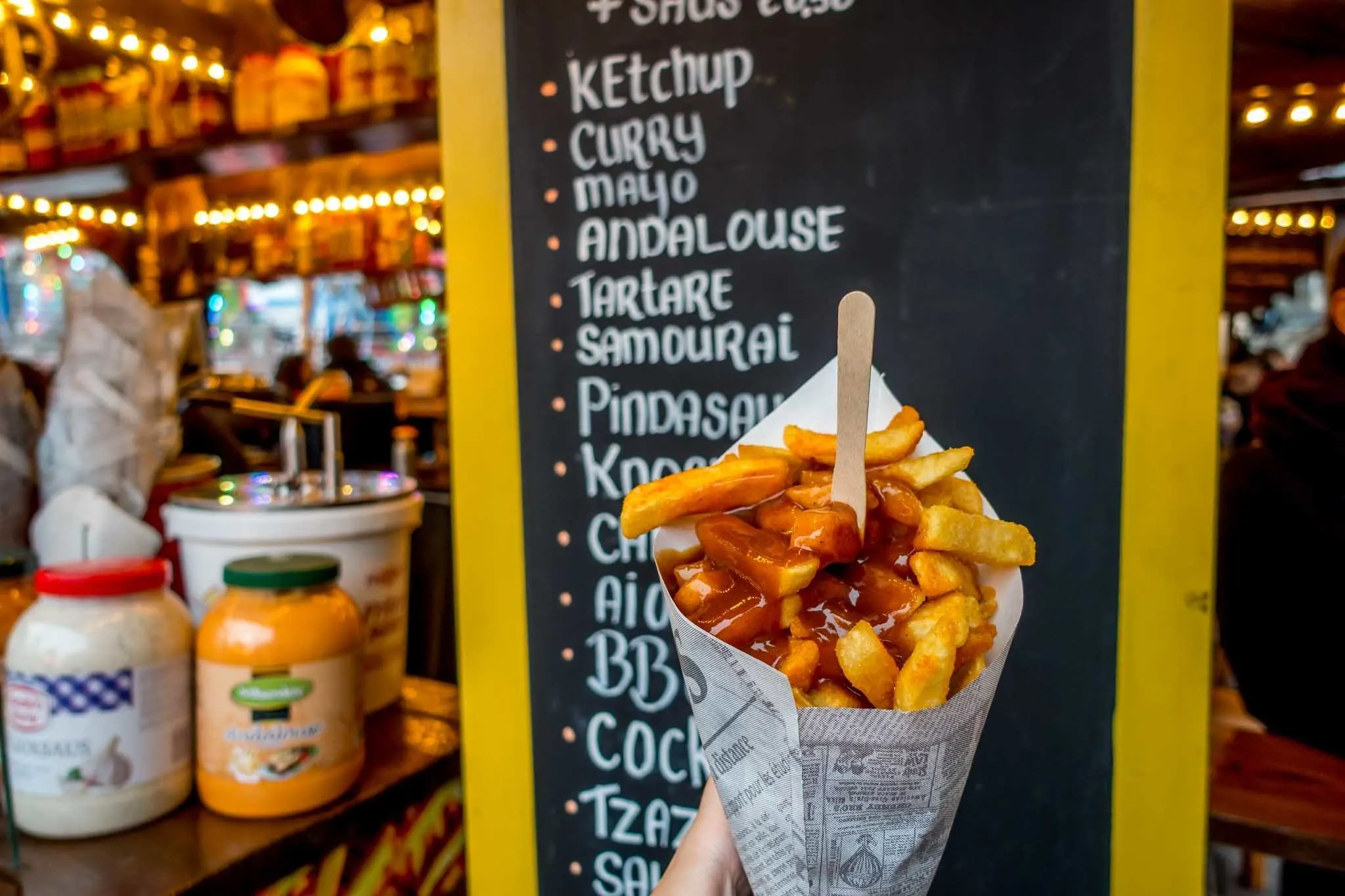 They're French fries. But perfectly fried and coated in one of the dozen or so sauce choices, they can be a little bit of heaven. Mayonnaise is the Dutch condiment of choice, but I'm partial to curry sauce myself.
Kroketten
Similar to bitterballen, croquettes (kroketten) are a popular fast food. They're cylindrical in shape and have a molten center made of a thick gravy with pieces of meat (beef or veal) covered in breadcrumbs and deep fried. While they don't win any awards for health, they're usually a tasty and filling option. You'll often see kroketten served on bread as a sandwich (broodje kroket).
Van Stapele cookies
While they may not be exactly traditional, Van Stapele cookies are one of the top desserts in Amsterdam. The Van Stapele bakery makes one kind of cookie, and it's in very high demand. With Valrhona chocolate cookie dough and a white chocolate filling, they're amazing, especially straight from the oven.
Genever
The last Dutch food to try is, well, a drink. Genever (jenever) is the traditional spirit of the Netherlands. This clear liquor is made from distilled malt wine that is flavored with juniper and spices. The result is similar to gin but smoother with a malty flavor and a hint of sweetness. If your trip also includes Belgium, you'll find genever there, too, thanks to the countries' common history.
There are three traditional kinds of genevers— old (oude), young (jonge), and superior—plus a huge variety of liqueurs. The liqueurs can get a little crazy, ranging from normal flavors like blackberry to those with names like Hansel in the Cellar and My Aunt's Perfume. These 400-year-old products are still available in tasting rooms throughout the city that date back centuries. Visiting one is an experience not to be missed.
We were the guests of Eating Amsterdam and The Dylan. All opinions of the sweet and savory are our own.
---
Do you have a favorite typical dish or one you can't wait to try?