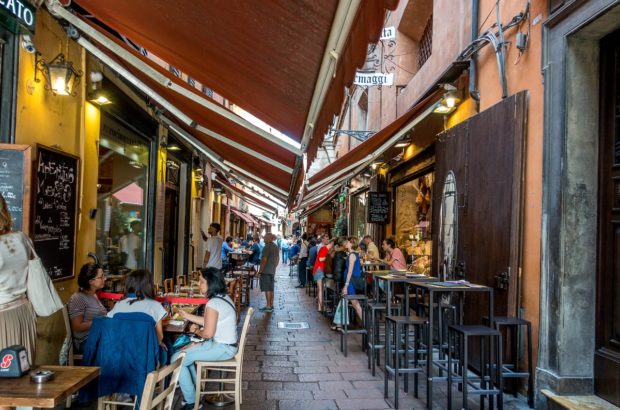 The energetic, historic capital of Italy's Emilia-Romagna region, Bologna is our favorite type of city. It is large enough to have lots of things to see and do but is easy to navigate and lacks the crushing crowds that can flood some of the bigger cities. Bologna has a rich heritage dating back thousands of years, with historic buildings and churches and the oldest university in the Western world. All that exists alongside fabulous markets, world-class entertainment, and some of the best food we've ever had. The fact that it's slightly off the main tourist circuit makes it even better. Here's a look at some of our favorite things to do in Bologna.
Check current hotel prices in Bologna here
See the city from San Petronio
The Basilica of San Petronio sits right on the city's main square, Piazza Maggiore, so it's impossible to miss. The 14th-century Gothic cathedral was never finished, so its exterior is an unusual mix of pink, white, and brown. The interior is worth a brief visit, but our favorite part was taking the elevator to the top for sweeping views of the lovely city below.
Climb into the sky
Another option for great views (plus a great workout) is the Asinelli Tower. Built at the end of the 11th century, it's the city's largest tower. Be prepared if you plan to visit — it's 498 steep, narrow steps to the top, but the view stretches for miles on a clear day.
See the wonders of the local food markets
Visiting local food markets is always one of our favorite things to do on a trip, whether in Provence, Siena, or pretty much any other destination. As you might expect, Bologna markets are some of the best we've come across. From open-air markets to food halls with kiosks and restaurants to a slow food market complete with live music, there is a lot to choose from. Wandering these delicious spaces and trying their wares was one of our favorite things to do in Bologna.
Stroll under the porticoes
There are nearly 40 km of porticoes in Bologna. These beautiful arches stretch throughout the city center and all the way to San Luca. There are so many that have lasted for so long (nearly 1000 years) that they're even being considered as a UNESCO World Heritage Site. Today, they lend character to this ancient city, not to mention providing great shade and shelter from the rain.
Run or ride to San Luca
The burnt orange Basilica of San Luca sits on top of a lush hill just outside the center of Bologna. The 18th-century church houses an icon of the Virgin Mary, supposedly painted by St. Luke.
There are two main ways to reach this lovely spot – walking or bus. From Bologna, you can stroll just under 2.5 miles beneath 666 of the city's famous porticoes out to the church. Alternatively, hop on the San Luca Express like we did in Piazza Maggiore. It's a red bus that visits a circuit of about 12 stops around the city, culminating in a visit to San Luca.
Find a festival
Special events happen all year long in Bologna. From the summer film festival to winter's Carneval, there are often unique events happening throughout the city. Check the calendar to see what's going on during your visit.
Try traditional food
Fabulous food is a given in Italy, and Bologna is full of amazing regional specialties. Try the mortadella (known elsewhere as bologna) or a piadina (flatbread), perhaps with Parmigiano-Reggiano cheese that's made only an hour away in the Parma area. Tagliatelle al ragu – sometimes referred to as Bolognese – is also a must-try along with tortellini in brodo. These great dishes can be washed down with a local sparkling wine like the light, white Pignoletto or a fruity, red Lambrusco.
Take a day trip to Modena
Only a half-hour away by train, Modena makes a great day trip. You can make a special reservation at the restaurant that's recently been named the best and the world, Osteria Francescana, or take a more low-key approach visiting the city's sights.
A great way to hit the highlights in Modena is to take their hop-on/hop-off bus that leaves from Bologna. You can visit the home of opera great Pavarotti, taste test the famous Aceto Balsamico di Modena (balsamic vinegar), and visit a local winery. If cars are more your speed, you can get your fill of Ferraris, too.
Visit the relics at Basilica di Santo Stefano
At one end of a pretty square (which reminds me of a mini version of Siena's Piazza del Campo), Basilica di Santo Stefano is actually a complex of churches. Originally seven houses of worship, the buildings were built between the 5th and 13th centuries. Wandering among the rooms, you can find early Christian relics, fantastic artwork and sculptures, and brilliant mosaic floors.
Browse the art at MAMbo
The Bologna Museum of Modern Art (known as MAMbo) features modern and experimental art in a space that used to house a bakery. The permanent collection includes some of the most innovative art of the post-war period. The museum also devotes space to temporary exhibits that include solo shows, retrospectives, and themed presentations.
Indulge in aperitivo
Finishing the day with an aperitivo at one of the city's many bars is one of the best things to do in Bologna. Try a local wine or a spritz, a combination of Prosecco and Aperol, and enjoy the buffet. Usually laid out around 7pm, the spread is likely to include an array of meats, cheeses, breads, pizzas, and sometimes even full pasta dishes and desserts. As long as your glass is full, you can continue to nibble.
Soak in the Quadrilatero night life
Just off of Piazza Maggiore is the Quadrilatero. The streets of this section of the city center are lined with cafes, bars, and specialty food shops. It's busy during the day, but it's on fire at night. As friends and co-workers arrive for after-work fun, tables spill out into the narrow lanes. Every store front seems to be lit up. There is music and laughter everywhere. Pull up a chair, if you want to, or just walk through the streets and breathe in the good life of Italy.
Stop by the ancient Anatomical Theater
The Anatomical Theater is located inside the Archiginnasio, the first seat of the University of Bologna, which is the oldest university in the West. The fascinating Anatomical Theater, built in 1636, is where autopsies took place, teaching students about the human body. From uncomfortable, elevated wooden benches, students watched the dissections happening in the middle of the room. While it's slightly macabre, the theater is fascinating for the advanced nature of the studies that happened there.
Have your fill of gelato
No visit to Italy is complete without trying gelato…perhaps a couple of times a day. Bologna has a number of authentic gelato shops where you can try every flavor you're craving. The best options are the shops where the gelato colors are natural (i.e., mint is white, not electric green). Cremeria Funivia was one of our favorites.
Check current hotel prices in Bologna here
We visited Bologna as part of the Blogville project in coordination with the Emilia-Romagna Tourism Board and iambassador. All opinions of the fun and flavorful are our own.
Note: Some links may be affiliate links, which means Travel Addicts may earn a few pennies if you buy something–at no additional cost to you.