When planning a trip to Belgium, getting beyond historic Brussels is a good idea, if time allows. Two prime contenders for rounding out your vacation are Ghent and Bruges. Both are easily doable as overnight trips or even day trips from Brussels, thanks to their proximity. The harder part comes in deciding which city—Ghent or Bruges—is worth your time because the short answer is that they both are, depending on what you like.
The appeal of Bruges is well-known mostly because people have heard it's beautiful or they've seen the movie In Bruges. Ghent is lesser known, although no less worthy of a visit. Both cities in Belgium remarkably survived the ravages of World War II so they have historic architecture, art, and plenty of other highlights. But there are also some big differences. If this is your first foray into Flanders and you're limited in time, which city do you choose?
Visiting Ghent or Bruges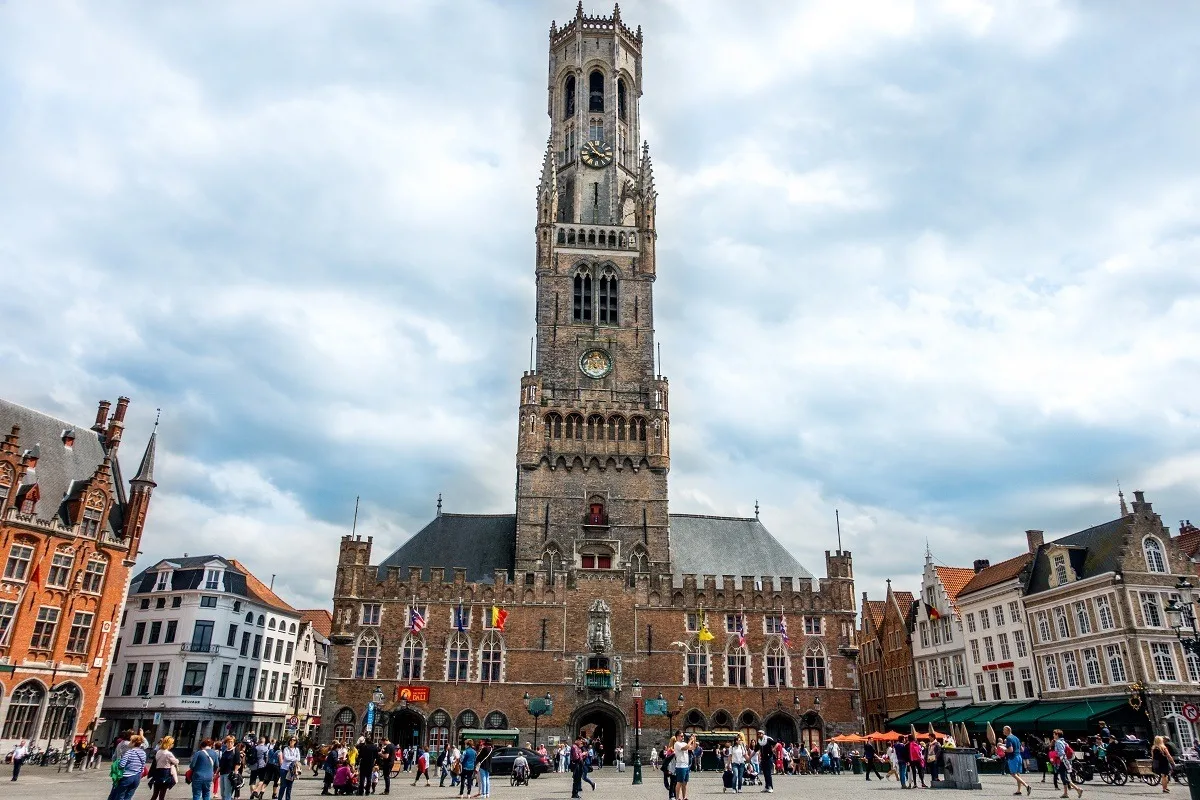 About Bruges
Bruges (Brugge) is stunning. Even people who know very little about visiting Belgium can probably tell you that this city near the North Sea coast is reported to be one of the most charming places in Europe. Like the pastel-hued half-timbered houses of Colmar, France, and the picturesque walled city of Rothenburg ob der Tauber, Germany, Bruges is accurately known as a place that looks like it was pulled from the pages of a fairy tale.
While there are lots of fun things to do in Bruges, the city itself is the main attraction. There's just so much to see.
I have long been obsessed with canal houses. From Amsterdam to Lubeck, Germany, the gabled roofs of the merchant houses and golden flourishes of the guild halls mesmerize me. The effect is the same throughout the city. Flanking Market Square, along the canals, and in the Hansa Quarter are some of the loveliest examples of these unique buildings.
It doesn't stop there, though. On Burg Square, the 14th century Gothic Town Hall and the adjacent (and intriguingly-named) Basilica of the Holy Blood are also breathtaking.
With some frites in the market square, some chocolate (it is Belgium, after all), and a delightful canal cruise, it's hard to ask for a prettier day than one spent in Bruges.
As much as we loved the horses clomping by over the cobblestones and the absurdly colorful city center, there are things that some visitors find less-than-appealing. If you're deciding whether to visit Bruges or Ghent on your Belgium trip, they're important to know.
The biggest complaint is that some people find Bruges to be too touristy and crowded. While it does feel like the whole city was created with tourists in mind, the medieval buildings are very much authentic. All the souvenir stores are certainly less so. The issue with crowds seems largely dependent on day of the week and time of year when you visit.
We've visited twice–once on a weekday in early June and once on a weekend during the Christmas market. The first time was very relaxed and manageable, but the second visit was pretty hectic.
Additionally, people who like nightlife don't always prefer Bruges because it gets quiet when the day trippers leave. Personally, I think that's the best time to explore. Lastly, the city has fewer restaurants and higher prices thanks to its small size (and capitalizing on tourism), so it's helpful to set your expectations if you're a foodie like us or you're trying to please a group of people with different tastes.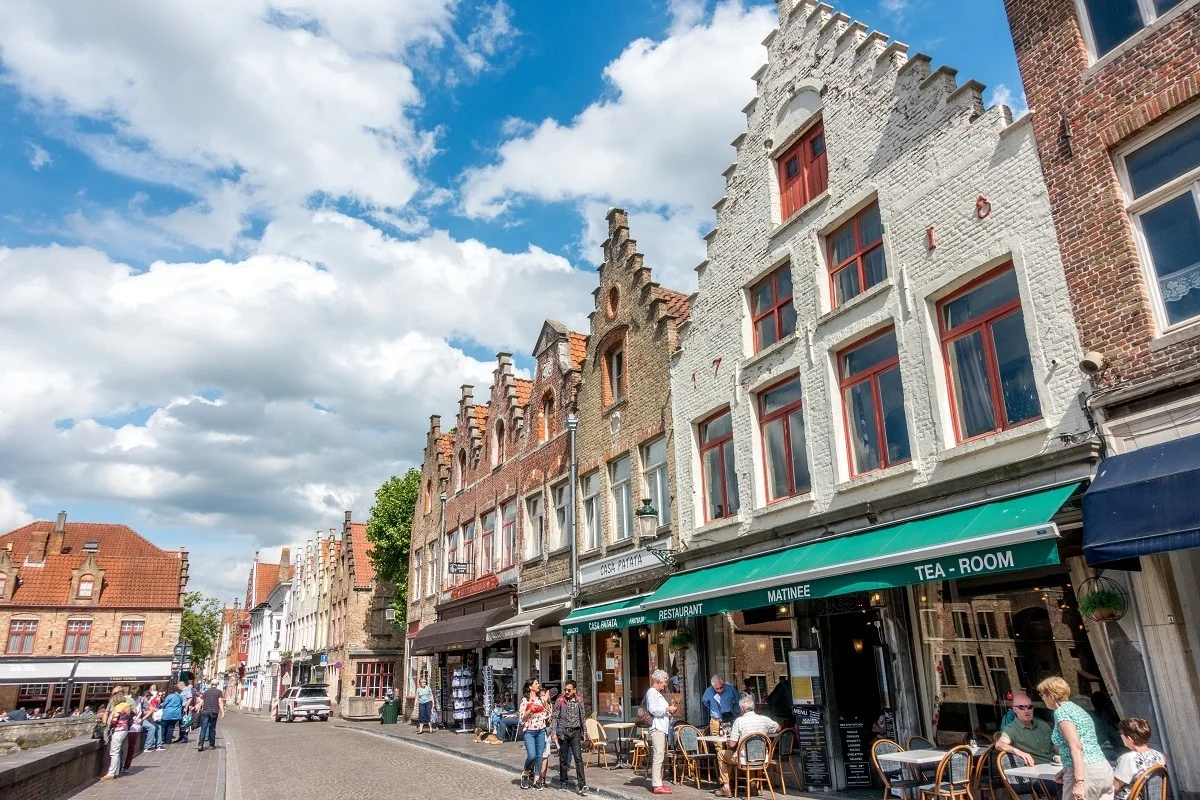 Things to do in Bruges
Bruges is such an easy city to visit because all the main sights are in a compact area in its UNESCO-listed center. You could stroll across the heart of the old town in just a half-hour, but you wouldn't want to move that quickly because there too many things to see and do along the way. Here are a few of the highlights.
Belfry
It's 366 steps up to the top of the prettiest building in Bruges, the Belfry. It may be a workout (and a wait), but you can't beat the view from the top.
De Halve Maan Brewery
The only brewery in the historic center, De Halve Maan Brewery offers daily tours in Dutch, French, and English. Check out their underground beer pipeline and see where they've made their popular beer since 1856.
Basilica of the Holy Blood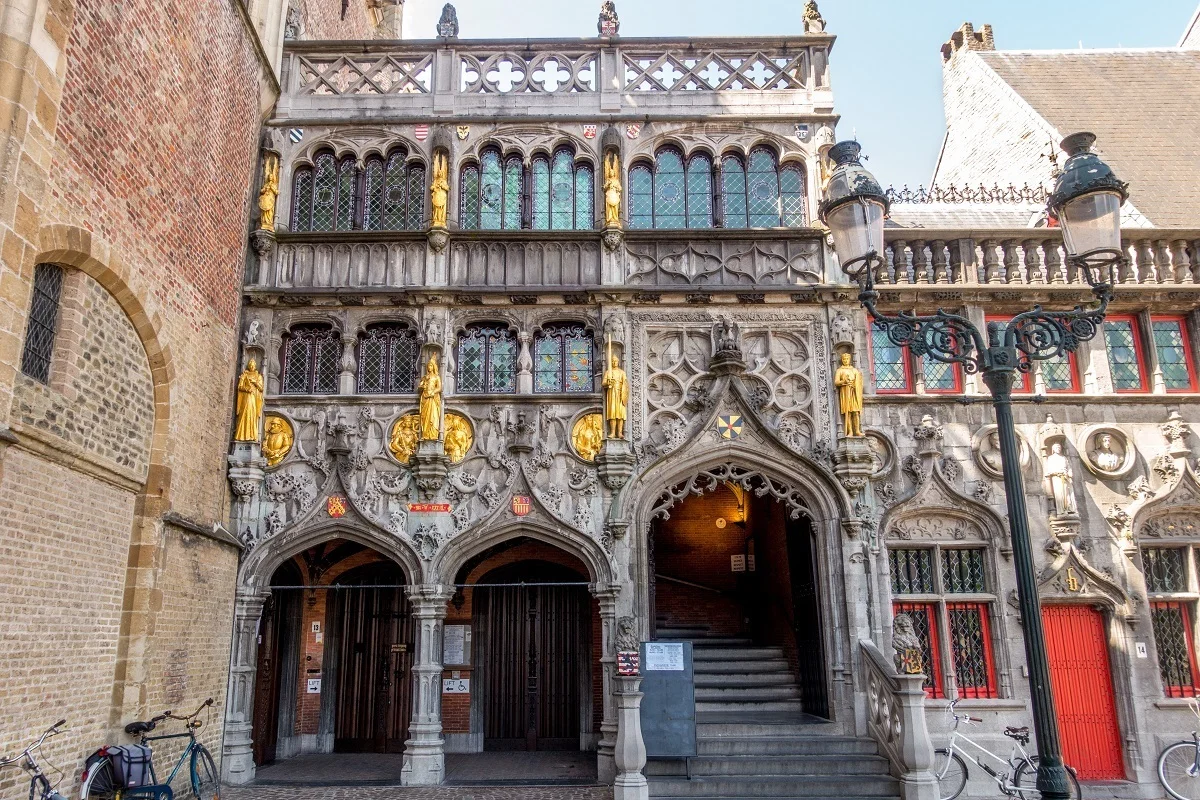 The Basilica of the Holy Blood is brilliant on the outside but famous for what it houses inside. According to tradition, a cloth in the fascinating church holds Jesus' blood from the crucifixion. It is on display to the public every Friday and for two weeks in early May.
Beguinage
The Béguines who began living in Bruges in the mid-13th century were lay women who dedicated their lives to God but stayed part of society. They formed unique communities and built buildings around green space. The current white houses and buildings at the Beguinage date from the 17th century and are home to the Sisters of the Order of St. Benedict. The 13 Flemish beguinages are collectively a UNESCO World Heritage site.
Church of Our Lady of Bruges
The Church of Our Lady is a must-visit for art lovers. The tallest structure in Bruges, the church is home to gilded tombs of nobility, medieval art, and gorgeous carvings. Its star is Michelangelo's Madonna with Child (or Madonna of Bruges) which dates from 1504. The sculpture is the only one of Michelangelo's works to leave Italy during his lifetime.
See even more ways to spend time in Bruges.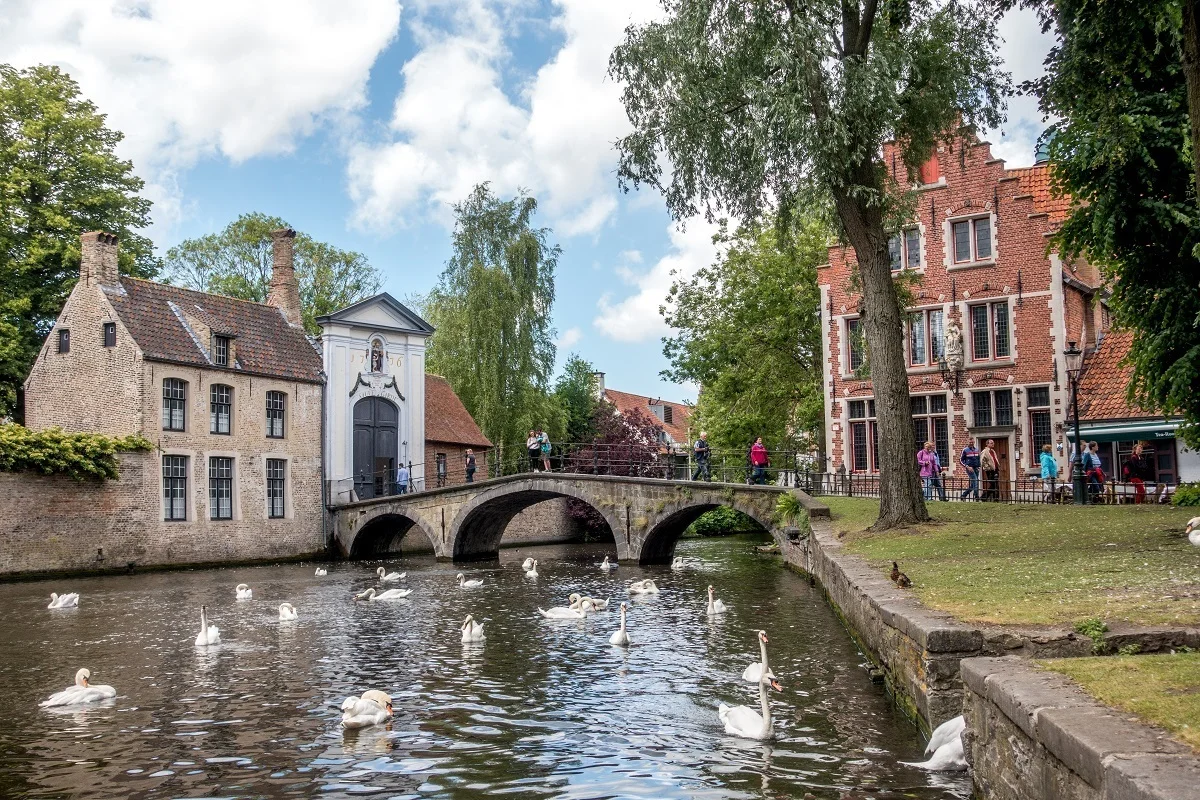 Why to Choose Bruges
Bruges is absolutely worth adding to your Belgium itinerary for many reasons. From its sheer beauty to its history to its opportunities for people watching, beer indulging, and museum seeing, Bruges is great place to stop. But if you're still on the fence about whether to choose Ghent or Bruges, there are a few specific reasons why Bruges might appeal to you more.
You're looking for beauty around every corner
While Ghent has lovely and historic areas, they're mixed within a modern city. On the other hand, Bruges looks like a movie set (it was) or part of Disney World come to life. There's something magnificent everywhere you look. I dare you not to be impressed.
You have a thing for canal cruises
Seeing Bruges from the water is a magical experience. The 30-minute boat tours take you to places the streets don't necessarily go, you can cover a lot of ground quickly, and the cruise offers you a unique view of the dazzling city. Ghent offers canal cruises as well, but we found ours skippable when compared to Bruges.
It's your first visit to Belgium
"Touristy" complaints aside, Bruges is lovely, and it's a classic European destination. Chances are that you won't regret going.
About Ghent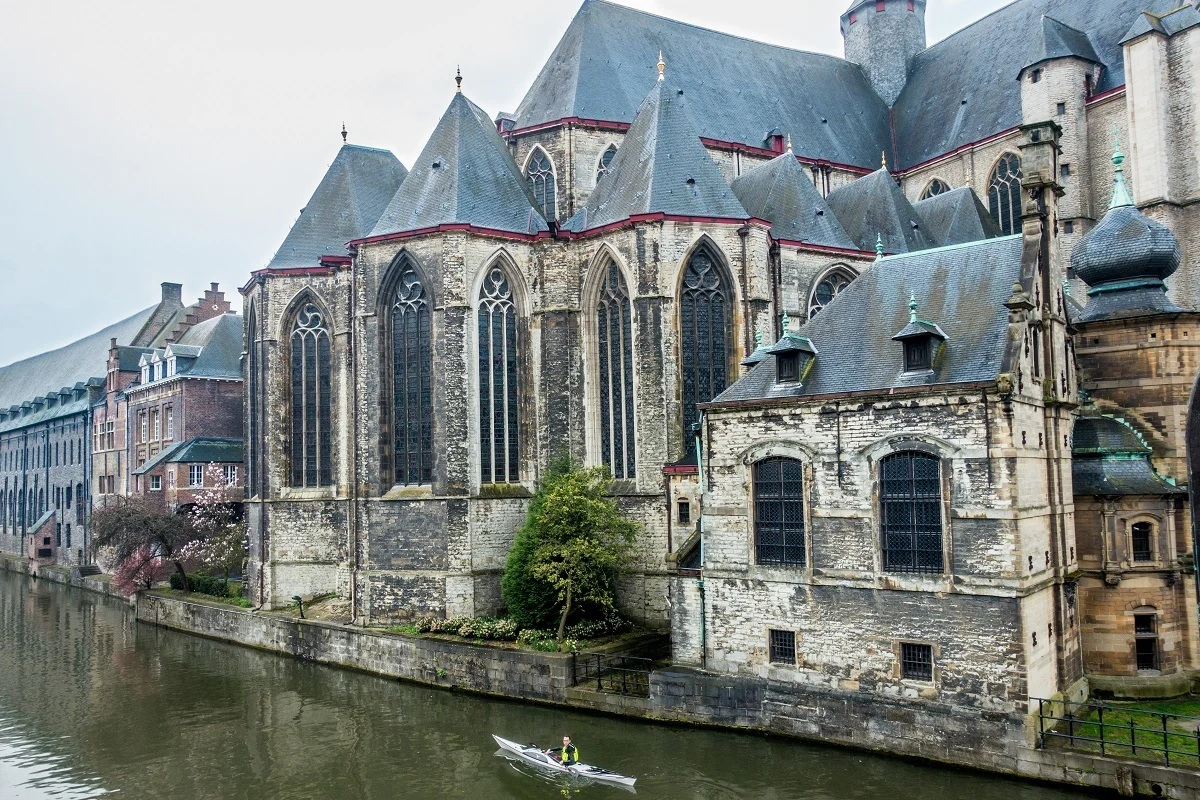 Ghent is probably not the first city that comes to mind when you think about traveling to Europe. That, in itself, is the appeal for a lot of people—Ghent (Gent) doesn't feel overrun with tourists. Visiting feels like you've discovered something that not many people know about, even though you're in a big city.
I've seen Ghent described as "gritty" or "edgy," but I didn't feel that way. I'd reserve those terms more for cities like Palermo (which we also really enjoyed). Instead, it felt like visiting a city where real people live…only with canals and medieval buildings and a castle in their backyard. Nothing in Ghent feels like Disney, but Disney isn't required to have a great time.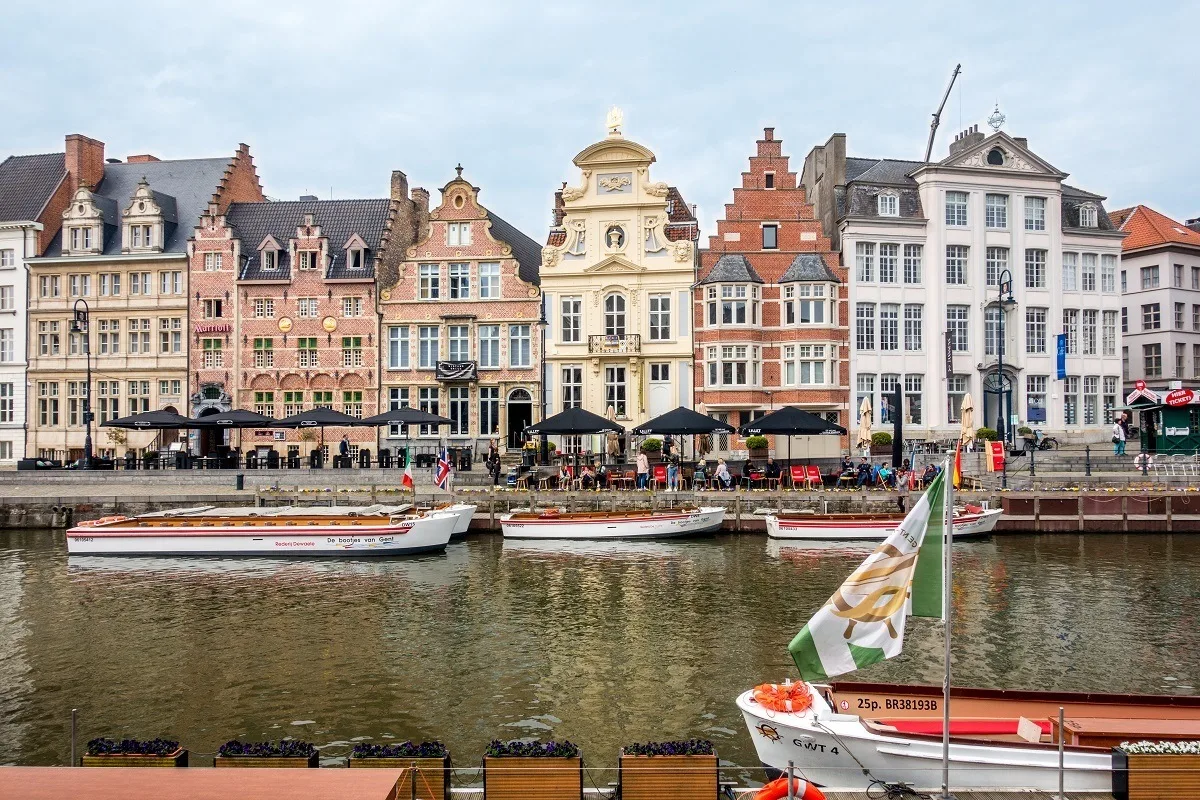 With a population of 240,000, Ghent is a thriving mid-sized city with a large university and a charming historical core. Unlike Bruges, it feels like a regular city first and a tourist destination second. By comparison, just 20,000 people live in the historic center of Bruges.
Being a regular city means that there is street art, a bit of traffic, and even a good-sized grocery store right in one of the main squares (if you don't visit grocery stores when you travel, you should). There are also lots of restaurants of different cuisines and price points that aren't solely designed with tourists in mind. This can be particularly refreshing if you've had your fill of places that feature menus with photos and overpriced Belgian specialties.
Like Bruges, Ghent is illuminated at night. But, unlike Bruges, thanks to all the residents and university students, there's a thriving nightlife scene.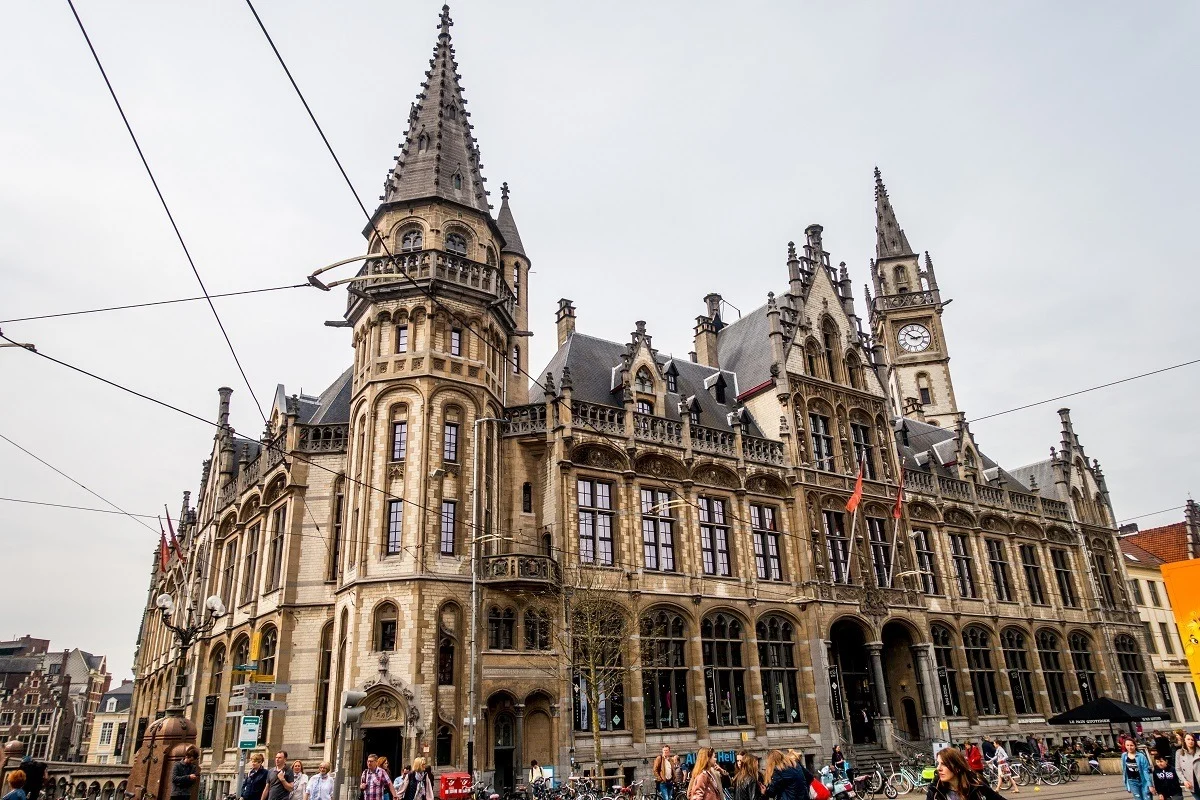 Don't let all of this "regular city" stuff make you think that Ghent isn't gorgeous. It is.
Ghent is most known for its three towers—the Gothic masterpieces of the Church of St. Nicholas, St. Bavo's Cathedral, and the Belfry. This remarkable trio of buildings is right in a row on Limburgstraat, and you can pass all three in just five minutes, making them perfect destinations for visitors on even the shortest trip.
In the Middle Ages, Ghent was one of the richest cities in Northern Europe, so there are also enough canal and merchant houses to make my heart flutter. Did I mention there's a castle, too?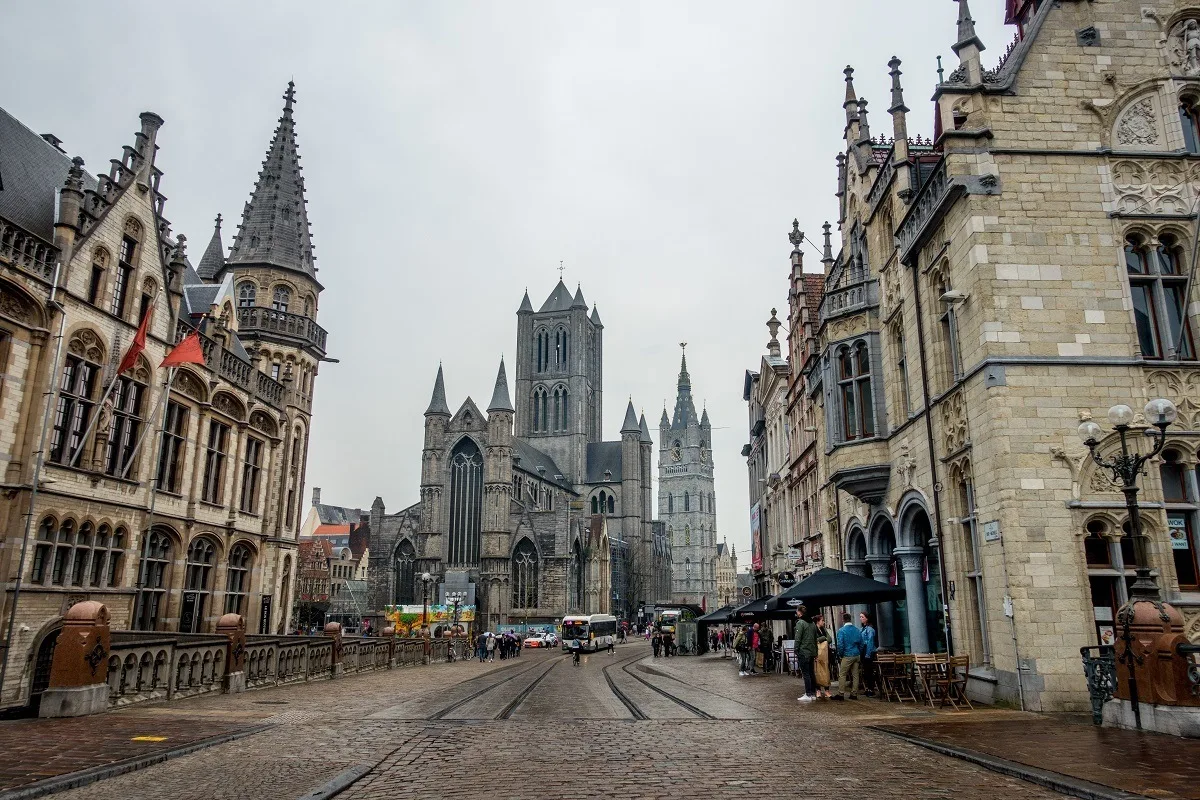 Things to do in Ghent
Although Ghent is a much bigger city than Bruges, it also has a compact historical core. It's easy to visit many sites in a loop around the city center. Venturing beyond the historical, you'll also find street art, museums, and great places to eat. This list is just a small taste of what you can expect.
St. Bavo's
Constructed from 1350-1559, exquisite St. Bavo's Cathedral is undeniably historic. With Gothic arches, stained glass, and a 292 foot-tall tower, it's a sight to behold.
St. Bavo's is home to the The Adoration of the Mystic Lamb (aka the Ghent Altarpiece), which has been called the most influential painting in art history. The first masterpiece to be done in oil, the vivid colors of the massive work still shine nearly 600 years after its creation.
Belfry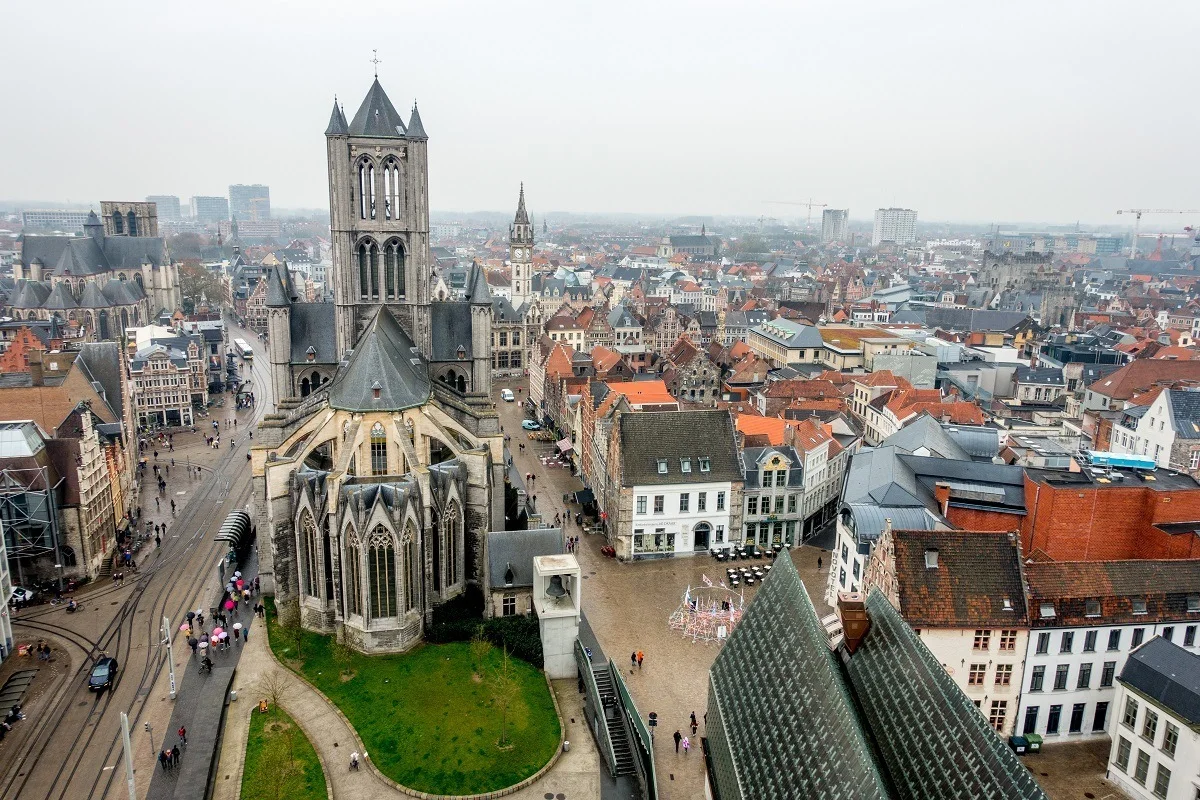 The UNESCO World Heritage-listed Belfry soars 300 feet up and offers the best view of the city. Unlike many bell towers in Europe, the 700-year-old structure has an elevator to zoom you straight to the top. It's not to be missed when you visit Ghent.
Patershol neighborhood
The Patershol is one of Ghent's trendiest neighborhoods. The cobbled streets here are lined with some of the city's hippest restaurants—you can take your pick from Japanese, Turkish, Flemish, and more. Other neighborhood offerings include cozy cafes, an old-fashioned candy store, and a Belgian cultural museum.
Gravensteen Castle
Gravensteen is exactly what you would expect from a medieval castle—heavy and imposing with a moat and even a torture museum. Thanks to its location, it's one of the easiest castles to visit in Belgium.
St. Michael's Bridge
St. Michael's Bridge is the best vantage point to see the city's three towers. Turning around, there are great views of the canal and St. Michael's Church. Enjoy the 360-degree panorama and snap a few photos (but watch out for the cars).
Why to Choose Ghent
Ghent is a great addition to any vacation in Belgium. It's easy to get around and has unique historical buildings and picturesque views. The tourist-oriented attractions are mixed with a local flavor that makes Ghent feel real and laid-back—the kind of place you'd like to hang out for a while.
You love street art
The street art game in Ghent is strong. So strong, in fact, that the tourism bureau has put together an awesome map that takes you to over 80 colorful works. There's also a dedicated graffiti alley (Werregarenstraat) in the city center.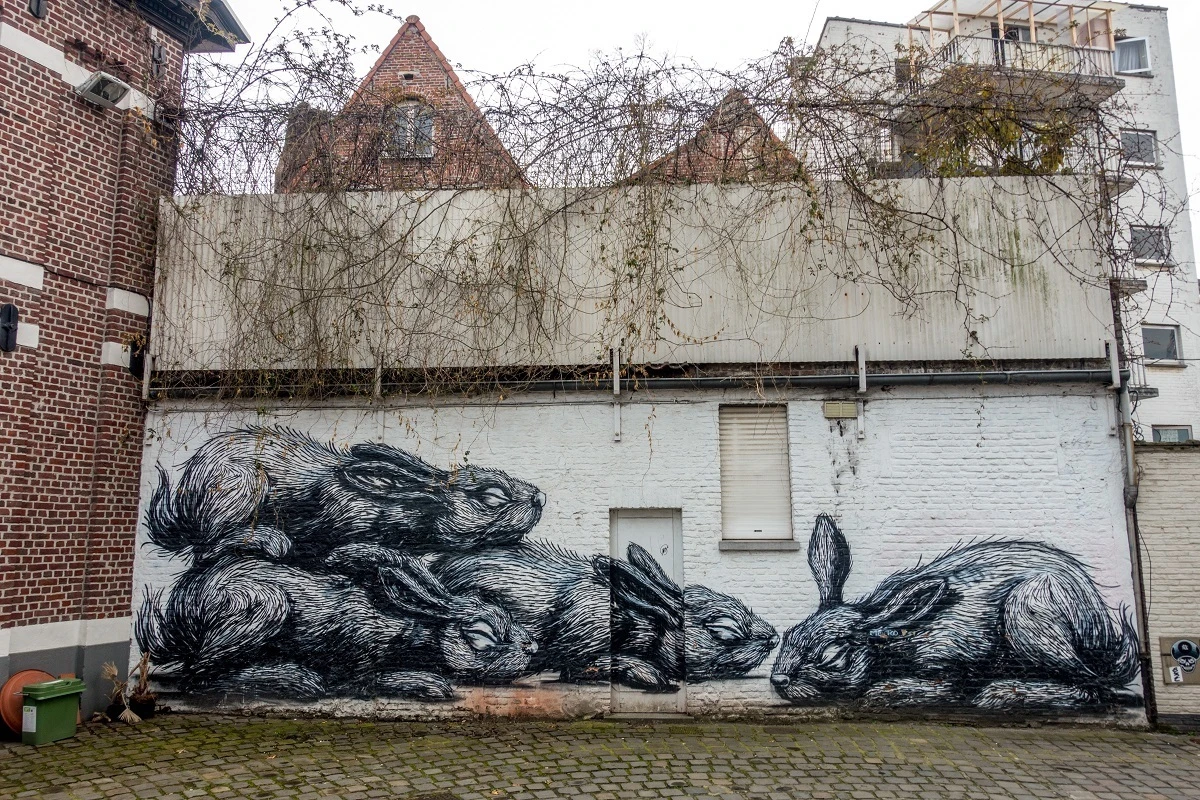 You like nightlife
As the sun goes down and people get out of work and out of class, they head to the quays to hang out and relax. There are also concerts, great bars, and a lively independent film scene. Visitors can take advantage of any of these activities or head to one of the hundreds of restaurants in the food capital of Flanders.
You like a little bit of everything
Ghent has history and art—both the street and scholarly kinds. It has great food and a fun, distinctly non-touristy vibe. The city has pretty buildings, canals, and views from above that can't be beat. There's something for everyone.
Which City to Choose?
We've visited both Ghent and Bruges twice, so we clearly like them both. But, if we absolutely had to pick just one, our choice would be Ghent.
We love that Ghent is an authentic, thriving city with lots to do, but it doesn't feel crowded or touristy. We love the church towers and the beautiful views they offer of the city. Plus, there is a wide selection of restaurants and bars to cater to all tastes.
On my first visit to Ghent, I was the guest of Visit Gent. All opinions of the pretty and tasty are my own.
Laura Longwell is an award-winning travel blogger and photographer. Since founding Travel Addicts in 2008, she has written hundreds of articles that help over 3 million people a year get the most out of their travel. In that time, she has visited nearly 60 countries on 5 continents, often returning to favorite destinations over and over again. She has a deep love of history, uncovering unexpected attractions, and trying all the good food a place has to offer.
In addition to Travel Addicts, Laura runs a site about her hometown of Philadelphia—Guide to Philly—which chronicles unique things to do and places to see around southeastern Pennsylvania. Her travel tips and advice appear across the web.