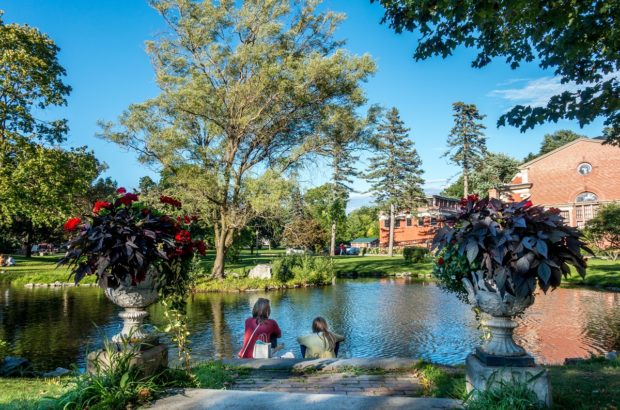 Saratoga Springs, New York, has been on our radar for a long time. When we lived in Manhattan, friends and co-workers would talk about how cute the main street was and how you could actually drink from the town's springs. But with little time or money to get away from the grind, Saratoga Springs remained one of those places that we hoped to get to "one day." And then it finally happened, and we were blown away.
Yes, the main street (Broadway) is adorable, and you can drink from the springs all around town. But what we didn't know about was the fabulous parks, amazing food, and overall joie de vivre in this city filled with music. It may have taken us 15 years to get there, but we couldn't have been happier exploring all the great things to do in Saratoga Springs for the weekend. Here's a look at some of what we loved.
Things to do in Saratoga Springs
Hang out in Congress Park
If we lived in Saratoga Springs, we would be at Congress Park all the time. Centrally located right off Broadway, this beautiful green space has a little bit for everyone. You can watch the fountains, picnic on the lawns, or lose yourself in watching wildlife in the ponds. Bring a cup to try one of the city's springs straight from the source or just spend time strolling the paths that curve through Congress Park.
One of the park's keys sites is Canfield Casino, an historic casino that dates from the 1870s. Although it's no longer open for gambling, it's full of architectural detail and an important part of Saratoga Springs's history. Our favorite–and most unexpected–stop in the park was the enchanting 118-year-old carved carousel that you can ride for just $.50.
Wondering where to stay in Saratoga Springs?
Elegance with a personal touch: Saratoga Arms
Stylish boutique hotel: Adelphi Hotel
Spacious suites and studios: Pavilion Grand

You'll find more details about where to stay in Saratoga Springs at the end of this article.
Spend a morning at the racetrack
Saratoga Race Course is the lifeblood of Saratoga Springs, New York. In operation since 1863, it hosts about six weeks of thoroughbred racing every summer, including the famous Travers Stakes.
Activities at the Saratoga Race Course go beyond racing, socializing, and admiring fancy hats, though. Every morning the track is open, spectators can have breakfast on the Clubhouse Porch close enough to almost touch the horses as they warm up for the day's activities.
Everyone from families to focused betters grab a table and peruse the buffet while getting a unique look at the day's competitors. We absolutely loved being so close to the action…and the mimosas were pretty good, too!
Visit the springs
Outside of the racetrack, Saratoga Springs is probably best known for the natural springs that dot its landscape, making a tour of them one of the best things to do in Saratoga Springs. Originally used by Native Americans as far back as the 1600s, the springs are known for their restorative properties both in drinking and in bathing. Saratoga Spa State Park is the best place to explore the area's offerings today.
A tour of the springs will take you to about half of the dozen mostly carbonated springs that still flow in the park. Each spring has its own unique mineral content, and thus, its own flavor, so no two taste the same. Thank goodness for that, because some were definitely not delicious, while others could easily substitute for standard bottled water—only fresher, of course.
While you can locate the springs on a self-guided walk, we opted for an expert guided tour. We visited the high-iron Polaris and the newly replenished spring, Tallulah, that leaves a trail of colored minerals along the hill slope. We also stopped by the Geyser Island spouter with its massive 85-year-old tufa mineral deposits and sampled several other springs. There's no better way to get a sense for these cool natural features than seeing the Saratoga mineral springs up close.
Give your wallet a workout
There is no shortage of places to shop in Saratoga Springs. Just a stroll browsing the downtown shops could take at least a half-day. Check out The Savory Pantry or Saratoga Olive Oil for home and food items or pop into the Saratoga Sundress Boutique or G. Willikers Toys for clothes, toys, and gifts. For items of the literary variety, browse The Lyrical Ballad Bookstore for new, used, and rare books.
Indulge in the Roosevelt Spa
Saratoga's springs have been believed to have healing properties for hundreds of years. In the 1930s, the magical springs were funneled into the Roosevelt and Lincoln spas where thousands of people came every day for doctor-prescribed treatments related to the springs. Today, those waters are harnessed in the serene environment of the Roosevelt Baths & Spa where guests can choose from a menu of relaxing treatments, no prescription necessary.
As an historic site, the Roosevelt Baths & Spa still maintains the aura of its heyday in the early part of the 20th century. Like the spas we've visited in Europe, it is at once a luxury retreat and a step back in time. Each of the 42 private bathing rooms has a tub sunken four inches below the floor, a massage table, and bathroom.
We opted to try the aromatherapy mineral bath in which the 55 degree natural mineral water is mixed with hot tap water to approximate body temperature. The relaxing champagne spring waters actually make you float in your own private hot tub. It's a fabulous experience. Forty minutes has never passed so fast. (The water oxidizes above ground, hence the unexpected yellowish color.)
Spend the night at SPAC
It's hard to describe the magic of Saratoga Performing Arts Center (SPAC), but we loved every moment of the four shows we had the chance to see. On the grounds of Saratoga Spa State Park, performances at SPAC highlight just about every musical genre you could imagine. Of course there's classical music, but you'll also find jazz, pop, rock, and other types of music from around the world.
For decades, SPAC has been the summer home of the New York City Ballet and the Philadelphia Orchestra, which gives visitors a chance to see a number of world-class performances throughout the summer. Whether it's a ballet by Balanchine or the Orchestra performing live to a showing of Indiana Jones or E.T., the options are extensive. On the other end of the musical spectrum, favorites like Phish and Dave Matthews pack the amphitheater and lawn of the lovely outdoor venue, too.
With over 50 performance seasons under its belt, SPAC is also constantly reinventing itself with additions like a lively (and free!) jazz bar under the summer stars and other engaging performances that actually bring the audience on-stage with artists.
Check out the historic architecture
With a history as old as the United States, Saratoga Springs has a mixture of grand architecture. From the towers of Queen Anne-style homes to the columns and impressive porches of Greek revival buildings, there's lots to see all over town. Stroll around to see the turrets of Union Avenue, the mansions of Circular Street, the bright colors of Clinton Place, and much more.
Attend a festival or outdoor event
Saratoga Springs is a perfect spot for festivals and outdoor events. Throughout the year, you can find something fun going on nearly every weekend covering a variety of interests.
The Saratoga Wine & Food Festival allows visitors to mingle with culinary experts and taste dishes and drinks from the region's top restaurants while the less formal Chowderfest brings together over 80 vendors and 30,000 visitors to vote for their favorite local chowders. The city's premier Jazz Festival showcases world-class musicians for a weekend of spectacular performances. Those looking to see local theater can find the Saratoga Shakespeare Company performing the Bard's classics for free in Congress Park—a perfect opportunity for a little culture and a picnic.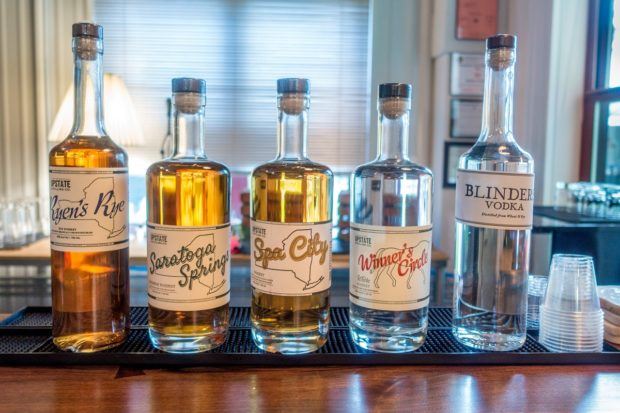 Try the local spirits
Located just across from Saratoga Spa State Park, Upstate Distilling Co. is distilling whiskey from locally-sourced, organic ingredients. This grain-to-glass distillery produces two whiskeys that honor New York's distilling heritage and love of horse racing.
Stop by for a taste on the weekend and enjoy an Old Fashioned on their patio like we did.
Visit the Victoria Pool
Built in the early 1930s, the Victoria Pool was the first heated pool in the U.S. Constructed at the same time as the nearby spas, the pool was part of the health and wellness trends of the time. Today, the gorgeous public pool is quite busy through most of the summer (though blessedly quiet the day we visited). You can't ask for a better place to relax on a sunny day.
Catch a show at Caffe Lena
Lance and I are both big fans of folk music. In fact, we met at a folk music concert. So we were pretty psyched to visit one of the standouts of Saratoga Springs's great music scene—Caffe Lena. This lovely downtown spot is the oldest continually-operating coffee house in the United States.
Founded in 1960, music legends including Don McLean, Bob Dylan, and Emmylou Harris have performed at Caffe Lena, and it has even been recognized by The GRAMMY Foundation for its contribution to the development of American music. We had the chance to see local performers the Dylan Perrillo Orchestra, who have an incredibly loyal following for their unique jazz performances. If you're a music lover, visiting Caffe Lena has to be on your list for what to do in Saratoga Springs.
Explore a museum
Saratoga Springs boasts an impressive collection of interesting museums. In keeping with a major theme in the city, visitors have the chance to explore the National Museum of Racing and Hall of Fame. Founded in 1950, the museum honors the achievements of American Thoroughbred race horses, jockeys, and trainers. There is also the National Museum of Dance and Hall of Fame which contains photographs, videos, and beautiful costumes of dancing greats.
If speed is more your style, auto enthusiasts can visit the Saratoga Automobile Museum, located in the former Saratoga bottling plant built in 1934. The museum displays about 30 vehicles and features both permanent and rotating exhibits. It's a must if you're a classic car aficionado.
Stop in for a sip
There are several options for great wines in Saratoga Springs. Just four miles from the center of town, Saratoga Winery produces a variety of traditional red, white, and sweet wine from New York State grapes. Check out the semi-dry Riesling, Saratoga Red, or their signature natural wine called Melomel which is made from grapes and local honey.
In town, stop by Putnam Market, which proudly calls itself "Manhattan's most northerly wine store." Putnam has hundreds of wines from New York and around the world. Sample a handful of the varietals they have available at their wine tasting station.
Wander the Yaddo Gardens
Less than three miles from downtown are the beautiful Yaddo Gardens. The European-inspired gardens—complete with fountains—were created in 1899 by financier Spencer Trask and his wife Katrina, a writer. The lower and upper terraces are divided by a pergola and feature a rose garden below and a woodland rock garden above the pergola.
While most of the estate is a private retreat for artists and writers in residence, the gardens are open to the public year-round from dawn to dusk. They are a perfect place to lose yourself in nature for an hour or so.
Places to Eat in Saratoga Springs
There is so much good food in Saratoga Springs. We wished we'd had more time in the city, if only to try a few more of the delicious spots.
Salt & Char — The upscale steakhouse and seafood restaurant Salt & Char is a perfect place for lunch or dinner on Broadway. Even their bread and butter was fantastic!
Farmers Hardware — Open for breakfast, lunch, and brunch, Farmers Hardware is a fast casual restaurant in an historic warehouse just off Broadway. Their breakfast sandwiches and burgers are particular stand-outs.
15 Church — With a dark wood interior and spacious patio, 15 Church is one of the best places for a big night out in Saratoga Springs. It's hard to go wrong with this upscale New American menu.
Uncommon Grounds — Without a doubt, Uncommon Grounds is one of the most popular coffee shops in Saratoga Springs.
Where to Stay in Saratoga Springs
Saratoga Springs offers lots of lovely accommodations, but since location is everything, there's no better place to be than in the heart of the action downtown.
The Saratoga Arms is a restored 1870 brick hotel that makes you feel more like you're staying in someone's luxury guest house than a hotel. There's a wrap-around porch, homemade cookies every night, and a breakfast service to die for. Staying even one night makes you feel like you're part of this gorgeous family-run establishment (Read Tripadvisor reviews | Book a room).
Originally built in 1877, the Adelphi Hotel is newly reincarnated as a luxury spot that pays homage to all the building's history. With high-end finishes and several restaurants, this hotel offers a truly special experience (Read TripAdvisor reviews | Book a room)
Modern elegance is the name of the game at the Pavilion Grand. With spa services, chic restaurants, and accommodations ranging from regular room to a two-story penthouse loft, this hotel is a home away from home…but better (Read TripAdvisor reviews | Book a room)
We were the guests of Saratoga Performing Arts Center. All opinions of the charming and delicious are our own.
Subscribe to our email newsletter

Get exclusive content
Receive personal updates
Sneak peeks of future trips