When we decided to plan our trip, we only knew two things about Malta: it was supposed to be beautiful, and it's easy to reach from Sicily. Of course, that says almost nothing about this gorgeous island chain, its ancient history, its unique architecture, or the fact that basically everything there is breathtaking. During our four days in Malta, we learned quite a lot—much of which surprised us. Here are a few things worth knowing before visiting Malta.
What to Know About Visiting Malta
Malta is tiny
Malta is one of the smallest countries in the world, and it's not high on the radar of most people in North America. In fact, more than one person has asked us where Malta is (one acquaintance even wanted to know what Malta is), and we had to look it up on a map ourselves.
So, a quick geography lesson. Where is Malta? Malta is in the central Mediterranean Sea 50 miles south of Sicily, 176 mi east of Tunisia, and 207 miles north of Libya. That means it's quite close to both Western Europe and North Africa.
The other thing to know about Malta is that it's an archipelago—a chain of seven islands. The main island is Malta, which is home to about 400,000 people. Gorgeous Gozo has a population of about 35,000, while 3 people live on Comino. The other four islands aren't inhabited. Altogether, the islands are only 122 square miles, or 10% the size of Rhode Island.
The country has an ancient history
Built around 3600BC, the Megalithic Temples of Malta are the second-oldest structures in the world. Amazingly, they're as much as 1000 years older than the Pyramids at Giza and Stonehenge and about 300 years older than the passage tomb at Newgrange.
The temples on Malta were part of a ceremonial site in a fertility rite while the exact function of the temples on Gozo is unknown. Even though information about the purposed of the temples is limited, the fact that these ancient structures still exist at all is remarkable.
Britain had a strong influence in Malta
Malta was part of the British Empire for 150 years from the Treaty of Paris in 1814 until it declared its independence in 1964. Even after that, Queen Elizabeth II remained the head of state for another 10 years until Malta became a republic.
The English influence is still everywhere—the Maltese drive on the left, beer is sold in pints, and you can even find the traditional red British phone booths on Malta and Gozo. Most important for visitors, English is the joint official language with Maltese.
There are a lot of people in a small space
Malta is one of the most densely populated countries in the world, and the number of tourists is growing every year. Most of the time, it didn't feel that crowded…until we tried to go somewhere.
Traffic jams in Malta—especially in Valletta—are no joke, so that has to be factored in whenever you're trying to get somewhere at a certain time (like the ferry to Gozo). Getting around by bus isn't much easier because when the buses fill up, they bypass certain stops and another one may not come for 20-30 minutes. Getting around is manageable but requires planning and lots of flexibility.
Churches are elaborate
Malta likes to say it has a church for every day of the year. In reality, the number may be a handful shy of 365, but that's still a huge number of churches for such a small country (more than 3 per square mile). And these aren't basic churches. The ornate interiors of churches in Malta blew us away.
On our first day, we visited St. John's Co-Cathedral in Valletta, Malta's capital city, which made us rethink our previous definition of "ornate." Seemingly every inch of the grand cathedral is covered in gold, scrollwork, colorful carving, or detailed painting (and sometimes all four at once). And that's just one example of many.
Pastizzi reign
Maltese cuisine is unique—a blend of Mediterranean, northwest African, and English. We sampled as much as possible in our week in the country.
The favorite Maltese snack quickly became our favorite, too. The simple pastries called pastizzi are flaky crusts similar to phyllo filled with ricotta or mashed peas. They're always eaten with your hands and sometimes on the go, so locals will look at you oddly if you ask for silverware, even if you're at a pub and the pastizzi are huge and piping hot.
Balconies are everywhere on Malta island
Nearly every street in Malta is lined with houses that have colorful enclosed balconies. The effect makes it feel like you're walking through Renaissance-era Venice.
The history behind the balconies is a bit murky. Some sources say that they arose in the last part of the 17th century as the Baroque movement spread in Europe. Others attribute it to the Arab influence where woman were not to be seen. Either way, the balconies contribute to the feeling that Malta is a place like no other.
Malta is a living movie set
Malta has unique architecture, dramatic landscapes, and stunning coastline, plus it's relatively obscure. This combination of exceptional features makes Malta the perfect stand-in for other locations modern, historical, and fanciful.
Malta has appeared as ancient Greece, Rome, and Egypt in movies like Gladiator and Troy. It's been the location of the Red Keep and other locations in Game of Thrones. The set of the Robin Williams movie Popeye has even been turned into a permanent theme park on Malta's north end. Just a few minutes driving around the island will make it clear why so many movie studios thought this was the place to be.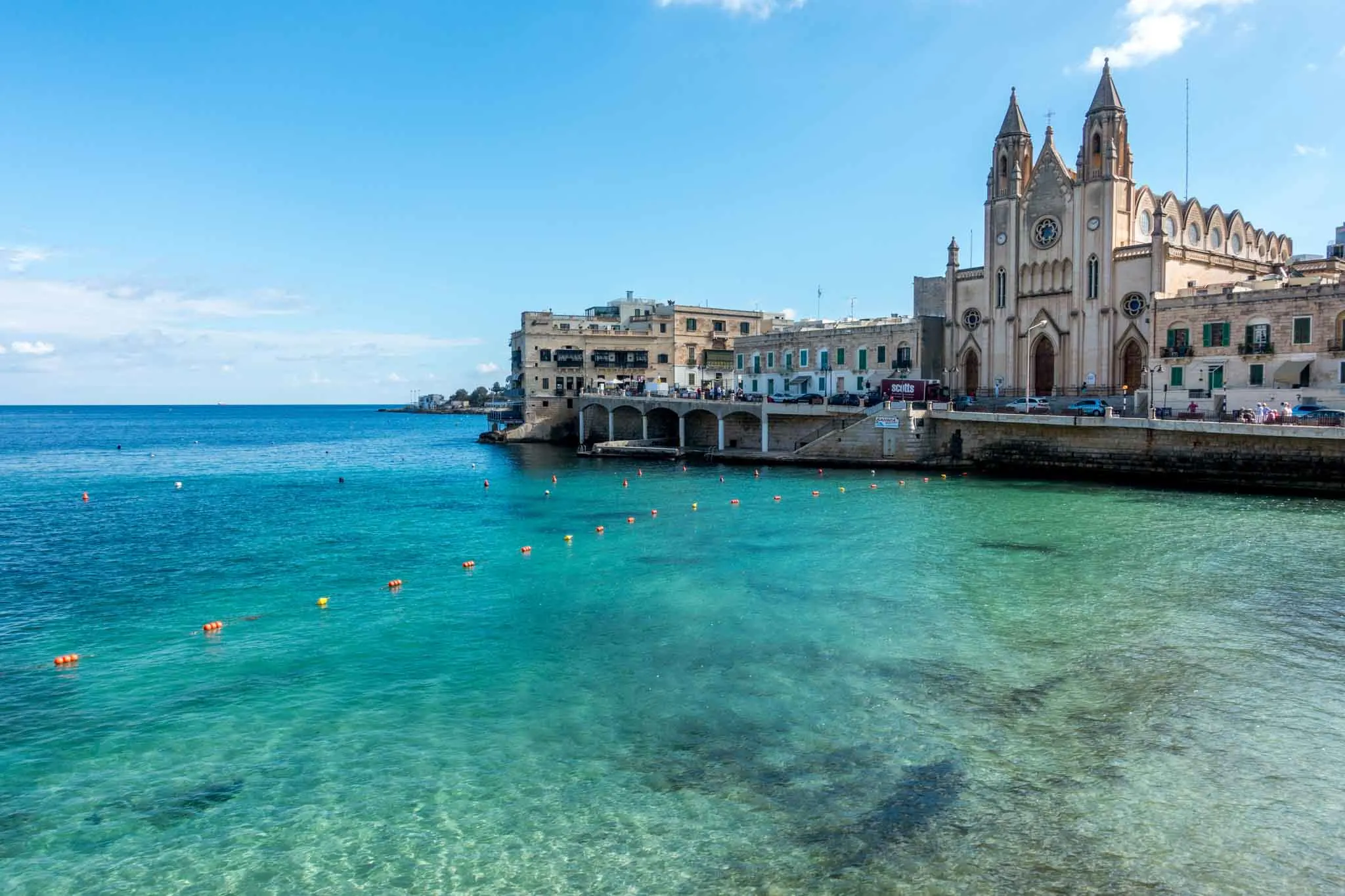 Where to stay in Malta
Tourists stay in three primary areas in Malta—Valletta, Sliema, and St. Julian's.
Valletta—If you're interested in history and culture, Valletta may be the best place for you to stay in Malta. Nightlife here is more limited than in some other neighborhoods. There are unique boutique hotel options like the modern SU29 Hotel.
Sliema—This quiet, more residential area still has a great selection of restaurants and shops and a lovely promenade. The 4-star Victoria Hotel features a rooftop pool and luxury spa, and it is just 5 minutes from the promenade. The highly-rated Palazzo Violetta is a great value and offers free parking at their modern studios and suites, so it's great if you have a car. Some rooms come with kitchenettes and 40″ flat screen TVs.
St. Julian's—St. Julian's (particularly Paceville) is known for its nightlife, but it's great during the day as well with lovely views along the water and lots of restaurants to choose from. We stayed at the Malta Marriott Hotel & Spa, which is quiet and has an amazing rooftop pool.