Sometimes you just need to get away. Long weekend trips can be the perfect answer—they don't require much precious vacation time, costs are manageable, and they're a break from the everyday. Luckily, there are so many great weekend trips in the US to take that doing something fun can be easy and relaxing, if you know where to go.
In just a long weekend getaway, you can see so much. Whether you're looking for big city attractions, small town charm, history, music, or good eats, we've got you covered.
See our guide to planning a weekend getaway
Nashville, Tennessee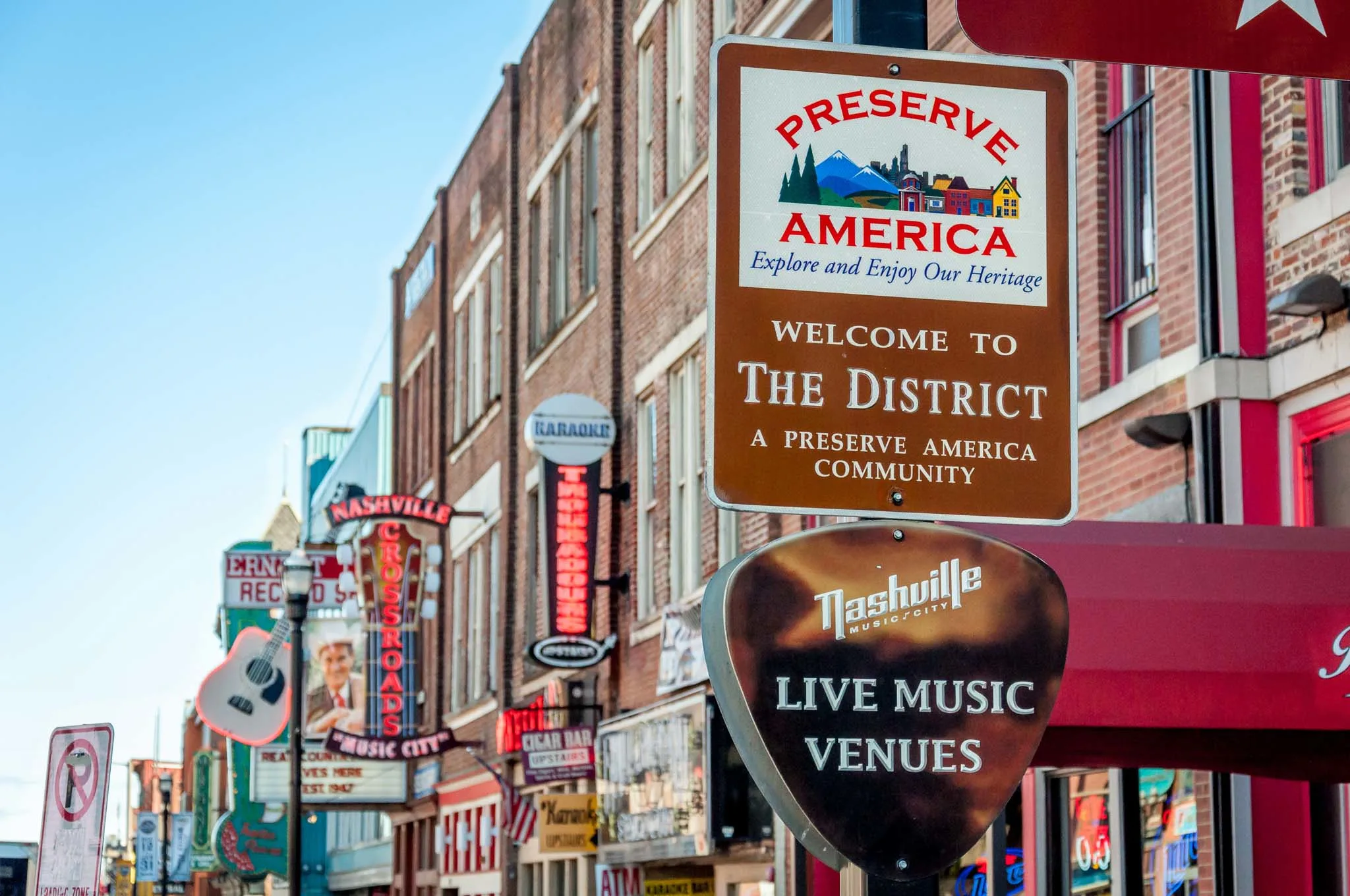 With hot chicken, honky tonks, street art, and much more, Nashville is an excellent choice for a fun weekend getaway if you're looking to live it up a little. There's never a shortage of things to do in Music City at any hour of the day.
Country music lovers can make a pilgrimage to the Ryman Auditorium, catch a show at the Grand Ole Opry, or take a stroll through music history at the Country Music Hall of Fame. For something a little more low-key, there are several spots to see song writers perfecting their craft—you just might find yourself seeing the next big star!
Nashville is also known for its food. From Hattie's hot chicken to the Southern specialties served at Husk, there's a wide variety to choose from at every price point. And you can wash it down with some Tennessee whiskey from a local distillery or take a trip to Jack Daniels.
History buffs will enjoy visiting the antebellum mansions like Belle Meade plantation, and you can make your own street art tour wandering the streets of the Gulch, 12South, and East Nashville neighborhoods. If outdoors is more your calling, relax in Centennial Park or see the beauty of Cheekwood Botanical Gardens. No matter what you choose, you're sure to fall in love with Nashville.
San Francisco, California
If the West Coast is high on your list, San Francisco is one of the top destinations for fun weekend trips.
With its hills, street cars, and ocean views, San Francisco is about as a romantic as a weekend getaway gets, but it's a great city for going out with friends, too. Whatever you're hoping for, you'll find it here.
Art lovers will swoon for the San Francisco Museum of Modern Art, and less than 10 minutes away, you can shop till you drop in Union Square. For a unique adventure, take the ferry out to Alcatraz.
After you've seen the Painted Ladies—the colorful Victorian homes from Full House—and walked along Lombard Street, visit City Lights Booksellers and nosh on everything Italian at the Stinking Rose. If street art and San Francisco's historic missions are more your style, put the Mission District on your getaway agenda. Empanadas from Chile Lindo and a treat from Dandelion Chocolate are San Francisco favorites.
Annapolis, Maryland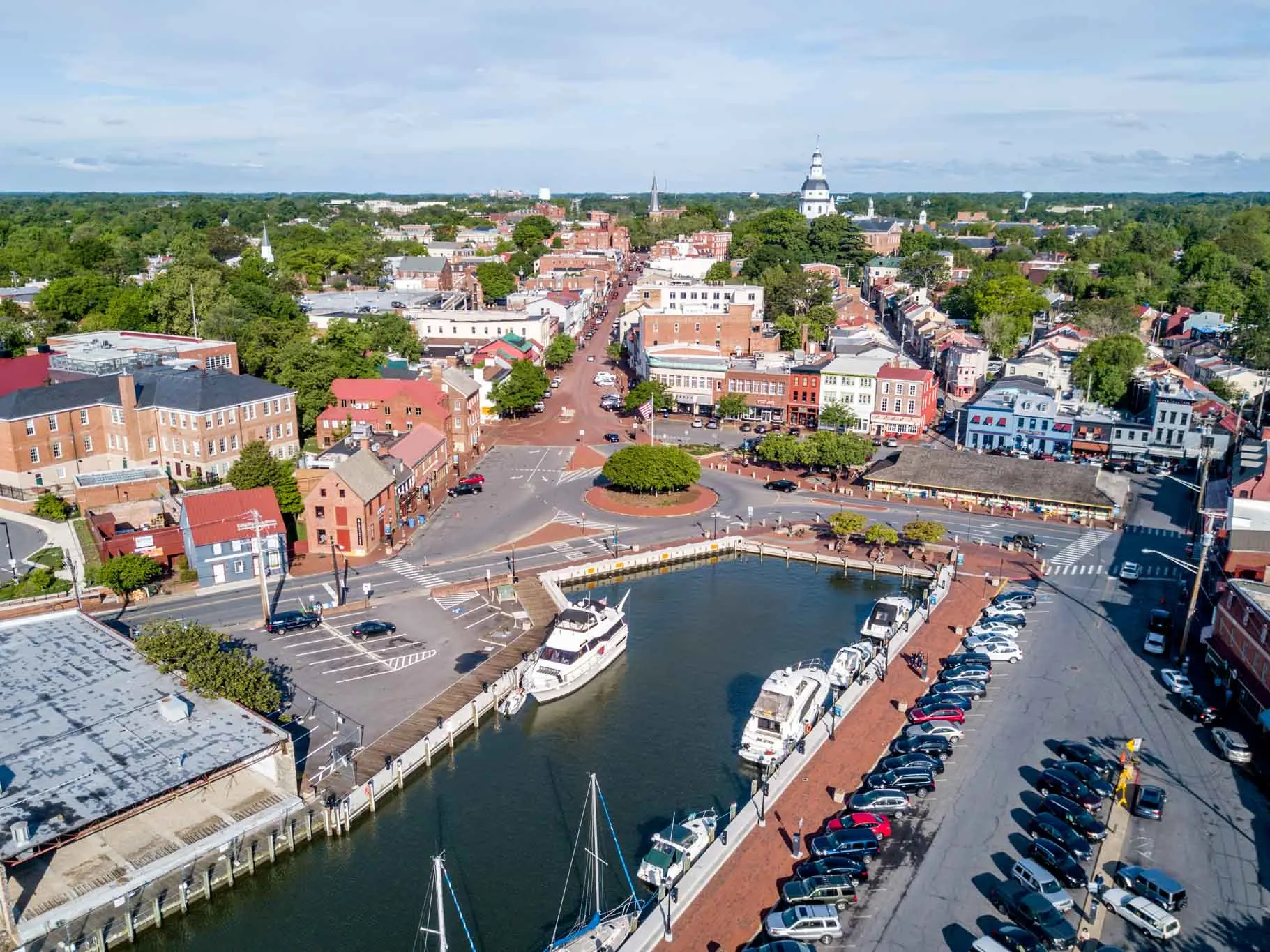 A welcoming waterfront, charming main street, and relaxed vibe combine to make Annapolis, Maryland, one of our top weekend getaways spots.
If the weather is nice, the water is one of the best places to be in Annapolis. Join in on one of the sunset sails on the Schooner Woodwind or do your part to help them win the friendly races that take place each Wednesday night in the summer. If you'd rather captain yourself, check out Annapolis Electric Boat rentals where you can rent your own craft to take a spin down Spa Creek.
Back on dry land, fuel up at one of the top-notch local restaurants before visiting the US Naval Academy for a tour. At Carrol's Creek, you can have their famous cream of crab soup while overlooking the bay, or head to Iron Rooster for some of the best comfort food you'll find anywhere.
There are lots of boutiques and cute shops along Main Street and throughout the downtown area. Consider a stop into the Maryland State House to see where George Washington resigned his command of the Continental Army and view his original address. On your way out of town, visit Great Frogs winery to taste their Meritage and other delicious varietals in their barn.
New Orleans, Louisiana
A weekend is the perfect amount of time for an introduction to New Orleans. Between the food, the architecture, and all the fun, it's clear why so many people think a visit to New Orleans is one of the best weekend trips in the US.
New Orleans is probably most famous for the antics that go on in the French Quarter, so it's a must-visit, even if your stay is short. Walk along Bourbon Street or some of the nearby streets, which can be a little quieter. Grab a drink at mainstays like Lafitte's Blacksmith Shop or the Carousel Bar at Hotel Monteleone. Consider a cemetery tour or a visit to Preservation Hall for a different look at the area's culture. For dinner, you can beat Arnaud's in the heart of the quarter.
A trip to the Garden District is also a must, especially if it's your first visit to New Orleans. Ride the streetcar out to see the gorgeous historic mansions and shop at the boutiques along Magazine Street. If your schedule allows, a meal at Commander's Palace is unforgettable.
If you're lucky enough to have 3 days in New Orleans, a trip to plantation country is a great addition to the itinerary. With Cajun Pride Swamp Tours, you'll see all the creatures of the bayou. Nearby, you can sample Cajun food and the drive-thru daiquiris the New Orleans area is famous for. A stop at Whitney Plantation is an unforgettable way to round out your experience.
Austin, Texas
The capital of Texas is like nowhere else. On your list of weekend trip ideas, Austin should be at the top.
Austin has more natural attractions than you might expect for a big city. If it's hot out (and it often is), check out Barton Springs, the natural pool right in the middle of the city. Or head over to Lady Bird Lake for a walk or bike ride. At dusk, join the crowd waiting for the city's famous bats under the Congress Avenue Bridge—trust us, it's a thing.
There's lots to listen to in the Live Music Capital of the World. There are big theaters, indie clubs, country joints, and all other manner of music venues. On your weekend away, you can learn to two-step with cool crowd at the White Horse, check out what's on at the Scoot Inn, or just walk down the street and see what appeals to you.
With dozens of restaurants and bars opening every few months in Austin, there are a tremendous number of places to be well-fed during your Austin getaway. Summon all your patience to wait in line at Franklin BBQ or check out the outstanding Mexican offerings at Suerte. Stop in for a drink at the Midnight Cowboy speakeasy or sample the mezcal at Whistler's. It's not an authentic Austin experience without breakfast tacos from Veracruz All Natural and a Ranch Water at Ranch 616.
Winston-Salem, North Carolina
Winston-Salem, North Carolina, offers a wide range of activities for a weekend away. We love it here because it has all the attractions of a big city with the feeling of a small town. Locals can't wait to give advice and point you toward their favorite things.
If you're looking for a unique historical experience, don't miss Old Salem Museums and Gardens. This living history museum shows how members of the Moravian community lived in the late 1700s. You can see interpreters cooking, gardening, and making crafts just like the early settlers. Stop by the Winkler Bakery to see what's fresh from the oven.
For a dose of more recent history, check out Reynolda House Museum of American Art. You can visit the home and stroll the gardens originally owned by tobacco magnate R.J. Reynolds. The art museum features a magnificent collection that spans 300 years of American art.
Head downtown for street art, shopping, and lots of excellent restaurants. Follow a self-guided mural tour around town and stop along the way at the boutiques and galleries on Trade Street. When you're ready for a break, stop off at Broad Branch Distillery to sample some North Carolina whiskey or Carolina's Vineyards and Hops to try dozens of local wines and craft beers in their fun tasting room.
Philadelphia, Pennsylvania
Charming parks, street art, great food, and history are the elements of an ideal 3-day weekend vacation in Philadelphia.
Despite being one of the largest metropolitan areas in the country, Philadelphia is full of green space. Spruce Street Harbor Park gives guests a chance to hang out on an urban beach at the Delaware waterfront. Not far away Rail Park has transformed an unused rail line into a fun walking path. In the sprawling Fairmount Park, you'll find lots of attractions including Shofuso Japanese House and Garden, a peaceful oasis just minutes from downtown.
Take time on your trip to check out the murals laced among the city streets. Philadelphia is home to the country's largest public arts program—Mural Arts Philadelphia—which has hundreds of unique works of art spread across the city. You can take a formal tour or make up your own walking route to see the highlights.
It wouldn't be a proper trip to Philadelphia without checking out the city's history. In Old City, you'll find the Liberty Bell, which is free to visit, and Independence Hall, a UNESCO World Heritage Site where the Declaration of Independence and the U.S. Constitution were adopted. There's also colorful Elfreth's Alley, the oldest residential street in the US, among many other attractions.
When you're done sightseeing, hit one of the city's many dining highlights. You don't have to be vegan to love Vedge, an amazing spot in a Center City brownstone, or Zahav, an Israeli restaurant named one of the best in the country. For something informal, visit El Vez for Mexican or grab some of the stellar fried chicken and donuts at Federal Donuts. You won't regret it.
Saratoga Springs, New York
In Upstate New York, Saratoga Springs is an inviting small town with lots of fun things to do.
In the spring and summer, Saratoga Springs is full of activity. Regular concerts and musical events at the Saratoga Performing Arts Center attract people from all over New York and beyond. You can attend SPAC's famous jazz festival and see performances by the New York City Ballet and acts that range from Dave Matthews Band to the Philadelphia Orchestra and everything in between.
Summer is also the time when racing season heats up. You don't have to be a horse racing aficionado to enjoy the fun atmosphere at Saratoga Race Course. From mid-July through Labor Day, there are 40 racing days full of competitions and social events. For something unique, consider having breakfast at the track while watching the horses and jockeys warm up.
Shoppers will love Broadway, which is packed with cute boutiques and tons of restaurants. Wind your way down to Congress Park where you can catch a performance of the local Shakespeare group or test the water from some of the city's famous springs in the fountains there. For a break from everything, make an appointment for a treatment at the Roosevelt Baths & Spa where guests have luxuriated in Saratoga's waters for nearly 100 years.
Gettysburg, Pennsylvania
Most people are familiar with Gettysburg thanks to the Civil War battle that happened there, but it has lots to offer in addition to war sites, and there lots of cute bed and breakfasts to make your weekend stay a perfect one.
The Gettysburg National Military Park is a great destination for history buffs. You'll see dozens of monuments—including at the spot where President Lincoln delivered The Gettysburg Address—and can get detailed accounts and stories from guides on bus tours, Segway tours, horseback tours, and more. For a unique look at the civilian side of how the war impacted Gettysburg, check out Shriver House Museum where you'll learn the story of George and Hettie Shriver and their daughters.
Beyond the historic side of the city, Gettysburg has a charming downtown area. There are dozens of shops and boutiques selling clothing, games, and home décor. A stroll around Lincoln Square and on Baltimore Street brings galleries, antique stores, and lots of shopping opportunities.
One of the unexpected things about Gettysburg is just how good the food is and how many choices there are. A food tour around town will introduce you to lots of the tasty options and help you put together a long list of places to return to from Garryowen Irish Pub to Gettysburg Baking Company and beyond. If you're more interested in craft beverages, pick up an Adams County Pour Tour passport and make your way to the breweries, wineries, and distilleries nearby.
Dallas, Texas
Dallas is one of our top choices for good weekend trips in the US because it's easy to get to from almost everywhere thanks to having two airports. It's also full of museums, fun neighborhoods to explore, and lots of special events and things to do.
History buffs will appreciate The Sixth Floor Museum at Dealey Plaza. The exhibits look at the history of President John F. Kennedy and his presidency as well as the aftermath of his assassination. Art lovers should head toward the Dallas Museum of Art, one of the county's top art museums, that's free to visit or the Nasher Sculpture Garden.
For a very different kind of art, take a stroll through the Deep Ellum neighborhood. In addition to numerous restaurants and live music venues, you can find at least 42 different works of street art that bring this historic part of the city to life. Just a couple of miles from Deep Ellum, you can check out the fun Bishop Arts neighborhood where you'll find tons of shops and eateries along with our favorite cidery in town, Bishop Cider Co.
To round out your fun weekend, there are lots more options. Bar hop in the Lower Greenville neighborhood, check out the Fort Worth Stockyards and grab some of the best Mexican food around at Joe T. Garcia's, or walk in the steps of Dallas Cowboys legends at AT&T Stadium.