From inside the doorway, the fluorescent light shone so brightly that it lit up the whole corner of the square. Plastic tables and chairs were marshaled together, and we took our seats, waiting for what promised to be the highlight of our evening. Just a few feet away, the Mother of the Souk made the final additions to our plates. Like so many places in the Marrakech medina, the outside appearance gave no indication of the fantastic things inside. An evening with Marrakech Food Tours introduced us to many restaurants and so much traditional Moroccan food that we wouldn't have found without help.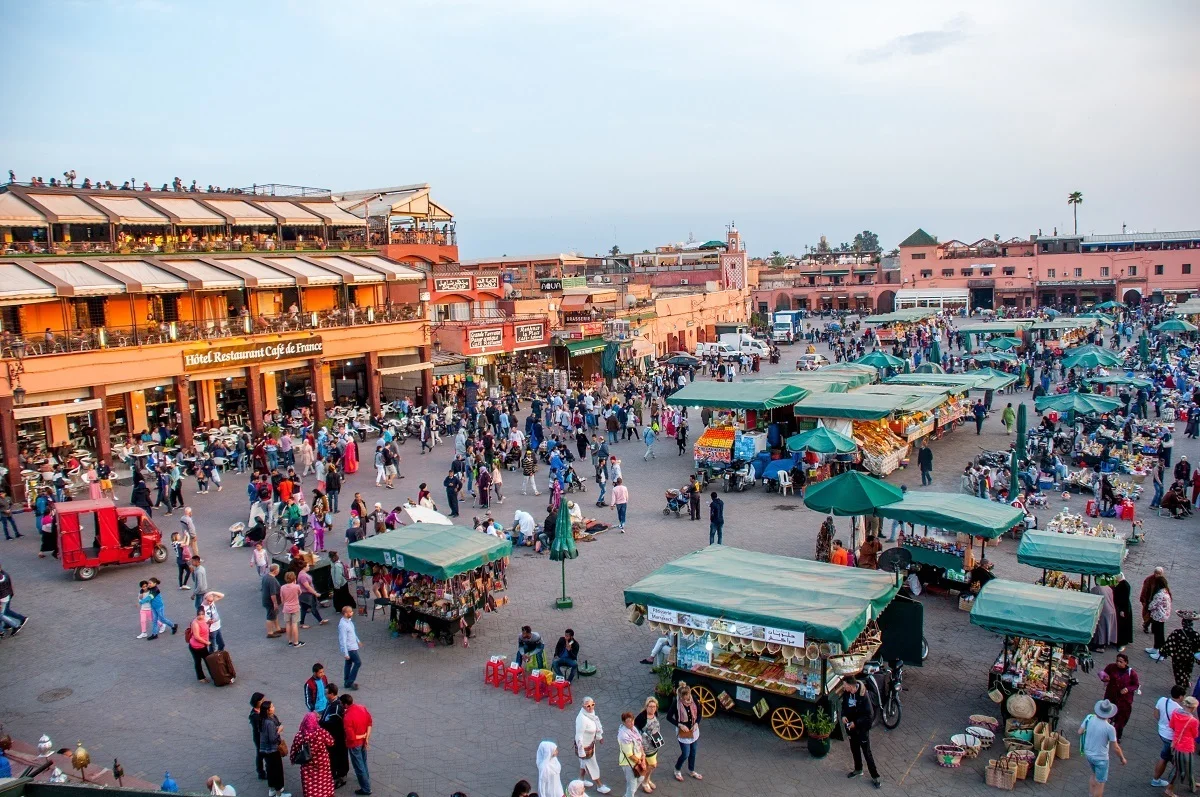 We've done food tours all over the world from Budapest to the Big Apple and a lot in between. In fact, it's one of our favorite ways to learn about new destinations.
Most food tours help visitors find great dishes at restaurants they could have visited themselves if they knew where to go. Our visit with Marrakech Food Tours was totally different—most of the stops would be nearly impossible to find unless you knew the medina well and had a decent command of French or Arabic. We felt like we were doing something authentic and local, seeing a side of the city that most visitors miss and seeing some of the most unique places to eat in Marrakech.
Highlights of a Marrakech Food Tour
Our culinary journey through the honeycombed alleys of the medina included nine stops featuring Marrakech street food. We were in heaven. Here's a look at a few of our favorites.
Traditional couscous in the souk
Any trip to Morocco is likely to include a significant helping of couscous, but not all kinds of this tasty grain dish are created equal. In her kitchen just off the spice souk, the Mother of the Souk has been cooking for the nearby merchants for decades.
The couscous is cooked in the traditional way that can be hard to find in more formal restaurants—simmered low and slow for two hours in a double boiler. Topped with vegetables and tfaya, a deliciously sweet combination of caramelized onions and raisins, Moroccan food doesn't get much better than this. We loved every bite.
Marrakech's specialty, tangia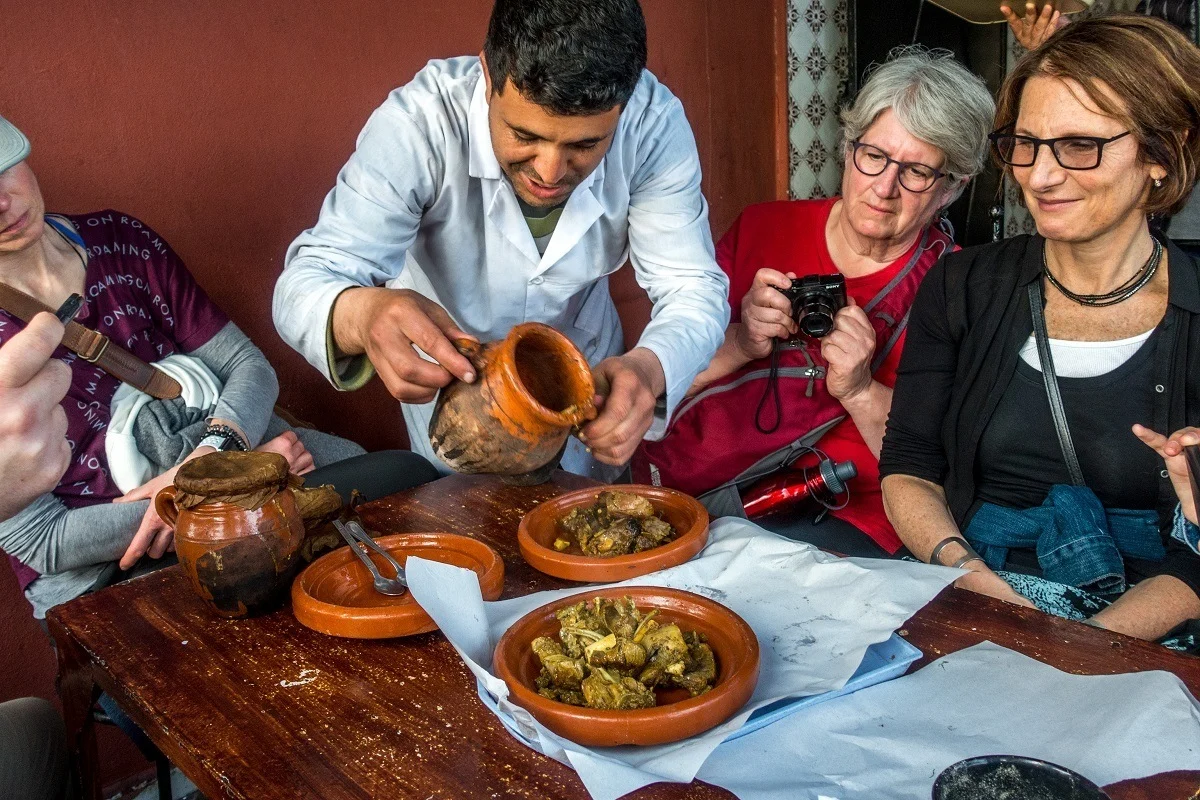 Every city in Morocco has its specialty—Chefchaouen has bissara, Fez has pastilla, and Marrakech has tangia.
The ingredients of tangia are simple: lamb, cumin, garlic, saffron, preserved lemon, and olive oil. Everything is combined in a clay pot, which is then buried in ashes. The meat slow cooks overnight with the heat of the ashes, resulting in the most tender meat ever.
See: 30 Things to Know Before Traveling to Morocco
Our tour guide (and the company's co-owner) Youssef explained that it's a bachelor's dish because it only requires six ingredients and little effort to make. We ate just like the Moroccans do, using our fingers and a bit of bread. It's safe to say there were no leftovers.
In addition to introducing us to the amazing Marakesh food, the street food tour also took us behind the scenes. The owner of the tangia restaurant showed us the ovens and explained the cooking process for the tangia and their other specialties, including their underground oven that can hold up to 40 sheep. Later, we visited the source of the ashes used to bury the tangia—the man who keeps the wood burning in the nearby hammam cleans out the ovens and provides the ashes to locals.
Morocco's best meal on the go
Msemmen omara was—hands down—one of our favorite discoveries in Morocco. It is a bit like two or three French crepes stacked on top of each other.
In the morning, the flaky pastry is eaten plain or topped with butter, jelly, or even Nutella. Later in the day, the msemmen is filled with savory onions and spices and rolled up for eating on the go. So good, and at only about $.40, there's no reason not to have a few.
Donuts at dinner
Almost every country seems to have its own version of a donut. It makes sense. What's not to like about sweet fried dough? The donuts in Morocco—called sfenj—are made from a yeast dough and immediately coated with sugar or dipped in honey after frying.
Sfenj stands are popular throughout Morroco and are generally only open for 1-2 hours in the morning and again in the evening. The kiosk we visited in Marrakech was full of people at 7pm angling for the sweet treats.
A fishy surprise
On first blush, the idea of a sardine sandwich was not at all appealing. We were sure they would be pungent, oily, and fishy—not the type of characteristics we usually seek out in a meal. But, having been surprised by another strong fish on a food tour in Amsterdam, we decided to give it a try. Once again, it was much better than we'd expected.
In hout quari, the sardines are deboned, seasoned, and made into a meatball. They get stuffed into fresh Moroccan bread and topped with hot sauce, onions, and olives. The result is a spicy, flavorful, slightly salty combination that exceeded our expectations in every way.
Avocado for dessert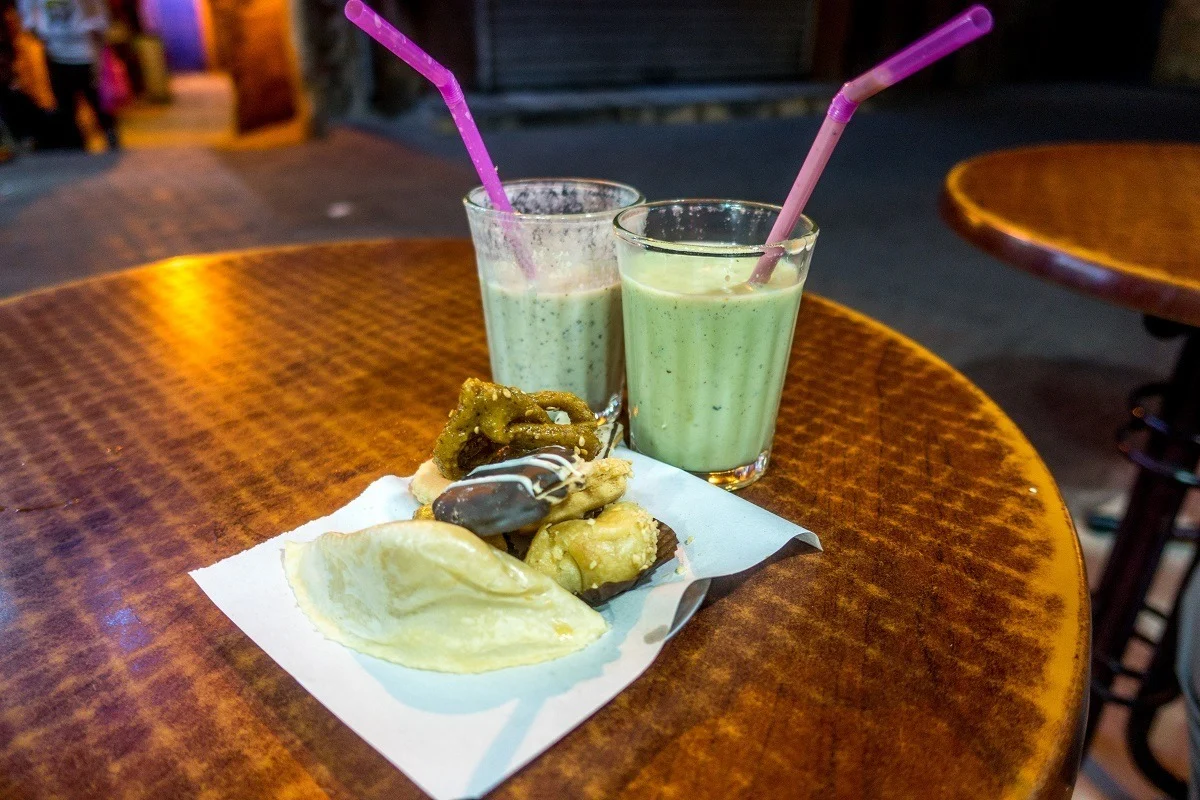 The last of our nine stops on the Moroccan street food tour was dessert! We opted to try typical Moroccan smoothies—one with avocado and almonds and the other with dates—accompanied by a wide variety of pastries and cookies.
Our two favorite pastries were cornes de gazelle and chebakya. The cornes de gazelle are crescent-shaped pastries (hence the name, "gazelle horns") stuffed with ground almonds, powdered sugar, and orange blossom water. They have a subtle flavor. The sweeter chebakya are fried dough covered in honey and rose water and sprinkled with sesame seeds. A perfect way to end our evening.
We were the guests of Marrakech Food Tours owned by Youssef and Amanda, an American expat in Marrakech who blog about all things Morocco at MarocMama.