Norway in winter can be unpredictable. And most travelers don't have a good idea of what to expect from this Scandinavian country. This winter packing list for Norway will help you plan your trip. Here's what to pack and what to wear.
There is so much to do, but your experience will be significantly enhanced if you are are warm and comfortable. Being cold is a sure way to ensure you have miserable experience.
Whether you are out on a northern lights tour or going out dog sledding, you'll want to be dressed appropriately. This packing list will keep you warm, comfortable and dry.
Winter Weather in Norway
The weather can be very unpredictable in Norway, especially in the Arctic or Lapland. The closer you are to the coast, the more moderate the temperatures because the jet stream keeps the coast warmer.
However, inland it can get cold. And at night, it be very cold. If you are going out looking for northern lights, be prepared for temperatures in the 0-15° F (-17 to -9° C). It's possible that the temperates can get down as far as -13° F (-25° C). And you're out in the cold for 6+ hours. You need to dress warm for those frigid Norwegian winters.
The weather in Norway can also change quickly – both in terms of time of day and also location. While the coastal areas of Bergen and even Tromso are moderate, temperatures can drop significantly even just a few miles inland.
Further south, in Oslo, temperatures can be cold with either rain or snow. But you won't experience the sub-zero arctic temperatures you'll find further north.
How to Dress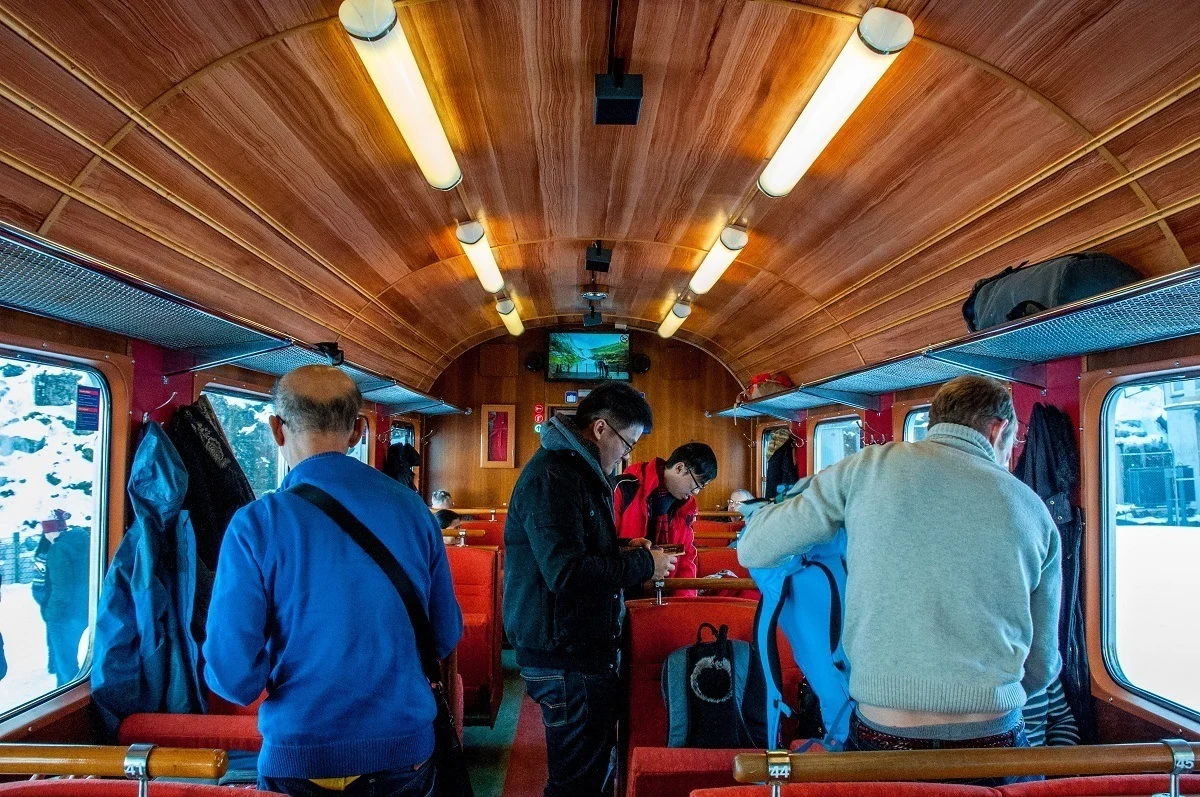 When thinking about what to wear in Norway in the winter, rather than just a big winter jacket, you should strongly consider dressing in layers. This means (at a minimum) a thermal base layer, a wool middle layer, and a wind-proof outer layer. For running around during the day, you can adjust the layers to suit your own comfort.
If you are going out at night to see the Aurora Borealis or going on a tour like dog sledding or snowmobiling, most companies provide a heavy, windproof, arctic winter gear outer layer. These will work, but you'll probably be happier if you have your own clothes, which will fit better.
Packing List for Norway in Winter
Here are our recommendations on what to pack for Norway in winter while seeing the northern lights:
Thermal base layer. We both used a thermal base layer from 32 Degrees Heat (her base layer and his base layer). These kept us warm, despite the frigid temperatures.
Wool middle layer. Over the thermals, we both wore a lightweight merino wool sweaters. If you're wondering what to wear in Norway, a wool sweater is practically required.
Outer layer. On the bottoms, we both wore snow pants (Laura's snow pants and Lance's snow pants). On top, Laura wore her Land's End Squall jacket and Lance wore his ever-present North Face Summit Series L5 men's jacket. We wanted our own clothes, rather than rely on the arctic winter gear outfits provided by some of the tour companies.
Socks. A really good pair of socks is absolutely critical. You will be out in the cold for over 6 hours and likely standing in snow much of that time. We can't stress enough the importance of good socks! We each wore heavy ski socks (her ski socks and his ski socks), which have served us well in previous expeditions.
Boots. Lance took his Keen Targhee II hiking boots, which worked well. Laura's boot situation was a disaster. Her feet ended up getting cold and wet. In retrospect, she should have gotten something like the Merrell Polarand 8 boot. Remember, you'll be outside in the snow for about 6 hours. You want a good waterproof boot!
Hats. You lose most of your body heat out of your head. So, we took no precautions. We each wore a balaclava, with a wool hat over the top, doubling up. It may seem redundant, but we were thankful we did.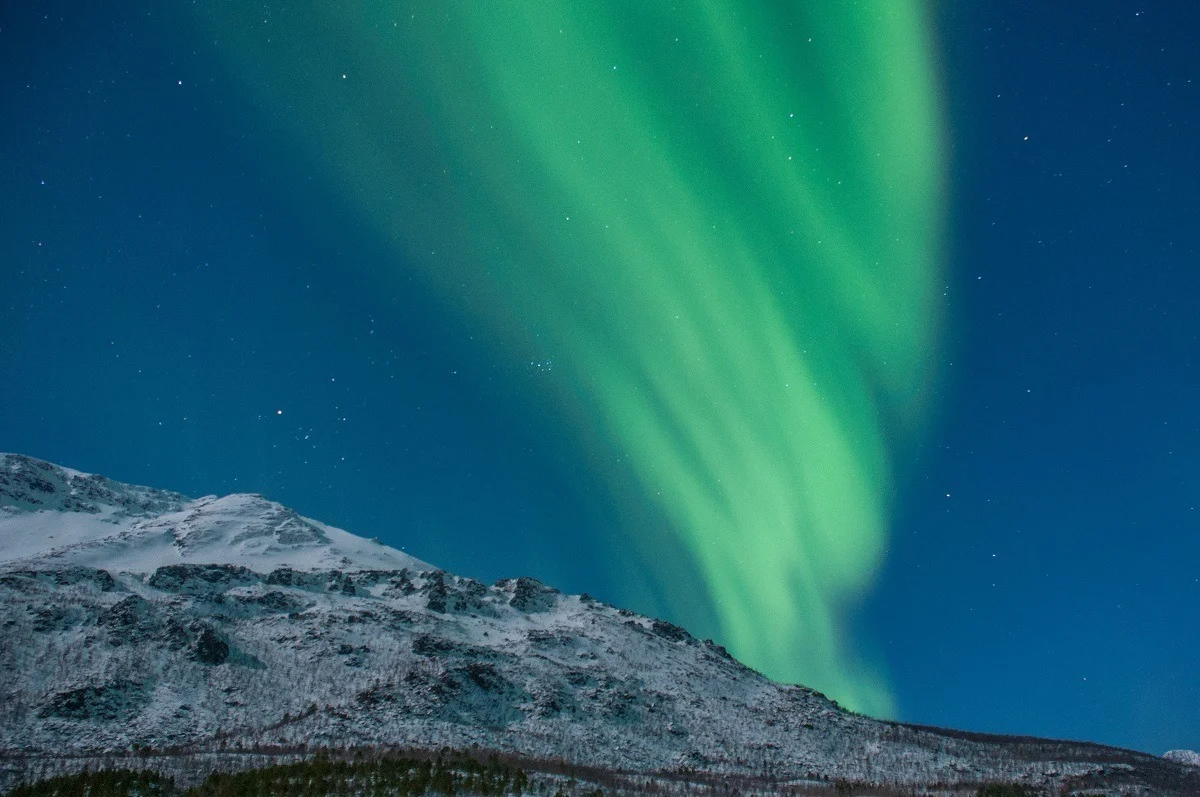 Gloves. Your fingers will get cold. There's no way around that. Since we would both be taking pictures, we wanted cut-finger gloves (you can bring out your fingers, essentially making them fingerless…or leave your fingers inside). We found these great gloves. They worked exceptionally well for photography, although the insulation is a little thin and our hands did get cold. We don't know if there is a better solution, but this did work.
Headlamp. Technically not a piece of clothing, however, we found a small headlamp to be absolutely invaluable. When photographing the northern lights, you need to be able to see the settings on your camera. Holding a flashlight while juggling the camera gets to be a bit much. A headlamp is the solution! Be sure to get one that has a red light option, which will allow your eyes to adjust much more quickly. (Check out our guide to photographing the northern lights.)
Yaktrax: Much of the area you are visiting is covered in snow and a fair amount of ice. Even the main street in Tromso is an ice-covered lane much of the year. Consider a pair of Yaktrax or similar such traction devices. We thought it was an unusual recommendation when we heard about it, but we were thankful we had them!