Oxford, England, feels like a fantasy land. With medieval towers, hidden courtyards, and decorated spires reaching skyward, it's no wonder that this place has inspired so much literature. When you have a setting this lovely and add the sights, sounds, and scents of the Oxford Christmas Market, it takes the holidays to another level.
The Christmas market in Oxford is often mentioned as one of the best Christmas markets in England. While it can't rival the size of a market like Bath or the decorations of Birmingham, it has a coziness and welcoming spirit that makes locals and visitors love it.
About Oxford Christmas Market
For over a decade, the Oxford Christmas market has added fun and festivity to this city that's already so beautiful at Christmas. During three weeks in December, the center of town is occupied by vendors and performers showcasing the best music and products in the area. This year, the market is scheduled for November 30 through December 23, 2023.
More than 60 chalets stretch down Broad Street featuring a variety of unique gifts, handmade items, and seasonal decorations.
Shopping and eating at the market
The Christmas market features many UK- and Oxfordshire-based businesses and organizations, so the offerings are distinctive. You can find special cheeses, local candles, and spirits and liqueurs. Other unique products vary from fair trade felt items to local art and photography to seeds and bee houses from a non-profit community interest company.
Food and drink also plays a huge role in the Oxford market because everyone needs adequate fuel for shopping! You'll find Christmas market staples like bratwurst and gluhwein (traditional mulled wine) alongside local favorites like hog roast with stuffing and fresh handcut chips with a variety of toppings like cheese, chili, and pulled pork. One of the most popular stands was the churros vendor, who had a long line every time we walked by.
How to get there
It's easiest to get from London to Oxford by train. The trip takes about an hour, so it's an easy day trip. There are as many as four trains an hour from London's Paddington Station (slightly less frequent service from Marylebone Station). The walk from the train station to the city center is less than one mile.
The bus trip from London is about 1.5 hours. National Express and the Oxford Bus Company both operate routes.
More things to do at Christmas
As a university town and bustling city, there are lots of fun things to do in Oxford at the holidays. These are some of our favorites.
Evensong
Choral Evensong happens almost every day at the colleges, and the Christmas season is an ideal time to experience the tradition. The 45-minute service is almost entirely sung by the congregation, the college's choir, and special performers. Experiencing the beautiful chapels and seasonal music is a special way to enjoy Oxford, and you don't have to be religious to appreciate it.
Christmas panto
Christmas pantomime (or panto) is a British tradition that combines a familiar story—like Beauty and the Beast or Cinderella—with slapstick comedy, contemporary references, and a bit of double entendre thrown in for good measure. Pantos are an important part of the holidays all over England, and you're sure to find a good one on at the Oxford Playhouse.
Blenheim Palace
Blenheim Palace is high on the list of places to go in Oxford in the winter. A half-hour bus ride from downtown will take you right to the gates of this UNESCO World Heritage Site that serves as the residence of the Dukes of Marlborough.
Inside, the Palace is decorated for the season and often has a fanciful theme that takes over its sumptuous interior. You can also visit the Orangery for festive afternoon tea.
Outside, the grounds welcome food vendors, a handful of carnival rides, and a small Christmas market. As soon as the sun sets, the Illuminated Light Trail opens with over 100,000 lights in different tunnels and displays. It exceeded our expectations and was one of our favorite experiences in town.
Christ Church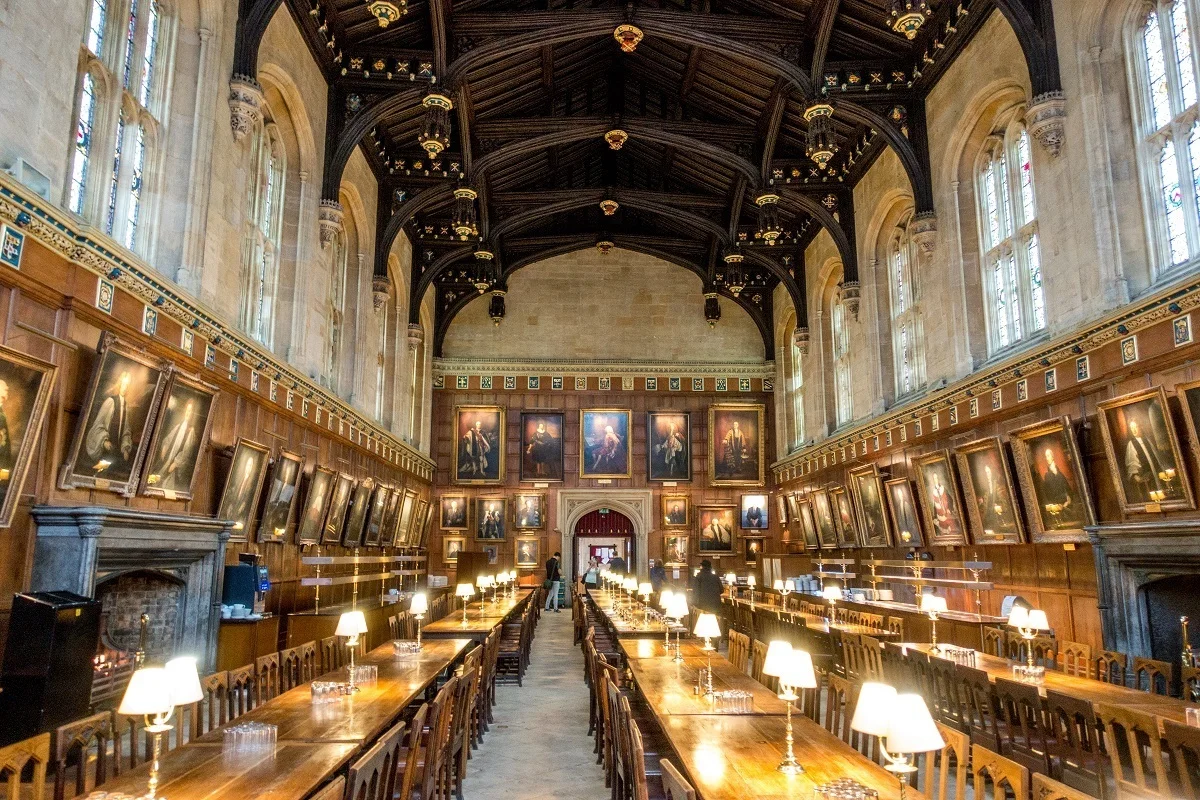 Christ Church is one of the city's top attractions. Not only was it a filming location for Harry Potter, but its grand dining hall famously inspired the magical Hogwarts dining hall, which makes it enormously popular among visitors of all ages.
The college, which was founded in 1546, is full of history and beautiful architectural details. At the holidays, you'll find rooms decorated with lights and holly and grand fires in the fireplaces of the dining hall. It's one of my favorite places year-round, but it's particularly lovely at Christmas.
Holiday treats
The city is full of opportunities to indulge in some seasonal treats.
There are lots of themed Christmas afternoon teas around town that make for a great chance to try some delicious pastries and to warm up out of the winter weather. Check out what's on offer at The Grand Café on High Street or The Rose just a few steps away. The Randolph Hotel is also well-known for having a wonderful afternoon tea service.
If you want something a little boozier, head to the Jericho neighborhood for a string of cool cafes and bars. We love Raoul's for lots of reasons, but their seasonal cocktails are particular standouts.
Laura Longwell is an award-winning travel blogger and photographer. Since founding Travel Addicts in 2008, she has written hundreds of articles that help over 3 million people a year get the most out of their travel. In that time, she has visited nearly 60 countries on 5 continents, often returning to favorite destinations over and over again. She has a deep love of history, uncovering unexpected attractions, and trying all the good food a place has to offer.
In addition to Travel Addicts, Laura runs a site about her hometown of Philadelphia—Guide to Philly—which chronicles unique things to do and places to see around southeastern Pennsylvania. Her travel tips and advice appear across the web.