Oxford, England, is a stunning city packed with history, castle-like buildings, fun pubs, and lots of unique things to see. The city's core is compact and highly walkable, making it easy to cover a lot of ground quickly, so it's ideal for a brief visit. An Oxford day trip is just enough time to get a taste of all there is to do in this lively city.
I first fell in love with Oxford when I spent a month living at one of the colleges as a high school student. Since then, I haven't been able to stay away and have spent lots of time exploring its top attractions and lesser-known sites. Based on all my visits, I've put together my top recommendations for what to see on a day trip to Oxford.
Breakfast at George Street Social
Centrally located, George Street Social is an ideal place to stop for breakfast before you start your sightseeing adventures. The menu features reasonably priced dishes ranging from yogurt with granola to eggs Benedict. If you're visiting on the weekend, you can even try their bottomless Prosecco brunch.
The fun café—it features books, board games, and even Legos— also has a wide selection of vegetarian and vegan options.
See the view from St. Mary's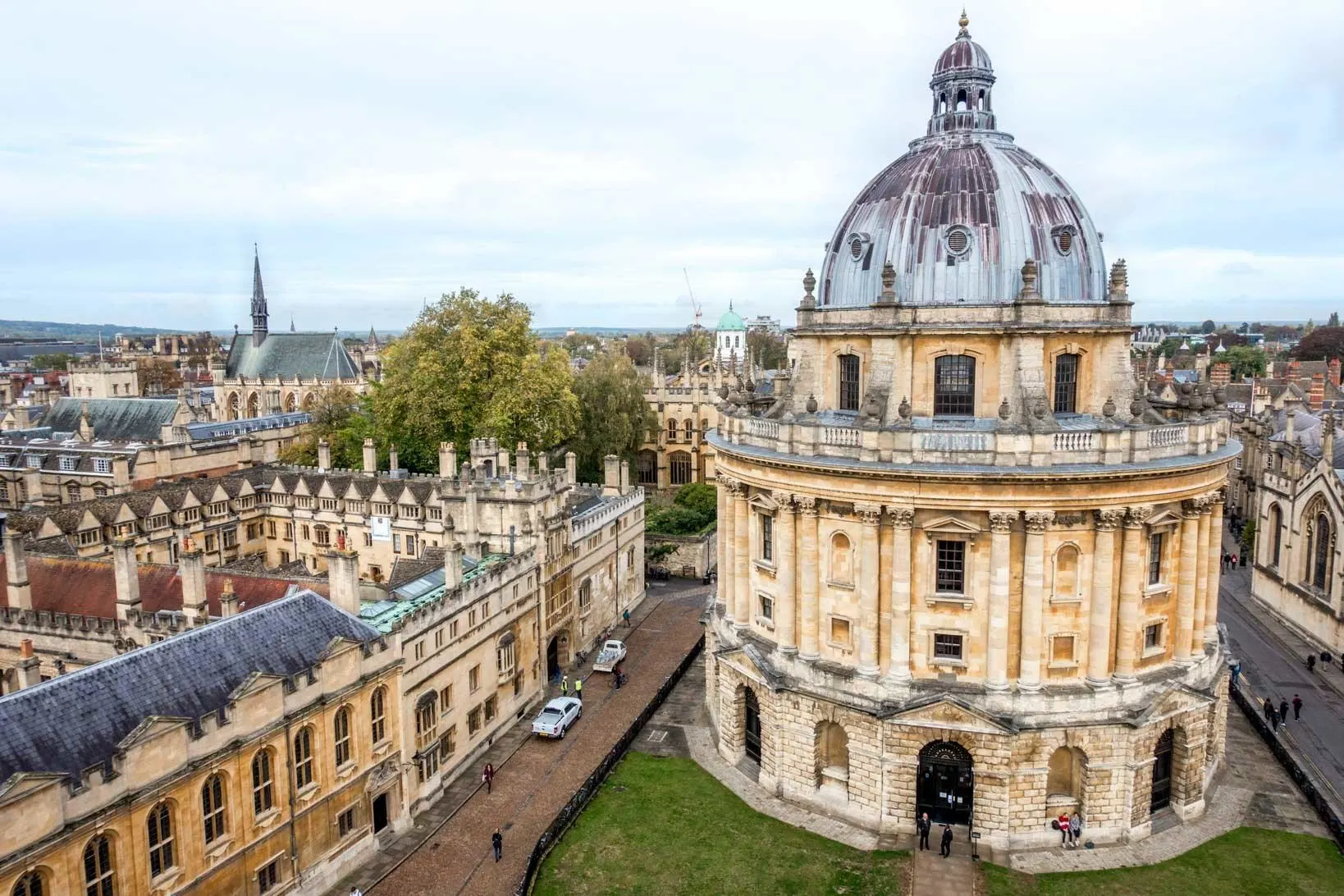 Seeing the city from above is one of the best ways to get the lay of the land and to kick of your day out in Oxford. The place to do it is the University Church of St. Mary the Virgin.
Climb the 127 steps up the tower at St. Mary's for spectacular views of Radcliffe Square. Directly ahead is the circular Radcliffe Camera, and the sides of the square include the Bodleian Library and the 15th-century All Souls College. In the distance, you can see the city's colorful skyline and many of Oxford's famous "dreaming spires."
Stop in to see the church's interior while you're there. The medieval structure was the first building of Oxford University and the site of many of the school's earliest important meetings and events. The arches, carvings, and stained-glass windows are worth the time to peruse.
Tour the Bodleian Library
Just a few steps away is the Bodleian Library. A tour of the majestic building is a highlight of any day trip, especially for lovers of history or Harry Potter buffs.
There are several tour options that highlight different parts of the library. You can marvel at the carvings in the stunning 15th-century Divinity School and see the Chancellor's Court and Convocation House, which housed members of Parliament in the 1600s. Upstairs, Duke Humfrey's Library, is the oldest reading room in the University and served as Hogwarts Library in the Harry Potter movies. Other tickets let visitors inside the reading rooms of the remarkable Radcliffe Camera.
Regardless of which tour you're interested in, try to book two weeks ahead of time, if you can. The tours are quite popular.
Have lunch at the Covered Market
The Covered Market is a fun place to browse and the ideal spot for a quick lunch in the center of town. Opened in 1774, it is home to a wide variety of vibrant shops, produce stands, and cafes.
Two of our top options for lunch are Sasi's Thai and Pieminister. Whether you opt for a flavorful Tom Yum soup or a British beef steak and craft ale pie, you'll walk away full, but don't miss stopping by Ben's Cookies for a triple chocolate chunk on your way out.
Visit Christ Church
One of Oxford's most well-known colleges, Christ Church was founded in 1546. Over its long history, it has educated 13 prime ministers as well as famous thinkers and authors like Lewis Carroll, who later wrote his tales of Alice in Wonderland when he was a professor there following his graduation.
A tour of Christ Church tells visitors the stories behind its famous buildings like its recognizable Tom Tower and its chapel, which is also the Cathedral of Oxford. You can see more filming locations from the Harry Potter movies and see inside the college's dining hall. The hall is lined with portraits of famous former students and professors and was the inspiration of the Hogwarts dining hall.
After visiting the college's quads and buildings, you can wander through the Christ Church Memorial Gardens or head a few steps away to Christ Church Meadow, a popular spot for picnicking, walking, and relaxing.
As with the Bodleian Library tour, a tour of Christ Church is one of the top stops for visitors spending a day in Oxford, so make sure to book the experience as far in advance as possible.
Go punting on the river
If the weather is nice, punting along the river is one of the best ways to spend a couple of hours. Cruising down the river in a flat-bottomed boat using only a wooden pole can take a bit of getting used to, but your ride can take you to the University Parks or even to a riverside pub for a pint and some people watching.
If you only want to dedicate a little bit of time to the activity or you prefer to have someone else do the heavy lifting, it is possible to hire an expert punter to chauffeur you along part the charming scenery.
Have dinner at Turf Tavern
Like any good university town (and especially one in the UK), Oxford is full of welcoming pubs where you can pull up a chair and get a perfect pint. In this city, many of them also have intriguing histories filled with stories about the famous figures that have passed through their doors. Our favorite of the storied pubs is Turf Tavern.
Well-hidden down a lane in the city center, this 400-year-old pub fills with locals, students, and visitors every night of the week. Signs outside have notes about visits from Tony Blair and Bill Clinton in their student days and other anecdotes about celebrities and notable figures who have spent time here.
You can grab a pint at the bar and order fish and chips or opt for a gin and tonic and spicy grilled halloumi under the umbrellas outside. If it's your first time here, don't miss seeing the central bar where the room looks centuries old.
Head to Jericho for a night out
A short walk from the center is the Jericho neighborhood. Known for its cool restaurants, cafes, and independent businesses, it's a great place to come for craft cocktails and a fun night out.
Head to Jericho Tavern to hang out in the beer garden, check out the mixologists' creations at Angels Cocktail Bar, or visit our favorite spot Raoul's for its classic cocktails and signature creations.
How to get to Oxford from London
There are lots of options for traveling from London to Oxford, so moving between the two cities is easy. While the drive is only about 60 miles, most people will find public transportation to be the easiest option because parking can be a challenge. Oxford is served by several buses and train options.
Train: Every half hour, trains leave from London Paddington to Oxford. The walk from the train station to the center of Oxford is about 10 minutes.
Bus: The Oxford Tube bus from London to Oxford leaves from London's Victoria Station approximately every half-hour. On its way out of town, it stops at Marble Arch, Notting Hill Gate, Shepherd's Bush, and a few other stops. Depending on when you leave, the bus trip takes between 1 hour 40 minutes and 2 hours. The Gloucester Green Bus Station (last stop) is a 5-minute walk from the city center.
The Oxford Bus Company operates lines from Heathrow, Gatwick, and other London city locations.
Car: Driving from London should take approximately 75-90 minutes, depending on traffic on the M40. Parking is easiest at Park & Ride locations just outside the city center.