With swimming spots, breweries, live music, and more, there are tons of things to do in Austin. But the capital is only one of the fun places to go in central Texas. To see a side of the Lone Star State outside of the big city, check out these day trips from Austin.
Dripping Springs
35 minutes west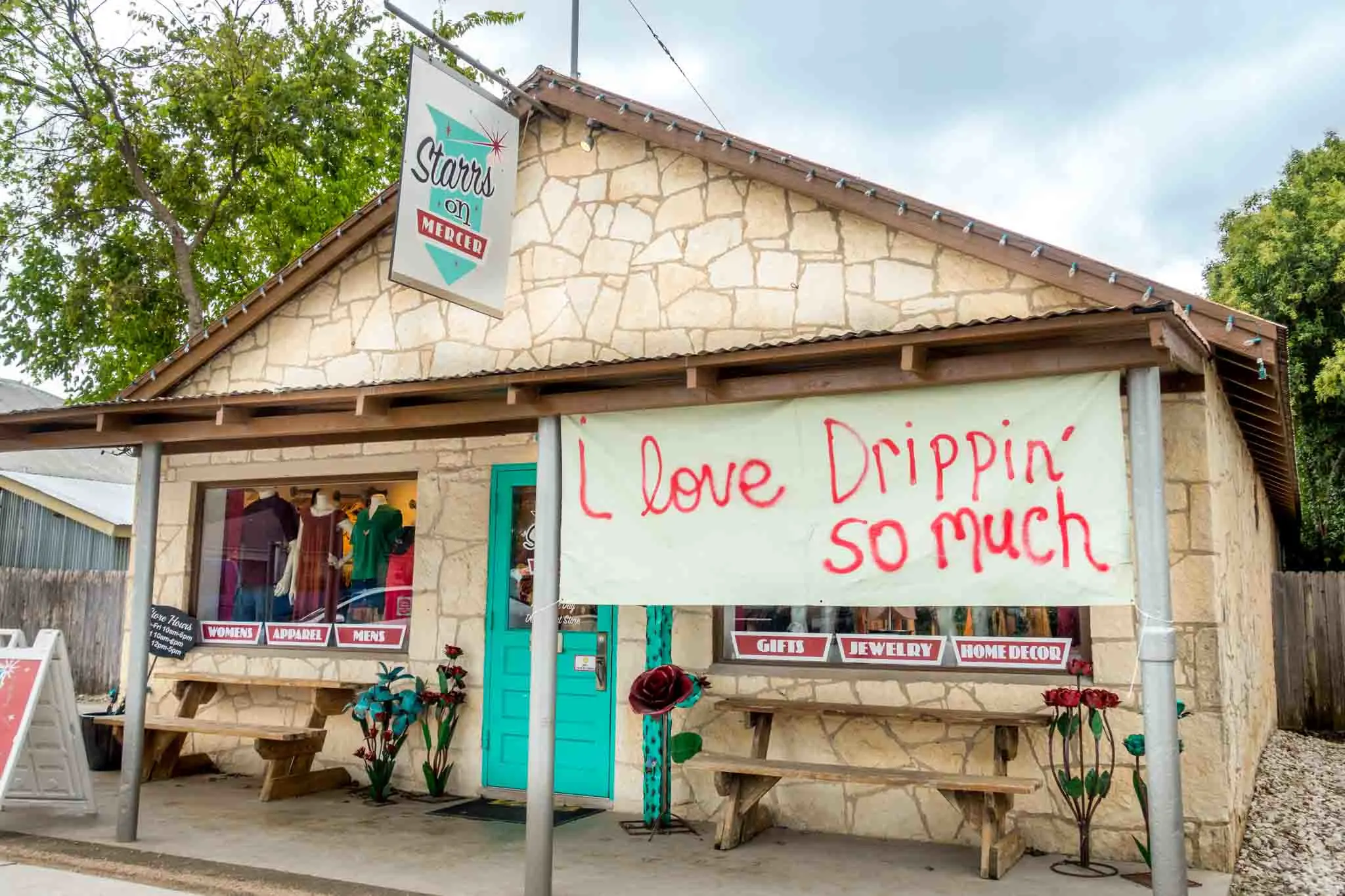 Just a half-hour from Austin is the little town of Dripping Springs, Texas, which is certainly worth a stop. Cute Mercer Street in its small downtown is lined with boutiques, a couple of breweries, and spots for live music. A few miles away, Mercer Street Dance Hall has shows every weekend, or you can stop by just to have a drink on their porch.
In addition, you can get a hint of Tuscany at the Texas Hill Country Olive Oil Company or try one of the many local distilleries. Treaty Oak Distilling offers whiskeys and gins as well as an on-site restaurant, Frog Pond offers drinks with a view, or stop by Deep Eddy Distillery to try the fruit vodkas they're well-known for.
Driftwood
35 minutes southwest
Driftwood is a great quick road trip destination for eating and drinking in the Hill Country.
One of the top places for barbecue in Texas, The Salt Lick has tender brisket, flavorful sausage, and one of the most photographed BBQ pits around. This BYOB has indoor and outdoor family-style seating, and there's a winery right next door to pick up a beverage. If you're looking for something beyond barbecue, check out Hays City Store & Ice House, which serves Texas comfort food along with craft cocktails and 50+ beers on tap.
There are also lots of options for distilleries and wineries to hang out at for an afternoon. Duchman Family Winery uses 100% Texas grapes for their broad selection of varietals, and Driftwood Estate Winery is a perfect spot for commanding views of the hills. For spirits, stop by Stinson Distilling or Desert Door, which makes a tequila-like spirit from the West Texas sotol plant.
Lockhart
35 minutes south
Barbecue, barbecue, and more barbecue. That's why people take a day trip from Austin to Lockhart. After all, it is officially known as the Barbecue Capital of Texas.
A road trip to Lockhart takes you to the doorstep of four fabulous barbecue spots – Kreuz Market, Smitty's Market, Black's Barbecue, and Chisholm Trail BBQ. Their expertise has been honed over decades, so whether you're choosing ribs, turkey, or classic brisket, it will be a winner.
Don't expect anything fancy (or even forks, in some cases), but you'll walk away happy and full.
Wimberley
50 minutes southwest
Charming Wimberley offers lots to do—fabulous restaurants, shopping, art, and some of the best swimming holes in Texas—all wrapped in small-town hospitality.
The small downtown offers lots to see. Grab coffee from Sip! on the Square and browse the shops. Stop into Dos Olivos Market to sample wine from around the Hill Country, see the towering cypress trees in Cypress Creek, and have dinner at Longleaf Craft Kitchen, which uses seasonal local ingredients in its enticing menu.
If it's hot, head to one of the local swimming spots—Jacob's Well or Blue Hole Regional Park. For something completely different, check out a glassblowing demonstration at Wimberley Glassworks where you can see bowls, vases, and other creations come to life in brilliant color.
New Braunfels
1 hour southwest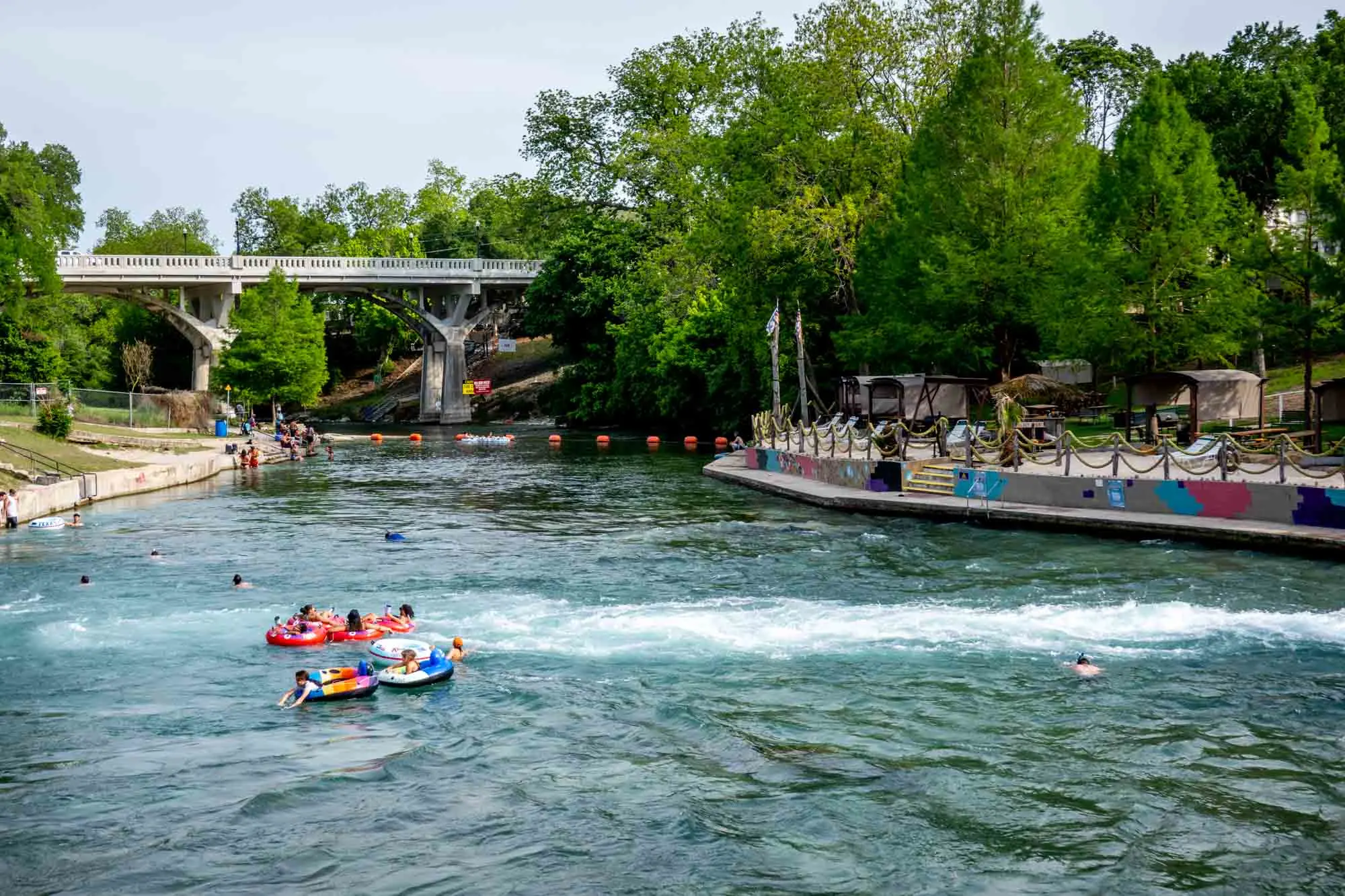 New Braunfels is well-known for being a city that's all about the water. Schlitterbahn water park has been one of the top places to go in Texas in the summer since I was growing up, and its popularity endures. There are lots of places to float the river (either the Comal or the Guadalupe), including from Prince Solms Park, which is adjacent to Schlitterbahn.
German influences are clear all over town from the street art depicting historic scenes to places like Krause's Biergarten and Café, which is decked out in flags and decorations from the different regions of Germany.
Don't miss the Gruene historic district which boasts buildings from the 1800s and the oldest continually operating dance hall in Texas. Make a beeline to the Gristmill for a delicious dinner in an unexpected setting.
Marble Falls
1 hour northwest
On the banks of Lake Marble Falls, the small town of Marble Falls has a lot to offer. Its downtown area is several square blocks filled with dozen of shops, restaurants, and even an outpost of Fiesta Winery. There are also three breweries within just a few miles of each other.
One of the town's main attractions is Sweet Berry Farm. If you're visiting from spring to fall, they have lots of seasonal pick-your-own options ranging from strawberries to sunflowers, but the whole place is full of entertainment. Grab some ice cream, do some sand art, and stop by to see the goats.
Turkey Bend Recreation Area is a great place to get outside during all seasons, but it's particularly beautiful when it's filled with wildflowers in April. Even if it's not time to see bluebonnets in person, don't miss stopping at Bluebonnet Café for a piece of their famous pie.
Johnson City
1 hour 10 minutes west
For history, wine, and unique attractions, Johnson City fits the bill for top places to visit near Austin.
Founded by the cousin of Lyndon B. Johnson, 36th President of the United States, Johnson City is still home to buildings constructed by the family in the 1800s and other artifacts of the early pioneers. Visitors can also tour the boyhood home of the president and see sites related to his early life as part of the Johnson National Historical Park. More sites, including the Texas White House, are 10 miles down the road in Stonewall.
Downtown Johnson City has shops and cafes and other places to eat, including Pecan Street Brewing, a local favorite that brews all its beers on site. If you're visiting with kids, don't miss the Science Mill, a children's science museum that's full of interactive exhibits about fossils, energy, robotics, and other engaging topics. Nearby, a castle winery, Pedernales Falls State Park, and some unusual roadside attractions round out the offerings. It's also a great spot to visit at Christmas when its brilliant light display shines so brightly that it can be seen from space.
Round Top
1 hour 20 minutes east
Round Top is the place to go for antiques. Check out the antique fairs or some of the other shops and warehouses along Highway 237. If new (but vintage-looking) things are more your style, don't miss Junk Gypsy of HGTV fame. There's lots of furniture, jewelry, and country-themed decorations in this fun shop. For more options, stroll through the galleries and shops at Henkel Square Market.
When you're shopped out, visit the super-popular Royers Round Top Café for a filling lunch or dinner. If you're just in the mood for their famous pie and can't wait for a table, head to the cute sister restaurant Royers Pie Haven nearby.
Schulenberg
1 hour 20 minutes southeast
The tiny town of Schulenberg is home to some of the most unique churches in Texas. Visiting several of them makes for an interesting day trip and an experience you're unlikely to get anywhere else. These churches—known as the painted churches—are unassuming on the outside but remarkable works of art on the inside.
Most of the artwork on the Schulenberg painted churches dates back a century or more to the traditions of the Czech and German immigrants who settled the area. These European families wanted to create decorative churches in their new land that looked like those they were used to at home. With the help of stenciling, marbling, bright colors, and lots of trompe l'oeil techniques, the artworks came to life.
From the dusty rose interior of St. John the Baptist to the bright blue ceiling of Saints Cyril and Methodius, there are so many details to see. In addition to the swirls of ivy and shocks of pink, the churches also have intricate European-style stained glass and life-sized statues throughout the sanctuaries. You can make your own tour or take an official one with the chamber of commerce.
Fredericksburg
1 hour 30 minutes west
Fredericksburg is, undoubtedly, our favorite small town in Texas. It's a great candidate for a day trip, but a weekend trip from Austin would be even better. Although it has just 10,000 residents, there are lots of fun things to keep you busy in the lively town.
Founded by German settlers, Fredericksburg has a culture that you might not expect in the heart of Texas. This German town is packed with dozens of wineries and several breweries, and it has a cute downtown shopping area filled with boutiques and art galleries.
Nature lovers will enjoy the wildflower gardens at Wildseed Farm, and if you're visiting during wildflower season, don't miss the bluebonnets on the Willow City loop just a few miles north of town. There are also historic sites dating to the days of the pioneers and the world-class National Museum of the Pacific War. With lots of places to eat and drink plus frequent live music, Fredericksburg makes for a perfect day trip.
Luckenbach
1 hour 30 minutes west
Immortalized in the Waylon Jennings song of the same name, Luckenbach, Texas, is an unusual site you shouldn't miss if you have time. This tiny town (2 buildings and a few performance stages), which famously only has a population of three is the place to go for country music. Its welcoming, down-home atmosphere makes it a place we love.
Along with food, drinks, and its well-known dance hall, Luckenbach has music nearly every day of the year. There are informal performances and jams as well as concerts from the biggest names in country. Its fun and sometimes quirky festivals like the annual "hug in" contribute to the unique environment.
Brenham
1 hour 40 minutes east
Brenham, Texas, is synonymous with Blue Bell ice cream, a summer (or any season, really) staple in Texas. Blue Bell's headquarters is open for visiting, and you can sample the wares at their scoop shop where all the delicious flavors are only $1.
In downtown Brenham, there are beer gardens, art galleries, and live music venues. The buildings are decked out in murals not typical of small Texas towns, and the great food and welcoming vibe will entice you to stay for awhile. Check out Brazos Valley Brewing Company for brews and stop by Truth Barbecue for top-notch brisket and ribs.
For an afternoon of family fun, head to The Yard, an informal baseball venue where anyone can play (and indulge in concession-style snacks!). They host a homerun derby every Friday and lots of other events and competitions.
Laura Longwell is an award-winning travel blogger and photographer. Since founding Travel Addicts in 2008, she has written hundreds of articles that help over 3 million people a year get the most out of their travel. In that time, she has visited nearly 60 countries on 5 continents, often returning to favorite destinations over and over again. She has a deep love of history, uncovering unexpected attractions, and trying all the good food a place has to offer.
In addition to Travel Addicts, Laura runs a site about her hometown of Philadelphia—Guide to Philly—which chronicles unique things to do and places to see around southeastern Pennsylvania. Her travel tips and advice appear across the web.