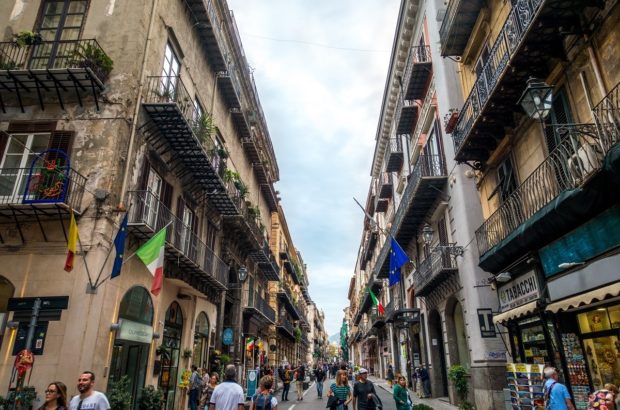 We expected Palermo, Italy, to be gritty, rough-around-the-edges, largely without charm or intrigue. Decades of stories about the economic situation in southern Italy and the considerable Mafia power didn't give us high hopes, but we also didn't feel like we could skip the capital city on our trip through Sicily.
What we found in Palermo was a city with blemishes, but what city in Italy—or anywhere in the world—doesn't have those?
We also found a city that's a mix of fascinating influences thanks to its location at the crossroads of the Mediterranean (and its many occupiers) and a city with amazing food, friendly people, and a cultural and religious history stretching back for millennia. It's safe to say that Palermo was much more than a pleasant surprise. If you're wondering what to do in Palermo like we were, here's a look at some of the fun spots and experiences we uncovered.
Wondering where to stay in Palermo?
Charming B&B with parking: Abatellis Luxury B&B
Spacious and well-located: Palazzo Pantaleo
Boutique hotel in the city center: Massimo Plaza Hotel
You'll find more details about where to stay in Palermo at the end of this article.
What to do in Palermo, Italy
Experience the atmosphere of local markets
There's just something about markets. The energy is infectious, the smells are (generally) mouthwatering, and the colors are delightful. Plus, visiting a market shows you an authentic slice of life. We love them, which is why they're almost always on the top of our list from Bologna, Italy, to Otavalo, Ecuador. That was certainly the case for the Palermo markets.
The three main markets are Ballaro', Capo, and Vucciria—each within about 15 minutes' walk of the others in the Palermo city center. Capo and the Ballaro markets are full of aromatic produce, fresh meat, and street food stands.
As we wandered among the stalls and marveled at the seasonal vegetables, we listened to the vendors call out to each other in a unique, song-like shouting. While Vucciria has a bit of the fresh stuff, we found more household items and packaged goods there. We loved them all, but if you're short on time, a visit to at least Ballaro market is one of the top things to do in Palermo.
Visit Palermo Cathedral
Palermo is a city full of grand churches but none grander than the Palermo Cathedral. Originally constructed in 1185, the Cathedral has been added to, restored, and renovated over the years in line with the style of the times and the aesthetics of those in charge. Hundreds of years of changes make its style unique from Moorish to Catalan Gothic and lots in between.
Inside the cathedral are several royal tombs, including that of Roger II, founder of the Kingdom of Italy. The treasury houses a collection of jewels and religious relics, most notably a gem-encrusted crown from the 13th century. Because of its architecture marrying Western, Byzantine, and Islamic influences, the Palermo Cathedral has been designated as a UNESCO World Heritage Site along with cathedrals in Cefalu and Monreale, the Church of San Giovanni degli Eremiti, the Palatine Chapel, among others.
Have an ice cream sandwich for breakfast
Gelato is undoubtedly one of the best treats on the Italian mainland, and that doesn't change when you visit Palermo. One unusual distinction, though, is how the Sicilians eat their gelato. Of course, you can find it in a cone or cup like anywhere else, but the preferred way is eating gelato in a brioche. Initially, it didn't sound that delicious. But then we tried it, and we were completely converted.
Make sure you choose your gelateria wisely. Look for natural (not crazy colors) as a sign of quality—a place with a sign that says "gelato artigianale" (artisan gelato) is usually a good bet.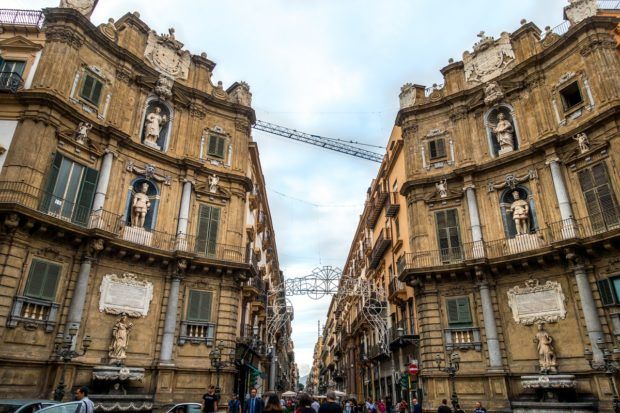 Marvel at Quattro Canti
Wandering through the streets of Palermo, we came upon Quattro Canti by accident. We were in a hurry on our way to another attraction, but I was so astonished by the fountains and sculptures rising around us that I made Lance stop and stare for a few minutes.
The Baroque open square, properly known as Piazza Vigliena, dates from the early 1600s and is located at the intersection of two major streets in the heart of the city. At each of the four corners of Quattro Canti, a four-story façade is adorned with fountains celebrating the seasons, and the four Spanish kings of Sicily and female patron saints of Palermo gaze out watchfully from niches in the walls. It is a brief but worthwhile stop that makes you feel like you've stepped into the Renaissance.
Take in the details at the Palatine Chapel
Even at nearly 900 years old, the Palatine Chapel (Cappella Palatina) hasn't lost its shine. Located at the Palace of the Normans (Pallazzo dei Normanni), it is one of the best surviving Byzantine works of art and architecture in Europe.
The Chapel, which was built in 1140, is covered in brightly-colored mosaics covered in gold leaf and inlaid with precious stones. In addition to the mosaics depicting Jesus and tales of the Old Testament, the walls and floor are inlaid with marble in patterns that have a clear Islamic influence. From floor to ceiling, there is something remarkable in just about every square inch of the room. It's definitely one of the prettiest things to see in Palermo.
Try the Palermo street food
There are few better ways to experience a city than by trying its food. On a visit to Palermo, street food is the way to go. The area in and around the city's three markets teems with vendors at kiosks and carts peddling some of the tastiest items around. Don't be dissuaded that some of the spots might seem a little unrefined—generations of Sicilians swear by the places.
When it comes to Palermo street food, the greasier the better. You can try out panelle (fritters with chickpea flour), potato croquettes known as crocche, or fried rice balls called aracine. Our favorite was sfincione, a thick Sicilian bread, topped with tomatoes, onions, and a bit of oregano. If you're feeling much more adventurous than we were, try out the Sicilian street food known as Pani ca' Meusa, or a spleen sandwich.
Step outside at St. John of the Hermits
With its distinctive red domes, St. John of the Hermits (San Giovanni degli Eremiti) is certainly attention-getting among the streets of Palermo. The small church dates back to the 6th century and like many other spots in town has been both a church and a mosque.
Also like other sites of its considerable age, the building has been changed and influenced by many architectural styles and cultures, earning it a place among the UNESCO-recognized churches of northern Sicily. The courtyard is really the highlight here—with its arches, the remains of an Arab well, and abundant plants, it almost feels like a secret garden despite being in the center of Palermo.
Linger at the Praetorian Fountain
The gorgeous Pretorian Fountain (Fontana Pretoria) dominates the Piazza Pretoria in the heart of Palermo. Amazingly, the hulking creation was made in Florence and transported to this spot in 1574. The highly decorated statues depict ancient Greek gods including Zeus, Poseidon, and Apollo alongside nymphs, animals, and other mythological figures.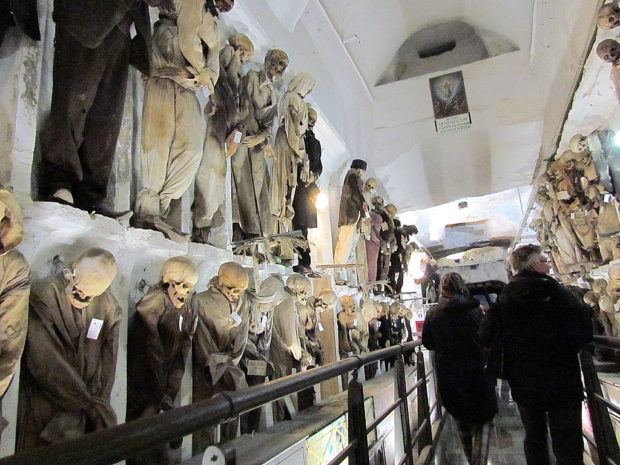 Commune with mummies at the Capuchin Monastery Catacombs
One of the top things to do in Palermo is also one of the most macabre—a visit to the Capuchin Catacombs. For over 400 years, the catacombs have been the final resting place for monks, celebrities, and the wealthy laypeople of Palermo. But unlike at many catacombs, you won't just see bones.
At the Capuchin Catacombs in Palermo, over 8000 full, mummified bodies are on display on shelves and hanging from the walls. It's definitely an unusual attraction, reflecting the monks' belief in the temporary nature of life followed by salvation in Heaven. Note that the catacombs are closed for two hours in the afternoon and have limited hours on Sunday.
Gaze at the glittering Cathedral of Monreale
The top Palermo sightseeing spot is actually just a bit outside Palermo. Sitting on a hill just 9 miles from the city is Monreale, the home of the amazing 12th-century Cathedral of Monreale. The massive mosaics inside are similar to those at the Palatine Chapel only much, much larger.
The Arab-Norman Cathedral of Monreale has 130 mosaic scenes, 200 carved columns, and the imposing 65-foot-tall mosaic of Christ Pantocrator over the altar. Much of the mosaic work is covered in gold—experts estimate as much as 5000 pounds of it. Even if you're not usually impressed by churches, this one is worth a stop. After your visit, wander the streets and grab a coffee or one of the many fresh juices at stands and cafes around town. The bus ride from Palermo is only about 35 minutes.
Consider Day Trips from Palermo
Palermo makes a great base for taking day trips because there are lots of places to visit within about an hour of the capital city.
Mondello Beach — Just 15 minutes north of Palermo, you'll find Mondello Beach, which makes an ideal place to relax and enjoy the Mediterranean on a warm day. The seaside resort is easy to reach by bus, so it can get crowded, but it's worth it.
Cefalu — An easy 50-minute train ride from Palermo will deposit you in the gorgeous city of Cefalu. Visit the beach, grab lunch by the sea, or wander the winding streets. Cefalu Cathedral, a UNESCO World Heritage Site, is also a must-visit on a day trip from Palermo. It's almost as interesting from the outside as it is inside. If you're feeling particularly adventurous, climb the hill for panoramic views.
Segesta
— The once powerful city of Segesta sat high on Mount Barbaro in northwest Sicily. Today, a visit to its main sites—the beautiful temple and in-tact theater—is an easy getaway just about an hour's drive from Palermo.
Where to stay in Palermo
Palermo is notoriously challenging to drive in, so we stayed as close to the main coastal road as possible. This made it easy to drive and easy to park, and we were still only a 10-minute walk from the historic city center.
We stayed at the charming Abatellis Luxury B&B, which was comfortable and quiet and served some of the best cakes ever Read reviews and book a room
Other solid options include the charming Palazzo Pantaleo (Read reviews and book a room) and the highly-rated Massimo Plaza Hotel, which is located just across from the famous Teatro Massimo (Read reviews and book a room).


Capuchin Catacombs photo credit: Gmihail at Serbian Wikipedia (Own work) [CC BY-SA 3.0 rs], via Wikimedia Commons
Note: Some links may be affiliate links, which means Travel Addicts may earn a few pennies if you buy something.
Subscribe to our email newsletter

Get exclusive content
Receive personal updates
Sneak peeks of future trips