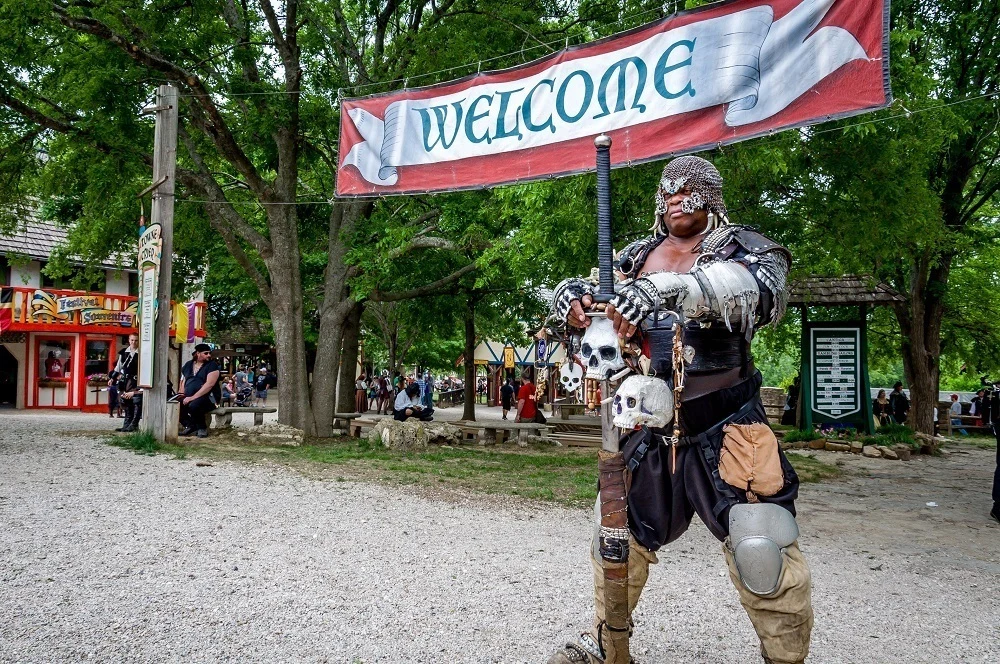 "Prepare yourselves for merriment!"
The voice of the man in knee-high boots and a wide-brimmed crimson hat boomed as we entered the castle walls. Right from the beginning, it was clear this was no ordinary place. We crossed the threshold into Scarborough Renaissance Festival and immediately laid eyes on dozens of lords and ladies in the finest brocades and flourishes of 1533 England.
Everywhere we looked, there were swords and capes and grand headpieces worn regally by cast members and guests alike, despite the heat and humidity of the late spring afternoon in Waxahachie, Texas.
Since I grew up in Dallas only 45 minutes away, this was not my first trip to the wondrous fantasy world of Scarborough Renaissance Fair, but it was my first visit as an adult. As a child, I dressed up (my favorite was a sparkly pink princess dress that came with wings), rode rides, and got my face painted in the brightest colors around.
But this visit was all about discovering what parts of the Faire would appeal to a slightly more grown up audience. The 35-acre Renaissance festival offers hundreds of things to do, but for those over the age of 21, we have a few particular recommendations.
Costumes for loyal subject
As you trudge through the field (aka parking lot) from your parking spot to the entrance, you see normal activities–parents putting kids in strollers, adolescents applying sunscreen, adults taking last minute swigs of water…and other beverages. But the unexpected thing is that you also see people getting dressed.
There are hundreds of lively festival staff dressed in elaborate, multi-layered costumes. But visitors give the employees a run for their money, so much so that staff wear a small, unobtrusive badge to separate them from the everyday visitor.
These "playtrons" are painstaking in the creation of their costumes and characters. There are jesters, lords, pirates, and wenches, among many others. You'll even see a few fairies and a Harry Potter or two thrown in for anachronistic variety.
You can come to Scarborough Faire with your own costume or buy from one of the many shops inside. Pretty sure I'm going to have to invest in the fun on my next visit.
Entertainment and shows
The Faire hosts 200 performances a day, so at any given moment, there are a number of shows taking place. Whether you're interested in comedy, acrobatics, or birds of prey, there are more than a few shows worth taking in. If sword fighting, knife throwing, or things involving fire are more to your liking, you're in luck there as well.
Three times a day, there are full combat jousts. Four knights on horseback run at each other, spurred on by the cheers of the crowd and the ladies of the realm. It's part theater, part "bleeding for your sins" in dramatic fashion. Arrive early to get the best views.
As a bonus, many of the show areas are a great place to rest your feet, and many of them are covered. This is ideal because, if you're anything like us, you may be a bit tired from walking all day, and it's nice to have a break from the Texas heat. Some of the shows are a little more PG-13 than G-rated.
Wine tasting
Twice a day every weekend, Flynn Markley (aka The Wine Shark) hosts wine tastings behind the Cat and Fiddle Tavern. He and his assistant take the audience on a tour of a different wine region each weekend. Tastings have focused on areas like Spain, Germany, Italy, and South Africa. Regions can be broadly defined, as our tasting essentially featured wines from around the Southern Hemisphere.
I thought I knew a fair amount about wine tasting, but I was wrong. Flynn is funny, and he knows his stuff.
Our tasting included tips on how to taste wine — the 4Ss of see, swirl, smell, and sip — and educated descriptions of the various grapes and qualities of the wines. He never even breaks his Renaissance character.
The wine tasting was a lot of fun and I feel smarter for having been. The $30 ticket, which is separate from the festival admission, includes 6 generous tastings (about 2-3 glasses of wine) during the one-hour event, a souvenir wine glass, and a tasty bread, cheese, and fruit platter. Flynn even shared his friend's homemade goat Gouda. Truly an event not to miss.
Shopping and souvenirs
With more than 200 shops at the Waxahachie Renaissance festival, it's hard to imagine much that you can't find. Looking for custom made sandals or moccasins? You're covered. Hoping to find candles and soaps to address the Renaissance "scent" (thank goodness bathing is a regular thing now)? There are several options.
You can also find lots of choices for jewelry, pottery, musical instruments, and kids' items. Browse while noshing on items from one of the nearby food stands, and your day will be complete.
Craft demonstrations
One of the demonstrations I remember most vividly from my previous visits to Scarborough Renaissance Festival is the glass blowing. Regardless of your age, it's hard not to be in awe of a vase or bowl taking shape before your eyes, especially when that item is being super-heated in a glowing orange furnace, and the guy doing it is going about his business like he's simply making a sandwich.
The glass blower who demonstrates his craft four times per day is one of several very knowledgeable artisans at the Faire. Somehow, they deliver detailed, engaging descriptions of everything they're doing while entertaining the audience and not missing a beat. In some instances — especially like glass blowing and blacksmithing — these crafts seem pretty darn dangerous. I mean, have you seen how hot a blacksmith forge can get? And, yet, it's all done seamlessly with the mark of educated showmanship.
Food and drinks
This place practically turns eating into an Olympic sport. Everywhere you look, there's food. And if you've ever hoped to find a particular food on a stick, that's probably here, too, including the cleverly named "steak on a stake."
And here's the thing you might not expect from an event like Scarborough Fair — the food is good, and it's reasonably priced. No rubber chicken or shoe leather hamburger here. The turkey legs (a festival signature—they sell 20 tons per year) are juicy, the chicken is tender, and the ice cream is amazing on a hot Texas day.
You can pair any of these with a variety of Dr. Pepper products (it's Texas, people!) or wine, beer, and margaritas throughout the grounds. The five food court areas throughout the festival have pretty much anything you can imagine. Even at peak times, the waits are relatively short. The staff has clearly got catering to hungry aristocracy down tre o a science.
Tickets and dates
The festival takes place in Waxahachie, Texas each weekend plus Memorial day from early April through the end of May. In 2023, dates are April 8-May 29.
Adult tickets are $37, and tickets for those 5-12 are $17. Discounts are available for advanced purchases.
We were guests of Scarborough Renaissance Festival. Opinions of the entertaining, opulent, and alcoholic are our own.