The restaurant scene in Winston-Salem is full of fantastic options. From hearty Italian to sophisticated Southern, there's a little bit of everything to try here. Whether you're looking for a killer breakfast sandwich, Soul Food, or upscale French cuisine, you'll find it among our picks for some of the best restaurants in Winston Salem.
The Katharine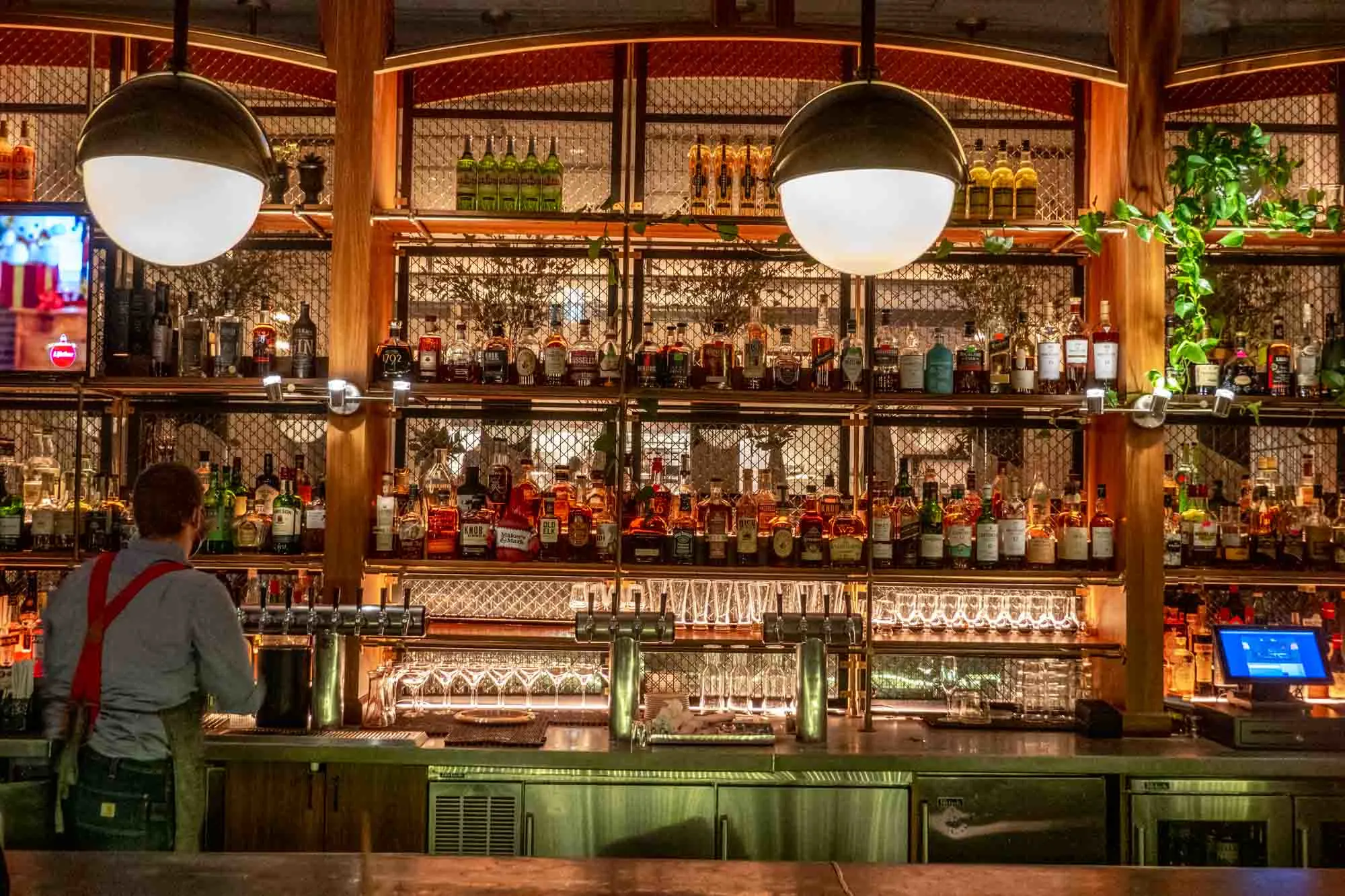 The Katharine is a French brasserie with a Southern flare. That means that the exquisite menu features everything from mussels and beef tartare to North Carolina trout and duck breast with turnip greens.
The brasserie is named after Katharine Reynolds, the matriarch of the famous Reynolds family. This is particularly fitting since it is located in the Kimpton Cardinal Hotel, which was previously the RJ Reynolds building. The space is open and intimate at the same time with a seasonal patio and fun bar. Service starts at breakfast and continues through night caps, so there's no reason not to visit.
Mozelle's Fresh Southern Bistro
Fresh, local ingredients and lots of Southern influence and hospitality have made Mozelle's a go-to in the West End neighborhood for over a decade. On my first trip to Winston-Salem, it was the one restaurant I was told I absolutely had to visit. It didn't take long to figure out why.
From impeccable shrimp and grits to the famous tomato pie with succotash, Mozelle's delivers consistently delicious and unexpected takes on classics. The meatloaf with Havarti and tomato marmalade is a particular treat. Grab a bottle of wine and some fried pickles and stay for a while.
Spring House Kitchen, Restaurant, & Bar
Located in an historic home downtown, Spring House Restaurant, Kitchen, & Bar is one of our favorite restaurants in Winston Salem. The "New Southern" dishes incorporate seasonal ingredients with a focus on sustainability, so the menu is constantly changing.
One of the best ways to sample the genius of chef Timothy Grandinetti is through the three-course tasting menu (also available with vegetarian options). Whether you get the corn chowder, the strip steak with gorgonzola beignets, or another great dish, you'll leave happy and full. The cocktail program at Spring House is also top-notch—have an after-dinner drink the cozy Library Bar.
Quanto Basta
The same owners and chef as Spring House also run the incredible Quanto Basta, or "qb" for short. We come here every time we visit Winston Salem thanks to the homey atmosphere, hand-stretched pizzas, and incredible tiramisu trifle with cocoa spiked marscapone. Their extensive wine list runs the gamut from Italian and French varietals to North Carolina wines.
The Italian restaurant draws on the chef's family heritage, paying tribute to his great-grandfather especially. Guests will find everything from salads and antipasti to chicken Marsala and spaghetti and meatballs.
Foothills Brewpub
Foothills Brewing is one of the most popular craft breweries in the area. For over 15 years, they have made and bottled their offerings in the city. At their downtown brewpub, Foothills offers a wide variety of salads, sandwiches, specialty burgers, and an "enorm" Bavarian pretzel that is not to be missed (especially for the accompanying beer cheese).
Beer lovers will find over a dozen beers available at any point, and there are regular special releases throughout the year. To learn even more about their brewing process, visit their main facility and tasting room where they offer Beer School and samples of all their unique brews.
Krankie's
Coffee roastery, art space, community hub, and maker of the best biscuits around—that's Krankie's. The hangout evolved from a coffee roaster and coffee shop to a full-service breakfast and lunch spot. The biscuit sandwiches are always a hit, especially Krankie's Classic with fried chicken, Texas Pete hot sauce, and honey.
Real Q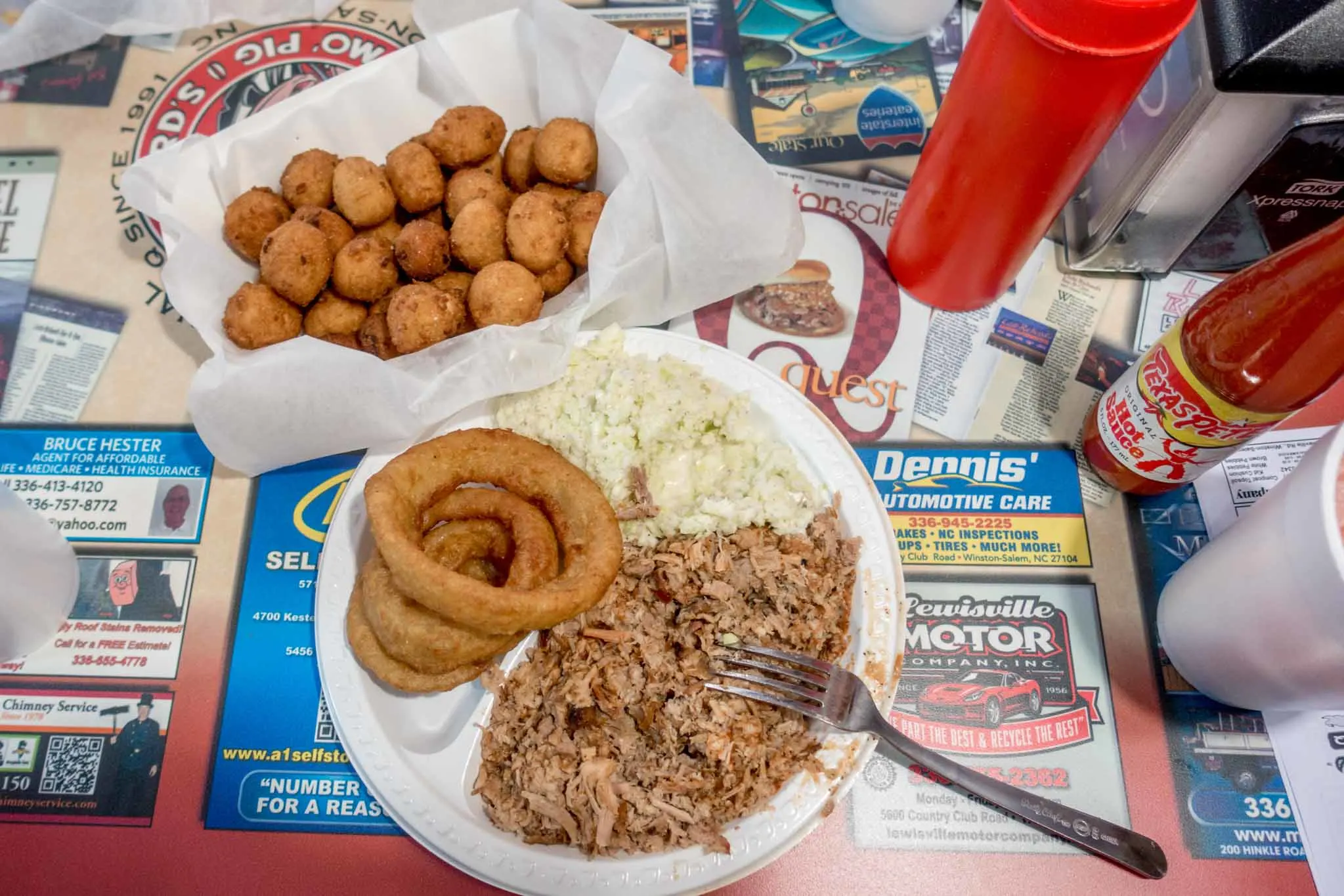 North Carolina is a barbecue destination, so don't skip on trying this classic. We love Real Q, which serves pit-cooked Lexington-style BBQ done in the traditional way—low and slow to get just the right amount of flavor. Don't expect to find pulled pork here, though. Instead, it's chopped, coarsely chopped, or sliced and often served with BBQ slaw. A stick-to-your-ribs kind of meal!
Sweet Potatoes
For nearly 20 years, Sweet Potatoes has been a mainstay of downtown Winston Salem. Its popular Southern cuisine not only celebrates North Carolina's state vegetable—you can't go without trying the sweet potato pie—but incorporates Soul Food influences and special touches from chef Stephanie Tyson. Try the okra, fried green tomatoes, and Slap Yo' Mamma Ribs for some truly good eats.
Willow's Bistro
In a 100-year-old former railway freight warehouse, Willow's Bistro serves elevated comfort food in a welcoming environment. The restaurant focuses on ingredients from local farms and companies to create a farm-to-table experience. The names of the producers are even featured on blackboards by the open kitchen, right above a selection of paintings from local artists.
Friendly service and excellent food make Willow's one of our favorite places to eat in Winston-Salem. We love the fried green tomato BLT sandwich and the hickory-smoked ribs, in particular, but it's hard to go wrong with any dish here.
Earl's
With Southern food and a long list of whiskeys, Earl's creates an atmosphere straight out of Nashville. The restaurant is best know for its fried chicken sandwiches—there are four different options—and its tater tot nachos plus other Southern specialties like pulled pork, Carolina catfish, and a fried bologna sandwich that will make you feel like you just stepped into a Tennessee honky tonk.
Earl's also offers a specialty cocktail list featuring plenty of Tennessee whiskey and products from local distillers like Sutler's Spirits and Broad Branch Distillery. Weekends feature live music, and the regular open mic nights contribute to the fun atmosphere.
Yamas Mediterranean Street Food
The concept at Yamas Mediterranean Street Food is simple—fresh, flavorful Mediterranean food at a decent price. Born and raised in Cyprus, owner Chris Michael know his flavors, so the falafel, souvlaki, and spanakopita are authentic.
Visitors build their meals based on sandwiches, salad bowls, or grain bowls with a variety of proteins, toppings, and sauces. There are lots of vegetarian and vegan options.
Laura Longwell is an award-winning travel blogger and photographer. Since founding Travel Addicts in 2008, she has written hundreds of articles that help over 3 million people a year get the most out of their travel. In that time, she has visited nearly 60 countries on 5 continents, often returning to favorite destinations over and over again. She has a deep love of history, uncovering unexpected attractions, and trying all the good food a place has to offer.
In addition to Travel Addicts, Laura runs a site about her hometown of Philadelphia—Guide to Philly—which chronicles unique things to do and places to see around southeastern Pennsylvania. Her travel tips and advice appear across the web.