Some posts on this site contain affiliate links, meaning if you book or buy something through one of these links, we may earn a small commission (at no extra cost to you).
Winston-Salem, North Carolina, has the feeling of a small town wrapped in a big city. Once known for its industries like tobacco and textiles, Winston-Salem has broadened its appeal as a center of art, culture, and food while still paying homage to its past. From shopping to street art to living history museums, there are lots of things to do in Winston-Salem and plenty of people to meet. Everywhere we went, locals were eager to tell us about their city and share something else we absolutely had to do. Here's a look at all the fun things we discovered on a weekend in Winston-Salem.
Things to do in Winston Salem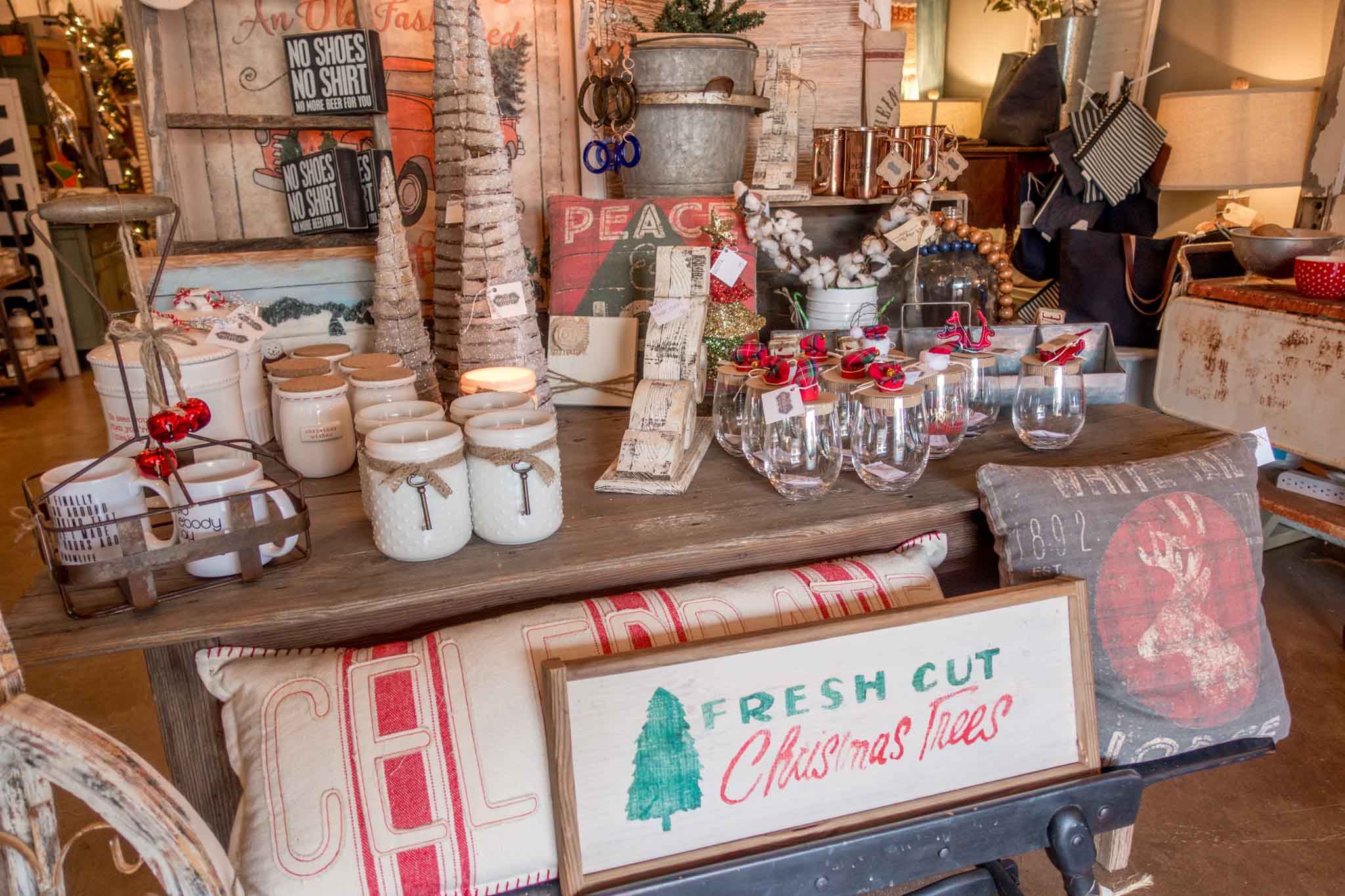 Wander Trade Street
Trade Street is one of the best places to go in Winston-Salem if you're in the mood for shopping. This area of downtown is full of great boutiques, specialty stores, and galleries, so it's an excellent place to spend a couple of hours.
We loved discovering the jewelry and decorations at the Vintage Chic Market and the hundreds of unique artworks at Piedmont Craftsmen, a craft artists' guild with a storefront on North Trade Street. In between the shops, there are also plenty of restaurants and cafes to keep you well-fueled for browsing and buying.
Wondering where to stay in Winston-Salem?

Cozy comfort: Brookstown Inn

Downtown chic: Kimpton Cardinal Hotel

Convenience and hospitality: Winston-Salem Marriott

You'll find more details about where to stay in Winston-Salem at the end of this article.
Stop by Mast General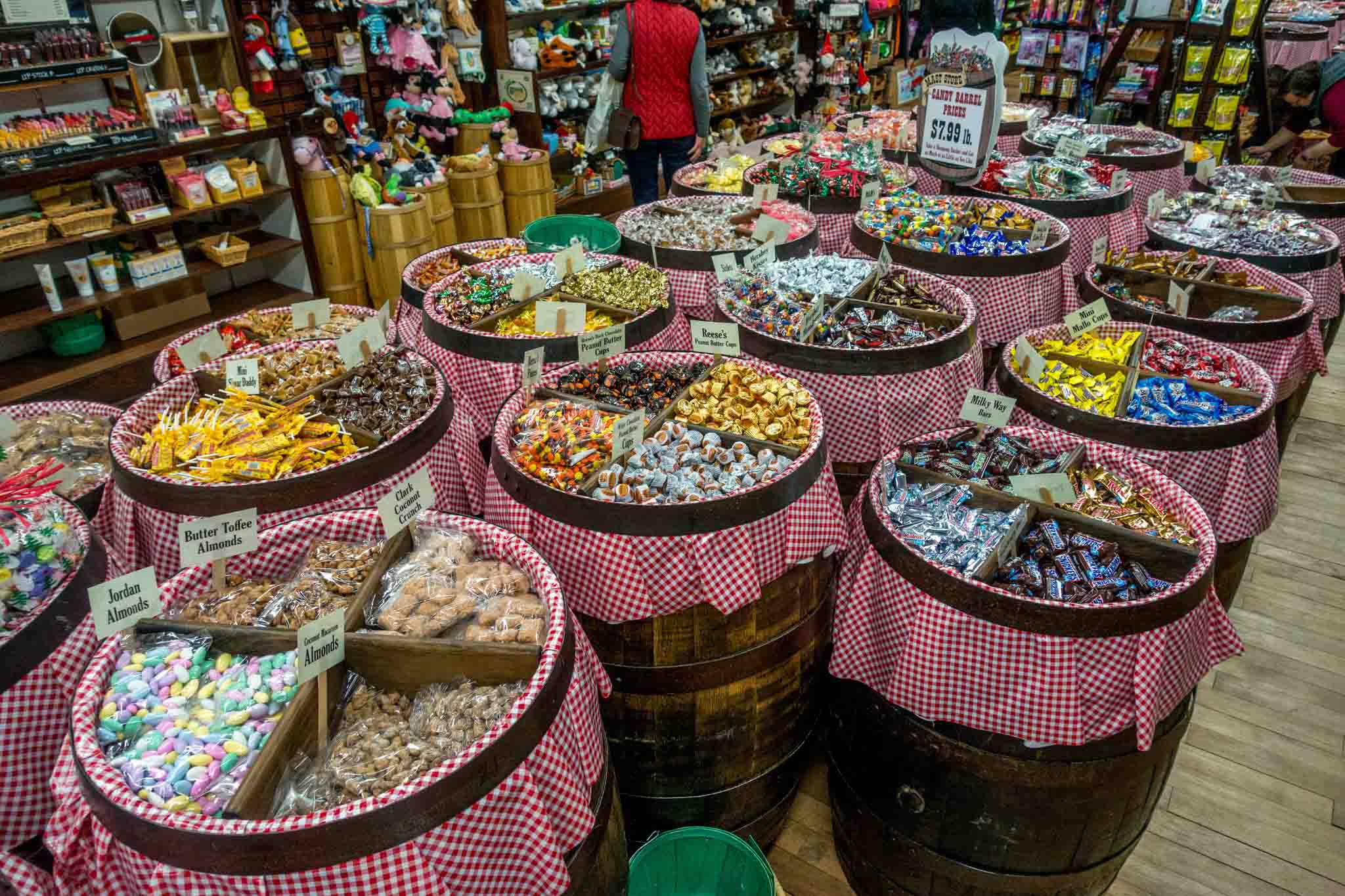 One of the cornerstones of Trade Street, Mast General Store merits its own spot on the Winston-Salem "to do" list. Started in western North Carolina in 1883, Mast General Store is true to the 19th-century general store concept featuring a little bit of everything from clothes to dish towels to grits.
In particular, the store is known for its huge selection of old-fashioned candy—we loved picking up a few childhood favorites along with some throwback (and Harry Potter-themed!) sodas.
Jump on the North Carolina historic BBQ trail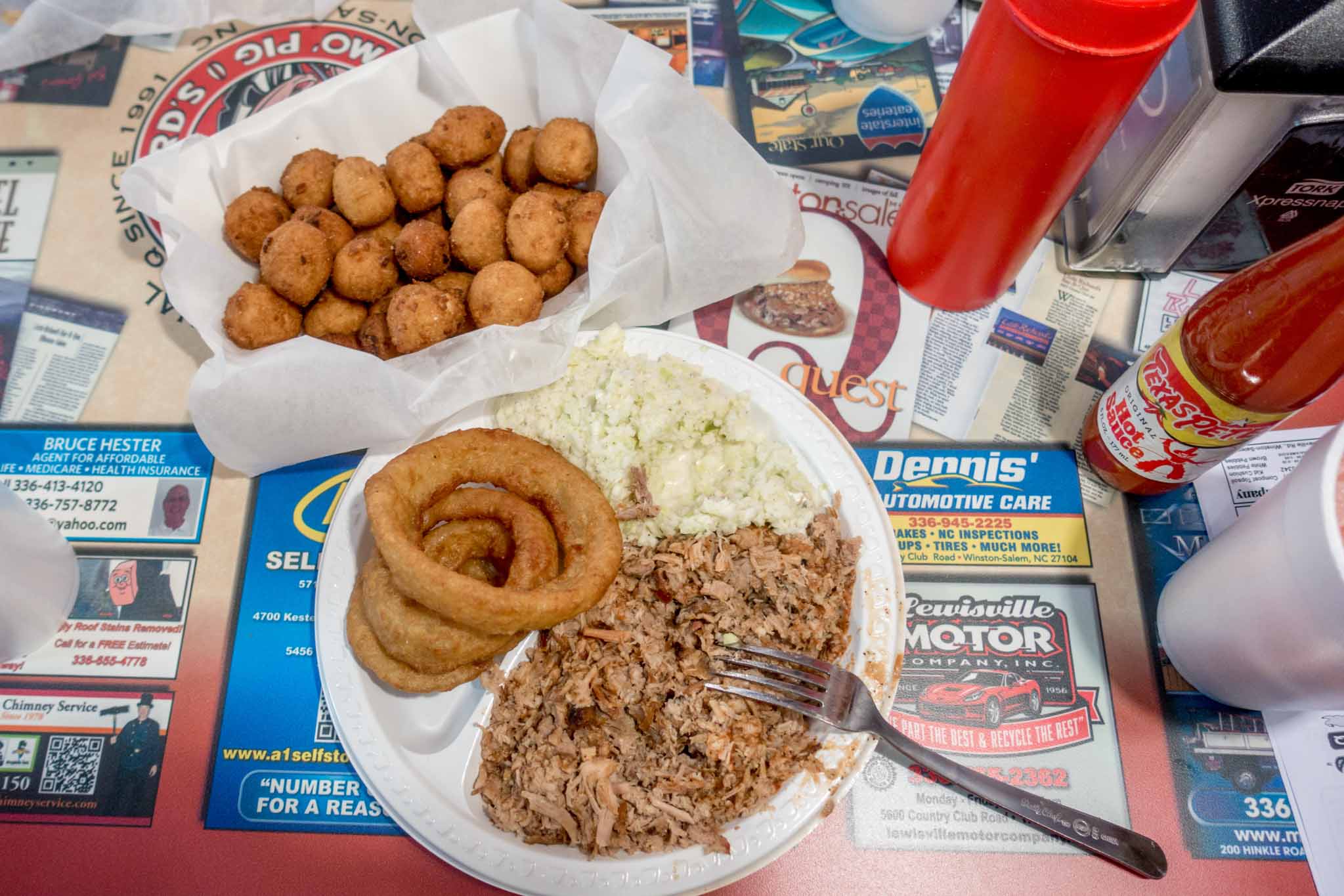 North Carolina is known for its barbecue, so trying some is a must when you visit Winston-Salem. For 100 years, locals have been smoking pork in the same way—low and slow over wood and coals to get just the right amount of flavor. In North Carolina, there's no such thing as "pulled" pork. Here, it's chopped, coarsely chopped, or sliced.
The North Carolina Barbecue Society has honored those who follow those traditions by putting together the Historic Barbecue Trail through the state. Participating restaurants must meet certain criteria, including not using electricity or gas and having been in business for at least 15 years.
Check out the trail and pick the stop that works best for your trip. We loved Real Q in Winston-Salem (formerly Little Richard's Bar-B-Que) for everything from the barbecue to the fabulous hush puppies.
Enjoy the view at ARTivity on the Green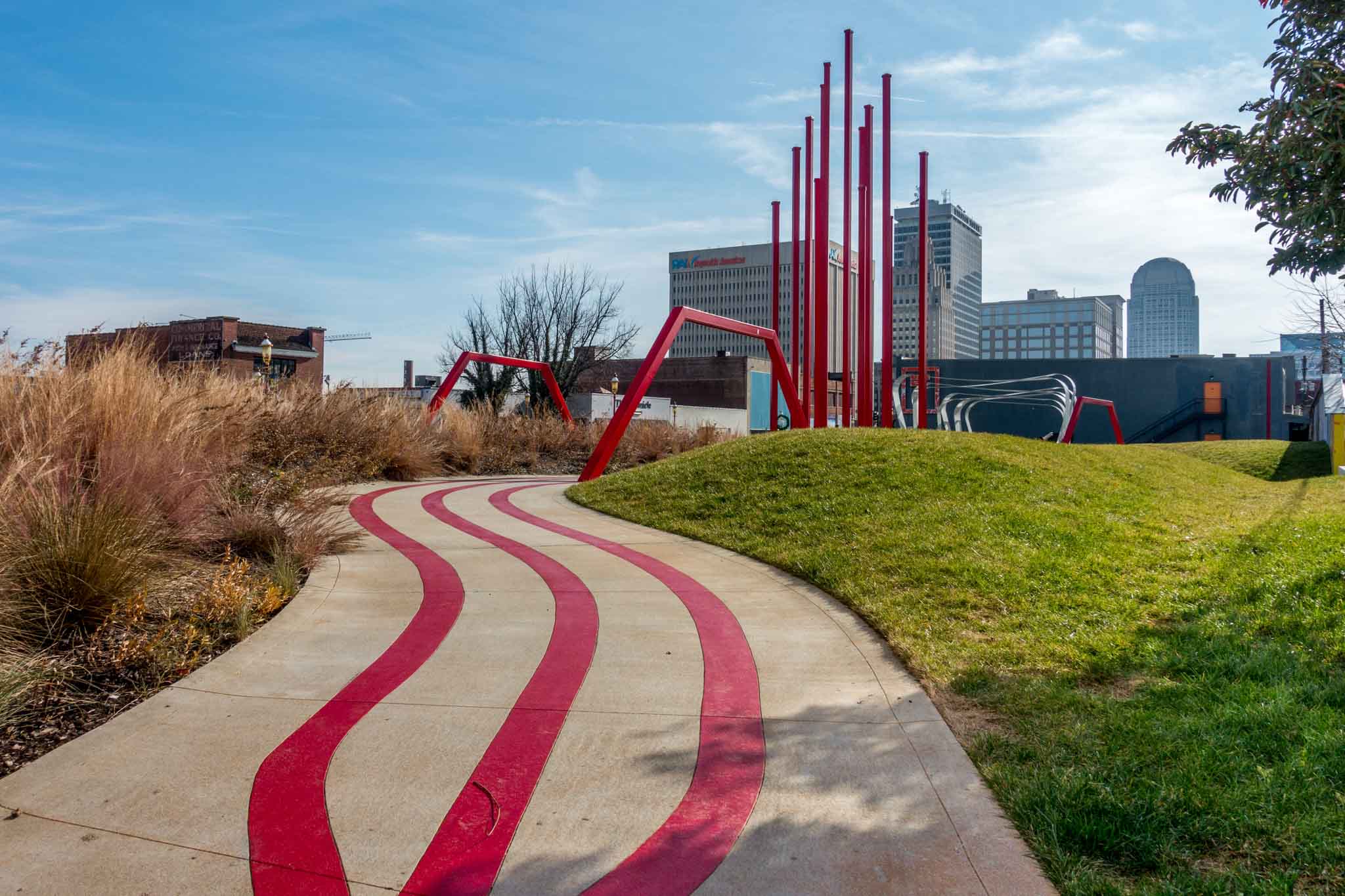 In the heart of the Downtown Arts District, ARTivity on the Green is Winston-Salem's first public park. It's impossible to walk by without being pulled in by the unusual shape and bright color of the red "smokestacks" that honor the city's industrial past. The benches and green space provide a great place to hang out, and the rotating murals ensure the view is always unique.
Take a walk along the Winston-Salem Art Trail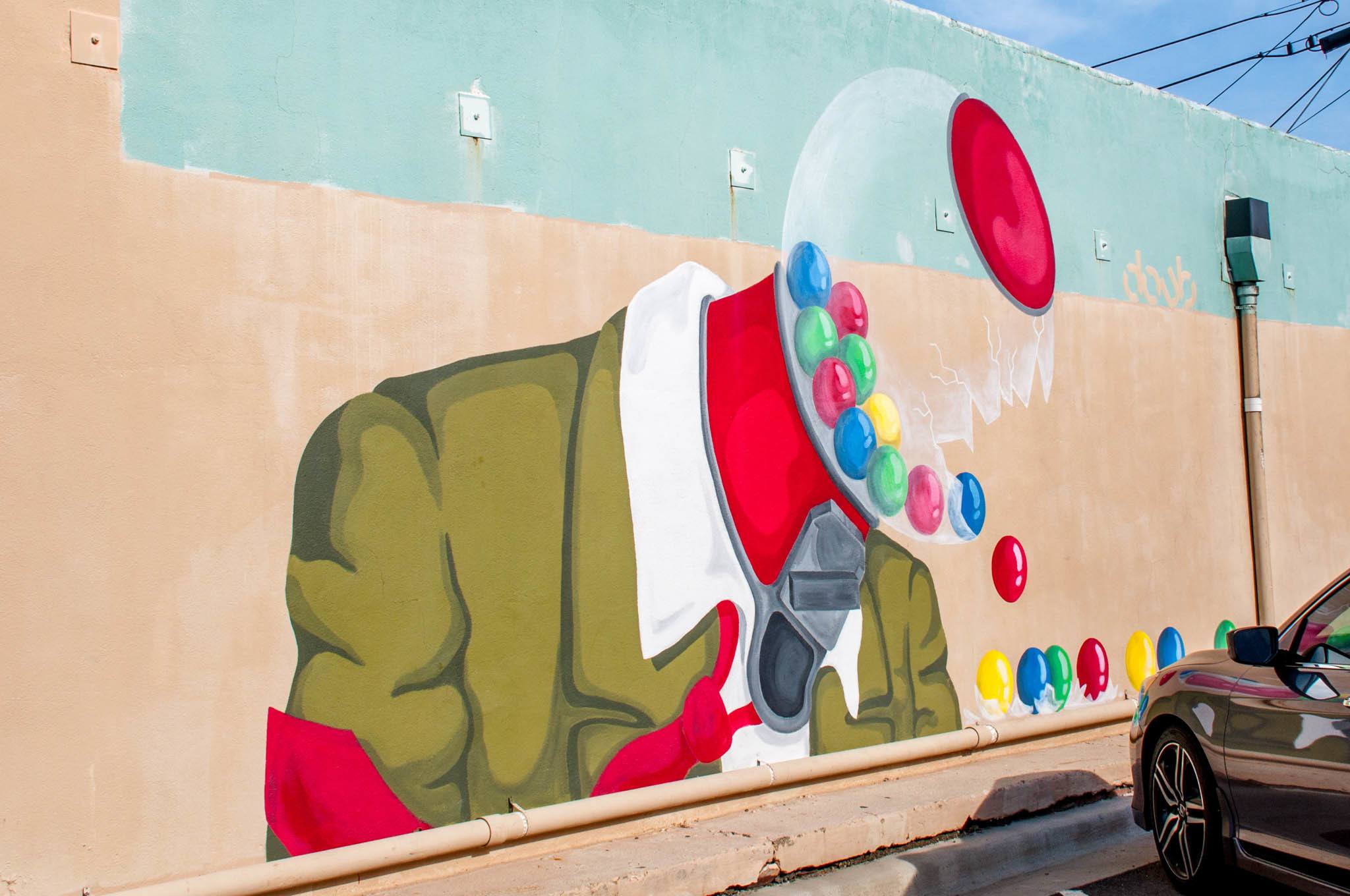 In addition to ARTivity on the Green, downtown Winston-Salem is home to brilliant murals just about everywhere you look. From whimsical pieces like a giant gumball machine to a work honoring Frederick Douglass, the street art runs the gamut of subject matter. Follow the self-guided art trail around downtown to appreciate it all and enjoy one of the best free things to do in Winston-Salem.
Indulge your sweet tooth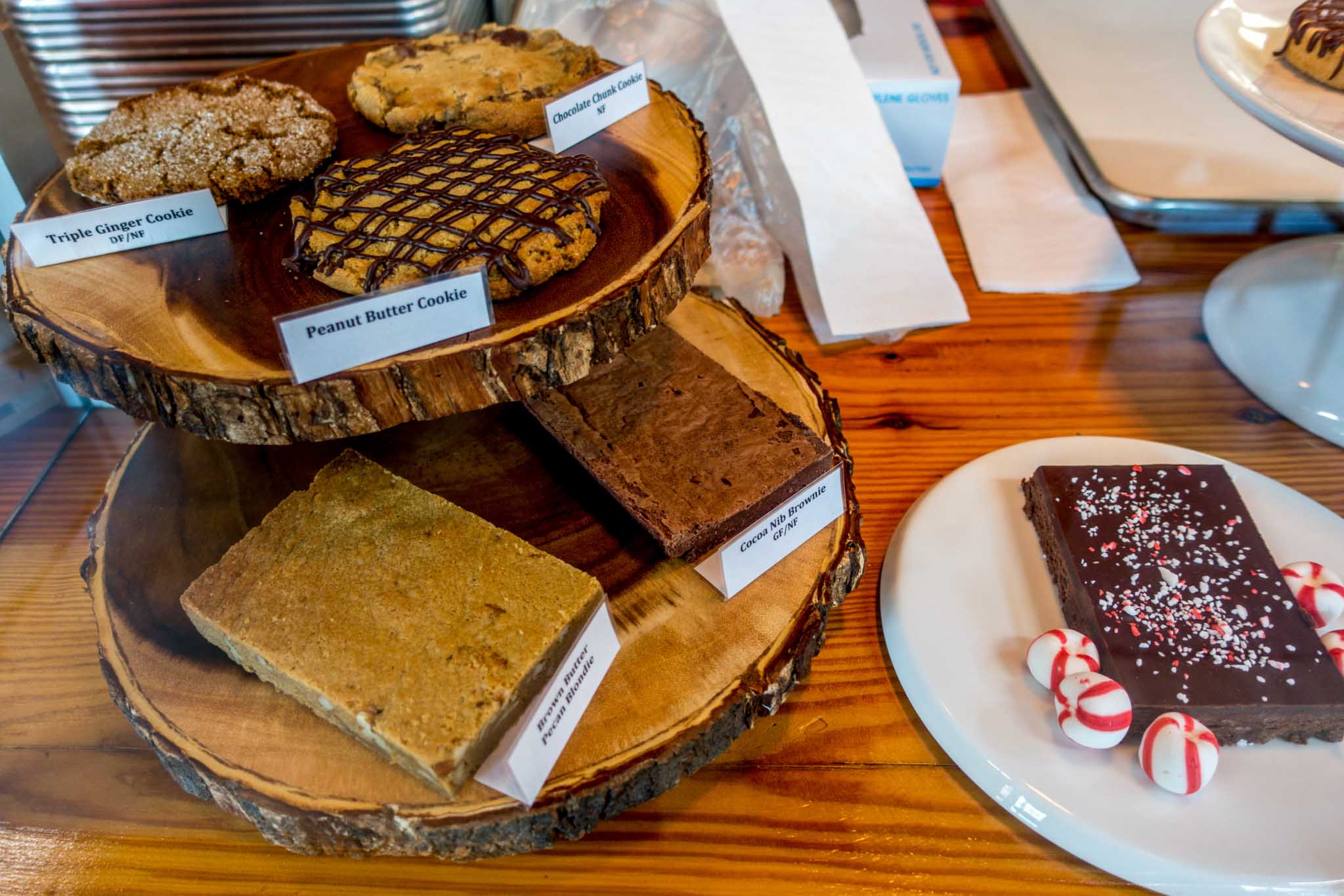 The Black Mountain Chocolate Factory is one of the best places in town for some dessert on the go. Of course you can sample their wares, including the delicious hot chocolate that we loved.
To get a closer look at all the products and flavors coming out of the tastiest factory downtown, take a self-guided tour or schedule a time to see how the factory works behind the scenes with a guide. The $10, hour-long guided tour covers the process of making chocolate from start to finish.
Raise a glass at Broad Branch Distillery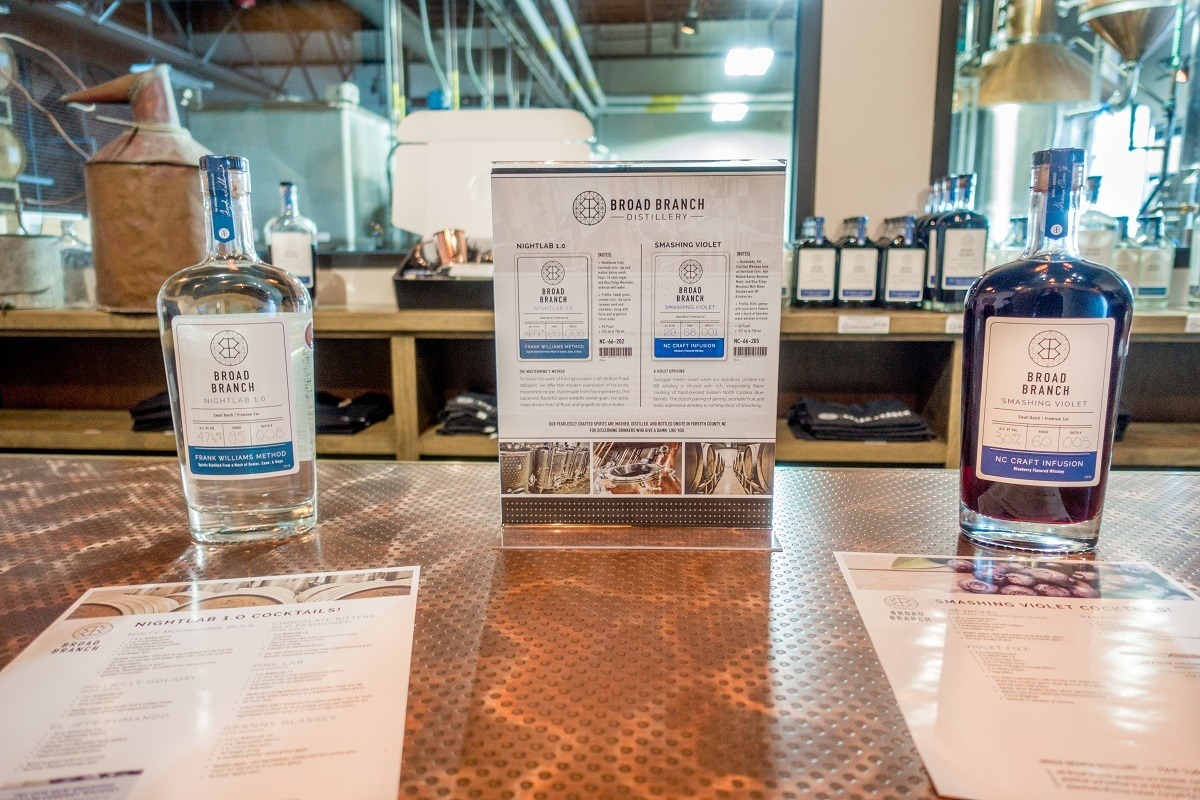 Next door to the Black Mountain Chocolate Factory is another one of the best places in Winston-Salem to indulge a vice—Broad Branch Distillery. If you like whiskey and rum, this former tobacco warehouse in the Arts District is the place to be.
Broad Branch, one of 25 distilleries in North Carolina, is a grain-to-glass distillery. They oversee every part of the process that results in their premium whiskeys and other spirits. Stop by for a tasting and a tour that will take you behind the scenes. Our favorites were Smashing Violet, a blueberry-infused smooth North Carolina whiskey with a hint of natural sweetness, and the forthcoming Sungrazer rum that draws some of its great flavor from being aged in port and whiskey barrels.
Step into history at the Reynolda House Museum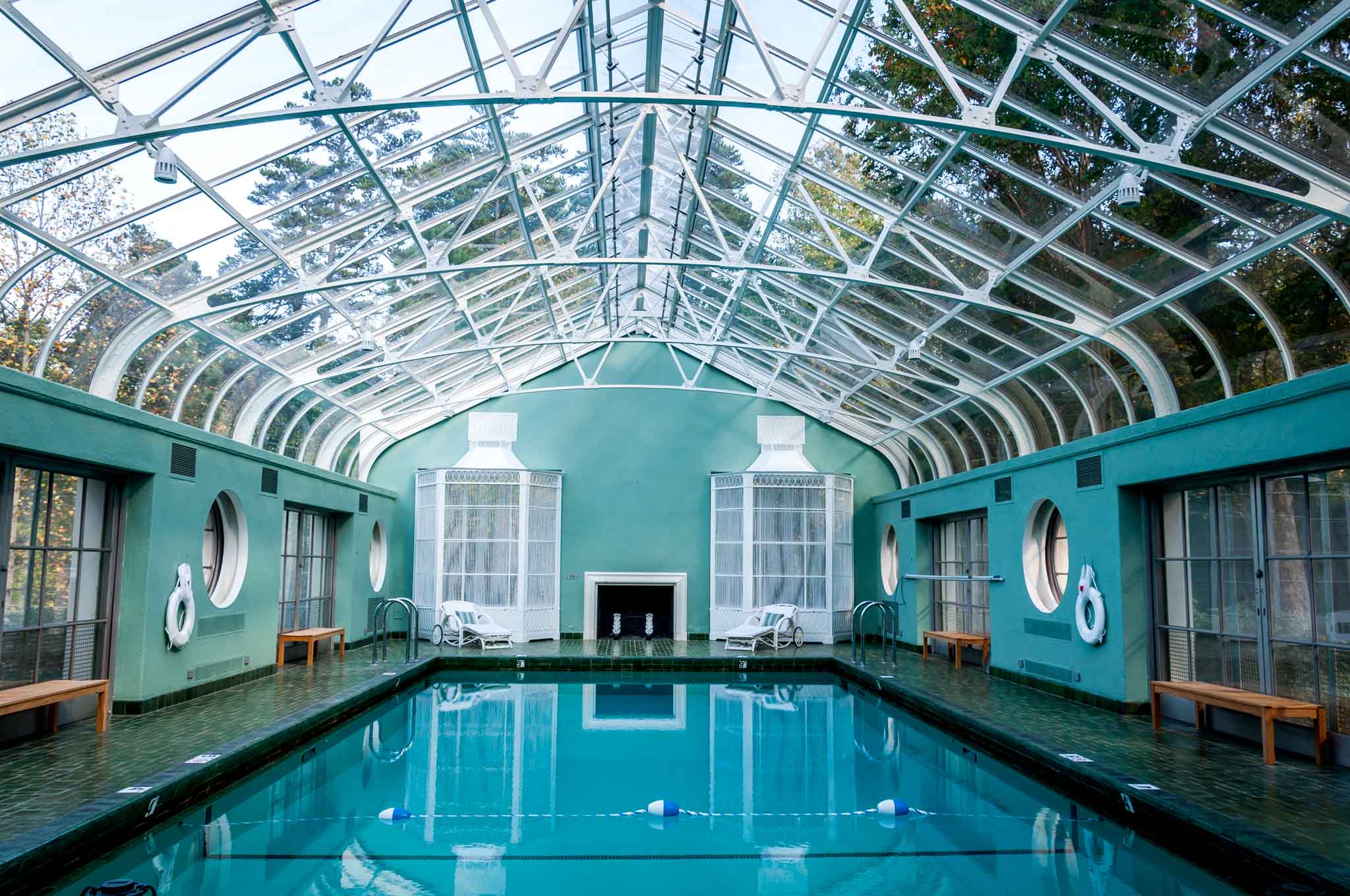 The Reynolda House Museum of American Art provides a remarkable look into the life of a family that helped shape the development of Winston-Salem. The house was originally the home of tobacco magnate R.J. Reynolds and his wife Katherine, set on a massive 1067-acre estate.
Built in 1917, the Reynolda House is a monument to how the upper class lived, featuring large areas for receiving guests, a beautiful indoor pool, a bowling alley, and a life-sized doll house. The house features a premiere collection of American art spanning 300 years, including work from artists such as Mary Cassatt and Georgia O'Keefe.
There is also a separate wing for temporary exhibits. Outside, the four acres of gardens are full of gorgeous roses and exotic flowers, shrubs, and even vegetables, echoing the plans of the Reynolds family from a century ago.
Tour (or stay) at Graylyn Estate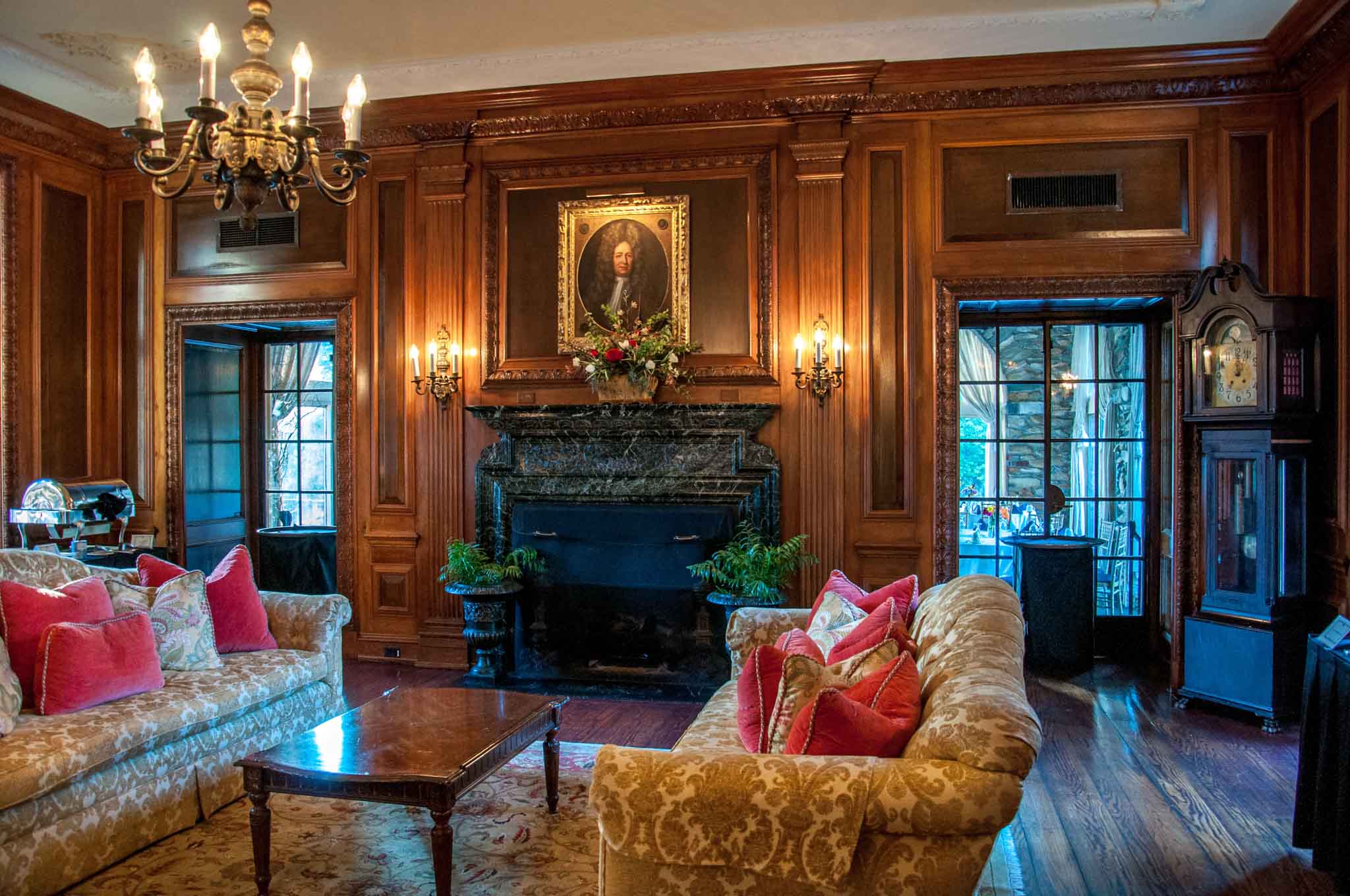 Just a few miles from downtown Winston-Salem, the Graylyn Estate was once one of the largest private homes in North Carolina. An opulent house built by a R.J. Reynolds Tobacco Company executive in 1932, Graylyn Estate is now a beautiful hotel and conference venue.
If you can't stay overnight, consider coming for one of their regular Tour Pour du Jour events, which includes a tour of the property and a sampling of Graylyn's house wines. Fair warning: these monthly events are popular and often sell out in advance.
Try local Yadkin Valley wines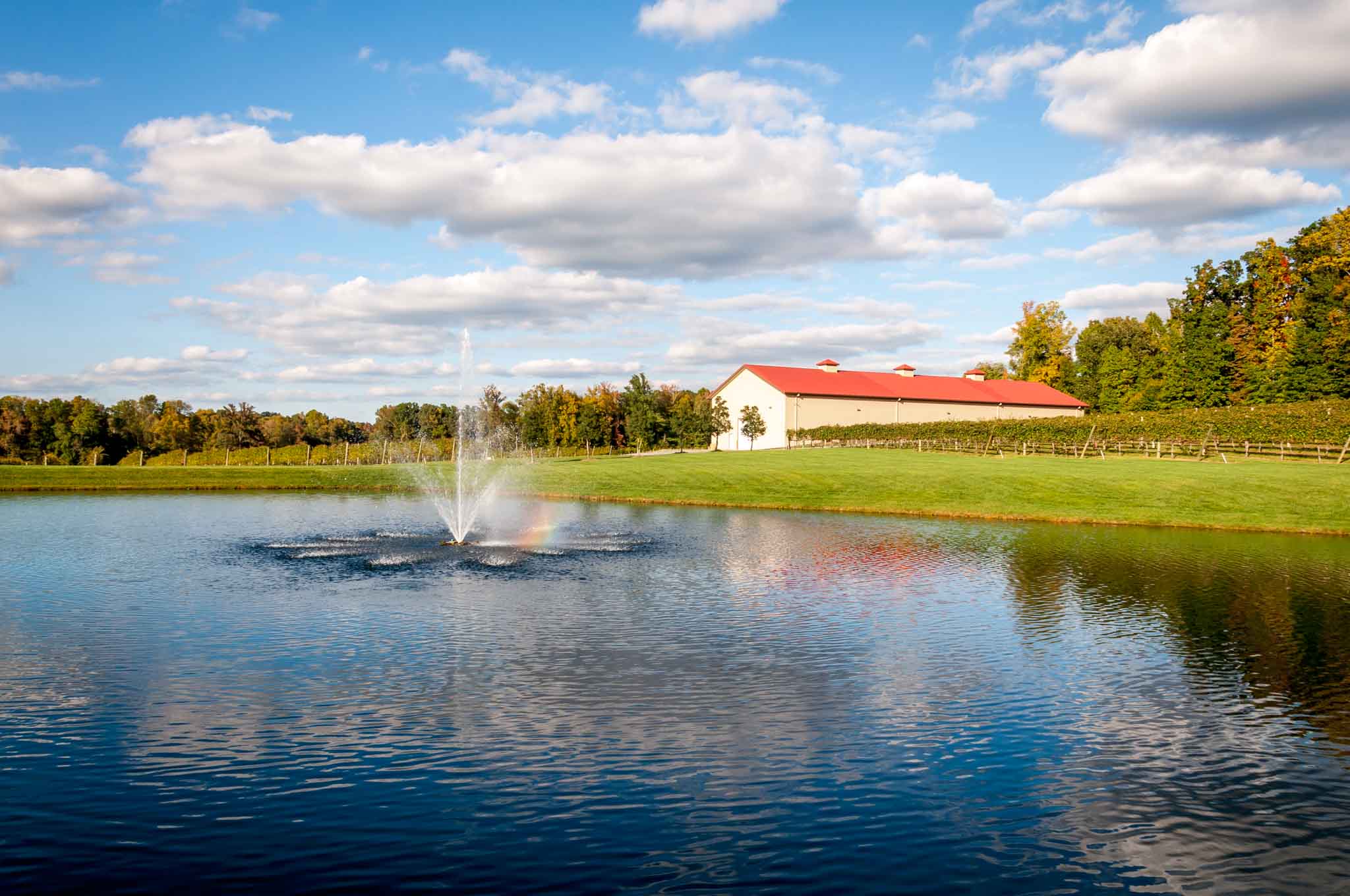 Just west of Winston-Salem is the Yadkin Valley, a 1.4 million-acre area that includes over 45 fabulous vineyards and wineries producing everything from North Carolina-native Muscadine wine to sophisticated Super Tuscans. A stop in downtown Winston-Salem will let you try dozens of the locally-grown varietals at Carolina's Vineyard and Hops, a fun wine and beer bar that only features products from within 150 miles of the city. Enjoy the live jazz and try one of the specialties from the area.
If you want to tiptoe among the vines, you can reach several picturesqueYadkin Valley vineyards in just a half-hour. Check out some of the 30+ offerings from Childress Vineyards while enjoying lunch in their gorgeous bistro that has sweeping views of the grounds.
Become an Art-o-mat collector
We first heard of Art-o-mat back in 1999 when one was displayed at the Whitney Museum in New York, and Lance set about collecting the miniature pieces of art they dispensed at every opportunity. What we didn't know then was that these clever re-purposed cigarette machines had their roots in Winston-Salem. Local artist Clark Whittington turned the offending machines into something that would dispense beauty in the heart of tobacco country.
The original Art-o-mat artworks were photos from Clark on wooden blocks that sold for only $1. Over time, he has sourced artists from around the world to keep the 100+ machines stocked with art. These cool art dispensers are at several spots around Winston-Salem, including the original one at Mary's Diner. Check to see if there is an Art-o-mat near you.
Observe living history at Old Salem Museums and Gardens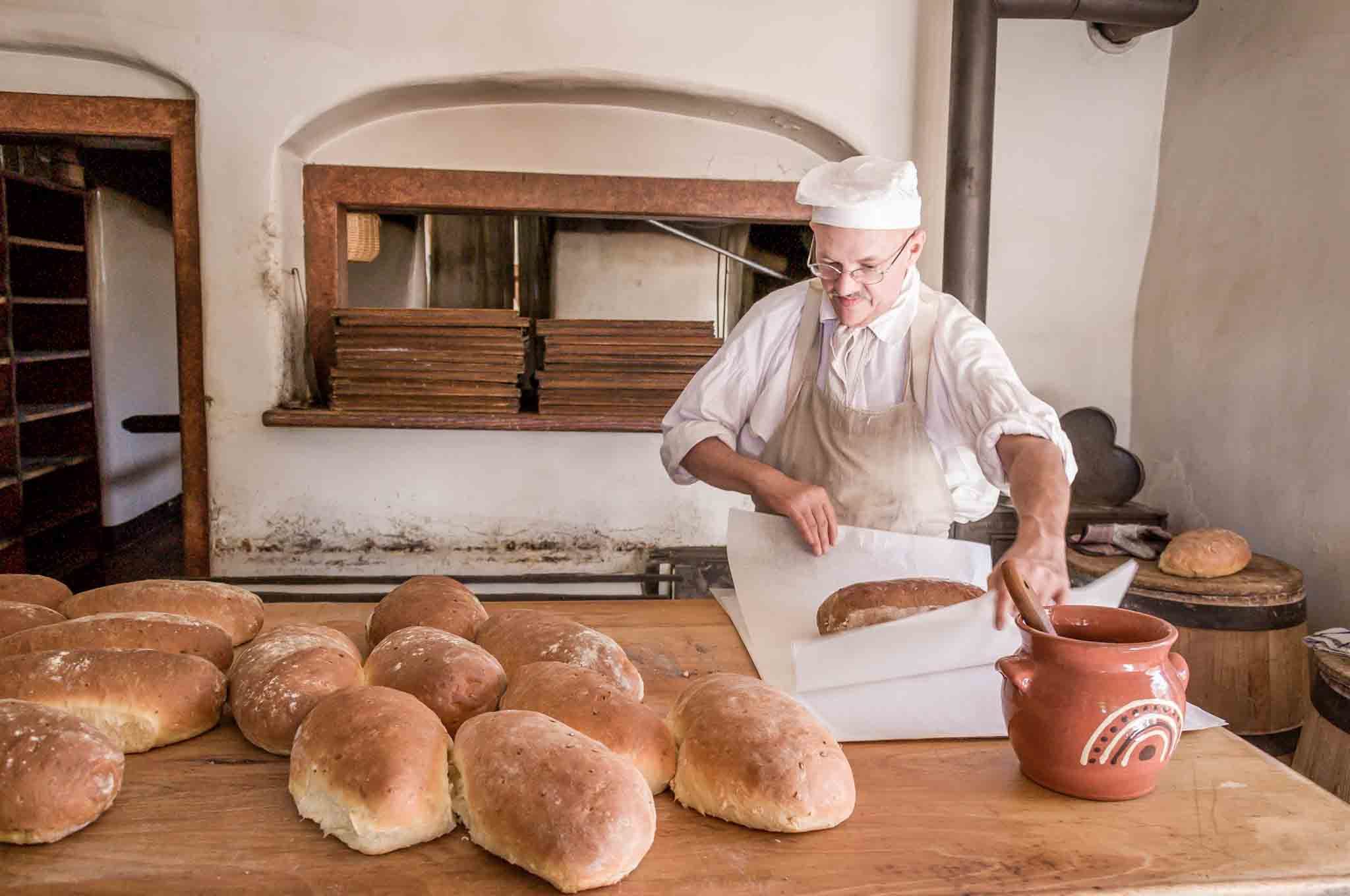 Spending an afternoon at Old Salem Museums and Gardens is one of the most fun things to do in Winston-Salem. In the more than 20 historic buildings, interpreters show the activities of daily living as they were in this Moravian community in the late 1700s and early 1800s. The cobbler hand crafts shoes, sisters dye yarn for weaving, and people tend the gardens and cook with the bounty just as they would have in Old Salem.
A visit to Old Salem Museums and Gardens is a fascinating look into the customs, businesses, and celebrations of this unique religious community. We love everything about this great living history museum, but our favorite stop is the Old Salem bakery where you can watch all the delicious items being made and even buy a few to take home with you.
Explore Bethabara Historic District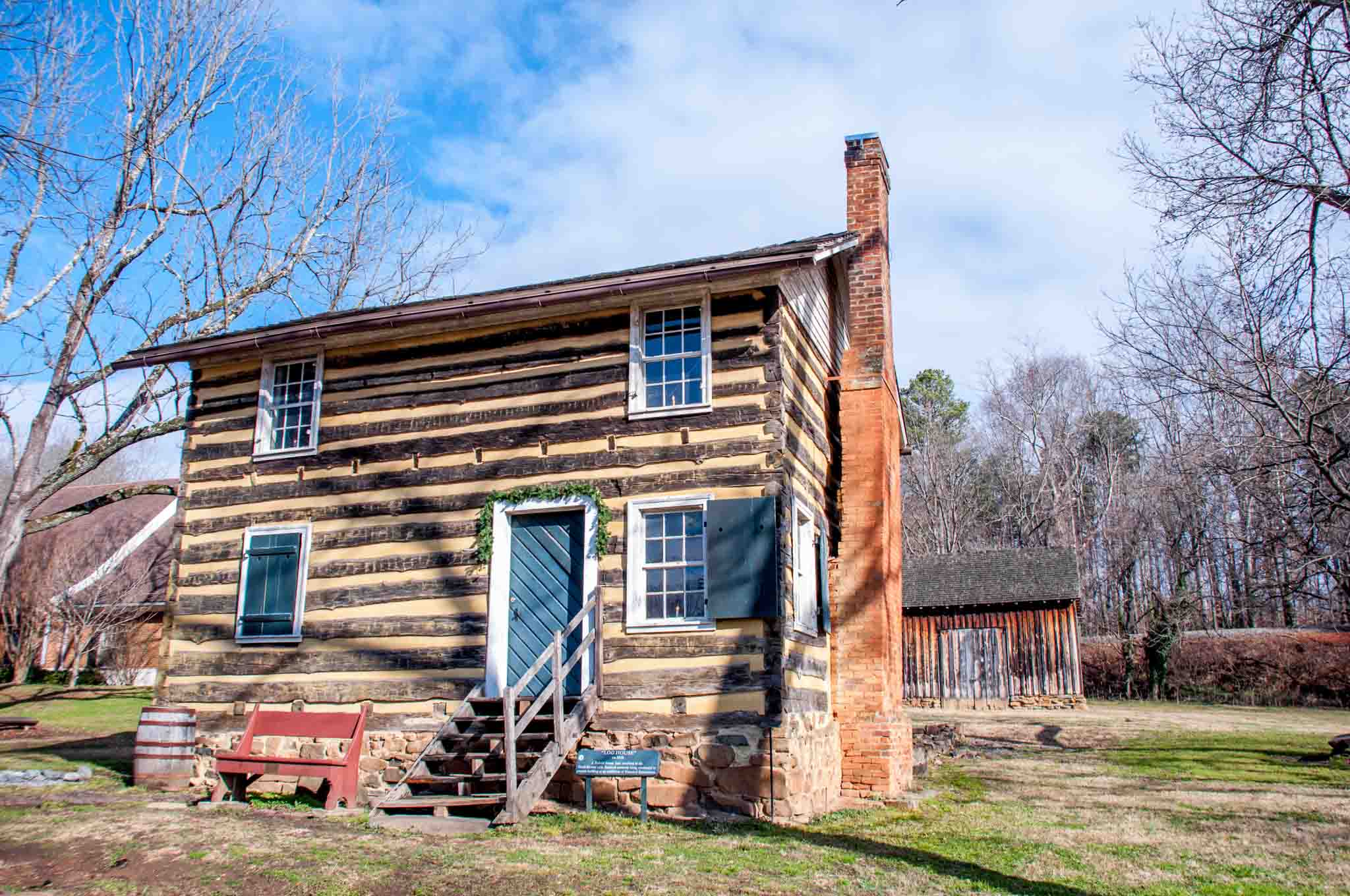 Less than 10 miles away is another Moravian settlement known as Bethabara Historic District. First settled in 1753, Bethabara was meant to be a temporary home while the Moravians looked for a more suitable permanent location, which ultimately became Old Salem.
The 183-acre park and wildlife preserve has the restored Gemeinhaus (the Bethabara Moravian Church), a couple of buildings, and the excavated foundations of the original settlement along with the restored colonial gardens for which Bethabara was well-known. A visitor's center provides more information about the Moravian settlers, and tours are available.
Enjoy the holidays at Tanglewood Park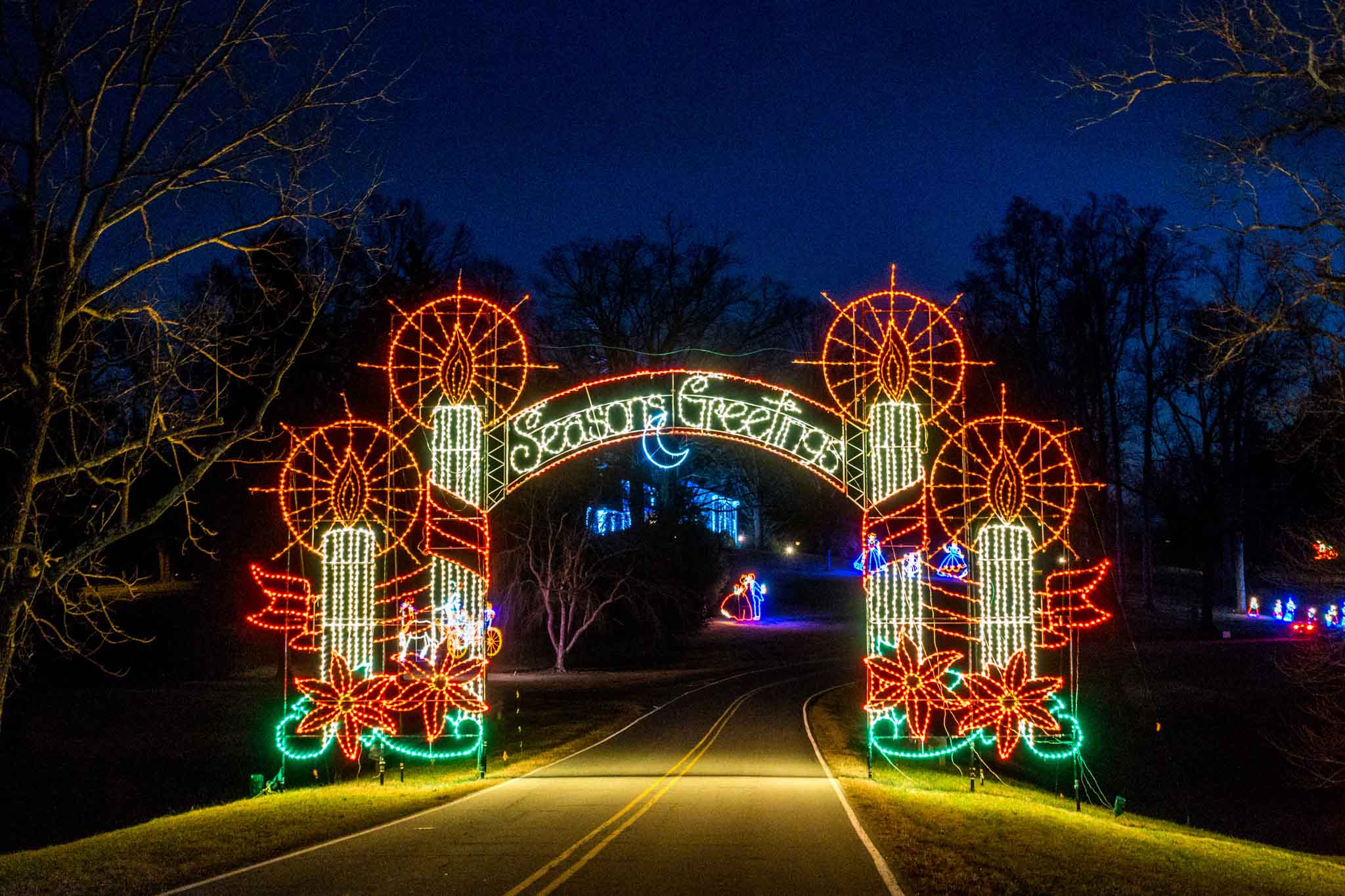 Every year, from mid-November through New Year's Day, Tanglewood Park becomes one of the most popular attractions in Winston-Salem. The route through the park is laced with bright wreaths, brilliant snowflakes, and winter scenes. In all, the 5-mile route has over one million lights in dozens of displays you drive through.
In addition to being one of the best and biggest light shows in the Southeast, Tanglewood's Festival of Lights also features Gift Village where visitors can make s'mores, meet Santa, and do their holiday shopping. A visit here is one of the best things to do in Winston-Salem during the holidays.
Take a day trip to Mount Airy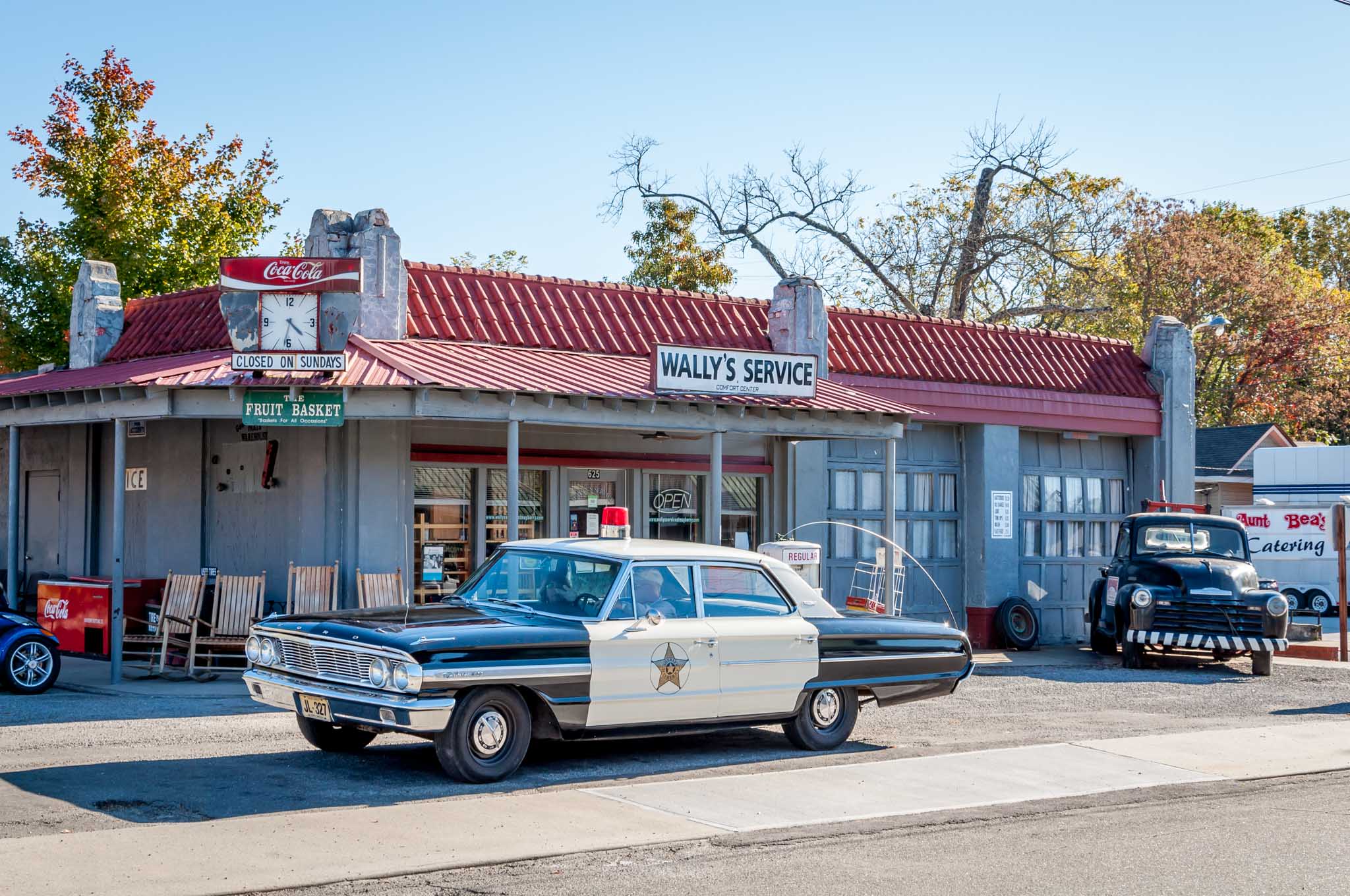 Head just a half-hour out of the city to the town of Mount Airy, North Carolina. Famous as the hometown of Andy Griffith and the model for his Mayberry, Mount Airy has everything there is to love about a small town.
In Mount Airy, you can visit the Andy-related sites like his eponymous museum or take a squad car tour through TV history. There's plenty to do that's not "Mayberry," too. Stop by the White Elephant Beer Company for some craft brews, try the best burger around at Old North State Winery, or take in some old-time music at the Earle Theater.
Places to Eat and Drink in Winston-Salem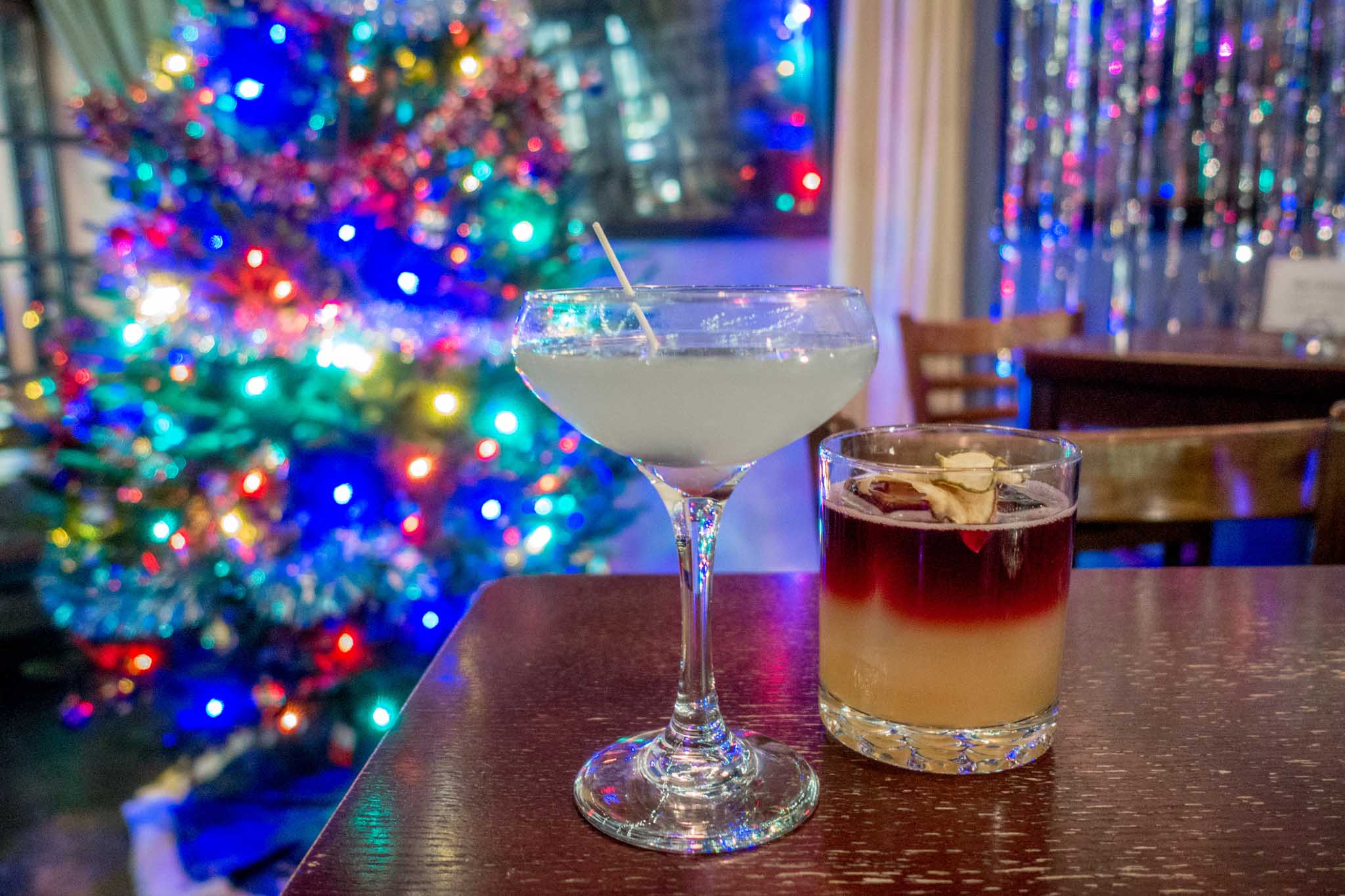 One of the most popular breakfast places in town, Mary's Gourmet Diner is a great choice for grits, French toast, and unexpected treats like breakfast nachos. Keep an eye out for the local art featured throughout the restaurant and the quirky collection of Tammy Faye Bakker albums.
Everything at Spring House Restaurant, Kitchen, and Bar is first-rate. Chef Tim Grandinetti focuses on Southern-inspired dishes made with local ingredients in this popular eatery located in a former home from the 1920s. Make sure to pair one of the seasonal dishes with their inventive cocktails.
Willow's Bistro is a fabulous spot for lunch or dinner. Featuring New American cuisine made with local ingredients, Willow's food is great and the staff is even better.
Numerous locals recommended Tate's Craft Cocktails for their knowledgeable bartenders and excellent drinks. We loved every minute. If we lived in Winston-Salem, we would be regulars.
Where to Stay in Winston-Salem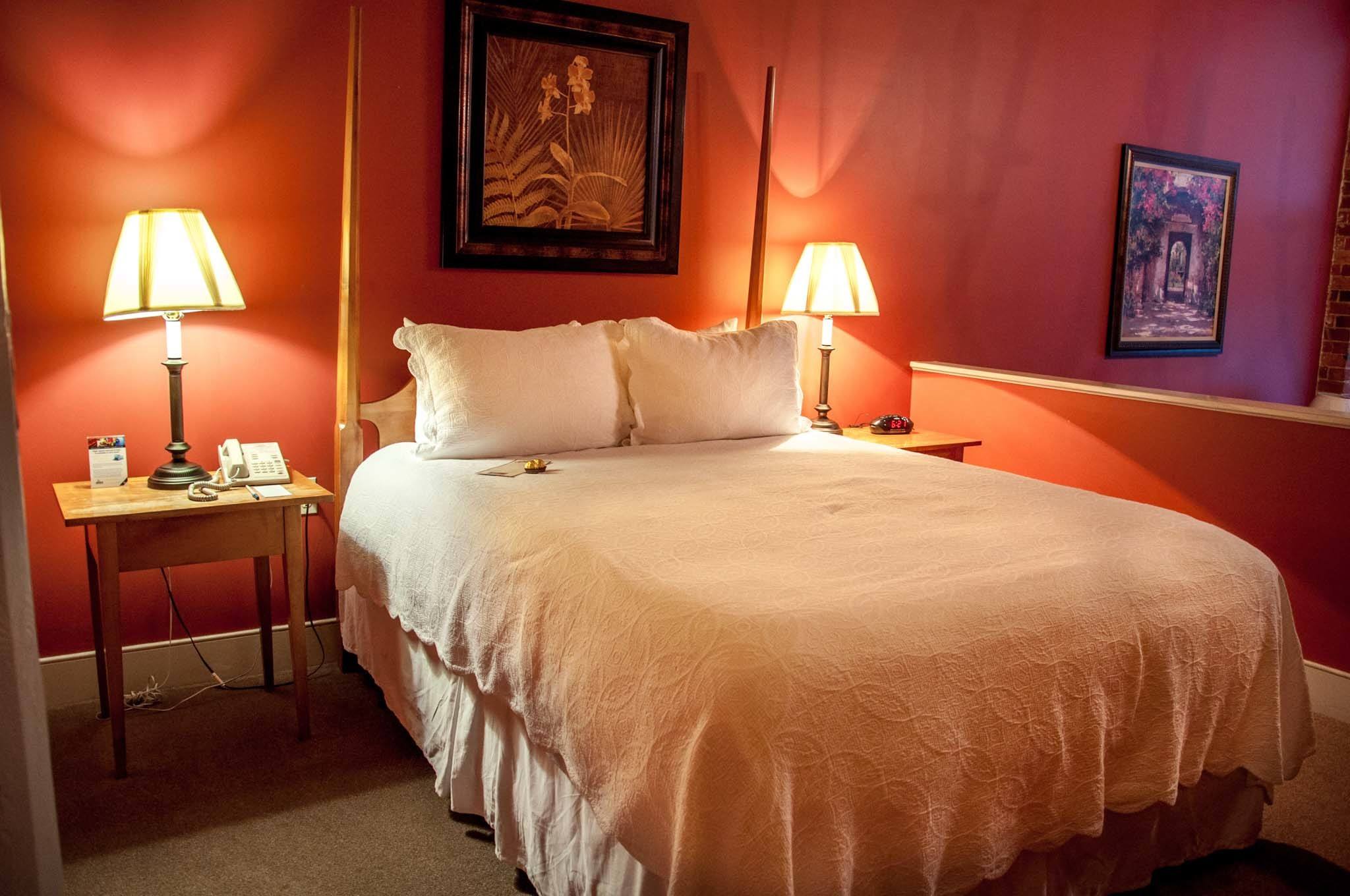 Check out the rooms and spacious suites at the Historic Brookstown Inn. This former mill from the 19th-century offers a nightly wine and cheese happy hour plus milk and cookies later in the evening. Check reviews and rates
In the center of downtown, the Kimpton Cardinal Hotel offers top-notch service and comfortable, upscale rooms. Don't miss the unique amenities like the adult rec room. Check reviews and rates
The redesigned Winston-Salem Marriott in downtown offers the super-comfortable beds and solid service you expect from Marriott. Its Club M provides complimentary hot breakfast every morning and hors d'oeuvres every evening, and its guest rooms and 10 luxurious suites offer plenty of room to spread out. Check reviews and rates
We were the guests of Visit Winston-Salem. All opinions of the delicious and artsy are our own.