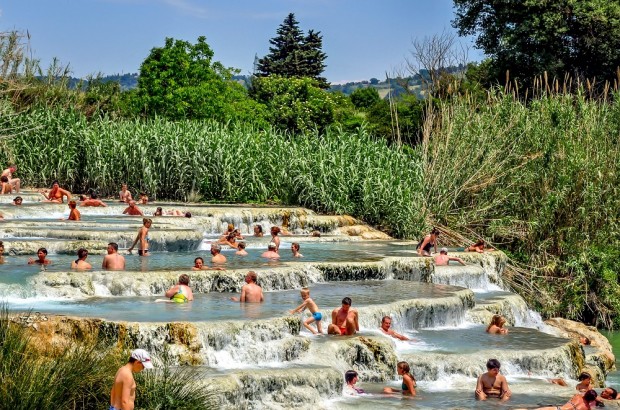 It began with a simple photo courtesy of Pinterest – a cascade of warm water pools and waterfalls with the rustic Tuscan hills in the background. We knew we had to visit the Saturnia hot springs in Italy, several hours south of Siena.
When we set out in our car from Siena, our goal was Saturnia, the mythical landscape we saw in the Internet photo. Saturnia hot springs have existed for millennia. According to Roman mythology, the hot water spring was created when the god Saturn sent a lightning bolt in an attempt to subdue warring humans. Prior to the Roman civilization, the area around the hot springs was inhabited by Etruscans and others. Saturnia might possibly be the world's first vacation destination.
There are no changing facilities at Saturnia, which makes for an interesting experience in the parking lot. But since it's Europe, no one seems to pay much attention to the nudity.
After changing into our bathing suits, we headed down near the falls and spread out our picnic by the banks of the small river. The wine, cheeses, breads, and cured meats we purchased near our hotel in Siena made a perfect picnic! Eating on the banks of the warm water stream is a fun way to soak up the atmosphere of Tuscany and commune with people from so many different countries.
After our quick lunch, we jumped into the Saturnia hot springs. Despite the heat of the summer, we weren't bothered by the warm water. The hot springs come out of the earth at 37 °C (98.6 °F), so not what you'd call "hot." Without water shoes, it was challenging to walk through the waterfalls and over the rough stones barefoot, but the picturesque setting and water made up for it. (Note: we highly recommend sturdy water shoes for both men and women).
We spent nearly two hours and were disappointed that we didn't have more time to relax there. I love geothermal hot springs and we have visited many around the US and in other countries, from the baths of Budapest to the outdoor springs of Steamboat Springs. Certainly, the hot springs in Saturnia is one of the best!
Since we were self-driving Tuscany, Saturnia became a perfect half-way point between Siena and Rome. After a day soaking in the hot springs of Saturnia, the drive didn't seem so bad.
If you enjoyed this article, you may want to sign up for our monthly newsletter, THE FIX. We share exclusive content, amazing travel deals, give you sneak peeks of our future trips, and other special surprises.
Note: Some links may be affiliate links, which means Travel Addicts may earn a few pennies if you buy something, at no additional cost to you.