Our welcome to the Strasbourg Christmas market came in two parts. First, there was the cinnamon-laden air that rushed at us from the mulled wine stands of the famous market, and, second, there were the flashing, star-shaped Christmas lights that seemed to illuminate the second we stepped into the main square. It was the type of welcome befitting one of the best Christmas markets in Europe.
We've loved Strasbourg and Alsace for over a decade, and this trip marked our second visit to the stunning city filled with half-timbered buildings and centuries of French and German influences. It was our first opportunity to visit in December, so we soaked up every detail of the beautiful destination to put together this guide to the markets and more.
About the markets
The history of the Christmas markets in Strasbourg, France, goes all the way back to the 12th century, so they've had a lot of time to perfect things to this degree. And it shows. Back then, there was a Saint Nicolas market on December 6th every year, which ultimately transformed into the famous Christmas market (Christkindelsmärik) in 1570.
With over four centuries of history under its belt, that makes the Strasbourg market one of the oldest in Europe and the very first in France.
Now, over 300 wooden chalets spread in markets throughout the city center welcome visitors for about six weeks in winter, typically from late November through the end of December. This year, festivities begin November 24 and run through December 24, 2023.
Where to find the Strasbourg Christmas markets
With its famous Christmas tree, traditional foods, celebrations, and shopping opportunities, there is lots to see and do at the Strasbourg Christmas markets. Technically, there are 15 different market areas, though some have just a few chalets and many of them run together without a major distinction.
Here's a look at some of the main areas not to miss.
Place Broglie
The oldest and most famous section of the Christmas market in Strasbourg is the Christkindelsmärik at Place Broglie. The name is of Alsatian origin—a German dialect—so it makes sense that it bears resemblance to the famous Christkindlesmarkt of Nuremberg, Germany and similar markets. Over 100 stalls fill the tree-lined square in the city center, making for a festive atmosphere day or night.
The Christkindelsmärik features many traditional decorations, including Christmas lights, nativity scene figurines, and colorful ornaments. Craftsmen also offer local food products and arts and crafts. You'll see everything from local honey and wine to leather craftsmen, jewelry makers, and coppersmiths.
If you haven't had time to sample the Alsatian specialties yet, this is a great place to try some. We loved the wide variety of different mulled wine flavors available here as well as the baguette flambée—lots of different flavors of baguette pizzas.
Place Kléber
At Place Kelber, the star of the show is the unmissable Great Christmas Tree. The tree, which is often over 100 feet (30 m) tall is the symbol of Strasbourg at Christmas. Every day at 4pm, you can watch the tree come to life with brilliant lights as the sun is setting.
Near the tree, you'll find the unique "Sharing Market." The Village of Sharing (Village du Partage) is home to 90 service clubs and charities, including the Red Cross and Médecins du Monde. Visitors have a chance to learn about their missions and to make a donation in the spirit of Christmas. You can also buy a soup made by local celebrity chefs whose proceeds go to support social projects–it's a great way to warm up.
Place de la Cathédrale
The Cathedral is the city's centerpiece, so the market surrounding the beautiful building is in the heart of the action. It is ringed by dozens of chalets providing a little bit of everything.
Around the Cathedral, there is lots of food from Alsatian pretzels (bretzels) to the meat-heavy dish known as choucroute. In addition to the food, there is a range of decorations, gifts, and crafts such as wooden toys and knitted items to keep away the chill of winter in northeastern France.
We loved visiting Place de la Cathédrale at night when the giant cathedral was lit up.
Terrasse Rohan and Place du Vieux Marché aux Poissons
South of the Cathedral, the market that spans Terrasse Rohan and Place du Vieux Marché aux Poissons is the place to go for traditional Alsatian Christmas treats. You'll find foie gras served in different ways, chocolate, and crepes.
You'll also find some of the best cookies and mulled wine you can get your hands on. This part of the market features traditional cookies called bredele from the Alsace bakers' federation who will educate you on the different varieties and mulled wine made from Tribu des Gourmets, an association dedicated to promoting dry Alsatian wine.
Carré d'Or
Just a few steps from the Cathedral, it's easy to tell when you've entered the Carré d'Or—the city's old gold quarter—because the streets transform into a winter wonderland. Once home to goldsmiths, the area is now lined with shops and restaurants that pull out all the stops for the holidays.
The market here is centered at Place du Temple Neuf and is full of candles, jewelry, and lots of good things to eat. When you've browsed the vendors, don't miss the chance to walk through the streets, which are some of the best decorated in the city. There are lots of lights, and individual shops have bold displays with stuffed animals, ornaments, holly, branches, ornaments, and more. It's a sight not to be missed when you visit Strasbourg in winter.
Petite France
Second perhaps only to the Cathedral is the area of the city known as Petite France. Even if you're not familiar with Strasbourg, you've probably seen the postcard perfect view of this cute neighborhood on the river.
Here, the River Ill splits into channels that flow through the area that was home to the city's tanners, millers, and fishermen in the Middle Ages. Now one of the main tourist attractions, Petite France has buildings from the 16th and 17th centuries with sloping roofs and open lofts that were ideal for drying hides. Thanks to locks and a swing bridge, it's easy to come through on a canal cruise or to hover over the water to try to get the iconic photo.
The markets in this area are centered at Place Benjamin Zix and Place Saint-Thomas. They both feature merchants selling Christmas decorations, candles, scented soaps, teas, and a wide variety of other things. The vin chaud here is particularly good.
Square Louise Weiss
The stalls in Square Louise Weiss house vendors selling only Alsatian products, so it's a great place to become acquainted with French liqueurs, local apple cider, jam, nougat, mushrooms, honey, and cheese. Come hungry and sample everything.
The square is also the home of the Advent Village, which has lots of activities for visitors of all ages. There is a complete program including plays, storytellers, music, and more. It's open daily from 11:30am to 9pm, so there are plenty of opportunities to experience it.
Place Grimmeissen
Place Grimmeissen is different from all the other sections of the Strasbourg market. There is nothing traditional here, which is why it's called the "OFF Market."
Rather than cute wooden chalets, we found metal containers and huge domed tents. Rather than ornaments and lights, we found vintage furniture, original art, and unique clothes.
Everything here is organic, socially responsible, and fair-trade. The offerings are unique and innovative—a cool way to keep things interesting in an otherwise traditional environment.
What to eat at the market
Food in Alsace is a unique mixture of French and German influences. You'll find lots of meat and potatoes alongside great wines, light pastries, and all kinds of delicious snacks. At Christmas in Strasbourg, there are lots of hot, filling dishes in the markets to keep away the cold as well as lots of sweet treats of the season.
These are some of the traditional Christmas foods we found most often in Strasbourg.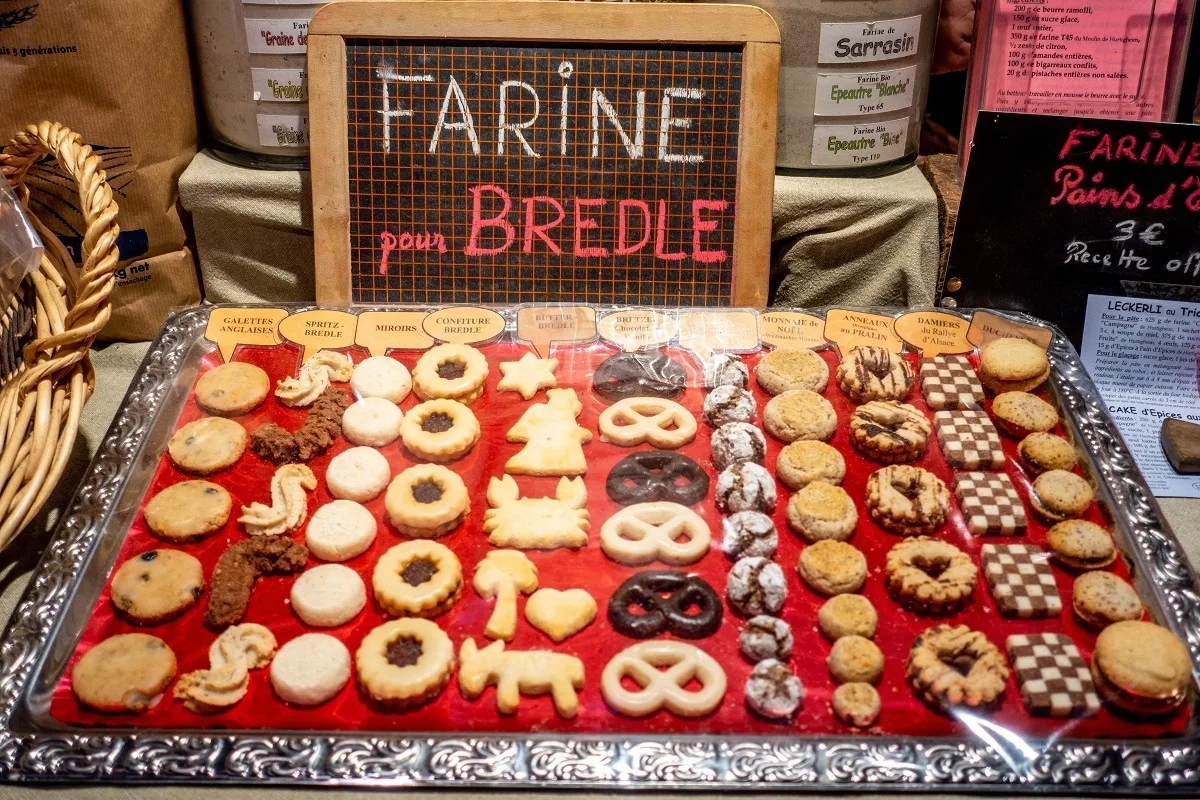 Bredele – In the shapes of stars, bells, hearts, and other things of the season, traditional bredele are a staple of the Strasbourg market. These dry cookies come in lots of different flavors, including cinnamon, vanilla, anise, and more. You'll find the greatest variety of bredele available at the food stands at Place du Marché-aux-Poissons and Palais Rohan.
Vin chaud – In most Christmas markets in Europe, vin chaud (aka glühwein or mulled wine) is red. But, in Strasbourg in December, white wine is the way to go. Made with dry Alsatian wine, orange, lemon, cinnamon, and sugar, white vin chaud is promoted by the gourmet association "Tribu des gourmets du vin d'Alsace" throughout the market. We were pleasantly surprised with how good it is and how much the citrus adds to the warm concoction.
Baguette flambée – Tarte flambée—also called flammkuchen—is a mainstay of Alsace. A thin crust topped with crème fraiche, white cheese, thinly-sliced onions, and lardons, you'll find it on menus from Strasbourg to Colmar. Tarte flambée is traditionally cooked in a wood-fire oven and there are a several variations like gratinée (with gruyère or Emmental cheese) or my favorite forestière (with mushrooms).
At the market, the well-loved ingredients of the tarte flambée are put on baguettes, resulting in baguette flambée. They're more portable in this format and easier to eat at the market chalets. Check out Place Broglie for a seemingly endless selection.
Mannele – Brioche treats shaped like a little man, mannele are Alsatian pastries that have raisins or chocolate chips for eyes. They're made particularly for Saint Nicolas Day on December 6th but are available throughout the holiday season. Local chocolaterie Jacques Bockel makes its own, non-traditional version from chocolate with different fillings like hazelnut and salted caramel.
Choucroute garnie – Choucroute garnie is the ideal market meal for lovers of sausage. The dish typically includes warm sauerkraut with sausages, other salted meats, and potatoes. Fatty and inexpensive, the meat is cooked low and slow for maximum tenderness and is the perfect thing to warm you up on a cold winter night. You'll find choucroute garnie both at the markets and in traditional restaurants.
Jarret de porc braisé à la bière – Jarret de porc braisé à la bière is an elegant name for the Alsatian beer braised pork knuckle (or schweinshaxe) that graces many menus. Formerly a peasant food, the meat is often marinated for days and then slow roasted until it's nearly falling off the bone. It's often accompanied by potatoes and cabbage variations.
More to do at Christmas in Strasbourg
There is lots to explore beyond the beautiful Christmas markets. If you're planning to spend time in the city in December, consider these attractions.
Visit Strasbourg Cathedral
Unquestionably the most imposing sight in Strasbourg is the city's 600-year-old cathedral. This Gothic masterpiece dominates the skyline and is a must-see when you visit Strasbourg.
Completed in 1439, the Strasbourg Cathedral is considered one of the greatest works of Gothic architecture. Its ornamented façade features hundreds of sculptures that practically jump out from the walls, and its spire soars 465 feet in the air. Featuring a rose window and stained glass from the 12th century, the interior is also a sight to behold.
Take a river cruise
Taking a canal cruise always provides a unique perspective on a city. We've loved them from Amsterdam to Bruges, and the experience was the same on our visit to Strasbourg.
Depending on which cruise you take, you may see slightly different things. Highlights often include the Grande Île–Strasbourg's UNESCO-listed Big Island and its exceptional architecture–and Petite France, the old tanners' quarter with cafes and half-timber buildings.
Visit more local Christmas markets
The towns of the Alsace Wine Route are enchanting any time of year, but there's something very special about Christmastime. If you have even a half-day to spare, consider a quick trip to at least one of these gems.
Aside from Strasbourg, the Colmar Christmas market is the main destination in Alsace in winter. Its medieval buildings with their colorful, tiled roofs and their half-timbered facades look they came from a storybook. The six Christmas markets in the historic center of Colmar mean that there is lots of festivity to be had for about 5 weeks, from the last week of November through the end of December.
Other fantastic towns to visit in the area include Riquewihr, Turkheim, and Kaysersberg.
Riquewihr has several areas featuring Christmas gifts, seasonal food, and Alsatian delicacies to take home. Turckheim has a small daily Christmas market punctuated each evening by the opening of a window in the life sized Advent calendar. You can also join the Night Watchman making his evening rounds through the town at 9pm, a tradition with over 300 years of history. Kaysersberg goes all-out with decorations, and its market is also worth a visit.
Laura Longwell is an award-winning travel blogger and photographer. Since founding Travel Addicts in 2008, she has written hundreds of articles that help over 3 million people a year get the most out of their travel. In that time, she has visited nearly 60 countries on 5 continents, often returning to favorite destinations over and over again. She has a deep love of history, uncovering unexpected attractions, and trying all the good food a place has to offer.
In addition to Travel Addicts, Laura runs a site about her hometown of Philadelphia—Guide to Philly—which chronicles unique things to do and places to see around southeastern Pennsylvania. Her travel tips and advice appear across the web.