Kerrville, Texas, is one of the gems of the Hill Country. It offers lots of shopping, art galleries and theaters, and several riverfront parks. With natural beauty, unique attractions, and great barbecue, there is lots to discover (and eat!) here.
Close to charming Fredericksburg and its great wineries and only an hour north of San Antonio, Kerrville is an attractive destination. Whether you're looking for a nature- or art-filled weekend or a relaxed day about town, you'll find plenty of fun things to do in Kerrville.
Visit James Avery headquarters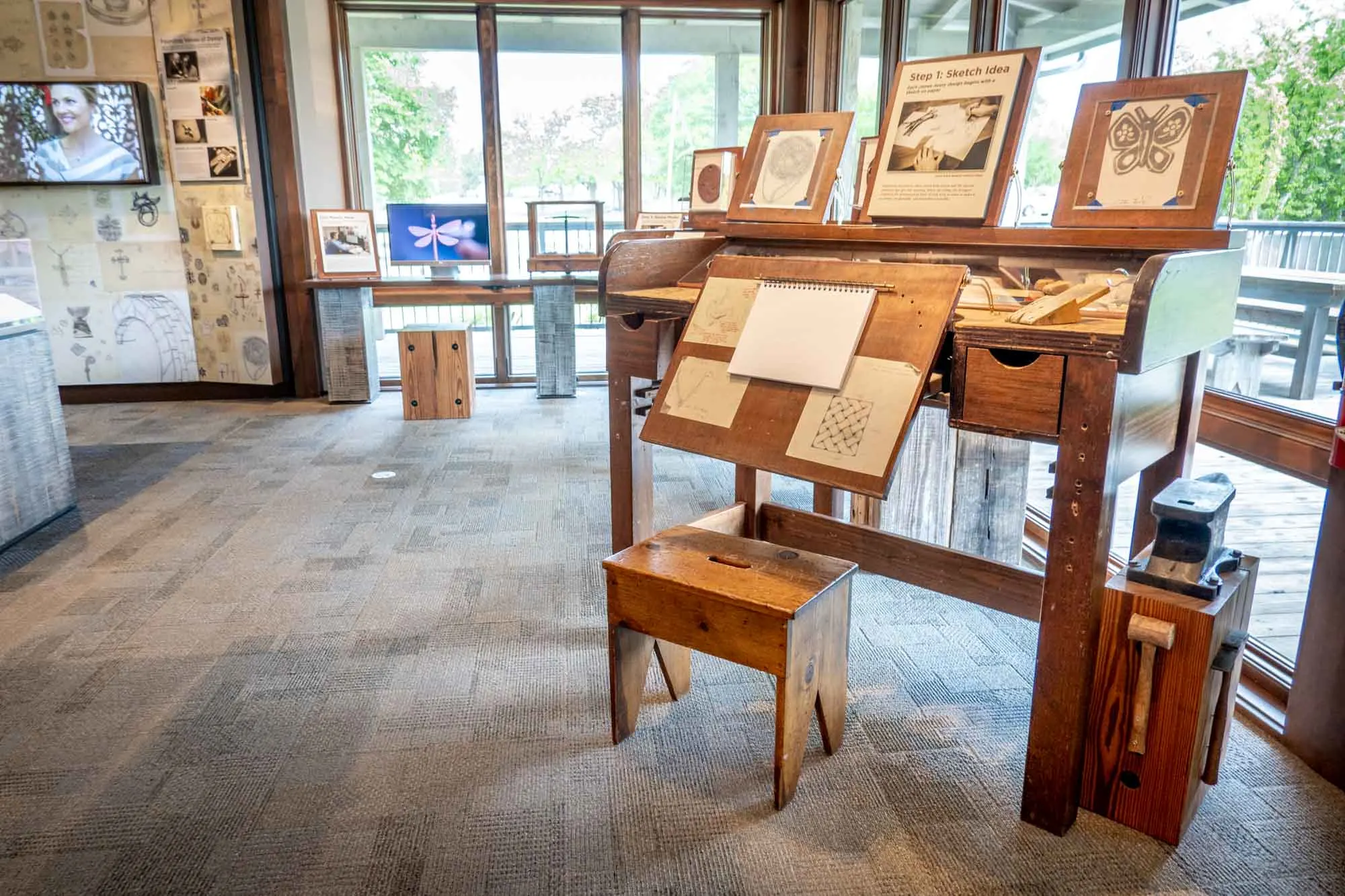 One of the most recognizable jewelry brands in Texas, James Avery Craftsman was founded in Kerrville over 60 years ago. Its Visitor Center welcomes guests to learn about the history of the family-owned company, the crafting of their distinctive jewelry, and James Avery himself.
Visitors to the company headquarters can see displays of original pieces and past designs before browsing the store. Set on 20 acres, the headquarters also has a gazebo and plenty of Hill Country wildlife on the grounds.
Explore Riverside Nature Center
The Riverside Nature Center has a little bit of everything for people interested in learning about and exploring nature. Located in downtown Kerrville at the confluence of the Guadalupe River and Town Creek, it is a natural wildlife habitat and includes several gardens and educational areas.
At the nature center, visitors can find over 90 species of butterflies in the Butterfly Garden, learn about composting and rainwater harvesting, and enjoy nature walks. The 2-acre garden also has hundreds of species of trees, plants, and wildflowers, so it's packed with things to see year-round. Plus, it's free to visit.
Hang out at Pint & Plow Brewing Co.
If you're wondering what to do in Kerrville for a relaxed afternoon, head to Pint & Plow Brewing. This spot prides itself on being a welcoming community space in addition to the city's first craft brewery. With a full kitchen and espresso bar, you could spend all day hanging out on its charming patio.
Pint & Plow offers a half-dozen beers brewed in-house, including a lager, IPAs, ales, and porters. Grab your favorite or sample all the offerings in a flight alongside one of the many salads, sandwiches, or pizzas.
Tour the Schreiner Mansion
One of the most recognizable places to go in Kerrville is the historic Schreiner Mansion. Commissioned by Captain Charles Schreiner as a two-story, six-bedroom home, the turreted mansion looks a bit like a castle right on Peterson Plaza.
The Schreiner Mansion, which has many European influences, was designed by architect Alfred Giles and built by expert German masons. Giles is responsible for some of the most distinctive historic buildings in central Texas from the grand mansions of the King William Historic District in San Antonio to the Pioneer Museum in Fredericksburg and many local courthouses. The Schreiner home was the first limestone home in Kerrville and the first to have electric lights.
Listed on the National Register of Historic Places, the mansion is open for tours on Tuesdays and Thursdays and frequently hosts private events.
Browse Sunrise Antique Mall
The 20,000 square feet of treasures at Sunrise Antique Mall are a shopper's dream. It's easy to lose yourself among the vintage advertising, rare stamps, jewelry, and collectibles.
The antique mall has numerous vendors with different specialties ranging from furniture to coins and vinyl records. You never know what unique items you'll find here.
Play around at Louise Hays Park
In downtown, the 64-acre Louise Hays Park is a peaceful place to get outside. Located on the Guadalupe River, the park includes a 2.4-mile River Loop trail and Tranquility Island, a 7-acre island in the middle of the river lined with gorgeous Cypress trees.
In addition to its natural features, Louise Hays Park has plenty of amenities, including a playground and horseshoe pits. Its interactive fountain is the perfect spot to cool off on a hot day.
Catch a performance downtown
Kerrville has a thriving theater scene thanks to Playhouse 2000, the community theater group that runs the city's performing arts complex. Year-round, there are musicals, plays in the black box theater, and productions of Shakespeare in the park. Depending on when you visit, you might find anything from community theater productions to touring musical groups from around the country.
See the roadside attractions
The outskirts of town are home to two of the unique roadside curiosities in Texas—replicas of both Stonehenge and the distinctive stone heads of Easter Island.
Constructed by artist Al Shepperd and his friend Doug Hill in the 1990s, this attention-getting Stonehenge II is about 90% as wide and 60% as tall as the original in England. The 13-foot-tall replica stone heads came later after Shepperd was inspired by a trip to Easter Island. All the artificial stones can now be found on the Hill Country Arts Foundation campus.
Visit the Museum of Western Art
The paintings, drawings, and sculptures at the Museum of Western Art tell the stories of the Wild West and the American frontier. The museum focuses on the work of living Western artists while temporary exhibits highlight masters of the past, artifacts, and history.
Designed by Texas architect O'Neil Ford in 1981, the museum building itself is a work of art resembling a fortressed hacienda. In addition to the works inside, the grounds feature life-size bronze statues. The museum regularly hosts fun special events including painting workshops, movie nights, and art sales.
Eat at Buzzie's BBQ
Buzzie's BBQ is the best barbecue spot in town and, according to Texas Monthly, one of the top 30 in the state. For 25 years, pitmaster Harold "Buzzie" E. Hughes has made perfectly smoked meats in the rustic space on Schreiner Street.
Buzzie's is renowned for its juicy brisket and fall-off-the-bone-tender spareribs. Everything here—from the sausage to the choice of pies—is a winner.
See the exhibits at Kerr Arts & Cultural Center
One of the must-visit attractions in Kerrville, the Kerr Arts & Cultural Center is a hub of creativity in the city. Its galleries host over 40 exhibitions each year covering a wide variety of arts from Texas furniture to watercolor paintings to sculptures and historical photography.
Enjoy the outdoors at Kerrville-Schreiner Park
Kerrville doesn't lack for beautiful places to get outside and appreciate nature, and the Kerrville-Schreiner Park is one of the best. With 517 acres on the Guadalupe River, it's the ideal location for kayaking and canoeing most of the year.
There are also biking and walking trails, picnic areas, and camping opportunities, if you want to stay for awhile.
Laura Longwell is an award-winning travel blogger and photographer. Since founding Travel Addicts in 2008, she has written hundreds of articles that help over 3 million people a year get the most out of their travel. In that time, she has visited nearly 60 countries on 5 continents, often returning to favorite destinations over and over again. She has a deep love of history, uncovering unexpected attractions, and trying all the good food a place has to offer.
In addition to Travel Addicts, Laura runs a site about her hometown of Philadelphia—Guide to Philly—which chronicles unique things to do and places to see around southeastern Pennsylvania. Her travel tips and advice appear across the web.