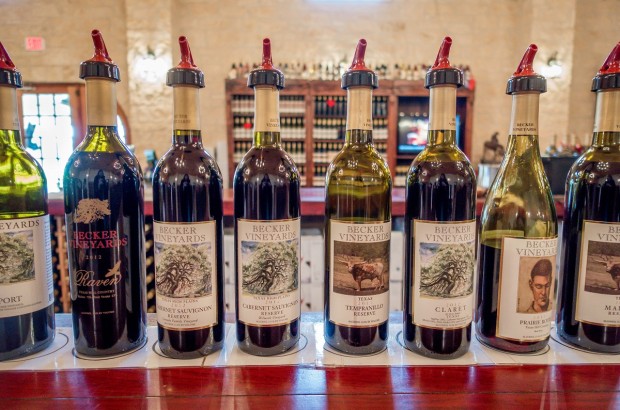 Texas may not be the first place you think of for high-quality wine from the US. California or the Pacific Northwest – maybe – but probably not Texas. But you'd be missing out. Over the last decade, the Texas Hill Country wineries have evolved significantly, coming into their own through a heavy reliance on grapes that grow well in the Mediterranean and not trying to replicate what's done in California. The live music and Texas hospitality don't hurt either. In more ways than one, Texas wineries are owning being Texan.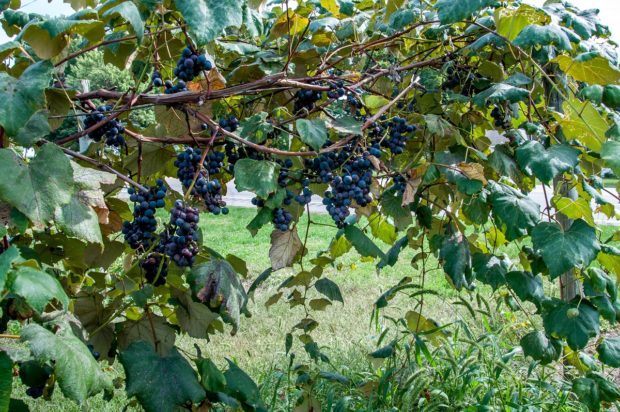 The Texas Hill Country Viticultural Area (the term for a designated wine grape-growing region) stretches for a massive 15,000 square miles. Yet the heart of Texas wine country is near the charming small town of Fredericksburg, approximately 1.5 hours west of Austin and an hour north of San Antonio. Wine Road 290 stretches roughly 30 miles from Fredericksburg to Johnson City, Texas, and is home to more than 30 wineries and tastings rooms with more being added all the time.
With so many choices, it's hard to know which Fredericksburg wineries to go or if you'll like what you find when you get there. Here are seven of the best wineries in Fredericksburg where you'll find remarkable scenery and award-winning wines.
Best Wineries in Fredericksburg
Torre di Pietra
When you walk into Torre di Pietra, the first thing that strikes you is the warmth of the place. You're likely to be greeted by one (or more) of the Maxwells, the family that's proudly owned and operated the winery for over 10 years, making it one of the oldest central Texas wineries. And, if you're visiting during the off-season like I was, there's likely to be a fire going in front of some cushy leather chairs you can sink into while enjoying a glass of Cabernet. The fourth winery to open along Wine Road 290, Torre di Pietra prides itself on providing this kind of homey experience for its guests – you can even bring pets.
The Maxwells draw not only on their experience at Torre di Pietra but on generations of family history making wine in Texas. Owner Ken Maxwell was taught by his grandfather and great-grandfather and now partners with his own son Ben in turning their Texas grapes into great creations both familiar and new. This was my first encounter with the Black Spanish grape that is increasing in popularity in Texas and is elegantly featured in Torre di Pietra's Claret and their Parada.
Torre di Pietra features live music on Saturdays and hosts special dinner events throughout the year.
Top Picks: Cabernet Sauvignon, Claret (Cabernet and Black Spanish blend)
Tasting Fee: $15 for six samples and a souvenir wine glass
Becker Vineyards
Established in 1992, Becker Vineyards is one of the oldest wineries in the Hill Country and the third-largest in Texas. Its 46 acres are filled with vineyards, lavender fields, and a reproduction late 19th century German stone barn that houses the tasting room (among other important things).
The sizable tasting area at Becker Vineyards was nearly empty during my off-season visit, so I had plenty of time to chat with the knowledgeable staff and the couple across from me who was celebrating their honeymoon. But I was warned that weekends can be a little nuts thanks to the vineyard's popularity and featured live music.
The crowds are drawn not only to the beauty of the place but to the many award-winning wines produced only of Texas fruit (and even labeled with Texas symbols like the longhorn named "Rawhide" who graces their Malbec label). Though only for sale in the Lone Star State, the quality of the Becker wines has been recognized as far as the White House–you can see the Presidential menus featuring the good stuff hanging in the entryway.
Top Picks: Reserve Malbec, Viognier
Tasting Fee: $20 for six samples and a souvenir wine glass
Grape Creek Vineyards
The first two things you encounter arriving at Grape Creek Vineyards are the limestone belltower and the banner telling you that you've just arrived at "Tuscany in Texas." Once inside the Tuscan-style villa that overlooks the Fredericksburg vineyards, you can try any of the 14 varietals and blends on offer, take a further tour of the grounds and production area, or try out Stout's Trattoria. On the weekends, you can enjoy a glass on the patio with live music.
Grape Creek Vineyards was one of the first vineyards in Fredericksburg, opening their doors in the mid-1980s. Current owners Brian and Jennifer Heath took over and expanded the winery in 2006, and it continues to be family-owned and operated. Two of its most well-recognized creations are the Viognier, which a staff member called, "everything that's good about Texas–wildflowers, honey, and fruit," and the Bellissimo, bold and spicy, reminiscent of Sangiovese. Both of these happened to be my personal favorites during my Fredericksburg wine tasting.
Grape Creek Vineyards doesn't distribute, so they rely on several tasting rooms (including one on Main Street in Fredericksburg) and their wine club for their sales. If you can't make it to Texas, check to see if yours is one of 13 states they ship to.
Top Picks: Viognier, Bellissimo (Super Tuscan)
Tasting Fee: $18 for six samples and a souvenir wine glass; $35 for cellar tour and barrel tasting
Woodrose Winery
Just 13 miles east of Fredericksburg, the first vines were planted at Woodrose Winery in 1999. Since winemaker and owner Mike Guilette took over in 2005, he has been steadily honing the wines and expanding the production. One of the smaller Hill Country wineries, Woodrose Winery takes a unique approach to their tasting room. Guests sit at tables and choose from one of four menus that include all reds, all whites, all sweet wines, or a mix of red and white varietals and blends (aka Mike's Flight).
The table service takes a bit longer than some of the stand-up tastings at other wineries, but it also allows for a little more relaxation. On nice days, guests spill out to the beautiful, oak tree-shaded patio to enjoy a glass (or two) with live music.
Top Picks: Seven (Cabernet and Zinfandel), Zinfandel
Tasting Fee: $10 for tasting; souvenir glass is $2 extra
Pedernales Cellars
Set back a couple of miles off the main drag, Pedernales Cellars is located on 145 acres of sprawling Hill Country beauty. Its location off the highway provides great views from the deck adjacent to the tasting room where you can relax with your favorite glass of wine on a sunny day. It also allows for plenty of room for the vineyards and their state-of-the-art expanded production area based around limestone insulation and a geothermal cooling system.
Pedernales Cellars had its beginnings in the 1990s in a grape-growing business started by Larry and Jeanine Kuhlken who planted a vineyard near Fredericksburg. Over a decade later, the couple's two children and their spouses bought the sprawling property in Stonewall that officially opened as Pedernales Cellars in 2008. Today, the winery is known for its Spanish and Rhone-style wines and its commitment to Texas fruit–about half their grapes are grown on the property while others are grown in different areas of the state.
But it's not just about locally-sourced fruit for Pedernales Cellars. Winemaker David Kuhlken is committed to making the best wines possible, as demonstrated by the Jefferson Cup they were awarded for their 2012 Texas Tempranillo Reserve. In addition to Tempranillo, the winery is known for its Viognier, which was still in the aging process during my recent visit.
Pedernales Cellars features live music on Saturdays and hosts special events (including cooking demonstrations!) throughout the year.
Top Picks: Tempranillo Reserve, GSM (blend of Grenache, Syrah, and Mourvedre)
Tasting Fee: $15 for tasting room and souvenir glass; Reserve Room and barrel tastings are also available
Hilmy Cellars
I had barely crossed through the front gate of Hilmy Cellars when I was met by the welcoming committee–three large sheep with black faces who seemed as momentarily perplexed by me as I was by them. Within a few seconds, I was old news and they went back to grazing among the vines. Once inside, I learned that the sheep–along with guinea fowl, a pair of friendly Great Pyrenees, and a few more animals–are all part of the team at Hilmy Cellars.
Each animal at Hilmy has its own job to do as part of the grape-growing and wine-making process, whether that's eating the insects so owners Erik and Neldie Hilmy don't need to use insecticides and pesticides, keeping weeds down, or protecting the vines from local deer. It's all part of Hilmy's biodynamic plan to do what's best for the land in order to make the best wine.
This intriguing approach has a strong influence on the grapes grown here and thus on the Hilmy Cellars wines (distinguished by the bird on the label), which are made entirely from Texas fruit grown in Fredericksburg and sourced from other vineyards in the state. Having opened in March 2012, Hilmy Cellars has rapidly expanded its production of Texas wines. In addition to the Hilmy Cellars label, Erik Hilmy a.k.a. wines are also available from the vineyard. These wines incorporate varietals from around the world, which feature the distinct characteristics of the terroir where they are grown.
Hilmy wines are available for purchase in the tasting room, at select stores in Texas, or through the wine club, appropriately called "the FLOCK." As with the other vineyards on Wine Road 290, Hilmy Cellars features live music and hosts special events that are listed on their website.
Top Picks: Erik Hilmy a.k.a. Viognier, Hilmy Cellars Sangiovese
Tasting Fee: $20 for six wines
Messina Hof Hill Country Winery
The thing that stands out most about Messina Hof Hill Country Winery is the sheer variety and quality of their wines. With more than 50 available options, the selection is rather mind blowing and further proof of what a great winery can achieve with Texas grapes.
I've been fortunate enough to visit two of Messina Hof's locations — the Fredericksburg winery and the winery in Grapevine–and have tried about 20 of their offerings, so I have no doubt about the attention to detail that goes into everything they make. As part of the award-winning selection of Texas wine Messina Hof is known for, each location also has wines that are specific to that tasting room.
Celebrating 40 years of winemaking in Texas, Messina Hof has been established in the Hill Country since 2011. The winery sits on about 10 acres along Highway 290, which includes its tasting room, standout Manor Haus B&B, and a vineyard of Black Spanish grapes (other grapes are grown at the original location in Bryan, Texas, and in the High Plains). It's the perfect location for happy hour or an afternoon enjoying Messina Hof's finest. Grab a wine and cheese plate and choose one of the dozens of Messina Hof wines and head outside to the patio for a relaxing time.
Top Picks: Gerwurtztraminer, Primitivo (Primitivo, Cabernet Sauvignon, Pinot Noir, Petit Syrah)
Tasting Fee: $10 for five wines
If you don't want to drive or don't have a designated driver, there are a number of chauffeured tour options in the Hill Country. Why not make a weekend of it? Check current prices on the perfect B&B or guest house here
.
If you enjoyed this article, you may want to sign up for our monthly newsletter, THE FIX. We share exclusive content, amazing travel deals, give you sneak peeks of our future trips, and other special surprises.
With the exception of Woodrose Winery, I was the guest of the vineyards. All opinions about fruity whites and full-bodied reds are my own.
Subscribe to our email newsletter

Get exclusive content
Receive personal updates
Sneak peeks of future trips