Stunning views, world-class wines, and lots of Southern hospitality combine to make the wineries in Fredericksburg one of the most popular getaways in Central Texas. Over the last decade, the vineyards here have evolved significantly, coming into their own by relying on grapes that grow well in the Mediterranean and not trying to replicate what's done elsewhere in the US. The live music and welcoming atmosphere don't hurt either.
The Texas Hill Country Viticultural Area (the term for a designated wine grape-growing region) stretches for a massive 15,000 square miles. But the heart of Texas wine country is near the charming small town of Fredericksburg, approximately 1.5 hours west of Austin and an hour north of San Antonio.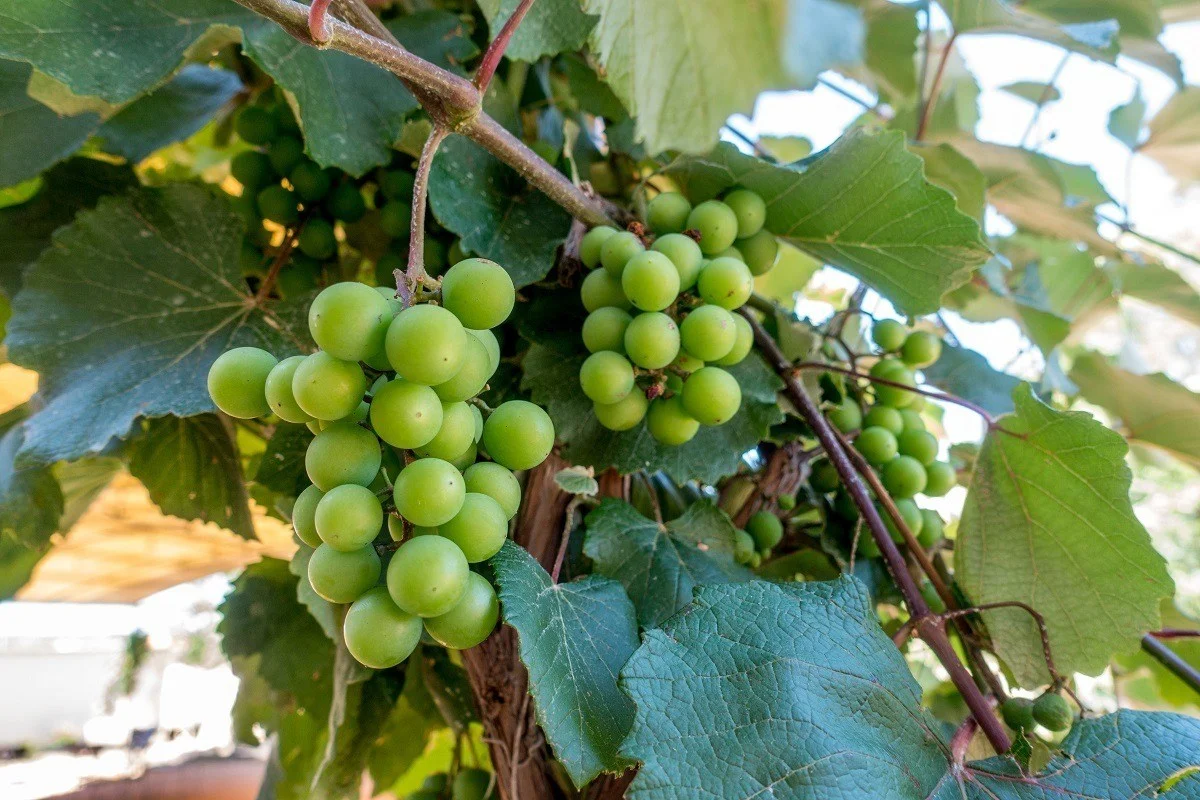 Many of the wineries and vineyards are concentrated along Highway 290, which stretches 30 miles from Fredericksburg to Johnson City. The area has more than 50 wineries and tasting rooms, and more open every year. With so many to choose from, it's hard to know where to start. We visit often and have put together our suggestions for the best wineries in Fredericksburg to visit on a getaway.
Pedernales Cellars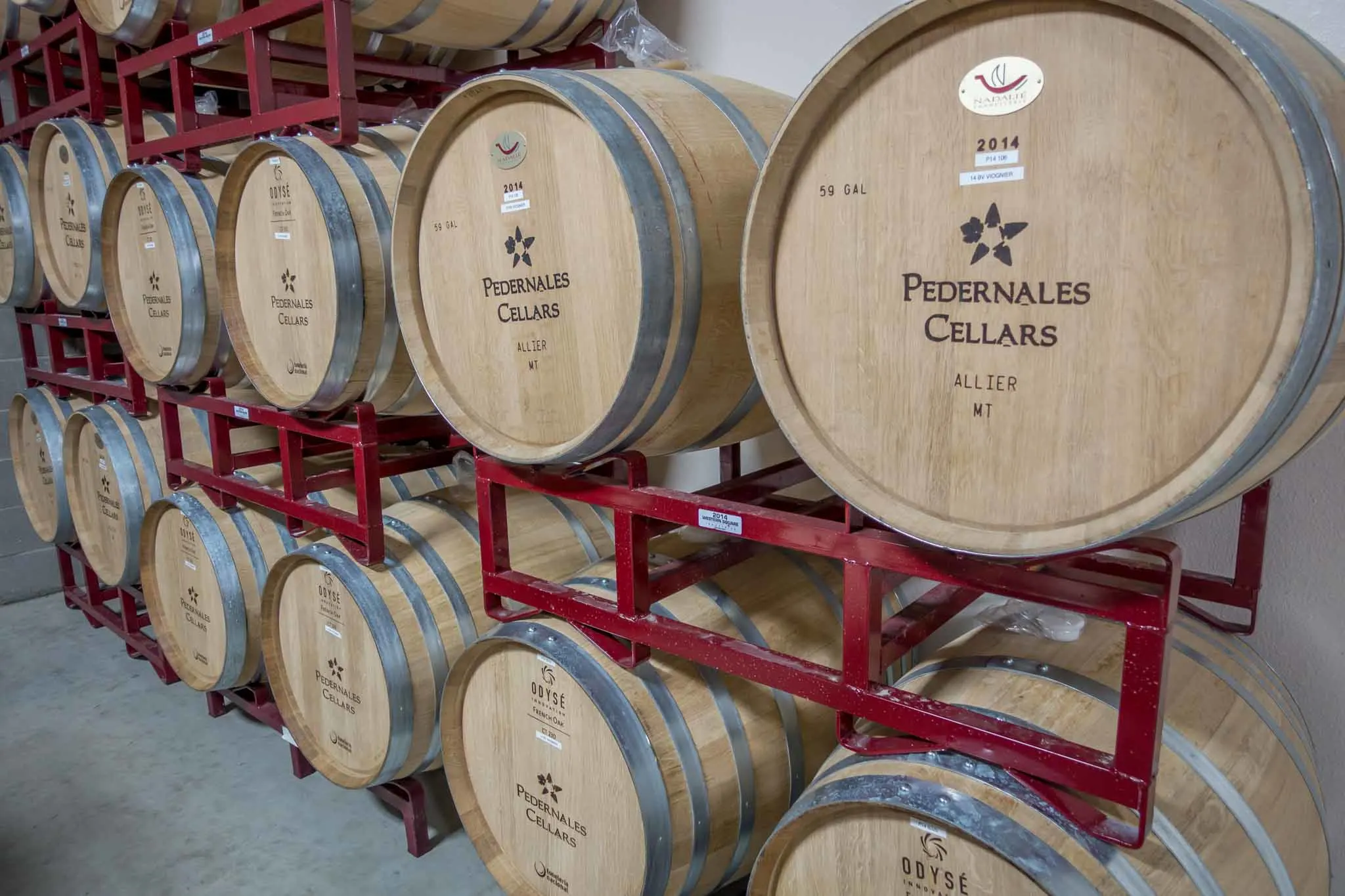 A couple of miles off the main drag, Pedernales Cellars is located on 145 acres of sprawling Hill Country beauty. Its location provides great views from the deck adjacent to the tasting room where you can relax with your favorite glass of wine on a sunny day. It also allows for plenty of room for the vineyards and their state-of-the-art production area based around limestone insulation and a geothermal cooling system.
Pedernales Cellars had its beginnings over 30 years ago in a grape-growing business started by the Kuhlken family when they planted a vineyard near Fredericksburg. The second generation of the family bought the sprawling property in Stonewall and officially opened as Pedernales Cellars 15 years ago. Today, the winery is known for its Spanish and Rhone-style wines and its commitment to Texas fruit–about half their grapes are grown on the property while others are grown in different areas of the state.
But it's not just about locally-sourced fruit for Pedernales Cellars. Winemaker David Kuhlken is committed to making the best wines possible, as demonstrated by their long list of awards. The winery features live music and hosts special events throughout the year. Top Picks: Tempranillo Reserve, GSM (blend of Grenache, Syrah, and Mourvedre)
Becker Vineyards
Established in 1992, Becker Vineyards is one of the oldest wineries in the Hill Country and the third-largest in Texas. Its 46 acres are filled with vineyards, lavender fields, and a reproduction late 19th-century German stone barn that houses the tasting room.
The sizable tasting area at Becker Vineyards was nearly empty during my off-season visit, so I had plenty of time to chat with the knowledgeable staff and the couple across from me who was celebrating their honeymoon. But I was warned that weekends can be very crowded thanks to the vineyard's popularity and featured live music.
The crowds are drawn not only to the beauty of the place but to the many award-winning wines produced only from Texas fruit (and labeled with Texas symbols like the longhorn who graces their Tempranillo label). Though only for sale in the Lone Star State (and shipped to about 25 states), the quality of Becker wines has been recognized as far as the White House–you can see the Presidential menus featuring their varietals hanging in the entryway. Top Picks: Reserve Malbec, Viognier
Relax and enjoy the wine tastings with a full- or half-day wine tour
Augusta Vin
In an ideal spot off State Highway 16, Augusta Vin offers vineyard views for days. From its two-story tasting room, it feels like you can see the entirety of the Hill Country awash in vines. It's one of the best wineries in Fredericksburg to relax at for the day, and we visit every time we're in town.
August Vin offers guests a broad selection of estate-grown wines, including Petite Sirah, Aglianico, and a sparkling wine called Sirens. Everything served here from the Malbec to the Marsanne is Texas grown.
Across their 60 acres, they grow 10 varietals, including Tannat, Mouvedere, Albarino, Cabernet Sauvignon, and more. An additional 40 acres off-site supplements these offerings.
Regular and reserve tastings are available along with a menu of sandwiches, charcuterie, and desserts. Weekends feature musical performances. Grab a glass and enjoy the patio, the balcony, or any of the other spots on this beautiful property. Top Picks: Estate Aglianico, Latitude 44 (a light blend of Marsanne and Roussanne)
Slate Theory Winery
Distinctive and modern, Slate Theory sets itself apart the moment you walk through the door. The dark walls are splashed with imagery of craniums and Rorschach tests, and the interior seating is cushy velvet sofas in teal and gray. Whether you're pulling up a chair inside or heading out to the spacious patio for live music, the winery is visually appealing and designed to make you want to stay for a while.
The wines at Slate Theory are made using 100% Texas grapes grown in their estate vineyards and sourced from around the state. They offer dry red, white, and rose wines—both blends and single grape varietals—with the offering leaning more heavily toward reds. You'll find Malbec, Cabernet Sauvignon, and Viognier alongside blends with thematic names like The Pharmacist and Schizophrenic, among others.
In addition to standard wine tastings, Slate Theory offers cave tastings in its remarkable (and massive) underground wine cellar. The cellar accommodates private tastings by reservation as well as private events in its barrel rooms. It's a remarkable sight if you can get a peek when you visit. Production tours are also available. Top Picks: Roussane and Montepulciano
Lost Draw Cellars
"Wilkommen!" If you spend much time in Fredericksburg, you'll see this German "welcome" more than once, but it never fails to make me smile because of the hospitality and nod to the city's German heritage that underlies it. At Lost Draw Cellars, the greeting is emblazoned on the patio of their Fredericksburg tasting room a few blocks off Main Street and offers a glimpse of the warm welcome visitors receive here (a second location is in Johnson City).
With tables, couches, and plenty of room for live music, there is space for guests at Lost Draw to have tastings at the bar inside or relax with glasses of wine and food from local food trucks on the outdoor "Crush Pad" patio. With over 15 wines available, it's an easy place to lose track of time.
The wines at Lost Draw Cellars are from 100% Texas grapes, primarily from the Lost Draw Vineyards and Timmons Estate Vineyards in the Texas High Plains. Staff love introducing guests to grapes that might be more unfamiliar such as Picpoul Blanc—a zingy French grape that pairs well with seafood and fried foods—as well as more common varietals like Zinfandel and Sangiovese.
In addition to learning about the wine, you may hear stories about the history of the property and the owners' roots, which go back seven generations in the area. After all, at Lost Draw Cellars, it's about welcoming visitors like family. Top Picks: Spritztown Rose, Tempranillo
William Chris Vineyards
In a century-old farmhouse in Hye, you'll find William Chris Vineyards. The cozy tasting room at the winery near Fredericksburg is filled with a handful of wooden tables where you can settle in for a tasting with a view of the surrounding landscape. During busy periods, the larger, modern room next door opens up to accommodate the groups who file in on the weekends to taste the winery's best offerings.
William Chris has been a leader in the movement to promote what it calls real Texas wine, so you can be guaranteed that any of the fine wines you try here are made entirely with Texas-grown grapes. Using fruit from multiple Texas grape growers, they make about 20 award-winning wines.
William Chris Vineyards has live music every weekend and hosts frequent special events like cook-offs and wine seminars. Top Picks: Malbec Rosé and Enchanté (blend of Merlot, Cabernet Sauvignon, and Petit Verdot)
Grape Creek Vineyards
The first two things you encounter arriving at Grape Creek Vineyards are the limestone belltower and the banner telling you that you've just arrived at "Tuscany in Texas." Once inside the Tuscan-style villa that overlooks the Fredericksburg vineyards, you can try any of the 15+ varietals and blends on offer or take a further tour of the grounds and production area.
Grape Creek Vineyards was one of the first Fredericksburg wineries, opening its doors in the mid-1980s. Two of its most well-recognized creations are the Viognier, which a staff member called, "everything that's good about Texas–wildflowers, honey, and fruit," and the Bellissimo–bold and spicy, reminiscent of Sangiovese. Both of these happen to be among our favorites.
Grape Creek Vineyards doesn't distribute, so it relies on its tasting rooms (including one on Main Street and another in Georgetown) and wine club for sales. If you can't make it to Texas, check to see if yours is one of states they ship to. Top Picks: Viognier, Bellissimo (Super Tuscan)
Heath Sparkling Wines
The sister winery to Grape Creek, Heath Sparkling Wines offers something very different for the area—it only sells sparkling wine, and all of its bubbly is made using the traditional méthode champenoise technique perfected in the Champagne region of France. The grapes are crushed in Fredericksburg and sent to California for secondary fermentation and finishing.
Heath Sparkling Wines is the first winery in Texas solely focused on making sparkling wines. A visit to its tasting room is the upscale experience you might expect to go with such refined wine—no children or pets are allowed, and groups are capped at four visitors.
A tasting in the winery's sleek, window-filled tasting room provides an education in its traditional technique alongside a tasting of the four wines currently available. Each of the tastes is accompanied by a small bite to complement the flavors. We particularly enjoyed the golden-colored Ebullience, which has notes of honey and fruit.
Sparkling wines take two years to make, and Heath has experienced a significant demand, so bottles are only available for wine club members right now. Even if joining a wine club isn't on your list of things to do, stopping here for a tasting is a unique experience. Top Picks: Ebullience (Pinot Grigio and Trebbiano) and Adoration (Pinot Noir and Chardonnay)
Kuhlman Cellars
Located in Stonewall, Kuhlman Cellars has been delighting visitors with their wines for over 8 years. Between the tasting room, the patio, and picnic tables that dot the property, there are lots of different views to be had.
A mix of estate-grown and sourced grapes, the wines are made from predominantly Texas fruit, but they're occasionally supplemented with grapes from elsewhere. Winemaker Benedicte Rhyne is from Aix-en-Provence, so her style has its roots in Southern France. As a result, Kulhman produces a number of blended wines from multiple varietals.
On a visit to Kulhman, you'll find single grape wines like the estate Mouvedre or Roussanne and blends like Vina Vita—a blend of Tempranillo, Cabernet Sauvignon, Petite Sirah, Merlot, and Cinsault. Some of the friendliest and most knowledgeable servers in the area will be available to explain it all.
The on-site bistro offers charcuterie plates, sandwiches, and shareable items like hummus. They're particularly well-known for their addictive almonds and actually run an almond club. At the winery, the food and wine experience that pairs wines with light bites is particularly popular. Otherwise, opt for a flight or tasting. Top Picks: Roussanne and Alluve (Tempranillo, Malbec, Cinsaut, Grenache, Sangiovese)
Hilmy Cellars
I had barely crossed through the front gate of Hilmy Cellars when I was met by the welcoming committee–three large sheep with black faces who seemed as momentarily perplexed by me as I was by them. Within a few seconds, I was old news, and they went back to grazing among the vines. Once inside, I learned that the sheep–along with guinea fowl, a pair of friendly Great Pyrenees, and a few more animals–are all part of the team at Hilmy Cellars.
Each animal at Hilmy has its own job to do as part of the grape-growing and wine-making process, whether that's eating the insects so founder Erik Hilmy doesn't need to use insecticides and pesticides, keeping weeds down, or protecting the vines from local deer. It's all part of Hilmy's biodynamic plan to do what's best for the land in order to make the best wine.
This intriguing approach has a strong influence on the grapes and thus on the Hilmy Cellars wines, which are made entirely from Texas fruit.
As with the other vineyards on Wine Road 290, Hilmy Cellars features live music and hosts special events that are listed on its website. Top Picks: Petit Verdot Reserve, Albarino
Bingham Family Vineyards
In its tasting room right on Highway 290 in Hye, Bingham Family Vineyards showcases its wines from the Texas High Plains. Grown and made entirely in Texas, Bingham wines have a heritage of excellence, coming from a family that has farmed in the state for four generations.
In the High Plains near Lubbock, owner Cliff Bingham grows over 20 varieties of wine grapes—including Trebbiano, Viognier, Tempranillo, and Merlot—on 245 acres. The large grape-growing operation not only supplies other wine makers but helps Bingham have one of the largest estate wine portfolios among wineries near Fredericksburg. We particularly enjoyed Dirt Farmer, a bold blend of five red grapes that goes with just about anything.
Bingham Family Vineyards doesn't have the sweeping estate views that you'll find at some of the nearby vineyards, but it's an easy stop with lots of great Texas wine options. Top Picks: Reserve Trebbiano and Dirt Farmer (Tempranillo, Merlot, Carignan, Petit Verdot, and Cabernet Sauvignon)
Signor Vineyards
A spot on the patio under the trees at Signor Vineyards is a great place to spend a couple of hours on any trip to Fredericksburg.
With a Texas heritage and skills acquired making wine in Oregon for over 20 years, the long-time partnership of the Signor and Weisinger families has resulted in a unique winery that features a combination of Texas and Oregon wines. As a result, visitors can try everything from Oregon Chardonnay to estate-grown Petit Sirah.
Signor Vineyards opened in early 2018 and has increased its focus on Texas wine over that time with seven varietals currently planted in Fredericksburg. The tasting room menu typically offers 8-10 wine options with about half from Oregon and half from Texas. Sample some favorites alongside a charcuterie board or other snacks available from Johanna's Market adjacent to the tasting room. Top Picks: Zinfandel and Estate Montepulciano
Barons Creek Vineyard
With fountains and ample outdoor seating areas, Barons Creek Vineyards has created an oasis right on Highway 290. This welcoming, family-owned winery offers wines from some of the world's best grapes from Texas, Washington, California, and Spain.
Across the four different areas, Barons Creek works with vintners who make the wines to the specifications of their winemaker, Russell Smith. Smith's own vineyards outside Barcelona supply the grapes used for Barons Creek's Grenache and Carignan single varietals and blends. Other offerings range from Viognier to Cabernet Sauvignon. Top Picks: Sauvignon Blanc, Texas Merlot
Messina Hof Hill Country Winery
The thing that stands out most about Messina Hof Hill Country Winery is the sheer variety and quality of their wines. With more than 50 available options, the selection is rather mind blowing and further proof of what a great winery can achieve with Texas grapes.
We've been fortunate enough to visit two of Messina Hof's locations — the Fredericksburg winery and the winery in Grapevine–and have tried about 20 of their offerings, so we have no doubt about the attention to detail that goes into everything they make. As part of the award-winning selection of Texas wine Messina Hof is known for, each of its locations has wines that are specific to that tasting room.
The Fredericksburg winery sits on about 10 acres along Highway 290, which includes its tasting room, standout Manor Haus B&B, and a vineyard of Black Spanish grapes (other grapes are grown at the original location in Bryan, Texas, and in the High Plains).
The winery is the perfect location for happy hour or an afternoon enjoying Messina Hof's finest. Grab a wine and cheese plate and choose one of the dozens wines and head outside to the patio for a relaxing time. Top Picks: Gerwurtztraminer, Primitivo (Primitivo, Cabernet Sauvignon, Pinot Noir, Petit Syrah)
Where to Stay

Vineyard Trail Cottage: These 13 spacious cottages are well-positioned near several wineries. Guests have access to the Pedernales River and are surrounded by the beauty of the Hill Country.

Hoffman Haus B&B: A few steps from Main Street, staying in this cute B&B makes exploring downtown easy. Enjoy the homey atmosphere and breakfast delivered to your room.

A Barn at the Quarry: Stargaze from the hot tub and watch local wildlife from one of the five comfortable suites at A Barn at the Quarry. Enjoy the quiet of nature outside of town.

See more places to stay in Fredericksburg.
An earlier version of this article included Torre di Pietra winery and Woodrose Winery, which have since closed.