Amid the eye-catching Texas Hill Country landscape is the tiny town of Wimberley. With fewer than 3000 residents, this vibrant place has public art, a thriving restaurant scene, cute boutiques, and plenty of ways to enjoy nature. Just a short trip from Austin or San Antonio, it makes a great getaway. There are so many things to do in Wimberley, Texas, that we've put together this list of some of our favorites to help in your planning.
Cool off at Blue Hole Regional Park
One of the top swimming holes in the area, Blue Hole Regional Park is a refuge from the Texas heat. This appealing spot is fed by natural springs and maintains a 75-degree water temperature year-round.
Swimming here is unique because the water is shrouded by a canopy of Cypress trees that provide shade and a lush environment. The rope swings add an element of fun for the whole family.
In addition to the swimming hole, the park has acres of other things to do, including hiking the 4 miles of trails, biking along the bike paths, and enjoying the playgrounds. Note that the swimming area is the only attraction in the park that requires a reservation.
See a demonstration at Wimberley Glassworks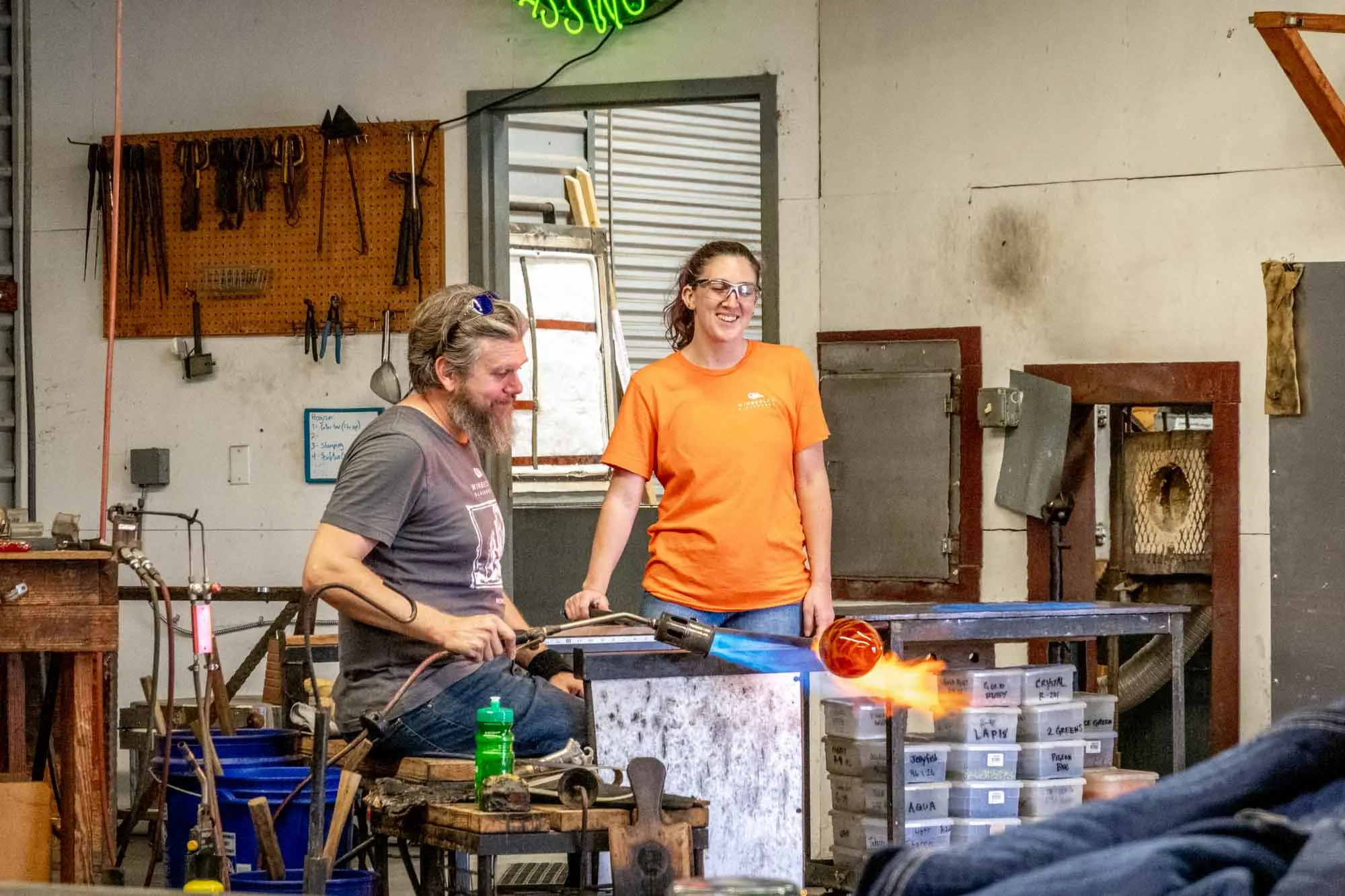 Attending a glassblowing demonstration at Wimberley Glassworks is one of the most creative things to do in Wimberley. Starting with a base and some bright colors, the glassblowers create a vase, platter, or another work of art while you watch. Don't worry if you don't know anything about how glass is made—they explain what they're doing and answer questions at each step of the process. It's spectacular to watch.
Demos take place Thursdays through Sundays from 10:30 am-3:30 pm.
Take some time to look around the gallery, too. There are lots of beautiful pieces for sale.
Find the town's "bootiful" boots
The giant boots that decorate downtown Wimberley are sure to catch the attention of anyone visiting. Painted with wildflowers, cowboys, and even skeletons, the larger-than-life creations have popped up around town over the last eight years.
The boots are all created by local artists and sponsored by area businesses or non-profit organizations to celebrate arts and culture. The "Bootiful" boots that range from 6 to 8 feet tall have become a hallmark of of the town. It's fun to wander to see how many you can find, and they're popular selfie stops, too.
Sample rum at Cypress Creek Reserve
Under the hulking oak trees of central Texas, you'll find one of the most unique distilleries in the area, Cypress Creek Reserve. The rum distillery produces three products using black strap molasses and Hill Country water that's distilled twice and slow filtered. You can sample the flagship product, the vanilla rum, and the aged spirit straight or try them in a cocktail under the trees.
Drive the Devil's Backbone scenic route
A circular route connecting Wimberley and Blanco is known as the Devil's Backbone scenic drive and is worth the time to explore, if your schedule allows. The 1.5-hour loop winds through the rolling hills and provides stunning hilltop views and opportunities to see the Balcones Fault. Along the way, there are plenty of interesting natural sites to see plus desert vegetation and wildflowers in the spring months. The route is also purported to be haunted with the spirits of Spanish monks, Native Americans, and Confederate soldiers, especially on Purgatory Road just south of town.
From Wimberley, head southwest to the Devil's Backbone overlook on Ranch to Market 32 and then on to Blanco, enjoying the scenery along the way. Explore the different things to do in Blanco before returning on Market 165E and FM2325.
Visit Pioneer Town
A replica Western town set in the 1880s is one of the unexpected things to see when you visit Wimberley. On the grounds of 7A Ranch, Pioneer Town feels a lot like stepping on to a movie set.
There is an opera house, a saloon, and a chapel to see. The old-timey ice cream parlor is fun to visit in the summer (plus Saturdays in spring and fall) for a sweet treat. Don't miss the Bottle House, which is made from over 9000 glass bottles and glows at night thanks to lights shining through the glass.
Stroll around Wimberley Square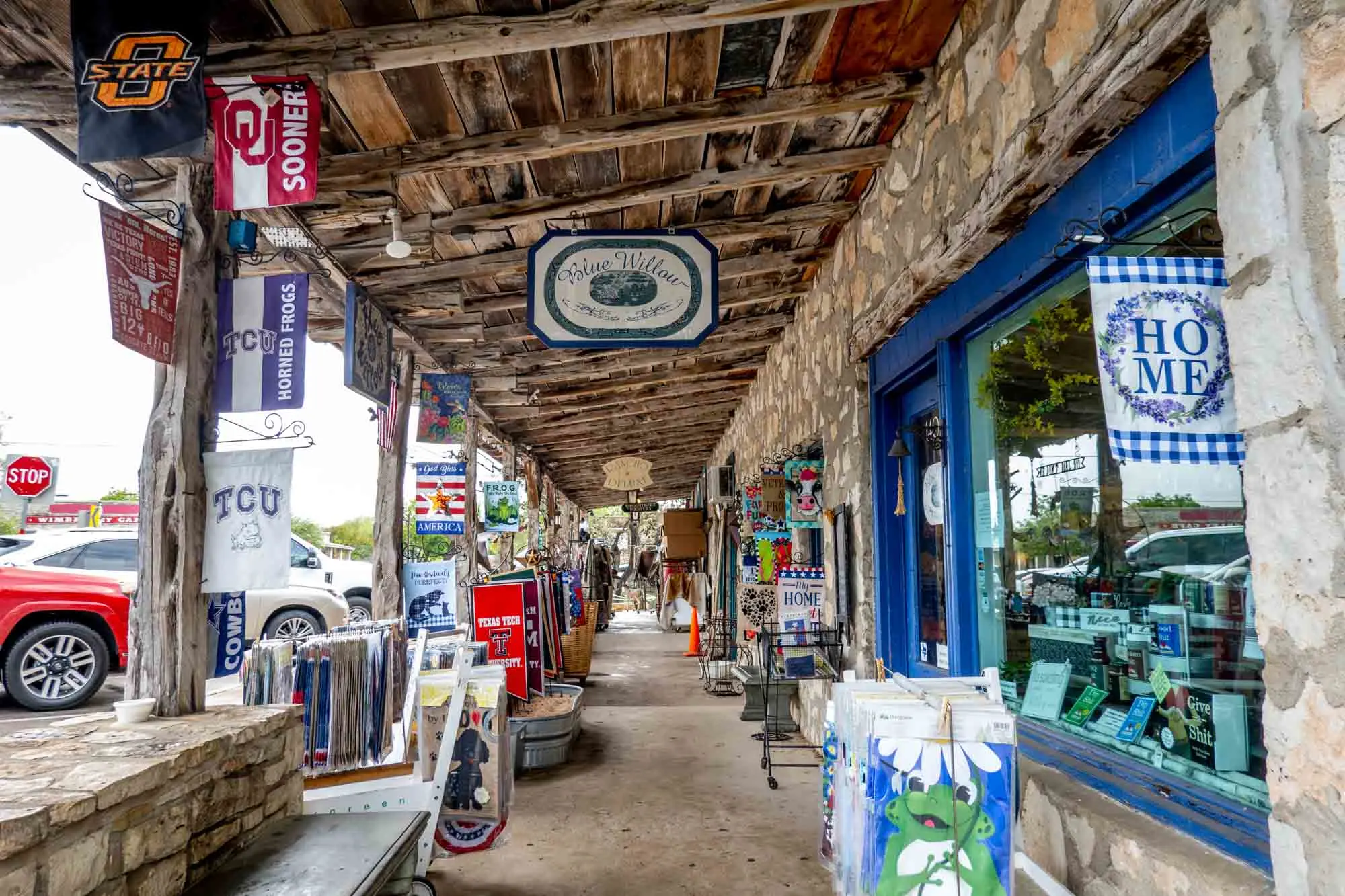 Wimberley Square is the heart of the charming downtown. This is the place to come if you're looking for shopping and good restaurants. From Texas souvenirs to clothes to antiques, there is a little bit of everything in this pedestrian-friendly area. Local favorite Ceremony Botanical Studio is full of unique plants and gardening related gifts, Kiss the Cook has supplies for dining and entertaining, and Rancho Deluxe has all kinds of folk art.
If you're hungry, Wimberley Café is always popular for a quick bite, and we love Longleaf Craft Kitchen & Bar for a nicer meal.
Swim at Jacob's Well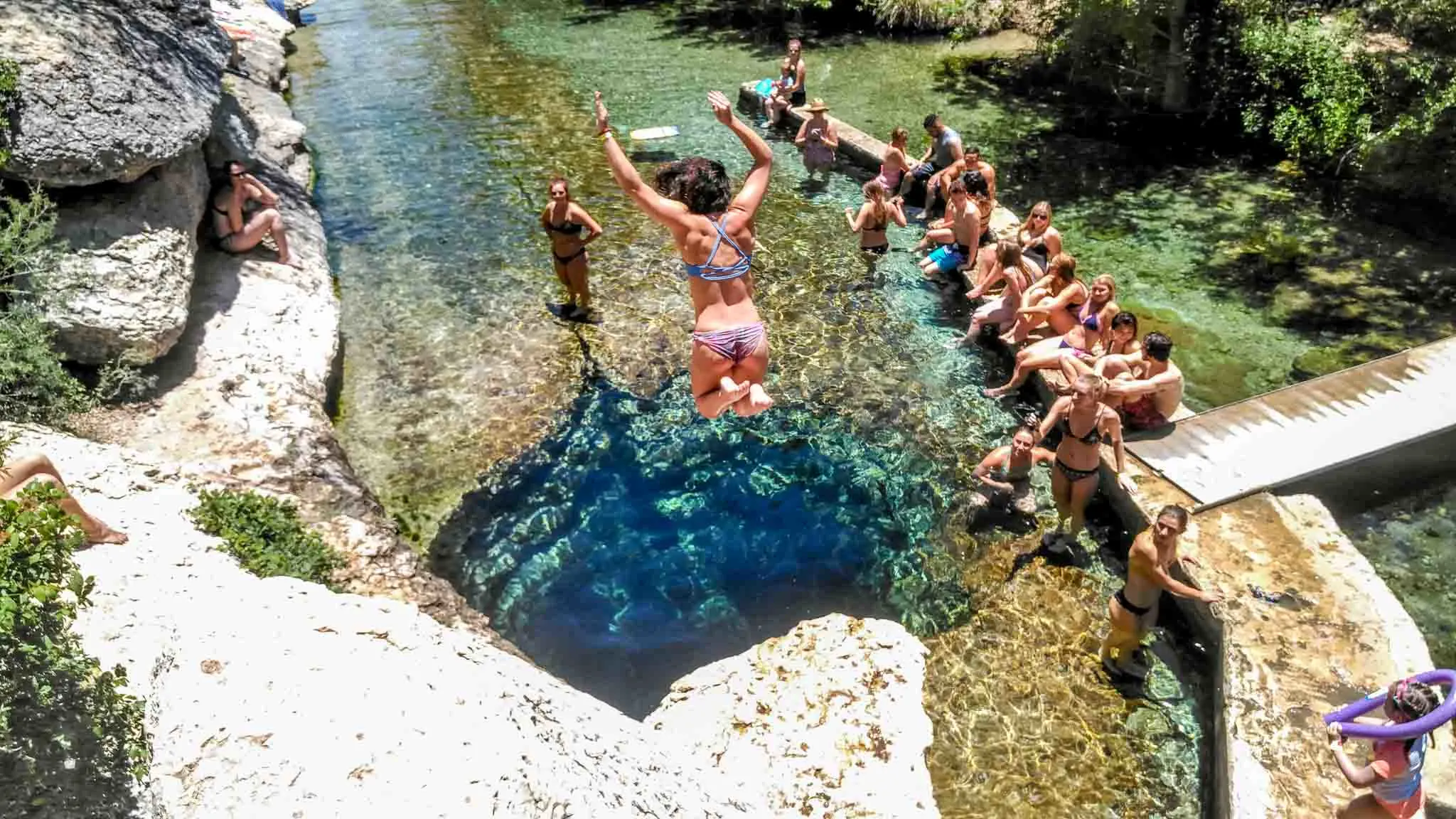 One of the prettiest and most popular places to visit in the Hill Country, the swimming hole of Jacob's Well is a top Wimberley attraction. Its chilly water comes from an artesian spring deep in an underground cave system, which is the main reason a dip here is so refreshing.
From May through September, reservations are required for swimming. Jump in from the cliffs above if you're feeling brave!
If you're not up for swimming or visit in the off-season, the well is situated within an 81-acre natural area where you can hike, picnic, go birding, and more.
Dine at Leaning Pear
Whether you're in the inside dining room, on the screened in porch, or enjoying the outside picnic tables, the Leaning Pear is the ideal environment for a great meal. This spot combines Italian influences with seasonal, local ingredients and Hill Country flare. Pizzas are classics here along with chicken and grits and mac and cheese. The fried avocado tostada and migas are also winners for Sunday brunch.
Go treasure hunting at Market Days
The first Saturday of the month, nearly 500 vendors come together for Market Days. The massive flea market is the second largest in the state, showcasing local artists, collectors, and antique dealers. You'll also find live music and plenty of food at the fun event, which is hosted by the local Lions Club. The market takes place from March through December and is a must-see in Wimberley.
Enjoy the views at Driftwood Estate Winery
Just a 15-minute drive north of town, Driftwood Estate Winery is an ideal place to spend a few hours. Like the wineries near Fredericksburg, Driftwood Estate is part of the Hill Country American Viticultural Area—a place that is ideal for growing European varietals and making Mediterranean style wines.
Driftwood Estate's award-winning wines are made from all Texas grapes, and most of their offerings are dry, though a few sweet options are available. Grab a glass or a bottle and kick back on their terrace overlooking 18 acres of beautiful vineyards.
Take a walk at Cypress Creek Nature Preserve
Its majestic Cypress trees are one of the striking natural features of the Hill Country. These beauties and the serenity of the landscape are what make Cypress Creek Nature Preserve one of the top places to go in Wimberley.
The 7-acre preserve has creekside hiking trails, native plants, and wildlife habitats just a stone's throw from the square. It's a great place to wander and to picnic, or it's easy to walk here before or after stopping at one of the restaurants in town.
Visit the Wimberley Valley Museum
If you're wondering what to do in Wimberley for free, check out the Wimberley Valley Museum. Located in the historic Winters-Wimberley House, the engaging museum tells the story of the town's past starting with its settlement as a trading post and continuing through the years of milling and beyond. The museum is open on the first Friday and Saturday of every month or by appointment.
Hang out at Dos Olivos
European influence and Texas charm meet at Dos Olivos in downtown. From cheese plates and shareable specialties like pan tomate and foie gras tartine to entrees like steak au poivre, the café offers a broad range of food with ingredients from local farms and producers. It's also a great place to try the best wines from around Texas if you can't get to the vineyards. Pull up a seat for a snack or a meal, or browse the shelves stuffed with artisan products to take home something delicious.
See live music at Mercer Street Dance Hall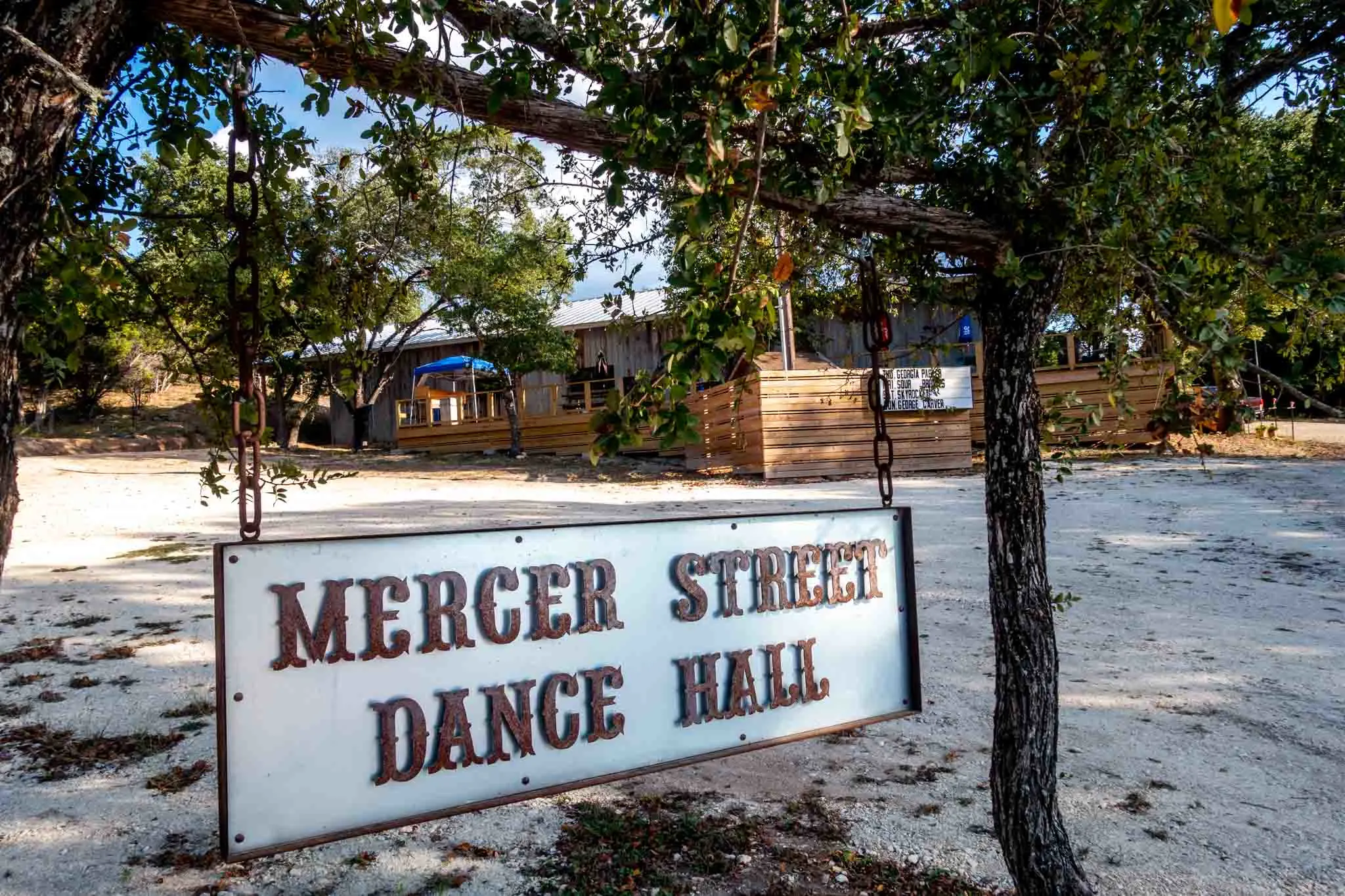 Just 10 miles away, not far from downtown Dripping Springs, is Mercer Street Dance Hall. One of the area's most popular dance halls, it welcomes some of the finest honky tonk bands in Texas for music, dancing, food, and fun every Friday through Sunday.