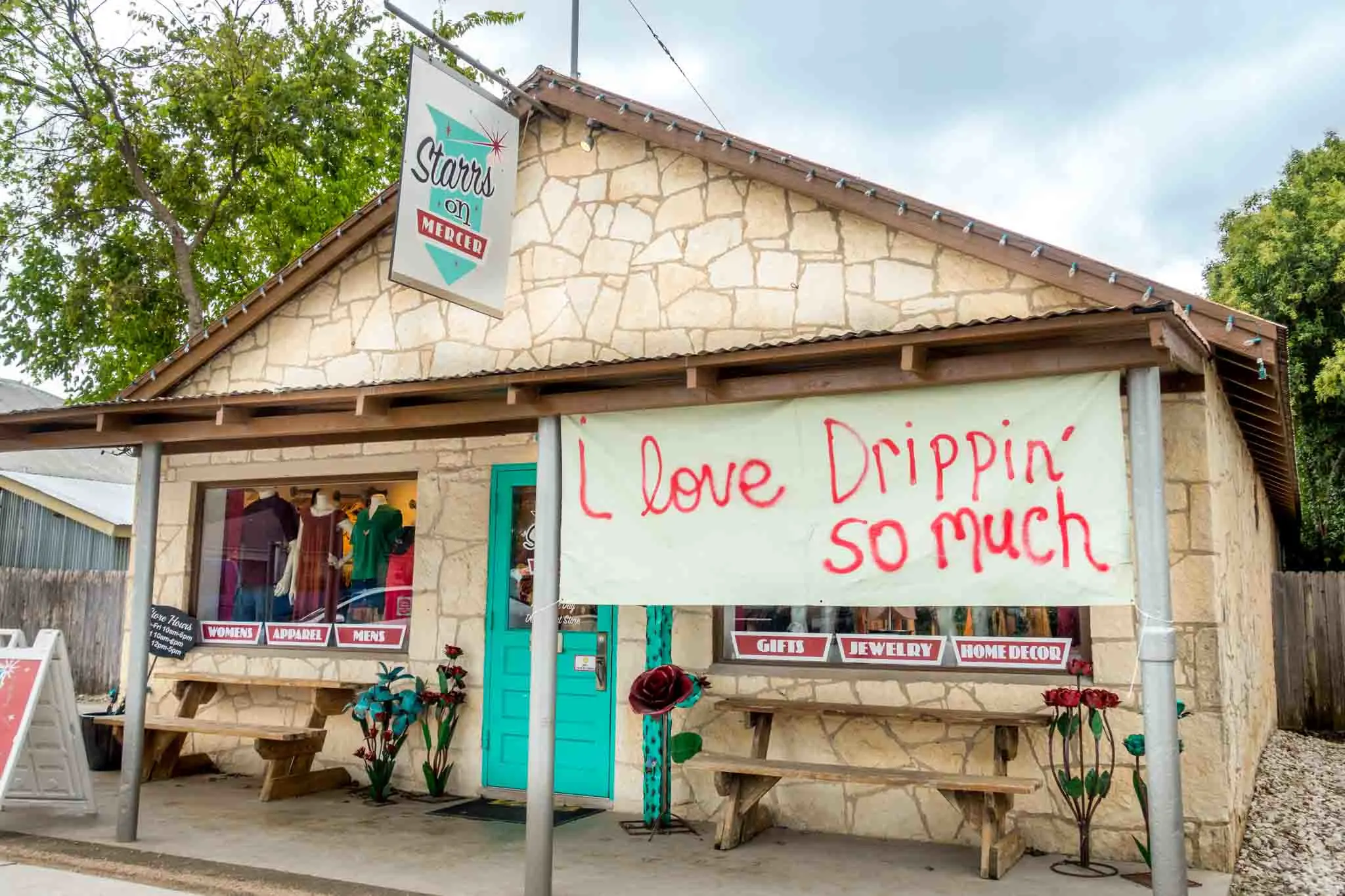 Texas is most well-known for its big cities—the Cowboys and the JFK-related sites in Dallas, San Antonio's Alamo and River Walk, the music and energy of Austin. But there's so much to be seen and discovered in some of the smaller towns. Just a half-hour road trip from Austin, Dripping Springs, Texas, combines some of the best outdoor activities in Texas with the food and craft beverages usually only seen in the cities. Here's a look at where to eat and drink and the best things to do in Dripping Springs.
Swim at Hamilton Pool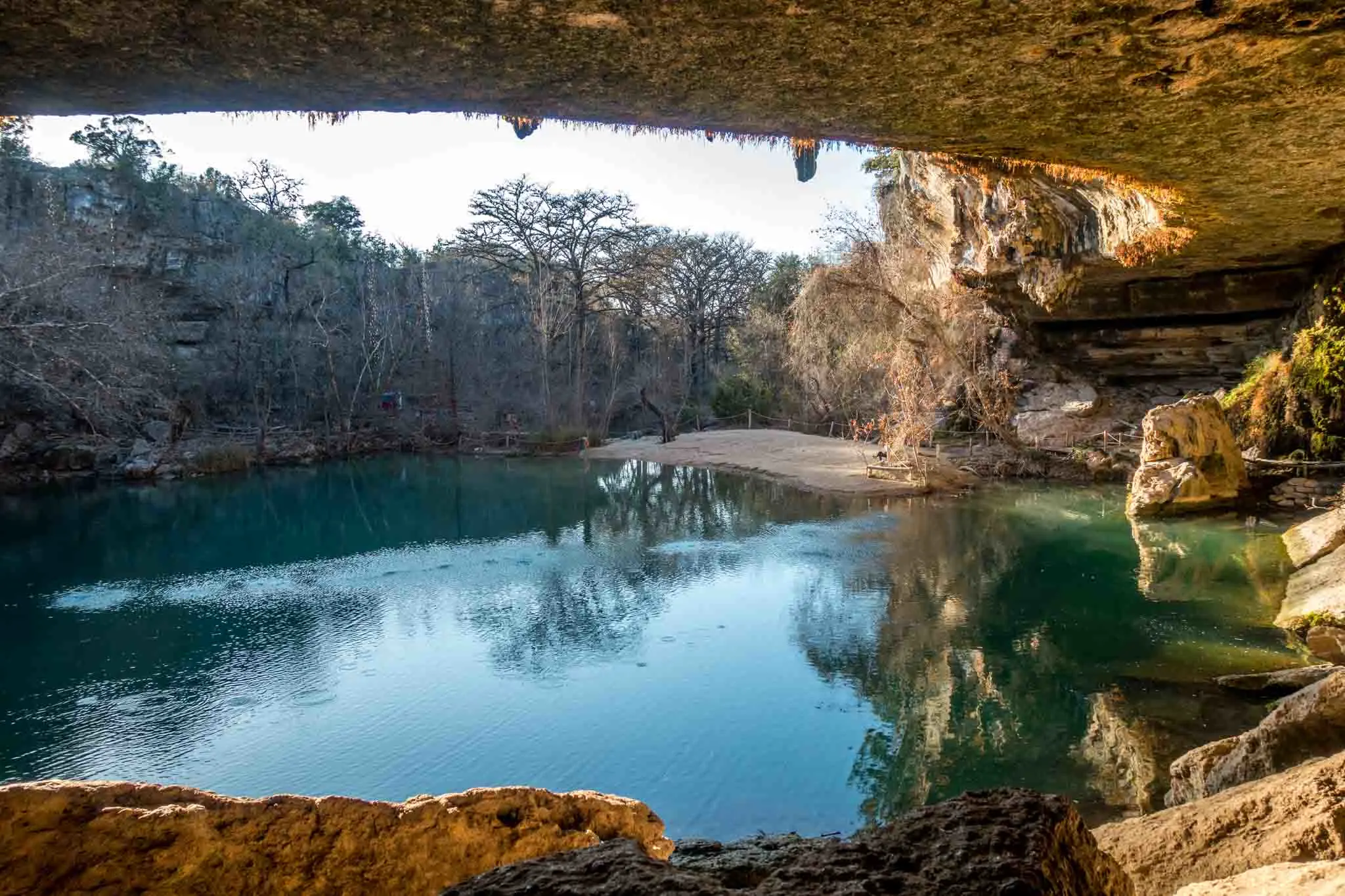 One of the most well-known places in Dripping Springs, the lush landscape and cool waters of Hamilton Pool draw people from all over central Texas and beyond. The pool itself was formed when the dome of an underground river collapsed, giving it a unique structure with a waterfall and a grotto where you can escape from the Texas sun. If you've been to an open cenote in Mexico, this will feel somewhat familiar.
Located on a 234-acre nature preserve, Hamilton Pool is one of the best swimming holes in Texas. You can bring a picnic, spread out a towel on the small beach area, or just wander through the surrounding trails to check out the wildlife. The water itself can be quite cool (about 55 degrees in the spring), but that doesn't deter most swimmers.
As of January 2023, reservations continue to be required every day, so you'll need to reserve a 4-hour time slot on the Travis County website to visit. It's best to make Hamilton Pool reservations well in advance during popular times because there are limited slots each day. Bring close-toed shoes or water shoes for the rugged hike from the parking lot and walking around the swimming area.
Shop in the Historic District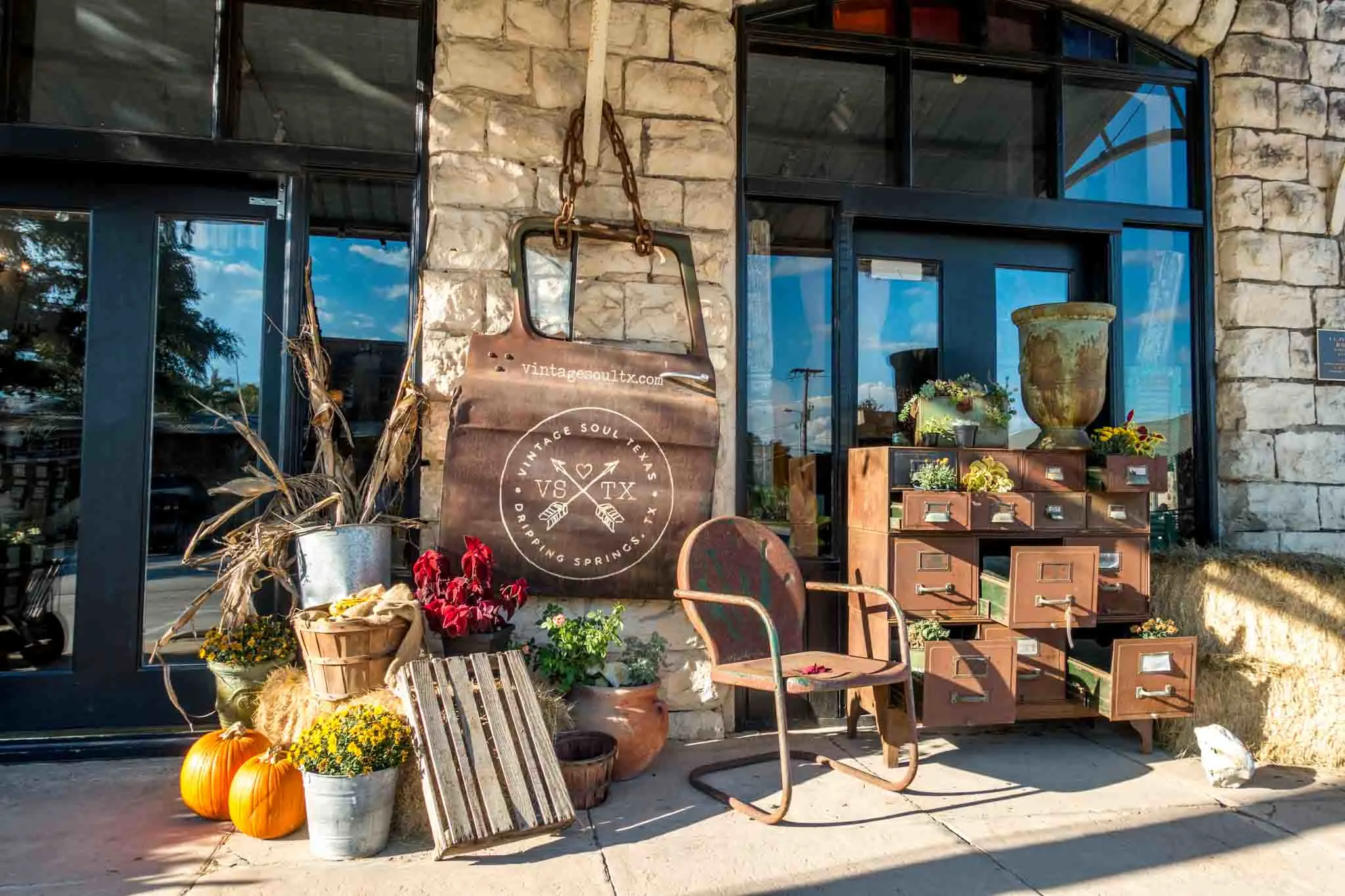 The Historic District has a charming collection of boutiques along Mercer Street and Old Fitzhugh Road. Within a few steps, you can find vintage-inspired decor at Vintage Soul TX, stylish and unique clothes and jewelry at Starrs on Mercer, and lots more. To refuel, head into Mazama Coffee Co. for a bite to eat or coffee that's roasted on-site, or visit Crepe Crazy to sample one of their 20 to-die-for crepes.
Visit Deep Eddy Distillery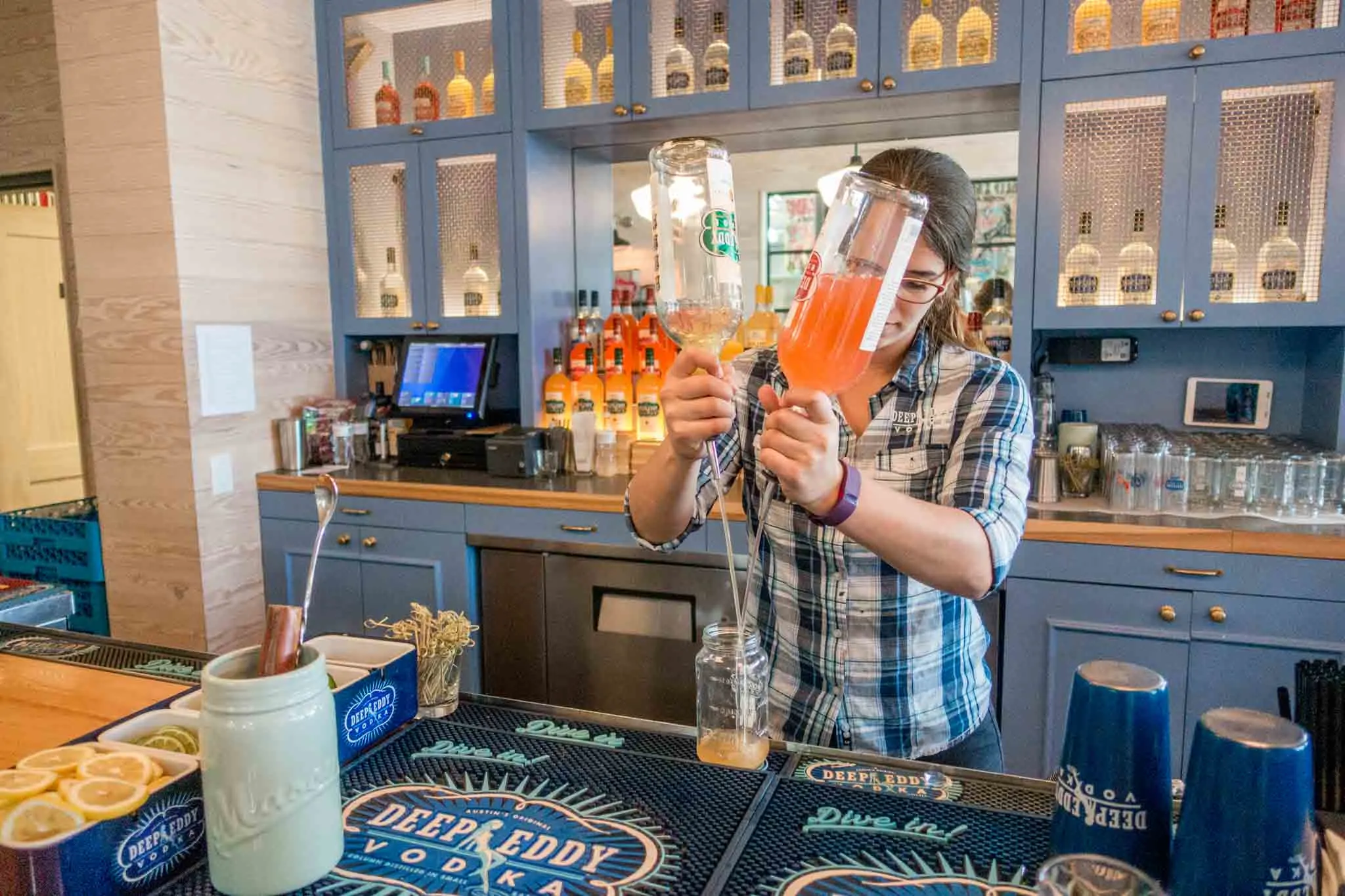 For a small town, Dripping Springs is big on craft distilleries.
Undoubtedly the most notable distillery is Deep Eddy, which is now part of a corporation but keeps its roots in the town. Visitors can learn about the stages of distillation from grain to the addition of real fruit juices and local honey that go into the vodka. Or just enjoy the fruity cocktails in the tasting room and the live music and views from the patio. Come early if you want to visit on the weekend because it gets busy.
Listen to music at Hudson's on Mercer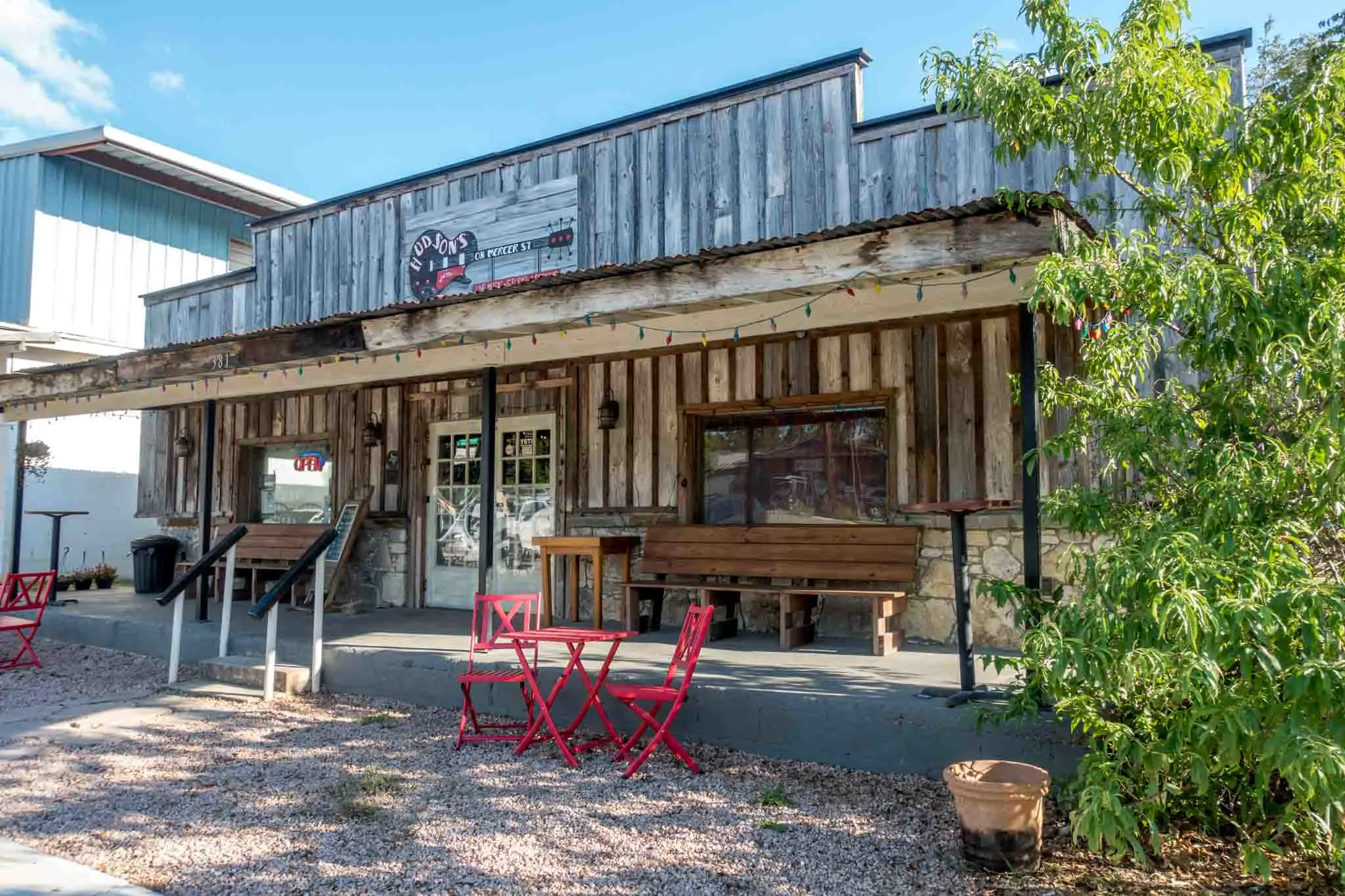 For a small town, there are lots of opportunities to enjoy music here. On Mercer Street, Hudson's on Mercer has "a little something for everyone." Almost every night there is live music, karaoke, or an open mic night show. The venue also offers music lessons, music camps, and a recording studio to encourage budding and more established musical talent.
Tour and taste at Treaty Oak Distilling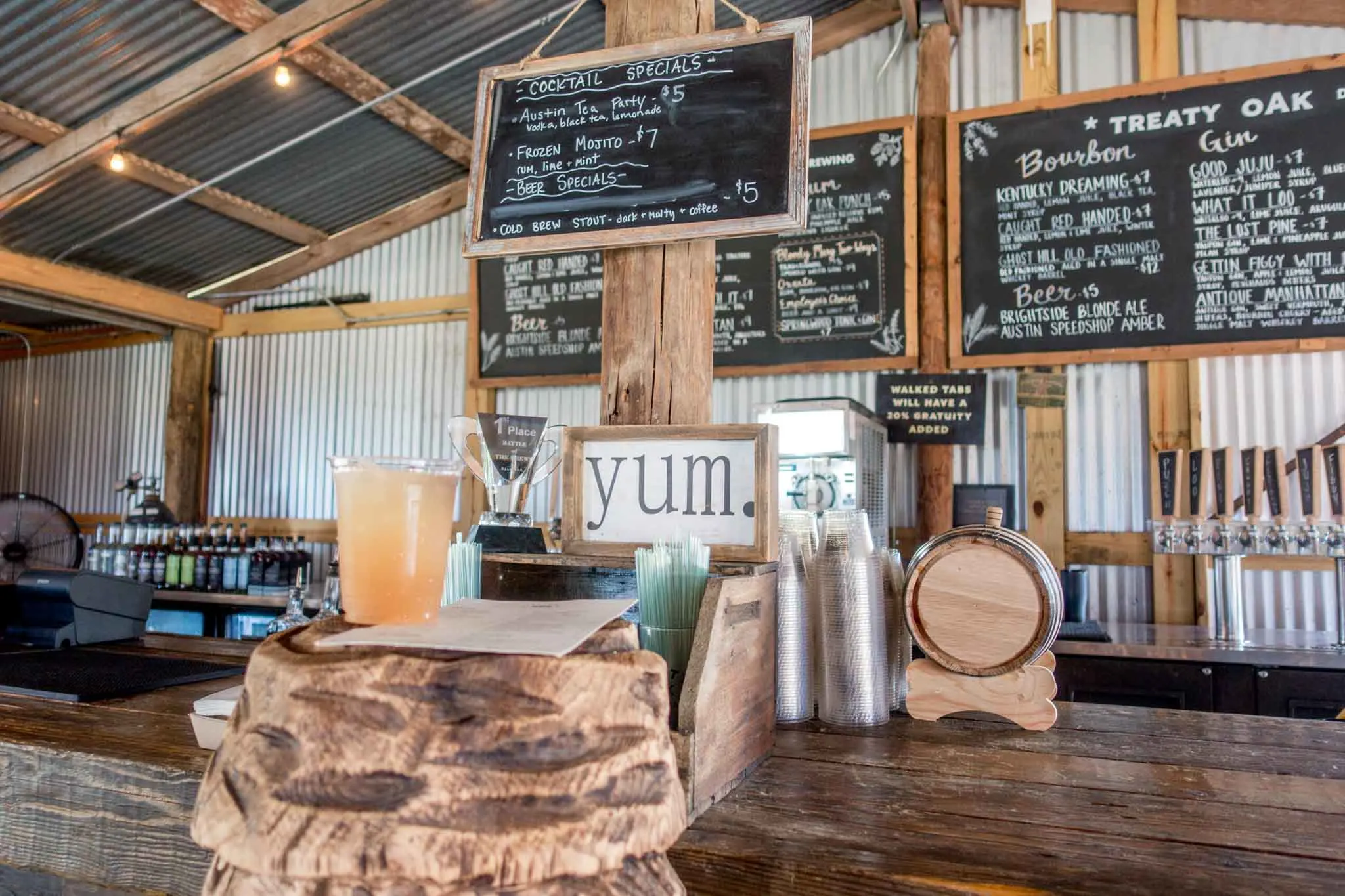 Treaty Oak Distilling, which focuses on whiskey and gin, has made spirits for over a decade. With the goal of the "pursuit of the curious," they have some unique offerings, including the longest-aged gin in the world (which is delicious).
Treaty Oak has a restaurant, live music, a fun cocktail bar, and outdoor games, so you could practically spend the whole day there. Everything at Treaty Oak is open Wednesday through Sunday, and regular tours are available.
Try local olive oil at Texas Hill Country Olive Company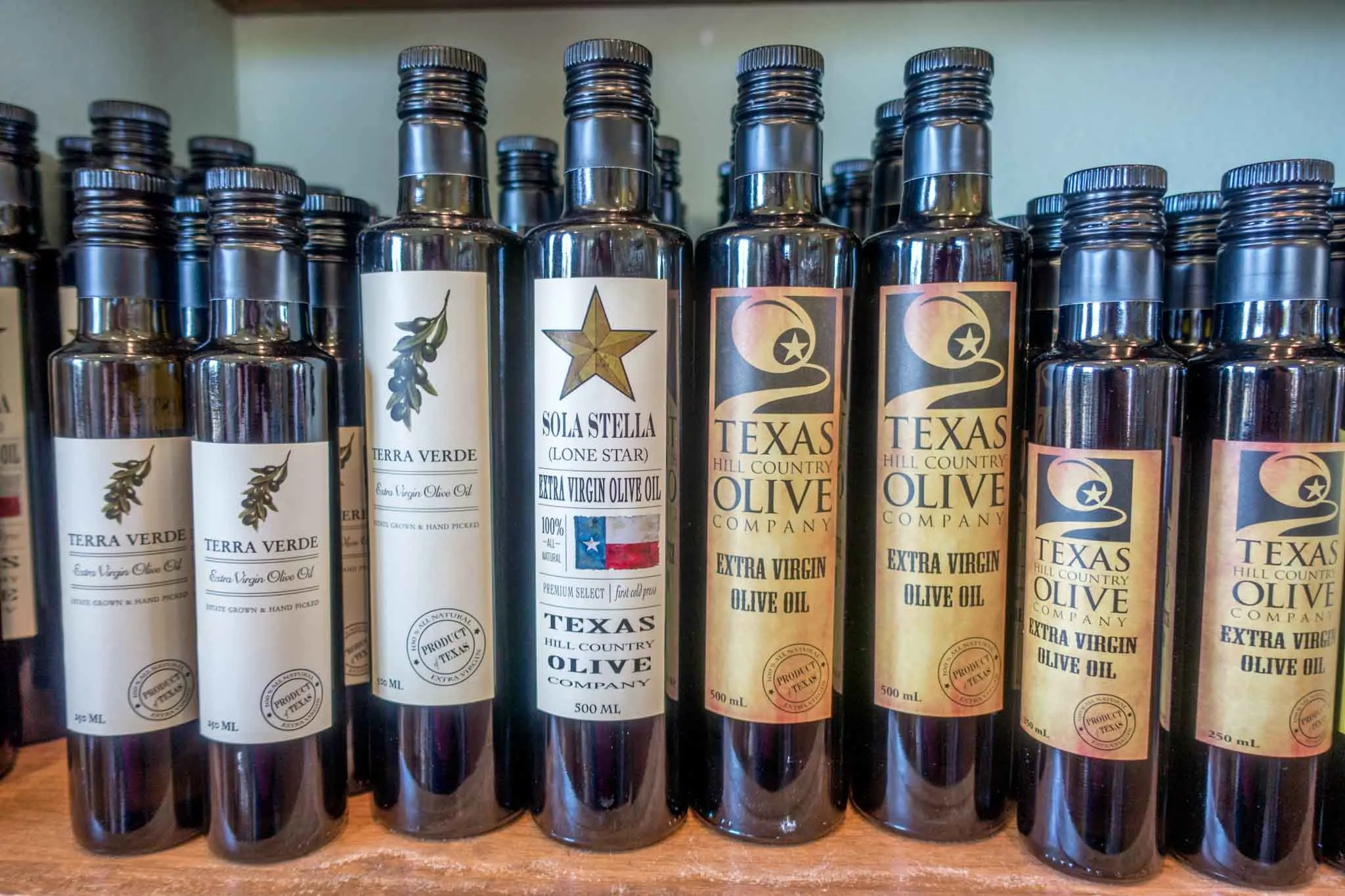 Across the Mediterranean, refined wines and rich olive oil go hand-in-hand. There are great wineries in Fredericksburg nearby, so it makes sense that there would be fabulous olive oil, too. That's just what the Texas Hill Country Olive Company makes. This family-owned business has been growing olives for a decade.
Drawing on their Italian heritage, the owners—the Gambini and Melnick families—have developed their organic olive orchard to produce high-quality extra virgin olive oil while preserving the natural beauty of their 17 acres in central Texas. The soil conditions and land have many similarities to Italy, making growing conditions for the olives ideal. Tours are available Friday through Sunday, or you can stop by to taste all the offerings in the tasting room.
See Pedernales Falls State Park
Growing up in the (very flat) Dallas area, hills and waterfalls were foreign to me. But just a few hours away, Pedernales Falls State Park has both of those as well as hiking trails, horseback riding, camping, and plenty of other outdoor activities. This picturesque park–one of the top attractions near Dripping Springs–is based around the Pedernales River whose rushing waters have carved out the bumps and crags of its ancient limestone bed over millions of years. The whole effect is dramatic with pools and waterfalls.
A visit here is a great way to spend a day, but if you're short on time, plenty of the park's sites are within easy walking distance of a parking lot. It's that flexibility that makes Pedernales Falls State Park such a popular destination.
There are trails and campsites for all abilities and interests. The popular Twin Falls Nature Trail is only a one-half mile hike, but you can also tackle the 10-mile Juniper Ridge Trail if you're feeling intrepid.
Sample at Twisted X Brewing Company
Twisted X Brewing Company brews small-batch craft beers just outside of town. Select from their variety of lagers, pilsners, and IPAs and grab a spot out on the deck for a relaxed Hill Country afternoon. To get a closer look at their process, join one of the brewery tours.
Visit Mercer Street Dance Hall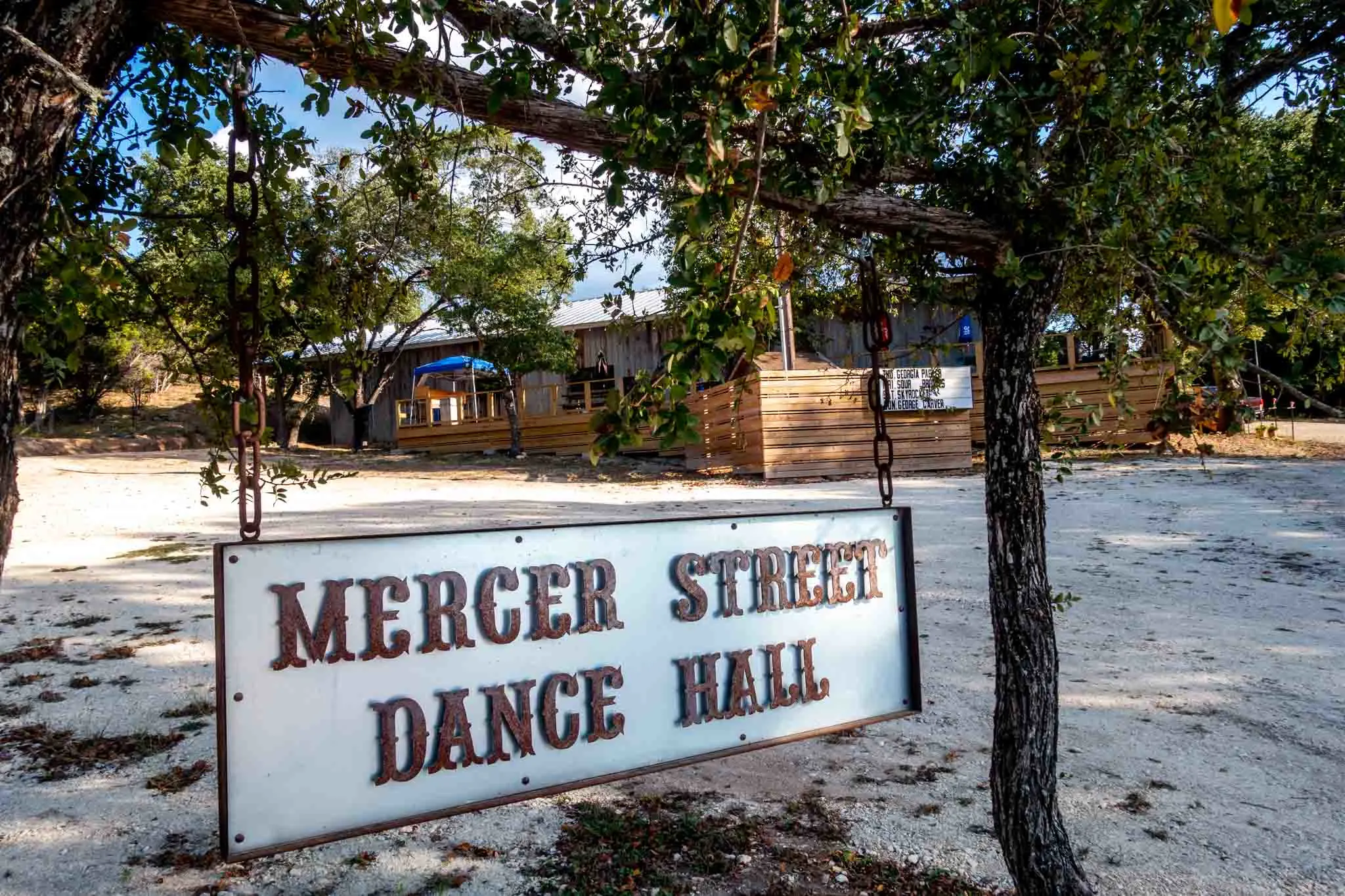 Four miles from downtown Dripping Springs, you'll find the Mercer Street Dancehall. Several nights a week it welcomes some of the finest honky tonk bands in Texas for music, dancing, and fun. If you want to join in but don't know how, check out the two-stepping lessons on Saturday night.
Visit Jester King Brewery
Jester King is definitely one of the best craft breweries in the area, but it's more than that, too. This authentic farmhouse brewery has transformed its huge ranch into the best adult playground anywhere around.
It begins with the beer—Jester King has over 60 draft options from spritzy sours to ales brewed with ingredients like honey, grapefruit, and even mesquite beans. They use a combination of spontaneous fermentation (like the famous Cantillon brewery I visited in Brussels) and other techniques like refermentation and barreling to craft an endless number of rotating offerings that are uniquely Texas.
But the beer is just the beginning. There's also cider and wine from Texas and beyond and an on-site restaurant serving pizza and other tasty things. You can grab a little of everything and spend the afternoon playing games and hanging out at one of the picnic tables. Join in on one of the brewery tours or take a tour of the farm, too.
Splash down in Jacob's Well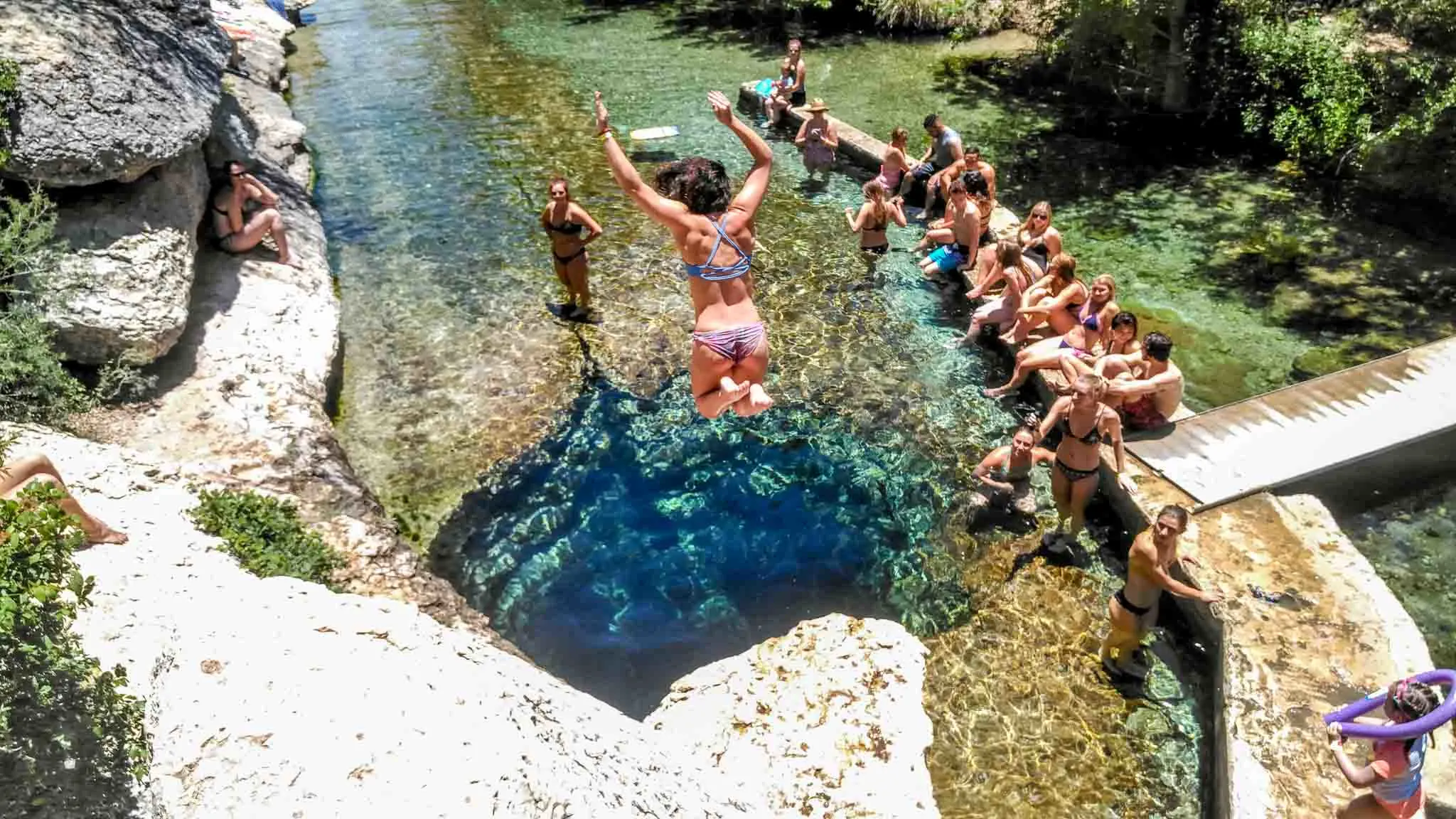 A 20-minute drive from downtown Dripping Springs will land you at Jacob's Well, one of the best swimming holes around. This spot is one of the prettiest and most popular places to cool off in central Texas.
The chilly water in Jacob's Well is deceptively deep, bubbling up from a cave system that stretches over 100 feet underground. Jumping from the cliffs above into the mouth of this ancient spring is popular with just about everyone during a Texas summer.
Grab a drink at the Barber Shop
Despite its iconic pole out front and the large "Barber Shop" sign, the Barber Shop on Mercer Street is…well, a bar. And a popular one at that.
Established in 2009, the Barber Shop bar is the ideal place for a beer and some live music in downtown. This welcoming bar serves predominantly Texas craft beer along with a bit of wine and hard cider in a totally relaxed, unpretentious setting with indoor and outdoor seating. There is live music most Saturdays and a pickers' circle on Sundays. Look out for the blackboard that shows how many people have come in looking for a haircut.
Sample British ales at Acopon Brewing
The owners of the Barber Shop have their own brewpub–Acopon Brewing–just two doors down where visitors can sample British-style beers with Old English and Victorian names. Their craft brews include cask beers served from a traditional hand pump as well as English bitters, oatmeal stouts, and other varieties like American IPAs and Pale Ales. There are often about a dozen beers to choose from, plus a selection of wines, ciders, and non-alcoholic drinks.
The brewery is modeled after pubs in England where everyone is a friend and people hang out for a while. Visitors can pull up a seat inside or on the patio and enjoy their drinks with a burger from the Hangry's StrEATery truck on site.
Try barbecue at The Salt Lick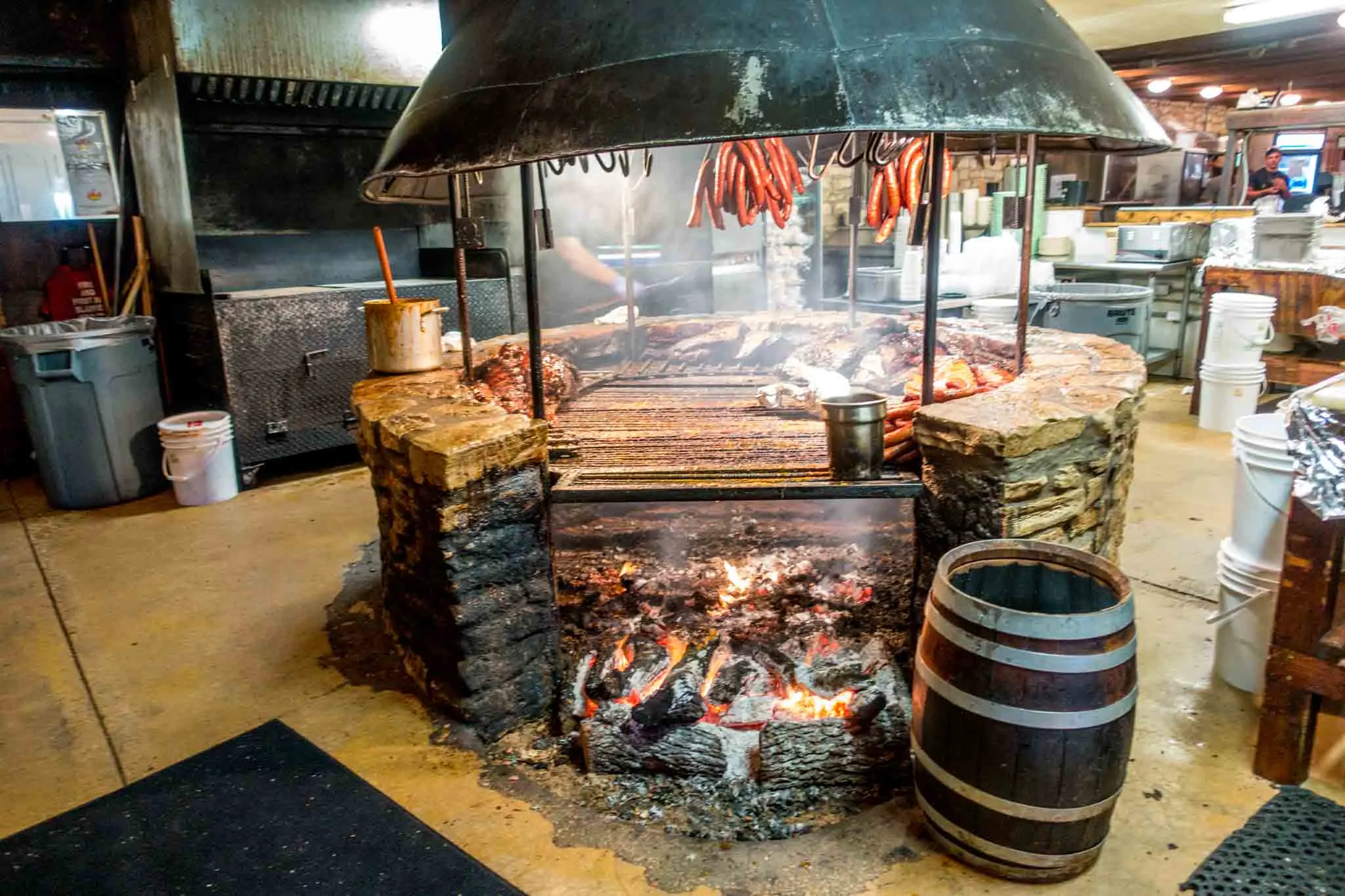 Texas—and the greater Austin area, in particular—is known for its BBQ. At the top of the list for many BBQ fans is The Salt Lick in Driftwood. We first visited nearly a decade ago after seeing this brisket and pulled pork heaven featured on Top Chef, and we've been back numerous times since. It never disappoints.
With 50 years of slow-cooked history under its belt, The Salt Lick is one of the most photographed BBQ pits in Texas. This BYOB has meats cooking over an open flame, outdoor and indoor family-style seating, and the ambiance of being close to the big city but feeling a bit like middle-of-nowhere at the same time.
The Salt Lick has won just about every BBQ award around for its brisket, ribs, sausage, pulled pork, and sauces and rubs. With Salt Lick Cellars next door, you can also try some of the great wines the Texas Hill Country is famous for. Grab a bottle, a bucket of beers, and pull up a picnic table for a great afternoon. As a bonus, there is a Salt Lick food truck in downtown Dripping Springs, too.
Visit Salt Lick, Duchman Family Winery, and more on a half-day chauffeured tour from Austin
Visit Duchman Family Winery
Fredericksburg doesn't have a monopoly on amazing wines in the Hill Country. Duchman Family Winery in Driftwood (2 miles down the road from The Salt Lick) has produced Italian wines from all Texas grapes since 2004, making it one of the original Texas wineries in the area.
Featuring varietals like Montepulciano, Vermentino, and Dolcetto, Duchman Family Winery combines grapes from the Hill Country and the cooler Texas High Plains region to make "food-friendly" fine wine. Stop into the winery for a tasting but don't miss the grounds where you can relax under the oak trees with your favorite varietal, or check out one of Duchman's special events like wine dinners or even yoga or painting classes.
Try Sidecar Tasting Room
Sidecar Tasting Room is an outpost of Bell Springs Winery in the center of town. They feature the Tempranillo, Albarino, Montepulciano, and other varietals alongside a limited menu of cheese plates and other delights. You'll also find live music several days a week in this laid back tasting room.
Sample spirits at Dripping Springs Distilling
Rounding out the craft distillery options is Dripping Springs Distilling. They distill their products in 50-gallon copper stills, infusing their Texas Orange vodka with oranges from the Rio Grande Valley and their gin with oranges and eight other botanicals, including cardamom and juniper. You can taste the products, take a tour, or eat at their on-site restaurant Thursday through Sunday.
Where to Stay
The Alexander at Creek Road: This calm retreat on 40 acres offers a variety of well-appointed rooms and suites.
Camp Lucy: On a bluff above Onion Creek, Camp Lucy is a beautiful getaway with luxury guest rooms and cottage accommodations. Enjoy the outdoor pool and great on-site restaurant.
Holiday Inn Express & Suites: With complimentary breakfast and an outdoor pool, the Holiday Inn is just 3 minutes from downtown.
Laura Longwell is an award-winning travel blogger and photographer. Since founding Travel Addicts in 2008, she has written hundreds of articles that help over 3 million people a year get the most out of their travel. In that time, she has visited nearly 60 countries on 5 continents, often returning to favorite destinations over and over again. She has a deep love of history, uncovering unexpected attractions, and trying all the good food a place has to offer.
In addition to Travel Addicts, Laura runs a site about her hometown of Philadelphia—Guide to Philly—which chronicles unique things to do and places to see around southeastern Pennsylvania. Her travel tips and advice appear across the web.