"Oh my god," was all I really remember Laura saying, shortly before I zonked out in the early morning hours. In retrospect, I didn't realize how sick I really was. When people find out you write a travel blog, they almost immediately think of a fun and glamorous lifestyle. But travel can be hard work and there are mishaps and accidents along the way. Here we recount our top 10 travel mishaps.
Just Another Brick in the Wall
I like to think I'm pretty good driver. I've driven in countries around the world, including France, Germany, Iceland, Ireland, Italy, South Africa, and Turkey. But in Ireland, I met my match – a rock wall in the city of Donegal. We'd stopped to visit the Donegal Castle, which was closed. Pulling out of the narrow parking spot and driving on the other side of the road, I misjudged the distance and ended up scrapping a rock wall.
We were fully insured and it was no problem, but the car was brand new – less than 100 kilometers on the odometer!
Getting Lucky in the Red Light District
Growing up, I spent a summer backpacking around Europe with my parents. It was my first extended trip outside of North America and Asia. The trip was very spontaneous and fly-by-the-seat-our-pants – it was also very budget. We ended up in Paris late in the evening without pre-arranged accommodation and finding that there was an event in town. There weren't any rooms available anywhere.
Our one option was a room in a brothel on Rue des Petit Hotels – the Red Light District. I slept OK, but let's just say that there a lot of strange noises all around. I now like to make plans in advance!
Where's Your Luggage?
In 2009, we got a great flight deal to Italy. Unfortunately, our flight was completely cancelled due to mechanical issues. The options were to fly two days later (and essentially lose two days of vacation on an already short trip) or re-route through Munich before flying onto Rome. We chose the latter. But the baggage never made it.
We expected the bags to come the next day, which they did, but Star Alliance would not deliver the baggage to us. So, we were spending the entire trip without clean clothes or toiletries – in March, in the cold and rain. We were able to buy toiletries and a few items of clothes to get us by. However, we never take our luggage for granted anymore! [Coincidentally, the same thing happened with American Airlines in 2013.]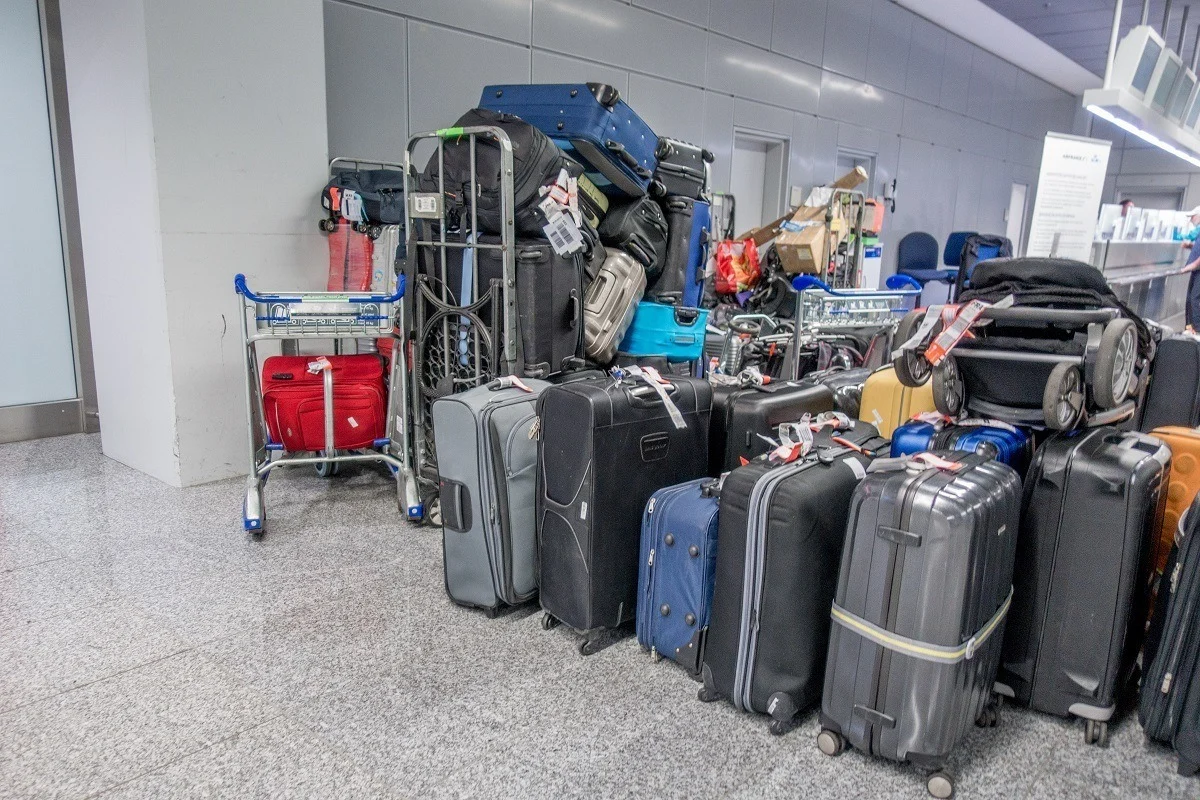 Nearly Dying in Peru
"Oh my god," was all I really remember Laura saying. We were in Puno, Peru and I had spent the entire night vomiting uncontrollably. I won't bore you with graphic details, but let's just say it wasn't pretty. I could feel I was dehydrated and becoming delirious – and I knew I was in real trouble. Laura, magically, slept through the whole thing and I had almost forgotten she was even there. Somewhere around 7:00am, I remember Laura's concern.
Our local guide and fixer jumped on the situation. He got to a doctor and got me medicine, then let me go back to sleep. It's never fun to be seriously ill, but doing it half a world away is a miserable experience.
Use Caution
Laura and her sister went to Orlando in 2013 for a weekend getaway. While pulling her rental car out of a parking spot, Laura managed to somehow run over a caution cone – and then got the caution cone lodged under the car. We're still trying to figure out how that happened. Thankfully, AAA was able to come, jack the car and pull it out. It was probably one of our more unusual mishaps.
A Sauna in Germany
The summer of 2013 was particularly hot one in Europe – and Bavaria, Germany got hit with the heat wave particularly hard. I was in the region for a business meeting and extended for a weekend to visit Liechtenstein. Not all of the hotels in Europe have air conditioning…including mine in Bavaria.
My room had a southern exposure and with the sun coming in through the window, it was hotter than Egypt. A colleague had a thermometer and it was off the charts – over 120 degrees! Weather is the one variable we can never plan around on our travels. That trip was pretty miserable!
Break a Leg
In 2009, we took a quick trip to the Amalfi Coast. I had to head back to the US for work while Laura stayed a bit longer. The very morning I left, she was walking around Rome before catching a train to meet a friend in Florence. She stepped up on a wall to gaze down into the ruins of the Imperial Forums, and when she stepped back down, she rolled her ankle on the uneven cobblestones.
An elderly couple came to her aid, but they didn't speak English. Without any real help and with four days left in Italy, there wasn't much she could do but medicate and limp around Italy. Thanks to all the walking, the ankle took about six months to heal.
I'm Here, Where Are You?
So, this hasn't happened to us, but it has happened to people we've traveled with. There are times when a city or a country has multiple airports that you end up at the wrong one. I know this sounds weird, but it happens.
Laura's grandmother was flying to our wedding in the Bahamas. Instead of ending up with us on Grand Bahama Island, she ended up in Nassau – the wrong island. If you're going to travel, you should know where you are traveling to!
Captive Audience
Reykjavik is the capital of Iceland, but it is still developing its infrastructure. The airport isn't in Reykjavik (not even close), it's a solid 40 minutes away on a former NATO military base in Keflavik. Transportation options are limited, but most people take the bus to get to the city.
Our experience was aptly named the Reykjavik FlyBus fiasco because the bus doesn't operate on a timetable. Instead, the FlyBus has a vague "we leave 30-40 minutes after an arriving flight lands" policy. Our experience was closer to several hours. One of the problems with limited transportation options is that you're a captive audience.
I'm Afraid to Fly
In 2008, we were in Paris for Laura's job. I had taken some vacation to spend time with her. She'd gotten the flu and was really sick, but soldiered on, including a trip out to Versailles. I managed to get the flu from Laura on the day were to fly home. We got to the airport and boarded our flight, right when I couldn't hold back anymore.
The flight attendants were considering pulling me off the flight, but I had to get back to the U.S. and couldn't be stuck in Europe for another few days. The flight attendant was asking me what's wrong and I said, "I'm afraid to fly." I popped an ibuprofen and I'm sure she thought it was anti-anxiety medication. I fell asleep and made it back to the States.
If you've ever experienced a travel mishap, accident or problem, comment below and tell us about your travel mishaps!