You will never go hungry in Malta. With lots of fresh vegetables, seafood, cheeses, and bread, Maltese food has some of the best flavors in the Mediterranean. From street food to sweets, there is a wide array of choices.
Over the centuries, Maltese cuisine has been influenced by the country's geography and political situation. As an island, Malta needed to be somewhat self-sufficient, but it also benefited from its position along important trade routes, absorbing the flavors of the merchants who came through.
Occupying powers brought their culinary customs, resulting in elements of Sicilian, Middle Eastern, and Arabic cuisines all being incorporated into the food of Malta. The Knights of St. John—who came from France, Spain, Italy, and beyond—are responsible for other dishes that were altered and adapted to become traditional food in Malta. When the British came in the 1800s, they brought their own tastes, too.
The result of all these influences and circumstances are Maltese dishes that are full of flavor, freshness, and occasional surprises. Here's a look at some of the food that we loved during our trip to the beautiful islands.
Ftira
Ftira, a type of bread, is a staple of Maltese cuisine. This disc-shaped leavened bread is available everywhere from snack bars to sit-down restaurants.
The ftira is usually used for sandwiches. It's traditionally eaten with strong-flavored fillings such as tuna, onion, pickled capers, olives, and peppered cheeselets (more on those treats below). Around the island, we found it paired with just about anything you could want in a sandwich. My favorite came with bacon, egg, and cheese as part of a breakfast sandwich.
Gozitan ftira (ftira Ghawdxija), a regional variation on Gozo, is served more like a pizza than a sandwich. It's often topped with potato, anchovies, capers, tomatoes, and cheese.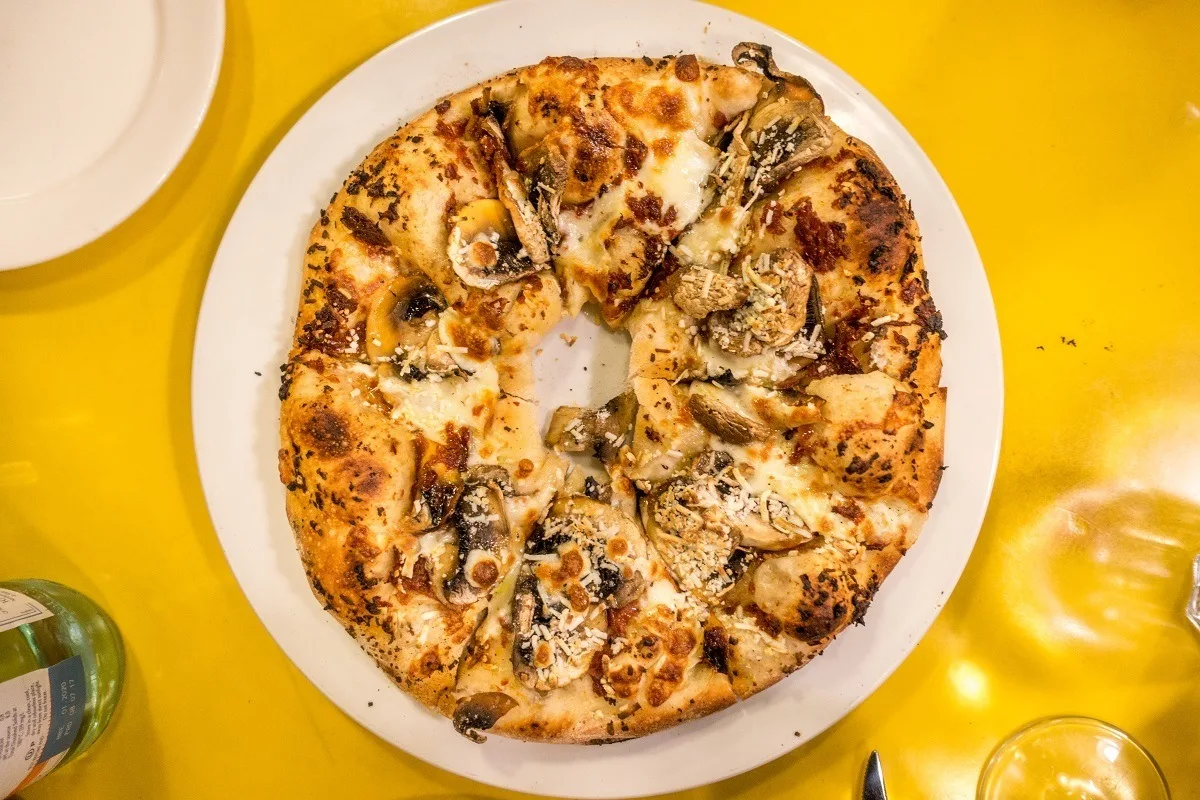 Like many European cultures, the Maltese love their bread and count it as an important part of their heritage. It originated in the 16th century from the working people who needed to make the most of meager resources and used communal ovens to bake their bread. Though the ovens no longer exist, ftira remains popular.
The bread is so important as a traditional food of Malta that the it has been included in the UNESCO Intangible Cultural Heritage list along with food and drinks from other countries like beer culture in Belgium and the Mediterranean diet.
Pastizzi
The most popular street food in Malta is a pastizz, a hand-held crispy pastry. We get hungry just thinking about them.
Pastizzi are usually diamond-shaped and made with a Maltese pastry like the light and flaky Greek phyllo dough. Shops called pastizzeria exist for the sole purpose of making these enjoyable foods, but you can also find them in bars and cafes. They seem to be eaten any time of day from breakfast to beer snacks.
Most often, these savory treats are filled with either mashed peas or ricotta. Other flavors of pastizzi exist, including apple, anchovy, spinach, corned beef, and many more. They're filling and cheap at about 50 cents each, so they make the perfect snack.
Lampuki
As an island, fish have always been an important part of the diet. One of the most popular options is lampuki, a meaty white fish also known as dorado, dolphinfish, or mahi mahi in other countries.
Lampuki season begins in August and lasts through December. During that time, you can find it on menus in the fishing village of Marsaxlokk and all over Malta and Gozo.
Lampuki is popular grilled (our choice), in a thick garlic-infused sauce, and in pie. Lampuki pie (Torta tal-Lampuki) combines the meaty fish with olives and vegetables in a shortcrust pastry pie.
Aljotta
If lampuki pie isn't your thing, consider trying the fish stew called alijotta. It's a sort of fish and tomato bouillabaisse that gets its flavor from a mix of herbs, garlic, and citrus as well as the fish bones that are added to make the robust broth. In a devoutly Catholic country like Malta, this soup is particularly popular during Lent.
Even if you don't care for fish at all, take a stroll through Marsaxlokk to see the brightly-colored boats and the fishermen bringing in their catch.
Kinnie
Lance loves to try local sodas when we travel. From the Coca-Cola-like Kofola in Slovakia to Cwpymka in Macedonia, he'll try anything. That meant that sampling Kinnie—sometimes called the national soft drink of Malta—was at the top of his list.
Made from Maltese Mediterranean chinotto bitter oranges and wormwood extracts, Kinnie has herbal, bitter notes that make sense based on its orangey-brown color. Its secret recipe includes a range of flavors and ingredients, including anise, rhubarb, vanilla, and licorice.
Kinnie was first introduced in 1952 as an alternative to the many cola beverages that were made after World War II. It is reportedly Malta's favorite non-alcoholic beverage, but the taste was too bitter for us.
Qassatat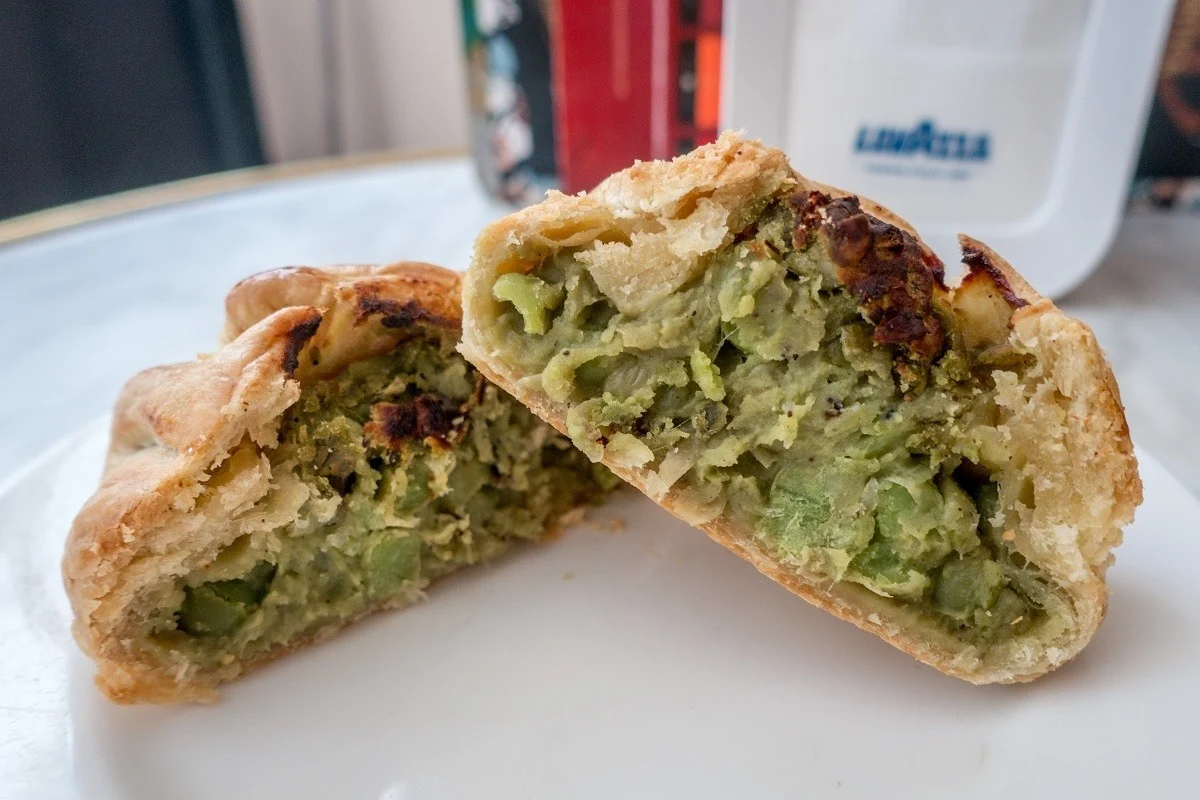 Similar to pastizzi but larger and slightly less fattening, qassatat are small pies filled with ricotta, mushy peas, or a variety of other fillings. You may find fava beans along with the ricotta, sauteed onions, or spinach and anchovies, particularly during Lent when meat and milk products are off limits. They have a shortcrust pastry which is thicker than the pastizzi casing.
Like pastizzi, qassatat are delicious and even more filling.
Qassatat have been part of cooking here since the time of the Knights of St. John. Evidence shows the popularity of oven-baked filled pastries here since at least the 16th century. The size and crust made it convenient for busy people to carry their food around—perhaps some of the world's first take-out.
Ċisk
Ċisk (pronounced Chisk) is the most popular local beer from Malta. Its golden lager is light and easy-drinking, making it an ideal beverage for under the Mediterranean sun because it's refreshing on a warm day. In addition to the original, you can find low-carb beer (Ċisk Excel), fruity flavors (Chill Lemon and Chill Berry), and a pilsner variation.
Imqaret
A pastry with a date filling, imqaret is a traditional sweet that reminded us a bit of Fig Newtons. Imqaret are deep fried and are typically infused with aniseed liqueur and citrus notes.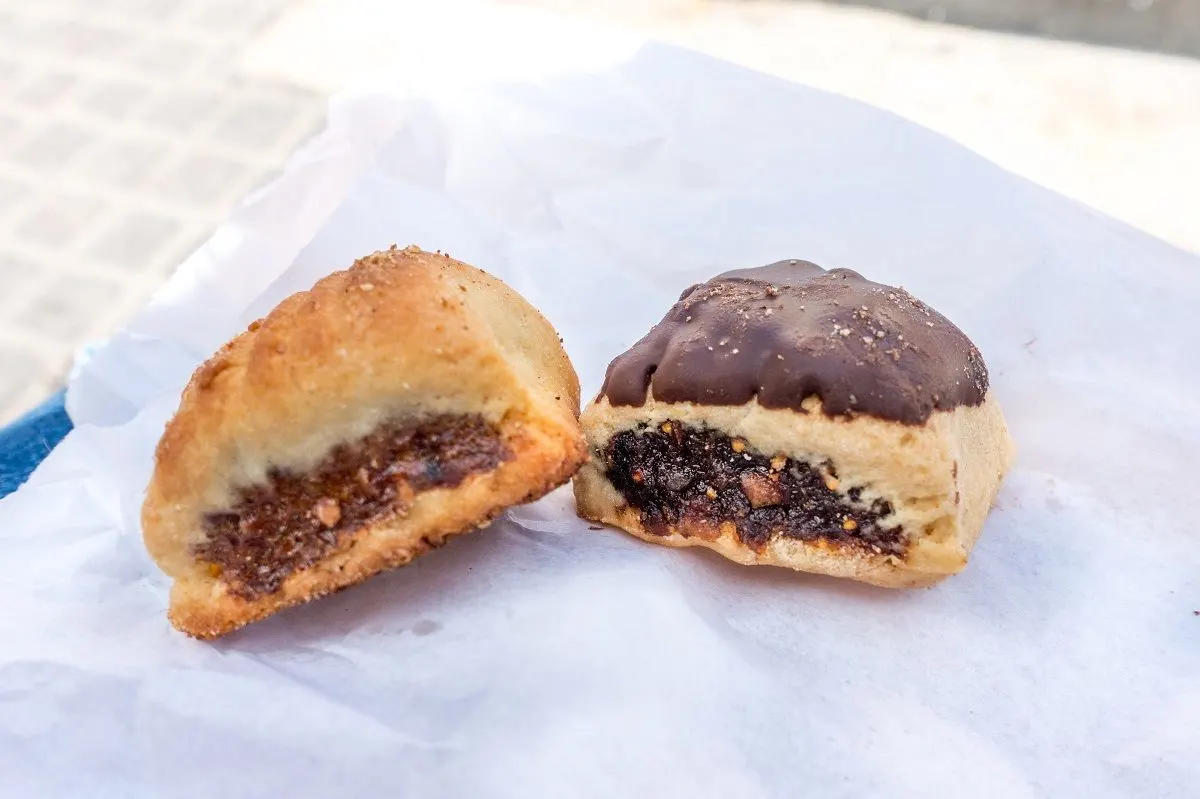 Imqaret are of Arabic origin, introduced to Malta sometime between the 9th and 11th centuries. They have close cousins in several North African countries. The name imqaret means "diamond-shaped," though they are often more rectangular shaped today.
The pastries are very popular iand can be easily found in street markets and kiosks. We tried some plain ones and others that were topped with chocolate.
Stuffat tal-Fenek
Traditional Maltese rabbit known to locals as Stuffat tal-Fenek is a staple in Maltese cuisine. It's so integral to culture and family life that it's even considered Malta's national dish.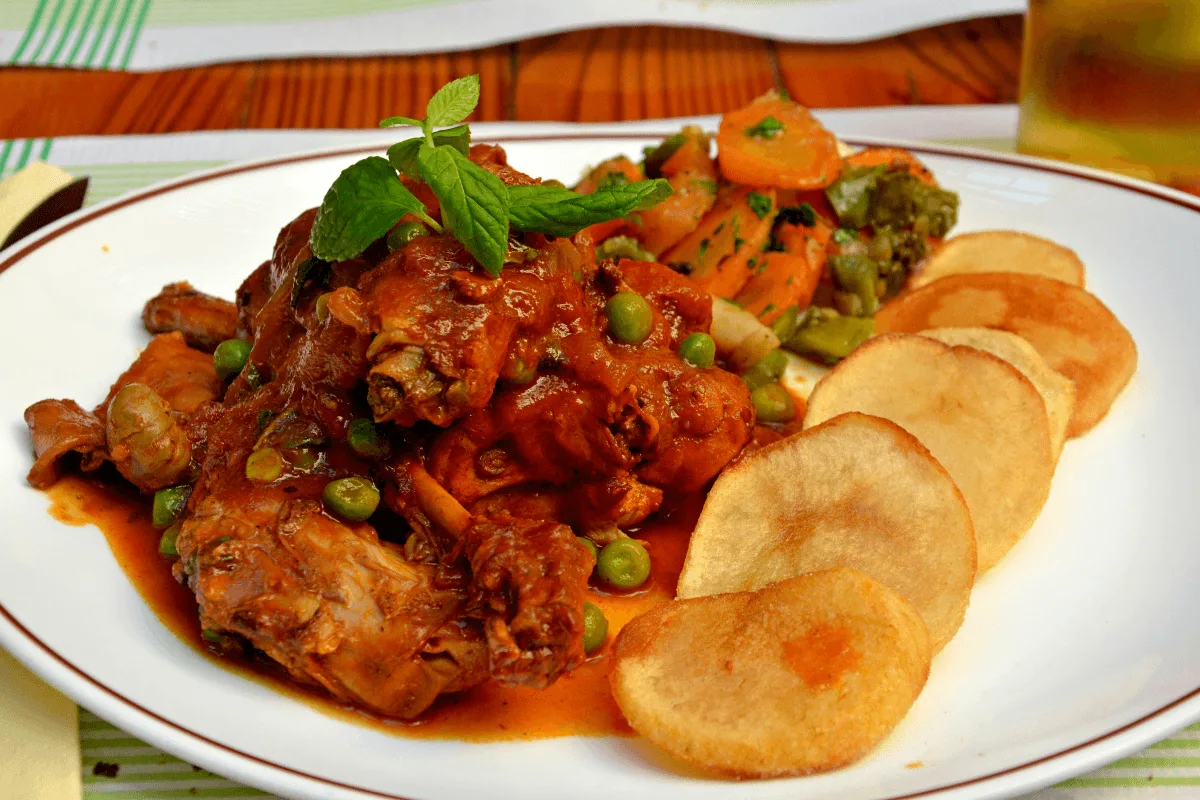 This slow-cooked stewed rabbit recipe is as traditional as they come, having been around since the time of the Knights of St. John. It uses ingredients found in many other Maltese dishes, including local vegetables such as tomatoes, carrots, and onions, along with garlic and red wine. The meat is cooked low and slow until it's so tender that it falls off the bone.
At family gatherings and holidays—or even just a great weeknight—the stew becomes part of a meal and experience known as the fenkata. It involves additional food like fried potato chips and fresh ftira, but the fenkata also includes the joy of conversation and fellowship with loved ones in a concept that's difficult to translate. It's truly a celebration.
Bigilla
There is something about the beans in Malta. A simple bean dip quickly became one of our favorite foods because it packs so much flavor.
Bigilla is a traditional Maltese food made of mashed beans. It is often made with broad beans, though the traditional recipe calls for dried tic beans (ful ta' Girba) which are darker and have a harder skin.
There are many different variations, but most recipes include the beans, olive oil, garlic, herbs and seasoning. Bigilla is served as a snack or an appetizer and is usually eaten as a spread on ftira.
Ġbejna
Cheese is an important part of all Mediterranean cuisines, and Malta is no exception. The term for one of the most common cheeses is ġbejna, which translates to "cheeselet." These tasty cheeses star on ftira sandwiches, on appetizer platters, and anywhere else you need a creamy, tangy, cheesy bite.
The traditional form of ġbejna is made from local sheep's milk, salt, and rennet, though goat's milk and cow's milk are sometimes used instead. They take three forms: fresh (friski), sundried (moxxi), or peppered (tal-bżar). Although fresh is said to be the most common, we found ourselves eating the peppered version often. And we loved it.
The process for making ġbejna is specific. After it curdles, the cheese is placed in a mold made of dried reeds, though plastic is often used now. It sets in a ventilated room or a box protected by a special mosquito netting to prevent insects from getting to it. The fresh cheese is then stored in its own whey as with Italian buffalo mozzarella.
The sundried ġbejna are dried for 2-3 days, resulting in a harder cheese with a nutty taste. Some sundried ġbejna are turned into peppered cheeses by covering them in crushed black pepper and curing them with salt and vinegar.
The cheeses are so important here that there is a movement to protect them with a certification as with Champagne in France or Parmigiano-Reggiano in Italy.
Biskuttini tar-Rahal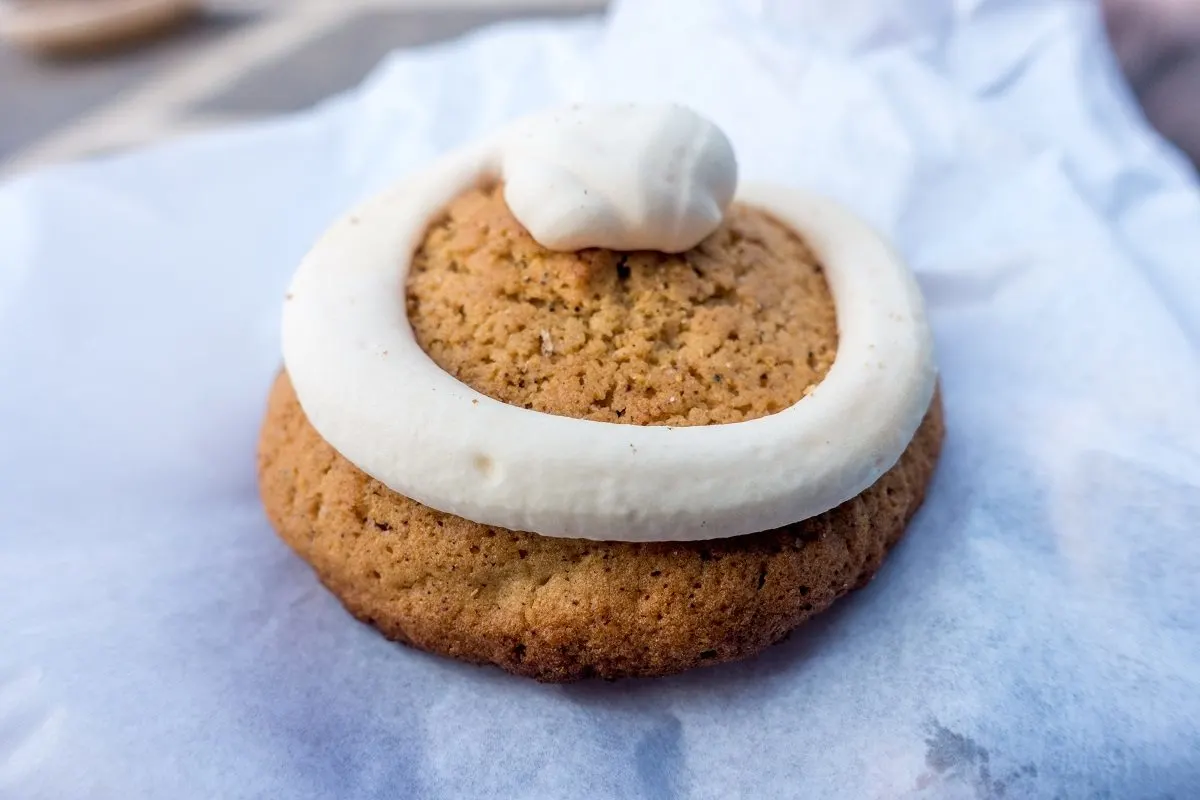 Village biscuits—known as Biskuttini tar-Rahal in Maltese—are a tempting treat that remind me a lot of gingerbread.
The soft biscuits have flavors of cinnamon, clove, and aniseed as well as a hint of citrus that lightens everything up. They are available all the time but are most typical at christenings. They have white or other light-colored swirls of icing generally, but are decorated blue or pink in honor of the baby being christened.
Qaghaq tal-Ghasel
Another Maltese treat is Qaghaq tal-Ghasel, treacle (or honey) rings. Historically served at Christmas, they became so popular that they are now made all year. Although they are often called honey rings, Qaghaq tal-Ghasel don't actually contain honey, but they are sweet.
The treacle rings are a ring-shaped pastry filled with the flavors of the holidays—cinnamon, cloves, aniseed, and a bit of citrus paired with treacle. The top of the pastry is slit, allowing the filling to ooze out. They look like bagels overflowing with filling.
Imqarrun il-Forn
A pasta dish with tomato sauce, imqarrun il-Forn is traditionally Maltese but likely has its origins in Sicily. No matter what, every Maltese grandmother has her own recipe for this baked macaroni and will swear it's the best ever. As they should.
The ingredients are basically macaroni and Bolognese, with eggs mixed in to hold everything together. Plus, cheese…because you can't have a great pasta dish without it. Then everything is baked in the oven. The result is like a cross between lasagna and macaroni al ragù.
Sometimes you'll see this baked macaroni encased in shortcrust pastry, which is called timpana. They're both delicious. It's a good thing you walk a lot when visiting Malta.
Kapunata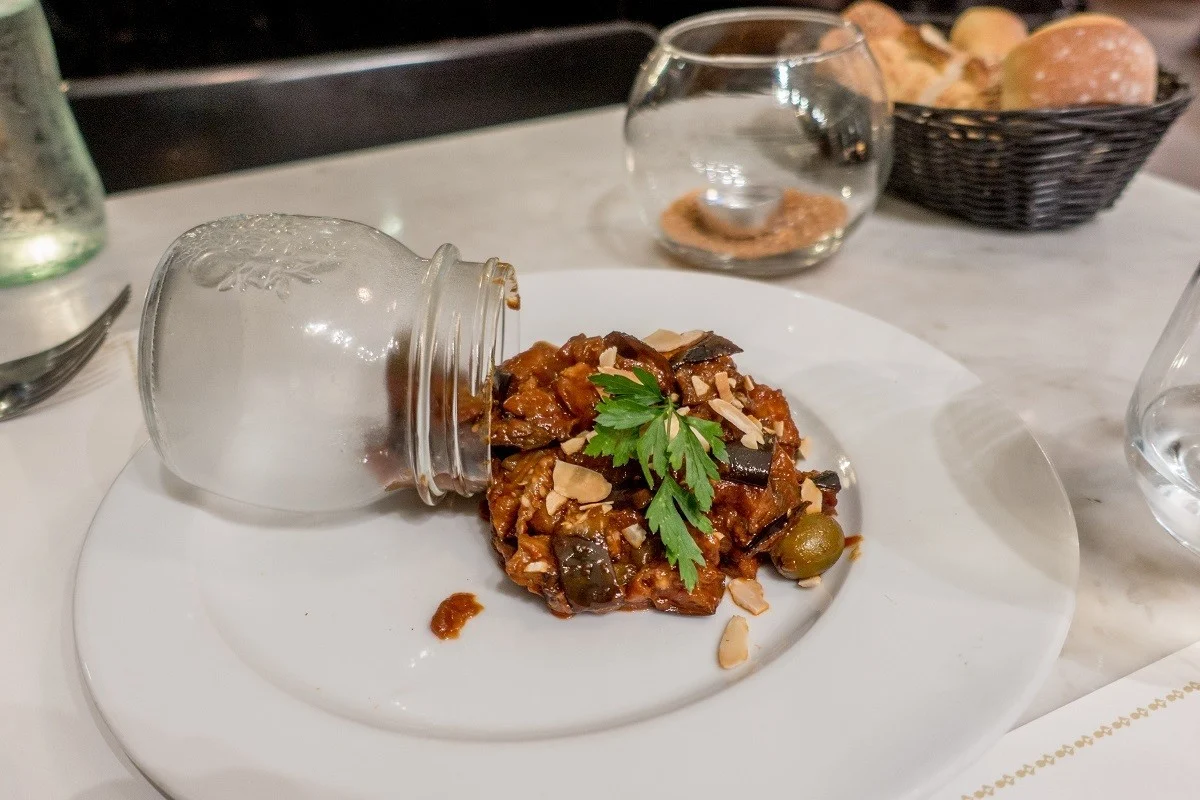 Kapunata is a dish that clearly shows the influence of Malta's neighbors on its food—capunata is available just a few miles away in Sicily while ratatouille is how the dish is known in Provence, France.
This vegetarian dish has been a go-to in Malta since at least the 18th century. It was at almost every meal we had, served with bread. Made with tomatoes, eggplant, bell peppers, capers, onions, olives, and garlic, kapunata is seasoned with vinegar, which makes it tangy. The vegetables are cooked down until they form a thick dip that can be served hot or cold.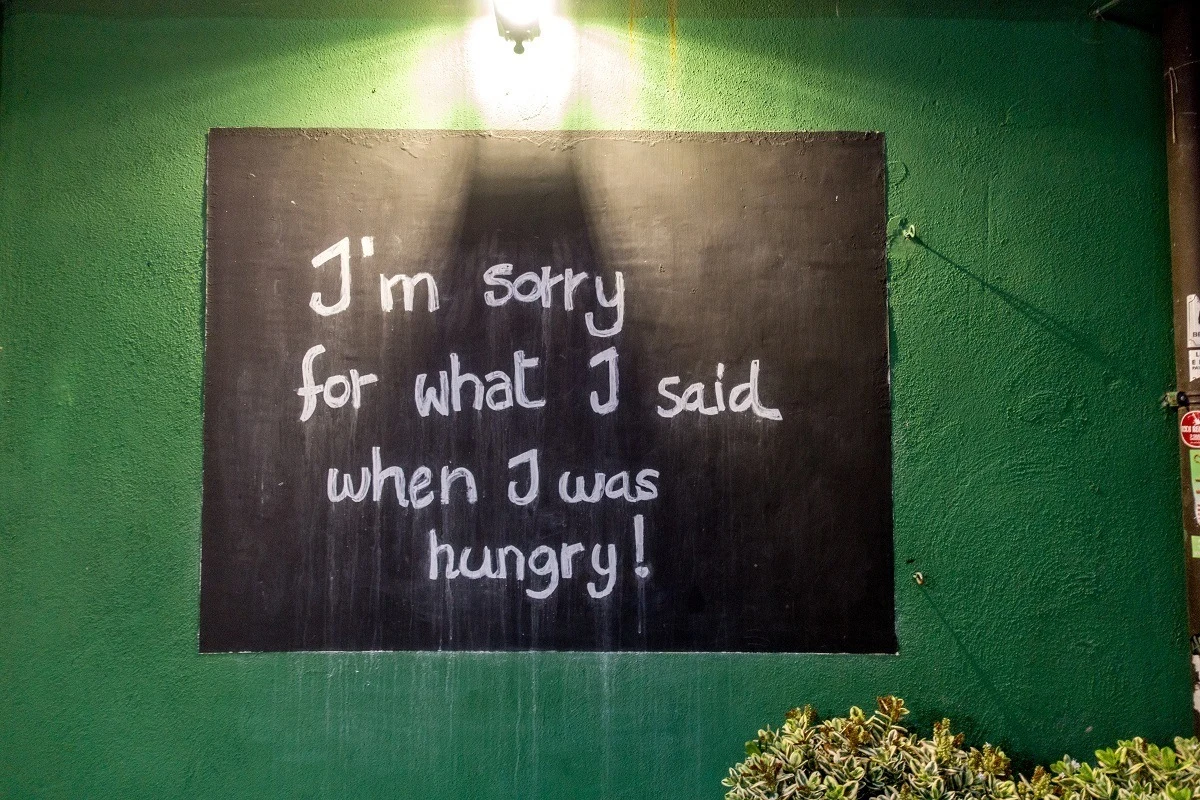 Where to Eat in Malta
There are lots of places in Malta and Gozo to try traditional dishes. Here are a few great options.
Gululu – In St. Julians overlooking Spinola Bay, Gululu has a strong reputation with tourists and locals for being an excellent choice for traditional Maltese recipes, some done with a twist. It was one of our favorites. Reserve ahead.
Ta' Kris – One of the most popular restaurants in Sliema, Ta' Kris serves Maltese and Mediterranean food. Their soups, stews, and slow-cooked rabbit are reminiscent of home cooking in Malta.
Legligin – With ftira, kapunata, and plenty of other meze, Legligin is a charming wine bar in Valletta. It is open on Sunday evening when restaurant options on the island are limited.
Ta' l-Ingliz– Located in Mgarr, which is known as one of the best places to try fenkata, check out Ta' l-Ingliz. Their traditional preparation and excellent service make it a great choice.
Publius Cutajar Parruccan Confectionery – We sampled most of our sweets at Publius Cutajar Parruccan Confectionery, a kiosk in Rabat near the Grotto of Saint Paul. The owner is happy to let you sample lots of his treats.
Laura Longwell is an award-winning travel blogger and photographer. Since founding Travel Addicts in 2008, she has written hundreds of articles that help over 3 million people a year get the most out of their travel. In that time, she has visited nearly 60 countries on 5 continents, often returning to favorite destinations over and over again. She has a deep love of history, uncovering unexpected attractions, and trying all the good food a place has to offer.
In addition to Travel Addicts, Laura runs a site about her hometown of Philadelphia—Guide to Philly—which chronicles unique things to do and places to see around southeastern Pennsylvania. Her travel tips and advice appear across the web.