It's not every day that the setting of a beloved television classic comes to life before your eyes. Mount Airy–affectionately known as Mayberry–was Andy Griffith's hometown and the inspiration for the setting of The Andy Griffith Show. Today, the town pays homage to its television counterpart in many ways, but it is more than just Mayberry.
This charming town with just over 10,000 residents only 40 minutes from Winston-Salem offers good eats, excitement in the great outdoors, and unexpected history lessons, with a bit of moonshine thrown in for good measure. Here's a look at just a few of our favorite things to do in Mount Airy, North Carolina.
Is Mount Airy Mayberry?
Yes and no. Andy Griffith's formative years were spent in Mount Airy which he called home until he went away to college. The welcoming little town formed the basis for Mayberry in the The Andy Griffith Show that ran for eight years in the 1960s. Today, the fictional town is honored in everything from the annual Mayberry Days celebration each September to the names of businesses that line Main Street.
The television show was actually filmed at studios in California.
Things to do in Mount Airy
Enjoy nature at Pilot Mountain State Park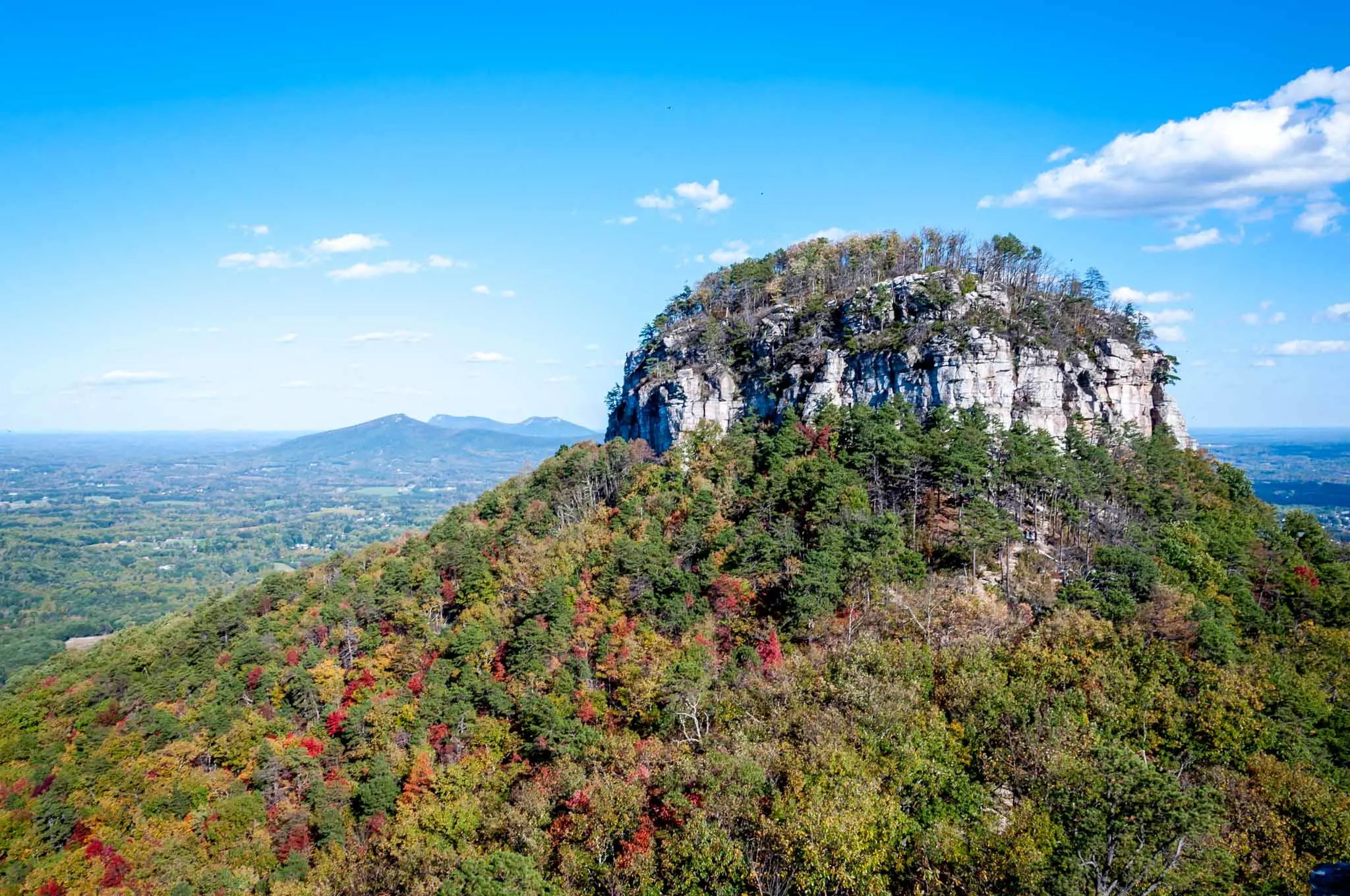 Pilot Mountain State Park is known for its picturesque Big Pinnacle peak that can be seen for miles around. In addition to its natural beauty, the park is a year-round recreation hub for activities like bird watching, camping, and canoeing.
The park also offers an extensive network of hiking trails plus a bridle trail for horseback riding. Visitors feeling particularly adventurous can rock climb or rappel on portions of the park's steep cliffs, which have great views of the nearby Sauratown Mountains and Blue Ridge Mountains.
Wondering where to stay in Mt. Airy?
Classic comfort: Hampton Inn
Delightful bed & breakfast: Bee's B&B
Close to everything: Comfort Inn
You'll find more details about where to stay at the end of this article.
Take a squad car tour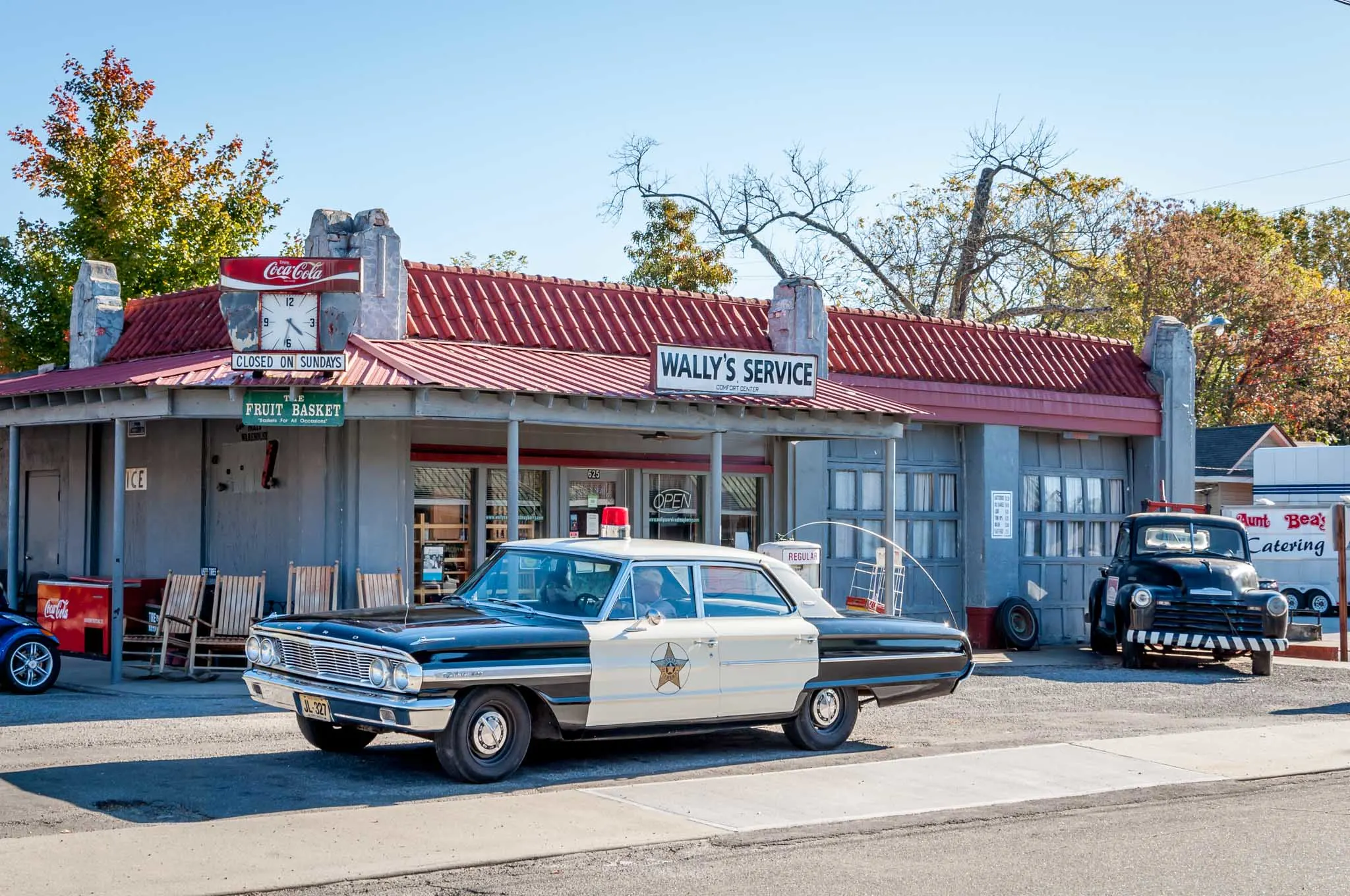 A squad car tour—in a car like the one Barney drove, of course—is one of the quintessential fun things to do in Mount Airy. On this cruise around Andy Griffith's Mayberry, you visit Andy's homeplace and the important Main Street sites like Floyd's Barber Shop and Snappy Lunch. You can even see the Old Jail, complete with jail cells and the sheriff's desk. This is a must for any die-hard Mayberry fan.
Sample brews at the White Elephant Beer Company
White Elephant Beer Company is the perfect place to hang out in town. They sell excellent beers and ciders—both at the bar and to take home—from around the world and across North Carolina. They also brew a selection of their own IPAs, stouts, and other craft beers.
What really sets the White Elephant Beer Company apart, though, is its fun and welcoming atmosphere. Within five minutes of sitting down, three locals were chatting with us, offering recommendations, and singing the praises of their town.
We missed out on the weekly Trivia Night but got to listen to the Beer and Banjos meet up, which was as full of laughter and great music as you might imagine. Make sure it's on your list when you visit Mount Airy.
See the Andy Griffith boyhood home
Another one of the popular Mayberry-related attractions is Andy Griffith's homeplace. Griffith lived in the two-bedroom home with his parents from the time he was six years old until he moved away for college, and many things in the home still look much the way they did decades ago.
Andy Griffith's homeplace is one of the most popular photo stops in town, but big fans can take it a step further and stay there overnight. The property rents for about $200 a night, but you'll need to plan ahead because reservations can be hard to come by.
Make a stop on the sonker trail
One of the more unique things to do in Mt Airy is to try a sonker. Don't know what a sonker is? We didn't either until our first visit to Mayberry.
Sonkers are an enjoyable regional desserts that are a cross between pie and cobbler but can take many different forms with many different fruits depending on where you have the good fortune to stop. The Sonker Trail currently has eight participants, and the desserts at each shop are likely to be very different and delicious. No matter what you do, don't miss the versions at Miss Angels Heavenly Pies that are topped with a glaze made from local moonshine.
Visit the Andy Griffith Museum
Founded by Andy's longtime friend Emmett Forrest, the Andy Griffith Museum is a treasure-trove of keepsakes from the actor's career. The collection features hundreds of items from the star's movies, television shows, and musical efforts, including costumes, photos, records, and other memorabilia. There are actual props donated by Andy himself from The Andy Griffith Show and Matlock along with items donated by fellow cast members.
Stroll down Main Street
Downtown is home to a vibrant Main Street. There are dozens of shops, restaurants, and Mayberry-related sites to visit.
Pop into one of the antique stores, stop by the soda fountain, or spend time browsing in a music shop. There are plenty of souvenir stores to visit, and you can even go wine tasting or catch a live concert.
See a show at the Earle Theater
Built in 1938, the Earle Theater is a museum, movie theater, music venue, and must-see attraction for music lovers. It is home to the Old-Time Music Heritage Hall, which features artifacts and exhibits related to Surry County's old-time music icons.
On the weekends, the sounds of fiddles and banjos fill the theater from jam sessions and WPAQ's Saturday Morning Merry-Go-Round, one of the longest-running radio shows in the country, which visitors can see live at the theater. There is also a regular list of rotating, family-friendly movies.
Explore the Mount Airy Museum of Regional History
In downtown, the Museum of Regional History tells the story of the original settlers of "The Hollows" of North Carolina. Visitors will learn about the lives of the Saura Indians who lived here in the 1600s and the 18th-century immigrants who came to call the area home. Photos and artifacts help bring the story to life.
Go wine tasting at a Yadkin Valley winery
The Yadkin Valley—where Mount Airy is located—is home to over 30 wineries. Products made here range from sweet Muscadine wine to complex European vintages such as Viognier, Pinot Grigio, and Sangiovese.
Check out Old North State Winery on Main Street or one of the many options within a 30-minute drive. With so many vineyards and wine options to choose from, you're sure to find a new favorite (or a dozen!).
Step into the 1900s at the Gertrude Smith House
On the National Register of Historic Places, the Gertrude Smith house is a Victorian-Colonial Revival home that dates from 1903. A New York-educated interior designer, Smith was an avid collector of art and antiques. She filled her home with period furnishings and accessories from the U.S. and around the world. Upon her death in 1981, Smith left her home as a living museum, reflecting the lifestyle of the early 1900s.
Sample whiskey at Mayberry Spirits
Mayberry Spirits is the town's first legal distillery since Prohibition. A visit here is tasty and educational as owner Vann McCoy takes visitors on a trip through the colorful history of distilling in North Carolina.
After you've learned a couple things about making moonshine, it's time to taste the fruits of Vann's labor—three whiskeys and samples of mixed drinks.
See live music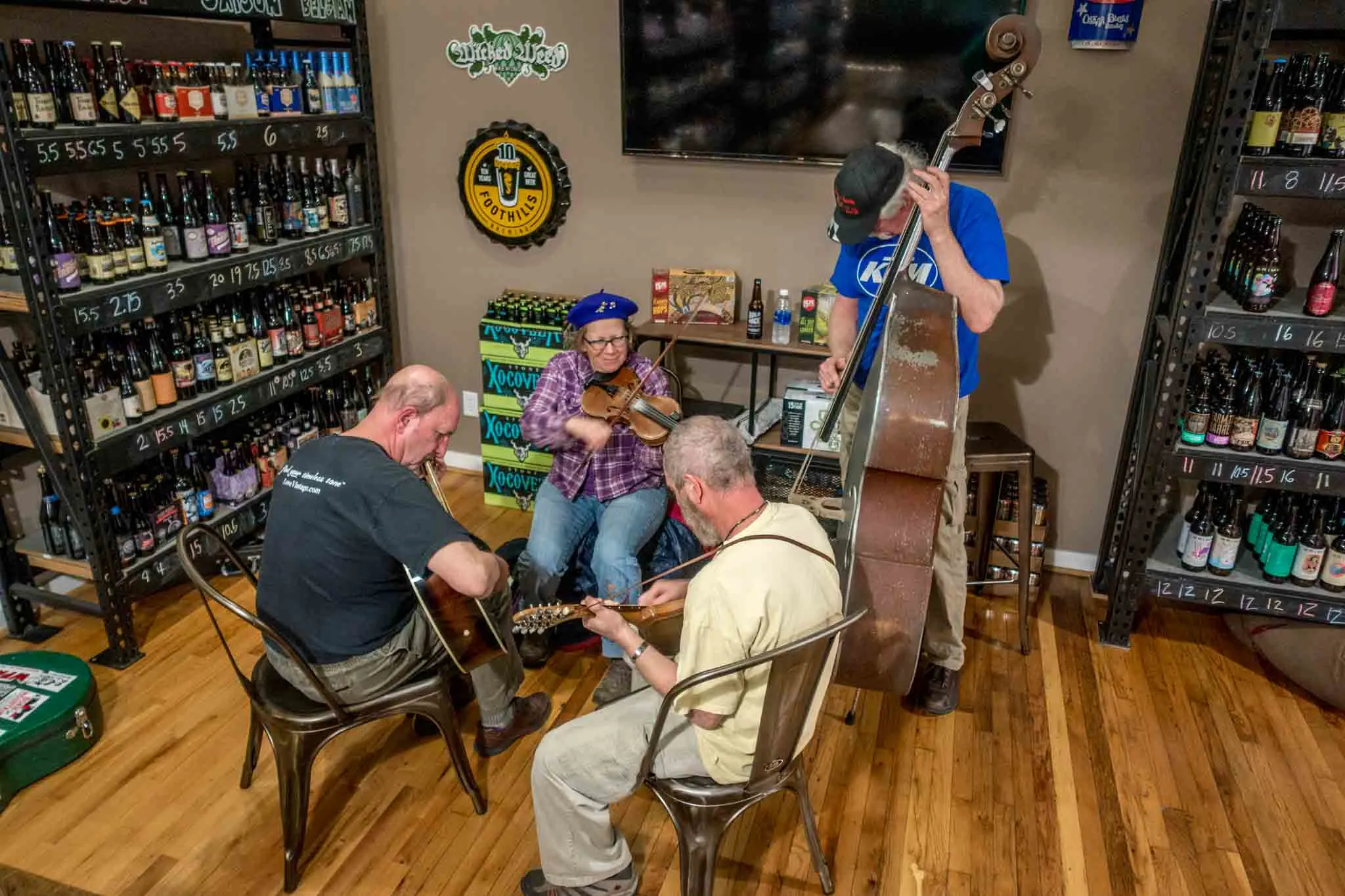 Bluegrass and old-time music are the heartbeat of the town. Nearly every day of the week, there is some live music available in town—either formal or informal. Multiple downtown bars and restaurants feature bands and some host regular open jam sessions. Look for concerts happening at the Andy Griffith Playhouse, the Earle Theater, or one of the other venues around town.
See the Siamese twins exhibit and grave
Eng and Chang Bunker—the twins whose birth led to the term "Siamese Twins"—settled in the area in the 1840s after years touring the world as a sideshow attraction. North Carolina became their home.
The Bunker twins married sisters Adelaide and Sarah Yates and raised their families, with 22 children in all. Their descendants (over 1500 of them) now live across the country but return for regular giant family reunions. The lower level of the Andy Griffith Playhouse is home to an exhibit about the lives of this unusual pair, and they are buried nearby at the White Plains Baptist Church.
Where to Stay
Hampton Inn: Large, comfortable, quiet rooms just 5 minutes from downtown. Friendly staff oversees the free breakfast and the wine and cheese happy hour, and they provide free cookies.
Bee's B&B: Charming 1880s Victorian home offers personalized service and a great breakfast.
Comfort Inn: Clean, comfortable, well-located hotel offers free breakfast and an indoor pool.

Where to Eat
Harvest Grill: Serves upscale American fare on the grounds of Shelton Vineyard. We loved the brisket sliders and crab cakes, in particular.
Old North State Winery: Seafood, steak, and Southern specialties on Main Street.
Little Richard's: One of the best barbecue spots in town in a state known for its barbecue. The pulled pork, brisket, and BBQ slaw are all winners.
I was the guest of Mount Airy Tourism and The Tourism Partnership of Surry County and Visit North Carolina on my first visit, but I liked it so much I returned and brought Lance with me at our expense. All opinions of the delicious and entertaining are our own.
---
What would you do with a day in Mayberry?