The buttery vanilla scent of waffles, the warmth of velvety hot chocolate, Christmas trees lit up against the night sky—the Bruges Christmas market brings together the best of the holiday season. When you add the city's striking buildings with their towers and ornate facades gleaming in festive finery, Bruges, Belgium, is one of the most romantic places to visit at Christmas.
We've visited Bruges (Brugge) several times in different seasons, but we jumped at the chance to go again in the winter to experience a different side of the city. With the chalet-lined squares and streets decked out in greenery and lights, we were quite pleased with our decision to make a return trip.
What to expect at the Christmas Market
While Bruges is one of the major cities in Belgium, its historic core—where most tourists spend their time—is quite small. As a result, the Christmas market in Bruges is on the small end among the Christmas markets we've visited in Belgium.
Bruges also takes a slightly different approach to its market. Its celebrations are known as "Winter Glow," aiming to include people of different religions and to expand the focus from the market alone to all the things to do in Bruges in winter. That said, the traditional Christmas market is still the main draw.
The heart of the action is in Market Square (Grote Markt), the city's main square. Just three minutes away in Simon Stevinplein, the fun continues with more vendors and lots of games. If ice skating is high on your agenda, head to Minnewater for the floating ice-skating rink and winter bar, or follow the light experience trail through the city.
Market Square
Most visitors spend most of their time at the Bruges Christmas market in Market Square. It's my favorite place in the city because of the 15th-century Belfry that towers nearly 300 feet overhead and the step-gabled roofs of the old merchant houses that ring the square. It's one of the most beautiful city squares in Europe.
We walked through the aisles of wooden chalets browsing the gifts and crafts. There were lots of knitted items appropriate for the cold weather and plenty of local food specialties like cheeses, charcuterie, and pates for people to add to their Christmas feasts.
There were numerous holiday decorations, too. If you're in the market for nutcrackers, candles, or manger scenes, the Market Square is the place to come. You'll also find lots of toys and ornaments from hand-blown glass to mass produced souvenir items.
Alongside the gift and clothing vendors was a huge selection of food stands and an area for eating. Grabbing a bite to eat at the market is a social occasion, so there were lots of locals chatting over a beer and sausage or a piping hot plate of tartiflette and mug of glühwein (mulled wine). And, since it's Belgium, there were also plenty of waffles.
Simon Stevinplein
A couple of blocks from Market Square is Simon Stevinplein, a charming city square ringed by rows of linden trees. What we found here was a complete surprise.
This part of the Bruges Christmas markets has shopping and food stalls like what's available in the Market Square. From stuffed animals to luxury bath products and everything in between, it's filled with things to make everyone on your list happy. But there's a whole different section geared toward kids and those who are kids at heart that we didn't expect.
As we walked through the rows of chalets, we found lots of carnival-type games and even rides. There were contests to pick the lucky duck as they bobbed along a tiny stream and games of skill to win larger gifts. Teenagers tried to pick their prize using an electronic claw (does anyone ever win those prizes?) and toddlers climbed on kid-sized fire engines for a spin around a track.
Beyond the rides and games, young children walked around wide-eyed as they gazed at every doll, board game, and art kit you could imagine. If you're ever in need of feeling the excitement of Christmas, just look at the face of a child who's just spotted the one gift at the top of their list on a shelf just a few feet away.
Minnewater rink and winter bar
On the southern end of the city center is the ice-skating rink at Minnewater. This unique artificial ice rink on a floating pontoon takes the place of the traditional version that was previously located in Market Square for many years.
Switching to an artificial rink was a move in favor of sustainability, and making a third location for winter activities helps spread out the crowds, which is always welcome. The setting—literally at the "Lake of Love"—is the most romantic place in the city, so having the rink here is a great addition. Plus, spectators and those enjoying some après-skate time can enjoy a warm drink and snack at the nearby winter bar.
Winter Glow light experience trail
Around the historic center, visitors will find the Winter Glow light experience trail. Landmarks, squares, and lesser-known spaces are lit up in bright colors and unusual designs.
The locations and theme of the light trail change yearly, and it is always something unique. Signs around the city guide visitors from one location to the next. You can make just a few stops or follow the whole trail.
Market opening times
The markets are open for six weeks every year—from late November through the first week of January. They operate every day from 10:30 am to 10 pm (11pm on Friday and Saturday).
The market is scheduled for November 24, 2023 – January 7, 2024.
Belgian Christmas treats
Along with the shopping and skating, eating and drinking is a big part of the festivity of spending Christmas in Belgium. Watch for these local treats as you make your way through the market.
Speculoos—A spiced shortcrust cookie, speculoos is most traditional around Christmas time, so you'll find it in the Christmas markets and nearby stores, sometimes in the shape of Saint Nicholas. The crispy brown cookie is flavored with nutmeg, cloves, and other seasonal spices.
Waffles—Waffles and Belgium go together like…well, chocolate and Belgium. Or beer and Belgium. But there's actually nothing in Belgium called a Belgian waffle.
Instead of a Belgian waffle, there is a sweeter, more compact Liege waffle or a fluffier Brussels waffle. Regardless of which one you choose (they're both delicious), make sure to get a fresh one—not one that's been sitting around awhile.
Genever—One of our favorite drinks in Belgium, we first came to love genever on a trip to Amsterdam. The juniper-infused spirit has been around for 500 years, and, back then, the Netherlands and Belgium were part of the same kingdom, so they share lots of foods and drinks in common.
In its clear form, genever is like gin. You'll also find it in dozens of other flavors that are fruity, nutty, chocolaty, and more. At the markets, you can sample the flavors by the shot, typically for about 2-3 €.
Shrimp croquettes—Bruges is just 12 miles from the North Sea, so shrimp is a popular menu item. Shrimp croquettes are made with brown shrimp, a type that is much smaller than what you would commonly find in the US. Bits of shrimp are mixed into a bechamel sauce, and the outside is coated in breadcrumbs before deep frying. They're a filling snack to fuel your shopping.
Interested in visiting another market? See what to expect at the Brussels Christmas market.
More things to do in Bruges in December
If you're visiting Bruges in winter don't miss the chance to see some of the city's other great attractions beyond the market.
See the most famous view in town
The Quay of the Rosary (Rozenhoedkaai) is beautiful in any season. Just off the Market Square, this bend in the canal is a postcard-perfect spot, especially when canal cruises pass through. It's stunning. Don't miss it.
Check out a concert or special event
In addition to the market, Bruges is filled with concerts and special events around the holidays. See the schedule of performances at the Concertgebouw, which often includes concerts like Handel's Messiah and other Christmas-themed presentations, or look for choral events at the Basilica of the Holy Blood.
For something a little different, check out the Christmas Star parade at the Oud Sint-Jan site. This folkloric reenactment of the Christmas story includes more than 100 extras, a marching band, donkeys, sheep, and more.
Indulge at The Old Chocolate House
Belgium can be cold in the winter, so it's always great to have a spot in mind to warm up. Our go-to is The Old Chocolate House.
From truffles to marzipan and beyond, there are lots of delicious treats here. If you have the time, take a seat at the upstairs café and indulge in some of the best and most decadent hot chocolate you'll ever have. You'll have your choice of chocolate types and add-ins, so you can customize everything. The tiramisu hot chocolate was my favorite, but you can't go wrong with any of the options.
Gawk at the architecture
It's nearly impossible not to be impressed by this city. Throughout the historic center–which has been recognized as a UNESCO World Heritage Site–numerous buildings date from the late Middle Ages and Renaissance.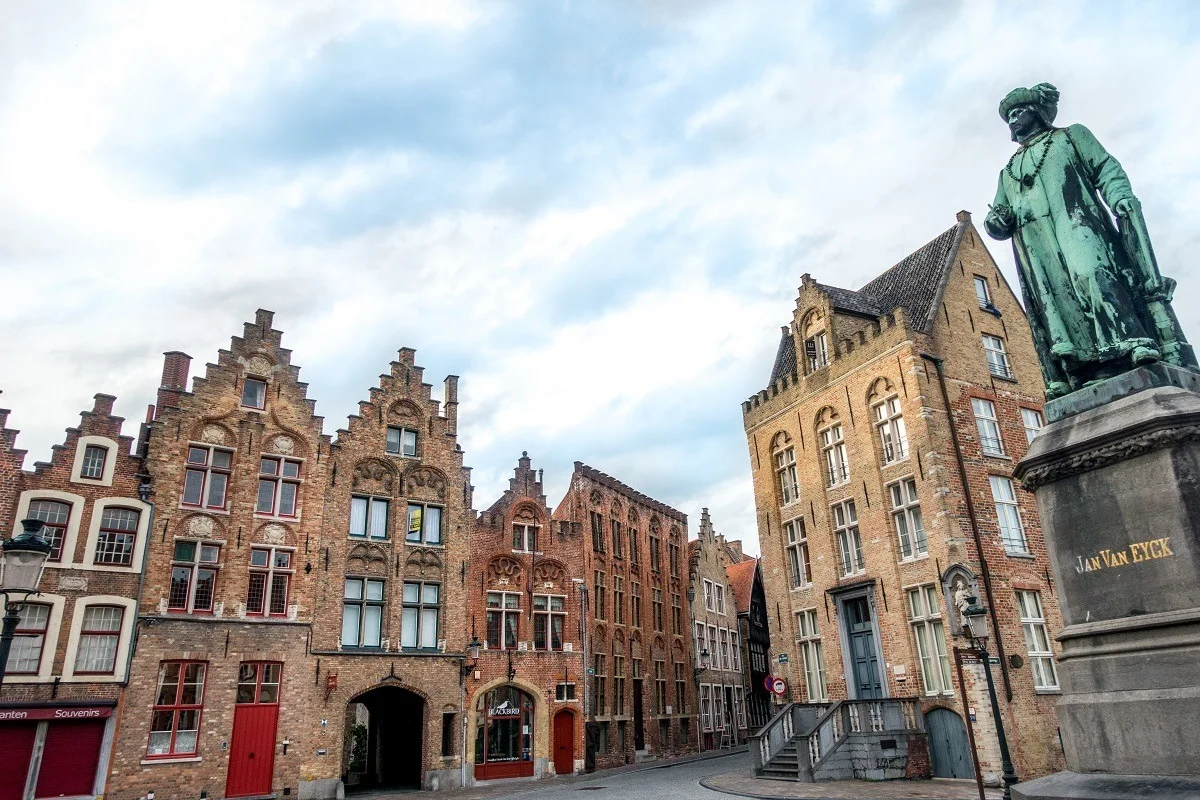 Take a walk around the city and see the spires of the Town Hall and the gold figures on the Basilica of the Holy Blood. Wander a little bit away from the crowds to see the merchant mansions of the Hansa Quarter whose owners helped fuel the city's wealth centuries ago.
To see the city from a different vantage point, take a canal cruise (they still run in winter). It will take you to areas that would be easy to miss otherwise, and you can cover a lot of ground quickly while getting a brief history lesson.
For a more in-depth look at things to do in Bruges, see our city guide.
Take a brewery tour at De Halve Maan
One of the most popular things to do in Bruges is to pay a visit to De Halve Maan brewery, the only brewery left in the Bruges Old Town.
If you're a true beer aficionado and have the time, consider booking one of their 45-minute or 90-minute tours. You'll have a chance to see how they've brewed here for over 150 years and to sample some of their beers, including the famous Brugse Zot.
If a full tour isn't on your agenda, head to the restaurant for lunch (or dinner Thursday through Saturday). You can try the De Halve Maan beers and enjoy some filling Flemish specialties like my favorite carbonades flamandes, a beef stew made with Brugse Zot dubel.
How to get there
The easiest way to get to Bruges is by train. The train station is a little over a mile from the historic center. In the winter, two light and experience trails that are part of "Winter Glow" guide visitors from the station to either Zand square in the center or to the ice-skating rink at Minnewater.
Bruges is about one hour from Brussels by train, and trains costs about €20-30 each way, depending on the class of service. Trains between Bruges and Ghent cost about €10-20 each way, and the journey takes 22-40 minutes, depending on the specific train.